News
11th Jul 2014 - EKFS visit to Hoaden Court Farm - Cherries & Plums
We are now enjoying the full spectrum of UK soft fruit, Strawberries, Raspberries, Currants and the stone fruit season is well under way with delicious English cherries in full flow with the Plum season very close!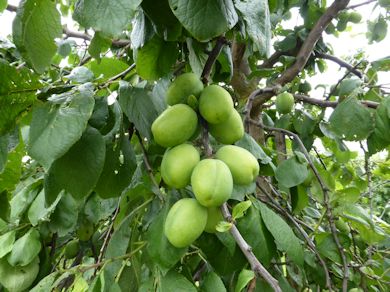 On Tuesday The English Apple Man joined fellow members of East Kent Fruit Society (EKFS) for a 'Stone Fruit' visit to A.C.Hulme's Hoaden Court Farm near Canterbury in East Kent.
AC Hulme & Sons is a family run mixed farm which has been operating in East Kent since 1946; the company farms approximately 5,000 acres, supplying some of the UK's foremost retailers as well as local markets, farm shops and other outlets.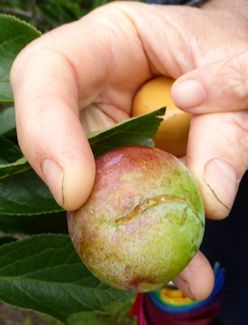 The Farms operate from three principle locations in Canterbury (Merton Farm), Hoaden (Hoaden Court) and Wingham (Brook Farm) and grow a diverse range of produce, including: fruit (apples, pears, cherries, apricots and plums); hops; arable; potatoes; and livestock (single suckle beef cattle and sheep) with a haulage business serving both the Farms and other local businesses across the South East.
Tom Hulme told the EKFS members that he returned 3 years ago to join full time the family business and manage the fruit side of the business. The fruit enterprise extends to 150 hectares ( 360 acres) of which half is apples.
Tom explained that Hoaden Court Farm originally belonged to Frank Pratt and in his later years A.C.Hulme farmed it in Partnership with Frank and Alan Smith a local grower. Alan was on hand to add technical comment on the cherries of which he had been involved for a number of years. When Frank Pratt died, the Hulme family bought Hoaden Court and when Tom returned to join the business Alan retired from the farming partnership.
The EKFS visit was intended as a Stone Fruit Walk and we saw Jubileum and Opal plums on our walk; the main attraction was the cherry orchards with 17 hectares (41 acres) and of great interest, the farm management policy of extending the season over a period of (currently) 11 weeks; Tom said this is achieved by using the full spectrum of varieties and clever use of tunnel cover management systems to achieve a 11 week season with a target of a 12 week season.
Opal, Jubileum, Gage and Victoria are grown at Hoaden Court; Tom told us that the Jubileum carried a lot of fruit after the initial set and, thankfully the 'natural thinning' process reduced the numbers down to a sensible crop load with fruit size looking good. Opal has suffered some splitting, but even after the 'inevitable need for hand thinning' the crop will still be heavy, albeit with the additional cost of removing spoilt fruit.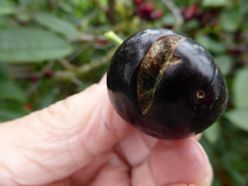 The use of covers is critical to cherry production and from the early efforts of growers circa 20 years ago, avoiding splits caused by rainfall at (and approaching) harvest time was the key driver. Today the systems have moved on and much more sophisticated covers are available. The VOEN covers at Hoaden Court are manufactured in Germany and have an inbuilt venting system allowing better air movement while delivering protection from rain damage.
Air movement is important as 'damp air' will also trigger splitting; in the early days of cherry covers, the space between the trees and the covers was too limited and experience has generated vastly improved covering systems.
While some of the orchards are far from full production, this season the farm is hoping to produce around 180 tonnes of cherries from 17 hectares, 50 tonnes of apricots from 4.5 hectares and 100 tonnes of plums from 10 hectares.
All cherries are covered by either Haygrove Tunnels or Voen Covers with irrigation in place for all new plantings. Cherries are grown on a variety of rootstocks, with the current preferred planting system being 3.05m x 3.05m two row beds under Haygrove Tunnels on G6. (Gisella)
Below: Tom Hulme explains the Hoaden Court cherry strategy to EKFS members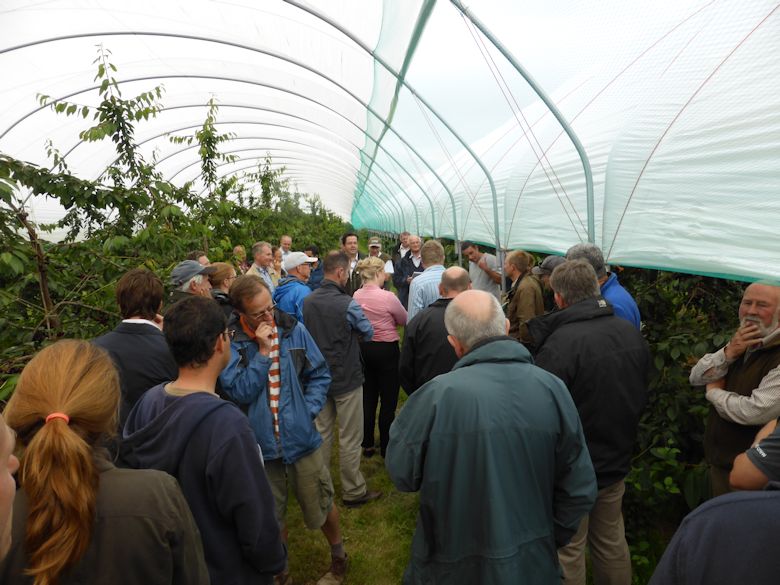 Tree management
Tom Hulme told the EKFS members that the older cherry orchard (circa 35-40 years old) with varieties; Inga, Sasha, Van, Bradbourne Black are protected by the VOEN rain covers, while the newer orchards are grown under Haygrove 'high tunnels' using a variety of plastic covers. The use of different plastics covers enables manipulation of harvest maturity. Asked how trees are pruned to maintain good yields on these mature trees, Tom said they remove any upright shoots and encourage the flatter (less vigorous) branches; e.g. potential cropping wood.
Below: The older cherries under VOEN rain covers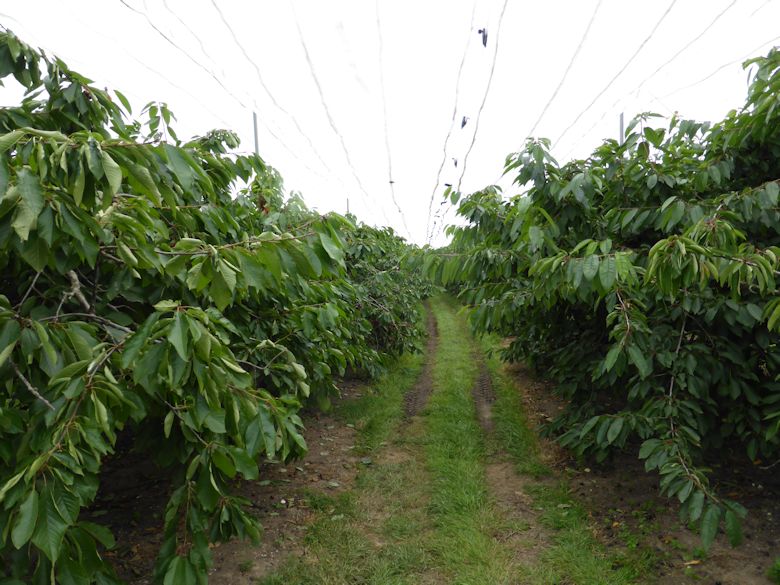 When a tree arrives from the nursery, it can either be a 'maiden whip' or a 'feathered maiden' and many growers will seek the latter; talking with Alan Smith about the virtues of each, his view that the maiden whip (a young tree with no branches) is the best format for training the branches in exactly the right position makes sense. A cherry tree is quite different from an apple tree where the tree benefits from a well furnished framework on arrival from the nursery.
Below left: Penny Cherry trees with the lower branches at just the right height and right Alan Smith standing next to a Penny tree.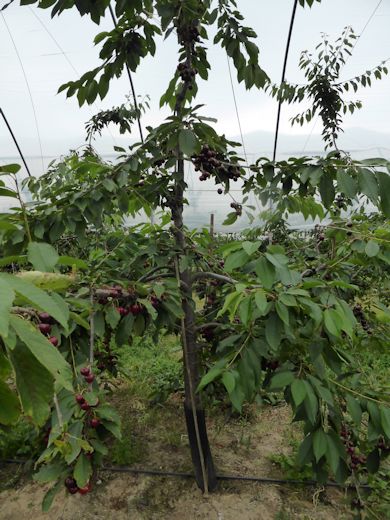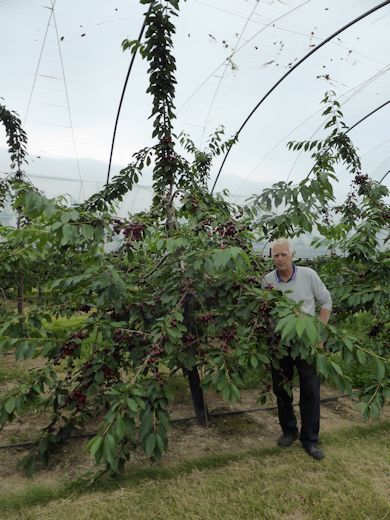 Below left: Kordia Cherries - Below right: Penny Cherries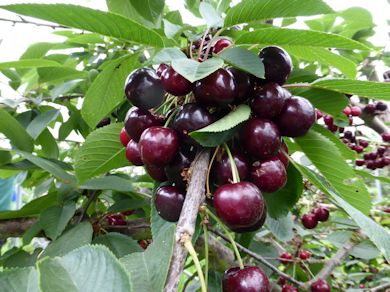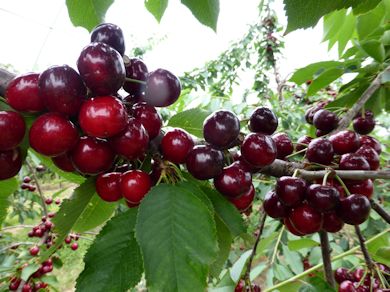 With 17 hectares (41 acres) under tunnels the choice of covers is an important aspect. The VOEN are really just protecting the cherries from rain, but the HAYGROVE high tunnels are used with specialist covers to manipulate the harvest time.
Below: a library picture taken from the VOEN website of covers.

ADR is a 'shade film' which reduces the temperature under the covers delaying the harvest date; 'by comparison to the other films used and Alan Smith told me on a hot day, it is by far the most comfortable place to be under the tunnels.
Luminence has several properties; 'scattering' the light by 90% avoids sun scorch and deflects 75% of infra red light. The benefits are 'moderating' the heat, increasing the light and increasing fruit size and yields.
In a recent conversation with Tom Hurrell at Haygrove I learnt that there is an ongoing development of plastic films with different capabilities, which will continue to benefit Cherry Growers (and other protected crops) so Tom Hulme's target of a 12 week cherry season will be 'surely' be achieved.
The covers are placed over the cherries at the 'green fruit' stage and will remain in place until harvest is over.
Below left: VOEN tunnels covers. Below right: HAYGROVE high tunnels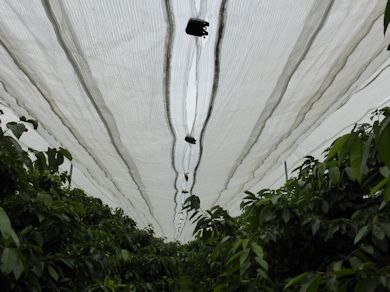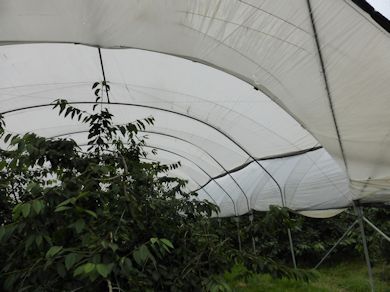 The VOEN company has been specializing in covering systems protecting stone fruit and berries from heavy rain, hail and frost since 2002.
Click VOEN Tunnel covers to view the full range of VOEN products.
Experience gained from growing Soft and Stone Fruit on a very large scale in the UK, Europe and South Africa has enabled HAYGROVE to produce a wide range of Tunnels, Covers and Associated equipment.
Click to visit HAYGROVE Tunnels
Click to view A.C.Hulme & Sons website
That is all for this week; the Journal for 18th July will include aspects of The English Apple Man's visit to The Kent County Show today (Friday 11th July)
On entering the Kent Show my eye caught this Fordson Tractor which is almost identical to one of the two Fordson's my Father had in the mid 1950's.
Take care
The English Apple Man