Journal
13th May 2016 - At last the blossom is breaking out all over
Whether it is apples or pears, wild and ornamental cherries, malus trees and mayflowers in hedgerows, the countryside is in bloom!
Below: Apple blossom in The English Apple Man's garden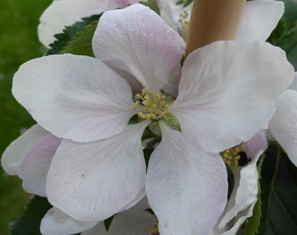 This is one of my very favourite times of the year - there is nothing better in my mind than the period when Spring turns into early Summer. Over the last seven days the blossom development has accelerated dramatically.
The English Apple Man enjoyed the MFSS visit to East Kent last Friday, a visit to Capel Community Orchard where Roger Worraker, the inspiration behind this superb orchard entertained 30 children from Capel Primary School gently educating them in pollination and taste assessment.
On Wednesday afternoon, a blossom walk at Broadwater Farm hosted by Peter Checkley. This was the traditional Spring Farm Walk organised by John Breach and his committee which this year due to the later season coincided with full bloom on most of the main varieties.
This week's Journal will feature the visit to Chandler & Dunn and Capel Primary School children in the village community orchard. Next week the Journal will feature a full account of the BIFGA Spring Farm Walk at Broadwater Farm.
Below: Malus at Brogdale Farm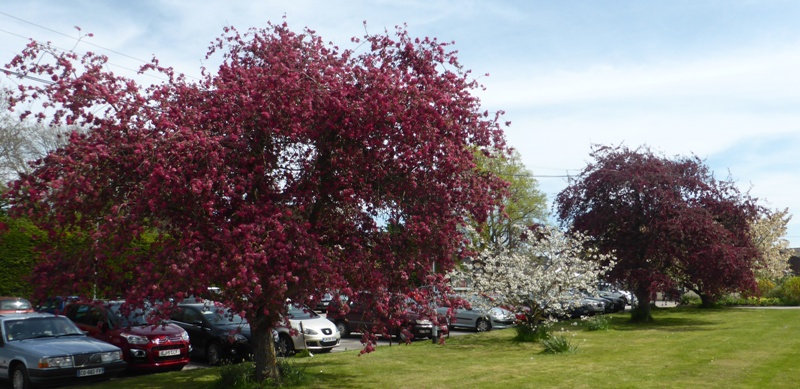 Marden Fruit Show Society members visit Chandler & Dunn in East Kent
Last Friday The English Apple Man an fellow members of The Marden Fruit Show Society (MFSS) enjoyed a perfect afternoon in the sunshine at Chandler & Dunn's Farms at Perry Farm Wingham and Lower Goldstone Ash between Canterbury and Sandwich in East Kent. The business farms 610 hectares covering two farms within 3 miles of each other
The roots of the Chandler & Dunn farming business go back many years into the 19th Century when, in 1809 - Peter Chandler purchased 26 acres at Goldstone and over several generations his family expanded the farm. In 1922 Mr G S Dunn joined Mr A S. Chandler as a partner in the farm, which continued to expand - in 1939 the first cattle were purchased and in 1942 the herd was first registered with the Sussex Cattle Society. The Pedigree Sussex Herd established at Goldstone continues with all the cattle today stems from that original herd.
In 1952 Chandler and Dunn Ltd was formed as a family company under the leadership of the next generation - Robert, Philip and David Chandler and John Dunn.
Ian Chandler - Clive Chandler (son of Philip) - Richard Chandler (son of Philip) -
Peter Chandler (son of David) and his daughter Hannah - Paul Dunn (son of John) and his children Charles and Stewart - Roger Dunn (son of John) and his daughter Alice.
This not only gives Chandler & Dunn over 207 years of farming knowledge and hands-on experience, this continuity gives the farm a powerful springboard into farming for the future.
Below: Ian Chandler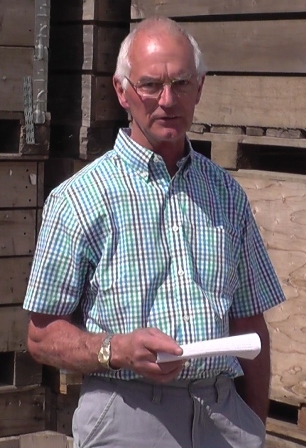 Today in 2016:
The Arable enterprise is managed by Paul Dunn - C&D grow a wide range of arable crops including Wheat, Barley, Peas, Beans, Oil Seed Rape, Linseed and Potatoes.
Ian Chandler manages Perry fruit farm and his cousin Clive the Lower Goldstone fruit farm.
The Livestock enterprise is managed by Roger Dunn, whose family has bred quality Sussex Cattle at Ash since 1942. The herd was first established by Roger's father with a nucleus of traditional Sussex cattle.
We were welcomed to Perry Farm by Ian Chandler who manages the farm with the assistance of his next generation 2nd cousin Charlie (Charles) Dunn.
Ian gave the MFSS members an overview of Perry Farm. Ian said although the farm is an 'off shoot' of Lower Goldstone (the main farm) it now compromises around 200 acres (circa 83 hectares) the background story is well worth telling!
In 1930 Ian's Grandfather built one of the very first cold stores and filled it with Bramley's when the price was one shilling a bushel. When they came out of store they sold for nine shillings a bushel, so he built another one!
In 1933 he bought 32 acres at Perry. Since those days the farm has grown to 200 acres and grows apples and pears. No soft fruit is grown at Perry, but 10 acres of Potatoes are growing this summer on an area of grubbed orchards.
Below: Ian's Jack Russell 'has seen it all before' - trying not to yawn!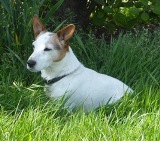 The strength of having a farming business with several enterprises has given C&D an advantage over the last 100 years; especially if one of the enterprises is performing badly, 'generally' one of the others will be doing well. It should be said that in the 'current economic climate' most sectors of farming are under economic pressure.
Perry Farm grows 5.59 hectares of Braeburn - 3.05 hectares of Bramley - 24.47 hectares of Cox - 4.8 hectares of Red Windsor - 2.47 hectares of Egremont Russet - 14.77 hectares of Gala - 5.07 hectares of Jazz - 5.60 hectares of Smitten - Pollinators account for 4.57 hectares - Concorde Pears 2.0 hectares and 4.88 hectares of Conference Pears.
Ian said the C&D fruit enterprise had been built largely on Cox, Bramley and Pears, but today the consumer is seeking 'sweeter' more highly coloured apples and in recent years the demand has shifted from Cox & Bramley to modern varieties like; Gala, Jazz and Smitten.
Reduction in pesticides is a target for fruit growers and Chandler & Dunn are pursuing a policy of a 'no insecticide policy' on their pears for combating THE most difficult pest on pears - controlling 'Pear Sucker' by encouraging predator anthocorids with an increase in nettles a favoured habitat for anthocorids.
For the farm walk, Charlie Dunn took on the 'lead host role' with Uncle Ian close by to add comment when required. First up on the farm walk was a 6 year old Braeburn orchard, planted on old gooseberry ground.
Charlie told the group they have been limiting the pruning, allowing the tree to 'flow' before making strategic pruning cuts.
Below: Six year old Braeburn trees - and - the MFSS group listen to Charlie as he reviews their pruning policy on the Braeburn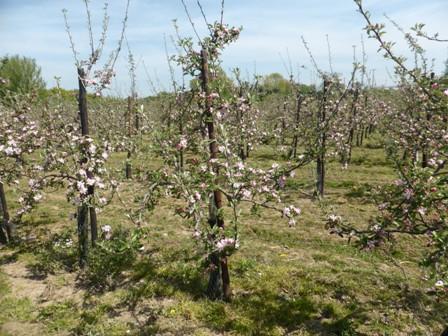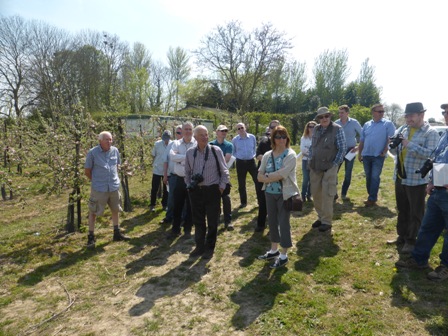 Below: This Braeburn orchard has not been pruned yet, but Charlie said this will happen in the next few weeks; by pruning late, vegetative growth will be reduced helping to keep the tree 'in balance'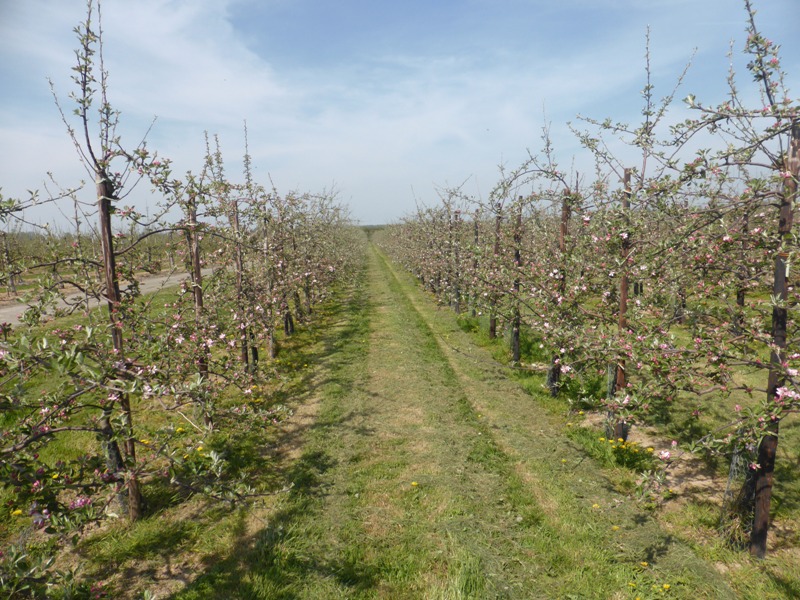 Stopping at a young Jazz orchard, Charlie said they have had high levels of canker infection, which may have arrived in the trees from the nursery. Canker is the most serious challenge faced by fruit growers growing varieties with Gala in their genes. Jazz is the most valuable apple in terms of pence per kilo returned to the grower, so solving the canker problem is high on the agenda.
Below: young Jazz orchard with high levels of Canker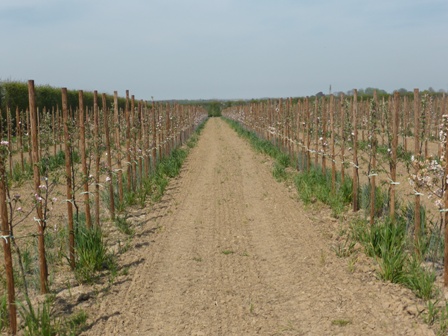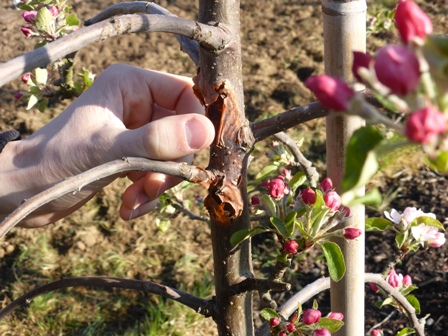 The pear orchards (last Friday) were well ahead of the apples in blossom development, with a mix of flowers, early signs of fruits setting and clearly visible pear fruitlets.
Below: A Conference pear orchard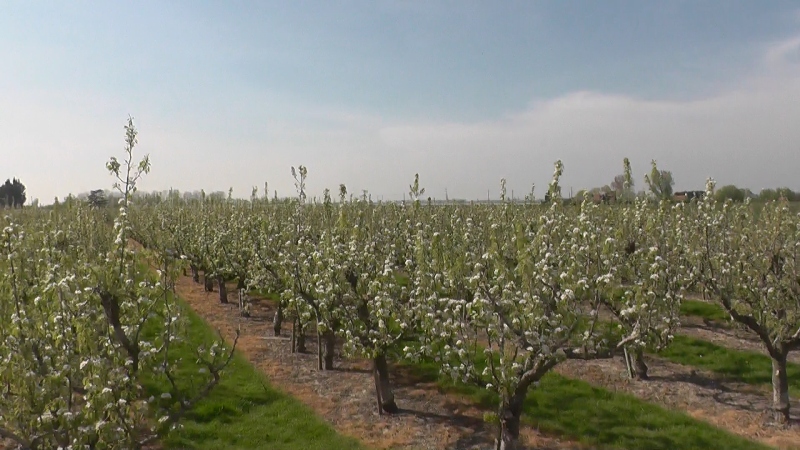 Below: Conference pear blossom - and - young developing fruitlets clearly visible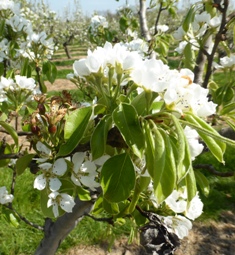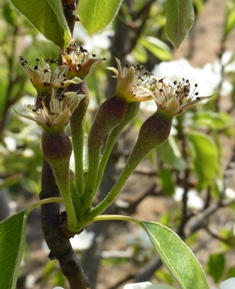 Chandler & Dunn used to grow a very large acreage of Cox apples; they still have a fair acreage and managing the pruning of the Cox to maintain good quality 'fruit bud' and 'quality apples' is critical to the economics of Cox growing; the system they use at Perry is a 'layering system' where older (lower) branches are gradually removed allowing young replacement branches from a higher position on the tree to drop into the space where the older branch had been.
Below: Charlie Dunn explaining the 'layering system' he is using on these established Cox trees to MFSS President Michael Jack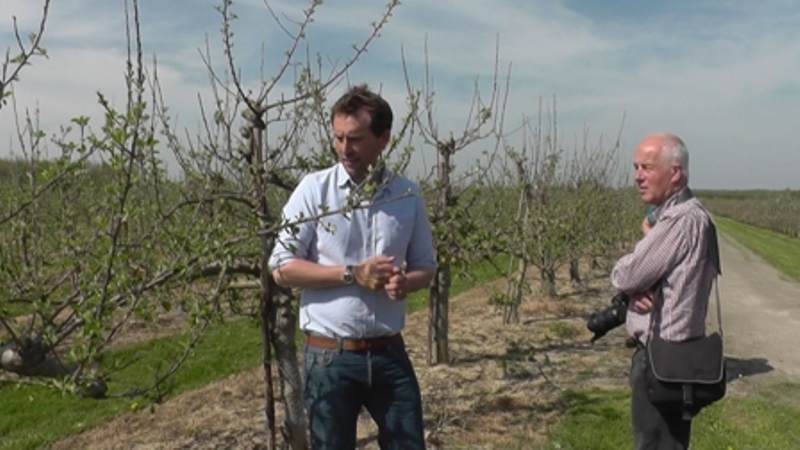 Below: Wisteria Covered Cottage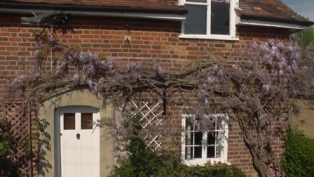 After our walk around Perry, we moved on to Lower Goldstone where Paul Dunn (Charlie's Dad) was waiting with a tractor and four wheel trailer with hay bales for our seats; driving down narrow farm lanes past 'Wisteria Covered Cottages, we visited the beef cattle where Roger Dunn who manages the beef unit and rears sheep as well, explained the process of rearing cattle for meat and his passion for breeding 'new members' of the Pedigree Sussex Herd; we stopped off at the Chandler & Dunn Butchers shop where some took the opportunity to purchase meat for the weekend (and a bit more besides) before a short visit to some of the arable crop land where we stopped to look at winter beans grown for cattle feed.
Paul told us the whole area had been 'tile drained' many years ago and the controlled use of pumping stations meant adequate supplies of water for the whole farm to be irrigated, all controlled from a modestly sized 'pump house' nearby.
Below: one of the streams which supplies water for irrigation - and - a field of winter beans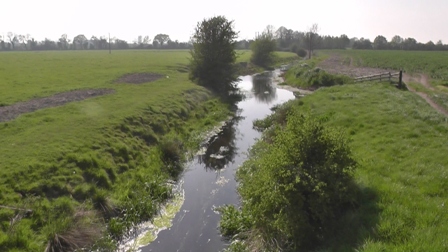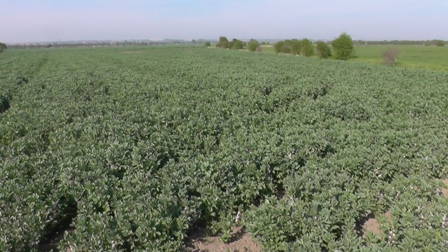 Below: Cattle reared for meat to supply the 'on farm' Butcher - and - Young Bulls in an adjacent field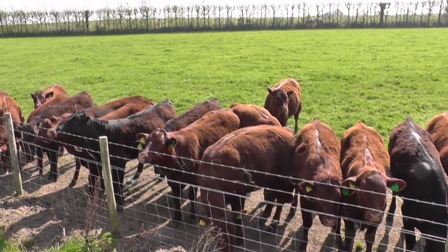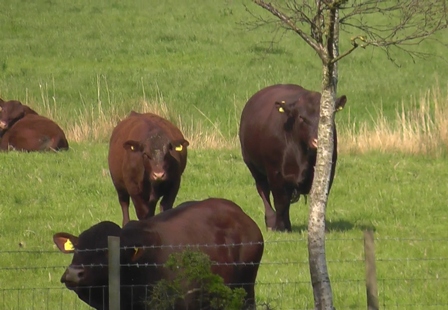 We ended our afternoon at Chandler & Dunn with a scrumptious barbecue in Charlie's garden. We all agreed a most perfect occasion with good weather, lots of blossom and many points of interest - "thank you to the Chandler's & Dunns' for giving up their valuable time to give us all such an educating & entertaining afternoon!
Below: 25 MFSS Members enjoyed barbecued sausage, lamb and steak all produced on the farm - brilliant!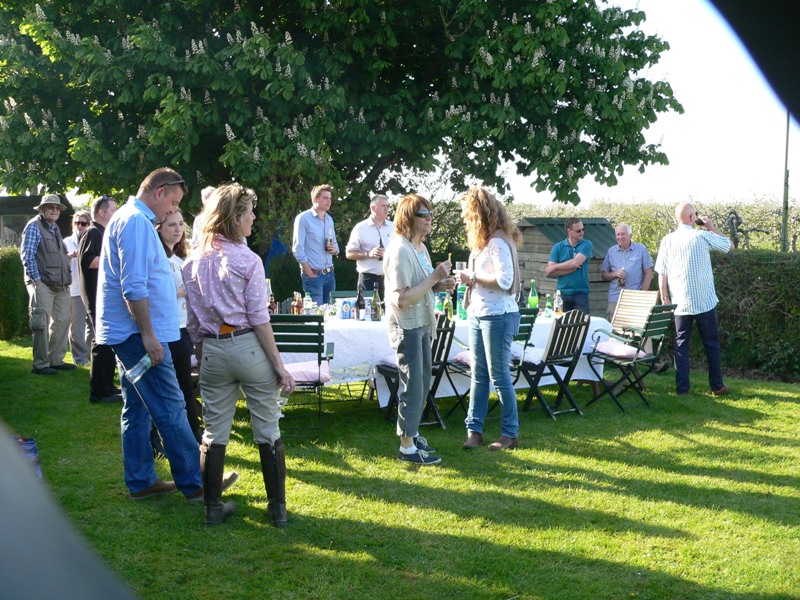 --------------------------------------------------------------------------------------------------------------------------------------------
Capel Primary School children enjoy an educational visit to the Capel Community Orchard
Below: The Community orchard was the inspiration of local resident Roger Worraker in celebration of Th Diamond Jubilee and is now four years old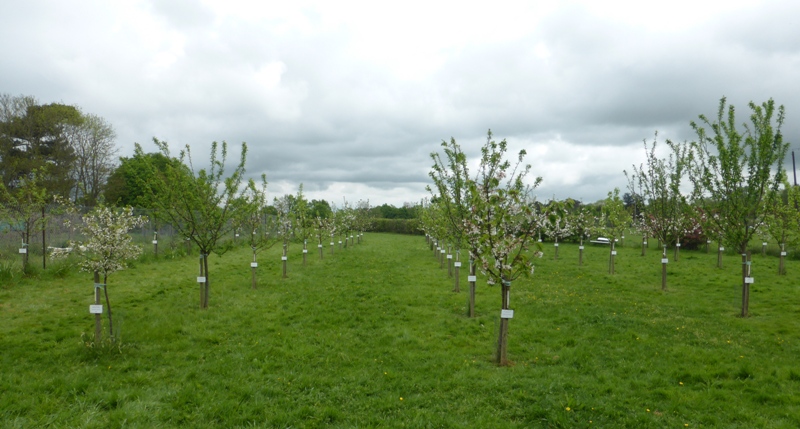 Roger Worraker is revered in the top fruit industry for his enthusiasm and commitment to English apples. Among his many achievements Roger was a tutor at Hadlow College and responsible for educating many of the top fruit growers in Kent. Roger was the brains behind the Community Orchard at Capel which is a model for any aspiring Parishes planning a Community Orchard.
Each tree was sponsored by a member of the local parish and is clearly labeled with the identity of the variety and sponsor.
Below: Roger preparing for the schoolchildren - and - a tasting table used in the morning's proceedings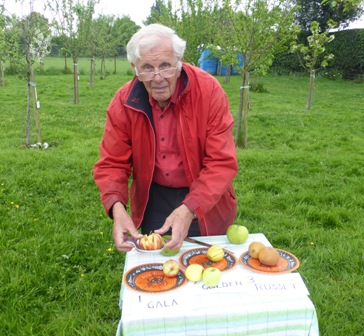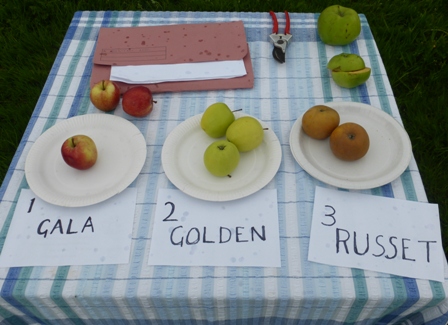 Below: One of the Diamond Jubilee trees in The Capel Community Orchard - and - label identification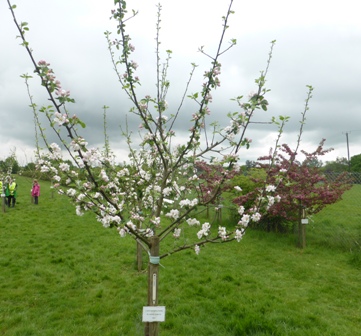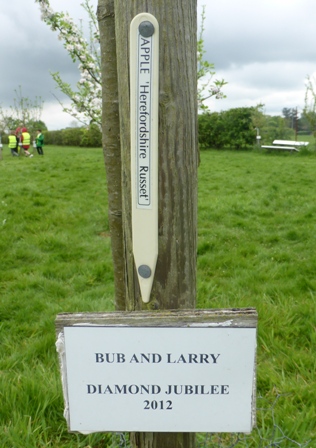 Roger organised simple tasks designed to educate the children 'while having fun' - here children are using paintbrushes to simulate the activity of bees; the children first brushed the pollen on a 'donor flower' before brushing the pollen onto the recipient flowers. A simple idea, but one which demonstrated how pollination takes place.
Below: 'Busy Bees' pollinating - and - completing the pollination process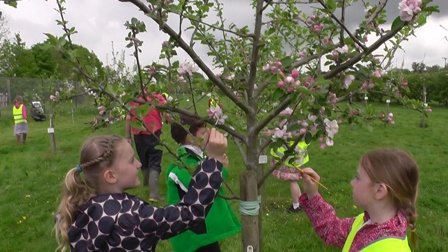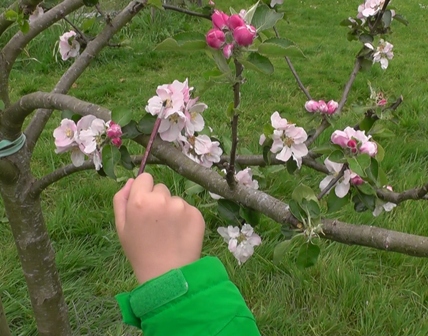 The next task for the children; tasting and assessing 3 varieties of apples; Gala, Golden Delicious and Egremont Russet.
Below: Children organised into three 'tasting groups' by their Class teachers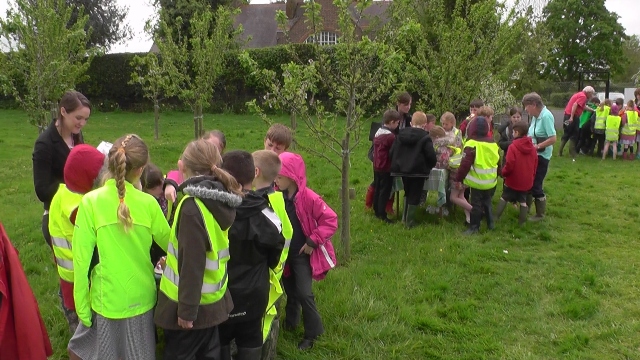 Below: Roger, teachers and children getting organized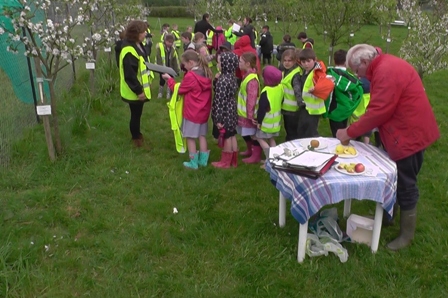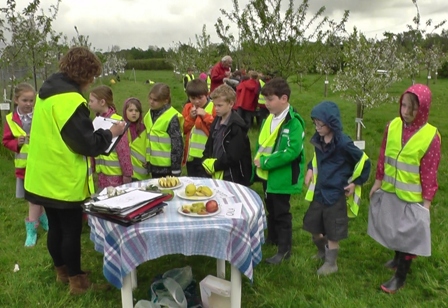 Below: 'tasting is in progress' and excited children deliver their assessments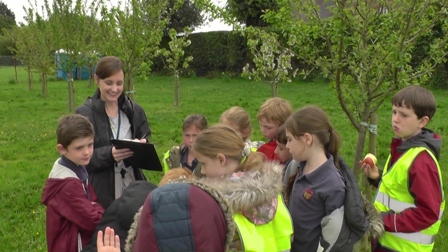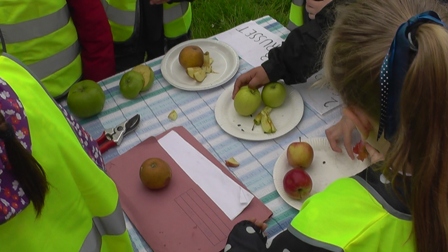 Below: Decisions made, the results are in..........it's all on record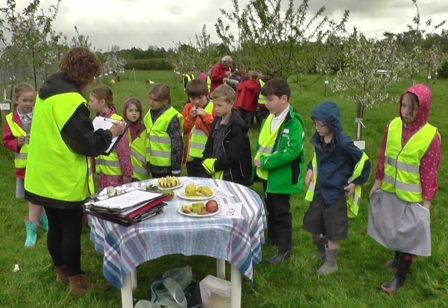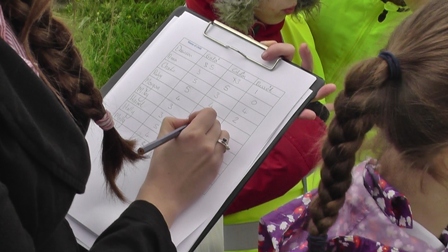 Below: Roger and Capel Primary School children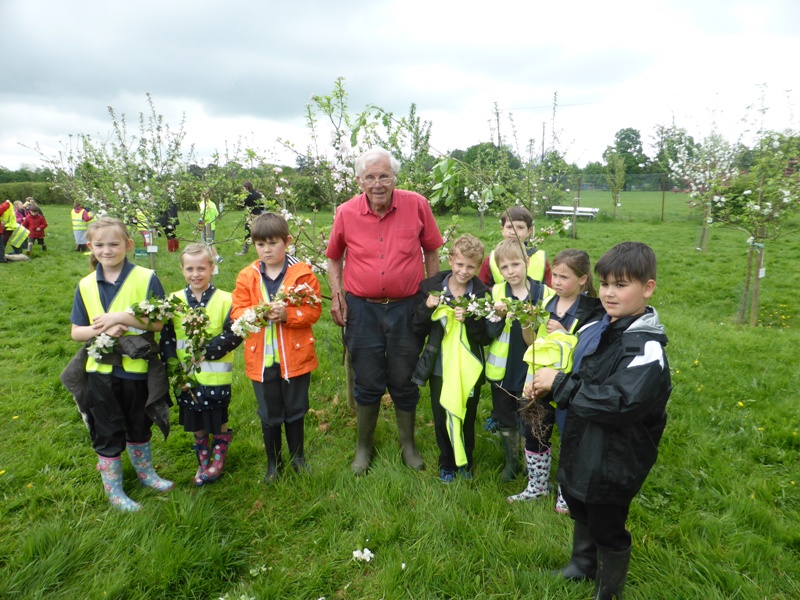 The morning was a great success and to witness the fun the children had while learning about aspects of how apples are conceived and grown was 'pure joy' - small children are so uninhibited in their comments and Roger's vision of how to enthuse them while educating them was 'pure genius'
Next week The English Apple Man will report on the BIFGA Spring Farm Walk at Broadwater Farm.....
Take care
The English Apple Man