The Journal gives a weekly update on events in our English apple orchards, using pictures and video clips to follow seasonal activities and giving the consumer a level of detail not available from any other source.
All aspects of growing, harvesting, storage, grading, packing and marketing are included enabling consumers to understand the challenges English growers face in supplying our sophisticated market place.
27 March 2020 - The English Apple Man contemplates this crazy time we are living in.
This is a time of unprecedented anxiety for our nation, and many more throughout the world. One only has to look at twitter and LinkedIn to understand the plethora of opinions - many very positive and sadly some very negative!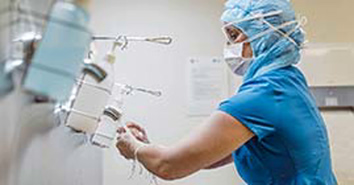 As a pair of old fogies, my wife and I have been the recipients of offers of help: shopping etc. and this kindness to neighbours is a countrywide demonstration of all the good and caring members of society!
Sadly some through selfishness and/or ignorance have performed stupid and in some cases disgusting acts against the very people trying their best to help them. One story of six ambulances in East Kent, where some idiot drilled holes in the tyres, beggars belief.
Joining our neighbours clapping our wonderful and brave NHS workers last night, demonstrated the appreciation felt my most of the population for their sterling effort on our behalf.
20 March 2020 - We are all living in a very uncertain world!
At this time of the year, The English Apple Man would normally be concentrating on the development of the new apple and pear season!
At this moment in time, the season is circa 10-12 days earlier than the long term average. Talking to a grower friend today he started spraying for apple scab 10 days earlier than last year.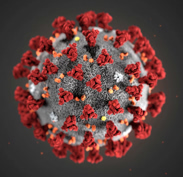 However, with Coronavirus dominating our minds and every day bringing a greater level of anxiety, I have found it difficult to think about anything else!
Just two weeks ago I was at an Awards Dinner mixing with friends, with no real concern for what would become an exponential upward curve towards the most challenging period in our lives since World War 2.
13 March 2020 - Extract from AHDB Tree Fruit Day + more news
The AHDB Tree fruit day held at NIAB/EMR on Thursday 27th February covered many subjects but fighting Bacterial Canker in Cherries in particular resonated with The English Apple Man.
The possibility of bacteriophages as a means of combatting canker is the latest area of research by NIAB/EMR scientists working on AHDB projects.
The British top fruit (Apples & Pears) season still has some months to go, but 'down under' New Season New Zealand apples are on their way"
06 March 2020 - It's all about taste this week!
The English Apple Man attended the Taste of Kent Awards on Thursday and today Friday with Marden Fruit Show colleagues, spent the morning tasting and judging apple, pear and other juices for the annual Fruit Juice Competition.
It's funny how things work out, but we spent last weekend in Wiltshire celebrating my brother's birthday and on Tuesday visited good friends for lunch, which featured the hostess's fabulous Pavlova.
Below: Tracy (right) and her assistant Lisa preparing our weekend of culinary delights!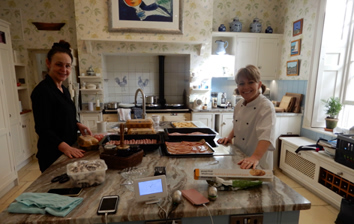 28 February 2020 - Tree Fruit Day, migrant workers and taste of summer
On Thursday, The AHDB (Agriculture and Horticulture Development Board) held their Annual 'Tree Fruit Day' at NIAB/EMR.
This event is always a very educational occasion, as research scientists update the attendees on AHDB projects.
The English Apple Man will feature The Tree Fruit Day in next week's Journal on 6th March.
This VIMEO highlights the importance of seasonal workers for the future of British grown produce.
21 February 2020 - The English Apple Man investigates critical nutrients
It matters not what we grow, delivering critical nutrients is essential for maximising performance.
At the BIFGA Technical Day, John Keyte from YARA identified critical elements in nutrients for growing apples.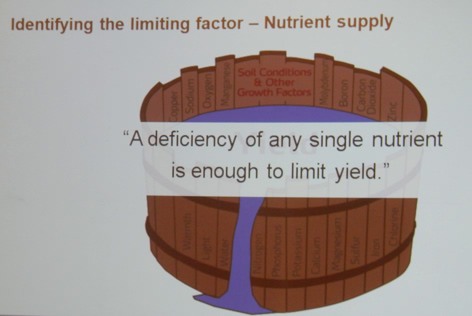 14 February 2020 - An insight into what new Agriculture Bill has to offer
The UK government has introduced new legislation which ensures that farming subsidies will continue to be paid to UK farmers for 2020.

The 9th January saw the governments first step to 'provide continuity for farmers and ensure subsidies are paid this year', post-Brexit, by putting forward the Direct Payments to Farmers (Legislative Continuity) (DPLC) Bill.
This confirms that farmers should expect to receive similar levels of funding for direct payments in 2020 as what was received for 2019. The Bill for 2020's direct payments at least provides some financial and legislative certainty for the next year.
With the new Agriculture, Bill understood to move away from 'direct payments' in favour of environmental measures perceived as 'public goods'.
This legislation holds a funding package of £2.852 billion for 2020, which will be administered by governments across the UK and is to be implemented in time for our withdrawal from the EU.
07 February 2020 - Canker - the number 1 challenge for apple growers
At the BIFGA Technical Day in January, Dr. Lucas Shuttleworth from NIAB/EMR presented an update on Canker research.
Below: Dr. Lucas Shuttleworth and right: a severe canker infection/wound and Spores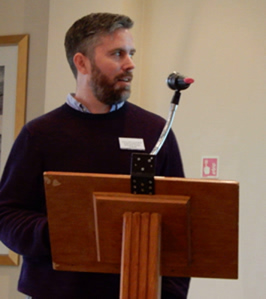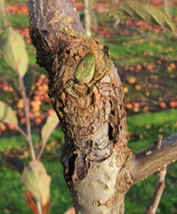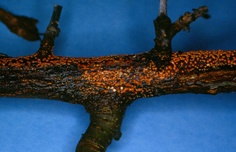 31 January 2020 - BIFGA, Brexit and more besides
Today we officially leave the EU and some will celebrate while others are aghast at the prospect. There is still a long way to go and this year 'Boris and his band' must achieve so much to bring the Leave/Remain factions back into a united Great Britain!
BIFGA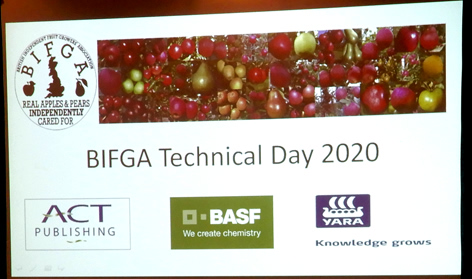 This week The English Apple Man covers one of the presentations at this year's BIFGA Technical Day. More presentations will be covered in the coming weeks!
24 January 2020 - A busy and eventful week for The English Apple Man

What a week!
Hospital visits!
The 2020 East Kent Fruit Society AGM Dinner and Orchard Competition Trophy Presentations, held at Boughton Golf Club (near Faversham )
The 2020 BIFGA Technical Day held at Dale Hill Golf Club & Hotel