The Journal gives a weekly update on events in our English apple orchards, using pictures and video clips to follow seasonal activities and giving the consumer a level of detail not available from any other source.
All aspects of growing, harvesting, storage, grading, packing and marketing are included enabling consumers to understand the challenges English growers face in supplying our sophisticated market place.
30 October 2020 - More reporting from the National Fruit Show
In this week's Journal The English Apple Man reviews more of the presentations from last week's 'Virtual' National Fruit Show
Below: left; NFS President Teresa Wickham and right; NFS Chair Sarah Calcutt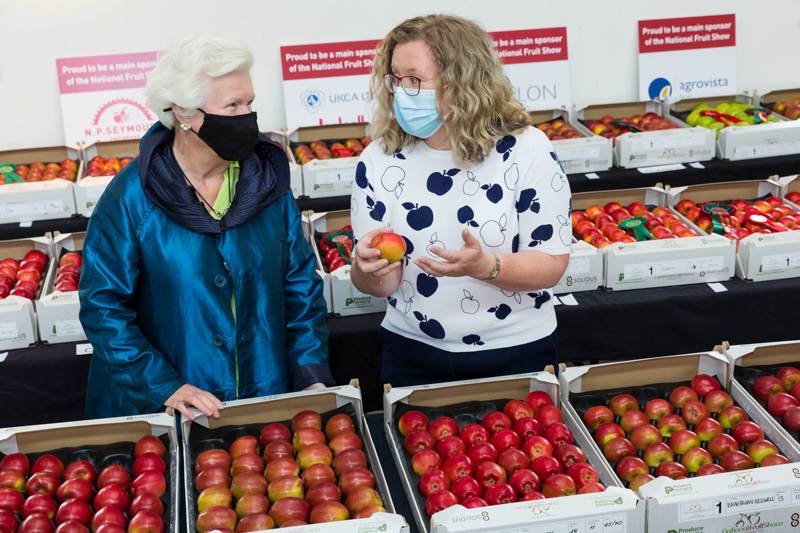 23 October 2020 - 2020 National Fruit Show
The 87th National Fruit Show took place on 22nd October (yesterday!) as a 'one day' virtual event.
Judging of the show fruit and tastiest apple took place on Wednesday (21st October) - The English Apple Man was privileged - 'again' to be part of the 'Tastiest Apple' tasting panel.
In the last decade, either Rubens or Jazz have been judged the tastiest.
The 'virtual National Fruit Show had so many excellent presentations by such eminent speakers, that it will be impossible to do justice to all in one edition of The English Apple Man Journal, therefore the content will be spread over several weeks!
The programme!
10am Opening address of the show: Lord Krebs.
10.15am Session 1: RED Extra - British Produce Futures.
12pm - 2pm: The National Fruit Show Live's Technical Experts Forum.
2pm - 4.30pm. Session 2: Insight - the Worshipful Company of Fruiterers and the Fruit Produce Journal present a panel discussion showcasing the latest research in top and soft fruit.
4.30pm: The Livery Awards.
5pm - 6pm: National Fruit Show Prize Winner's Announcements by a virtual cider bar with Nigel Barden.
16 October 2020 - Celebrating British Apples and Pears
Harvest is still underway, with the late varieties Jazz and Braeburn nearing completion.
Next week the National Fruit Show celebrates the best of British Apples & Pears with the 87th Show
The Marden Fruit Show Society (MFSS) is a Registered Charity run by a voluntary committee who represent many different facets of the fruit industry. The aim of the Society is to promote the better growing, grading and marketing of fruit.
The Society organises the National Fruit Show, which acts as a meeting place for the industry. The centrepiece of the show, held each October, is the largest competitive display of commercially grown top and soft fruit staged in the UK.
To view a history of apples in Britain: Click on GREAT BRITISH APPLES & PEARS HISTORY
09 October 2020 - October Trade Shows
October is the month when the 'top fruit industry' gathers to celebrate and promote our Great British Apples and Pears.
For the first time, this the 87th National Fruit Show will be a 'Virtual Event' due to the influence of COVID-19
Sponsors are always important to the success of the annual show and their support in these times of uncertainty are as important as in any normal year.
The sponsors.
02 October 2020 - October brings the later maturing apples
All the September varieties should have been picked and as we enter October, Cameo, Jazz, Braeburn & Magic Star are next on the harvesting list.
Other September varieties
Below: Rubens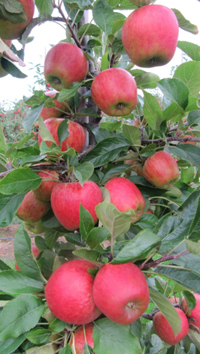 Rubens - harvesting should now be nearing completion on all sites
Below: Gala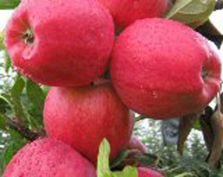 Gala - Firmness has changed very little over the past week, but starch and brix levels are now falling rapidly. On many of the fruits, the conversion of starch into sugar has now finished and as the apples continue to respire, the stored sugars are utilised, resulting in the overall brix levels falling. As a result, harvesting even for short term storage should now be finished or nearing completion!
Cabaret - harvesting is underway.
25 September 2020 - Apple harvesting in 2020
Over the last 60 years, The English Apple Man has been involved with the annual apple harvest.
The first as a teenager 'just out of school' in 1958!
In those far off 'halcyon days' when trees were much, much bigger, some 25ft tall, wooden ladders were integral to the mode of picking.
We picked in those days with a canvas bag on our back, placing the picked fruit into the bag carefully to avoid bruising. The system was tiring and required great care. Once the bag was full, we would make our way to empty the bag, using our hands/arms to keep the bag clear of our body, or damage could/would occur!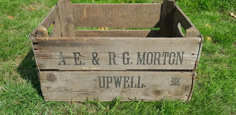 The next task, emptying the contents of the bag (20-30lb of fruit) into boxes without damaging them!
The process meant we spent a large amount of time moving ladders, climbing 'up & down' ladders and walking carefully from tree to boxes before emptying with great care e.g. 'slowly'
18 September 2020 - News of a new variety of apple, perfect for gardens.
There are apples that fit into the commercial sector and some best suited to a garden. All can deliver good fruit and great eating pleasure, but for the 'taste off the tree' experience, some stand out!
A new apple
BLADON PIPPIN is it's name and it has a fascinating background story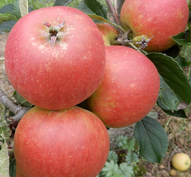 Sean Morris, the owner of the variety discovered an apple tree growing in the grounds of his office and when the tree began to produce fruit, he found the apples to be very tasty.
In fact he describes it as similar to Cox Orange Pippin, 'but better - When Sean retired, he decided to dig the tree up and plant it in his garden.
Bladon Pippin is now trade marked protecting it's unique identity. Bladon Pippin TM
11 September 2020 - 2020 Apple harvest is well under way!
It's all hands to the pump (as they say) with harvest for long term storage completed for Bramley & Cox apples and Conference pears.
Gala, the number one British apple has started at 'early sites' and about to get going on the remaining regions
harvesting Bramley at AC Goatham - after viewing the video, exit twitter and return to the EAM Journal.
Correct harvest date
There is general agreement that apples destined for medium or long-term storage should be in an unripe condition at the point of harvest but close to the onset of ripening (sustained increase in ethylene production and in respiration rate).
Picking too early is to be avoided since fruits are likely to have a tough texture, high acidity, low sugar and poor flavour development. Early picked fruit may also have insufficient red coloration (important for dessert cultivars) and may have increased susceptibility to storage disorders such as superficial scald, bitter pit and core flush.
Late picked fruit are likely to be too soft for the market and to develop disorders such as senescent breakdown during storage or marketing. The general appearance of the fruit may be adversely affected and the background colour may be too yellow for market requirements. In the case of some cultivars such as Gala, skin can become greasy when picked over-mature.
04 September 2020 - Have you got an orchard in your garden?
As the commercial apple harvest gets seriously under way, The English Apple Man looks at growing your own.
It may not be possible to compete with the commercial grower on price and availability, but the joy of picking from your own tree and eating your own apples is unbeatable!
28 August 2020 - Apple harvest approaches, but what about storage?
By the end of next week many growers will be picking Cox and Gala for 'long term storage'
What do we mean by long term?
The practice of storing apples until February/March was how we labelled, long term for many years.
As storage science improved, Cox crept into April and for marketing purposes that was ideal, with the arrival of Cox from New Zealand, followed by NZ Gala soon after.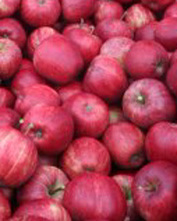 British Gala was not considered suitable for marketing much beyond February in the early years of 'home grown' production, but as volumes built up and nutritional and storage sciences developed, Gala has been stored and marketed into early summer May/June.
Over the course of the last 2-3 years with the aid of DCA (Dynamic Controlled Atmosphere) storage and a better selection of fruit with the optimum 'dry matter content' - storage potential has extended, British Gala has been successfully stored into August when the first of home grown 'New Season' apples become available.