The Journal gives a weekly update on events in our English apple orchards, using pictures and video clips to follow seasonal activities and giving the consumer a level of detail not available from any other source.
All aspects of growing, harvesting, storage, grading, packing and marketing are included enabling consumers to understand the challenges English growers face in supplying our sophisticated market place.
29 September 2023 - English Apples, an industry in crisis, and a consumer responds!
On Sunday evening I watched Countryfile which featured the crisis facing British Apple Growers
On Sunday evening, I received an email from Sue a lady in Manchester responding to Richard Budd, one of the three growers visited by Countryfile presenters.
Dear Richard,
I am watching the item on Countryfile right now and am horrified that you are treated so badly by supermarkets. For example, I couldn't believe my ears that Bramley's the best apple for baking ever, are having to be juiced because some eejit in, say, Tesco is deciding the consumer, me, doesn't want small ones, odd sized ones etc. Also that they are then not paying you a decent price. I am also becoming concerned about imports and why I don't see the varieties of pears and apples, I know are grown here, in the shops.
I am sure that I cannot be the only consumer that is sick of being told that I don't want this, that and the other by retailers who didn't even ask me. I wondered if you would be willing to correspond further on this with an end user like me so that I can learn what more I can do to support British fruit and veg. farmers, e.g. buying directly for example.
Kind Regards - Sue - from Manchester
22 September 2023 - National and Global News
Start of season 2023 - British Apples and Pears Ltd
Talking start of season, and in preparation for British apple month in October, we have issued a press release to long-lead consumer media. The release will also be distributed via the PA Newswire on 1 October to national news media. Expect to see coverage from 2 October onwards.
In my inbox this week, and brought to my attention by BIFGA, an article published in FRUITNET New report suggests massive increase in production and operating costs over past three years has left around 60 per cent of GLOBAL supply unprofitable!!
According to the report, such an outcome will make it harder for consumers the world over to eat a healthy diet. Indeed, to keep their food expenses in check, people will increasingly rely on low-cost staple foods or turn to unhealthy calories, such as those from soft drinks. In addition, the economic difficulties faced by fresh produce exporters in developing countries counter the impact of efforts towards poverty reduction, and threaten the livelihoods of millions of families.
The Global Coalition of Fresh Produce brings together fresh produce associations from around the world, based on their joint vision to create resilient global value chains for fruits and vegetables that bring a myriad of economic, environmental, and societal benefits. The Coalition's mission is to voice solutions to address disruptions in global supply chains for fresh produce, including - but not limited to - rising costs, and share and promote best practices
15 September 2023 - Serious Apple Harvesting has begun!
The 2023 apple harvest is on it's way as Cox picking (1st pick) complete on many farms and Gala underway a well.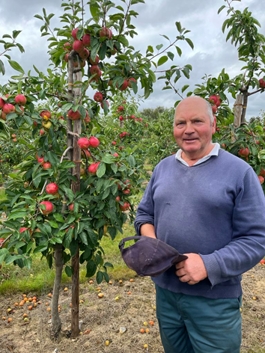 On Wednesday The English Apple Man popped into Monks Farm at Norton in East Kent to see how Simon Bray was finding this year's cropping levels.
An old friend and one of the best growers around, his fruit regularly available on M&S shelves, Bramley and Cox had been picked and I found Simon and his pickers busy in the Smitten orchard.
Smitten is a modern apple variety, developed in New Zealand, but closely related to some popular modern English varieties - Fiesta and Falstaff, as well as Gala and Braeburn.
The flesh is a yellow-cream color, fairly dense, with a crisp texture and moderately juicy. The flavor is sweet but with some acidity. We rate it as pleasant but not outstanding.
The skin is slightly greasy, but with a pleasant odour.
Given its parentage it is not surprising it has good keeping qualities - Fiesta, Gala, and Braeburn all store very well.
Smitten is the trademark, the cultivar name is PremA17.
08 September 2023 - The English Apple Man visits Apple Logistics
In recent weeks The English Apple Man has looked at the growers preparation for harvest and the servicing of storage facilities as the new season approaches
This week we visit Apple Logistics Ltd. a company servicing the transportation needs of growers, storage sites and packhouses.
Below: Clara - Transport Manager at Apple Logistics Ltd.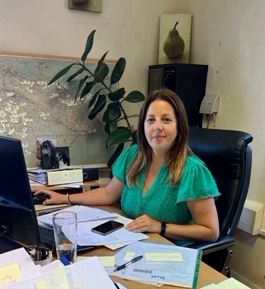 On Tuesday The English Apple Man visited Graham Hill at his office at Court Lodge at East Farleigh in Maidstone where he and his partner Steve Packer mastermind the movement of apples from farms to storage complexes and packing sites across the South East of England and beyond.
While there, I met Clara - Transport Manager and Paee who deals with finance.
Clara with her language skills (speaks several) is able to converse fluently with the many nationalities holding key positions at the many farms, stores and packing sites to whom she speaks on a daily basis.
With Paee keeping on top of business finances, the management and administrative team of Graham, Steve, Clara and Paee deliver a quality service to all the Apple Logistics customers!
01 September 2023 - Getting ready for apple storage
Gosh it's September and across the top fruit industry, growers are getting ready for the harvest of apples which will be stored long term allowing the availability of British apples until next summer.
The harvest of apples for long term storage begins with Bramley, our revered British culinary apple which normally starts in early September. Talking to a leading grower, who normally would pick some of his Bramley for the early market, he tells me that with some of last year's crop still being marketed, and this year's crop half of 2022 he is picking Bramley for long term storage to maximise this year's monetary value.
Conference pears are of very good size and are already being picked for long term storage.
Meanwhile apple stores for storing throughout the winter are being readied for use with storage specialists carrying out service checks.
To see what growers are doing as they approach a new season: Click on Apple Storage from a previous English Apple Man Journal
25 August 2023 - It's a Kinda 'Magic Star'
Last week, The English Apple Man joined fellow members of East Kent Fruit Society (EKFS) at Bekesbourne Farm for the traditional walk of the Winning Orchard of EKF Society's annual orchard competition.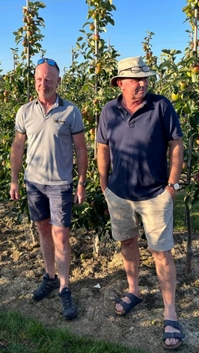 Brothers William & David Riccini grow apples. pears, and cherries on four farms in East Kent. They have an envious record as multiple winners of this prestigious award.
Their 3 other farms cover 73 hectares, mainly Gala and Braeburn, a few Cameo and Conference pears..
David said, "We picked a total of 9,200 bins in 2022 from all sites, maybe less in 2023, we have a slightly reduced Gala crop and have grubbed 2 hectares of Michgla an older clone of Gala.
See below a link to The Riccini brothers EKFS Winning Orchard Walk in 2019.
Click on: EKFS Winning Orchard Walk 2019 at Oast House Farm.
The English Apple Man Comments: The Riccini brothers farms are and always have been 'smart well managed enterprises' and this was evident on this beautiful summers evening, as I entered the driveway, the consistency of tree management and crop was 'striking'
18 August 2023 - Looking back half a century
In last week's Journal. The English Apple Man visited John Dench at Ringden Farm in East Sussex.
This small family fruit farm has been in the family since John's grandfather Ben bought it in 1963 as a 17acre unit.
While visiting John last week, he mentioned his grandmother (now well into her 90's had found an old Grower Magazine from 1971 in which her husband Ben had written an article about the anxieties held by many apple growers about the high probability of The UK joining the EEC Common Market.
Readers of The English Apple Man will be well aware of my concerns vented in various editions of the EAM Journal about the mounting challenges facing our fruit industry, not just apples and pears but soft fruit, stone fruit and the horticultural sector in general.
Therefore I thought it worth while to 'take a trip down memory lane' and read Ben's viewpoint from 50 plus years ago.
I have managed to copy the article in full, although the type is not as clear as it was in 1971. However, if the reader increases the letter size on their PC (to 150) it is quite readable.
In front of, rather than after, I have taken elements of Ben's story and made comments relevant to today!
12 August 2023 - Harvesting new season apples 'under way'
The new season is upon us as the first pick of British Apples is under way!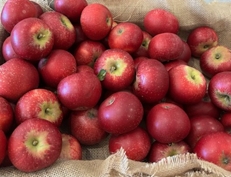 The English Apple Man 'popped in to see John Dench at Ringden Farm in East Sussex where the harvest of Rosette started on Monday.
British apple growers range from small enterprises like, Ringden to huge operations farming more than 1,000 acres.
As our growers face mounting challenges of large cost increases of labour, materials and energy, and resistance by Supermarkets to increase prices back to the grower sufficient to cover these huge production costs, even the largest, most efficient growers are unable to generate a profit!
While this is an ongoing conundrum, my visit to Ringden Farm where John Dench and his family have managed to make a success of what is just 30 acres of apples, pears and some plums.
04 August 2023 - The English Apple Man
In this week's Journal, The English Apple Man looks at issues highlighted in the 'trade press'.
'Supermarket promotions aren't working for the grower'
Severe hailstorms and extreme heat leave parts of Italy's fruit and vegetable production base battered and bruised
NFU urges government action on food security report
28 July 2023 - Top Fruit Industry 'Stalwart' retires
45 years and just a few more days to go!
Last week, Family, Friends and Colleagues gathered for a 'surprise retirement party' for Martin Simmonds, who has been central to the operational success of Home Grown Fruit since 1978.
45 years with one employer, is quite a story. Imagine starting out today and looking that far ahead!
From my recollection, Home Grown Fruit started n 1961, so Martin has been with HGF for 75% of its existence!
From the creation of HGF in 1961 until the 1990's the company stayed much the same, before in 1994 the name changed to The English Fruit Company (ENFRU) - by 1996 more changes as the company became FRUITION with a smaller but more dynamic entity as Category Management became the new norm!
In 2001 a joint venture between Fruition and ENZA of New Zealand became Worldwide Fruit Ltd.
Fruition PO was set up in 2003 on the merger of five existing producer organisations but can trace its roots back to 1962 with the Home Grown Fruits Co-operative Marketing Organisation.
Now anyone who has been involved in supplying Supermarkets with fruit (and all perishables) knows it is a fast moving, dynamic business, some would say; " highly stressful" existence!
It is remarkable that over all those 45 years, nobody can ever remember Martin losing his temper!