The Journal gives a weekly update on events in our English apple orchards, using pictures and video clips to follow seasonal activities and giving the consumer a level of detail not available from any other source.
All aspects of growing, harvesting, storage, grading, packing and marketing are included enabling consumers to understand the challenges English growers face in supplying our sophisticated market place.
29 May 2020 - Tracing issues are in the news!
With tracing apps in the news, The English Apple Man investigates a new App designed to assist fruit growers manage orchard management and improve product profitability.
BIFGA TECHNICAL DAY - THURSDAY 23rd JANUARY 2020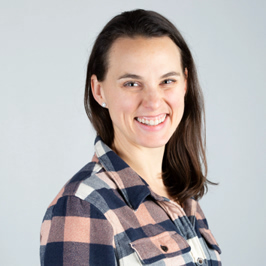 Over 90 people attended the highly successful 32nd BIFGA Technical Day, held on Thursday 23rd January 2020, at Dale Hill Conference Centre, and there I met Kaye Hope of FARMABLE.
Hey! I'm Kaye, the Commercial Lead for Farmable. I spend most of my time talking with growers to better understand how they use technology today and what their needs are for better software in the future. As a Canadian living in Norway, I love speaking with farms from around the world and finding the common threads - it's incredible how similar we are despite the distances that separate us.
Kaye Hope reviews the rapid development of FARMABLE over the last few months.
"This is our first season with the Farmable app in the UK and we have had 35 British farms register and start using Farmable over the past couple months. 8 of these 35 are committed pilot farms who we have regular contact with to get product feedback, but we are happy to grow this number. The most important work we do as a software team is to work closely with growers and agronomists to check and double check that we are building something user-friendly and valuable to their daily work".
The most important work we do as a software team is to work closely with growers and agronomists to check and double check that we are building something user-friendly and valuable to their daily work".
22 May 2020 - Prospects for this season's Apple & Pear crops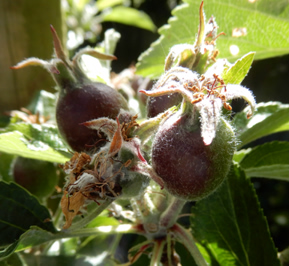 It is at this time of the year when growers and agronomists are assessing the potential fruit set and prospects for this season's apple and pear crops.
In 'days gone by' when trees were much larger and the fruitlets were hidden by leaves, the wise old sages would proclaim: "best go away and come back after Derby Day" - it was amazing how trees which appeared to carry very few fruitlets, changed and by early June (Derby Day) many a grower would say "where did they all come from?
In today's orchards where trees are small and fruitlets are almost ALL visible soon after blossom develops into tiny fruits, assessment is much easier. Of course it does not necessarily turn into a full crop - previous weather events may influence a heavier than natural 'drop' (we always called this the June Drop) but it is usually late June/ early July before the natural thinning takes place.
So growers and agronomists must decide the action required to enhance the final crop yield and quality!
15 May 2020 - A Virtual World, a sign of the times and Jack Frost has been about!
Who would have thought this time last year that we would be living in a virtual world?
Facetime, What's app, Zoom, etc.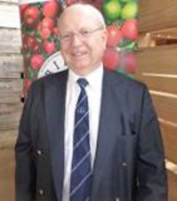 Last year and every year before, going back many years, The British Independent Fruit Growers Association (BIFGA) have held a Spring Farm Walk. This year COVID -19 put a stop to that!
But BIFGA Chairman (and founder) John Breach suggested to his committee a 'Virtual Farm Walk'
08 May 2020 - Looking back with pride and looking forward with hope!
Last week we had a bout of Nostalgia - this week we will look ahead to the changes in Fresh Produce supply in the wake of COVID - 19.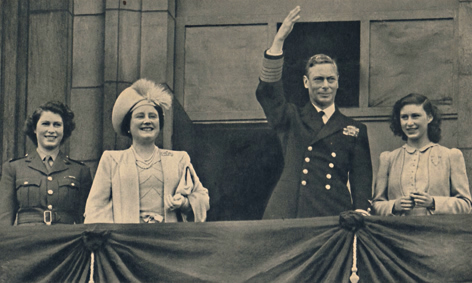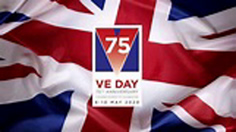 But first let us remember the 75th Anniversary of the end of the last 'major' challenge faced by our Nation.
Today is VE Day - the anniversary of the 'official end' to World War 2 in Europe, when the defeat by the allied armies saw the surrender of Nazi Germany on 8th May 1945.
01 May 2020 - Nostalgia is a wonderful thing!
In these difficult times, and with time on our hands in 'lockdown' looking back over the life we have led, especially for us 'senior citizens' brings many nostalgic times to the forefront our minds.
Below: Dan The Apple Man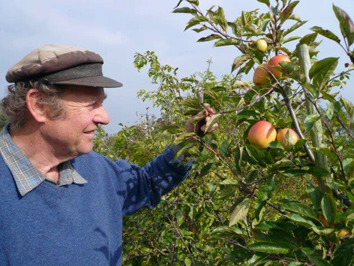 NOSTALGIA
Throughout my life, I have been very lucky to meet and get to know many of the great characters of our fruit industry and by coincidence last week I stumbled on a 'Linkedin' post by one of those characters.
So today I reminisce back to the days of my youth, when life was simpler and Coronavirus was just an idea in a science fiction writer's head!!!!
24 April 2020 - Blossom has been early this year
The COVID-19 Pandemic dominates our lives and anything else seems trivial in the face of the challenge faced by us all and particularly for those families who have lost loved ones in the most tragic circumstances
In our orchards and gardens, the many species in blossom is of some comfort for those of us in lockdown.
Below: left; Cox apples in full bloom on 22nd April in Herefordshire and right; Bladon Pippin in the EAM's Garden today 24th April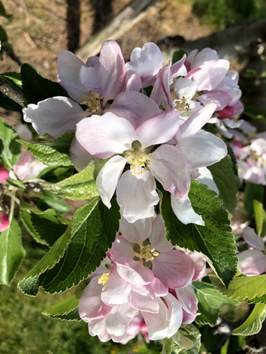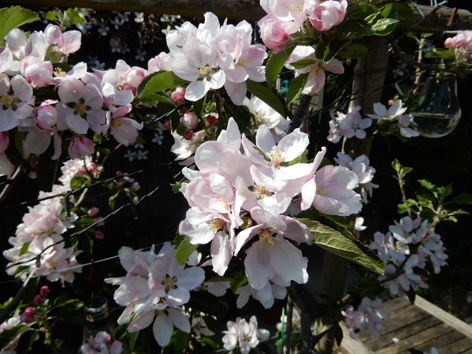 Over the last 50 years, the average blossom time has progressively come earlier and earlier. The blossom time varies from year to year, sometimes very early and sometimes not so early, but over time the average blossom time has advanced by circa 14 days.
17 April 2020 - What to write about this week?
Finding the right subject to write about is difficult, the world we are living in is a surreal one and previous everyday subjects pale in significance as the desperate battle for lives continues in hospitals and care homes across the nation.
With many fruiting and ornamental trees in blossom, The English Apple Man shares pictures sent in by Agronomists 'crop walking' in our grower's orchards and a few selected from my own garden.
10 April 2020 - In these demanding days, it is nice to see the sunshine as blossom takes centre stage
This last few days have been devastating for so many families as loved ones fight this evil Pandemic.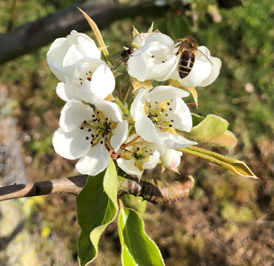 We can only follow scientific advice and hope this will eventually get us over the current 'very scary' situation.
A small comfort has been the beautiful sunshine of late, however that is a blessing for those of us with a garden but of not much solace to those trapped in a flat.
The Sunshine has brought the bees out, here pollinating pear blossom.
03 April 2020 - Another week, and what a week!
Each day brings an escalation of sad news as the COVID-19 virus takes an increasing hold on our Nation. Every fatal statistic is heartbreaking for families and those in close relationship with a loved one. As a couple of 'old fogies,' my wife and I stick to the rules of self-isolation, but the mental tension is one of the hardest emotions to keep under control!
To all EAM readers STAY SAFE
During the coronavirus crisis, many people will sadly be out of work. In last week's Journal, we identified BARDSLEY ENGLAND as an opportunity for employment in the West Kent area. In conversation with Ben Bardsley today, he is delighted with the response. At this moment in time, Bardsley has no vacancies. but as the season develops more vacancies should become available.
We also identified ANGUS GROWERS
One of the jobs opportunity websites is: BRITISH SUMMER FRUITS Once opened, click on the location map to view individual grower details.
27 March 2020 - The English Apple Man contemplates this crazy time we are living in.
This is a time of unprecedented anxiety for our nation, and many more throughout the world. One only has to look at twitter and LinkedIn to understand the plethora of opinions - many very positive and sadly some very negative!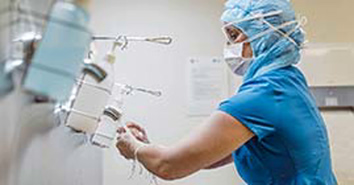 As a pair of old fogies, my wife and I have been the recipients of offers of help: shopping etc. and this kindness to neighbours is a countrywide demonstration of all the good and caring members of society!
Sadly some through selfishness and/or ignorance have performed stupid and in some cases disgusting acts against the very people trying their best to help them. One story of six ambulances in East Kent, where some idiot drilled holes in the tyres, beggars belief.
Joining our neighbours clapping our wonderful and brave NHS workers last night, demonstrated the appreciation felt my most of the population for their sterling effort on our behalf.