The Journal gives a weekly update on events in our English apple orchards, using pictures and video clips to follow seasonal activities and giving the consumer a level of detail not available from any other source.
All aspects of growing, harvesting, storage, grading, packing and marketing are included enabling consumers to understand the challenges English growers face in supplying our sophisticated market place.
27 January 2023 - Update
British apple & pear industry lays out a series of asks for retail, government and consumers after alarming survey findings
Apple growers in France say they need an additional €0.20 per kilogram to save the country's orchards, as the impact of increased costs bites hard
ANPP, the French top fruit association, offered a stark warning on the current state of the apple sector in France in a post on LinkedIn entitled "Apple industry on the verge of ruin".
Photos from the association showed producers in the process of uprooting their own trees due to the unsustainable price currently being paid to growers.
Finally a nice story from apple growing brothers in Kent!
20 January 2023 - Bits and Pieces
In this week's English Apple Man Journal we will look at a few interesting 'bits & pieces'
NEW CEO APPOINTED FOR THE NATIONAL FRUIT SHOW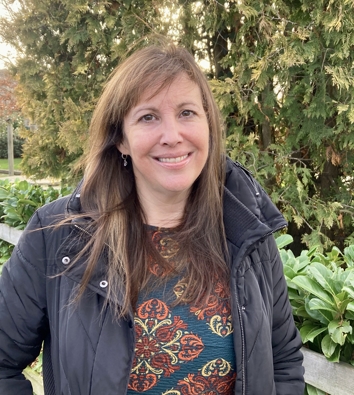 The Marden Fruit Show Society (MFSS) has appointed Sally Flanagan, a long-standing committee member and former Executive Director of The East Malling Trust as its new Chief Executive Officer. Sally takes over the reins from Sarah Calcutt, who has stepped down as the Executive Chair and now becomes the Honorary Chair.
Sally, who has been involved as a committee member for a number of years, takes over all day-to-day responsibilities of running the MFSS which includes the annual National Fruit Show, education programme for the industry and schools and competitions for growers and producers throughout the year.
Sally Flanagan comments: "It's an absolute honour to be appointed CEO. The work of the MFSS is essential in promoting access to knowledge and best practice relating to agriculture and horticulture here in the UK as well as information and best practice for the storage, packaging and marketing of fruit.
We also have a team who provide a successful and growing outreach programme of science, nutrition and careers education to schools and with additional sponsorship funding, we can expand this across the UK.
This year is also the 90th year of The National Fruit Show and following the success of the 2022 show, opened by HRH The Countess of Wessex, we are looking to build on that success with an exciting event to showcase the talents of British Fruit growers, the best of British fruit and the wider industry, along with access to the latest technology that innovates and supports it."
13 January 2023 - Where do I begin?
On Tuesday 10th January The English Apple Man attended a British Apples and Pears Limited meeting held at The Kent County Showground.
The meeting was very well attended with circa 70 present and a further 40 attending via ZOOM.
The attendance reflected the crisis facing our apple and pear industry and emotions were festering!
BAPL Chair Ali Capper conducted the meeting with prominent members of the BAPL Board present.
AGENDA
1. Future R&D overview
2. R&D Q&A
3.Strategic review
4.Strategic review Q&A
The agenda sought to explain and discuss the change in the BAPL structure now the Agriculture and Horticulture Development Board no longer supports Apple and Pear R&D.
In the AHDB ballot tree fruit, soft fruit and protected edible growers voted to retain their R&D levy.
The Tree Fruit panel was the most effective panel with 85% of the industry represented in its members and co-opted members
The panel was supported by a Research Manager, Knowledge Exchange team and the EAMU/Emergency Authorisations team at AHDB
Horticulture Crop Protection Ltd:
The demise of AHDB Horticulture leaves a gap for the industry which the Board of BAPL, like the other crop associations, feel should be filled.
This is a very important R&D issue which is no longer funded by AHDB (Agriculture and Horticulture Development Board) which was funded by a mandatory levy and government funding. Due to the recent review which the horticultural sector including apple & pear growers voted not to continue support for the AHDB and a mandatory levy, BAPL with other organisations have set up The Horticulture Crop Protection Ltd: a not-for-profit organization designed to deliver the EAMU's and Emergency Approvals for chemical and biological pest, disease and weed controls - all major Horticulture crop associations have signed up to HCP Ltd
BAPL Research & Development - Committee
BAPL Research and Development Committee: a separate committee to continue to drive the industry priorities for apple and pear R&D
There will be two separate costs, plus associated BAPL running costs raised in one voluntary levy
Strategic review
Ali Capper explained a strategic review was necessary to agree the new structure incorporates the R&D changes.
During the strategic review presentation, some attendees voiced strongly their concern that BAPL is not doing enough to support apple & pear growers in the current financial crisis: in particular challenging the Supermarkets strongly and publicly over the unsustainable prices growers are receiving
06 January 2023 - What does 2023 have in store?
Now six days into a new year, The English Apple Man mulls over what may be in store for 2023!
Last year brought so much anxiety into all our lives and on a personal basis the loss of a loved family member in August added to the challenges we faced. In addition personal friends and many fruit industry friends passed on to orchard in the sky!
Will 2023 bring good news?
On a personal 'family basis' we hope for good health and some happiness!
Last November as the crisis facing the apple industry came to the fore, The EAM wrote about the challenge facing my fruit faming friends.
"The effect of the Russian 'WAR' in Ukraine has had a global influence on the availability and price structure, but the squeeze on producers by Supermarkets has been ongoing for many years, in fact ever since the Supermarket's enticed producers away from the wholesale markets in the late 1970's. Once the supply became sufficient pressure was applied to producers in the shape of 'audit demands' and downward price pressures.
The result will be less home-produced food, especially labour-intensive produce, but not entirely as the current disaster facing the British poultry is driving egg production overseas.
It's the consumers choice, buy British or end up 'hostage' to imports, which in many cases do not observe the high standards we enjoy in Britain, the same standards demanded by our Supermarkets audit expectations (demands) "
For the full story: Click on The English Apple Man Journal November 25 2022
30 December 2022 - Looking back at 2022
On the crest of a New Year, The English Apple Man looks back at stories from this past year!
In the first Journal of January 2022 we were still under the influence of that evil virus
To Quote from last January
"As we pray COVID-19 can be brought under control, the science and technology behind vaccines have given us hope of returning to some form of normality.
In the fruit industry science and technology are more important than ever! We have always battled diseases and pest control, but now as changes in society land on us at an exponential rate, we rely on science and technology allied to a better understanding of the challenges we face!
A recent planned demonstration on the use of drones in early December became a ZOOM event due to concerns about Omicron".
23 December 2022 - Happy Christmas
On the threshold of another Christmas, not everyone knows that Mistletoe grows on apple trees!
My son inspired me to write about Mistletoe not aware that it grows in apple trees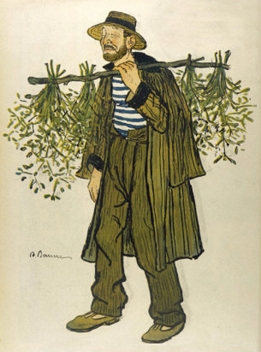 Mistletoe species grow on a wide range of host trees, some of which experience side effects including reduced growth, stunting, and loss of infested outer branches. A heavy infestation may also kill the host plant. Viscum album successfully parasitizes more than 200 tree and shrub species.
Mistletoe is the common name for obligate hemiparasitic plants in the order Santalales. They are attached to their host tree or shrub by a structure called the haustorium, through which they extract water and nutrients from the host plant.
The name mistletoe originally referred to the species Viscum album (European mistletoe, of the family Santalaceae in the order Santalales); it is the only species native to the British Isles and much of Europe. A related species with red rather than white fruits, Viscum cruciatum, occurs in Southwest Spain and Southern Portugal, as well as in Morocco in North Africa and in southern Africa. The genus Viscum is not native to North America, but Viscum album was introduced to Northern California in 1900.
16 December 2022 - Pink Lady
In recent Journals, The English Apple Man has focused on the critical challenges our UK apple growers are facing, and more will be reported in the New Year.
But this week The EAM focuses on apple varieties which command higher retail prices and return growers a profitable return!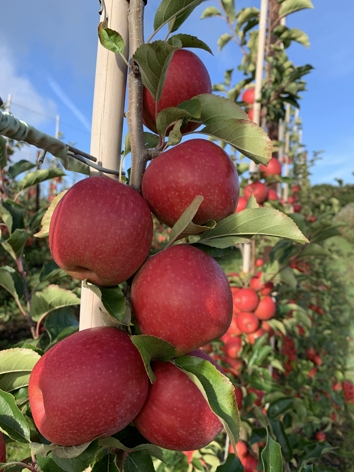 The most successful high value Global apple is Pink Lady. There are others like Jazz which has modelled it's marketing strategy on the success of Pink Lady.
The success required an exceptional apple with great taste, texture and very 'uniform' visual appearance.
For consumers to buy, and repeat buy, uniformity must be delivered. Cripps Pink delivers the optimum eating quality and by setting a specification for high colour (minimum red colour) while licensing it as Pink Lady only to growers capable of meeting the high standard, plus controlling the volume grown to meet consumer demand and NOT exceeding it, delivers profit to the grower ensuring financial sustainability!
The story of Pink Lady is the result of the fascinating endeavour by 'British-Australian' breeder John Cripps!
"John Ernest Lane Cripps was born on 9 April 1927 in Steyning, Sussex, England. He graduated from Reading University as a Horticulturist, and emigrated to Perth, Western Australia.
For many years we believed Pink Lady could not or would not, be grown in the UK. But as the effect of climate change improved the potential for Cripps Pink to be grown here, and the owners of Pink Lady licences accepted the potential for UK Pink Lady production.
Licenses have been issued to a few growers with the capability to grow Pink Lady successfully here.
The pictures of Pink Lady in this week's Journal were all grown in Kent this summer
The first UK Pink Lady of the season will be in selected Supermarkets this weekend!
09 December 2022 - updated
Gosh, it's only sixteen days until Christmas
In this week's Journal a friend and global expert on marketing, shares his views on the current fresh produce situation.
John Giles, Promar International writes for The English Apple Man Journal
"My many years of involvement with the Institute of Agricultural Management, the Chartered Institute of Marketing's food, drink and agricultural group and the City Food Lecture has also allowed me to improve my knowledge and experience of agri-food markets and broaden my network.
"I am a strong believer that all businesses should invest time and resources into understanding markets, supply chains and competitors and there are countless opportunities for agri-food businesses near to home and globally"
02 December 2022 - Various important issues facing English Growers
My apologies to me readers for the late 'on-line' Publication of this week's Journal, which covers a lot of issues (probably too many)
The English Apple Man recently attended The East Kent Fruit Society 'Winter Meeting' held at Faversham Golf Club.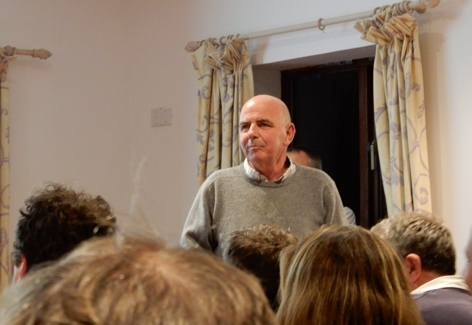 EKFS Chairman Will Riccini chaired the event in his characteristic 'sparkling style'
Will introduced a panel of expert speakers covering Carbon counting, Defra RPA support schemes, Soil diversity and Regenerative farming.
Will Brandreth from Chavereys
Richard Wordsworth NFU Senior Adviser
Louisa Robinson-Boyer from EMR NIAB
James Smith from Loddington Farm.
25 November 2022 - The Apple Scene
After the recent National Fruit Show and international events like Interpoma have passed, The English Apple Man takes a look at what's going on in the home and European apple scene.
It just so happened that a BIFGA retail price-check carried out in March 2019 in preparation for the report:
"Fairness in the British Gala Apple Supply Chain"
showed that the approximate average retail price of British Gala apples in major UK supermarket chains, was
£2.20/kg, or, a "Pound-a-pound". As three years have now passed, BIFGA would like to update that survey (for
the 2021 crop) to see if there have been any significant changes.
Somewhat alarmingly, despite three years' inflation, a BIFGA survey carried out in March 2022, showed that the
average retail price had actually dropped to £2.05/kg - less than a "pound-a-pound". However, because retail
prices vary according to fruit size, pack type, and from retailer to retailer, we will, for simplicity, assume for our
new survey that the retail price has remained at £1/pound. But was that £1 shared out "fairly" between the
various "links" in the supply chain? In other words: "Who invested the most/least time and capital?"; "Who
carried the most/least risk?"; and, "Who received most/least of the retail price?".