The Journal gives a weekly update on events in our English apple orchards, using pictures and video clips to follow seasonal activities and giving the consumer a level of detail not available from any other source.
All aspects of growing, harvesting, storage, grading, packing and marketing are included enabling consumers to understand the challenges English growers face in supplying our sophisticated market place.
31 July 2020 - Apples for a warm climate
As I write this week's Journal, my subject seems very appropriate. On my family tree in the garden (Discovery, James Grieve & Red Devil) the early season is accelerating with the hot weather. Today in my region (St. Leonards-on-Sea) the temperature is circa 29 degrees C. In other regions much higher.
When temperatures regularly reach 40C traditional (temperate climate) apples struggle to adapt.
While it is rare for UK temperatures to reach much beyond 30C sun scorch can be a problem in most seasons and in Europe in hotter climates sun scorch can be a real problem.
Below: Sun Scorch after 40C + temperatures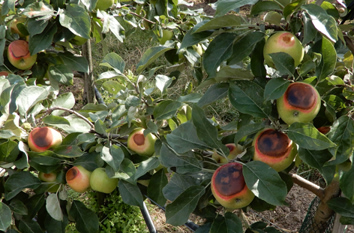 The English Apple Man saw apples exposed to 40C+ in Belgium last year and 'only a day or two' of those conditions can cause serious damage.
In countries where temperatures regularly rise above 40C fruit internal condition will suffer as well, so we are looking for apples that stay crisp and juicy during high temperatures and colour up well despite hot nights. Today's 'Bi- coloured apples (Gala, Braeburn et al.) need cold nights and warm days to generate red colour.
The solution; has to be new varieties capable of surviving and flourishing, "as global temperatures continue to rise and regions where summertime temperatures are consistently in the 'high 30 degree C + zone' are experiencing more regular temperatures of 40C +
24 July 2020 - British Cherries - a great success story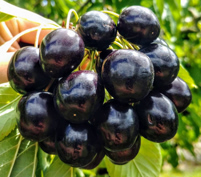 The world of British Cherries has changed considerably over the last 25 years and 'exponentially' over the last 10 years.
The change from the large cherry trees which bestrode the Garden of England in the 19th century, extending well into the 20th century, started when growers moved from those very tall trees onto smaller trees grown on dwarfing rootstocks. The semi-dwarfing Colt rootstock arrived in 1970's enabling smaller trees, but due to it's characteristic need for adequate winter chill, often (most often) failed to produce a commercially worthwhile crop.
Cherries were always at risk of splitting when rain fell during harvest time, birds which were discouraged by minders wandering through the cherry orchard with shot guns in days gone by, were gradually replaced by 'bird netting'
25 years ago, forward thinking growers erected 'bird nets and plastic covers' over their Colt grown cherries, but not until the emergence of 'dwarfing Gisella rootstocks' which didn't require the level of winter chill and by their nature much more precocious cropping, did the modern cherry industry really take off!
17 July 2020 - Beautiful Blueberries
This week The English Apple Man joined fellow members of East Kent Fruit Society for a ZOOM visit to WB Chambers and a SOFT FRUIT VIRTUAL VISIT AT BELKS FARM, OTHAM.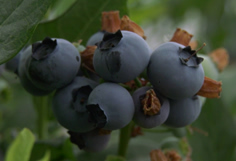 Tim Chambers is the third generation of a family business that started in 1952 and has been head of an ever expanding fruit business since 1990. Under Tim's leadership, WB Chambers has become a large supplier of Raspberries, Blackberries, Strawberries, Blueberries and Cherries to leading UK Supermarkets.
In 2019 WB Chambers opened a state of the art prepared fruit packing unit called the Fruitery a £2,000,000
investment.
Chambers grow an extensive range of berries, currants and stone fruit and is especially recognized as market leaders in the year-round supply of quality raspberries and blackberries. The company is also a leading player in the supply of blackcurrants, redcurrants, cherries, gooseberries, strawberries, blueberries and rhubarb.
Click on WB Chambers for an in depth look at their business.
10 July 2020 - Wimbledon and Strawberries & Cream
We are now in Wimbledon Fortnight!
No Tennis but plenty of re-runs of past great matches on BBC TV.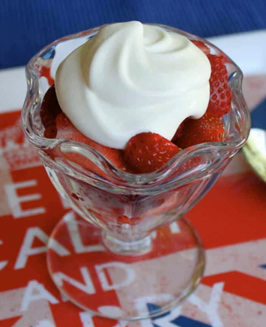 Wimbledon and Strawberries are synonymous during the All England Championships.
Strawberries have been a part of ancient Europe since time immemorial, as they were mostly consumed to help with labour pains and help prevent bad breath.
Legend has it that Thomas Wolsey first served the combination of strawberries and cream back in 1509 in a banquet.
Cream was a part of the diet of the peasants, not the aristocrats, and strawberries and cream can be seen as amalgamation that brought together the rich and the poor.
For the last 27 years, Wimbledon strawberries have been 'exclusively' supplied by Marion Regan and Hugh Lowe Farms.
03 July 2020 - It's July so what's going on in our orchards?
This summers has delivered a mix of hot dry periods and some rainfall. Some of the rainfall has been accompanied by hail which has caused serious damage on some farms/areas. Although blossom time was generally dry and sunny, there were occasional frosts in some areas.
This week The English Apple Man attempts to update the state of our home grown orchards with the help of his friendly agronomists.
26 June 2020 - Coping with the very hot weather?
The weather these last few days has been very warm and The English Apple Man has been feeling it. Taking a step outside into our garden after lunch it has felt like an oven!
Ensuring our garden plants have enough water means spending half an hour before supper watering the most needy plants, in particular the hanging baskets which dry out so quickly and if not looked after never full recover.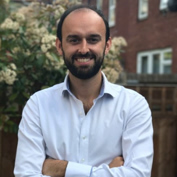 So when deciding what to write about this week, my thoughts turned to our British growers and the apple and pear orchards suffering in this heat.
What triggered me targeting 'irrigation technology' as the subject of this week's Journal?
While checking LINKEDIN for stories of interest earlier this week I came across Antony Yousefian Ag-Tech Director of BARDSLEY ENGLAND talking about Phytech technology in operation in their apple orchards.
19 June 2020 - Magic Star apples and English cherries
Magic Star apples and new season English cherries feature in this week's Journal.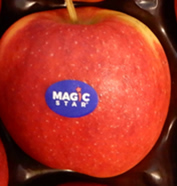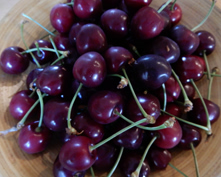 12 June 2020 - Remembering a fellow fruit grower and a friend
From time to time we all lose friends, an increasingly familiar event for those of us in our dotage.
Last week we lost Clive Edmed who has been growing fruit and hops for many years at Hayle Farm, Horsmonden.
Hayle Farm is situated in a tranquil valley in the Weald of Kent between the small village of Horsmonden and the Sussex border. The area is known as "The Garden of England" and is designated an "Area of Outstanding Natural Beauty"
Clive Edmed has farmed here for over 39 years and in the last 25 years has been joined by his son, Richard, making at least 5 generations of hop growers.
05 June 2020 - Taking an Orchard Walk
This week The English Apple Man took a walk in some apple orchards for the first time since before the Coronavirus lockdown.
I am very grateful to my Agronomist friends who have been sending me pictures and information over the last few weeks. I will still be drawing on their technical knowledge in future weeks, but it was nice to get in an orchard myself again!
29 May 2020 - Tracing issues are in the news!
With tracing apps in the news, The English Apple Man investigates a new App designed to assist fruit growers manage orchard management and improve product profitability.
BIFGA TECHNICAL DAY - THURSDAY 23rd JANUARY 2020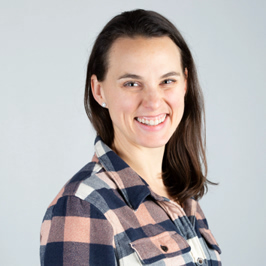 Over 90 people attended the highly successful 32nd BIFGA Technical Day, held on Thursday 23rd January 2020, at Dale Hill Conference Centre, and there I met Kaye Hope of FARMABLE.
Hey! I'm Kaye, the Commercial Lead for Farmable. I spend most of my time talking with growers to better understand how they use technology today and what their needs are for better software in the future. As a Canadian living in Norway, I love speaking with farms from around the world and finding the common threads - it's incredible how similar we are despite the distances that separate us.
Kaye Hope reviews the rapid development of FARMABLE over the last few months.
"This is our first season with the Farmable app in the UK and we have had 35 British farms register and start using Farmable over the past couple months. 8 of these 35 are committed pilot farms who we have regular contact with to get product feedback, but we are happy to grow this number. The most important work we do as a software team is to work closely with growers and agronomists to check and double check that we are building something user-friendly and valuable to their daily work".
The most important work we do as a software team is to work closely with growers and agronomists to check and double check that we are building something user-friendly and valuable to their daily work".