The Journal gives a weekly update on events in our English apple orchards, using pictures and video clips to follow seasonal activities and giving the consumer a level of detail not available from any other source.
All aspects of growing, harvesting, storage, grading, packing and marketing are included enabling consumers to understand the challenges English growers face in supplying our sophisticated market place.
19 May 2017 - The weather's warmed up!
With the increase in temperatures, and a a decent amount of rain, we are in a 'very growy spell' but not without it's challenges......
12 May 2017 - This week's Journal is a bit of a 'mixed bag'
Recent frost is very much in the news; it would appear the continent is the worst hit and Vineyards in particular have been in a fight to reduce the level of damage with 'candles burning brightly'
05 May 2017 - How will the mixed weather over the last two weeks influence the potential for this year's crop?
The variation in temperature over the last two weeks has been extreme; what does this mean for our fruit trees in blossom...
28 April 2017 - The English Apple Man and BIFGA Spring Farm Walk
Wednesday and The English Apple Man joined fellow BIFGA members for the Annual Spring farm walk, held this year at Mole End Farms...after a very early blossom period, mother nature delivers a scare...frost damage and ice in the air.....
Comparing last week's blossom stages (21st April) with this week (28th April) the blossom development ranges from late bloom on Bladon Pippin to Early Fruitlet on Discovery and Red Windsor. To date no frost damage evident on these trees/varieties here in Hastings Sussex.
Below: left to right: Bladon Pippin, Discovery, Christmas Pippin, Red Windsor - on 21st April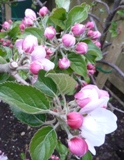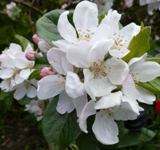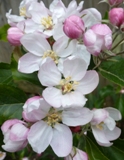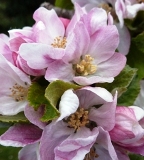 Below: left to right: Bladon Pippin, Discovery, Christmas Pippin, Red Windsor - on 28th April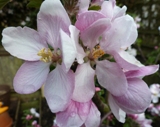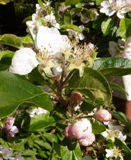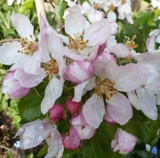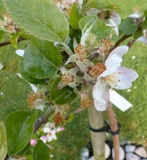 21 April 2017 - Oh Dear, its all change again - life after Brexit has taken on a new dimension!
Last week The English Apple Man attended the Marden Fruit Show Society (MFSS) AGM held at Hadlow College. Presentations highlighting the consequences of government policy on our farming futures were central to our speakers...
Then an announcement of a General Election generates more speculation.....
14 April 2017 - Is it mid April or mid May?
For many years Apple Blossom time traditionally came at the end of the first week of May....at least that is how The English Apple Man remembers this very enigmatic event...blossom time is a time of great hope and sometimes trepidation....
07 April 2017 - Nature responds to nice UK weather - and a visit to an historic estate in South Africa
Sunshine and higher temperatures are resulting in rapid changes in fruit bud development.....talking to a grower in East Kent today, Pears are at the late blossom/petal fall stage with fruitlets already showing up...Cox at green cluster to early pink bud and Braeburn at Pink bud stage....
31 March 2017 - A memorable birthday and more from South Africa
This week The English Apple Man celebrated his 75th Birthday........
24 March 2017 - Still plenty to report on U40's visit to South Africa
This week's Journal will concentrate on U40's visit to Haygrove Heaven and Fruitways
17 March 2017 - A second installment from South Africa
There is so much to write about the Under 40's visit to South Africa.....could take a couple more weeks...
Searching for journals
This page initially shows the latest journals. You can use a journal's link to view the full story.
It is now much easier to find a particular journal of interest. Just type your search terms into the search box or select the month and/or year and click Submit.
Journal archive
I have completed the process of reworking my entire archive of journal pages into the style of the new website to make them more accessible to users of mobile phones etc.
Although the content now adapts to the size of the display, some of the archived journals still have photographs that won't fit and so get cropped. Archived journals are best viewed on a computer screen!
Quick links