The Journal gives a weekly update on events in our English apple orchards, using pictures and video clips to follow seasonal activities and giving the consumer a level of detail not available from any other source.
All aspects of growing, harvesting, storage, grading, packing and marketing are included enabling consumers to understand the challenges English growers face in supplying our sophisticated market place.
13 September 2019 - It's all go, go, go
The 2019 apple & pear harvest is now 'full on' and this week British Apples & Pears launched a new 'White Paper' setting out the future of our 'home grown' top fruit.
Foreword by: Executive Chair - Ali Capper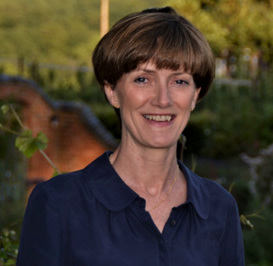 Apples are brilliant. They are convenient to eat, portable, snackable and brimming with health benefits. They meet every need of today's consumers and we at British Apples & Pears are getting much better at telling our story. Our overarching Great British Apples campaign, with the clear 'An Apple A Day' message, has cut through and is here for the long-term.
They are ambitious and forward looking, increasing productivity levels and sharing the challenging target of increasing market share of British apples to 60% by 2030. To put that in context, we are at 42% now and up from 23% in 2003. In addition, over the last 10 years the British pear market share has grown in volume by 27%.
06 September 2019 - September mornings bring on nostalgia
September morn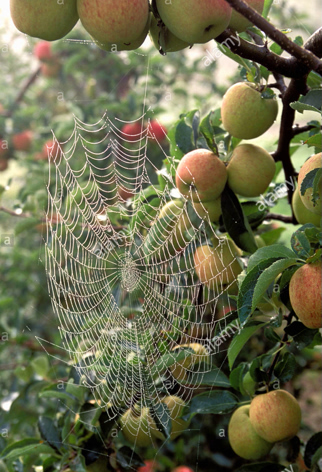 September morn
We danced until the night became a brand new day
Two lovers playing scenes from some romantic play
September morning still can make me feel that way
Thanks to Neil Diamond
30 August 2019 - Great British Apple season harvesting update
It's all happening. Bramley cooking apples for fresh market have been going for a couple of weeks and now Bramley is being picked for long term storage.
Some early picking of Conference pears has started and data supports harvest for long term storage next week.
Discovery has been harvested and the first Red Windsor are ready to occupy Supermarket shelves.
23 August 2019 - New season activities
This is the time of the year when fruit maturity (ripening) sets off on an exponential curve!
From the first Discovery it is only a matter of time before a succession of varieties come on line!
Below: Rosette Discovery grown by AC Goatham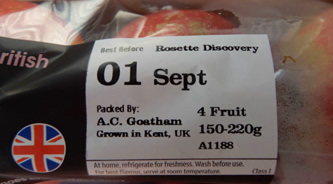 Visit Kent On-Line to view AC Goatham & Son start to the new season.
16 August 2019 - The English Apple Man celebrates 10 years on-line
This week was the 10th Anniversary of The English Apple Man website.
The first English Apple Man Journal went on-line on 14th August 2009
Click on The English Apple Man Journal for 14th August 2009
09 August 2019 - It's a kinda Magic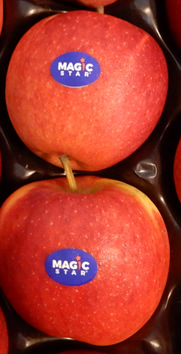 This week The English Apple Man joined a small group of growers on a two day visit to Belgium and Holland to look at the variety Magic Star®
The appeal of Magic Star is it's ability to store well and deliver great flavour and texture even after one year in store. For British apple growers the possibility of supplying Magic Star after the traditional Gala and Braeburn extending the 'home grown' season beyond the traditional April/May through June & July until the new season starts again in August/September.
To date several Avalon growers have planted Magic Star and plans are in place to add more over the next few years. The oldest are now in the 4th leaf and modest volumes have ben marketed in Tesco stores. Expect a rapid increase in volume over the next few years.
After an early start, we departed Folkstone on the 8.40am 'shuttle' arriving at our first visit in Belgium by late morning.
02 August 2019 - We are on the threshold of a new British Apple season
While the last of 2018 home grown apples are still available (Royal Gala) the 2019 season is very close!
The Discovery on my 'family apple tree' are nearly ready to eat, so I expect early sites to be in advance of mine.
Picking for the wholesale market on an early site in Kent started yesterday and will no doubt be followed by others next week.
26 July 2019 - Viti-Culture show
On the 11th July, The English Apple Man ventured an hour's drive to Plumpton College near Lewes in East Sussex where the very first Viti-Culture Event took place.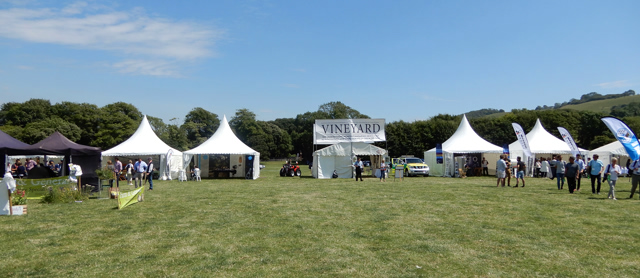 Viti-Culture is the result of not just a vision, hard work and good planning but also teamwork. Organisers Grape-Vine Events, together with media partner Vineyard Magazine have created a formidable team that has put together a show with all the answers. The only question is why no-one thought of it before! To our knowledge there is no other event in the UK that focuses purely on viticulture while providing a show-case event where growers can access advice, supplies, services and have networking together in one place!
19 July 2019 - Fruit Focus
This Wednesday The English Apple Man visited Fruit Focus at NIAB/EMR
Attracting an increasing number of visitors year on year, Fruit Focus brings together more than 2000 growers and industry professionals. Over 130 leading suppliers exhibit at Fruit Focus. It showcases all aspects of agronomy, machinery and equipment, business information, pre- and post-harvest technology, and marketing.
Fruit Focus provides a unique opportunity to update on the latest technologies and industry developments, exchange views and network with fellow producers. As well as soft and orchard fruit, vines also feature at Fruit Focus.
12 July 2019 - Cherries!
We are now well into the British Cherry season and can look forward to enjoying the finest cherries we will get to eat at any time during the Year for another month 'or so'
East Kent Fruit Society (EKFS) visit Norton Farm Cherries on Tuesday 9th July,
Below: Oh so tasty 'Home Grown Cherries'