The Journal gives a weekly update on events in our English apple orchards, using pictures and video clips to follow seasonal activities and giving the consumer a level of detail not available from any other source.
All aspects of growing, harvesting, storage, grading, packing and marketing are included enabling consumers to understand the challenges English growers face in supplying our sophisticated market place.
17 May 2019 - It's mid May and English apples are still available in UK Supermarkets
As we assess the potential fruit set for the 2019/20 season, our Supermarkets still have good displays of apples; Braeburn, Gala, and smaller volumes of Jazz, Crimson Crisp and Envy; with of course our celebrated, Bramley culinary apple. Plus home grown Conference pears.
10 May 2019 - Living land and BIFGA Spring Farm Walk
The English Apple Man has been busy with visits to Living Land at The Kent Event Centre and BIFGA's Annual Spring Farm Walk.
03 May 2019 - Walking orchards in East Kent
Following last week's walk around Bardsley Farms Blue House Farm at Marden where the apple blossom was at its peak, The English Apple Man joined fellow members of East Kent Fruit Society for a blossom walk at Simon Mount's New Barn Farm at East Stourmouth near Canterbury in East Kent
26 April 2019 - Blooming marvellous Blossom and a Presidents Award
As blossom burst forth over Easter, with blooms opening in front of the eyes, bees and other pollinating insects were working hard on every tree.
On Wednesday, The Marden Fruit Show Society held their AGM at the very new Marden Hockey Club.
A very special event took place after the AGM when MFS President the Right Hon. Michael Jack presented a stalwart of our top fruit industry Roger Worraker with The Presidents Award.
Roger Worraker's story is the latest subject of The English Apple Man's People Profiles which went live on line on Wednesday 24th April. Click on Roger Worraker - People Profile for a link to Roger's story.
19 April 2019 - Easter
It's Easter and the sun is shining, temperatures are circa 20-25 centigrade and the blossom advances by the hour: the Bees are loving it and today observed hard at work collecting nectar while pollinating the apple blossom they alighted upon!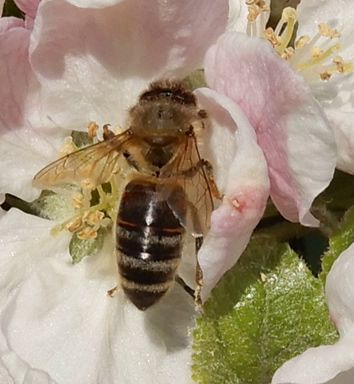 12 April 2019 - Looking for home grown apples and pears?
As we approach mid-April, The English Apple Man takes a look at what home grown apples and pears are still available to consumers.
05 April 2019 - April can make fools of all of us!
As we enter April, apart from April Fools Day the apple & pear fruit bud development is 'poised' to move from Green Cluster/Early Pink Bud (apples) and White Bud )pears) to blossom as soon as the weather returns to 15-20 Celsius.
Below: Green Cluster and early Pink Bud on apples.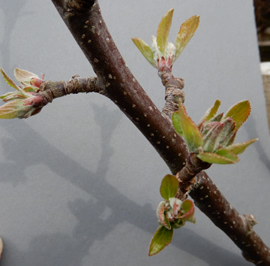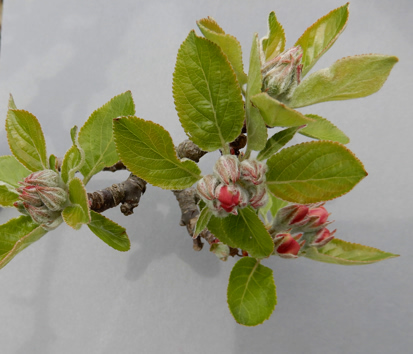 29 March 2019 - Robot apple picking and other news!

This week The English Apple Man looks at 'what's new?
The first commercial robot apple picker in operation.
Promotion for an award winning Production Manager.
Agrovista 'Sponsors' report on Under 40's in Chile.
22 March 2019 - Are we up a Gum Tree?
With Brexit spiralling into a complete mess, it is difficult for those of us who do not fully understand the complexities of a soft Brexit (whatever that means) and a hard Brexit (feared by many - but not by those desperate to leap into the apparent unknown,) I like many get more confused each day (no sorry, each hour of each day).
"Up a Gum Tree" The phrase originated as 'like a possum up a gum tree' and interpretations of this account for the variety of meaning. The allusion is to possums escaping up trees after being chased by hounds.
15 March 2019 - The English Apple Man in a Community Orchard
The English Apple Man joined members of the Capel Parish last Saturday, as they set about pruning their Community orchard, under the guidance of Roger Worraker.
Searching for journals
This page initially shows the latest journals. You can use a journal's link to view the full story.
It is now much easier to find a particular journal of interest. Just type your search terms into the search box or select the month and/or year and click Submit.
Journal archive
I have completed the process of reworking my entire archive of journal pages into the style of the new website to make them more accessible to users of mobile phones etc.
Although the content now adapts to the size of the display, some of the archived journals still have photographs that won't fit and so get cropped. Archived journals are best viewed on a computer screen!
Quick links