The Journal gives a weekly update on events in our English apple orchards, using pictures and video clips to follow seasonal activities and giving the consumer a level of detail not available from any other source.
All aspects of growing, harvesting, storage, grading, packing and marketing are included enabling consumers to understand the challenges English growers face in supplying our sophisticated market place.
16 April 2021 - Planning ahead
After the prolonged lockdown and many events only surviving virtually 'on line' - The Marden Fruit Show Society is planning this year's National Fruit Show as a live event at The Kent Exhibition Centre on October 20th and 21st.
This week the Society held the Virtual AGM via ZOOM and confirmed the plans for this year are progressing very well with most trade stands already booked.
It seems everyone associated with our top fruit industry cannot wait to get back to 'as near normality as possible' - it may well transpire that we will still be required to wear masks, and handshaking may still be by 'elbow bumping' but the thought of admiring the best of British Apples & Pears on the central show stand, plus nuts and soft fruit entries, is already getting 'our juices running' - the added prospect of exploring a show full of trade exhibitors wets the appetite as well!
09 April 2021 - Frost!!!!!!!!!
Frost is the fear for fruit growers, vineyards and gardeners, and this past week, Jack Frost has paid a call on UK apple and pear growers. Vineyards in France have been facing frost damage since February
Below: two flowers; one ok and the other 'black and dead'
Of course there are (at least) five flowers on each bud and one or two being lost to frost, is not necessarily a disaster!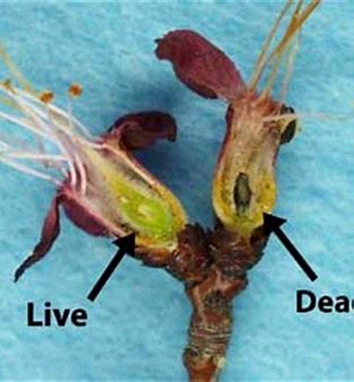 My agronomist friend in Kent shares his findings!
Quite a bit of frost damage on Bramley's in the Weald. Also, quite bad on Braeburn in low-lying areas as well. Not a disaster yet, as most of the worst affected orchards got frosted last year as well, so there was way too much bud on the trees. Could do with some good weather in flowering now to save the day.
In France
The French government has declared an agricultural disaster after an unusual early spring frost damaged crops and vines across the country.
Below: Frost Candles at Chablis in France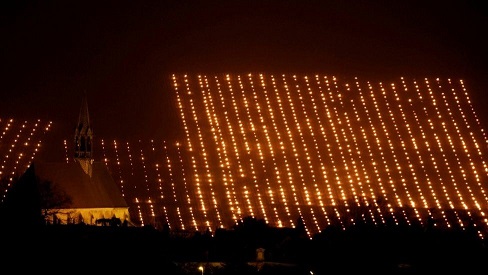 02 April 2021 - What's going on in our orchards and a few other things!
Warm this week, but turned colder today!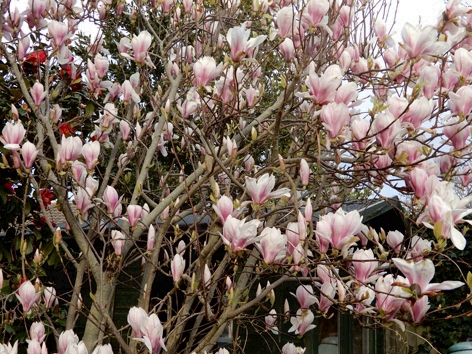 Left: The English Apple Man's Magnolia Tree
Tuesday was registered as the warmest March day since 1968 @ 24.2C. It was also The English Apple Man's 68th Wedding Anniversary and as we enjoyed a 'smoked salmon sandwich' in the garden at lunch time, I remarked how our Magnolia tree blossom had advanced from early morning and the apple tree bud on our Red Devil tree was showing distinctive signs of green leaf.
By the evening as we enjoyed a glass of Chablis, the advancement was almost breath taking!
26 March 2021 - Our orchards are coming to life as Spring beckons!
The sap is rising and early signs of a new season are evident. Looking at past years, this season is very similar to 2020 in terms of bud development. What happens in the next few weeks will determine when apple blossom reaches full bloom.
Below Discovery bud at 'Bud Burst' in The English Apple Man's garden.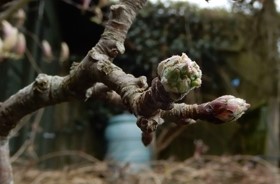 How quickly the fruit bud develops will depend totally on the weather over the coming few weeks!
Forecast of warmer over the next week, balanced by a colder spell over Easter, will create a 'start/stop' situation but as in previous years, once things are 'on the move' another burst of warm weather will drive the buds towards blossom.
Looking back to 2020 (who want's to?) - by mid April many varieties were at the Pink Bud stage with some buds in Full Bloom. The mix of varieties today has changed since Cox was the dominant variety, which delivers Full Bloom over a longer period with Braeburn ahead of Gala and Cox as an example. There was a time when Cox was in full bloom circa 7th May. Today climate change has brought the blossom stage forward by a week to ten days!
19 March 2021 - High Flying Technology
We live in an age of technology, the exponential rate of expansion is sometimes difficult to keep up with.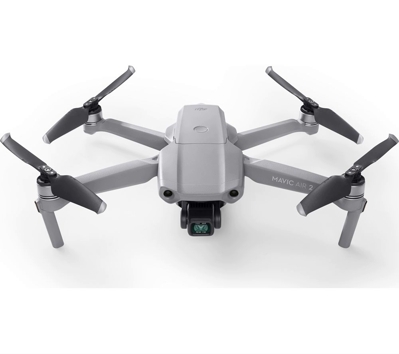 Drones are suggested as the panacea for many tasks. But when did the first (UAV) Unmanned Arial Vehicle first appear?
The first stop in our drone history timeline is the very early history of drones. First, for those who don't know, it's important to establish that the word "drone" simply refers to any aerial vehicle that is unmanned.
That is, the pilot does not sit or stand within the vehicle itself.
By this definition, the earliest unmanned aerial vehicle in the history of drones was seen in 1839, when Austrian soldiers attacked the city of Venice with unmanned balloons filled with explosives.
UAV technology improved throughout World War II (which saw a number of technological advancements as we all know) and into the Cold War as well.
What we do know is that modern drone warfare began in earnest in 1982, when Israel coordinated the use of battlefield UAVs alongside manned aircraft to wipe out the Syrian fleet with very minimal losses.
2006 was the first year that the (US) Federal Aviation Administration (FAA) issued a commercial drone permit. They issued an average of two of these permits a year for the next eight years - that was all that was requested.
As unmanned aerial vehicle technology improved in the military sector, those same technological improvements could be used in the private sector.
According to a Wall Street Journal report, the history of non-military drone use began in earnest in 2006.
Then, in 2013, Amazon CEO Jeff Bezos announced that the company was considering using drones as a delivery method, igniting the public's interest in drone history. In 2015, the FAA issued 1000 drone permits, a number which more than tripled to 3100 permits in 2016 and which has continued to grow in the time since.
12 March 2021 - Terroir is considered important to production of the finest wines, does 'Terroir' also influence apple quality?
'Terroir' - "the complete natural environment in which a particular wine is produced, which factors such as the soil, topography and climate.
The characteristic taste and flavour imparted to a wine by the environment in which it is produced .
Might 'terroir' be applicable to apple growing as well?
Certainly soil quality, location, drainage, nutrition, as well as variety, and tree management combine to influence the yield and quality.
But 'Terroir'
05 March 2021 - Confronting Woolly Apple Aphid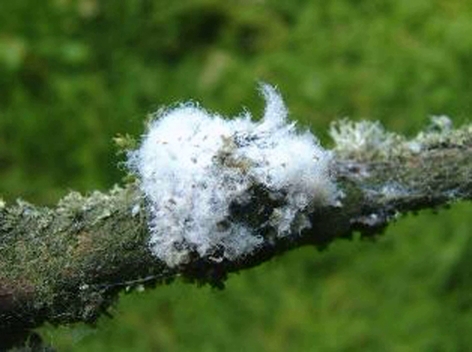 Looking back at the AHDB webinar held in February - Woolly Apple Aphid, a problem which has been around for centuries, has been noticeably problematic for apple growers in recent years, and is the subject of AHDB funded research at NIAB/EMR.
What is Woolly Apple Aphid (WAA)?
Woolly aphid also known as American blight; its Latin name is Eriosoma lanigerum. It affects apples (eating and crab) pyracantha and Cotoneaster horizontalis. The cause; a sap-sucking aphid (insect) active from April to October.
26 February 2021 - Making use of modern technolgy
Making use of modern technology is on an exponential journey!
This week The English Apple Man has attended three webinars, all dominated by new technology designed to make fruit growing more efficient and more environmentally sustainable.
First a look at a new Solar installation at the UK's largest apple & pear grower; AC Goatham.
On Tuesday a NetaFim webinar illustrated the importance of efficient irrigation for crops and sustaiabiity.
On Thursday the annual AHDB Tree Fruit Day was this year, an on-line event.
And Today Friday 26th February: What's New in 2021 for UK Fruit Growers in Sustainability and Tech.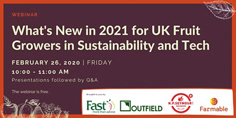 19 February 2021 - More about the City Food Lecture
Last week The English Apple Man reported on the broader aspects of The City Food Lecture.
The City Food Lecture, now in its 20th year is an annual, invitation-only high-profile fixture in the City of London and international food industry calendars. The Lecture is delivered every year by a leading figure in the food business who is invited to speak about the issues they regard as most important in shaping the way food is produced, distributed, marketed, sold and consumed.
The Key Note Speaker for the City Food Lecture 2021 was Mel Smith CBE, the Chief Executive of Ocado Retail, the world's largest pureplay online grocer.
In this week's Journal The English Apple Man expands on the content of Mel Smith's Lecture.
12 February 2021 - Commercial and technical review
This week The English Apple Man had the opportunity to review the commercial and technical influences on our fruit industry.
Invited to be a virtual attendee at The City Food Lecture on Wednesday and FAST Technical Conference on Thursday, enabled a better understanding of the technology central to how retail food suppliers deliver our groceries onto our plate and the influences of technical advancement on fruit production in delivering a profit to the primary producer while satisfying the demands of today's retail industry.
This week's English Apple Man Journal will only embrace the top line elements of each event, leaving more detailed coverage for future EAM Journals.
Two elements of the separate events 'hit home' - "the intensity of collecting and interrogating data" by the retail industry and the "huge investment required by the producers" to stay in the competition for customers.