The Journal gives a weekly update on events in our English apple orchards, using pictures and video clips to follow seasonal activities and giving the consumer a level of detail not available from any other source.
All aspects of growing, harvesting, storage, grading, packing and marketing are included enabling consumers to understand the challenges English growers face in supplying our sophisticated market place.
24 June 2022 - It's Strawberry time
APOLOGIES DEAR ENGLISH APPLE MAN READERS, THIS WEEK'S JOURNAL WILL BE ON LINE TOMORROW SATURDAY 25th JUNE at 5pm.
17 June 2022 - BIFGA make a statement in support of their members!
Below: John Breach - BIFGA Chairman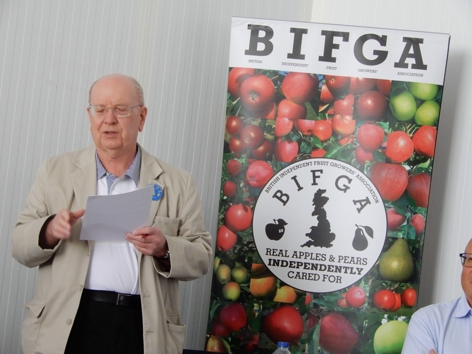 At the recent BIFGA Farm Walk held at Victoria Farm Hadlow, BIFGA Chairman John Breach issued a summary of issues relating to relationships between retailers and their suppliers.
Invited to be the opening speaker at the BIFGA event, Mark White - Groceries Code Adjudicator (GCA) updated members on his commitment to ensuring fair play between retailer and supplier.
Since the establishment of the GCA the relationship between suppliers and retailers has worked on a much more agreeable structure!
The Farm Walk was attended by more than 90 and included representatives of several major Supermarketss
10 June 2022 - Sustainable V Unsustainable - Part 2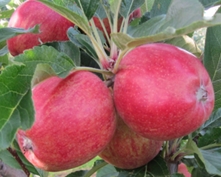 Following on from last week's Journal, The English Apple Man sets out the Unsustainable nature of Supermarket retail prices in face of cost inflation!
This season will be a determining factor in the future of 'home grown' apples!
The prices which have been squeezed over the last few years, are no longer sustainable!
Even before the recent 'rampant inflation' financial returns home to the grower were hampering investment in new orchards.
"Once older orchards are not replaced with new (more productive ones) the steady decline sets in!"
03 June 2022 - Sustainable V Unsustainable
Over the next two Journals The English Apple Man will attempt to get behind two words which are at the heart of so many aspects of modern life!
In particular the sustainability of the industry which has dominated my life and given me so much joy, and much angst over nearly 65 years of my life!
APPLES!
The price at retail level and the financial return back to the grower is key to apple growers Sustainability!
Looking back to my Journal for 14 November 2014
"The display of English Apple & Pears is very encouraging on two counts: the quality of the fruit is visually very good and from tasting the eating quality is equally good. My impression is the main Supermarkets I have visited this week; e.g. Sainsburys, Tesco, Morrisons and Waitrose are providing good shelf space for English fruit.
Looking at the price structure it seems £1.95 per kilo for loose fruit is the 'standard' across most varieties and retailers. The adoption of fruit numbers per poly-bag unit has been standard practice for most retailers now for 2-3 years (if not more) but the fruit size indicator; namely size by measurement in 5mm bands is now being replaced by definition by weight: for example 204-255 grammes
Today the buzz words: are Sustainable and Unsustainable!
27 May 2022 - Apples from North of the Border
This week The English Apple Man was delighted to receive an unexpected email from a lady in Scotland!
Good afternoon,
I have been enjoying your website and am delighted by the huge amount of excellent, interesting apple knowledge you put on it.
I am a national collection holder for heritage Scottish apples and pears and Scottish cider apples. My ambition has been to create the environment for commercially grown apples in Scotland again and to encourage farmers, cider makers, apple juice producers to grow apples on a commercial scale again.
Catherine Drummond-Herdman
20 May 2022 - BIFGA Technical Day
34th BIFGA TECHNICAL DAY VISITS TO FARMS IN THE WEST KENT AREA - WEDNESDAY 11TH MAY 2022
Our hosts for this event were:
FARM A Alex Charrington, Charringtons,
FARM B Richard Edmed, Flightshott Farm Orchards,
FARM C David and Veronica Knight, Pippins Farm,
13 May 2022 - Major new investment at NIAB @ East Malling
On Thursday morning The English Apple Man joined fellow members of The Press for the official opening of the new £11.3 million investment in a 'state of the art' research centre at NIAB at East Malling
Prior to the 'formal opening ceremony' - introductory comments were made by: Professor Mario Caccamo NIAB CEO,and Tom Tugendhat MP. Additional speakers; Oliver Doubleday (Chair of East Malling Trust) and Jim Godfrey (Chair of NIAB Board)
Following the opening ceremony, invited visitors toured the research centre.
Principal among the guides: Glasshouse Manager Emma Easton who began her career at EMR 37 years ago and is now managing this exciting new research complex.
Nicola Harrison - Programme Director for 'Growing Kent & Medway' UKRI Strength in Places Fund at NIAB
Robert Saville, Growing Kent & Medway, Innovation Growth Manager.
NIAB at East Malling - Scott Raffle, Ross Newham, Dr Mark Else and Professor Dan Sargent
Dr Flora O'Brien Specialist in Root Biology NIAB at East Malling
06 May 2022 - Judging Juice & remembering a lovely lady!
This week The English Apple Man reports on Judging the apple juice competition for the National Fruit Show and a Charity Bike Ride in Memory of Rosy Green organized by her daughter Georgie and participated in by The Green Family led by 'patriarch Mike Green.
Recently (27th April) The English Apple Man joined colleagues judging the National Fruit Show juice competition.
At our customary location; the Oast Room provided by NIAB EMR at East Malling Research and under the supervision of NFS Competition Manage Norma Tompsett, and David (head honcho) Pennell who had the unenviable task of gathering the results, entering them on his PC and ensuring judgments were in line with the mandate for fair competition.
29 April 2022 - It's Blossom Time !
While blossom has been emerging for a little while now: Plum, Cherry, Pears and some earlier blooming apples, this last week has seen full bloom on many apple varieties.
On Tuesday East Kent Fruit Society held their annual blossom walk at Hugh Boucher's Newlands Farm at Norton in East Kent.
"The Boucher Family have been farming in Kent for over 130 years, specialising in fruit since 1942. These days, backed by a great team, grower Hugh Boucher runs the thriving fruit farm focusing on quality, sustainability and stewardship"
The business name is Robert Boucher & Son. Robert started growing fruit in 1942. Robert was succeeded by his son Rex Boucher who in turn passed the mantle to Hugh Boucher.
The Boucher family grow a variety of award winning Apple, Pears, Blackcurrants and Strawberries
The farm has remained mixed with top fruit sold through ABB PO, strawberries through Berry Gardens and blackcurrants under contract to Ribena. They also run a small year-round packhouse. Store and Pack own fruit
Apple varieties include Jazz, Gala, Cox, Bramley, Russet and Braeburn, plus a small acreage of pears. Their strawberry season lasts from Mid May to Mid October and they grow both standard and premium varieties, Some June bearers but mainly ever bearers.
The farm has remained mixed with top fruit sold through ABB PO, strawberries through Berry Gardens and blackcurrants under contract to Ribena. They also run a small year-round packhouse.
In addition to the farm walk, EKFS members had two presentations from NIAB EMR: Flora O'Brien talked about carbon sequestration in orchard crops and Michelle Fountain explained how to do pollination surveys and assess pollination efficacy in orchard crops. This is part of an EU funded pollination project called BEESPOKE
22 April 2022 - The English Apple Man and Farm Shops
Farm Shops have developed considerably over the last 50 years, from simple buildings offering a limited range of home produced produce to many very sophisticated enterprises selling a wide range of produce, not necessarily grown 'on site'
On Tuesday The English Apple Man visited Chris & Lesley Dench and their sons John and Nathan as they re-opened their farm shop with a new upgraded shop and supporting area servicing the needs of the shop and their fruit juice business
Ringden Farm is among the unique selection of farm shops 'producing the vast majority' (95%) of the produce they sell!
Originally founded in 1949 after the sale of land belonging to the Seacox Heath Estate. Ringden Farm was a just a bare 17 acre field.
The Dench family have been at Ringden Farm since 1963 and is very much a family run business. With an award-winning range of juices made from fruit grown, pressed and bottled in the heart of the Kent & The Sussex Weald.