Journal
10th Jun 2016 - Lots going on this week
The English Apple Man spent Tuesday at a Seminar in Kent and Thursday at The London Produce Show followed by a Friday morning visit to Gore Farm at Upchurch with Under 40's Conference members.
On Tuesday morning The English Apple Man attended a Seminar on Dynamic Controlled Atmosphere (DCA) - held at Brogdale Farm. Organised by FAST the 'star speaker' was Dr. Robert Prange who invented the system now known as Harvest Watch.
More on DCA in next weeks' Journal.........
Thursday morning and The English Apple Man is in London at The Grosvenor House Hotel for the 2016 London Produce Show. Now in it's third year, this show has rapidly gained a position as one of the foremost food related shows in the UK attracting businesses and visitors from many counties worldwide....
Under 40's Conference 2017 @ The London Produce Show
On Thursday 9th June, The English Apple Man accompanied members of the Under 40's to The London Produce Show; LPS is one of the main sponsors for the U40 2017 Conference in South Africa and generously invited any U40 members to visit the show and provided a room allowing the U40 committee to update members about the arrangements for what will be the first U40's Southern Hemisphere visit in celebration of the first Conference held 50 years ago in 1967.
The Great Room @ The Grosvenor House Hotel, Park Lane, London
The London Produce Show has grown rapidly in size and prestige and in its third year demonstrates the quality brought by experience of Produce Show presentation at The New York Produce Show. London Produce Show and The New York Produce Show are both part of Phoenix Media Network and American Publisher of Produce related magazines.
LPS - Managing Director - Tommy Leighton and his team produced an excellent show; visiting for the first time The English Apple Man was very impressed with the number and quality of exhibitors and the simplicity of all food and refreshments; free and thus avoiding the 'fumbling' for cash and delivering a smooth a comfortable experience when a break was necessary.
Below: The Great Room is a perfect area for exhibitors with the Gallery and adjacent areas perfect for seminars and interaction between those wishing to do business in a comfortable environment.

More views from the Gallery....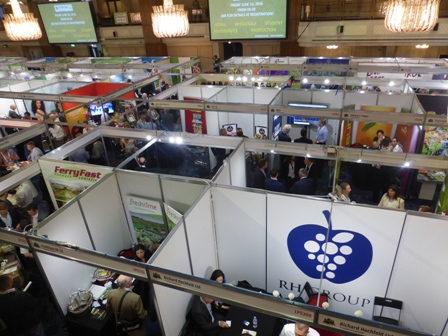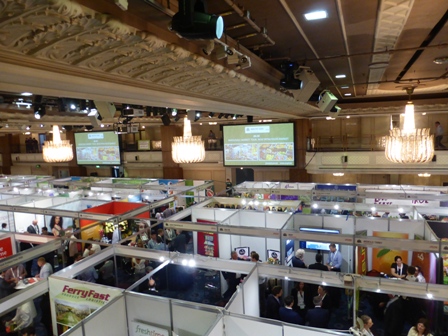 Under 40's Conference 'Update meeting'
Below: U40's Chairman Charlie Dunn and LPS MD Tommy Leighton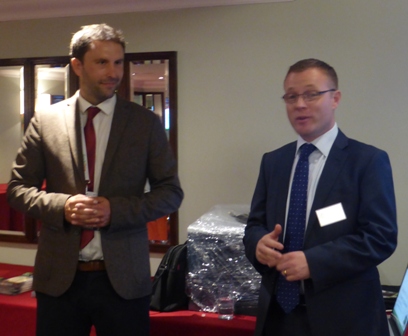 U40's Chairman Charlie Dunn introduced LPS Managing Director Tommy Leighton to U40 members who were in turn welcomed by Tommy who remembered his own experience as an Under 40 Conference Delegate at an earlier U40 visit to Italy. Tommy Leighton said the LPS is delighted to be one of the sponsors for the 2017 U40's Conference and will be with the delegates in South Africa next year.
Charlie Dunn updated the U40 members present with news of the 2017 programme he and his committee developed during their pilot visit to The Cape in February this year. Charlie said they have devised a programme which includes visits to 'Apple, Pear, Soft Fruit and Stone Fruit' producers and to farms of modest and very large areas.
The 2017 Under 40's Delegates will fly 'direct' from London to Capetown on an 'overnight flight' leaving on a Sunday allowing a full five days in The Cape before returning late on Friday evening on another 'direct flight' arriving back home on the Saturday morning.
Charlie emphasised the importance of sponsors who make possible each U40's Conference with generous financial support. None of the U40's Conferences held over the last 50 years would have been viable without the financial and material input from sponsors. Charlie and his committee have worked hard to engage sponsors for the first Southern Hemisphere U40's Conference and they have been able to negotiate the support of British Airways with 'direct flights' from UK to Capetown at 'affordable' prices.
The Delegate group including sponsor representatives is 60 in number and already fully subscribed .....
Below: Power Point images of the 2017 U40's visit to The Cape in South Africa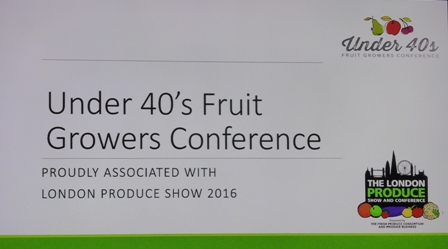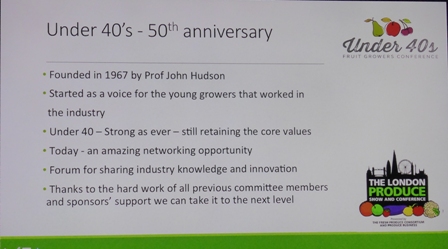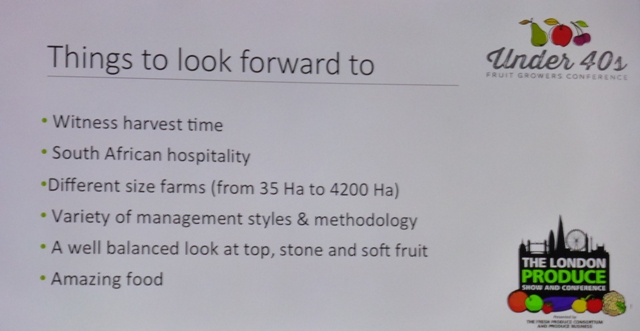 Following the U40's update meeting, U40's members attending the show posed with LPS MD Tommy Leighton.
Below: Under 40's members pose with Tommy Leighton (far right) at The London Produce Show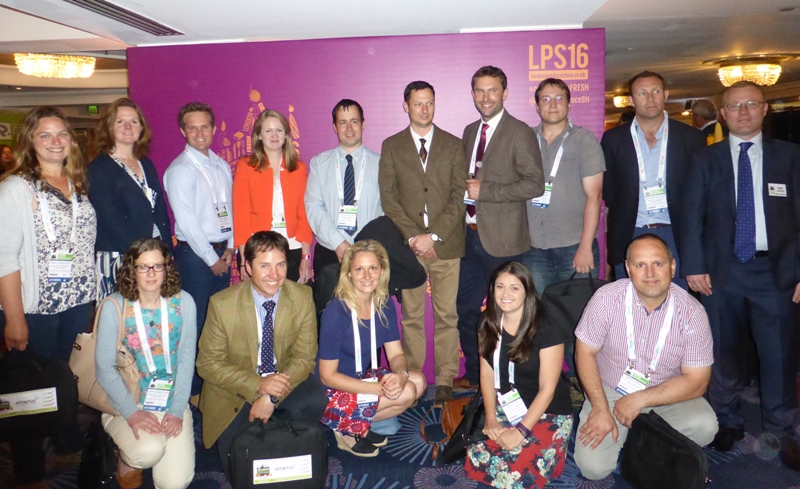 During the day, The English Apple Man caught up with several U40's as they circulated the stands at LPS.
The huge number of exhibitors inevitably meant doing justice to each one was not practical, but some caught my attention for their innovative products. One very innovative product is TOAST a Pale Ale which uses slices of bread as the 'yeast ingredient' (one slice in each bottle I was told) - the TOAST Pale Ale was part of the FEEDBACK stand where I also met Martin Bowman a truly inspirational young man who is the UK Gleaning Director for FEEDBACK. This is a subject that The English Apple Man will review in much greater detail in a future EAM Journal.
Below: Charlie Dunn, Chris Bourne, Matt Spanton and Hamish Light pose with TOAST representative and their bread based Pale Ale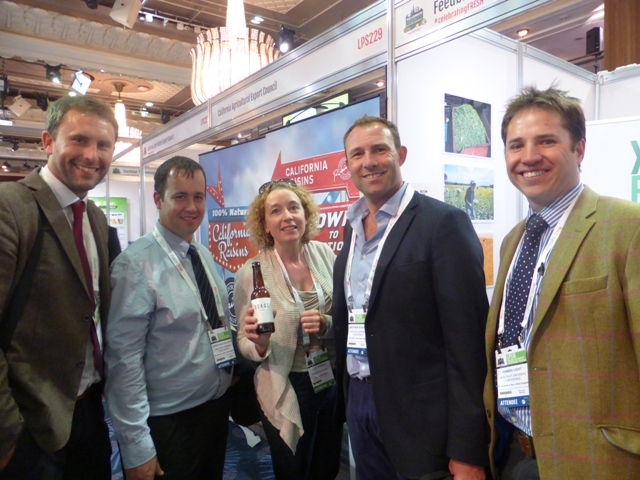 Standing next to me as I took the group picture of U40's with Tommy Leighton was a gentleman taking picture as well; my polite enquiry as to his role in the PLS brought the an unexpected response, "well I am one of the owners of Phoenix" - but I just like taking pictures! As we chatted, Ken Whitacer (Vice President Phoenix Media Centre enlightened me on Phoenix which publishes fresh produce magazines in the USA and created The New York Produce Show in 2013, the LPS in 2014 and is about to launch The Amsterdam Produce Show this year.
Talking to Tommy Leighton, he confidently claims it is not possible to find another trade event like this one (LPS) anywhere in the World - "unless you visit The Amsterdam or New York Produce Shows later in this calendar year"
Below: Ken Whitacre - Vice President/Publisher Phoenix Media Centre with Estera Amesz U40's committee member - and - Matt Spanton with Ross Goatham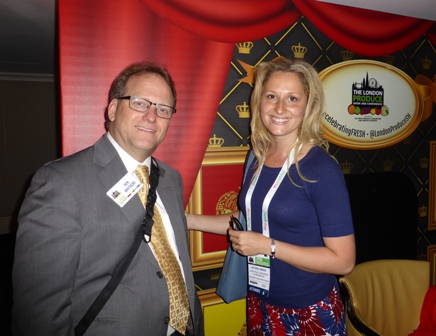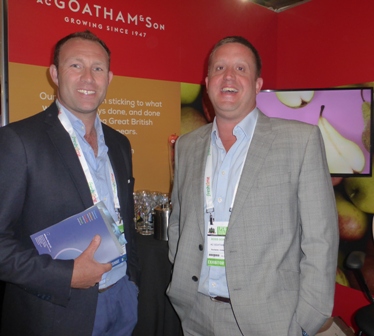 A familiar face on the English Apples & Pear Stand - my friend and ex colleague Adrian Barlow CEO of EAP for 20 years was fulfilling one of his last duties as CEO with a new CEO - Steven Munday joining EAP on Monday 20th June. Adrian has done so much for the top fruit industry, working tirelessly on behalf of the English apple & pear growers. "In a quiet moment, I noticed Adrian gently practicing his grip on an imaginary golf club" 'signs of things on his 'to do' list in retirement. Adrian will stay on as Chairman of EAP until after Prognosfruit, accompanying Steven to this very important Conference where estimates of Global crops for the coming season are forecast and refined into valuable projections for each member country.
Adrian is pictured with Estera Amesz - who with her husband Doug created AG Recruitment & Management an innovative new model for recruitment designed to deliver high levels of satisfaction to growers and the personnel placed on farms throughout the UK.
On the EMS Stand (East Malling Services) another good friend an U40's member - Marzena Lipska was in her 'day job role' representing East Malling Research our principle top fruit (and much more) research institute - with Marzena another regular U40's delegate, Jasper Hubert of Koppert
Below: EAP CEO Adrian Barlow with Estera Amesz - and Marzena Lipska with Jasper Hubert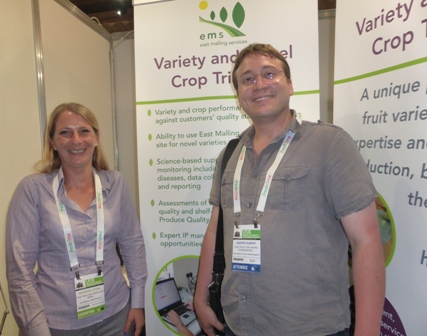 Below: Henry Muller CEO GKE handing out slices of Kanzi apples to excited schoolchildren - and - Chiquita Bananas created a colourful display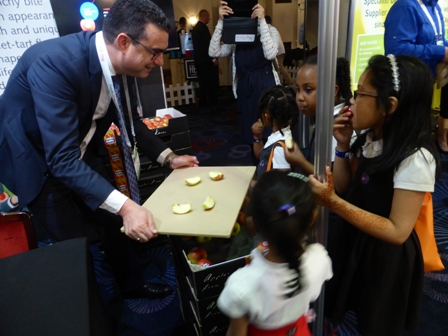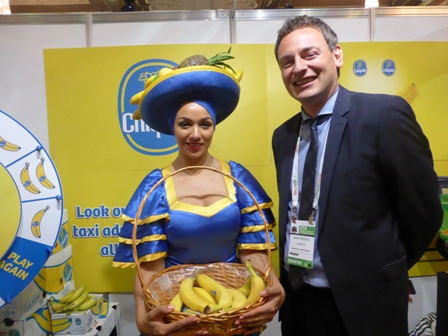 Below: Craig Edwards from AgriCoat Natural Seal and Sempresh products on his stand
Click on Nature Seal to learn more about managing prepared fresh fruit.....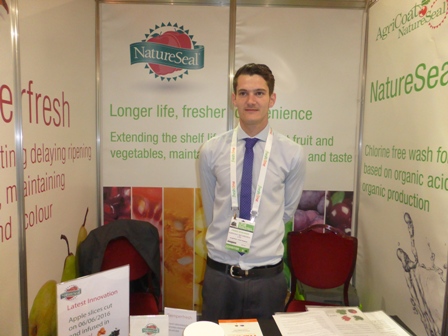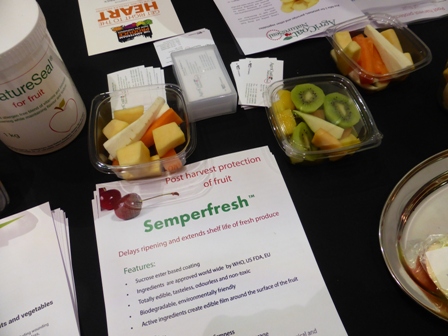 On the >FEEDBACK stand Martin Bowman, UK Gleaning Coordinator -and- TOAST Pale Ale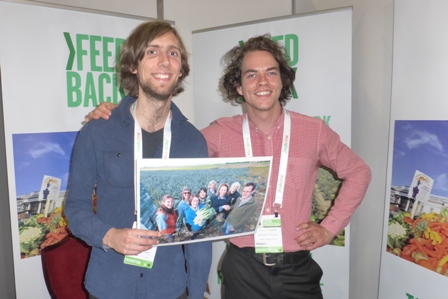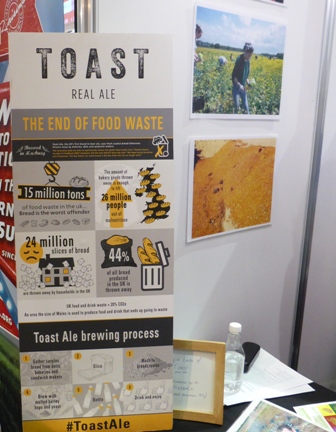 The Worshipful Company of Gardeners focused on their work in encouraging children into an understanding of the pleasures and benefits of gardening. A competition between Primary schools will see the winning school receive this magnificent greenhouse.
Worshipful Company of Gardeners promoting a better understanding of life in the garden for Kids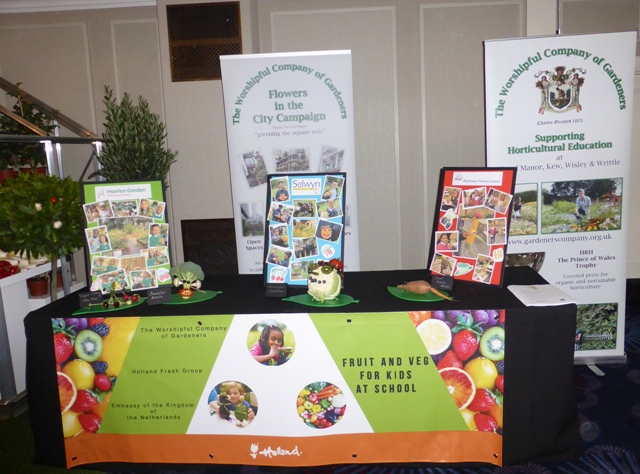 Delightful creations using 'vegetables' by Kids from London Primary Schools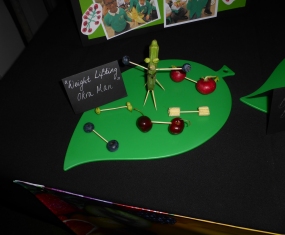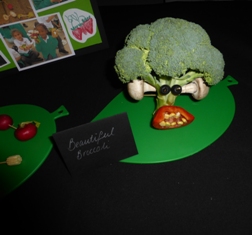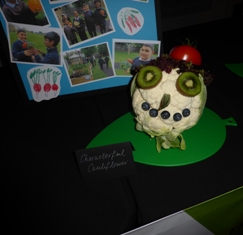 Below: This greenhouse is the prize for the 'winning school'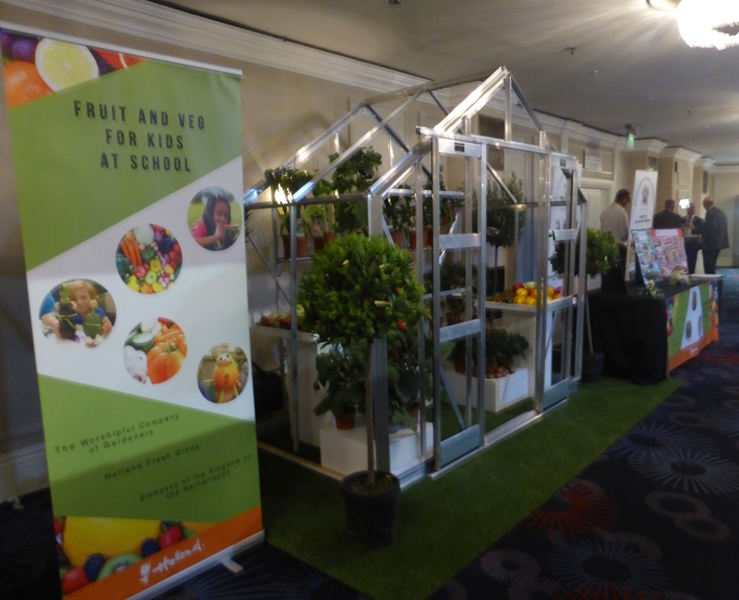 Mudwalls an exhibitor that really caught The English Apple Man's attention focuses on delivering fruit & vegetables as fresh as possible at the point of purchase by the consumer.
Mudwalls Farm Produce ensures the produce they handle is 'fully assured' in terms of its freshness, quality, provenance and claimed accreditations. Mudwalls grow a wide range of fruit and vegetables on their 250 acre farm. In addition Mudwalls procure and distribute through the UK to multiple retailers, wholesalers, restaurants, caterers and have a proud association with 'Blakemore Fine Foods' - Mudwalls is situated at Dunnington, Alcester in Warwickshire.
Below: Mudwalls champion 'fresh produce'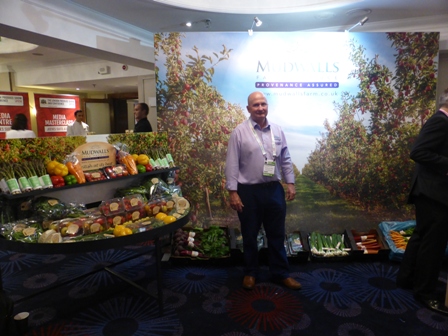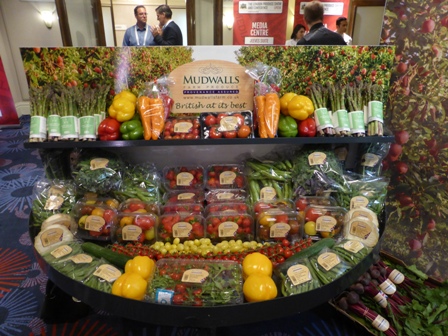 On Friday 10th June U40's members met up with some of the delegates who had attended the London Produce Show at The Barnyard - A.C.Goatham's visitor centre and fruit farm at Gore Farm in the village of Upchurch close to Rainham in Kent.
Carole Ford - Commercial Manager for A.C.Goatham joined Tommy Leighton in welcoming visitors from U40's and the LPS to the Barnyard with an overview of the A.C.Goatham business; formed in 1947 by Arthur Conference Goatham the father of the current owner - Clive Goatham, the business has been expanded exponentially by Clive and his son Ross, ably supported by their management team. ACG now grow apples and pears on 17 farms across Kent; 12 fully owned by the company and 7 leased from the owner of the farms. In addition fruit is procured from an 'allied' grower base of 20 farms.
Carole also introduced Darren Wallis and Piotr Bukowski, our guides for the walk around Gore Farm Orchards.
Below: Carole Ford and Tommy Leighton - and - the group walking in Gore Farm orchards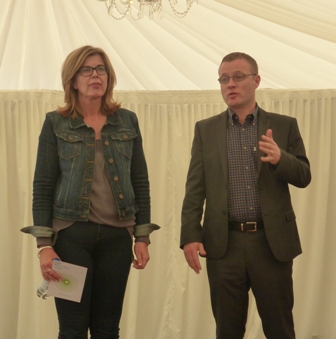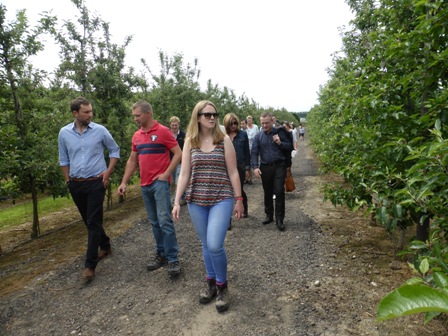 Darren, Piotr and visitors - and - The Barnyard is a visitor centre so the organised orchard walk route has information boards at strategic points as visitors walk round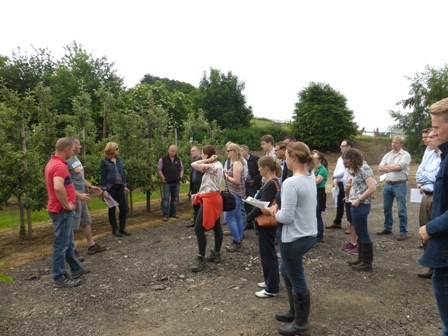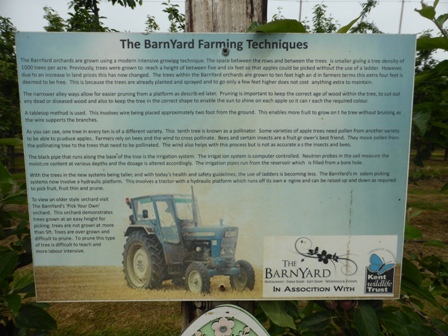 Below: Gala trees at Gore Farm - and - Gala showing a good fruit set with plenty of fruitlets on show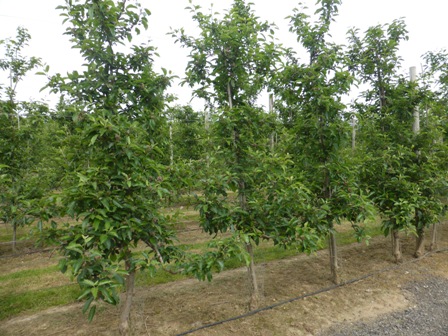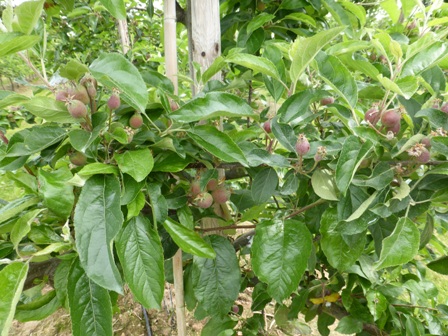 Below: Piotr, Darren and Carole addressing visitors - and - Braeburn fruitlets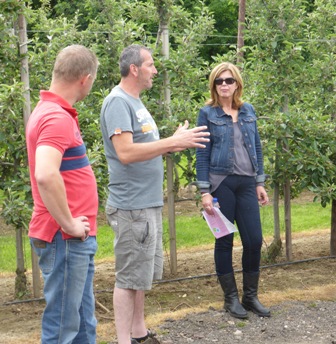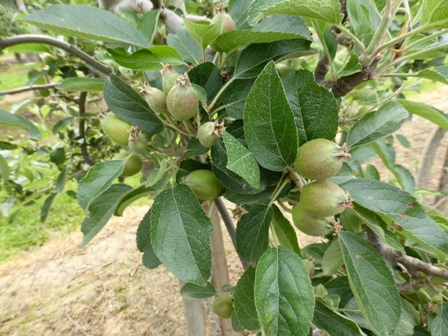 Below: Darren explains the strategy of Bramley growing - and - a good set of Bramley fruitlets visible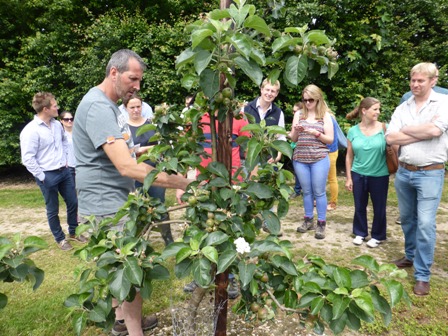 Below: Unthinned Bramley fruitlets on the left - and - after the English Apple Man does a bit of hand thinning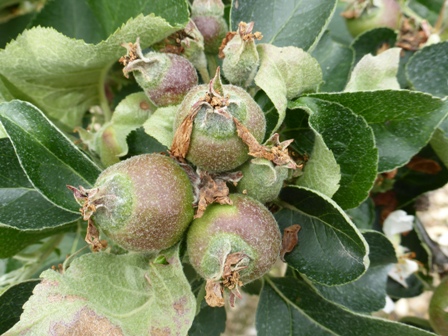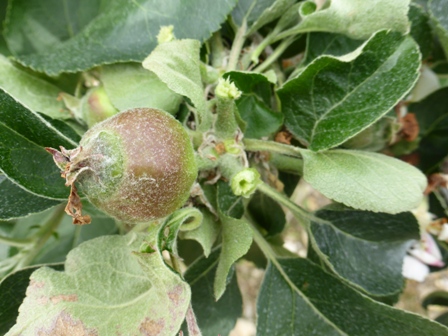 Below: After a tour of the orchards at Gore Farm, U40's and LPS visitors enjoyed a buffet lunch in the Events Marque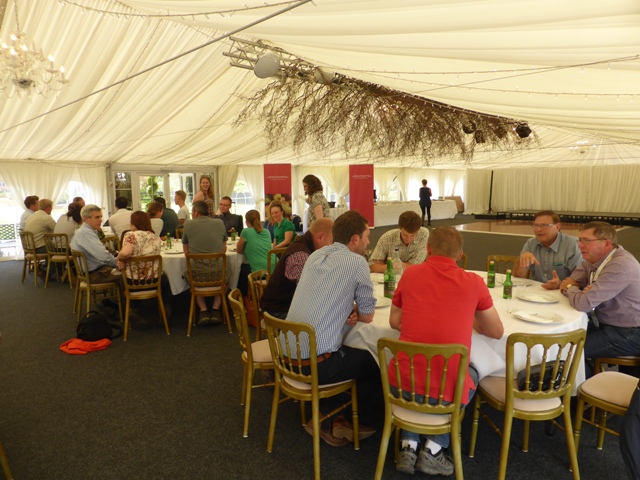 Click to visit New York Produce Show
Click to visit London Produce Show website..........
Finally; my sincere apologies for the late publication of this week's English Apple Man Journal....its now 2pm on Saturday 11th June.....
Next week, The English Apple Man will review the DCA seminar held at Brogdale Farm on Tuesday of this week....
Take care
The English Apple Man