Journal
1st Jul 2016 - BIFGA members hold their AGM at Hadlow College
The 28th AGM of the British Independent Fruit Growers Association (BIFGA) was held this week at Hadlow College.
BIFGA - 28th AGM
Over the space of 28 years the British Independent Fruit Growers Association (BIFGA) has become an institution. The brainchild of John Breach who in those early days, championed the small independent grower, ensuring a voice in the highly competitive world of commercial apple & pear growing as the transition to Supermarket supply became the primary outlet and wholesale markets became less profitable for our UK growers. Today 80% of English Apples & Pears are sold through Supermarkets.
In 2016 the BIFGA 'grower' members 'by and large' supply their fruit to Supermarkets; the independence enjoyed by Chairman John Breach allows BIFGA to be a valuable vehicle for lobbying government and retailers on behalf of UK fruit growers....
Below: BIFGA Chairman John Breach with Vice Chairman Clive Edmed on the left and Secretary Judi Perry and Treasurer David Budd on the right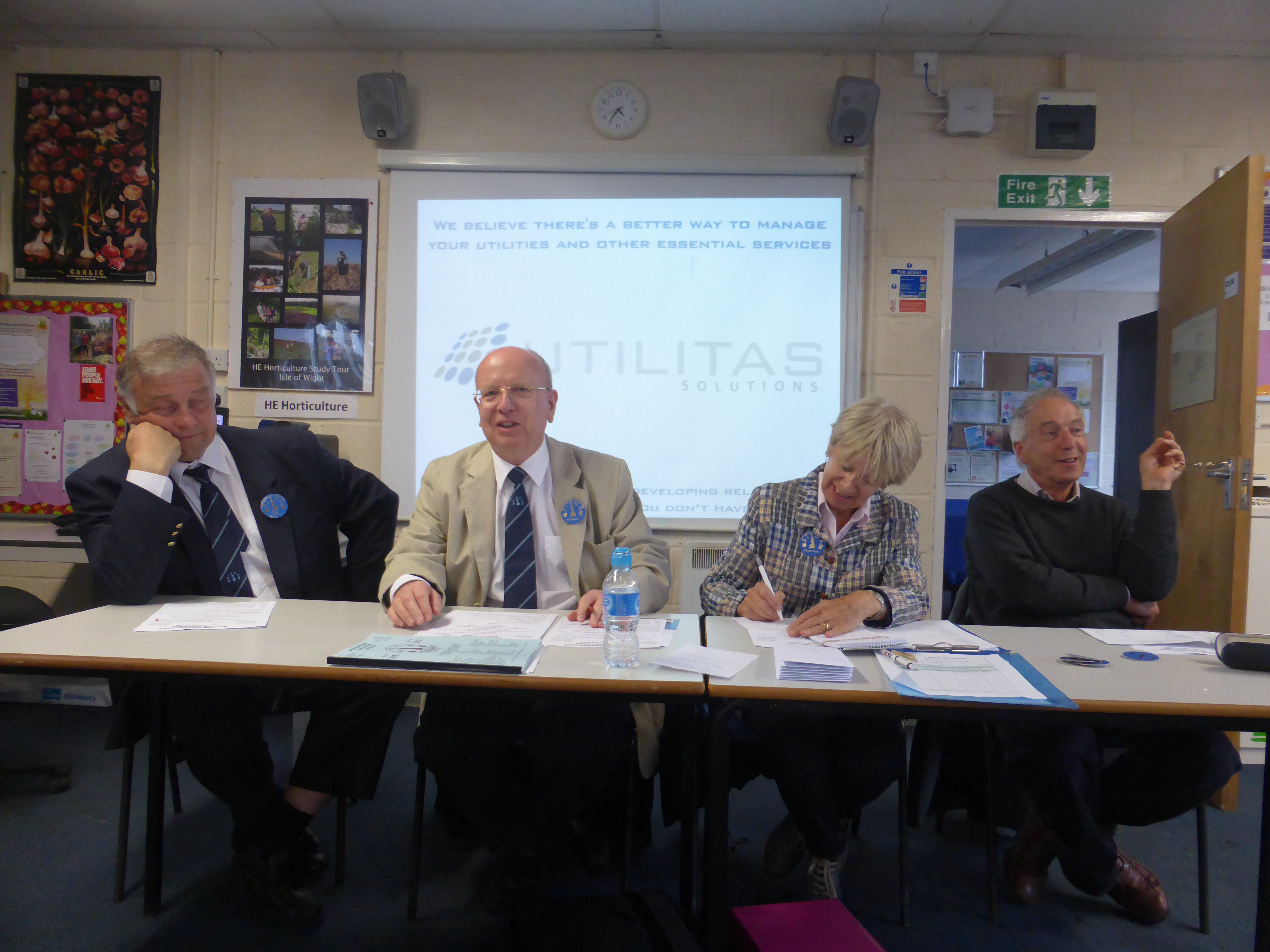 Chairman John Breach opened the AGM by thanking Hadlow College - Faculty of Landscape, Horticulture and Design at Court Lane for hosting the event and Utilitas Solutions Ltd who were the main sponsors for the event.
Below: Eric Tiv presenting cost saving strategies offered by Utilitas Solutions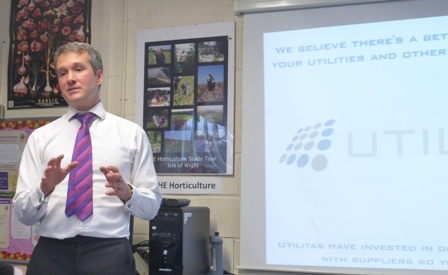 Following the formalities of the AGM John Breach introduced Eric Tiv from Utilitas, a company that specialises in helping clients to minimise essential spend and reduce the cost of doing business. Eric said; "We have an impressive track-record of delivering significant savings through smarter and more effective procurement".
Since 2004 Kent based Utilitas Solutions have been helping producers based in the county and beyond manage their expenditure on energy and other key areas through smarter and more effective procurement and by maintaining close and regular contact with suppliers.
Eric said, like most businesses, we started small "We wanted to offer something more personal, more impartial".
"We wanted to become the people you came to, who understood the dynamics of the energy market and other supplier services, who could help you find the best possible prices and enable you to put your profits back into your business, where they belong".
Eric Tiv also reminded BIFGA members that there is NO CHARGE unless savings can be found....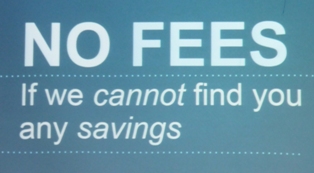 Utilitas Solutions help all types of business and over the last few years farmers have seen the benefit of employing their services. They have the expertise to interrogate the tariffs charged by energy and other utility companies.
Eric said; "When you're running a business, it's only natural to be focused on your customers, staff, operations and sales. So it's no surprise that day-to-day tasks such as paying energy bills get taken for granted. Yet energy, telecoms, waste, water and office supplies can make up a significant proportion of your total cost base. And because it's rare for any business to closely monitor pricing and actively manage these relationships, there's usually huge scope to find savings in these areas".
Below: Farmer Mark Smith 'ponders the opportunities for cost saving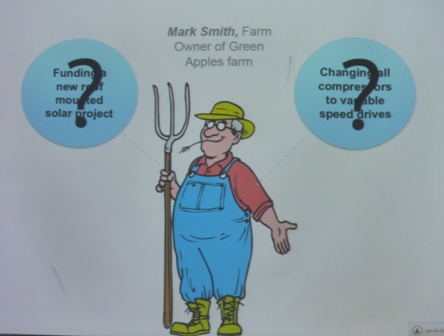 Eric Tiv demonstrated the potential for energy cost savings of 19% and water at 2-8%. The ability to take advantage of half hourly tariffs by matching (where possible) high energy use to the lower tariff periods; example turning off refrigeration during high tariff periods.....
Below: An example of how tariff management can produce dramatic cost savings by matching energy use to low cost tariff periods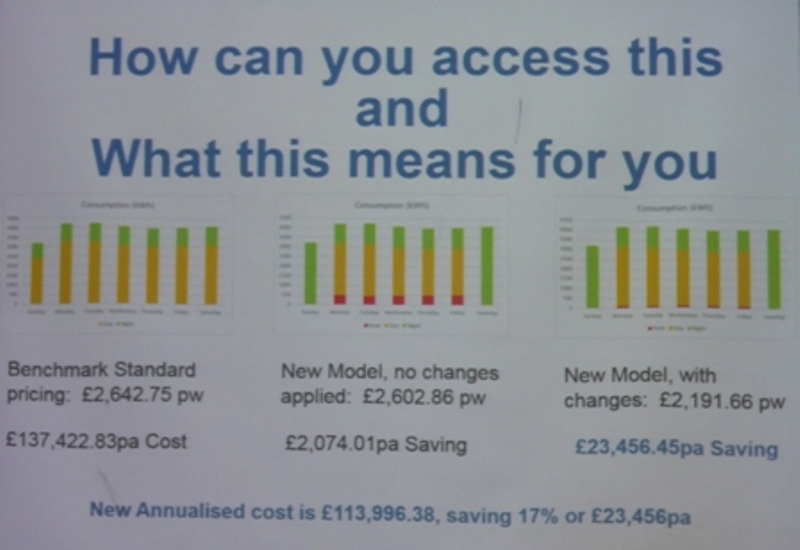 Below: Just one of the testimonials to Utilitas Solutions performance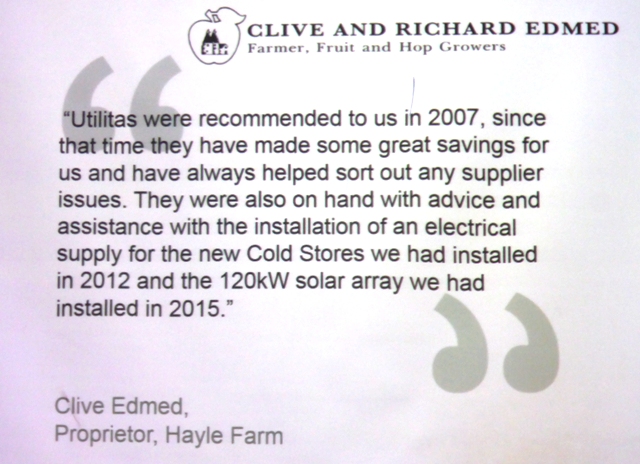 BIFGA 21 Orchard
Following the AGM and the Utilitas Solutions presentation, BIFGA members visited The BIFGA 21 orchard; this orchard and a duplicate at Brogdale Farm were planted as trial orchards to mark the celebration of BIFGA's 21st anniversary, with many new varieties allowing 'ongoing' assessment by BIFGA members, while the Hadlow trial orchard 'doubles up' as a 'learning and training' orchard for Hadlow Students.
Below: BIFGA members visit the BIFGA 21 orchard at Hadlow College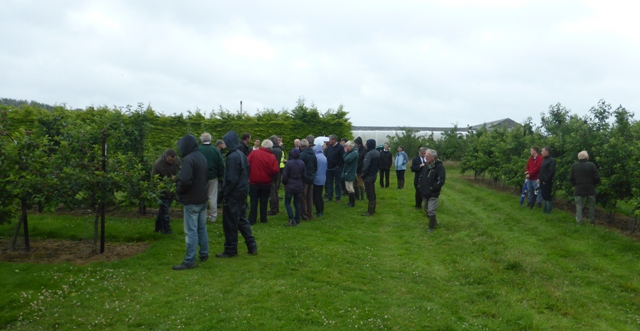 Below: The 'charismatic' Hadlow Lecturer Stefan Jordan outlines the benefits of having the BIFGA 21 orchard as a source for education and training of horticultural students - and - Roger Worraker who for many years lectured students at Hadlow on top fruit culture and trained many of today's apple & pear growers during his tenure at Hadlow, gives a 'vote of thanks' to Stefan Jordan for hosting the BIFGA event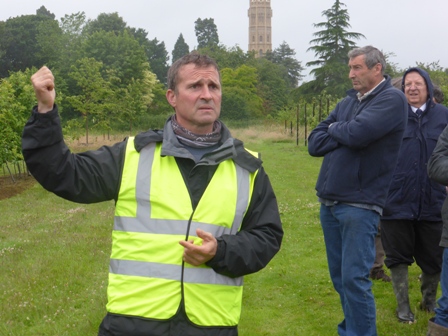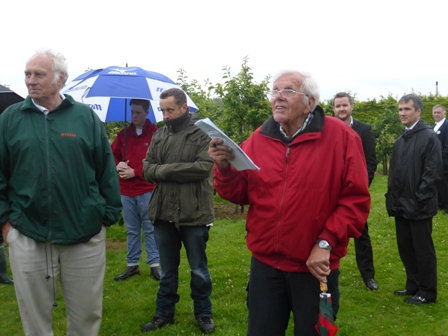 The next stop on the programme, a visit to Hadlow Place Farm and this new orchard of Royal Beaut Gala.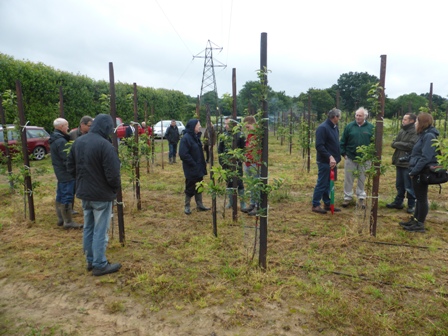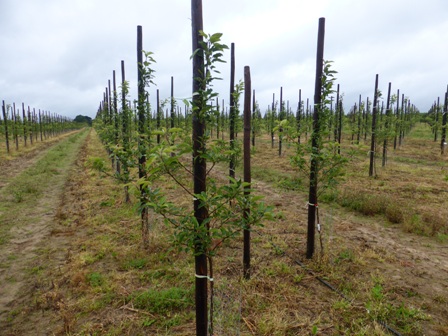 Click on Royal Beaut to learn more about this Gala clone.
Solar Farming
The last leg of our evening took us down the road to a new venture for Hadlow Place Farm; the site has been developed as a 60 acre Solar Farm. The land was leased to the Solar Farming Company by Hadlow Place and the investment in the site construction (rumoured to be circa £10,000,000) carried out by the Solar Company. Hadlow Place Farm is contracted to provide maintenance of the environmental aspects of the project; e.g. grass beneath the panels and surrounding areas within the security fencing.

Below: Solar panels - and - Nigel Gibb of Hadlow Place Farms discusses aspects of the solar panel project with BIFGA members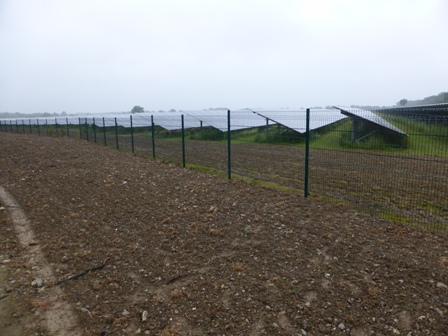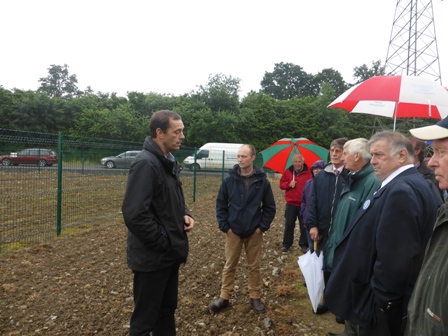 The evening came to a conclusion with an excellent Kent Ploughman's Supper at Hadlow Place Farm.
It was a pity the inclement weather impinged on the evening, but in spite of Mother Nature's spoiling tactics, we all had a most educational and enjoyable evening; 'Well done to John Breach and his committee for another successful BIFGA event.............
That is all for this week......
Take care
The English Apple Man