Journal
12th Aug 2016 - Farm walk, Friends and Fun
Farming: 'NFU Orchard Competition Prize-giving' - Friends: 'Cricket on Benenden Green' - Fun: 'Golf at Hever Castle'
This has been a very enjoyable week for The English Apple Man: It all started with a family barbecue on Saturday with a perfect 'blue sky' afternoon and delicious food. On Tuesday a visit to my dear friends Doug and Estera Amesz in East Kent where their eldest daughter Sofia 'entertained and captivated' us over lunch in the garden.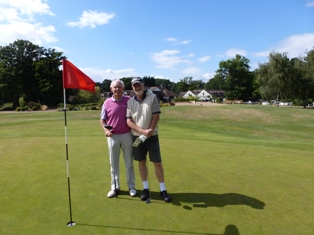 Wednesday and 'it was off early' to Hever Castle Golf Club for a 'Society Day' of golf on this most beautiful of courses nestling in the Kent Countryside; true The English Apple Man will never trouble Rory Mciilroy 'or for that matter' any of my GOBS Society (Good Old Boys Society).............
After a 'full English breakfast' the 'head GOB' drew lots for 'who partners who' and with 15 of us drawn into groups of three, with The EAM in the first to tee off with 'head honcho' Gerry Bennington and Andrew McFarlane, both very experienced golfers, and after a 'stuttering' start, my game settled into a mixture of 'mostly' good drives, variable efforts with the 'irons' off the fairway and a mixed 'putting performance' on the greens!
My friends Gerry and Andrew; both true gentlemen, encouraging my performance with 'quiet advice' and some praise. Gerry finished as winner of the Society day with 36 Stableford points 'the second placed golfer scored 32 points - my 11 points poor by comparison, but for a 4 times a year golfer, I was happy to enjoy a day in the sunshine with good friends!
For non golfers; click on Stableford explained
From Hever a drive across to Horsmonden in West Kent for the 66th Goudhurst & Paddock Wood NFU Orchard Competition Farm Walk and Prize-giving held at George Chambers 'Northiam Farm' - Northiam Farm won the prize for the Best Overall Farm in this year's competition and it is traditional to walk the winning farm in conjunction with the presentation of prizes.
An absolutely fantastic turnout with circa 100 attending....
After a welcome by Martin Webber - Group Secretary - NFU Weald Branch 'incorporating' Goudhurst & Paddock Wood Branches: Martin introduced Patrick Bowring and Shaun Joubert, fellow Group Secretaries for NFU Weald Branch - Amanda Corp the newly appointed Kent NFU County Representative with responsibility for advising Kent Branches; Chris Hartfield NFU Headquarters Head of Horticultural Sector and William White - NFU South East Regional Director; William has written an essential guide to Brexit; click on William White's Essential A to Z Guide to Brexit
Also present William Steele - Chairman NFU Weald Group who presented many of the prizes.
Before handing over to George Chambers, Martin thanked the sponsors; Avalon Produce Ltd. & BASF for their support in making the competition and presentation evening possible.
Below: Mike Chambers (on the right) with Nick Seymour in a picture taken in August 2012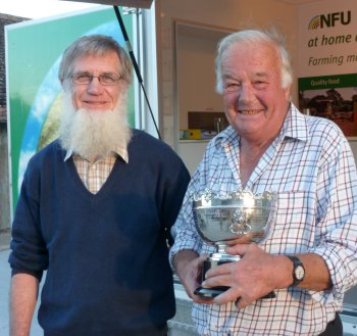 George Chambers gave a short overview of Northiam Farm and said how very proud his Dad Mike would be if he could see the culmination of all his and George's hard work at the farm walk and presentations tonight with what must be a record turnout....sadly Mike passed away in May and the emotion of the occasion was 'understandably' difficult for George....
Farm History
Purchased in 1929 by George's Grandfather, Northiam Farm consisted of 75 acres, which included 29 acres of hops and 30 acres of fruit. A further 15 acres was added shortly after the main purchase. In 1988 another 40 acres was purchased from an adjoining farm.
In 1948 the first cold stores were built - 4 x 25 tonne stores. In 2016 Northiam Farm has 15 cold stores amounting to 1,350 tonnes, of which 90 tonnes are CA stores (Controlled Atmosphere).
The farm has a pack-house where fruit is packed for Co-op, ASDA Aldi and wholesale markets supplied through Avalon Produce.
The varieties grown are: Cox, Bramley, Gala, Rubens, Discovery, Worcester Pearmain, and Red Windsor apples + Conference and Comice pears.
Below: 'setting off on the farm walk - and - George Chambers explaining his management objectives to the attendees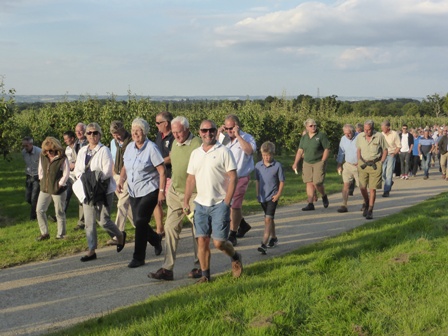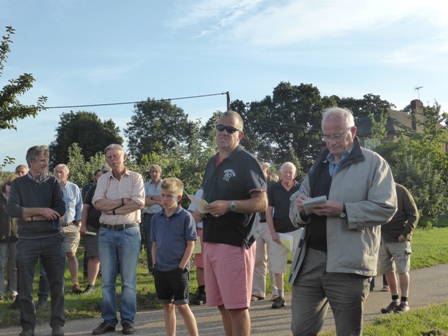 Below: One of the views of a young orchard at Northiam Farm

Below: Discovery apples are near to a 'first pick' - and these Cox trees are laden with a heavy crop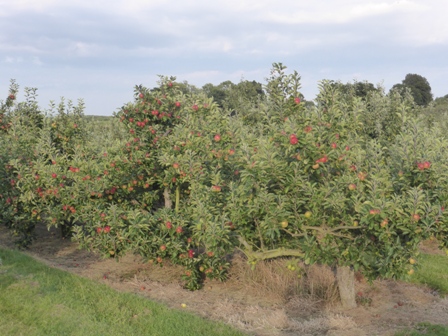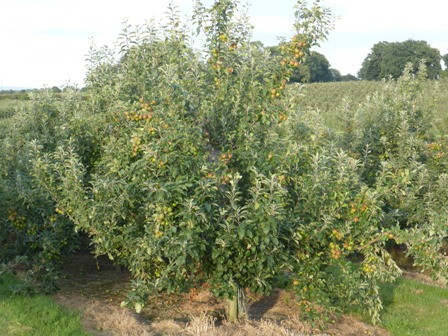 Below: Bramley carry a heavy crop - and - 'negotiating a ditch' on the walk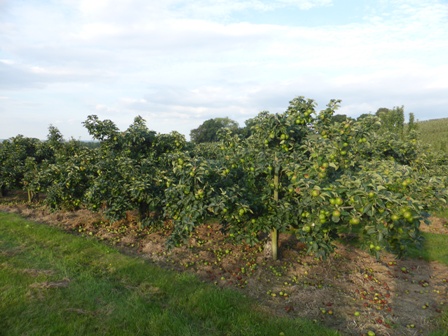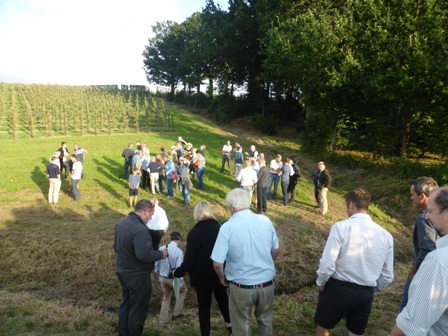 Below: 'What goes down, must come up' - climbing the slope - and - George and son Harry 'pose for the camera' in an orchard during the walk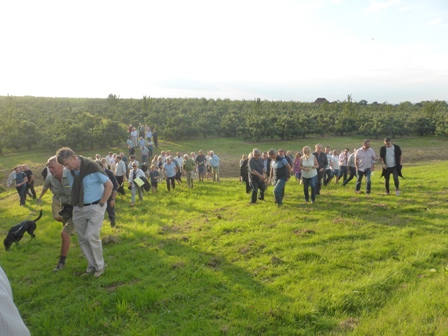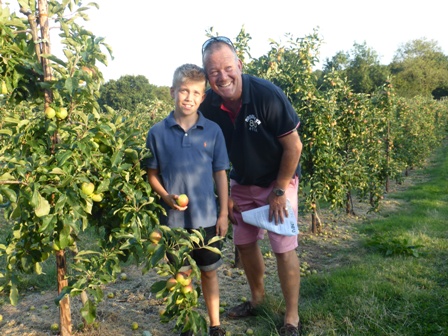 Below: On our way back to the farmyard, a young Red Windsor orchard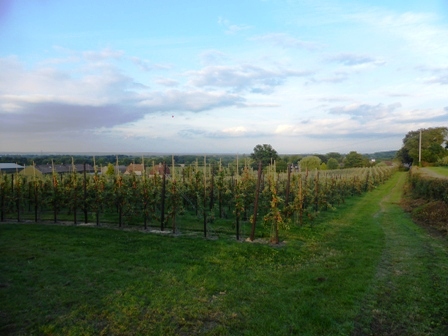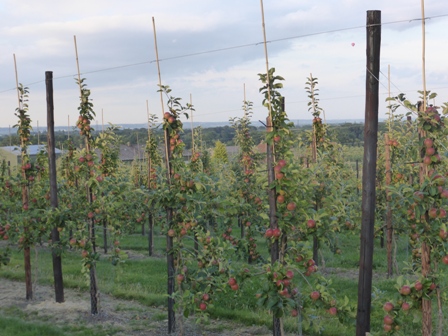 Below: Sun-scorch has been a problem on all farms across the south east; this Discovery has been badly affected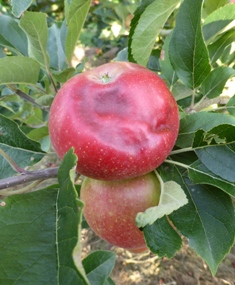 The English Apple Man comments: Every year Northiam Farm seems to carry a crop of good quality apples; with the advent of newer heavy cropping varieties like, Gala and Braeburn it is to be expected that a well managed fruit farm will have a good crop most years, however this is not always the case with varieties like Cox, but George Chambers is continues the tradition that he and his father Mike have achieved with another heavy crop of Cox, albeit some probably carrying too much crop and in need of some thinning.
The Bramley is also very heavy and looking under the trees a lot of thinned fruit lies on the ground. The Discovery trees carry a good crop of good sized apples, which are probably only a week away from the first 'picking over' - the only blot is the level of sun-scorch which after the very hot weather on 19th/20th July has caused significant sun-scorch in many orchards across Kent.
Sun-scorch tends to be worst on the western side of the tree, when the sun is at its hottest in the early/mid afternoon.
Following the farm walk, we returned to the farmyard for the presentation of trophies and an excellent buffet supper
Before the presentations, Chris Hartfield NFU Headquarters Head of Horticultural Sector addressed the attendees on the subject of 'Brexit' and its potential to undermine UK horticulture, unless the UK negotiators are fully conversant with all the critical areas and 'importantly' prepared to fight for a 'level playing field' as any weakness in negotiation could easily result in UK growers losing all the gains made in increased 'home grown' fruit and vegetables over the last two decades. Of course it will not be just UK growers who lose out; UK consumers will be denied home grown produce and with a £4 billion deficit between home grown v imported, it is in all our interests to maintain, and if possible, continue to increase the production of UK fruit and vegetables.
High on the list of priorities is the need for a continued availability of harvest workers from within and outside of the EU.
Below: Chis Hartfield addressing the 100+ growers who attended the NFU Orchard Competition Presentation evening.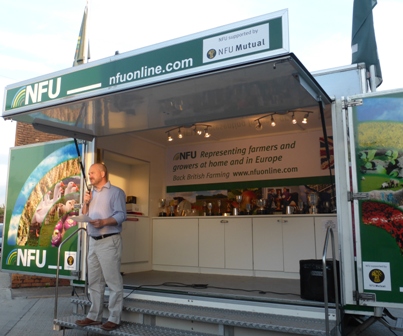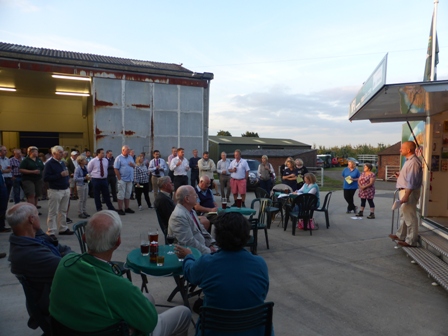 Presentation of Trophies to Prizewinners
Below: NFU Weald Branch Chairman - Will Steele presents George Chambers with the BASF Championship Trophy for 'Overall Winner' of the competition - and - Ian Overy receives the E.O.Moss Trophy for 'Overall Runner Up'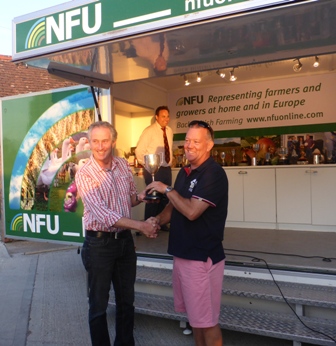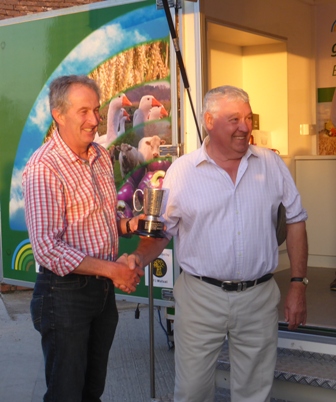 Below: Jonathan Duke - 'Kent House Nursery' Park Farm receives the Bayer UK Trophy for 'Overall' Third Place -and - George Chambers receives the N.P.Seymour Trophy from Nick Seymour for highest marks in Class II (orchards below 1,000 trees per acre)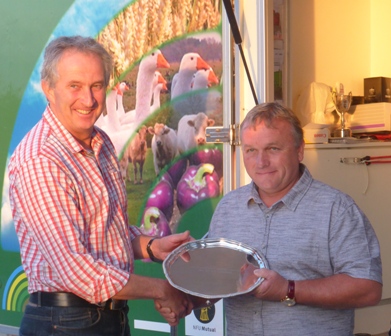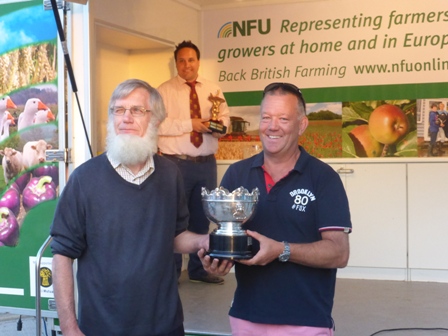 George Chambers - Northiam Farm won five trophies. BASF Championship Trophy for 'Overall Winner - BASF Trophy for greatest increase in marks from previous year; N.P.Seymour Trophy for highest marks in Class II; Norman Collett Trophy Class II for highest marks in pest & disease 'control' section; 'joint' winner of Group Secretary Award for highest marks in orchard management - shared with Hadlow Place Farm.
Below: George Chambers with his wife Tracey and son Harry and their trophies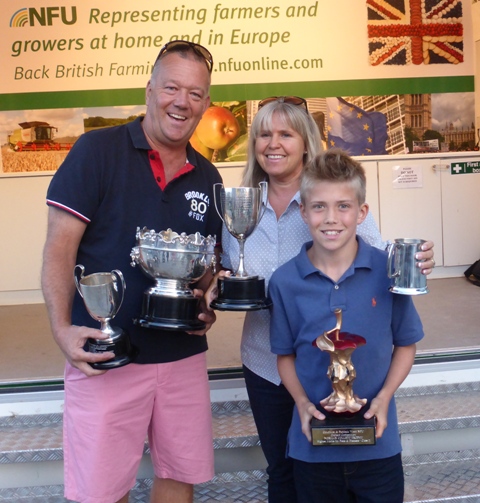 The full list of trophy winners:
Main Competition
BASF Championship Trophy - G H Chambers Northiam Farm; E.O.Moss Trophy Runner Up - Ian Overy Farms; Bayer UK Trophy third place - Kent House Nursery Park Farm; Agrii Trophy - C M Ramus & Sons Barons Grange for 'Most Meritorious Entry; Mike Freed Trophy - for highest marks in Competition over 5 years - Bardsley Farms 'Bluehouse Farm; BASF Trophy for greatest increase in marks from previous year - G H Chambers;
Class 1
DOW AgroScience Trophy for highest marks in Class 1 - Ian Overy Farms; Norman Collett Trophy Class 1 - highest marks for freedom from pest & disease - J L Baxter & Son Elphicks Farm; FAST Trophy Class 1highest marks in orchard management - Ian Overy Farms; Willis Corroon South Ltd. Class 1 second highest mark in Class 1 - J L Baxter 'joint' Westerhill Farm and Elphicks Farm;
Class II
N P Seymour Trophy highest marks Class II - G H Chambers; Norman Collett Trophy Class II highest marks freedom from pest & disease - G H Chambers; Group Secretary Award for highest marks in orchard management - 'joint' G H Chambers & Hadlow Place Farm; Willis Corroon South Ltd. Class II second highest mark Class II - Kent House Nursery Park Farm.
Young Orchards Competition
ADAS Trophy highest marks 'young orchard' J L Baxter & Son Amsbury Farm; J A Prall Trophy for highest marks 'Single young orchard' - J L Baxter Amsbury Farm; Lambert & Foster Trophy for Foreman/Employee in charge of young orchards - 'winning farm' in Average Young Orchards Section - Anna Kovalchuck Amsbury Farm; Origin Trophy for highest marks in Management 'Average Young Orchards' - J L Baxter & Son Amsbury Farm.
In total; 18 trophies were presented for the various Classes in the competition.
Below: all the prizewinners with their trophies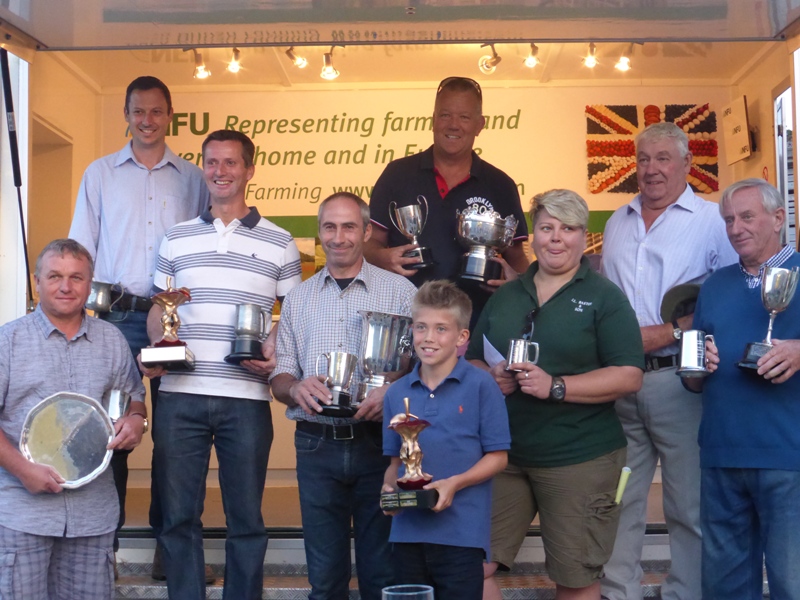 ---------------------------------------------------------------------------------------------------------------
Cricket has been part of village life in Benenden for well over 200 years (recorded history from 1798) and the Green in front of St.George's Church is without doubt one of the most perfect settings for cricket.
On Sunday (6th July) Benenden Cricket Club members paid tribute to their long serving President - Peter Blockley. Peter came to Benenden to live in 1981; his house is only separated from the green by the road and a hedge. Peter became involved, first as Chairman and then as President. He plans to move to Malta in the near future.
10 v 2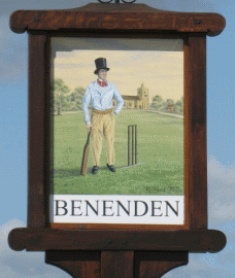 Benenden Village Sign - Commemorates the Local Cricketers Richard Mills and Edward Gower Wenman.
Wenman born Benenden in 1803 was an all rounder but an excellent wicket keeper - Mills born in Benenden 1798 was a left handed bowler, his gravestone in the local churchyard is engraved with a cricket bat.
They are noted as having between them beaten an Isle of Oxney team in a match at Wittersham in 1834 winning by 66 runs.
Click to view: Benenden Cricket Club website.....
Below: A nice cover drive - and - a 'classy' leg glance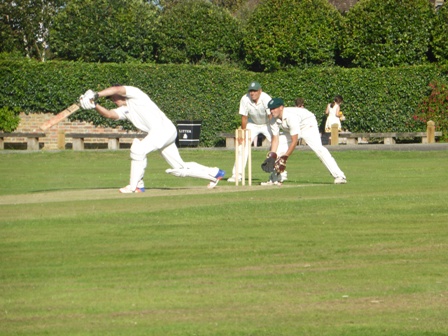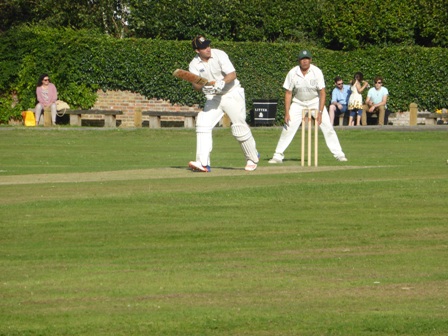 Below: A lady bowler delivers a fine delivery - but - the batsman square cuts to the boundary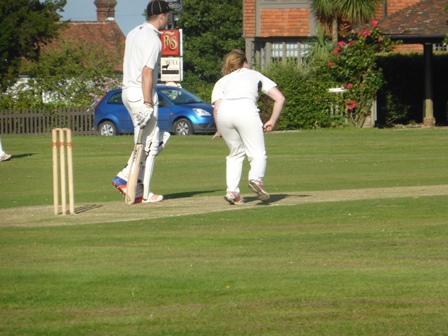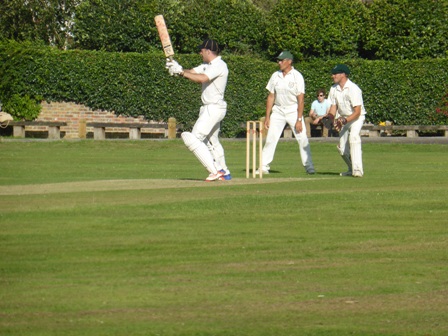 Below: the teams stop for tea with a view towards the Church in the background

Below: Peter Blockley and the landlord from The Bull Inn 'taking tea' - and - players and spectators enjoying tea and conversation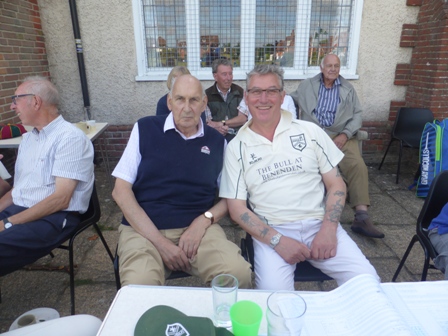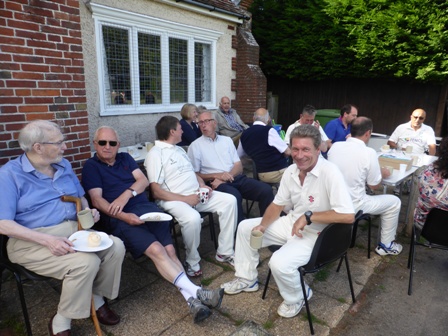 Below: Benenden CC Chairman Peter Newman presents 'retiring President' Peter Blockley with an inscribed memento of his long association with Benenden Cricket Club - and - Peter also receives the 'Duck Award' for club members recording the most Ducks in a season; the trophy was presented to Peter in recognition of his talent for getting a duck, indeed mention was made of 6 ducks in one season of just 10 innings....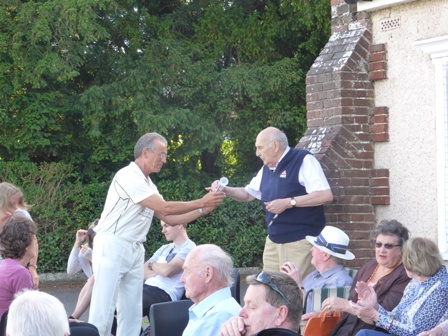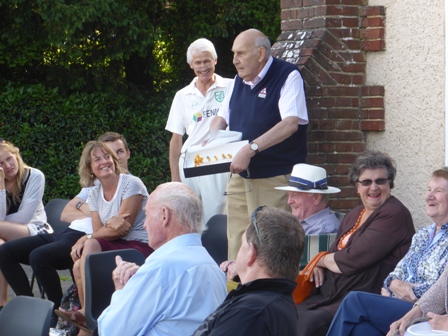 That is all for this week.............next week The English Apple Man will be attending the East Kent Fruit Society Orchard Competition 'Winning Orchard' Walk at A C Goatham & Son - Shrubbery Farm, Eastry in East Kent
Take care
The English Apple Man