Journal
23rd Sep 2016 - Over the Channel to Picardy
The English Apple Man has been in France joining '50th anniversary celebrations and looking at new varieties of apples & pears.
On Tuesday The English Apple Man took the Shuttle from Folkstone to Calais; from Calais we drove to Villers-Cotterets in Picardy where John Breach and Bruno Essner were celebrating a 50 year alliance between the nursery business created by Charles Andre and John's first encounter with Charles when he went to work in the nursery back in 1966. With me on the visit; Andrew Tinsley a good friend and recently retired from the AHDB, now supporting Avalon Produce Ltd in the search for potential new apple and pear varieties.
Villers Cotterets was the birthplace of the author Alexandre Dumas, who created The Count of Monte Cristo, The Three Musketeers and many other literary masterpieces.
With all the publicity about attacks on British cars and lorries returning from Europe in recent weeks and the reported delays at customs in Calais, it was not without 'a little trepidation' that we headed off for Folkstone on Tuesday morning. Arriving well in advance of our schedule (arrive by 10.50am for 11.20am departure) we managed to get on the 10.50am shuttle. 35 minutes later we arrived in Calais and were quickly on our way out of Calais and en-route to Villers-Cotterets: 'no sign of a migrant anywhere.....
Below: left; A map of Picardie - and - right; the magnificent Chateau de Pierrefonds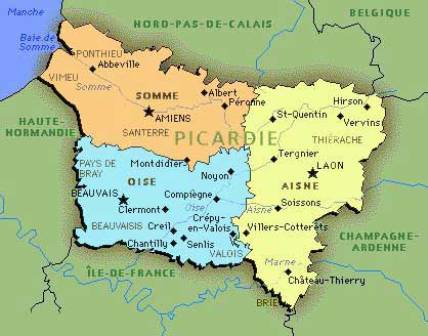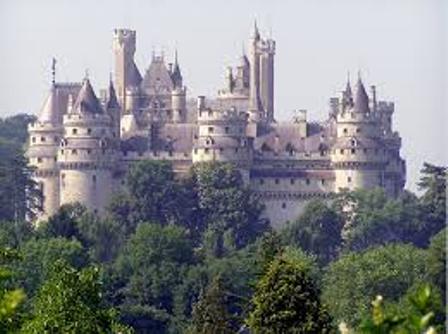 After a smooth drive into Picardie driving through the Forests around Compiegne and passing the majestic Castle at Pierrefonds; see Chateau de Pierrefonds we arrived in Villers-Cotterets just befor 4pm (French time).
Below: 50 years celebration cake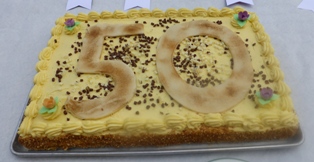 Meeting John & Rosemary Breach and son Peter at Hotel Bonanite, we were soon on our way to the magnificent, historic Chateau de Noue, home of Pepinieres du Valois Nursery, where John Breach and Bruno Essner addressed the farm staff and guests in front of the old Chateau, sharing stories of their experiences of John's 50 year association with Charles Andre who founded the Nursery in 1957. Apparently while growing apples, he found it difficult to obtain good quality trees for his expanding orchards, so Charles set about growing his own trees; in the 1990's Charles protege Bruno Essner took over the business and following an amalgamation with Davodeau Ligonniere the joint nurseries now produce 5,000,000 fruit trees annually (mostly apples & pears). The business is now named DALIVAL (an amalgamation of Davodeau and Valois)
DALIVAL produces 5 million rootstocks annually and 5 million apple & pear trees.
The management team at Chateau du Noue; see link to Valois Management Team are part of 130+ permanent staff employed by DALIVAL.
Below: John Breach and Bruno Essner address the farm staff and other guests in front of the historic Chateau du Noue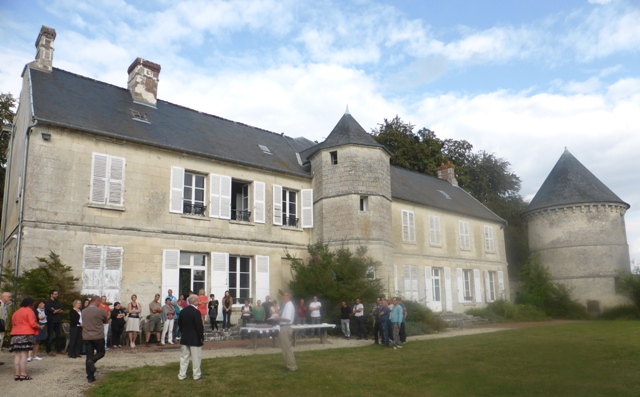 Earlier John Breach hosted a celebratory lunch in Villers Cotteret with his family in appreciation of Valois, Bruno, and members of the Valois team.
Below: Bruno and John with the 50 year commemorative mug given to all members of staff and guests at the Champagne & Cake celebration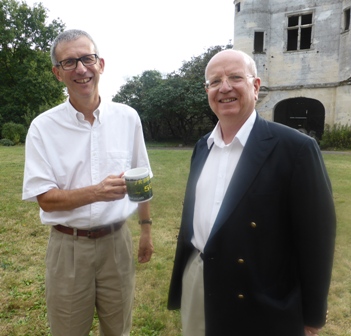 One of John's memories of his days at Valois learning the 'propagation skills' from Charles Andre was his mode of transport from his parents home in England; he would drive his Mini Cooper to Lyd Airport where the service to Le Touquet included carrying his Mini across the channel before he drove down to Villers Cotterets.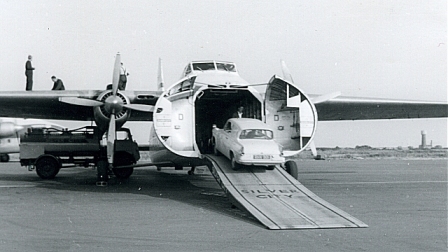 Originally named Lydd Ferryfield, it is now also known as London Ashford Airport, although it is over 73 miles from central London, and the name officially refers only to its operator.
The airport is operated by London Ashford Airport Ltd. Lydd Airport, opened in 1954, was the first airport to be built in the UK following the end of the Second World War. It was built for Silver City Airways as an all-weather replacement operating base to that of nearby Lympne Airport, whose grass runway was often waterlogged in rainy weather. The new Lydd Ferryfield was, like Lympne, used initially for car carrying air ferry services using Bristol Freighters, operating principally to Le Touquet in France.
The working week at Valois included Saturday morning, but by working late (overtime) ploughing, John gained enough hours to exempt him from a Saturday morning 'once a month' allowing a visit home via Le Touquet & Lyd 'carrying a month's dirty washing under his arm' - before returning late on Sunday afternoon via Lyd/Le Touquet.
The inspirational event which triggered John becoming an agent for importing trees from Charles Andre at Pepenieres du Valois came while John was working at the nursery. Golden Delicious; due to restrictions on imports (pre-common market) were making circa 2 shillings (10 new pence) a lb compared to English Cox prices of 1 shilling and sixpence (7.5 new pence) a lb.
The English Apple Man Comments: "It all changed dramatically once we entered the common market in 1973" - my memory of the first Golden Delicious grown on our farm at Hawkhurst made 14p lb in 1972 but dropped to 5p lb in 1973 when import quotas were removed.
One October the nursery had 1,000 Golden Delicious trees spare and John suggested to his father that they should 'import' the trees and plant them on the farm at Staplehurst. His father said, 'he only had room for a few hundred and certainly not 1,000 trees' but John persuaded his Dad to ring around the neighbours with a view to each taking some trees. Eventually they agreed and John set off just before Christmas in the farm Citroen Van with the trees on board; at Dover he had to deal with Customs regarding the duty on imported trees. A few bundles of trees were taken to a set of scales and weighed and an import duty agreed.
The trees were 'booked' to the Breach Farm Account and this was the forerunner to a lorry load of trees the next year. From these modest beginnings; J.R.Breach was born!
Chateau de Noue has a long and colourful history - in 1539 King Francois installed his mistress Anne d'Heilly de Pisseleu, Duchesse d'Etampes....................
Below: Members of Valois staff pose on the steps of the Chateau before the 'cake is cut' and the 'champagne poured'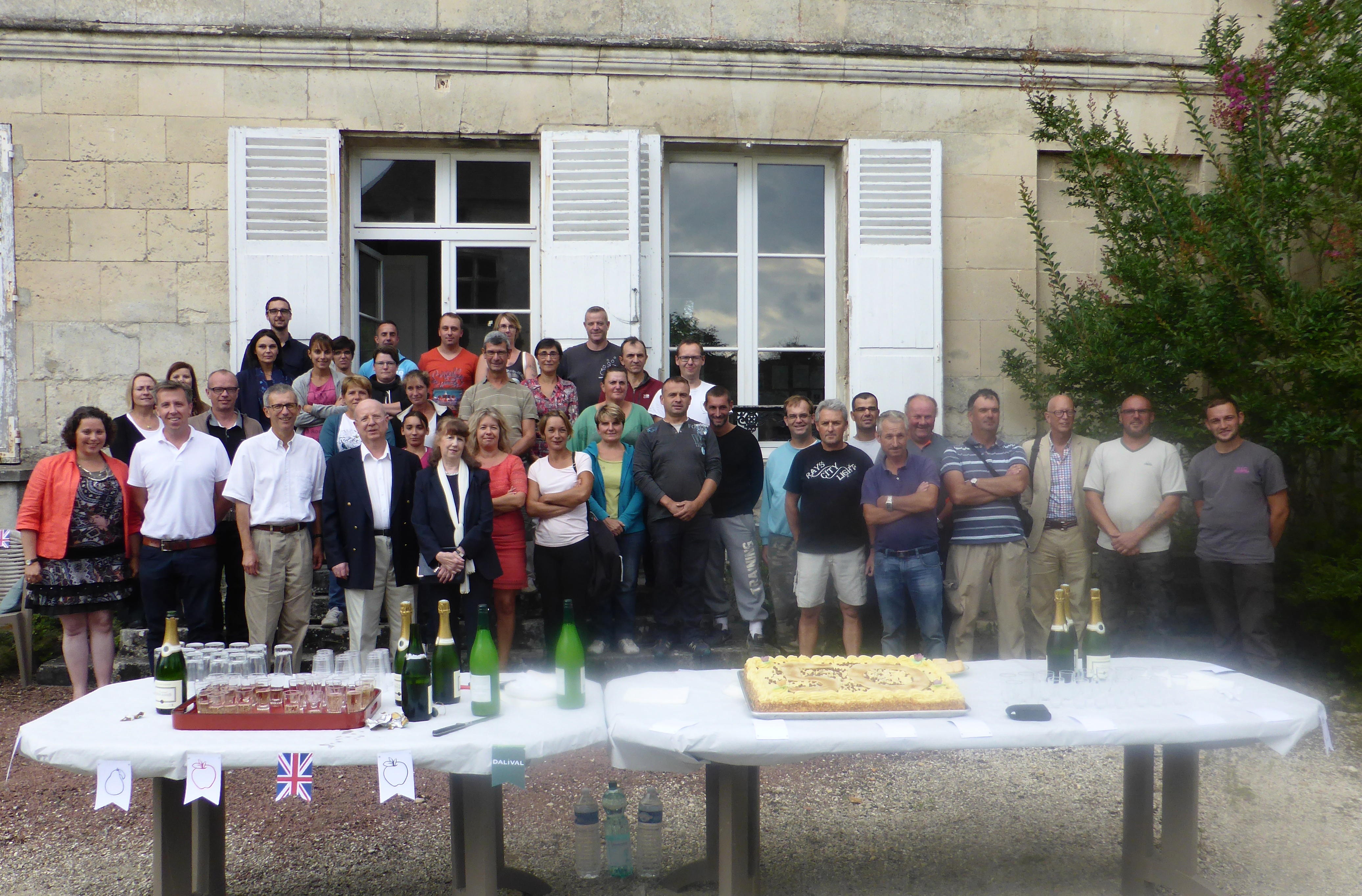 On Tuesday evening we enjoyed Dinner at the La Tulip Restaurant with Bruno and Geraldine Essner, John, Rosemary and Peter Breach and John & Rosemary's daughter Kate with her French husband Laurent Vignon who met each other while working at the nursery at Valois ..........in addition senior and administrative staff from Valois made a total of 18 sitting down to dinner. A superb meal, with fine wines chosen by Bruno.....
Below: left; Dinner at La Tulip - and - right; Geraldine and Bruno Essner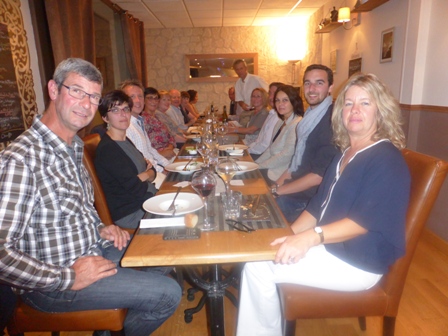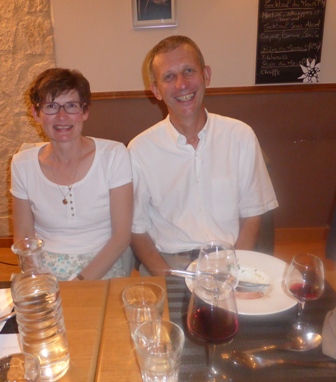 On Wednesday morning Andrew and I joined Bruno Essner, John and Peter Breach for a visit to the new variety trial orchard. In due course 'some of these new varieties' will be launched for commercial use; finding a new variety is a bit like 'looking for a needle in a haystack' as a new variety can take between 25 & 30 years from planting a seed to commercial release. Dalival sow 20,000 seeds each year in the quest for a new variety and this is just the first step in search of a new variety; imagine, breeders all over the world are doing the same.....
One of the varieties already in commercial use is Jugala, a new sport of Gala characterised by its earlier picking date (5 to 6 days earlier than the standard Gala) and its better fruit size. The colour is similar to Gala Galaxy.
Below: left; Jugala - and - right; Peter Breach, Andrew Tinsley, John Breach and Bruno Essner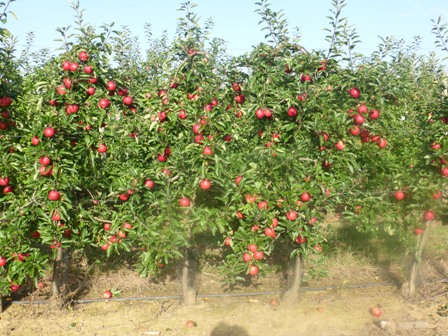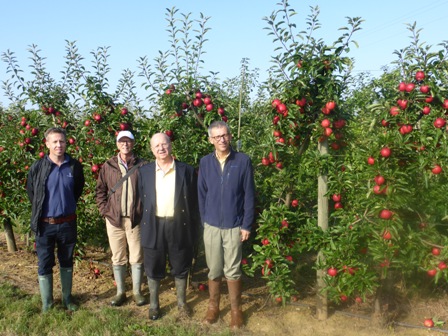 Walking back to the Chateau, we passed these Angelys pears; they carry a good crop, but Bruno said generally the pear crop at Viller Cotterets is only 40% of a normal crop; circa 20 tonnes per hectare......
Below: left; Angelys pears - and - right; The English Apple Man with Bruno Essner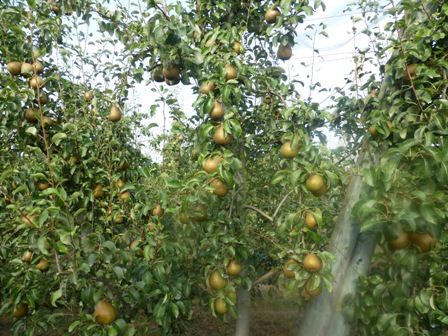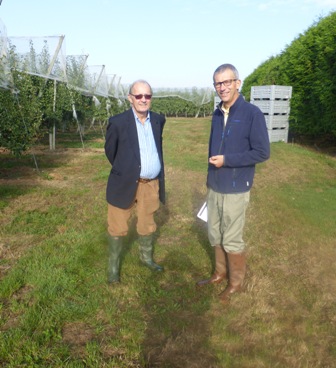 Nursery visit
After our tour of the trial orchard, we moved on to one of the Nurseries. The policy at Valois is to only use land which has never grown apples before; this is facilitated by Pepinieres du Valois located well away from other orchards and nurseries; the area is very much an arable region. However the policy means the Nursery land continues to be located further and further away from the business headquarters at Chateau de Noue.
Below: left; young trees ready for lifting in November 2016 - and - right; a view beneath the branches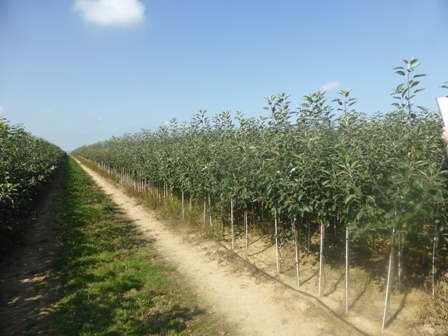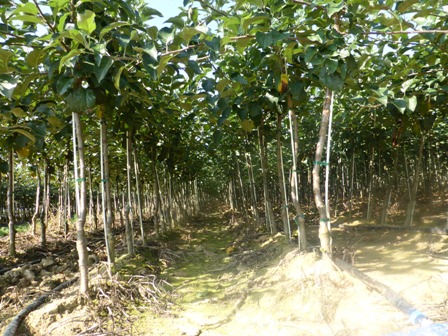 The quality of the trees in the nursery is 'stunning' with ample well formed 'feathers' (young branches) and leaders reaching 2 metres high. Bruno told us that all their nurseries now have irrigation; a positive factor in the development of high quality young trees.
Below: irrigation equipment - and - irrigation pipes delivering water via trickle irrigation lines along every row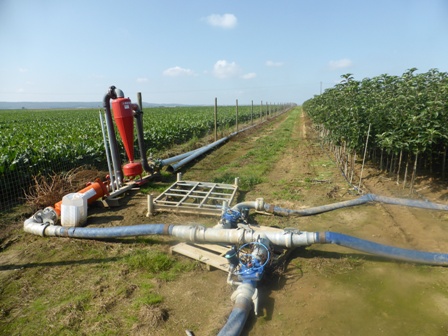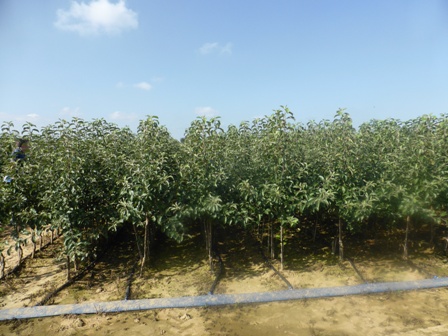 We returned from Villers Cotterets after lunch and caught the 7.20pm shuttle out of Calais - 'once again not a single migrant spotted' en-route.
'New season' English apples are now increasingly appearing on Supermarket shelves. Discovery has been & gone - Worcester Pearmain, Early Windsor, Zari and now Cox are available.
The English Apple Man bought Zari and Cox in Sainsburys yesterday (Thursday) and compared them with Gala bought in 'Carrefour' in France on Wednesday.
Below: left; English Cox apple pack - and - right; 'unwrapped' Cox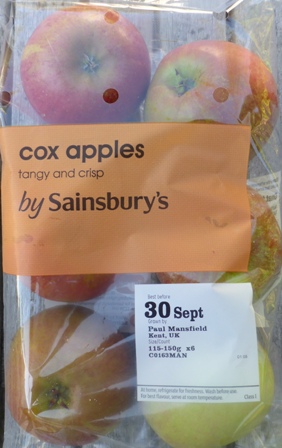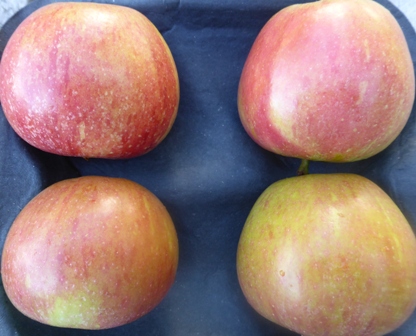 Below: left; ZARI pack - and - right; French Gala pack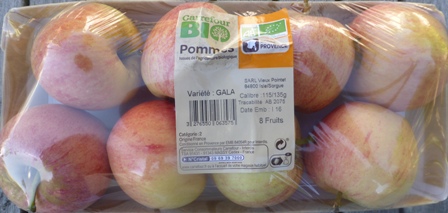 Below: left; ZARI 'unwrapped' - and - right; French Gala 'unwrapped'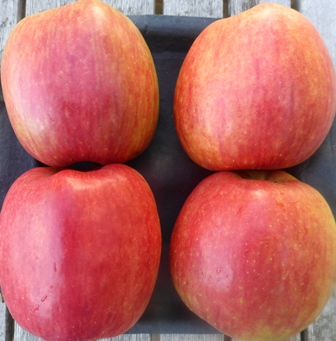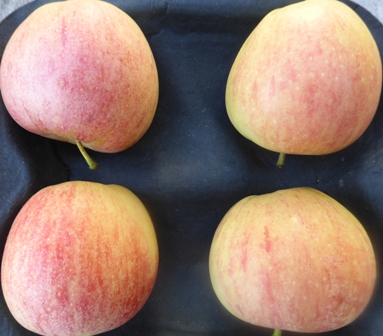 Below: top from left; Zari and Cox. bottom from left; Italian Gala and French Gala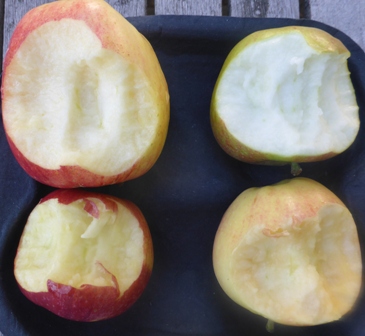 Visually; the ZARI looked superb - the COX has fair colour; 'the lack of cold nights has led to slow colouration on Cox this year - the French Gala bought in Carrefour in Villers Cotterets and grown in Provence has very weak colour, probably due to the lack of 'day/night' temperature contrast. Possibly also a poor coloured Gala clone.
This supports the efforts of apple breeders who are working hard to develop higher coloured Gala clones. The darkest red coloured clones are sought by regions where the weather is too warm at night and day/night temperature contrast is insufficient; a differential of 10 degrees C is an indicator of what's required....
Eating samples of the Zari, Cox, French Gala and a Gala grown in northern Italy, the Zari was sweeter than the others and had a creamy coloured flesh; the Cox typical of an 'early harvested specimen' with distinctive acid/sweet balance and white flesh; the French Gala had the softest texture and not much flavour; the Italian Gala had good crisp juicy texture and sweet flavour with a white/cream flesh colour.
From Gala tasted last week at Bluehouse Farm at Marden, the English Gala will stand up well against imported Gala. See link to Journal for 16th September 2016

That's all for this week....another very busy week follows; sampling and picking Bladon Pippin on my 'to do' list for Monday.....
Take care
The English Apple Man
PS: "Look out for English Apples in your Supermarkets, Farm shops and local shops.........