Journal
11th Nov 2016 - The Great Fruit Adventure
Tuesday morning and The English Apple Man is on route to New Spitalfields Market........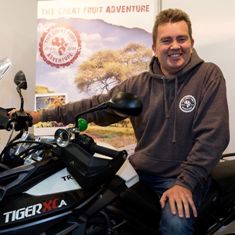 At the National Fruit Show in October, Max MacGillvary displayed a Triumph Motorcycle on which he will travel from Bury St.Edmunds, via New Spitafields Market, through Spain and from North to South Africa Africa, before finishing in Capetown. The venture is titled; The Great Fruit Adventure - Max MacGillivray is by day a recruitment specialist: Max founded Redfox in 2002 with the sole aim of specialising in mid-management to board level recruitment for the Fresh Produce, Agri-Business and Food Retail sectors.
A graduate of Harper Adams, Max's background includes working as a trader in the grain sector and time at the National Farmers Union.
Extracts from Redfox website
With an enviable track record in successfully placing top-level candidates - including Chief Executives - for UK and international blue-chip businesses, Max and the Redfox team enjoy a proven reputation for excellence in finding talented professionals for their global client base.
As a recognised industry speaker on the Fresh Food, Agri-Business and Social Media sectors Max is much in demand for events in the UK and Internationally. He is also the Founder of The Great Fruit Adventure - Africa which is looking to make kids and their families more aware and to consume more great fresh produce.
The Great Fruit Adventure
Max MacGillivray
Max is the founder of The Great Fruit Adventure. He is passionate about great healthy food and has an extensive background in Farming and Fresh Produce. His day job is running a recruitment and training business with a great team sourcing and training people for fantastic food business in the UK and Internationally. Having planned the trip for the past three years, Max wanted to create an event that would make a difference to kids and their families by promoting the virtues of fresh food and healthy eating. Follow him and follow the ride.
Gareth Jones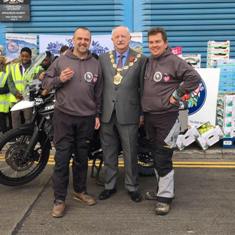 Gareth has been riding a variety of motorbikes all of his adult life and has toured extensively around Europe for the last 25 years. His great claim to fame is that in 2015 he completed a 6 month 21,000km solo ride around Southern Africa on a 1951 Harley Davidson! He is passionate about the dairy sector and runs a milk delivery company with his brother that was started by their grandfather in 1928. Still an independent business they proudly deliver milk to over 3000 customers in the Vale of Glamorgan and still in the traditional electric milk floats. So with petrol, milk, and African dirt in his veins, Gareth is looking forward to travelling across Africa again (!) and meeting the fascinating people, growers and producers of great fresh food.
A message from Max
The Inspiration.....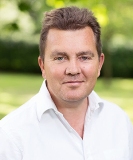 "Upon learning that six out of 10 UK children have not a clue where the fruit and veg in their diet comes from, and after reading figures from the World Health Organisation which showed that in 2013, 5.2m deaths worldwide were a result of inadequate consumption of fruit and vegetables, we were inspired to plan an adventure which would both provide us with a story we could tell at visits to schools and colleges, and which would allow us to raise money for a number of African charities.
"I want to tell the story of the fantastic places where our fruit and veg is grown and the people who grow it to help young people understand that it doesn't just magically appear on the supermarket shelves.
"It's going to be an epic and challenging journey. I have ridden motorbikes on farms in the UK and Australia but not on such an extensive trip, which is one of the great challenges. "
"What we now need is for people to support us, help us to organise and plan the campaign and allow us to do the work to bring the message to schools in the UK and Internationally when we get back."
Max MacGillivray

The English Apple Man joined the Under 40's Chairman Charlie Dunn & Vice Chairman Paul Hamlyn who will be in South Africa for the 2017 U40's Conference and welcoming Max and Gareth when they arrive in Capetown in February.
Also present; Sarah Calcutt - Chair of The National Fruit Show - Tommy Leighton MD of The London Produce Show, Chris Hutchinson Chairman and Janet Hutchinson CEO of the Spitalfields Market Tenants Association.
New Spitalfields Market celebrated its 25th Anniversary this year: New Spitalfields is a purpose built site opened in 1991 which can justifiably claim to the largest revenue earning fresh produce and flower market in the UK
Below: from the left: Max MacGillivray, Sarah Calcutt, Paul Hamlyn, Gareth Jones, Charlie Dunn, Tommy Leighton, Janet Hutchinson, Chris Hutchinson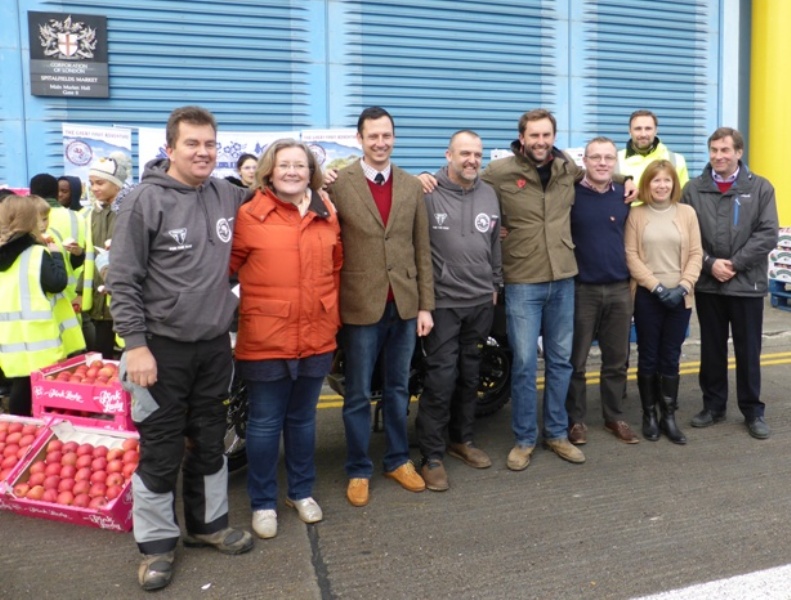 11am Tuesday 8th November 2016 - New Spitalfields Market
Below: Max and Gareth are supported by local children, sponsors, supporters, and members of the press

Below: Gareth Jones - Chris Hutchinson, Chairman of the Market Tenants Association - and Max MacGillivray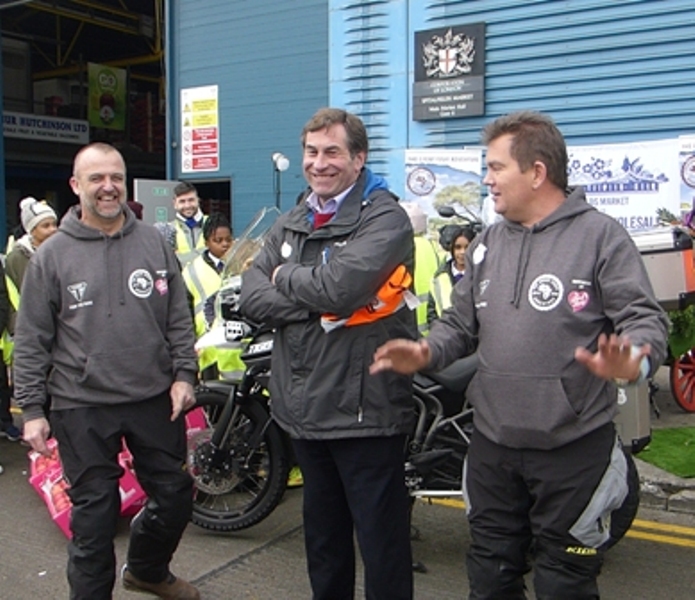 Below: left; Gareth and Max pose with Pink Lady apples - and - right; final checks before departure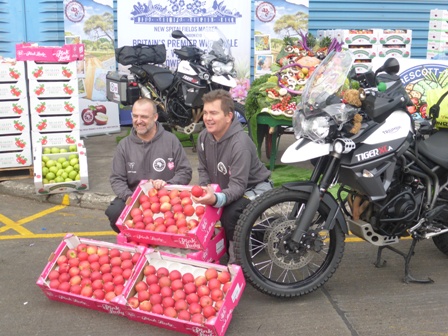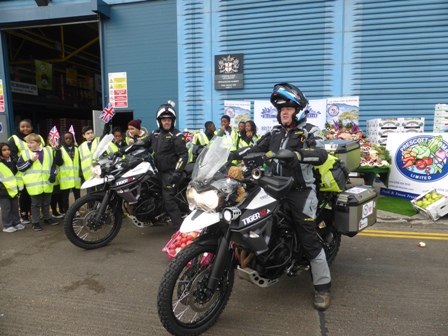 Below: left; ready to go! - and - right; waving goodbye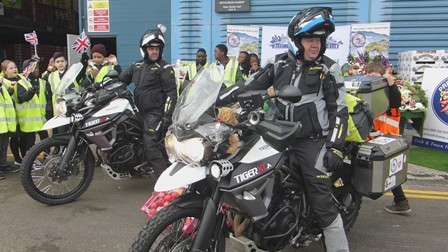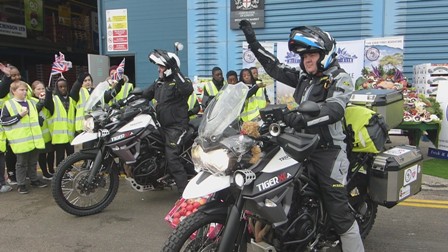 Below: and off they go - we will see you again in Capetown in February......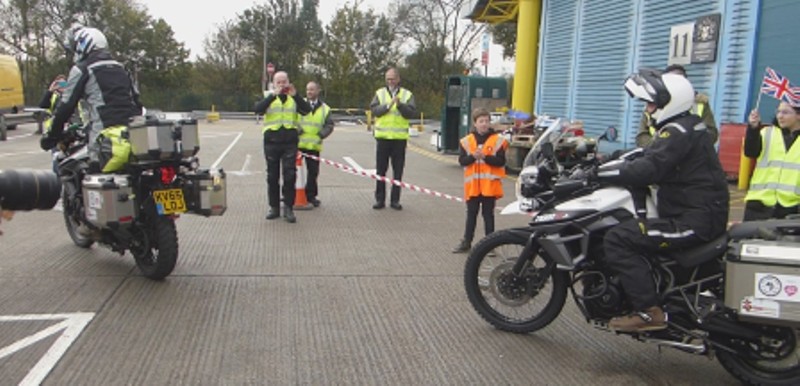 Below: Max MacGillivray and Charlie Dunn at New Spitalfields Market on Tuesday 8th November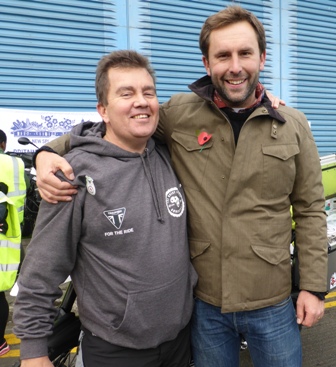 In late February, The Under 40's will be in Capetown visiting fruit growers, packers and associated businesses as the first Southern Hemisphere U40 Conference takes place. This will be a very special occasion as it will be 50 years since the very first Under 40's Conference in 1967.
U40's Chairman Charlie Dunn and his committee have been raising the profile of the 50th anniversary U40 Conference with regular attendance at strategic fruit industry events - 'Charlie gave Max a hug and wished him a Great Adventure' - Charlie and circa 55 U40's Delegates will welcome Max and Gareth when they arrive in Capetown.............The English Apple Man will be with them and reporting the Conference visits 'as they happen'
Follow Max and Gareth on their website: The Great Fruit Adventure as they journey through Spain and Africa over the next 3 months.
The Apple Orchard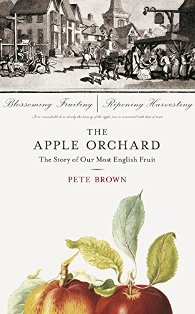 The English Apple Man has been reading Pete Brown's new book - The Apple Orchard; still working my way through the chapters, and enjoying the read........just about to read Part 3.....Chapter 9.........
Below an extract from Pete Brown's website...
Pete Brown is a British writer who specialises in making people thirsty. He is the author of eight books and wrote the annual Cask Report for its first nine years. He writes numerous articles in the drinks trade press and consumer press. He appears regularly on TV and radio, and has judged the BBC Food and Farming Awards and the Great Taste Awards. He's a member of the British Guild of Beer Writers, and was named Beer Writer of the Year in 2009 and 2012.
Impressions so far..........
Clearly written by an author as opposed to an apple expert...lots of romance surrounding THE apple, particularly Pete's search for the garden of Eden and his eloquent blend of 'fact and fiction' - possibly I should phrase that slightly differently......'recorded factual history and mythology'...........
As someone who has spent his entire life dealing with the practical aspects of apple production and with a broad understanding of the science of the apple's history and particularly the apple's place in our daily lives, and now adding romance (where possible) and pragmatism (daily) it is fascinating to read a professional author's (well researched) view of the most famous fruit in our history....
Pete Brown has drawn on the knowledge of many key industry experts (the majority well known to me) and has by his own admission read many books on the subject............
It's a good read, but 'to date' (Chapter 9) a predominance of 'searching for The Garden of Eden' ...........
More on The Apple Orchard next week!
The English Apple Man will be in Italy next Thursday & Friday looking at labour saving apple harvesting machinery, so the Journal for Friday 18th November will not appear 'on line' until late Saturday afternoon....
Take care
The English Apple Man