Journal
23rd Dec 2016 - What's been happening in 2016?
In this week's English Apple Man Journal we will take a look back at some of the events featured in the Journals of 2016

What are the 'particular' events that have caught the English Apple Man's attention this past year?
Below: the opening paragraph/s of my chosen Journals.....click on the date for the full Journal version....
During the course of 2016 Adrian Barlow will retire from his role as CEO of English Apples and Pears (EAP); Adrian has been at the heart of apple & pear marketing for many years. The English Apple Man and Adrian were colleagues 20 years ago - Adrian as Marketing Director & the EAM in a lead technical role. Adrian then moved onto lead English Apples & Pears and the EAM became Technical Director (UK) for Worldwide Fruit.
We have been friends for more than 20 years; our roles in the top fruit industry kept us in a close working relationship as Adrian dedicated his energy to increasing the influence of EAP. Adrian will retire in August as CEO of EAP, Chairman of the Bramley Campaign and CEO of the Dessert Campaign this coming August.
Adrian sent me this message; "In order to ensure a smooth transition to my successor, the Board have invited me to become Chairman of EAP with immediate effect which I have been delighted to accept, although I will continue in my existing roles until my successor is appointed. Thereafter, my successor will be able to seek guidance from me if required whilst having the freedom to make his or her own decisions. The recruitment process will begin immediately".
The English Apple Man 'grumbles'
Every now and then, I get wound up by comments in the media - usually by 'trendy journalists' who wax lyrical about the quality of our heritage varieties, while describing any apples on sale in a Supermarket as 'plastic'
I am always intrigued by the notion propagated by 'some' supporters of community orchards that we must save the wonderful heritage varieties, the flavour of these old varieties is identified as 'so much better' than the 'plastic apples' sold by our Supermarkets.
I fully support those who want to save old orchards and heritage varieties; of course that is the right action to take, after all as an industry we cherish the National Fruit Collection at Brogdale. However why do those same souls so often denigrate the varieties sold in our Supermarkets, all of which have been subject to consumer tasting panels.
I would argue that 95% of all apple varieties, if eaten straight off the tree in prime condition would deliver a good eating experience; I would also argue that the majority would have insufficient shelf life to deliver texture & taste for more than a day or two in the supply chain and however much we would like to go back to the past, 80% of our fruit is sold in Supermarkets and that is unlikely to change.
In my humble opinion, if those old varieties are so good, they, not Pink Lady, Jazz, Gala, Braeburn, et al would be on the retail shelves.
Many may not appreciate the support for home grown 'heritage varieties' by our Supermarkets, but Tesco sell more than 40 varieties of English grown apples and Sainsburys close to 50 home grown varieties across the English season!
Marden Fruit Show Society members visit Chandler & Dunn in East Kent
Last Friday The English Apple Man and fellow members of The Marden Fruit Show Society (MFSS) enjoyed a perfect afternoon in the sunshine at Chandler & Dunn's Farms at Perry Farm Wingham and Lower Goldstone Ash between Canterbury and Sandwich in East Kent. The business farms 610 hectares covering two farms within 3 miles of each other
The roots of the Chandler & Dunn farming business go back many years into the 19th Century when, in 1809 - Peter Chandler purchased 26 acres at Goldstone and over several generations his family expanded the farm. In 1922 Mr G S Dunn joined Mr A S. Chandler as a partner in the farm, which continued to expand - in 1939 the first cattle were purchased and in 1942 the herd was first registered with the Sussex Cattle Society. The Pedigree Sussex Herd established at Goldstone continues with all the cattle today stems from that original herd.
In 1952 Chandler and Dunn Ltd was formed as a family company under the leadership of the next generation - Robert, Philip and David Chandler and John Dunn.
Ian Chandler - Clive Chandler (son of Philip) - Richard Chandler (son of Philip) -
Peter Chandler (son of David) and his daughter Hannah - Paul Dunn (son of John) and his children Charles and Stewart - Roger Dunn (son of John) and his daughter Alice.
This not only gives Chandler & Dunn over 207 years of farming knowledge and hands-on experience, this continuity gives the farm a powerful springboard into farming for the future.
Controlling pest and disease is critical to supplying quality home grown apples & pears at an affordable price for UK consumers. The necessity of spraying pesticides in orchards to control pest & disease may not be fully appreciated by some consumers, but with no controls the quality and yield would be decimated.
Effective Orchard Spraying - A Practical Guide for Growers
Dr. Andrew Landers is an English Man who studied agriculture at the Royal Agricultural College, Cirencester where he obtained his Diploma of Membership of the Royal Agricultural College. Andrew obtained his masters degree in agricultural engineering at Silsoe College, Cranfield University and his Ph.D at the University of Bath.
Andrew has led a distinguished career in research and teaching including head of agricultural engineering at Harper Adams University. He is a Chartered Engineer, Chartered Environmentalist, a Member of the American Society of Agricultural and Biological Engineers........far too many more accolades to mention, but clearly a global expert on all aspects of sprayer technology and techniques.
Today Andrew directs the application technology programme at Cornell University where his appointment involves the use of engineering solutions to provide more effective and safer spraying of fruit and vegetable crops.
The Sprayer Workshop included an in depth presentation of facts critical to effective orchard spraying, all of which can be found in Andrew Landers excellent new book which was integral to the course and well worth purchasing by any professional fruit grower.
Under 40's Conference 2017 @ The London Produce Show
On Thursday 9th June, The English Apple Man accompanied members of the Under 40's to The London Produce Show; LPS is one of the main sponsors for the U40 2017 Conference in South Africa and generously invited any U40 members to visit the show and provided a room allowing the U40 committee to update members about the arrangements for what will be the first U40's Southern Hemisphere visit in celebration of the first Conference held 50 years ago in 1967.
The Great Room @ The Grosvenor House Hotel, Park Lane, London
The London Produce Show has grown rapidly in size and prestige and in its third year demonstrates the quality brought by experience of Produce Show presentation at The New York Produce Show. London Produce Show and The New York Produce Show are both part of Phoenix Media Network and American Publisher of Produce related magazines.
LPS - Managing Director - Tommy Leighton and his team produced an excellent show; visiting for the first time The English Apple Man was very impressed with the number and quality of exhibitors and the simplicity of all food and refreshments; free and thus avoiding the 'fumbling' for cash and delivering a smooth a comfortable experience when a break was necessary.
Dynamic Controlled Atmosphere using HarvestWatch
DCA storage is the latest 'holy grail' of storage technology. Still a minor percentage of our (UK) storage regimes, DCA is widely used in many countries around the world. Over the last three years DCA has been installed by a few leading UK growers and this is likely to gain increasing momentum in the next few years.
Its non-chemical feature makes it appealing to industrial users who wish to reduce post-harvest chemical use or store 'organic' product. Others have adopted it because it is a one-time capital expense that can have a pay-back period of 2-3 years, compared with repeated annual expense with competing chemical-based methods.
This new technology was developed and patented in Canada in 2001 by a research team led by Dr. Robert Prange and Dr. John DeLong. Further research evaluation was conducted internationally, especially by Dr. Angelo Zanella of the Agricultural Research Institute Laimburg Italy which led to commercialisation in the U.S.A and Italy in 2003-2004.
The technology detects stress, e.g. low oxygen, by continuously monitoring changes in the chlorophyll fluorescence (CF) of the stored product. The major application of HarvestWatch technology is in dynamic controlled atmosphere (DCA) storage of fruits and vegetables.
Brexit!
I have to confess as a 74 year old, I approached Brexit with the over-riding feeling of; 'better the devil you know' but over the last few weeks, my attitude began to change - most people recognise the ridiculous 'bureaucracy' at the heart of Brussels, surely unsustainable in the near future; however 'that step into the unknown' still worried me.
The plethora of programmes on TV intended to educate us, but mostly driven 'on both sides' by fear, seemed to make the decision even more difficult....the story of the Algerian Murderer given a house and financial support, while two Australian families were told they may have to go home really upset me; Australians, like so many of our commonwealth cousins fought and died bravely in support of our freedom, and not just our freedom...freedom for the people of Europe.
By Monday I had decided to vote LEAVE...but by Thursday morning the fear of the unknown grabbed me again and my vote went to REMAIN...
Friday morning TV brought a shock....OUT!
As the day progressed I was in many ways not unhappy with the outcome, but it will be a long time before we as a Nation can be sure of the wisdom of the decision...in fact, I like many of my age group, may not live to see the full consequences - 'good or bad'
My son (50 this year) voted out, my daughter (48) voted in...who knows who is right. It is they and their children who will suffer the consequences - 'hopefully' the benefits will far outweigh the disadvantages....
In all the excitement of LEAVE supporters, I do hope that support for our farmers and growers is not forgotten in the plans for spending the 'forecast' billions of savings.......
What will Brexit mean for our fruit growers?
"Talking to my industry friends; those who supply the large volumes of English apples & pears; the concern over who is going to harvest our home grown produce without the availability of the EU migrants who we have become totally dependent on is at the centre of their concerns...
Pollinators, Predators and Productivity
On Tuesday afternoon an event delivering the latest research from NIAB-EMR, University of Worcester and collaborators on managing the orchard environment for quality fruit production took place at Chandler & Dunn's Lower Goldstone farm in East Kent.
The afternoon included an orchard walk looking at the advantages of wildflowers in an apple orchard; discussion with principal speakers on pollination, insect friendly practices and the beneficial management of precious predators. After the orchard walk, those attending returned to a barn for a 'poster session' with displays of pollinating insects, information about wildflower management and talks by three PHD students on their specific research projects.
It's Tuesday evening on the hottest day of the year and The English Apple Man is in the company of his 'young U40 friends' for a very informative and socially enjoyable evening.
The event came about as Charlie Dunn - U40's Chairman and Scott Garnet - ICL discussed the trials work going on at Brogdale Farm under the management of FAST personnel. A perfect opportunity for U40's 'bonding' and an insight into the valuable research carried out by FAST on behalf of ICL.
ICL, or to give the company it's full title Israel Chemicals Ltd. is one of the largest mining companies in the world; mining phosphates ....
Winning the EKFS Orchard Competition is considered a 'prestigious' achievement - this year a Zari orchard at A.C.Goatham's Shrubbery Farm at Eastry in East Kent earned the accolade of Best Overall Orchard.
The orchard competition differs from the NFU Goudhurst & Paddock Wood Competition (reported in Journal for 12th August ) the G&P competition is judged on marks given to ALL orchards on each farm, with scores averaged to deliver a score for the whole farm.
The EKFS Orchard Competition is 'just that' - judged on the best marks scored for an individual orchard; when all the categories of entries have been 'totted up' - the individual orchard with the highest marks becomes the 'Orchard of the Year'
By Tuesday I am fully functioning and off early to meet up with my friends Brian & Norma Tompsett. We are in the process of making a film guide to demonstrate how to produce a 'show sample' of apples (could also be pears) for The National Fruit Show. The inspiration for the film came from NFS Chair Sarah Calcutt and will in time be added to the new National Fruit Show website allowing prospective entrants and other visitors to The NFS website a better understanding of the 'finer points' involved in creating a 'show sample' of 3 'identical' trays of fruit.
Choosing a 'Mariri Red' Braeburn orchard; 'they' will not be picked for another week, allows Brian & Norma sufficient fruit to choose from the best of the crop...it is a meticulous task....starting with an assessment of the fruit size. The size for a dessert class show sample must be either; 65mm-70mm or 70mm-75mm. Once the decision has been made which rows look the most promising, they set of to pick the fruit.
Before starting picking, bubble foam is placed in the bottom of the picking bucket to reduce any scuffing on the bottom of the bucket. Picking requires 'eyeing up' the potential apples/s and carefully measuring for the correct size.
The chosen apple/s must be of even red colour and free from blemish.
The Great Fruit Adventure
Max MacGillivray
Max is the founder of The Great Fruit Adventure. He is passionate about great healthy food and has an extensive background in Farming and Fresh Produce. His day job is running a recruitment and training business with a great team sourcing and training people for fantastic food business in the UK and Internationally. Having planned the trip for the past three years, Max wanted to create an event that would make a difference to kids and their families by promoting the virtues of fresh food and healthy eating. Follow him and follow the ride.
As The English Apple Man has been pretty much housebound this week, the Journal contains some 'dispatches from my friends' - the first is from my young friend Vikram Singh Thakur; Vikram was in Bolzano last week for the biennial INTERPOMA trade show. The EAM would have been there, but Mrs EAM's surgery took precedence!
Vikram works for a multinational oil company, but is so passionate about his father's fruit farm at Shimla in the Himalayas and takes every opportunity to research Global technical and scientific progress in the apple industry.
Vikram's father - Lakshman 'who I dubbed - The Himalayan Apple Man' is a great character and when he was last in England in the summer of 2013, we visited the National Fruit Collection at Brogdale and East Malling Research together.....we became great friends and one day (maybe before I am too old) Vikram may drag me into the mountains at Shimla.....or Simla... its known by both spellings.....
That is all for this week....next week The English Apple Man will look forward to 2017................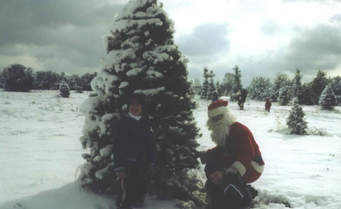 In the meantime, The English Apple Man thanks all readers for their support and wishes each and every one of you...
"A VERY MERRY CHRISTMAS"
The English Apple Man