Journal
30th Dec 2016 - As 2016 ends The English Apple Man looks forward to 2017
What's in store for 2017
This week The English Apple Man looks at the prospects for 2017....
New Varieties: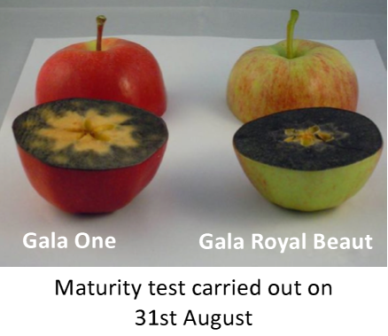 While Gala and Braeburn dominate the 'volume market' the search goes on for 'something new' ..............
Gala is available as many different clones; the highly coloured Gala like Mariri Red, Royal Beaut et al; are being planted extensively, but a new Gala 'sport' - Gala One which 'flowers and matures earlier than the mainstream Gala sports is set to make an impact, with the first fruit on sale in September 2017.
The picture of Gala One shows its earlier maturity by the level of starch recorded on 31st August; Gala One is well advanced in starch reduction compared to the 'near 100% starch' on the other Gala clone (Royal Beaut).
Below: left; Cabaret - and - right; Stardance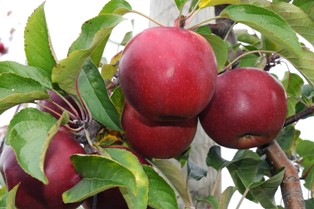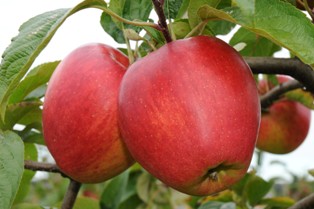 Two more varieties - Cabaret and Stardance launched this season in moderate volumes by Tesco and grown by Avalon Produce Ltd - the first Cabaret were on 'limited' sale in Tesco in December 2016 and the first Stardance are expected in Tesco in January 2017......
Machinery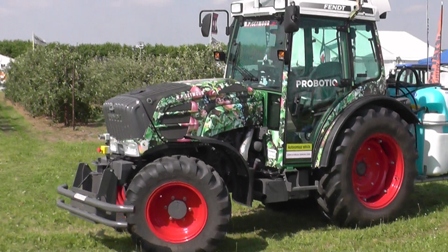 Driverless tractors have been demonstrated over the last 12-18 months; in 2017 they WILL be operating on a farm in South East England...
The Fendt ProbotIQ Xpert system is an add-on for the Fendt 200 Vario series orchard tractors. Fendt driverless tractor
Leading the way; N.P.Seymour who have been agents for Fendt for circa 30 years....
Combating pest & disease
The ongoing battle with pest & disease will see more use of clever 'environmentally safe' technology.....breeding resistant varieties will help reduce fungicidal use.....embracing natural predators is now a 'mainstream' management tool and 'refinement' will continue.....mating disruption is 'with us' and will reduce the need for some insecticides....
Harvesting
After the stunning vote for Brexit, the subject of sufficient harvest (and other labour requirements) on fruit farms across the UK has been widely debated....there is a certainty we will not find enough personnel without the help of immigrant harvest workers......this will encourage more use of mechanised harvesting....and the drive for robotic harvesting will be increased....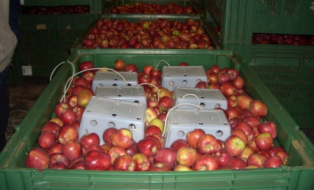 Storage
We saw an increase in DCA apple stores in 2016; Adrian Scripps Ltd increased their DCA capability with ten new Isolcell DCA stores installed by Castle Refrigeration and UKCA Ltd. Expect more DCA stores to be commissioned in 2017...the Safepod DCA system developed by ICA and EMR should become a commercial reality in 2017.....
Packing Apples & Pears
Several new pre-grading facilities were installed in time for the 2016 harvest and The English Apple Man will be visiting these sites in early 2017 to assess the cost savings made possible by pre-grading.....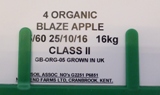 Organic apples & pears
Below: left; Mole End packing operation in progress - and - right; Rubinstep (winner of the tastiest apple at the National Fruit Show) is marketed as Blaze by outlets supplied by Mole End.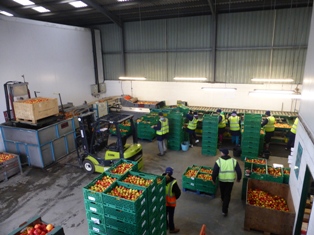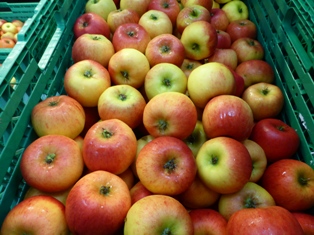 The increasing sophistication used by organic growers, while maintaining the 'organic ethics' has seen growers use different growing technologies to make organic production viable in this millennium..........
The English Apple Man will feature the efforts of Mole End Farms and expand on all 'the above' in 2017 Journals!

That is all for this week & 2016........
The English Apple Man Wishes you all..
'A Very Happy, Healthy and Prosperous New Year for 2017'
Take care
The English Apple Man