Journal
6th Jan 2017 - What's new!
2017 gathers pace.....its already nearly a week old....
What does The English Apple Man have in mind for 2017?
WELL: A landmark Birthday at the end of March as I reach my mid seventies....oh how fast the time goes!
Before then; I am in London next week....more about that in next week's Journal, and on the 17th January attending the AGROVISTA Technical Conference; late January on the 24th The East Kent Fruit Society AGM, Orchard Competition Awards and Dinner.....always an enjoyable evening among 'fruit grower friends' followed the next day (25th) by The BIFGA Technical Day at Dale Hill Golf Club...The EAM and an industry colleague are 'jointly' presenting a 'look back' over selected items from the previous 12 months of reports in The Fruit Grower Magazine......
In late February The 50th Anniversary of The Under 40's Conference takes place in South Africa.....The English Apple Man WILL be there with the 'future' of our UK top fruit industry, represented by the group of young growers, scientists, agronomists and (very important) representatives of the 2017 Under 40's Conference SPONSORS; without their support this fantastic opportunity to experience fruit growing in the Southern Hemisphere during the harvest period would not be feasible.
This is the first time The U40 Conference has ventured 'South of the Equator'..........visit the The 2017 Under 40's Conference website for more information.
Below: The 2017 Under 40's Committee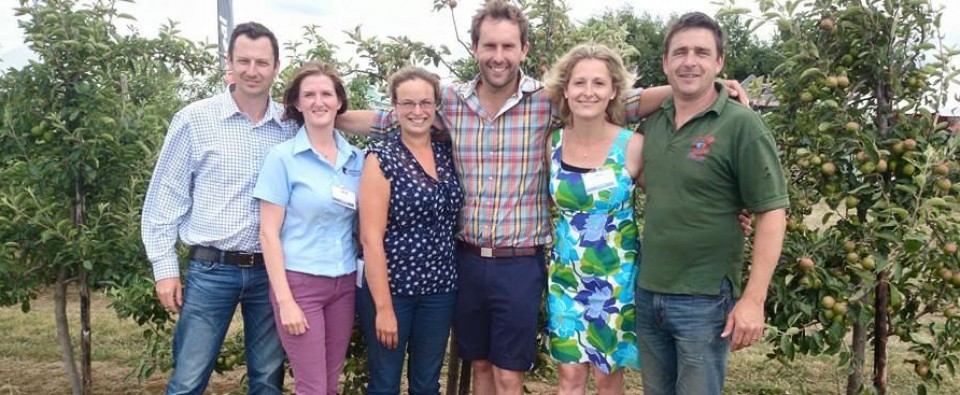 Before Christmas I recommended a number of apple related books worthy of purchase; see Journal for 9th December 2016 just before Christmas another apple book caught my eye....
Orchards by Claire Masset and published by Shire Publications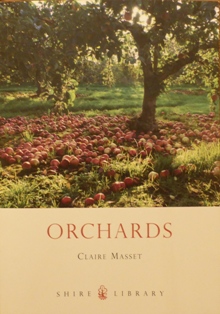 This is an easy read, focused on 'old orchards' with history dating back to Roman times right up to the present day. It is not a book about modern commercial orchards, but an excellent indication that the Romans may have established the first orchards as pruning books have been found at known Roman sites at Darenth and Hartlip in Kent.
This early commitment however, came to an end with the end of Roman occupation in AD 410 which opened the 'floodgates' for attacks by Jutes, Saxons and Danes; Claire Masset points out most of these Battles took place in Kent, obliterating the orchards there.
The arrival of St. Augustine in AD 597 led to new orchards being planted; when he built his Monastery in Kent he established a model based on self-sufficiency and working the land, which was copied by Monasteries across the country and Monks became experts on growing herbs, vegetables and orchards.
Claire Masset's excellent book will appeal to anyone interested in apples, especially those with a love for old orchards populated by heritage varieties and as hosts for insect and wild life; however I am sure any commercial grower, even those with 'monocultured orchards' (as defined by the author) will tune into the 'romance' of apple orchards described by Claire...." we all love our apple orchards and this book captures all the 'magic' to be found in and around the culture of apples............
I started by saying this is 'an easy read' and with just 53 pages in paperback format, it 'is' very easy to 'dip in and out of' - enhanced by beautiful pictures and illustrations.......my advice: 'buy it'
I bought my copy from Amazon for £6.99...
Until next week....
Take care
The English Apple Man