Journal
13th Jan 2017 - A New Year under way
What is on the English Apple Man's agenda for 2017?
Crikey! its already two weeks into 2017; moving far to quickly for us 'seventy somethings' - so what is on my mind......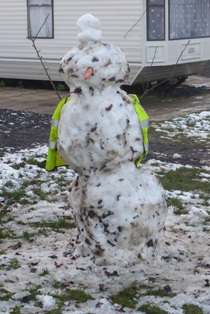 The first Snow of the year.....and while visiting a grower friend this afternoon...I spied this Snowman....made by the workers in the packhouse......
As mentioned many times in previous issues of the EAM Journal...the search for a new 'commercially successful apple variety is going on Globally; in fact one could say in all 4 corners of the Earth...except the Earth has no corners....
Breeders are both professional and amateur; research institutes in the USA, Europe and New Zealand are among the key centres of Global breeding. But, occasionally an enthusiastic amateur finds a new variety of commercial significance; one revered amateur breeder was Hugh Ermen....1928-2009...
Below: Joan Morgan remembers Hugh on Fruit Forum following his death in 2009
"Hugh Ermen: 1928-2009 - was in his early eighties. Hugh raised many varieties of apples over the last twenty to thirty years that brought him considerable fame in fruit circles and with the wider public. Red Devil was his first success, followed by Winter Gem, then Limelight, Herefordshire Russet, Scrumptious, Sweet Society and more, as well as two ornamental apples - Laura and White Star. A number of these received the Royal Horticultural Society's Award of Garden Merit (AGM) in recognition of their value as superb garden apples for the amateur; being easy to grow with good disease resistance and heavy crops of handsome, well flavoured fruit.
See: Fruit Forum for a more extensive appraisal of Hugh Ermen's career by Joan Morgan.
John Breach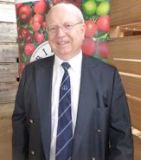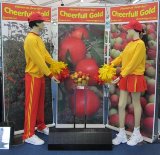 The English Apple Man has known John Breach for well in excess of three decades....buying apple trees from John in the early 1980's..........as well as being a highly successful agent 'providing' trees and stakes for our top fruit industry, John has been an amateur breeder. Enthused by Hugh Ermen, who passed a collection of seeds to John in the late 1970's. John has been quietly developing new varietal strains. Among his successes; NC1, NC2, NC3 & NC4 a red-skinned pear.
Below: Cheerfull Gold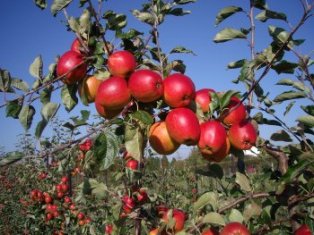 NC1 was named as NUVAR - Cheerfull Gold and launched in 2011 at The National Fruit Show. Raised by John Breach in Kent in 1979, from an open-pollinated Cox. A subsequent DNA test made in 2009 showed that the Cox had been pollinated by a Golden Delicious. Sainsburys have stocked Cheerfull Gold during its season (post Christmas) since 2013. It is also an award winner as an apple juice made by Owlet Fruit Juice as their Cheerfull Gold Juice was awarded a Triple Gold star in the Great Taste Awards 2016.
Great Taste, organised by the Guild of Fine Food, is the acknowledged benchmark for fine food and drink. It has been described as the 'Oscars' of the food world and the 'epicurean equivalent of the Booker prize'. Quite simply the Great Taste logo is the sign you can trust when buying food and drink in your local, quality retailer.
Launching a new variety - how does it all work?
"Launching a successful new variety depends on several key factors. It must have visual and organoleptic appeal to the consumer; it must be an easy variety to grow and yield high levels of first class fruit and with the ongoing reduction of available crop protection chemicals, resistance to pest & disease is a sought after attribute.
With these attributes in mind, John has raised two new varieties; NC2 an open-pollinated cross of Saturn x Braeburn made in 2001 and NC3 also an open-pollinated cross of Saturn x Braeburn made in 1999.
The parents bring specific attributes to their progeny, with Saturn's scab resistant gene mixed with Braeburn's propensity to deliver high yields of visually attractive fruit and excellent texture. The term 'open pollinated' means the pollination of the Saturn (in this case; the female) by Braeburn (in this case; the male) happened naturally with pollen from the Braeburn arriving on the Saturn flower by a carrier; a bee or another pollinating insect. The fact that both NC2 & NC3 have Saturn x Braeburn parents (even though they were pollinated in 1999 & 2001 is explained by the very close proximity of the Saturn and Braeburn trees. The Braeburn (male) parent was subsequently determined (proved) by a DNA test.
The 'open pollinated' term describes a natural crossing of the female x male pollen. In closed 'hand' pollination, the flowers of the female are protected from natural pollination (either by bagging, or by only using unopened flowers and removing the petals) and male pollen from a selected variety introduced to the female brushed on the (bagged) flower, thus ensuring the flower and subsequent apple will carry the genes of the 'chosen parents' - this is how breeders match varieties with known attributes to create new progeny. Of course the seeds (maybe 5+) of each pollinated apple when planted will 'each' produce a new unique variety, albeit with genes from the parents which MAY be similar, but never exactly the same.....
BINGO!
Launching a successful new variety depends on several key factors. It must have visual and organoleptic appeal to the consumer; it must be an easy variety to grow and yield high levels of first class fruit and with the ongoing reduction of available crop protection chemicals, resistance to pest & disease is a sought after attribute.
Below: CABARET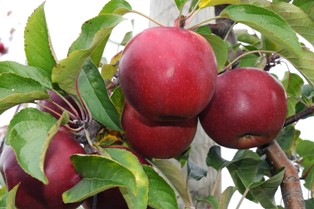 In 2011 on a visit to Pepinieres du Valois, Nigel Jenner - Technical Director for Norman Collett Ltd identified two new varieties with the potential to become commercially successful; Nigel was immediately impressed by NUVAR NC3 (CABARET) which had a refreshingly crisp and balanced flavour with a hint of winter spices and NUVAR NC2 (STARDANCE) a firm and juicy bi-coloured apple with an attractive red stripe. Nigel describes both as 'growers apples' - easy to crop, visually attractive, high yielding and both varieties resistant to common forms of Scab (Vf scab resistance gene)
From this initial appraisal, Avalon Produce Ltd obtained exclusivity and planted CABARET and STARDANCE on several of their growers farms for trials.
The support by Tesco Technical Manager and Apple Master John Worth for Avalon's commitment to CABARET and STARDANCE is a key factor in the launch of these exciting new varieties.
STARDANCE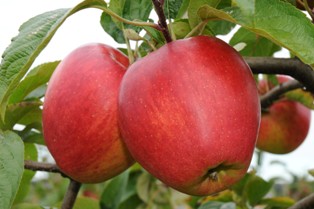 The 4,500 trees of CABARET and 10,000 STARDANCE planted in Kent are exclusive to Avalon Produce and form part of the continued development with Tesco. Michael Joyles of Avalon Produce Limited added "this continues the commitment and work with Tesco to deliver great products to delight the consumer and to bring new products to market. CABARET has been developed over many years of trial work and one that was identified by Tesco Technical Manager and Apple Master John Worth, who has once again overseen the project." John went on to say "CABARET is another fantastic innovation and forms part of our NPD pipeline in collaboration with Avalon Produce Limited and is certainly one to look out for in the future". CABARET was identified to fill a gap in the market, whilst providing the consumer with a fantastic eating fruit".
Michael Joyles added - "Avalon's experience with these two varieties to date has been positive and the current plan is to increase plantings to an initial total of around 20k trees of each by 2018. We are confident of their potential success and anticipate further plantings once they are established in the marketplace.
The first CABARET went on sale in Tesco in December 2016 and Avalon are targeting January 2017 for the first sales of STARDANCE
The current marketing strategy places CABARET and STARDANCE in Tesco's 'British Dessert' pack category following SPARTAN and MAIRAC® in the seasonal mix.
Both CABARET and STARDANCE varieties share the same parents; SATURN X BRAEBURN and were raised by John Breach and his son Peter.
John & Peter Breach are delighted a leading marketer and a leading supermarket are supporting these new UK varieties.
Below: STARDANCE at Laddingford on 10th October 2016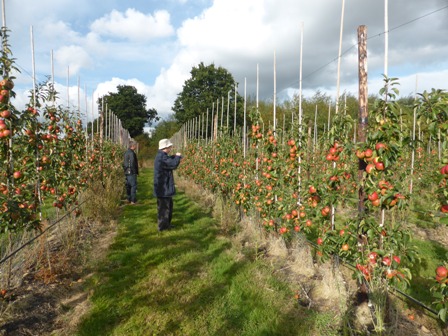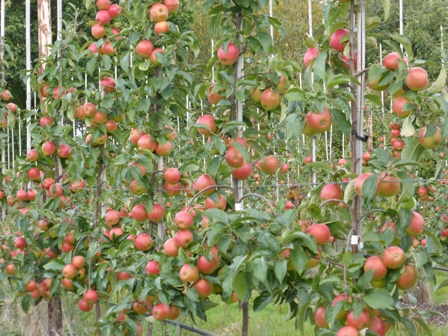 Click on Nuvar
--------------------------------------------------------------------------------------------------------------------
UK GROWER AWARDS 2017
On Wednesday 11th January, The English Apple Man joined a small group at Haymarket Media Group offices in London; our mission; to judge the entries for the 2017 UK Grower Awards.
Organised by Horticulture Week one of the Haymarket Media Group Companies, The UK Grower Awards celebrate the best of UK horticulture. The UK Grower Awards is the highlight of the production horticulture year, giving professionals the chance to showcase their achievements, reward the efforts of staff and ensure potential customers know just how good they are.
Our day of judging was organised by Kate Lowe, Editor of Horticulture Week and Grower Awards Manager Kate Collins.
The Grower of The Year Awards Ceremony takes place at The Grand Connaught Rooms, London on Thursday 23rd February 2017.
Below: A picture from 2015 Grower of the Year Awards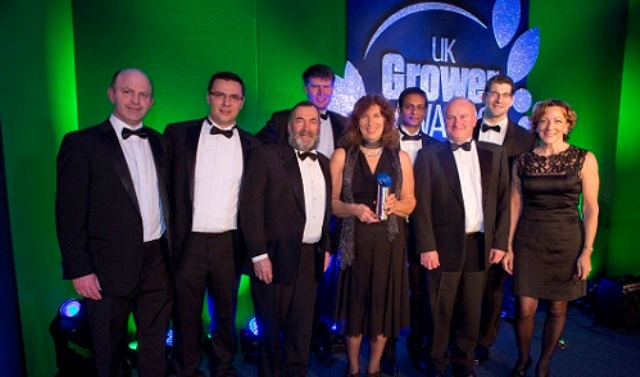 That is all for this week.............
Take care
The English Apple Man