Journal
3rd Mar 2017 - What a week...5 intensive days in the Western Cape of South Africa..
This, the 50th anniversary of the Under 40's Conference was held for the first time in the Southern Hemisphere; this week's Journal focuses on some of my pictures (I took well in excess of 1,000 + lots of video) with short captions as The English Apple Man only arrived home in mid morning after our overnight flight from Cape Town....at 9pm on Saturday, I am battling the tiredness as I try to finish the Journal....body and mind have given up, so finish finishing Journal on Sunday morning.....just walked my dog (Sunday am) and its' 'p.....g' with rain and temperature 4.5C..last week we were enjoying 25C - 40C....its now afternoon and time to 'wrap up' thus week's Journal. Over the coming weeks, The English Apple Man Journal will cover many of the individual visits in greater detail....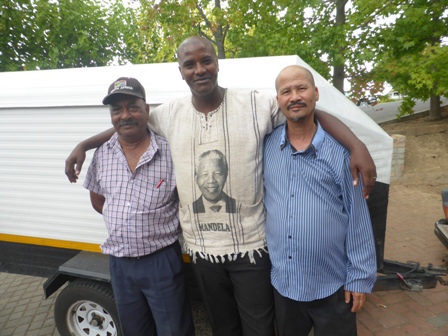 After arriving in Capetown early on Monday (27th February) morning, meeting up with our drivers and their buses (three) the delegates set off for Zetlers Strawberry growers......
After our visit to Zetlers, we continue to our Hotel - the 1692 Spier Hotel in the grounds of a truly historic vineyard.
In 1692, this was one of the very first farms to be established in Stellenbosch. A restored Manor House, an intriguing collection of Cape Dutch gables and the oldest dated wine cellar in the country. All on a farm that takes a purist approach to farming for health.
Click on The Spier Hotel
Below an extract from Spier website
Going since 1692, Spier is one of South Africa's oldest wine farms, with a fascinating history and a legacy that the owners never take for granted. Today the farm has a modern, conscious energy. Focused on art and good farming, Spier is about farm-to-table food and accoladed wines. Its people are committed to living and working in ways that bring positive change to our environment and community. The Spier Hotel and conference team invite you to to do business in an inspiring atmosphere.
After more than three centuries, Spier is still family run. It's owned and managed by the Enthoven family who bought the farm in 1993. Spier has a passion for the environment and for supporting the community, buying from and supporting local producers. The owners live on the farm and work hands-on with the farming and leisure operations, together with CEO Andrew Milne, who directs the business.
The pictures below are not in date order...just a few of the 1,000 + pictures taken by the EAM
Under 40's team photo at Boschendal on Thursday 2nd March)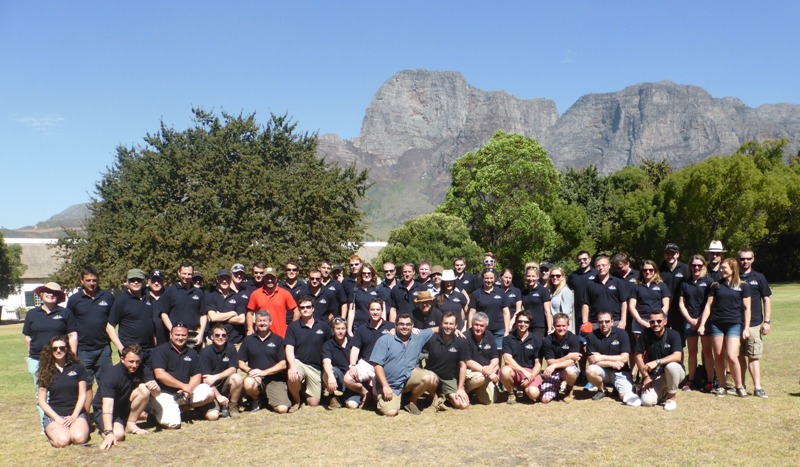 Scott Garnet presents U40 gift to Mr. Leslie Zetler and two delightful ladies on reception at Spier Hotel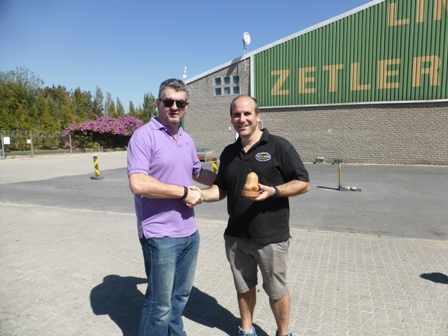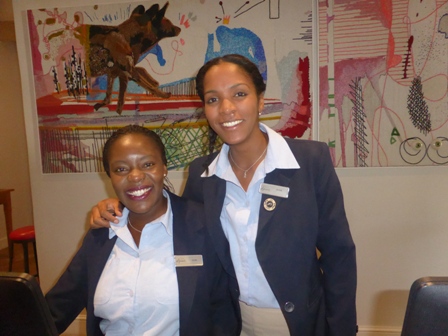 Nelson Mandela statue at Drakenstein Correctional Centre between Paarl and Franschhoek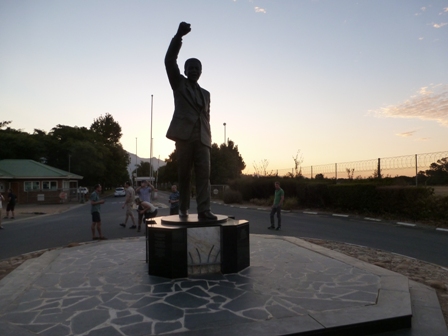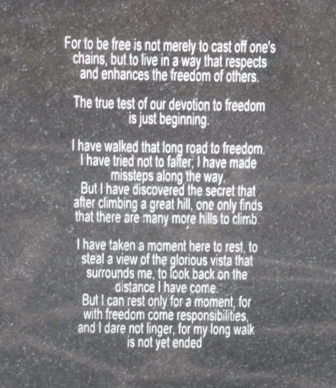 A typical Brai at the Elgin Grabouw Country Club & Jasper Hubert, Rihards Krauze and Jamie McGrorty enjoying drinks before the U40 Gala Dinner at the Spier on Thursday evening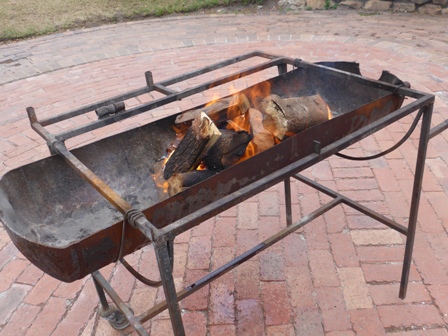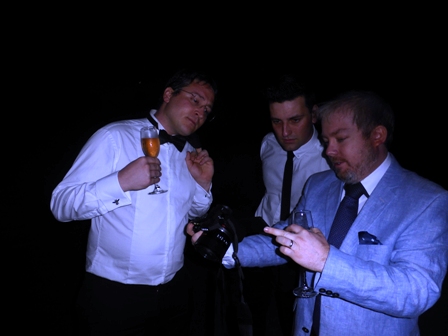 Below: Just one of the many stunning views of the valleys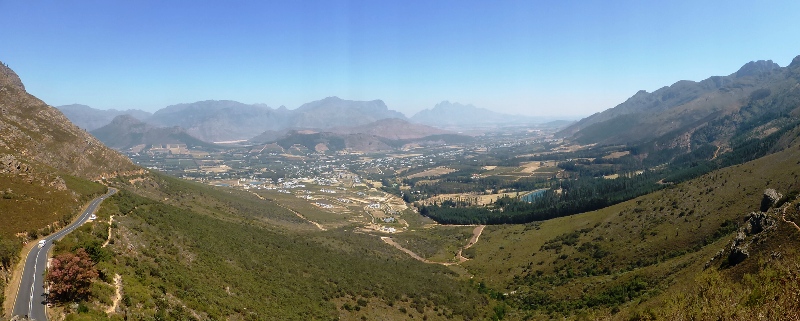 Below: Paul Hamlyn presents James Reid of Red Ant (Machinery) with his gift - and - Tim Soby & Cilla Clive (2 of the EAM's very good friends at Haygrove Heaven at Hermanus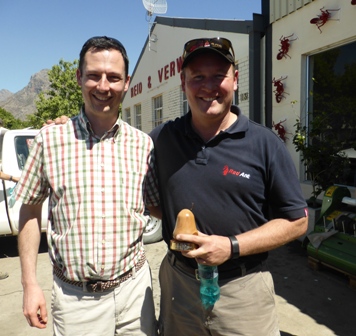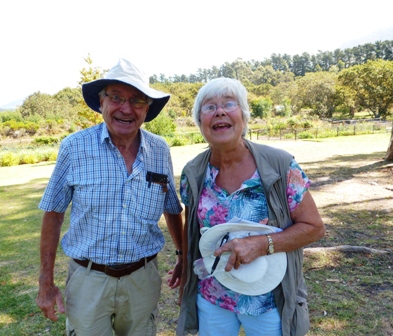 Below: picking Golden Delicious - and - an idea of how heavy the crop is by the closeness of the bins in the row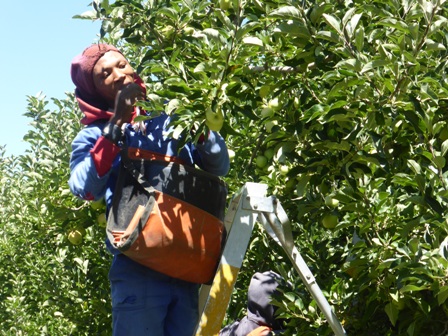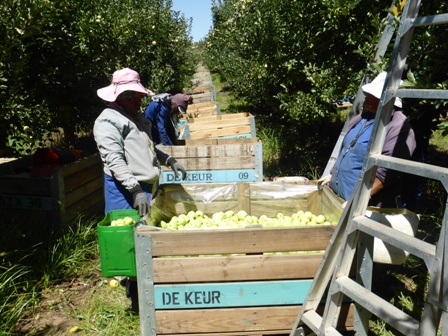 Below: Forelle Pears - and - Top Red Apples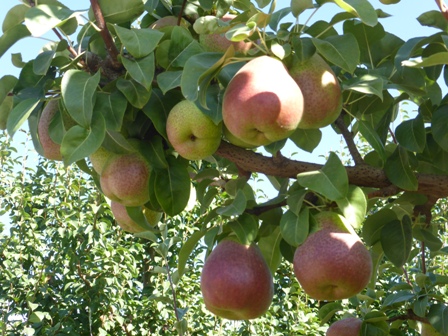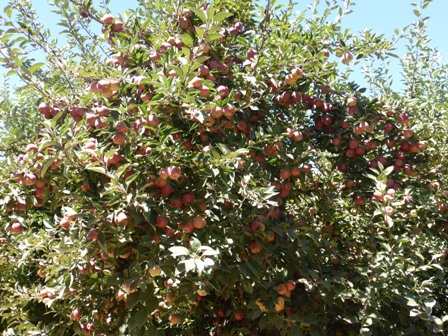 Below: Jaques De Toit receives his gift from Jane Antrobus - and - Charlie Dunn with David Ngadze at Hillcrest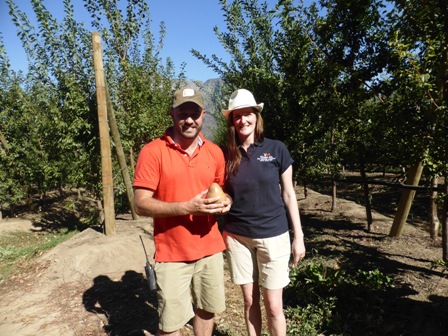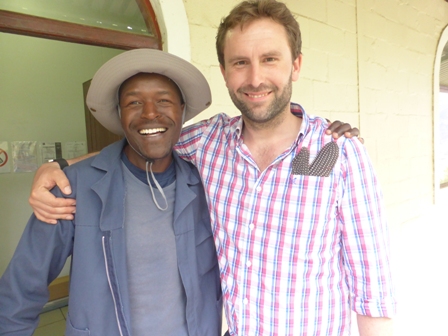 Below: Scott Garnet & Charlie Dunn get stuck into a Plum - and - Juicy Plum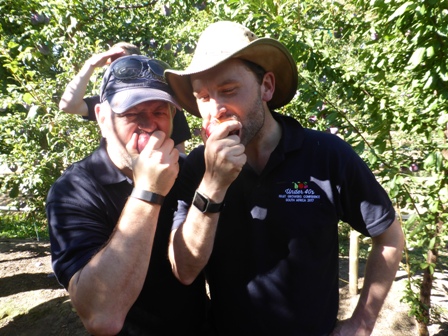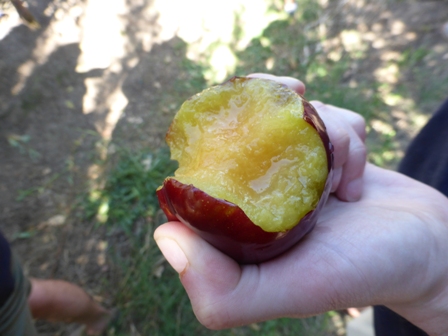 Below: This 'metal monkey (a Baboon) caught my eye outside a shop - and - Charlie with Emcee Gagiano - 'Laboratory Technician' and Danie Heyns 'Evaluation Technician' who hosted the fruit tasting for U40's at SAPO Trust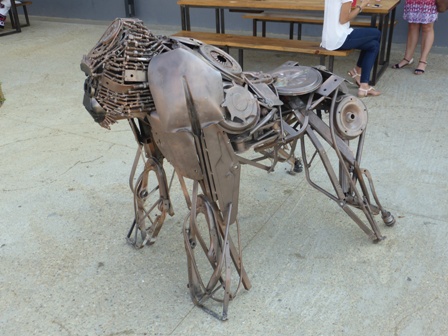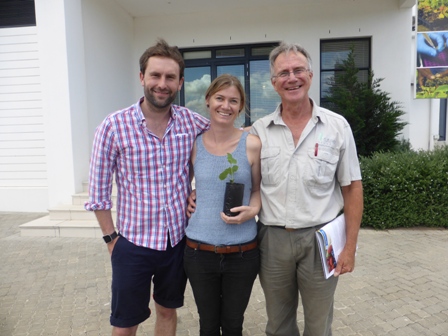 Below: Under 40's at SAPO Trust on Friday (3rd March)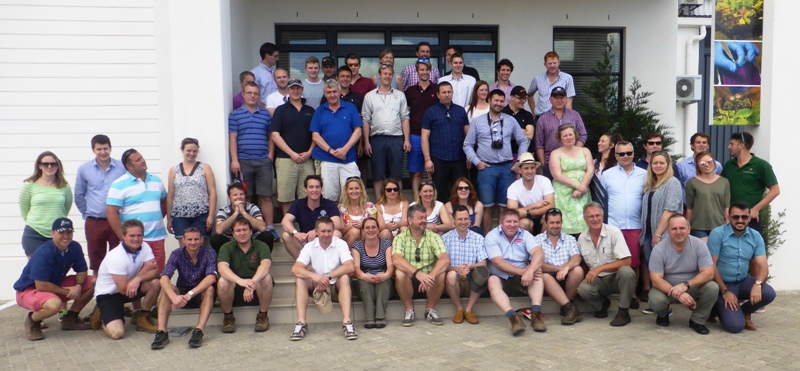 The visit to Fruitways was a special moment for The English Apple Man as I last met Alistair Moodie nearly 20 years ago on a visit to the Cape with my colleagues at Worldwide Fruit. We had a very informative day with Fruitways and a fabulous Brai meal in the evening at Elgin Grabouw Country Club.
Below: Alistair Moodie (2nd left) - Chairman of Fruitways with the U40 Committee at Elgin Grabouw Country Club on Wednesday 1st March; Alistair's son Chris is 4th from left - and - Paul Hamlyn with J.C Goosen at 'Goosens' on Tuesday 28th February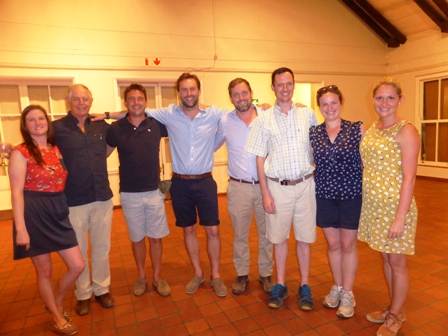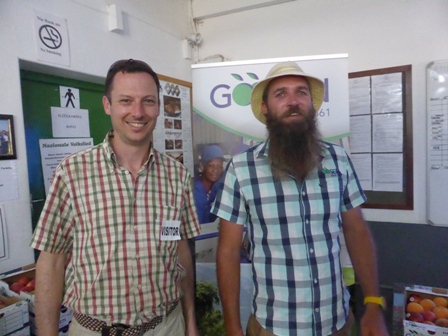 Below: Lunch on Thursday at Boschendal was a very 'upmarket' picnic - individual hampers for each delegate (55) + our hosts and drivers...FABULOUS....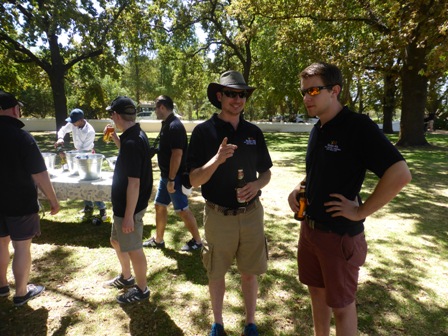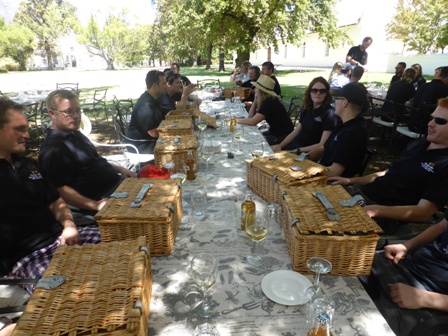 After the traditional Gala Dinner, the new committee (for 2019) is revealed....
Below: 2019 committee; from the left; Chris Baker, Tom Christensen, Marzena Lipska, Emily Livesley (Chair), Jim Burston and Hamish Light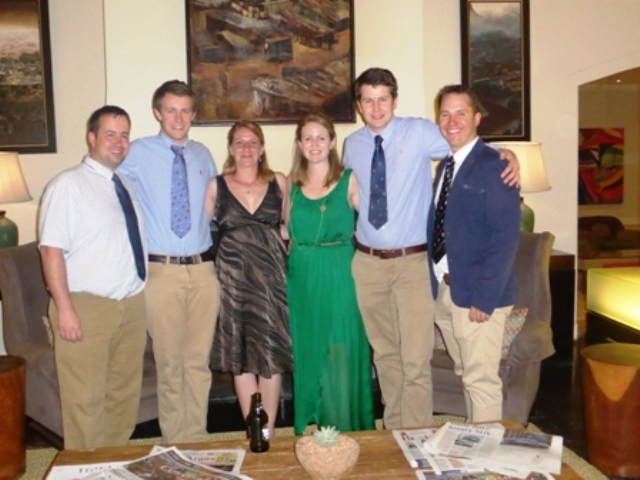 Below: Quince trees on the verge at Hillcrest on Friday 3rd March

Below: Raspberry fields at Hillcrest - and - Hamish Light presenting Betty O'Grady (joint owner) with a gift from U40's in appreciation for our visit on Friday 3rd March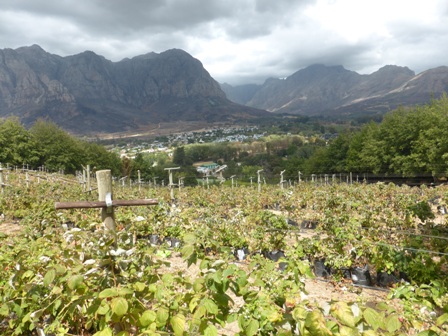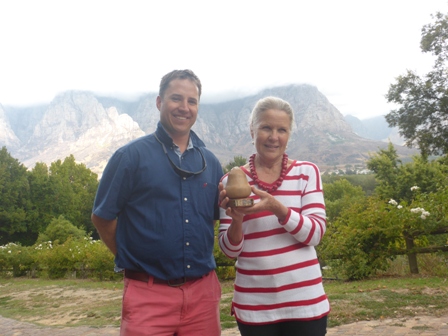 Below: while touring the 'jam making' kitchens at Hillcrest, Th EAM took this picture of one of the 'Marmalade Ladies' - and - a rare picture of The English Apple Man 'in front of the camera' with the mountains behind at Hillcrest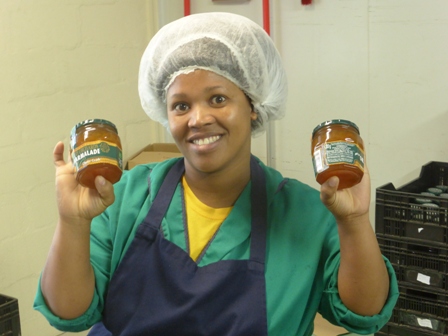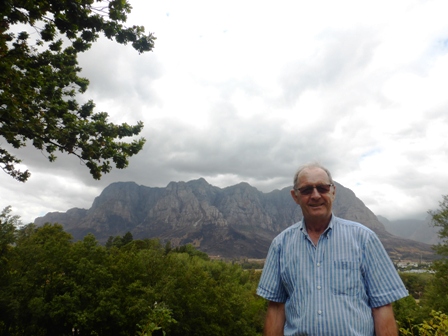 Below: 'Old & New Committees' - back row: from left; Hamish Light, Chris Baker, Emily Livesley, Tom Christensen, Marzena Lipska, and Jim Burston. Front row: Verity Garrett, Estera Amesz, Charlie Dunn (Chairman) Jane Antrobus, Chris Levett and Paul Hamlyn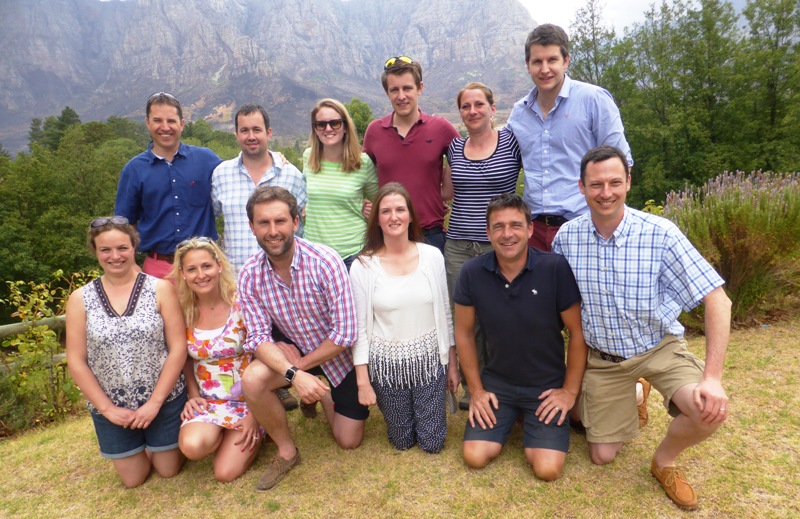 That is all for this week....plenty more to come...but before I sign off; 'my sincere thanks to Chairman Charlie Dunn and the 2017 committee for inviting this 'way over age' delegate and my equal appreciation to the 'genuine' Under 40's delegates for making me so welcome on this very special 50 year anniversary event.
Take care
The English Apple Man