Journal
31st Mar 2017 - A memorable birthday and more from South Africa
This week The English Apple Man celebrated his 75th Birthday........
Last Saturday - 25th March The EAM enjoyed a family dinner with family at The George Inn at Robertsbridge East Sussex.
On Wednesday 29th March (birthday) Mrs EAM treated this 75 year old to lunch at The Curlew in East Sussex.
Below: The English Apple Man and his family at The George Robertsbridge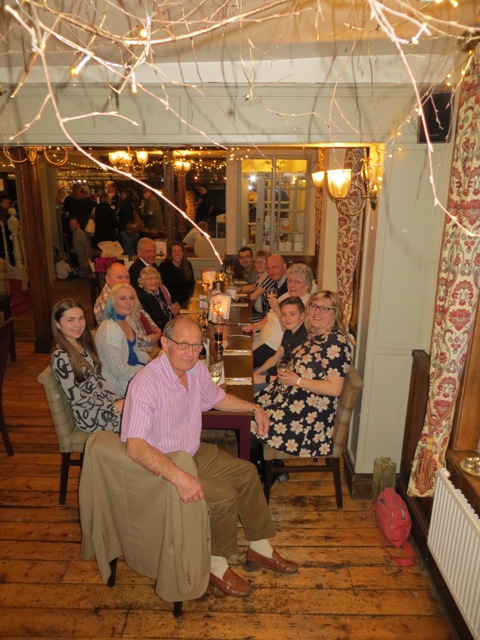 Below: a very special birthday cake made by a very clever Katie Saunders - and - left to right; The EAM, Mrs EAM and EAM's brother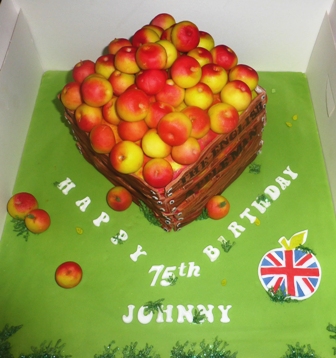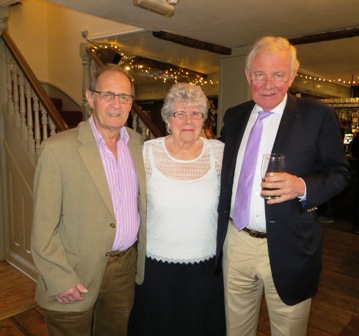 Stone fruit in South Africa
On Thursday 2nd March the 2017 U40's Conference Delegates visited Du Toit another huge South African farming business which farms a range of fruit, but the visit mainly looked at their Cherry production.
Dutoit Agri was established in 1893 and has more than 120 years of experience in the production and distribution of quality fruit and vegetables. Dutoit Agri produces, distributes and markets 250 000 tons of fresh produce a year and employs 7,500 workers in season.
Below: Locations of DuToit estates in the Western Cape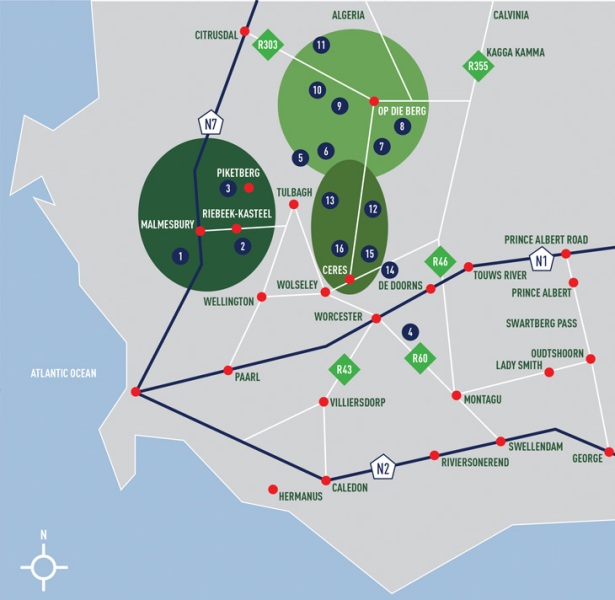 This visit took us to the Excelsior Estate at Worcester where Tanith Freeman - Manager: Product Development and estate manager Piet Bosman hosted a tour of Du Toit cherry orchards. Du Toit is the biggest cherry grower in South Africa.
Below: from left; Piet Bosman (Du Toit) - Tanith Freeman (Du Toit) - Paul Hamlyn and Charlie Dunn (U40's)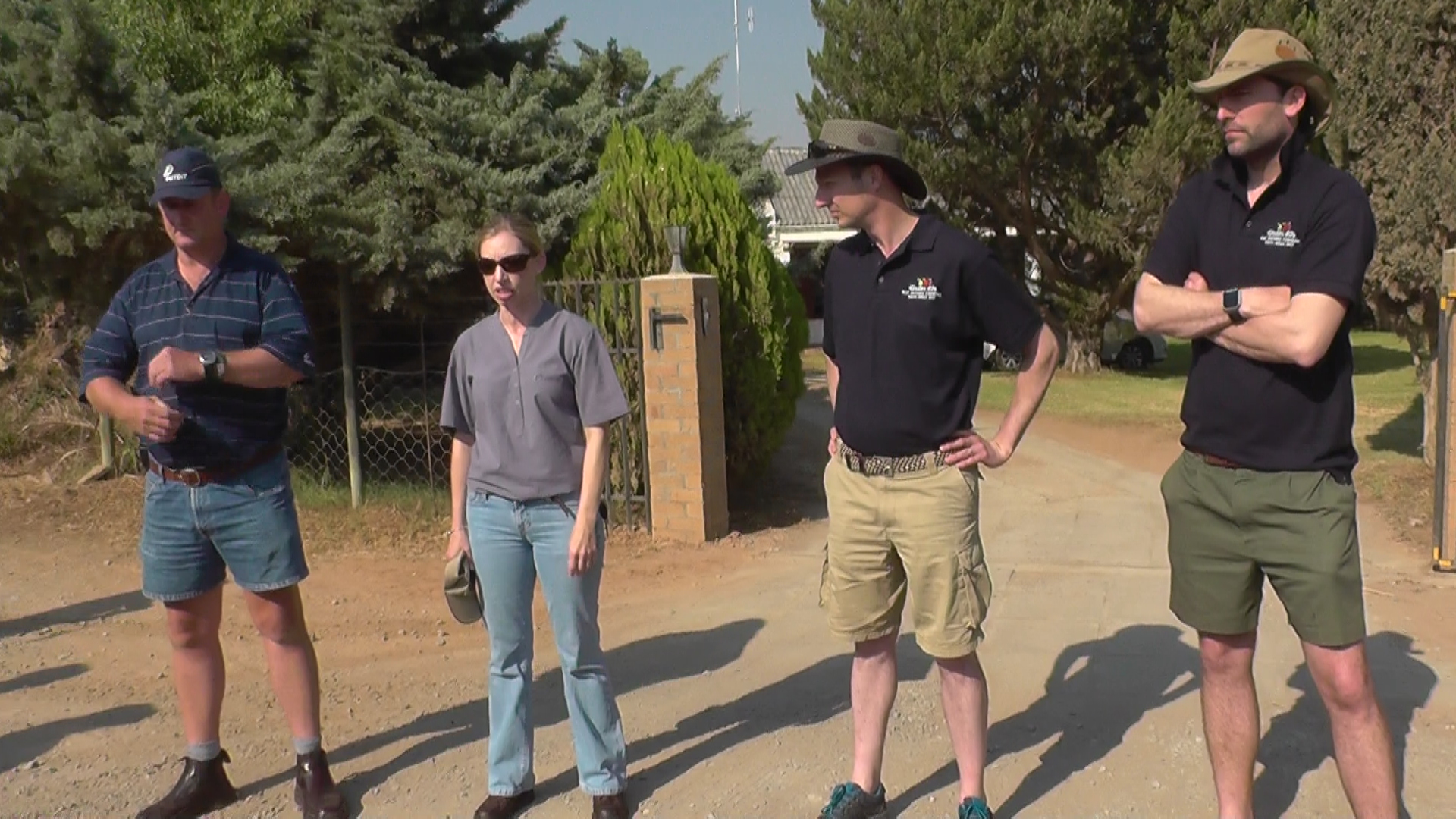 Tanith said the company wants to stay the biggest cherry grower and now farms about 3,500 hectares of fruit on their farms spread across the Western & Eastern Cape - 2,500 hectares of apples; 650 hectares of pears and the rest mainly cherries and plums. This estate was bought in 2009 and previously cropped with wine grapes; wine grapes are not a good industry to be in at the moment. All have been removed and replanted with cherries, nectarines and plums. The advantage of this estate is it is one of the earliest sites for cherries in the country.
Below: left; the Du Toit experimental cherry structure - and - right; a side view into the cherry structure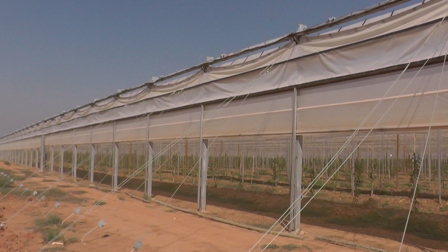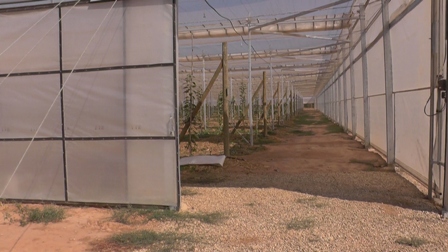 2.2 hectare block cost about 5 million rand. but hope to harvest two weeks earlier.
Piet Bosman explained the reasoning behind the experimental structure; 'this is one of the earliest cherry sites in SA and the ability to bring forward the season will our extend our season and should deliver higher prices justifying the investment.
New greenhouse - planted with cherries last August with just a small graft bud are now over 6ft high while plants outside only half the height. The 2.2 hectare block cost about 5 million rand (around £333,000 ) but expect to harvest two weeks earlier than unprotected cherries.
With a weather station on the top and humidity station inside Piet can control the opening and closing of the venting system by programming in the parameters. The structure is guaranteed for 15 years but Piet said wind can be a real problem. The structure will last for 30-40 years but the covers only 15 (maybe 10) - Piet expects yields of 18 tonnes per hectare v 14 tonnes outside.
Below: left; young cherry trees in the new structure - and - right; Piet Bosman explains the benefit to tree growth inside the structure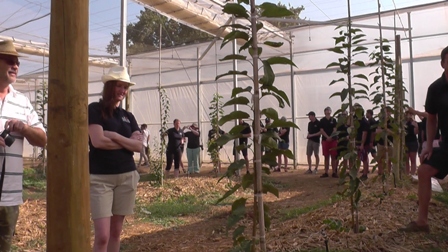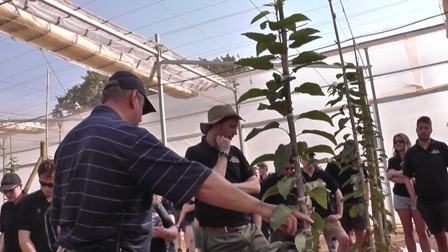 Below: left; the roof opens and closes depending on changes in the weather - and - right; a 2 year old cherry tree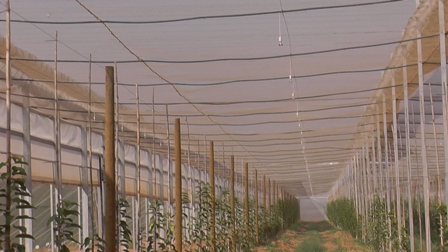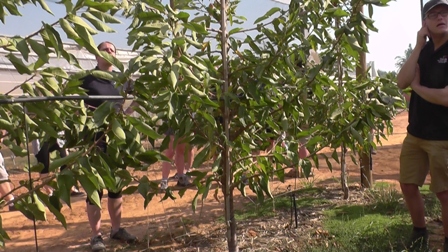 Discussing the harvesting process with Piet Bosman; cherries are hydrocooled (reducing field temperature from over 30C down to 10C) before everything is taken from the estate back to the packing operation in Ceres and from there by rail to the docks for export.
Below: left; new 'large scale' planting against a mountain backdrop - and - right; erecting new orchard structure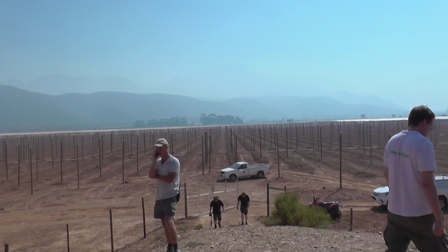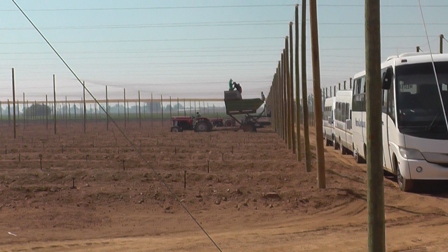 Below: the new reservoir which is one kilometre around the circumference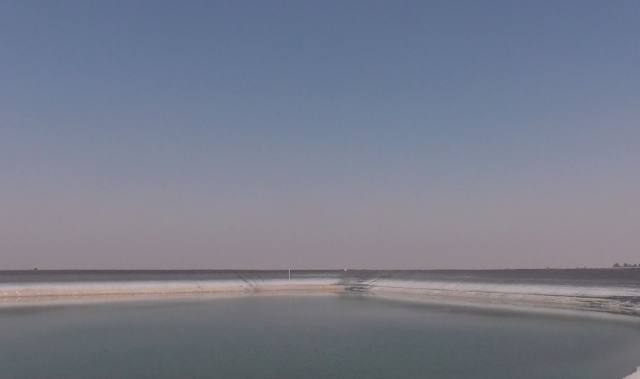 Below: left; Piet prefers a 'Palmette' style training system -and - right; 2 year old plum trees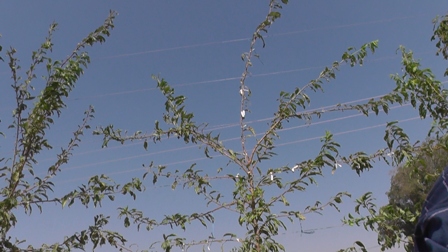 Below: left; plum trees - and - right; wood chip compost used to retain moisture; all wood chip produced on the estate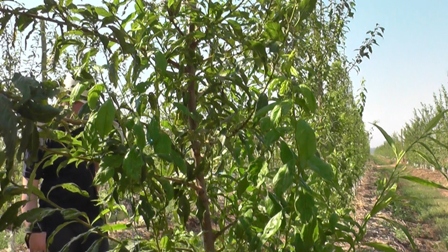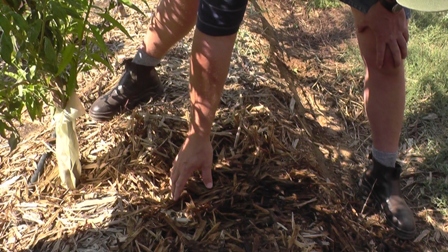 Below: left & right; grading plums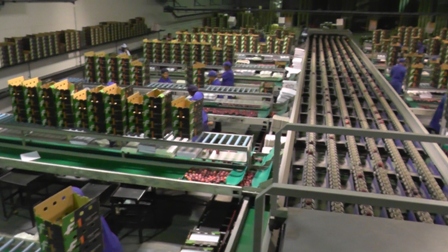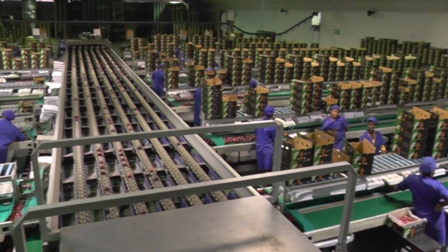 Below: red and green plums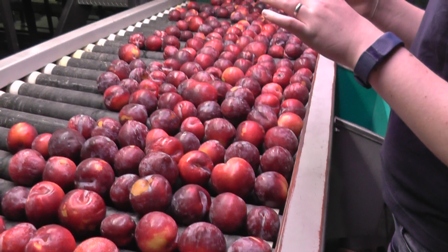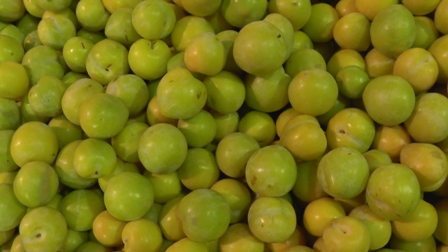 A lovely story........from our U40 committee member Verity Garrett.....
Following the collection we did on the final morning for the local school I am thrilled to say we raised 4200 rand (£280) and Andrew Gough of Lallemand and his wife Louise very kindly then went and bought the school some sports equipment with this money and then dropped it into the school.
'The children were so happy to see the rugby balls and other kit. They posed for photos and then gave us a huge round of applause.
The school principal Mr Cuprido was beside himself. He wanted to thank the Under 40s Fruit Farmers very much. We have provided more than they could have ever dreamed of. He said he is lucky if he is allowed to buy one rugby ball a year. We gave them 6.
It was very clear that they were really pleased and that the kit will be well used.'
So a massive thank you for the donations as it is clear it will really make a massive difference to the children and huge thanks to Andrew and Louise for sorting it all out for us.
Below: delighted school children with their sports equipment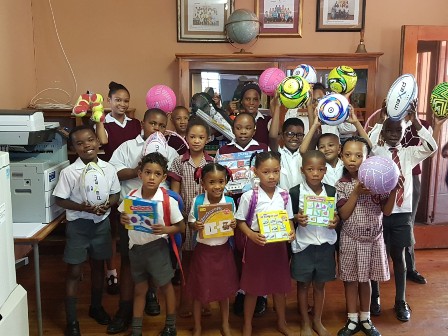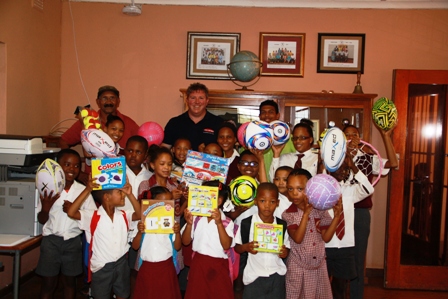 A very eventful week for The English Apple Man........75 years young.......until next week...
Take care
The English Apple Man