Journal
14th Apr 2017 - Is it mid April or mid May?
For many years Apple Blossom time traditionally came at the end of the first week of May....at least that is how The English Apple Man remembers this very enigmatic event...blossom time is a time of great hope and sometimes trepidation....
Pictures in last week's Journal showed bud movement between the stages of Green Cluster and Pink Bud......a week on......
Below: left to right; Bladon Pippin - Discovery - Christmas Pippin - Red Windsor on 7th April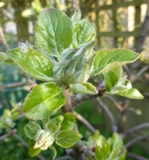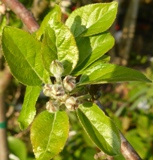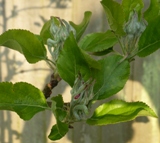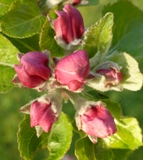 Below: left to right; Bladon Pippin - Discovery - Christmas Pippin - Red Windsor on 14th April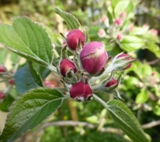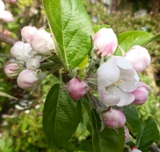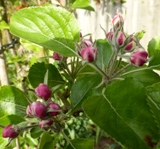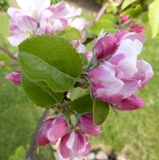 Below: left; Bramley in early blossom and Bramley Blossom close up - both on 11th April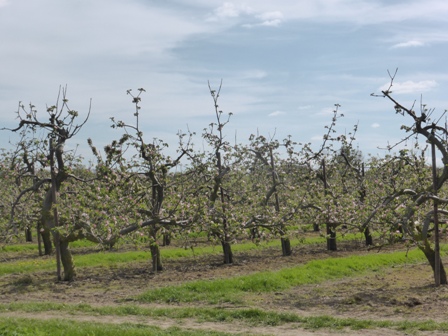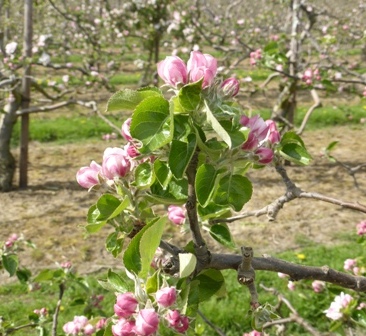 Below: Conference Pears in bloom on 11th April in West Kent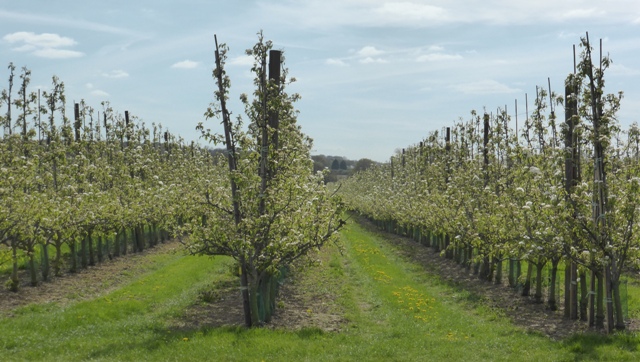 A final report on the 2017 Under 40's Conference in South Africa
On the Friday 3rd March the U40's began to wind down their intensive itinerary with a (slightly) more leisurely visit to SAPO and Hillcrest Berries, before heading back to Capetown and our flight back home that evening........
SAPO
In 1945 the idea of plant improvement is conceived by Dr SJ du Plessis.....
Below: an extract from SAPO's website...
"SAPO Trust is a plant improvement organisation established in 1974 in Ceres and is currently situated on Fleurbaix Farm, Van Reede street, Die Boord, Stellenbosch since 1987 with a satellite station established in 2007 at Tygerhoek Farm in Riviersonderend in co-operation with the Department of Agriculture in the Western Cape
SAPO Trust's mission is to develop a comprehensive range of virus-free plant material that can be supplied cost-effectively to the fruit industries in South Africa. The company pioneers variety development and the commercialisation of new fruit varieties in South Africa"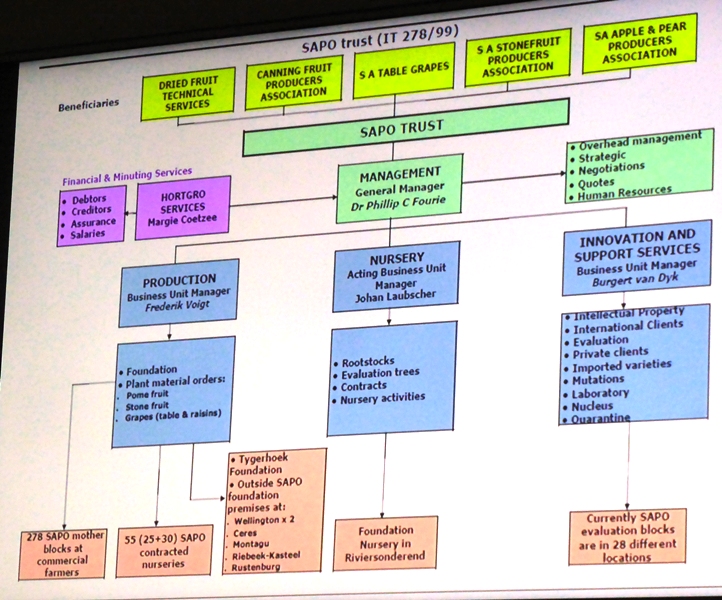 SAPO Trust is a partnership owned by the five primary industry associations in the deciduous fruit industries. It is governed by a board of trustees who has been appointed by these associations.
South African Stone Fruit Producer's Association (SASPA)
South African Apple and Pear Producer's Association (SAAPPA)
SA Table Grape Industry (SATI)
Dried Fruit Technical Services (DFTS)
Canning Fruit Producer's Association (CFPA)
SAPO Trust's trustees are represented by an official from each of the five deciduous fruit industries, respectively, the general manager: SAPO Trust, an independent chairman, BEE representative and a Nursery representative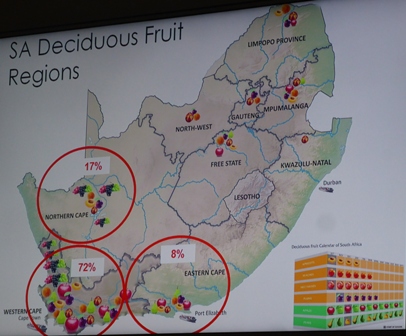 Our hosts at SAPO Trust were Emcee Gagiano - 'Laboratory Technician' who explained the importation of new variety material, the quarantine process, virus testing and development of new varieties for release to South African nurseries and growers, and Danie Heyns 'Evaluation Technician' who hosted the fruit tasting for U40's.
Emcee Gagiano started her presentation with an overview of South African fruit production; 72% is grown in the Western Cape. The total SA fruit production area is circa 79,000 hectares; 44% Pomme Fruit (apples & pears) - 22% Stone Fruit (Peaches, Nectarines, Plums, Cherries) and 34% Grapes.
Emcee presented the crop distribution overview with a total of 1.5 million tonnes of South African fruit....
800,000 tonnes of apples - 420,000 tonnes of pears - 74,000 tonnes of plums - 50,000 tonnes of peaches and 156,000 tonnes of nectarines.
Below: left; Emcee Gagiano presenting and right; a classic certification route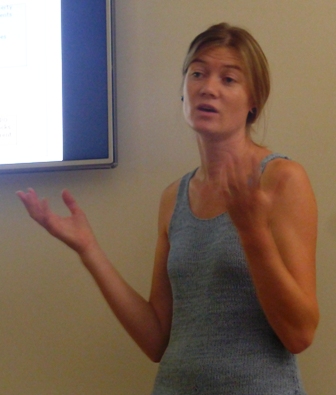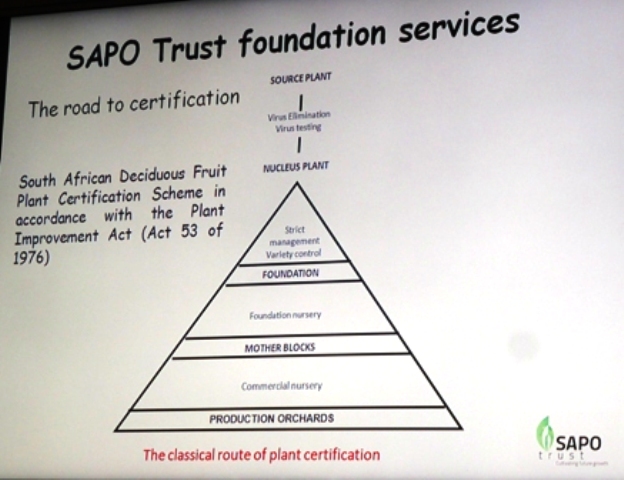 Below: total area planted and crop distribution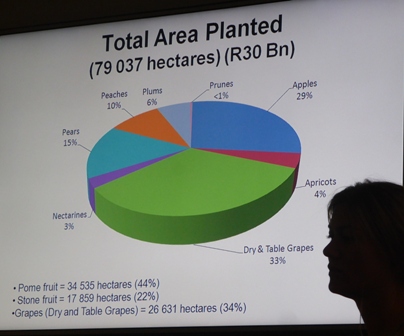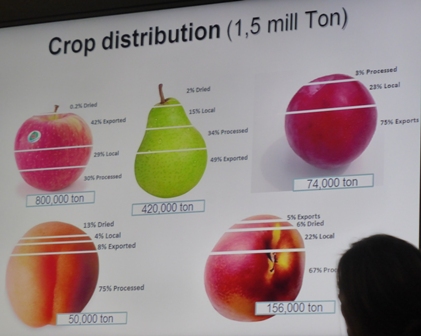 Emcee then took the delegates through the process of 'importation' of a new variety and the stringent quarantine programme which centres on ensuring there are no inherent 'nasties' (virus's ) which would put at risk any SA plants...the process requires testing for potential virus by breaking down the leaf tissue into a medium where laboratory tests can identify any unwelcome virus...
Once plant material is certified (free of virus's) Emcee demonstrated the process for evaluating a variety and/or rootstock before creating certified new plant material for release to commercial nurseries....
Below: left; illustration of the road to certification and right; stages of certification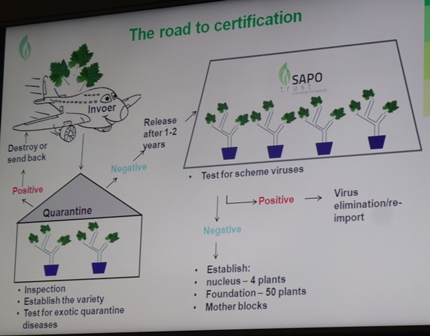 For a better understanding of the operational processes; click on SAPO Video
The next step in the U40's visit to SAPO was a tasting session with Danie Heyns 'Evaluation Technician'
Danie organised the U40 delegates into tasting groups for evaluation of a number of apple, pear and plum varieties...
Below: the tasting table....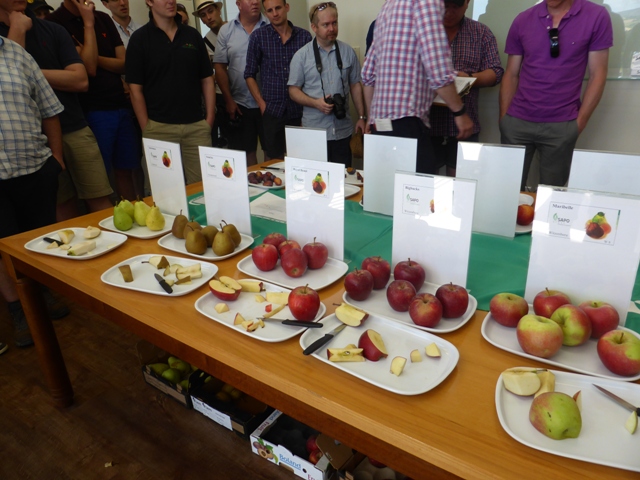 The English Apple Man was particularly interested in tasting two of the Gala samples - Royal Beaut and Big Bucks; Gala clones which are set to become 'high profile' with high red colour now an essential prerequisite for Gala production....
Below: left; Gala Royal Beaut and right; Gala 'Big Bucks'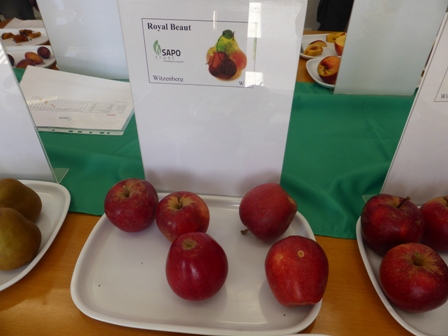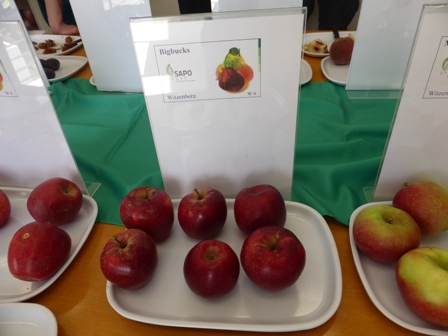 Below: an example of a variety attributes....each variety has a defined list...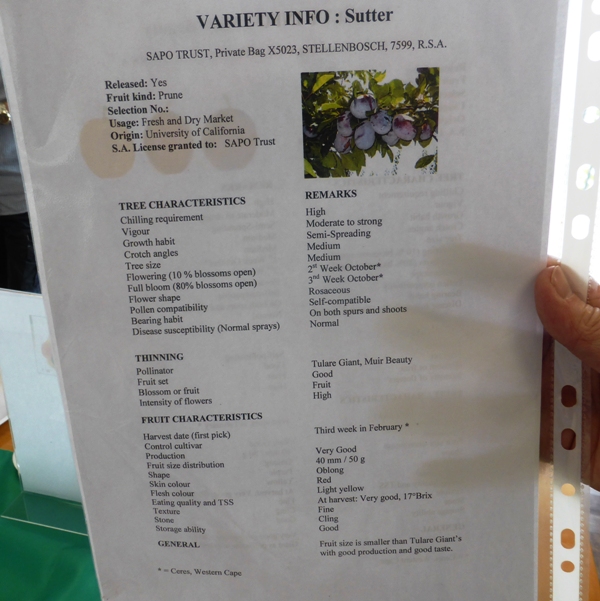 Before leaving SAPO U40 delegate Marzena Lipska presented Emcee with the U40's commemorative gift and U40 Chairman Charlie Dunn posed for a picture with Emcee Gagiano and Danie Heyns...
Below: left; Emcee and Marzena and right; Charlie, Emcee and Danie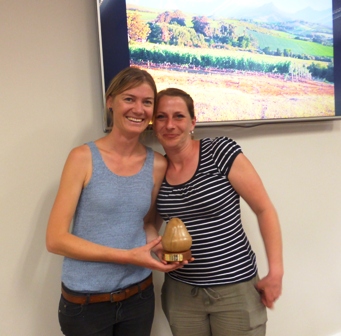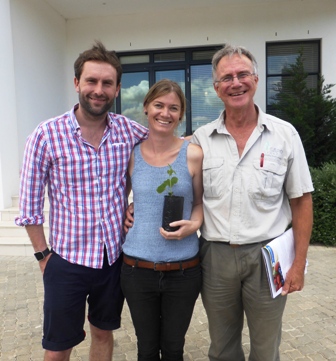 Following the visit to SAPO Trust, the U40's delegates travelled to Hillcrest Berries for the final element of the 2017 Under 40's Conference.
Hillcrest Berries, situated between Stellenbosch and Franschhoek and settled on the side of a hill, is clearly not the easiest of plots to farm but they have an incredible range of varieties of soft fruit and their own jam factory.
After the 'full on' schedule of the previous four days, the visit to Hillcrest was an ideal opportunity to enjoy a more relaxed atmosphere. First on the agenda; lunch on a lawn with spectacular views of the mountains.
Bought by Raymond & Betty O'Grady in 1989 with desires to 'just grow a few berries and make some jam' - the business has grown from a small hobby farm into a highly popular source for fresh and processed berries.
Today Hillcrest offers a multitude of fresh, frozen and processed berries of all types. Along with all the classic favourites; Strawberries, Raspberries, Blackberries, Blueberries,
Below: left; Hillcrest TEAM with Raymond O'Grady and right; Hillcrest Promotional poster...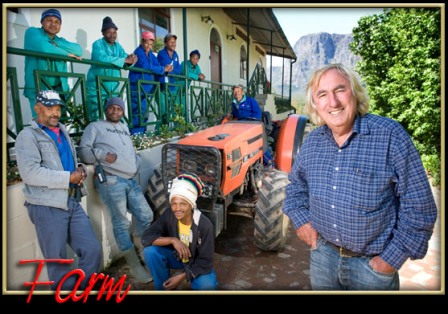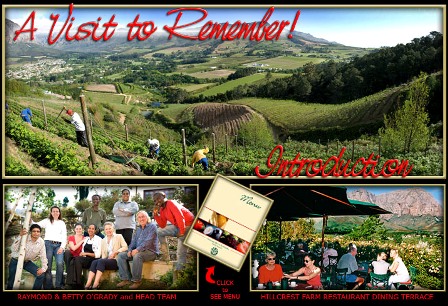 Below: a panoramic view of Hillcrest Raspberries...

Below: left; making jam and right; packing fresh Raspberries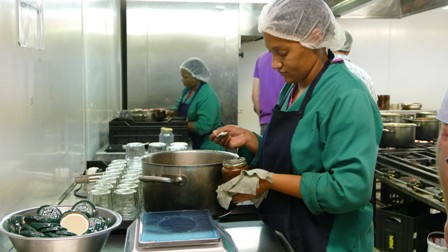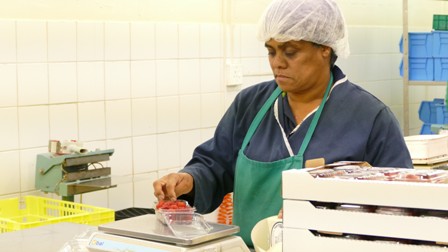 Below: left; Marmalade Lady and right; Hillcrest packaging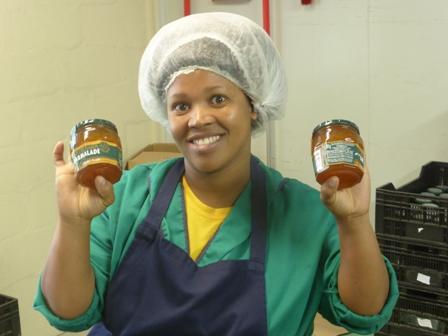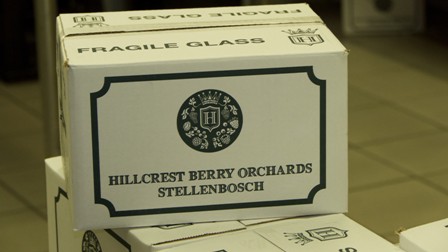 Below: left; Hillcrest Farm Manager David NGadze and U40 Chairman Charlie Dunn - right; Hamish Light with Hillcrest Co-owner Betty O'Grady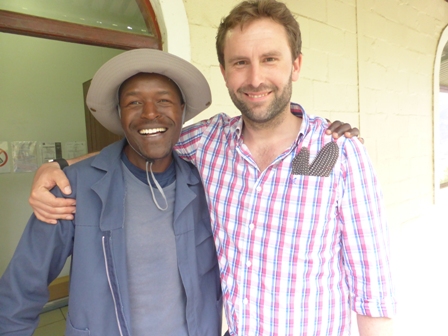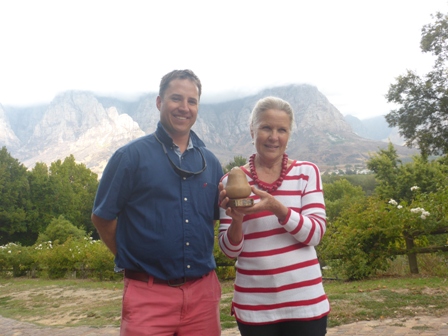 Below: U40 Sponsor Jamie is 'bug hunting' - right; the target of his camera....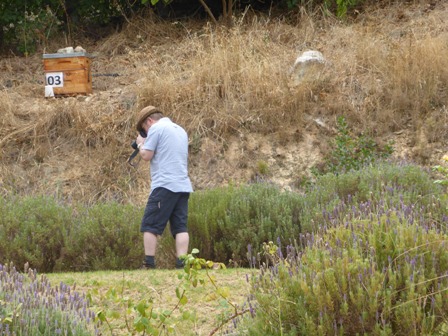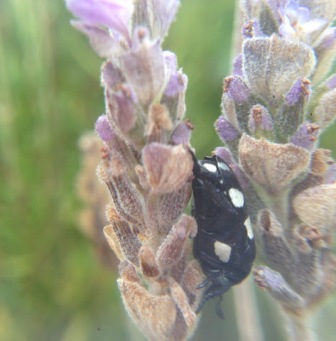 Below: 'bugs are bigger' in South Africa....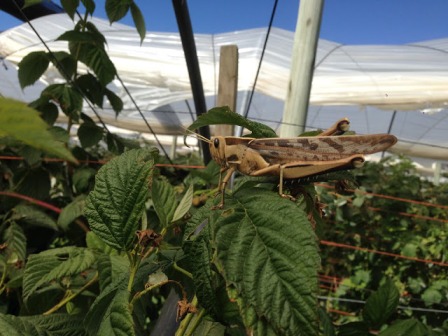 That is all for this week....until next week...
Take care
The English Apple Man >