Journal
21st Apr 2017 - Oh Dear, its all change again - life after Brexit has taken on a new dimension!
Last week The English Apple Man attended the Marden Fruit Show Society (MFSS) AGM held at Hadlow College. Presentations highlighting the consequences of government policy on our farming futures were central to our speakers...
Then an announcement of a General Election generates more speculation.....
It is an early season....
The 2017 season is well ahead of last year; it has been colder this week and there have been some frosts around, low enough to cause anxiety; fruit growers will be X's fingers in the weeks ahead with more cold and some wet weather forecast!
Comparing last week (14th April) with this week; 21st April.........
Below: left to right; Bladon Pippin - Discovery - Christmas Pippin - Red Windsor on 14th April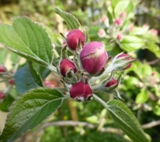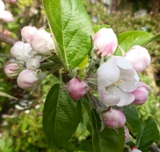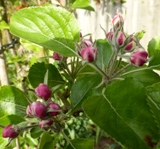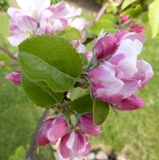 Below: left to right; Bladon Pippin - Discovery - Christmas Pippin - Red Windsor on 21st April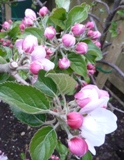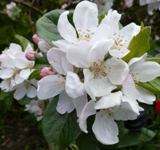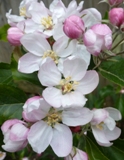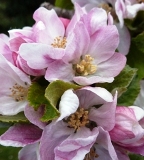 Marden Fruit Show Society AGM held at Hadlow College on 11th April 2017
The 'Lecture Theatre' at the Animal Management Centre at Hadlow College is an ideal location for the AGM.
Present: The President Michael Jack; Chair Sarah Calcutt: Vice-Chairman Andrew Tinsley; Junior Vice-Chairman Charles Dunn; Honorary Treasurer Hugh Summerfield & Show Secretary Maria Clarke.
Invited speakers: Steven Munday CEO of English Apples and Pears - Amy Gray NFU Horticulture Advisor - Monika Todd representin Greenyard - Dr. Martin Luton - Fruition.
Below: MFSS Officers: Left to right; Charles Dunn, Andrew Tinsley, Michael Jack, Sarah Calcutt, Hugh Summerfield and Maria Clarke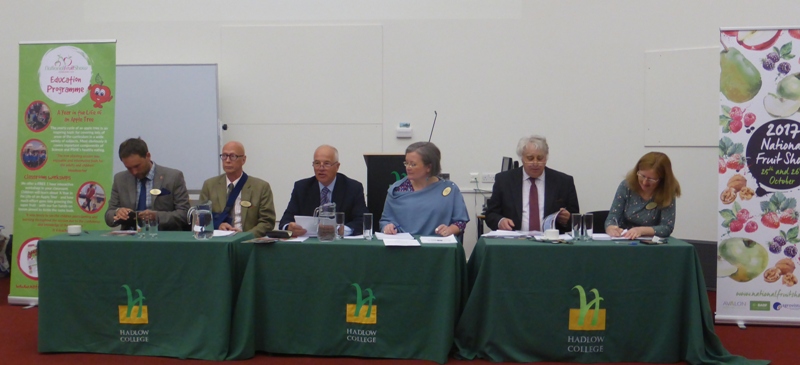 Below: Michael Jack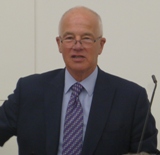 While the 2017 AGM business is a routine procedure, the opening address by MFSS President Michael Jack was an important reminder to all present that the UK Government's Brexit negotiations encompass serious challenges for the future of UK farming and critically our fruit growing sector.
Michael stressed the importance of farmers and growers 'lobbying' their MP's about the real dangers of lack of government support for agriculture after Brexit....there is a real danger that the vast funds passed to the EU will be seen as a panacea for government departments hungering for increased funding at the expense of support for home produced food.
The English Apple Man adds: "The consequences could be disastrous for UK Agriculture & Horticulture without financial support from the exchequer....the progress the UK has made in increasing the volume and quality of home grown produce could easily be lost and the fabric of the countryside damaged for generations to come...
Below: Amy Gray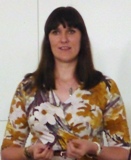 Amy Gray: The Future of British Fruit in a changing policy landscape
Amy Gray - NFU Horticulture advisor highlighted the areas of concern and stressed the importance of NFU lobbying for a 'level playing field' for UK farmers and growers; What is Government planning? the details will only be clear when negotiations start!
"Following the publication of the Great Repeal Bill White Paper, we believe that Brexit must be seen as an opportunity - not just to ensure continuity, but to deliver a regulatory framework suited to UK farmers.
We're working across our industry to deliver a vision for a thriving farming sector post-Brexit, once the UK has left the EU and no longer governed by the Common Agricultural Policy.
Government must not ignore the economic importance of the farming sector. It's the bedrock of the UK's largest manufacturing industry - food and drink - which is worth £108 billion and employs 3.9million people"
Amy said everyone involved is busy with SWOT analysis......
SWOT analysis is a process that identifies an organization's strengths, weaknesses, opportunities and threats. Specifically, SWOT is a basic, analytical framework that assesses what an entity (usually a business, though it can be used for a place, industry or product) can and cannot do, for factors both internal (the strengths and weaknesses) as well as external (the potential opportunities and threats). Using environmental data to evaluate the position of a company, a SWOT analysis determines what assists the firm in accomplishing its objectives, and what obstacles must be overcome or minimized to achieve desired results: where the organization is today, and where it may be positioned in the future.
Brexit.....
The Great Repeal Bill - what does it mean?
Legislation - Legislation is the act or process of making or enacting laws, legislation refers to the actual law enacted by a legislative body at the national, state, or local level.
The NFU is lobbying for change; aiming to influence how new UK laws are enacted; an opportunity to inform future changes -
Mentioned earlier: The Food supply chain value is £108 billion - and employs 3.9 million people.
The fruit growing industry: apples, pears, cherries, plums, strawberries, raspberries, blueberries, blackberries.......employs
80,000 seasonal workers & 10,000 permanent workers....
Critical: Amy summarised the factors critical to survival of British farming and growing after Brexit; access to sufficient numbers of workers...clarity on rules for EU workers (free movement) - government timetable for the immigration bill - recognition of the crucial importance of migration for low skilled work for certain sectors of the UK economy - a suite of options for employers - a transitional period to help employers adapt - realistic expectations around UK workers - for home office to instruct the Migration Advisory Committee to undertake a full impact assessment......
Below: Sarah Calcutt announces the Bonanza Prize Sponsor and introduces Monika Todd representing Greenyard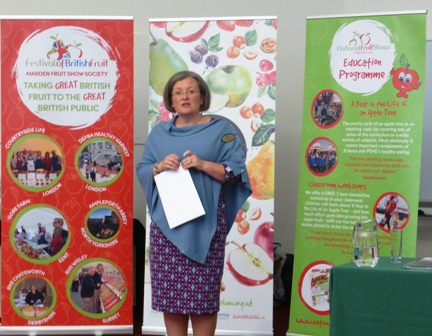 MFSS Chair - Sarah Calcutt announced the sponsor of the 2017 Bonanza Prize is Greenyard and the prize will be a 10 day visit to South Africa visiting Greenyard businesses in RSA.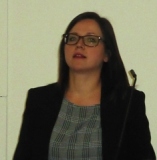 Monika Todd presented an overview of Greenyard Global business
Greenyard is a global market leader in fresh and prepared fruit & vegetables and growing media. Greenyard has operations worldwide and serves a global customer base among which most of the leading retailers in Europe. The Group counts more than 8,000 employees in 25 countries worldwide.
In June 2015, Greenyard combined its four constituent companies - UNIVEG, Pinguin, Noliko and Peltracom - under one unified banner to become a global market leader in fresh and prepared fruits and vegetables and growing media.
For more information; click on Greenyard
MFSS Long Term Storage Competition
The long term storage competition is open to storage operators and storage samples of dessert and culinary apples + pears.
Fruition Storage expert Dr. Martin Luton reviewed the 2016 seasonal climate factors, prior to the presentation of awards to the category winners.
Martin has traditionally reviewed the seasonal influences on storage quality for many years and the historical data compared with the 2016 season is always interesting. Average, Maximum & Minimum temperatures are compared with the Long term average.
Rainfall measured in mm (25mm = 1 inch) compared with the LTA and Sunshine hours compared with the LTA makeup the data comparison chart.
The temperature in early season was around the long term average (LTA) but well above the LTA in July, August and September; the rainfall correspondingly well below average in July, August, September and October. Sunshine hours were well below the LTA in June, but above the LTA in July and well above in August. These climatic factors contribute to the storage capability of the fruit.
Below: Dr.Martin Luton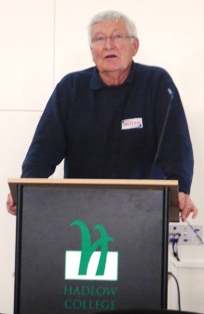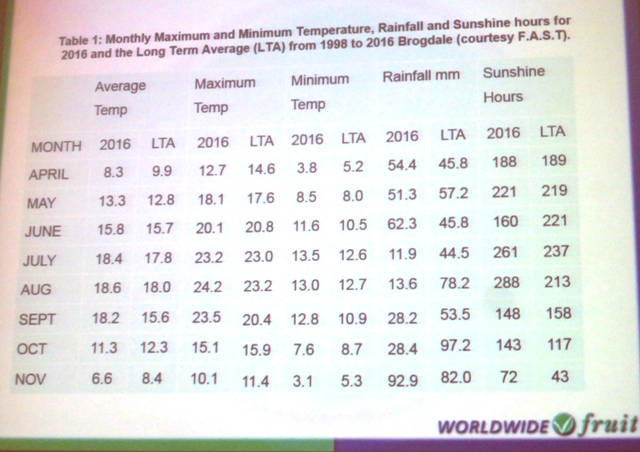 Below: Martin Luton shared Fruition growers yields over the last 5 years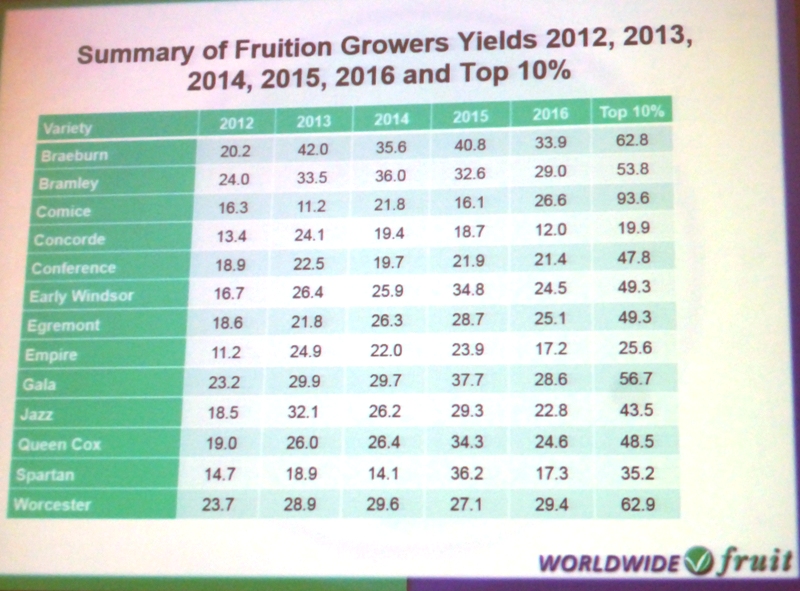 Click on: FRUITION for more information about Fruition Growers Producer Organisation (PO)
Below: EAP CEO Steven Munday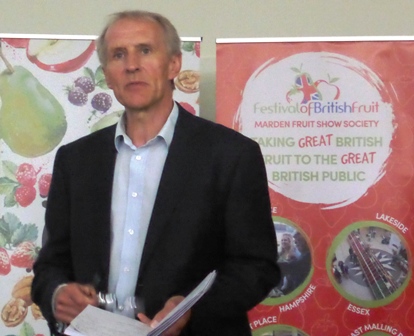 Steven Munday - CEO English Apples and Pears (EAP)
Steven Munday, CEO EAP, updated MFSS members on sales to multiples over the 2016/17 season compared with data for 2015/16 season. Steven said while Dessert apple sales are up by 3.58%, Culinary (Bramley) sales are down by 10.92% and Pears slightlt up at 0.79%. This is measured against 5% lower crop in 2016.
Steven drew attention to the changes within EAP:
Led by the Chairman Phil Acock, the current EAP board remains with the addition of Chris Browning, Philip Hermon and James Simpson.
Several strategic changes have been made; the tightening of governance, strengthening the EAP board, outsourcing 'back office' systems to the British Growers Association, the introduction of the new 'Great British Apples' brand and the appointment of a sole promotional agency;
Below: EAP SWOT Analysis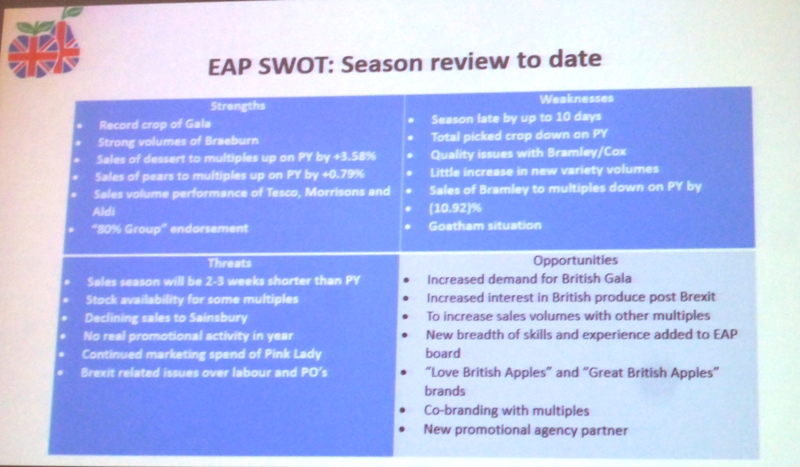 Key elements 'stand out' in SWOT analysis:
Strengths: Record crop of UK Gala - Strong volumes of UK Braeburn - Increased sales of UK dessert apples & pears - sales performance of Tesco, Morrisons & ALDI.
Weaknesses: 2016 season late by 10 days - Total picked volumes down on PY (2015) - Quality issues with Bramley & Cox - Sales of Bramley to Supermarkets down on PY by 10.9%
Opportunities: Increased demand for British Gala - Increased interest in British produce post Brexit - Potential to increase sales to other multiples - New breadth of skills and experience added to EAP board - 'Love British Apples' and 'Great British Apples' brands - Co-branding with multiples (Supermarkets) - New promotional agency partner (Richmond Towers)
Threats: Sales season 2-3 weeks shorter than previous year (PY) - No real promotional activity of UK top fruit - Continued marketing spend of Pink Lady (market leader and direct competitor to UK apples) - Brexit related issues over labour issues and PO's (Producer organisations)
Under 40's Conference 2017
Finishing the morning, Charlie Dunn reviewed the 2017 Under 40's Conference which was the first to be held in the Southern Hemisphere celebrating the 50th anniversary of the first U40 Conference in 1967.
Below: Charlie Dunn and Charlie's thoughts.......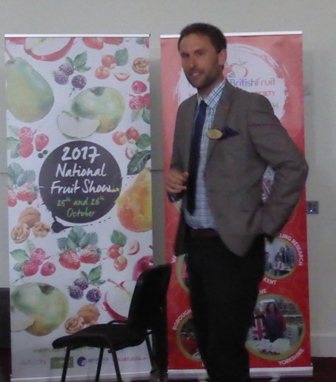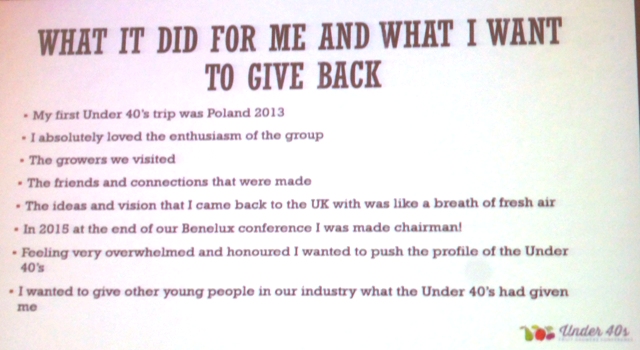 Below: The U40's Conference could not take place without the generous support of the sponsors....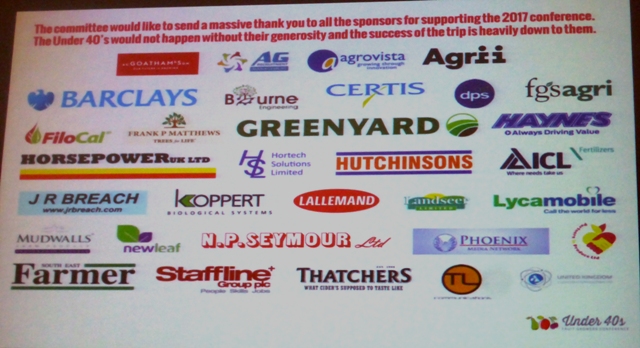 And finally...........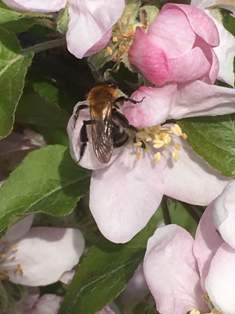 With blossom in full flow and bees 'buzzing in our orchards' a beautiful picture taken by my friend Caroline Ashdown caught my attention. Spotted on her twitter with 'Pip to Plate' on the move, this picture symbolises the synergy between 'bees and blossom' - then another bee 'tweet' brought 'blooms for bees' website to my attention...........
Check out the website by clicking on: Blooms for Bees website for a brilliant guide to bee species....
The weather forecast is a bit scary - hail and thunderstorms mentioned - 'please not' - next week The English Apple Man will be at the annual BIFGA Spring Walk at Mole End Farms an 'Organic' and Award winning enterprise.........
Until next week....take care...
The English Apple Man