Journal
5th May 2017 - How will the mixed weather over the last two weeks influence the potential for this year's crop?
The variation in temperature over the last two weeks has been extreme; what does this mean for our fruit trees in blossom...
Below: lighting candles to combat frost has been extensive in France and also in some vineyards in the UK...
Over the last 2-3 weeks we have experienced above and below average temperatures: the influence on the ability of flowers to pollinate and fertilize changes dramatically with the temperatures - add sporadic air frost damage to orchards and vineyards and it paints an uncertain picture. To date the media publicity has been primarily concerned with grapes in UK and Europe.....damage to apples and pears is 'patchy' and my 'eyes in the orchards' tell me while there is frost damage, its early days and he expects the overall crop to be adequate.
As one grower remarked - "one year I could not find a single flower undamaged by the frost, BUT, still picked a full crop"
Certainly we only need 5-15% of the flowers to 'set' for a full crop.........so its WAIT AND SEE!
The mechanics of Pollination and Fertilization
To achieve pollination and fertilization pollen must be passed from the pollen sacks to the style and grow down the pollen tube as quickly as possible. In warm weather this can happen in a matter of hours; in cold conditions it can take days. If the pollen does not reach the ovary in time (approx 4 days) it is too late! The process is known as the Effective Pollination Period (EPP). The EPP varies by variety and Cox our national apple has a shorter EPP; no wonder it is difficult to achieve consistent heavy crops.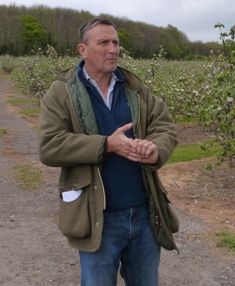 On Tuesday 2nd May The English Apple Man and members of East Kent Fruit Society visited Clive Baxter's Amsbury Farm at Hunton near Maidstone for the annual EKFS blossom walk....the influence of the weather during late winter into spring means the blossom period can vary from mid-April to mid-May.
In 2016 apple blossom peaked in May....this year much earlier....around mid-April.......
Below an extract from the Journal for 14th May 2010
I mentioned in last weeks Journal (7th May 2010) the EPP (Effective Pollination Period) which seems even more poignant now after a prolonged period of low temperatures. I expect varieties with a propensity to crop; for example Gala and Braeburn are high on that list, but Cox a 'struggler' in cold weather is likely to be well down on last years crop levels. It has been so cold this week that EPP has become less of a conversation piece; but now much more relevant to potential crop yield. My good friend ( and Mentor) Roger Worraker was with me in East Kent on Tuesday and like me (who normally does not feel the cold) found it necessary to 'pile on the layers' to keep warm.
As we shivered, we speculated on the impact of this 'bitter' cold. Roger searched the archives for me yesterday and came up with some very poignant research information carried out many years ago. This data 'strikes a note of fear' as an average temperature of 25C will see EPP achieved in 36 hours. 18C requires 65 hours, 10C 6 days and 5C results in NO crop set at all. Since we had day time temperatures of circa 7-10C and night hovering around freezing (or indeed lower) it is unlikely any flowers have set in that period. Of course some early flowers and late flowers may well produce more than enough fruit. Indeed, this afternoon In an orchard in East Sussex it was warm, the pollen release imbued the air with a wonderful fragrance and the bees were hard at work. With a warm weekend forecast any late flowers should have more than a sporting chance of pollinating and fertilising rapidly.
Click on Journal for May 21st 2010
EKFS Blossom Walk at Amsbury Farm, Hunton - 2nd May 2017
As EKFS members toured the orchards with our guide, owner Clive Baxter, we stopped at various points to discuss the different varieties and take in the 'stunning view' across the 'Weald of Kent' below........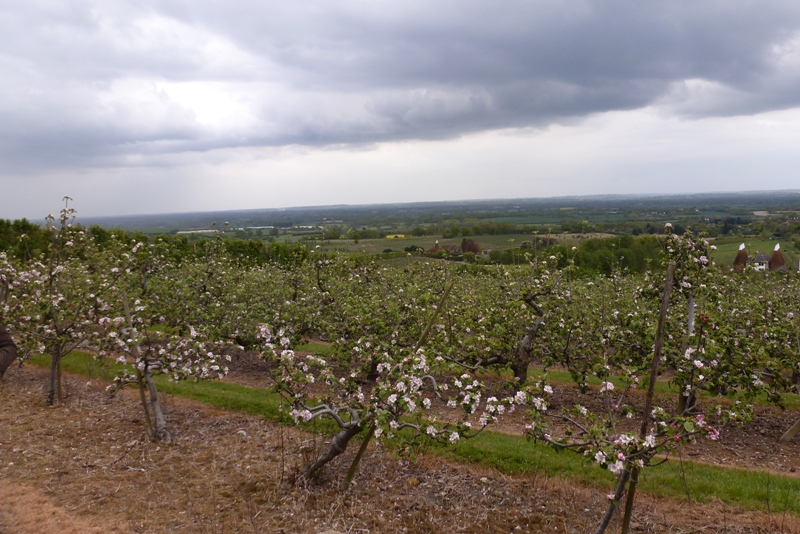 As EKFS members toured the farm with Clive the subject of frost damage was high on the agenda; Clive said he has never found frost damage above 'a line drawn between the farm buildings at Amsbury and his adjoining farm buildings at Westerhill.. this year he has found pockets of frost damage on the slopes....he speculates that this may be due to the morning sun shining on the frosted flowers aggravating the damage, while the frosted flowers in shaded areas escaped the frost.....
The first block of Bramley (at the top of the bank) has cropped at between 58 and 62 tonnes per hectare....nearby Jazz/Egremont Russet orchard has produced circa 27 tonnes per hectare of Jazz (affected by canker damage) - asked about irrigation Clive said the ragstone soil on the upper slopes did not need irrigation, but other areas of the farm are irrigated. Bramley further down has cropped at 45 tonnes....Egremont Russet planted in 1996 crops at 32 - 36 tonnes; Clive uses ATS (Sulphur) as a thinner on the Egremont with an application at first bloom and a second at first fruitlet stage....
Below: left; a high yielding Bramley orchard situated on the upper slopes of Amsbury and right; Bramley blossom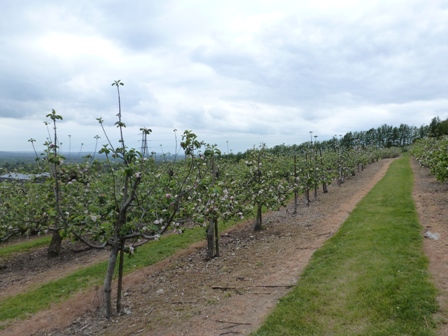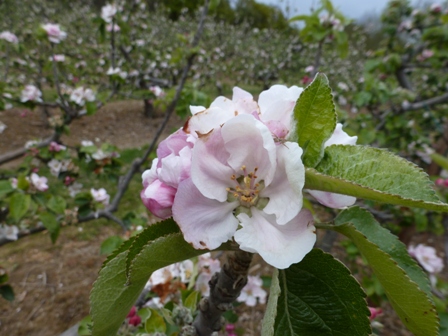 Discussing Delbard Estivale and its risk of bruising, Clive said he uses Calcium and Seniphos applications to 'toughen up the skin'
Below: left; "hey wait fro me" as members descend to the lower slopes...and right; Delbard Estivale trees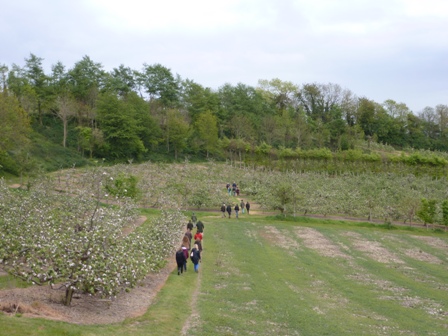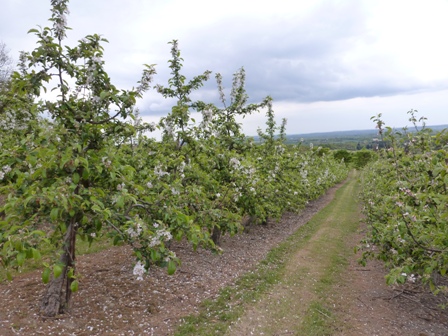 Below: left; an Egremont Russet tree and right; Egremont Russet fruitlets forming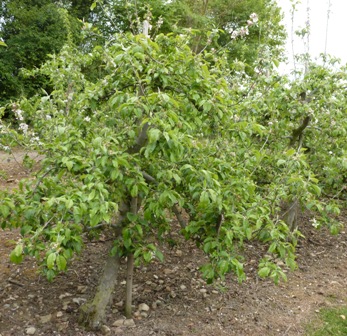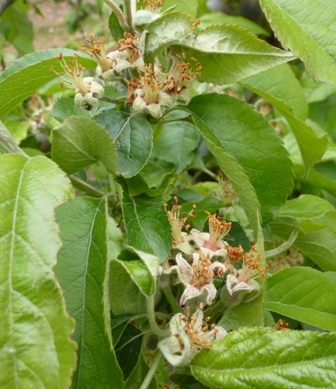 Below: left; a trial plot of different new varieties and right; fruitlets on this trial tree are setting up well....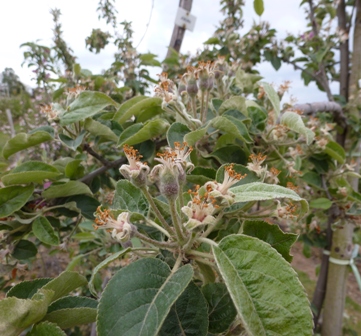 Cherries
Commenting on the Cherries, Clive said the site is believed to be the site of a Roman Vineyard and you can still almost see the contours of the terracing which would have been part of the vineyard structure......the Summer Sun was planted in 2002 and subsequently Clive has added Colney, Penny, Regina and Sweetheart....HAZARDS....Clive said local gypsies had discovered the location and been found to pick cherries and sell them to local shops in Coxheath....the gypsy children have also been caught using the plastic tunnels as a makeshift 'trampoline'......
Below: Summer Sun cherries under 9 metre wide tunnels erected in 2004/05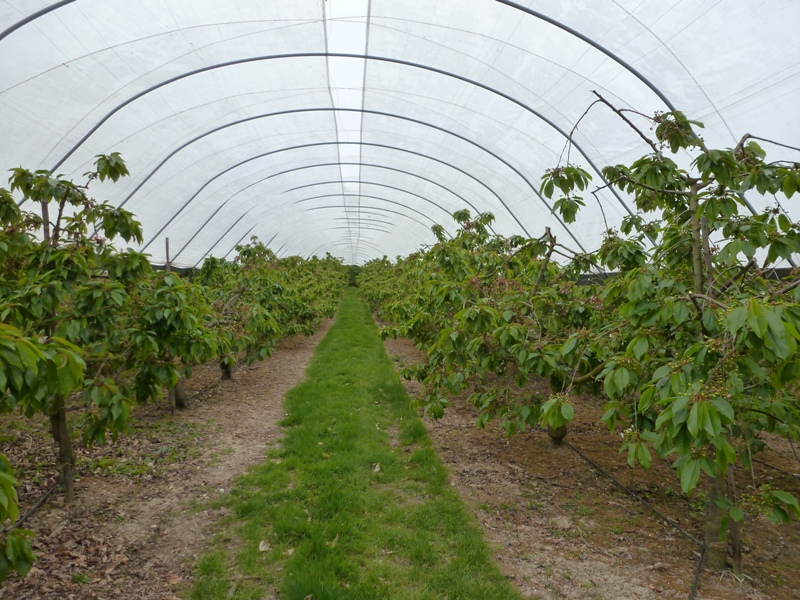 Below: left; Summer Sun fruitlets and right; the tunnels have gutters between each unit to take water away ensuring the cherries beneath stay in the dry....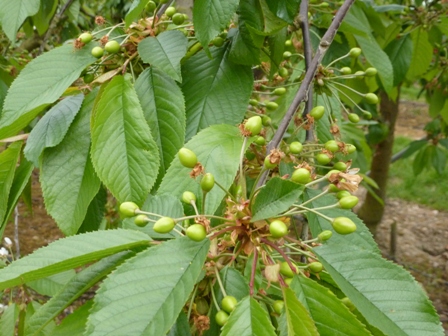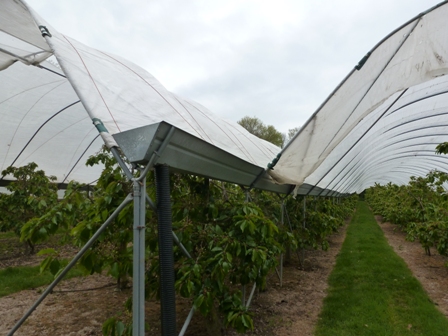 Below: these Quince trees 'go back a long way' and Clive keeps them as much for sentiment as for the fruit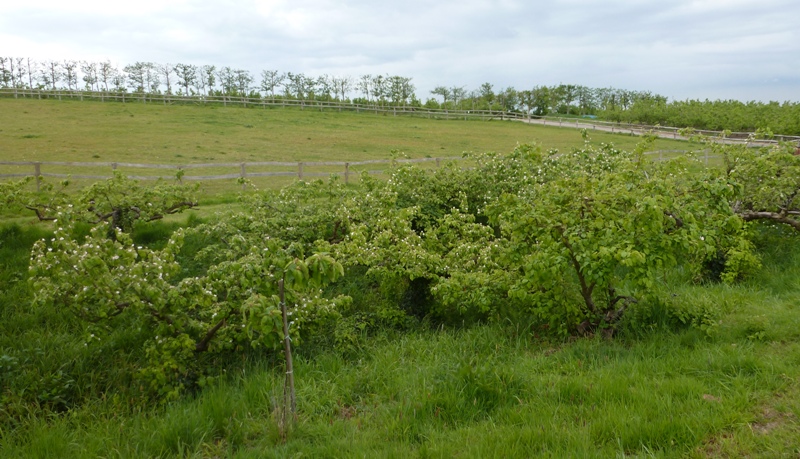 Below: left; young Quince trees and right; a Quince fruitlet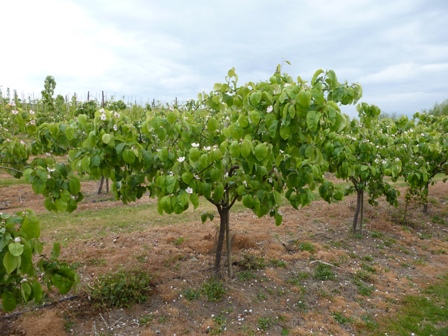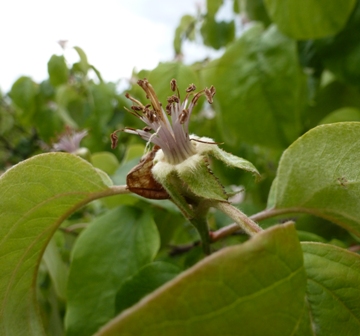 Below: Conference pear fruitlets growing away....but will they stay there?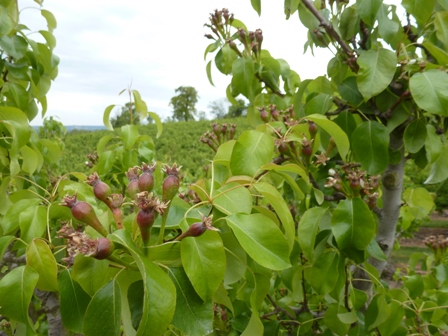 Passing the Conference pears on the way down to the lower levels, Clive said he has found from 5% - 100% damage, but its again a game of 'wait and see' as pears may well come through the frost....
Clive and his family have a long history of growing pears successfully - the pears we saw were planted in 1985 and regularly yield in excess of 30 tonnes per hectare.
Driverless Fendt Tractor demo...
Regular readers of The English Apple Man Journals will be familiar with the driver-less tractor available from Kent based Fendt Agent N.P. Seymour - now, from a dream of the future, this tractor/driver-less system is now entering commercial use on two farms in Kent.
Below: a sequence of four pictures taken as the Fendt driver-less tractor sets off to mow in this pear orchard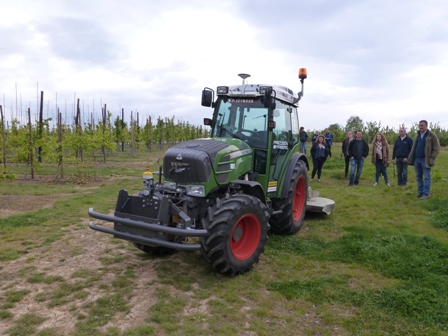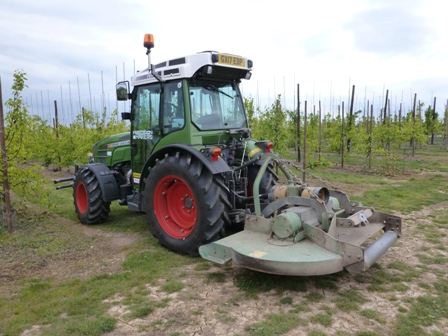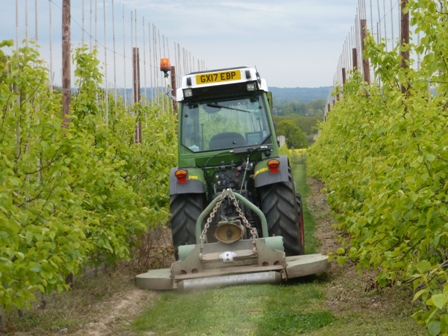 New Pear Varieties
Below: left to right: QTee - Piqa Boo - Piqa Reo - Papple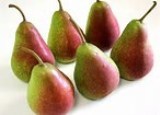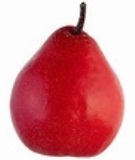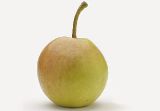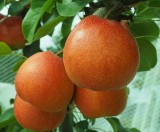 Next on the orchard tour, 4 new pear varieties aligned to Worldwide Fruit Ltd; one QTee is a blush coloured European pear; discovered in Norway - the nearest comparison is the Forelle pear. The other three varieties are 'interspecific' pears.....Piqa Boo is the brand name for the cultivar PremP009, which was bred by Plant and Food Research in New Zealand. It was bred conventionally, combining traits from both European and Asian pears. Piqa Boo is the first in what is expected to be a series of Piqa brand interspecific pears. Prevar is licensing the rights to grow, market, and sell these new fruits around the world.
Below: left; QTee pear trees and right; Piqa Reo pear trees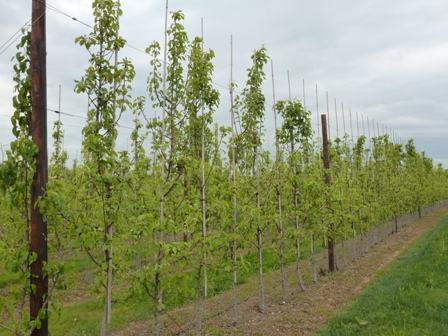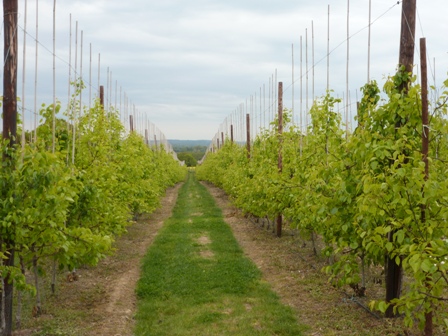 Below: left; Papple pear trees and right; Papple fruitlets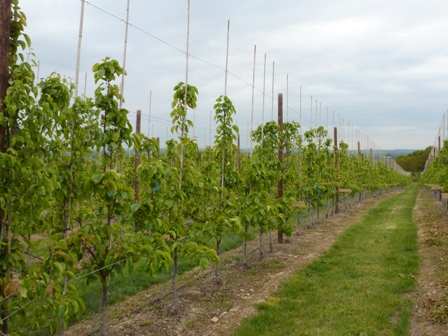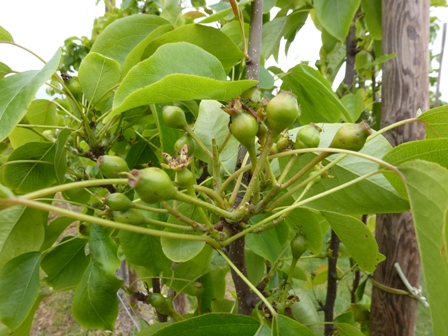 Below: left; Clive Baxter in the Piqa Boo pear orchard and right; a Piqa Boo tree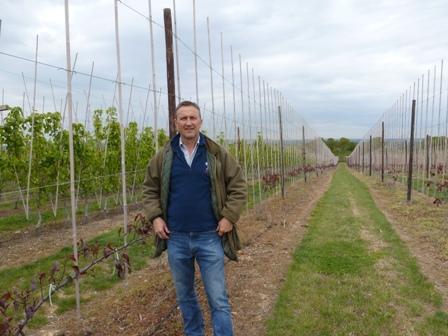 Below: left; the Piqa Boo pear trees have an interstock and will be trained to create several 'super-spindles' on each tree and right; Piqa Boo fruitlets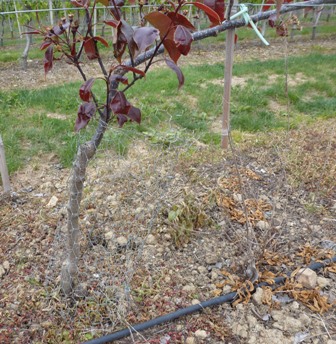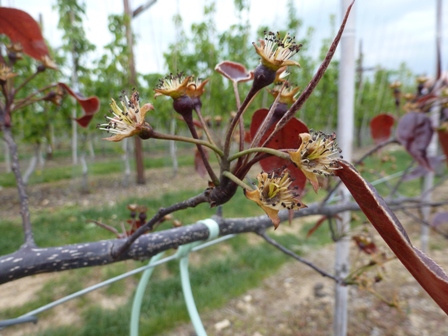 Piqa® brand fruits are conventional hybrids of European, Japanese and Chinese pears. They have interesting and novel flavours, some of which have not been found in pears before including, tropical fruit, tropical pear, melon, coconut and plum as well as recognizable European pear flavours. Acid levels are generally low or are balanced with high sweetness. These attributes are often maintained over a long cold air storage and shelf life, for some up to six months followed by three weeks' shelf life respectively.
This cultivar is a third generation interspecific pear of complex pedigree. The fruit have a short pyriform shape with a block red colour and small brown lenticels. At harvest fruit are crisp and juicy, low acidity, slightly sweet.
Celina/QTee are like a Forelle in appearance.... Papple was developed in New Zealand as a hybrid of two European and Asian pears. Despite its looks and its name, the Papple isn't related to an apple at all.
Clive told the EKFS group he has used the Darwin blossom thinner on his 'new pears' and achieved 14 tonnes per hectare in 2015- Clive estimates circa 20 tonnes per hectare in 2017. These new pear varieties are marketed to high profile retailers; M&S and Waitrose.
Envy and Jazz apples...
From the New pears, EKFS members finished the tour with a look at the Envy and Jazz orchard.The Envy orchard was planted in 2011 and the Envy produced 69 tonnes per hectare in 2015 - the Jazz cropped at 14 tonnes per hectare in the 2nd leaf and 22 tonnes in the 3rd leaf....
Below: left; Jazz trees and right; Jazz fruitlets when cut open display high levels of frost damage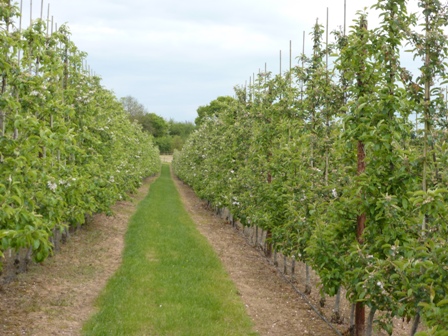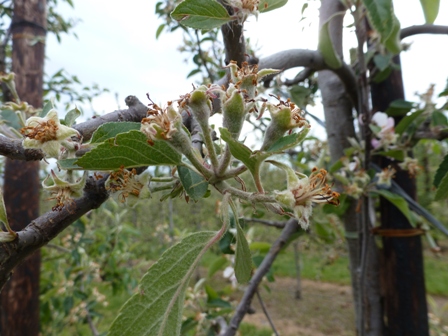 Next week, The English Apple Man covers the 14th annual 'Living Land' event held at the Kent Event Centre this week which attracted nearly 3,000 primary school children (and teachers) eager to learn about life in the Countryside
Take care
The English Apple Man