Journal
12th May 2017 - This week's Journal is a bit of a 'mixed bag'
Recent frost is very much in the news; it would appear the continent is the worst hit and Vineyards in particular have been in a fight to reduce the level of damage with 'candles burning brightly'
The English Apple Man has been out and about: nothing in particular this week, so the Journal will be an eclectic mix of 'bits and pieces'
Frost damage has been on a lot of growers minds, but the level of damage is difficult to evaluate at the moment. Certainly the frost levels on the continent have been reported as 'severe' - particularly in Vineyards where many candles have been lit in an attempt to ward off the worst of the frosts......
From France we hear of growers battling the frost with a number of strategies.........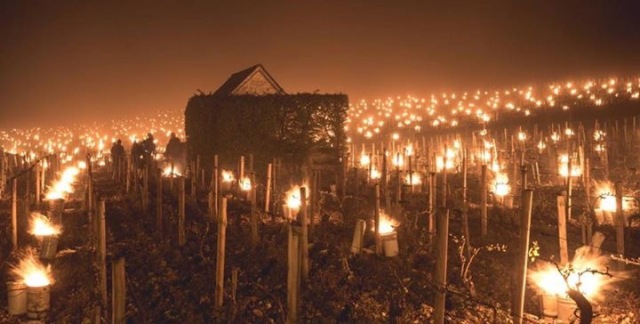 "There are things that well financed growers can do to lessen the potential damage. They can rent helicopters. The helicopters help by forcing warmer air downward, which can raise temperatures up 2-3 degrees. They also rent, or own heaters and wind turbines. Fires are sometimes lit as well. Wood shipping palates are often used as fuel. Another widely used technique is lighting large candles and placing them close to the vines. The candles add warmth and help move air. The movement helps reduce the ability of frost to attach to the vines.555
The sharpest drop in temperature takes place shortly after the sun comes up, so workers were in the vineyards trying to raise temperatures starting at 3:3am. But there is only so much that can be done. Nature will always have its say. Bordeaux is not the only region reporting frost damage this year. Champagne, Chablis, Languedoc and the Loire Valley have also been severely impacted. Frost damage has slammed more than France. German and Italian growers have suffered as well with severe losses reported in Barolo, Barbaresco, Alba, Langhe e Dogliani. It's not just the wine regions of Europe that have been hit by the frost, producers in Cognac are also reporting damage".
The information above was reported in: The Wine Cellar Insider
A report in the Guardian assesses the damage to UK Vineyards: Click on: English Vineyards Frost Damage
"Chris Foss, head of the wine department at Plumpton College in East Sussex, said he had contacted vineyard owners around the south-east to gauge the bad weather's impact on this year's harvest and while some crops were unscathed others had been "decimated" with 90% of buds destroyed. One grower described it as the "worst frost since 1997".
The English Apple Man Comments....
Below: frost damage to apple flowers; the black area identifies the frost damage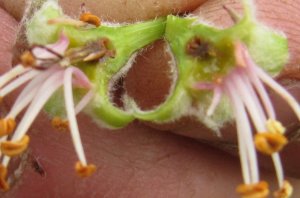 There is a touch of irony here; as an apple grower I remember the 1977 frost damage which decimated my apple crop that year, leaving me with less than 5% of my 'average yield' - the further irony of the years 'ending in seven' saw significant frost damage in 1997 when the UK top fruit crop (apples & pears) was badly hit by frost.......casting my mind back to my youth, I remember my father telling me about the frost damage in 1937 (although various reports contest the year! In Robert Atkinson's GROWING APPLES published in the mid 1950's he talks of 3 year cycles and notes 1935 as the starting point; he mentions 1938 - "admittedly a year of Spring frosts" when "Cox Orange Pippins were selling in Covent Garden Market at Christmas for 44 shillings a bushel" (£2.20 in new money) and remarks a price we are lucky to receive at the high price point in winter more than 15 years later - The EAM remarks; more than a farmworkers weekly wage in 1938.............imagine that today; circa £300 a bushel or £6.75 a lb and that's the wholesale price!!!
2017......
Reported in The FPJ (Fruit Produce Journal) on 28th April........
Click on: FPJ Frost Report for a more detailed appraisal of the frost damage
On a more cheerful note.....
Nice to hear my former colleague and now retired CEO of English Apples & Pears received a well earned Greenvale - 'Lifetime Achievement Award' at FPJ Live in London. Click on: Adrian Barlow 'Greenvale Lifetime Achievement Award' to see Adrian receiving his award.
Robotics ....
I just love this extract from Robert Atkinson's wonderful book (packed with nostalgia for this '75 year old') - he writes: "On a hundred acres of orchard and on one acre each apple is individually handled several times. Even in America apples are picked by hand, though no doubt some fearful suction picking machine is in development, with a blower at the delivery end to screen off the leaves, branches, birds, etc, inadvertently gathered with the fruit! That was written in the 1950's.........very prophetic...
Click on : Robotic Apple Harvesting
Living Land
Last week The English Apple Man joined fellow members of the Marden Fruit Show Society (MFSS) at The Kent Event Centre at Detling for the 14th Living Land event.........see below an extract from the Kent Showground website reporting on the day's activities......
THE KENT COUNTY AGRICULTURAL SOCIETY HOSTED THE 14TH LIVING LAND EVENT LAST WEEK, reports the Kent Showground. The event was visited by 2,728 children from 52 Kent primary schools. The day allows young children to engage in farming, food, healthy eating and the countryside with hands-on displays and demonstrations.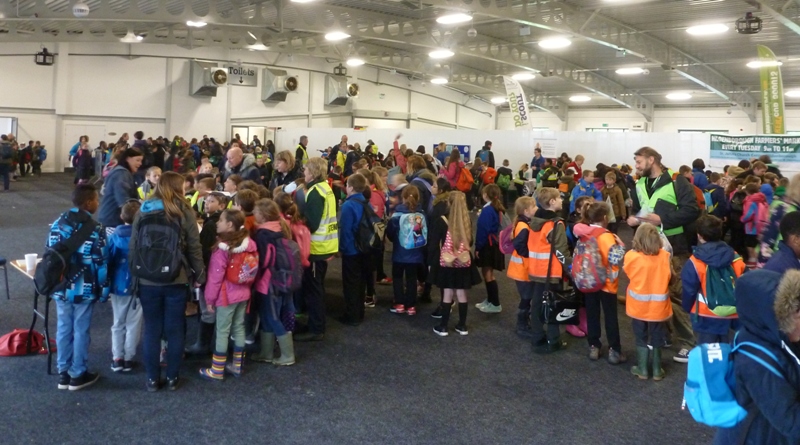 Activities included the chance to get up close to farm animals, meet Kent Young Farmers, taste local produce and watch birds of prey. Children also learnt about bread making through the ages, make butter and sausages, taste apple juice and make a smoothie.
AC Goatham donated 3000 Royal Gala apples which had been grown in Kent, so each child and teacher could take one home.
Spending the day on our MFSS tasting tables slicing apples and pears for these quite delightful children, was a 'full on' experience...but thoroughly enjoyable and a valuable opportunity to ensure our children understand where their food comes from and as they grow into young people, recognise the value of good nutrition and sustainable farming as they become the consumers of tomorrow........
For an in depth report on Living Land click on: LIVING LAND 2017
Sam Smith educating in schools.....
Below: Sam Smith and MFSS Assistant Show Secretary Norma Thomsett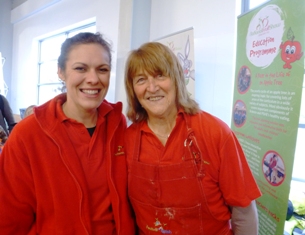 Integral to the MFSS team, Samantha (Sam) Smith National Fruit Show Education
The National Fruit Show, financially supported by fruit grower AC Goatham, fruit marketers APL Ltd and retailer Tesco, is pleased to be able to offer free workshops to Key stage 2 children in Kent and London. Using colourful characters and hands-on activities, these workshops combine fun with learning and can be tailored to suit what is being taught in the classroom whether the focus is on science (the life cycle of the apple tree), geography (where does our food come from?) or healthy eating (why is fruit good for you?).
To understand the process of growing and packing British apples, click onto this video of schools education by sponsor A. C. Goatham & Son Where do British Apples Grow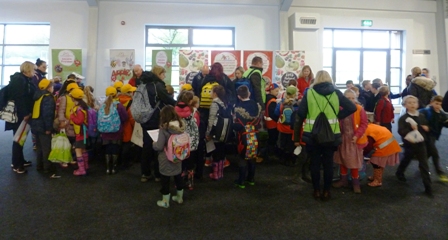 British Apples
The 'home grown' season is almost over; apart from our unique Culinary apple - Bramley.........but the English Apple Man has been finding and eating British Gala, Braeburn, Junami, Cameo, Envy, Jazz; + Conference Pears.......
Particularly tasty; Envy apples and Conference pears..........of the imported apples, New Zealand Cox and Smitten firm, crisp and juicy...
Below: left; British Envy apples and right; British Conference pears - both grown by Clive Baxter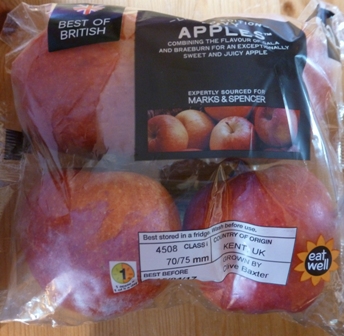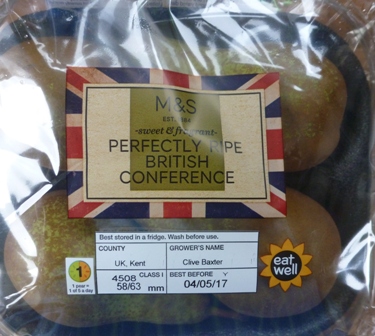 Below: left; New Zealand Cox and right; New Zealand Smitten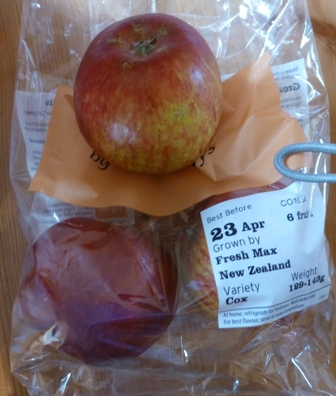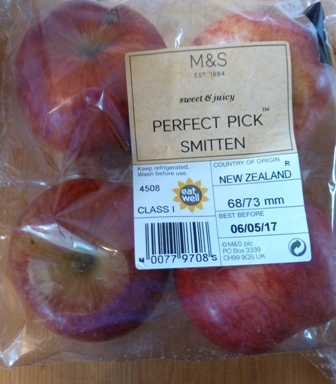 That is all for this week.........
Take care
The English Apple Man