Journal
26th May 2017 - Growing Cider Apples organically in East Sussex
This week The English Apple Man tells a tale of an apple grower who has not sprayed his orchards with anything; no pesticides, no weedkiller, not even foliar feeds.....for more than 20 years.......
The paths of The English Apple Man and Chris Hunt have 'touched' from time to time over the last 40 years...back in the 1970's my father and Chris's father John supplied Macleod McCombe a wholesale stand in the old Spitalfields Market in London.......there are a number of parallel paths we have both traveled in the past 4 decades......both of us became third generation fruit growers, my journey started with my Grandfather Philip buying a farm in the village of Hawkhurst in 1921 planting apples in the 1920's and 30's before my father John (known as Jack) took on the farm after his father died in 1939. In 1958 I joined father and in time became the third generation to manage the family fruit farm.
When I arrived at 'Waydown Wood Farm' Chris took me into an orchard close to his house; 'smothered in white blossom' and alive with the hum of bees hard at work - the speed with which a bee skips from one flower to another is amazing..........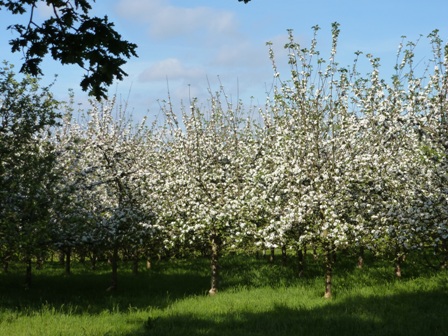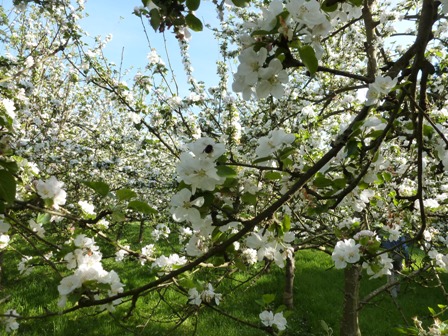 Sitting in Chris's garden enjoying a cup of tea one evening this week, Chris told me the story of how he came to join his father growing apples in East Sussex. His Grandfather Norman Hunt grew apples at Oaks Farm, Brenchley in West Kent during the 1930's...John Hunt and his younger brother Robert joined the family business and in 1949/50 bought Ringden Farm at Flimwell in East Sussex; there they grew Apples, Pears and Peaches....in 1963 they sold Ringden and bought Harts Green Farm at Sedlescombe in East Sussex. The brothers settled into a partnership with Robert running Oaks Farm at Brenchley and John Harts Green Farm.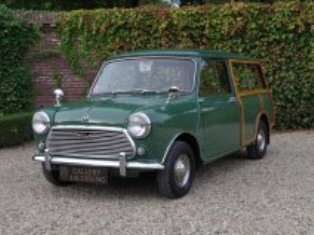 In the 1960's Chris and his wife Hazel bought their first home in Melbourne a village and civil parish in the East Riding of Yorkshire, England - for £2,750....at the time Chris was working for Atcost selling farm and industrial buildings.......around the late 1960's the sales manager of Atcost Buildings acquired an innovative business named 'Scotch Rocks' marketing sachets of scotch water which when frozen could be poured straight into a glass of scotch whisky - making the perfect 'scotch partnership'........... unfortunately, Chris comments; "it was probably 20-30 years ahead of its time and when grants promised by Dumbarton failed to materialise.
Chris moved onto selling life insurance for 6-9 months, before accepting an invitation in 1968 from his father to join him farming at Harts Green. Initially Chris commuted from his home in Yorkshire in his 'Mini Countryman'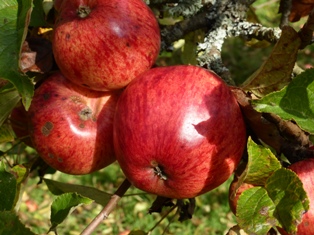 Another change came when his Uncle Robert decided to retire and the farm at Brenchley was sold. In 1972 John Hunt, his wife Phyllis and son Chris bought land at Meadow Green - 'Waydown Wood Farm' was an arable farm on which the family planted 10 acres of Bramley, Egremont Russet and a mix of pollinators; this was the start of a new fruit enterprise. In 1979/80 John Hunt retired and sold Harts Green Farm; Chris continued the business on his own at Waydown Wood Farm.
Before John retired the Hunts planted a one acre of Cider apples in a frost hollow at Harts Green Farm; they were testing advice that Cider apples will withstand a heavy frost and this proved to be true one year when a very heavy frost one morning at full bloom, left a complete 'white out' but no damage occurred.....
In those days. Long Ashton Research Station (near Bristol) had been trialing Cider varieties and John & Chris sourced bud wood from Long Ashton, bought in rootstocks - MM106 and MM111 and created their own trees. Planting at a distance of 16-18ft between the rows and 8-12ft in the row.
In 1976; the year of the great drought, when many places had no rain from the Summer of 1975 until the Autumn of 1976, 12.5 acres of the farm were planted with Cider varieties - all the trees were created at Waydown Wood Farm under the management of John and Chris by Denis May; grafting the scion wood onto rootstocks. The trees were then stored in a cold store and planted in June and July. Coming out of the cold store in a fully dormant state made this possible, otherwise the trees would surely have died. The venture was a complete success, even though they had no water... not a 'single tree' was lost!
Below: Cider apples in full bloom at Waydown Wood Farm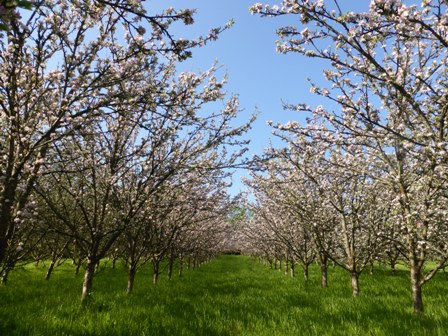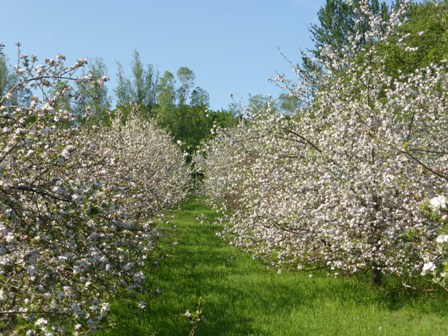 From 1979/80 additional areas of the farm were planted with cider apples; the business developed and cider apples were grown 'on contract' for Taunton Cider Company at Norton Fitzwarren whose main brand was Blackthorn Cider. The price for growing on contract 'back then' was £120 a tonne with transport to Taunton paid by the Cider company. A hiccup occurred in 1995 when Taunton was bought by Matthew Clark plc who subsequently sold the Taunton site and consolidated production at Gaymers at Shepton Mallett.
Below: Cider apple trees laden with apples prior to harvest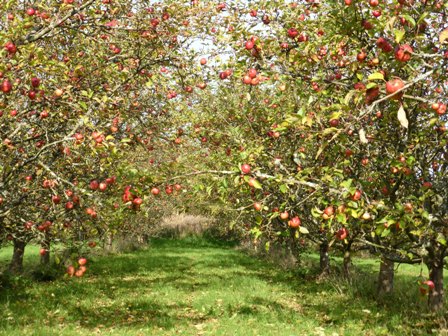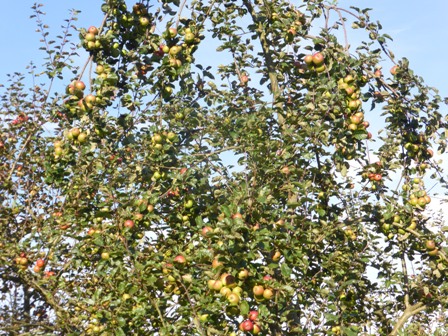 Below: Cider apples on tree and on the grass before harvesting either by hand into buckets or with the Sprite harvester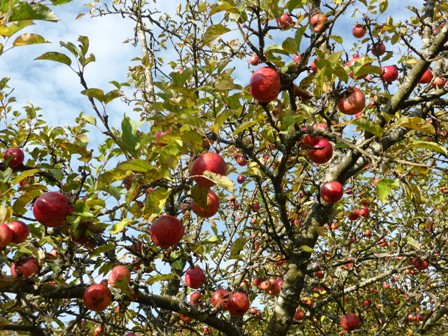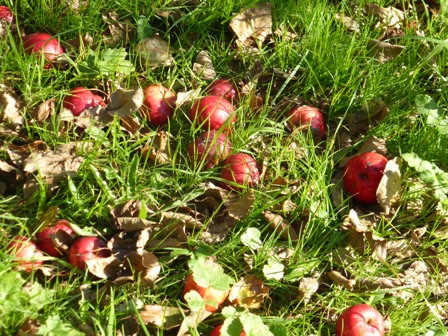 Gaymers started in Attleborough in Norfolk and were bought by Showerings at Shepton Mallett (remember Babycham?) in 1961.
After Matthew Clark plc was acquired by Constellation Brands in 1998, it consolidated its cider production at Gaymers in Shepton Mallet.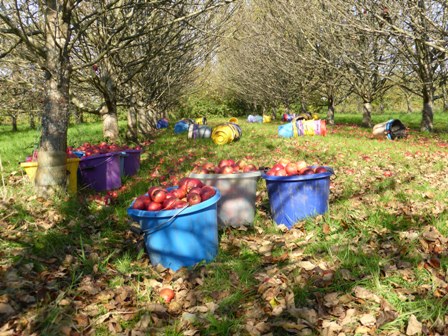 During the 1990's cider apple production became the core business and Chris took advantage of a Grubbing Grant introduced by the Government to get rid of old uncompetitive orchards; all dessert and culinary apples were removed and the future fully committed to cider apples. apart from the 10 acres planted in 1972 of which half was grubbed in 2013.
In 1996 Chris faced a life threatening challenge when he was diagnosed with a brain tumor. Facing an uncertain future Chris stopped spraying his trees with pesticides; and no sprays have been used on the farm since!
By the year 2,000 Chris's health improved and at that time his son James, a highly qualified precision engineer joined his father in the business. In the next couple of years they pondered over 'carrying on or selling up' - then James heard about a demonstration organised by Bulmers of a Machine Harvester for cider apples - James attended the demo, not confident the journey from East Sussex to West Midlands would be justified, but to his surprise 'it worked' - and this became part of the decision to continue growing cider apples. Chris and James bought a Sprite Cider Apple Harvester and with a demand for Cider Apples sold their annual production to cider companies like Aspalls at Aspall Hall in Suffolk.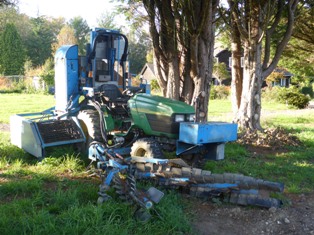 To see a cider apple harvester in operation click on: Sprite YouTube Harvester
In 2002 Chris applied for organic status; " remember no pesticides had been used after 1996" and after a 2 year transition, the farm was awarded an Organic Certificate by the Soil Association...but although all the cider apples have been produced and certified as organic for many years, 'Hunts Sussex Cider' is not sold as organic because the bottling cider making and bottling process is not certified; Chris said he cannot see any financial benefit gained from 'full certification' - as he said look on a supermarket shelf and Conventional and Organic Ciders sell at the same price!
The next step saw cider apples sent to Chris Dench at Ringden Farm for pressing and a 4,000 litre tank purchased to store the juice. In 2015 a cider 'Mill and Press' enabled 'on farm' juice extraction and a 50,000 litre tank increased storage capacity.
James engineering skills have proved invaluable; 'making and mending' - James has installed the 'mill and press' and the mechanized process of transporting the cider apples 'into and out of' the juicing operation....
Below: left; Bins of Cider apples awaiting pressing and right; Cider apples on the way to the cider press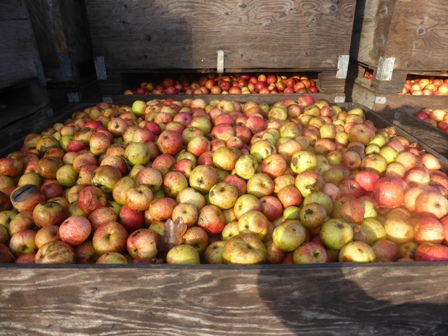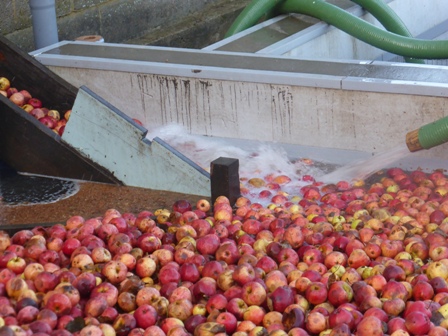 Below: left; cider apples enter the building and right; flow via a wash towards the 'mill' before entering the press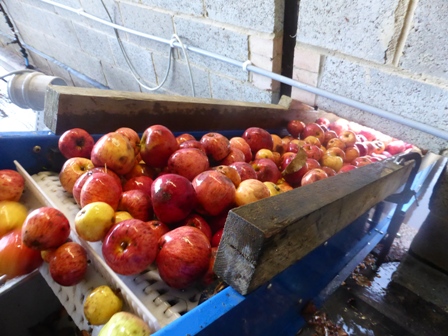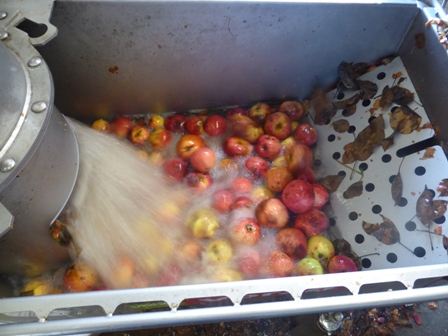 Below: the cider press extracts 1,000 litres an hour from approximately 1.3 tonnes of apples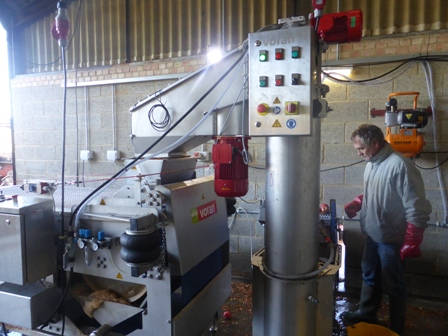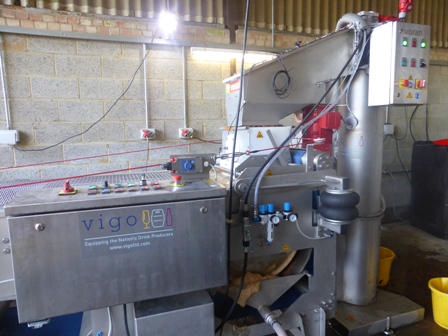 Below: as the press removes the juice from the milled apples the juice is pumped away to storage tanks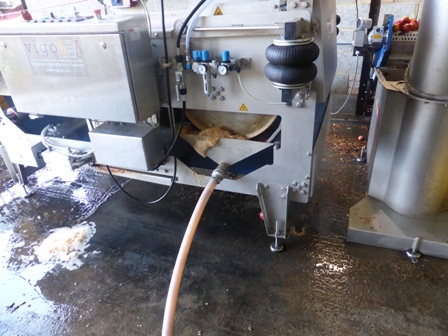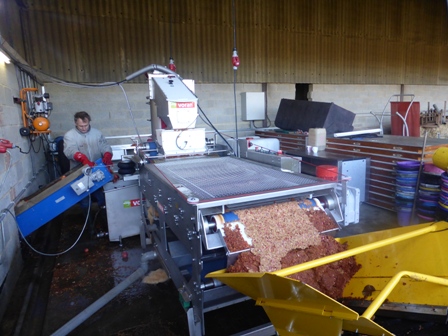 Below: the Pomace (dry matter) passes form the press to a waiting trailer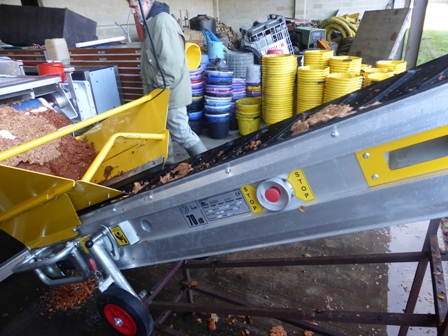 Below: the pomace is used as cattle feed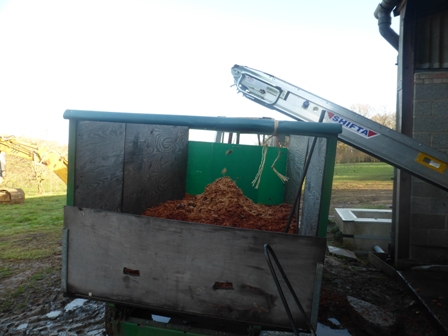 Chris and James do not sell their specialist ciders to retail customers, but via many outlets; farm shops, pubs, etc.
With more than 100 varieties on the farm; some (Long Ashton trial varieties) only as a single tree; cider apple varieties such as Harry Masters Jersey, Dabinett, Coat Jersey, Kingston Black, Brown's Apple, Ashton Bitter, Michelin, Yarlington Mill, Chisel Jersey, Vilberie and Brown Snout, plus many other lesser known varieties make it possible to create an eclectic mix of ciders.
Hornet Dry 4.5% Vol, 500ml - Hairy Pig 4.5% Vol, 500ml - Crowman 6.0% Vol, 500ml - Sussex 7.4% Vol, 500ml.
In addition to the 500ml bottles, Sussex Cider (a still cider) can be bought in 750ml units as 'a bag in box' as 3 litre and 20 litre units plus a 30 litre Conquest (Sparkling) Plastic KEG.
For more information, click on Hunts Sussex Cider

That is all for this week........sorry the Journal is late on line....4.30pm on Saturday 27th May...
Take care
The English Apple Man