Journal
9th Jun 2017 - The English Apple Man in East Kent with the Under 40's
Today: Friday 9th June, The English Apple Man joined the next Under 40's Committee and past and future U40 delegates at Chandler & Dunn's farming enterprise at Lower Goldstone in East Kent.
The visit was part of the London Produce Show (LPS) programme giving delegates at the 2017 LPS held at The Grosvenor Hotel in London from 7th - 9th June an opportunity to visit a farm as part of the LPS experience.
Below: an extract from the LPS website
"The boutique exhibition gives trade exhibitors direct access to a wide range of international produce buyers from the retail, foodservice and wholesale sectors. A series of networking occasions, seminars and chef demonstrations run around and alongside the exhibition, delivering every participant the opportunity to meet, share and learn with their counterparts from around the world."
Yesterday: Thursday 8th June around a dozen Under 40's members attended the London Produce Show and joined fellow U40's for a barbecue and social evening at Wenderton Farm in nearby Wingham.
Below: Under 40's members who attended the 2017 London Produce Show: Centre; Emily Livesey Chair of the 2019 U40's Committee
Below: Under 40's at Wenderton Farm Wingham enjoyed a barbecue and a 'mandatory' beer (or two!)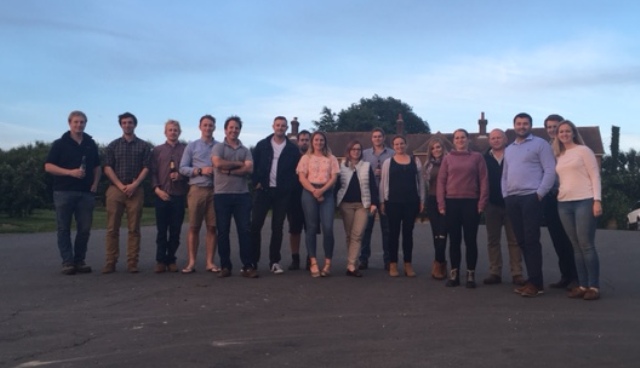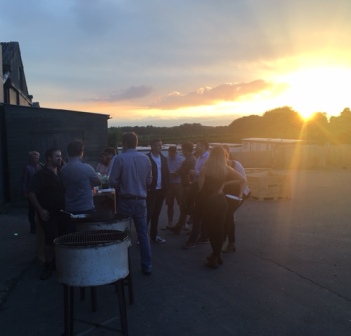 For a more detailed view: click on The London Produce Show 2017
Friday 9th June.....
10.30am and members of the Under 40's gathered at Lower Goldstone, welcomed by host Charlie Dunn supported by members of the C&D family. Yesterday Thursday 8th June around a dozen Under 40's members attended the London Produce Show and joined fellow U40's for a barbecue and social evening at Wenderton Farm in nearby Wingham.
After two days of visiting exhibitors and attending presentations from key industry players, Friday offered LPS Delegates the opportunity to join Industry Tours in and around London. 30 delegates chose to visit Chandler & Dunn's farming enterprise which spreads over 610 hectares covering two farms within 3 miles of each other.
Que for Coffee before Charlie Dunn presents Chandler and Dunn's business profile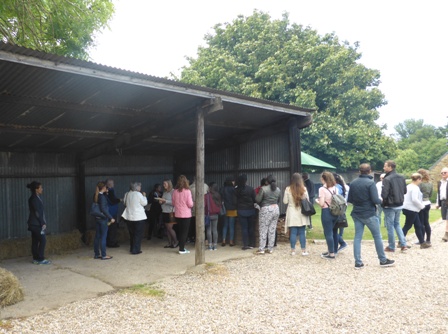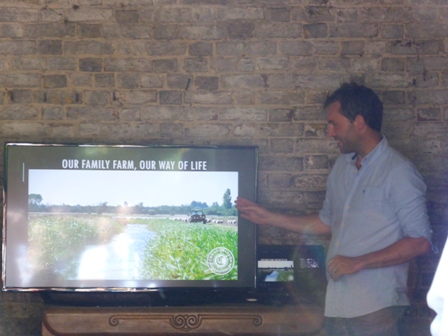 The roots of the Chandler & Dunn farming business go back many years into the 19th Century when, in 1809 - Peter Chandler purchased 26 acres at Goldstone and over several generations his family expanded the farm. In 1922 Mr G S Dunn joined Mr A S. Chandler as a partner in the farm, which continued to expand - in 1939 the first cattle were purchased and in 1942 the herd was first registered with the Sussex Cattle Society. The Pedigree Sussex Herd established at Goldstone continues with all the cattle today stems from that original herd.
In 1952 Chandler and Dunn Ltd was formed as a family company under the leadership of the next generation - Robert, Philip and David Chandler and John Dunn.
Ian Chandler - Clive Chandler (son of Philip) - Richard Chandler (son of Philip) -
Peter Chandler (son of David) and his daughter Hannah - Paul Dunn (son of John) and his children Charles and Stewart - Roger Dunn (son of John) and his daughter Alice.
This not only gives Chandler & Dunn over 207 years of farming knowledge and hands-on experience, this continuity gives the farm a powerful springboard into farming for the future.
For further information click on: Chandler and Dunn
Farm Tour
Below: loading trailers with LPS delegates for the farm tour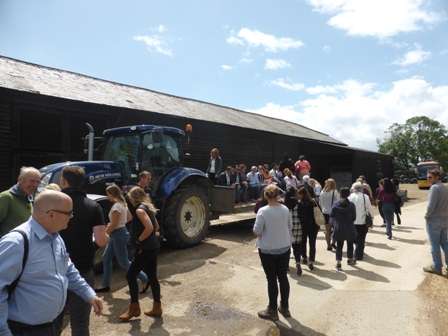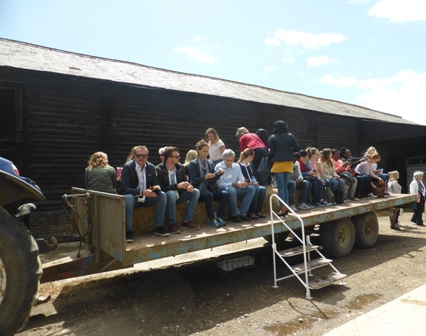 Below: Peter Chandler explains the Chandler & Dunn fruit business and answers questions from LPS Delegates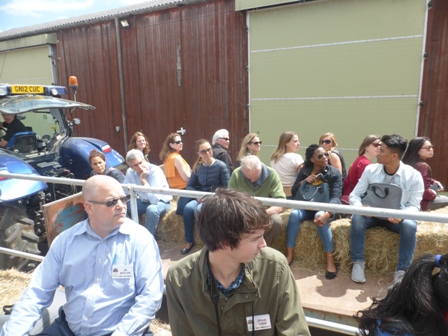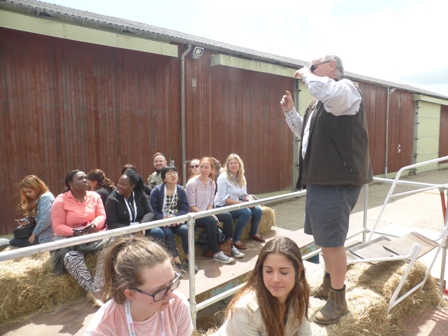 Below: left; a Gala Orchard and right; a young orchard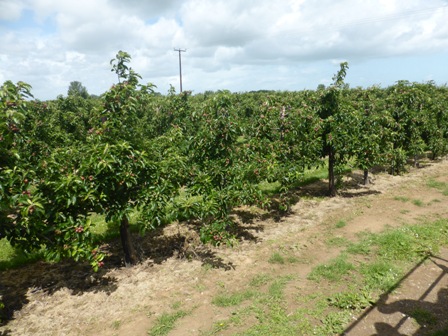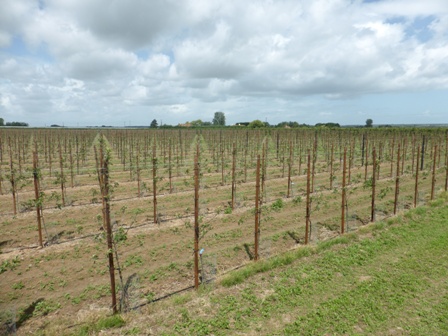 Below: some of the Sussex Pedigree Cattle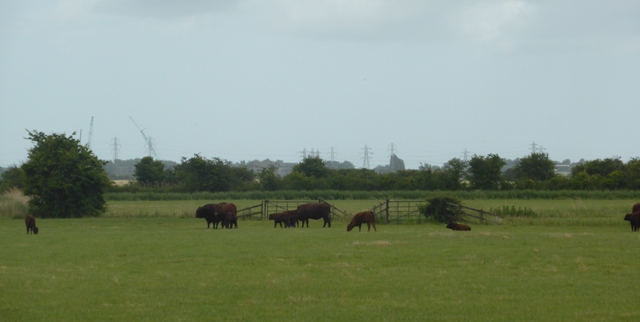 Below: left; Alice Dunn manages the Farm Butchery and right; some of the meat on display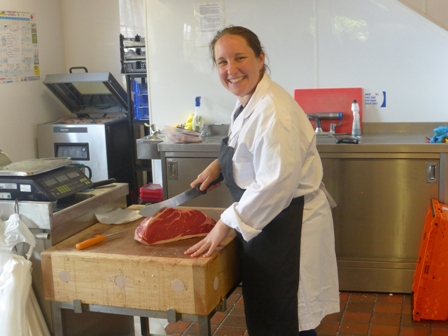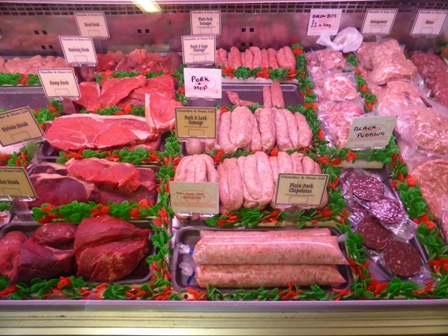 During the Butchery visit, Peter Chandler gave the LPS Delegates an overview of the meat business; Peter said the policy is to produce all the beef and lamb on the farm and pork is sourced locally. "For the welfare of our animals we use an humane, local abattoir less than 10 miles away. The animals are slaughtered and C&D collect the carcasses each Wednesday.
The meat is then butchered by the team led by Alice Dunn. The policy to produce all the beef and lamb meat on farm can create a problem. Customers who may have driven a minimum of 2 miles to the Butchery can be disappointed if there are no 'legs of lamb' available, but as Peter said; Lambs only have two legs - the front legs are shoulder joints.....and with a policy not to buy in meat availability can be an issue..........
Below: a wide range of the home produced meat on display at Chandler & Dunn Butchery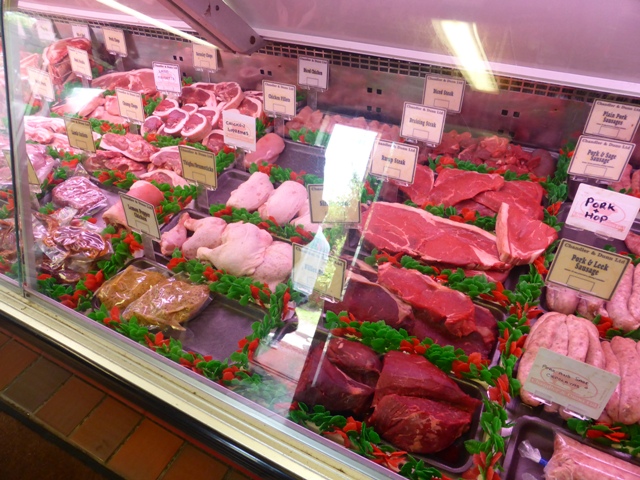 Below: Following the farm tour, Charlie Dunn barbecues Lamb Burgers, Beef Steak and Sausages, all produced on the farm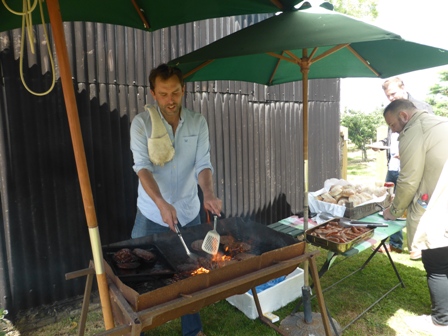 Below: LPS Delegates and Under 40's members enjoying the barbecue and networking opportunity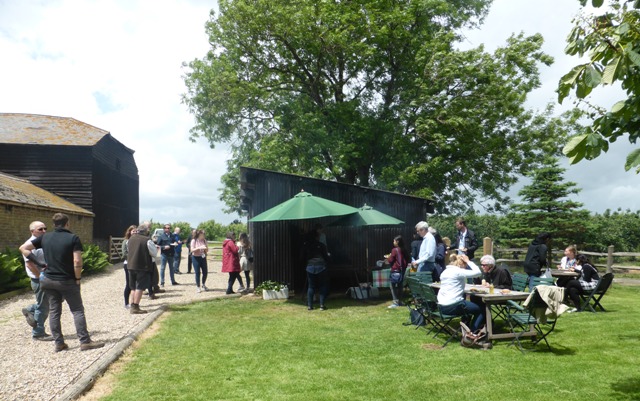 Below: left; Bramley trees at Lower Goldstone and right; russet on Bramley apples caused by the severs frosts this spring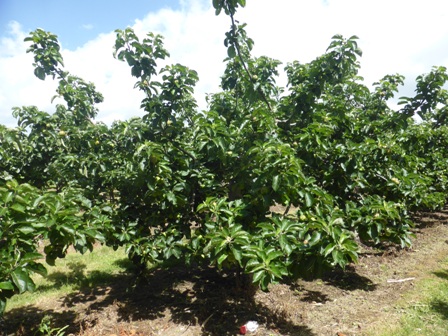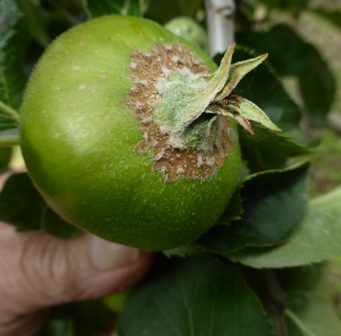 Conference pears enjoyed good weather at blossom time but the frosts which came later has caused damage to the pear fruitlets
Below: left; Conference pears carry a good crop but right; visible russet and cracks damage the pear fruitlets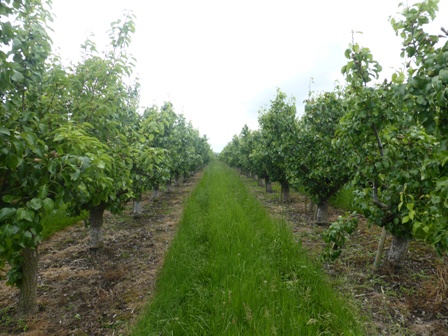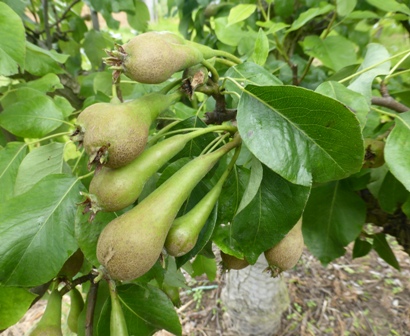 Below: more pictures of the russet and cracking caused on Conference pear fruitlets caused by the severe frost during the early fruitlet stage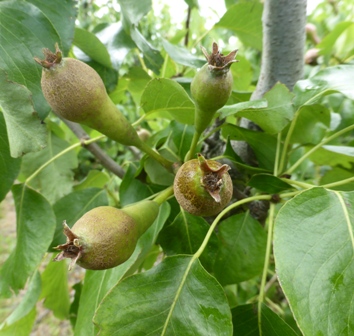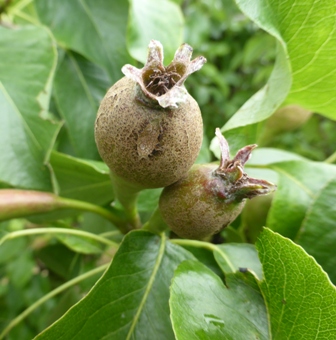 The spring frosts have caused considerable damage to apples and pears across Europe and volumes of apples will be affected. Frost is a horrible and often unfair experience as some farms will suffer severe frost and loss of crops while others may be unaffected.......
Well; time to sign off.........its been an eventful day.....quite where the political scene will take us all in the year/s ahead is the 64,000 dollar question......at the moment it all seems a mess, with no political party in a position to govern effectively....whatever our political allegiance I fear none of us will see any positive results.......
Until next week.....
Take care
The English Apple Man