Journal
16th Jun 2017 - English Cherries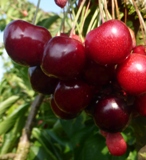 From late May - early June, while driving on Country Roads there are countless signs advertising Strawberries & Cherries; that early the Cherries are not English; but now in mid-June with an early season, home grown Cherries are coming 'on stream'
Every year The English Apple Man takes note of the Strawberries & Cherries being sold on roadside stalls. While modern production systems mean we have home grown Strawberries available from early summer (April - October) English Cherries are not normally available until late June..........but 2017 is an early season........so its lift off for English Cherries.....
On Wednesday the 29th BIFGA AGM was held at Torry Hill near Sittingbourne, one of the premier producers of English Cherries, Apricots and a very successful Chestnut fencing business.
This was an afternoon packed with interest and in this week's EAM Journal I will feature the Cherry, Apricot and Chestnut ventures at Torry Hill, leaving the BIFGA AGM business and an update from our guest speaker: Amy Gray - NFU Horticulture Adviser, NFU Fruit for next weeks (23 June) Journal.
Below: an extract from Tory Hill History taken from the web.....
Torry Hill, approximately 3 km due southwest of Kingsdown hamlet, is the family estate of the Leigh-Pemberton (formerly Pemberton Leigh) line.
The estate typifies a style of environmental management encouraged by downland landed gentry. What was once simple enclosed farmland has been variously sculpted into ornamental parkland through a process of tree thinning, augmentation and managed grazing. The estate property includes eccentric country house follies such as a private cricket ground (which has been in use since the mid-19th century) and the only private Eton Fives court in the world. The association of the estate with leisure pursuits, particularly of the upper classes, is evident from at least the mid-19th century as illustrated by one report in a local newspaper:
On arrival at Torry Hill, BIFGA Members were welcomed by John Leigh Pemberton our host for the 29th BIFGA AGM and a tour of the Torry Hill Estate.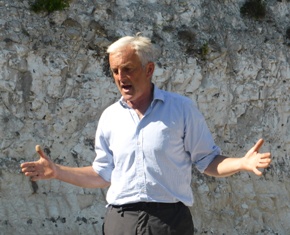 The Torry Hill Estate has been in the ownership of John Leigh Pemberton's family since 1820 and roughly divides into 1,000 acres of arable land, 1,000 acres of chestnut woodland and 800 acres of cherry, apricot and other ventures.
Before visiting the cherry and apricot orchards, John Leigh Pemberton took the BIFGA members to the Chestnut Processing Plant.
Clearly the chestnut woods are a very satisfying business and listening to John talking passionately about the process of coppicing and making a multitude of chestnut related products, it is easy to empathise with this ancient craft which John describes as the 'Ultimate Renewable Resource' maintained by the craft of coppicing and making many products for use in the countryside.
John is proud of the responsibility his family have taken of this resource, with four generations caring for the chestnut woodlands at Torry Hill and holding coppice records dating back to 1864.
Initially John continued the practice of selling 'cants' of 'standing wood' chestnut to 'woodmen' who would coppice and supply small craft businesses making fencing products. In the 1990's the closure of the pulp mill at Sittingbourne and then the closure of a small fencing company who sold their site for development, set the scene for JLP establishing his own Chestnut business.
John took on the client list and with three people turned over £150,000 in the first year. Since then turnover doubled every year and now sits in excess of £2,000,000 pa. Torry Hill makes 10 kilometres of fencing every week..........and exports to Belgium, Holland and a number of other countries.....
Below: left; cutting 'coppiced' chestnut to lengths and right; the next step is stripping the bark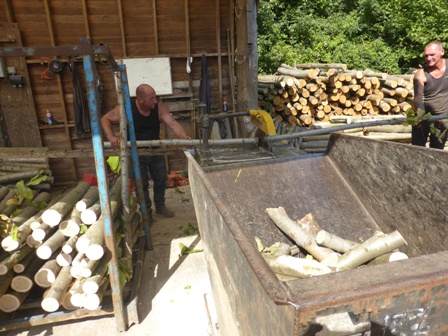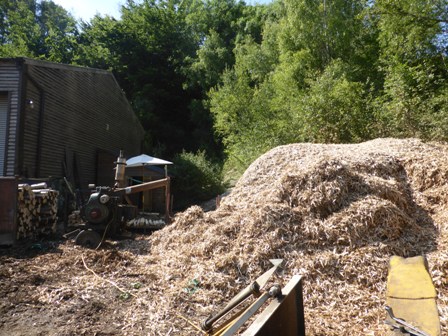 It is comforting to know in these days of machines taking over, that a machine cannot cleave as effectively as a craftsman - John's 'Cleavers' work on piecework and please themselves on the hours they work: 'some will start after lunch and work into the early hours of the following day'.........answering a question: John said it takes about a year 'or so' to develop the craft fully and he 'makes up the wage' until the cleaver is fully proficient..........waste and chippings (circa 2,000 tonnes pa) go to a Biomass Plant.
Below: four pictures showing the cleaving process, from the initial hammering in the cleaver, to cleaving the chestnut into pales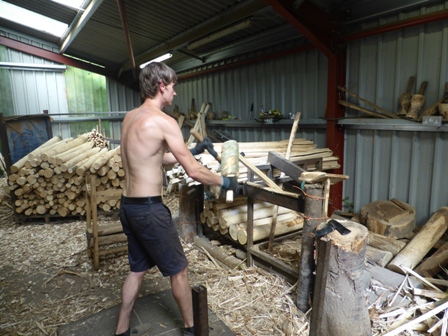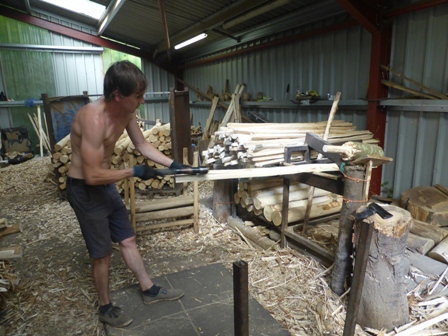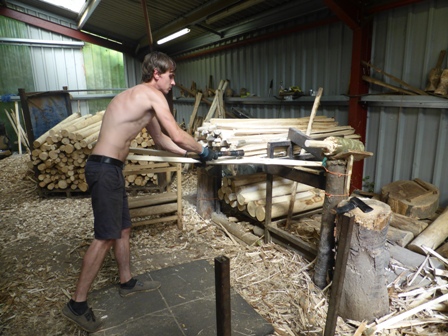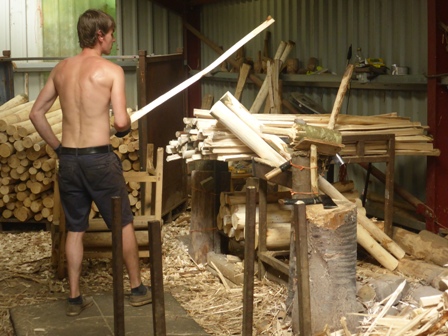 Below: left; the chestnut fence assembly shed and right; a stack of pale fencing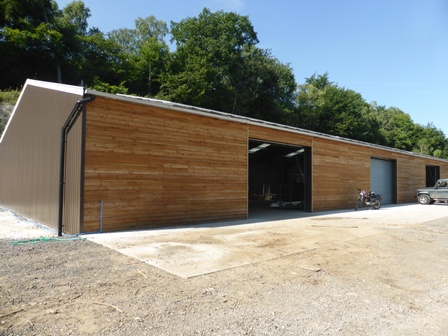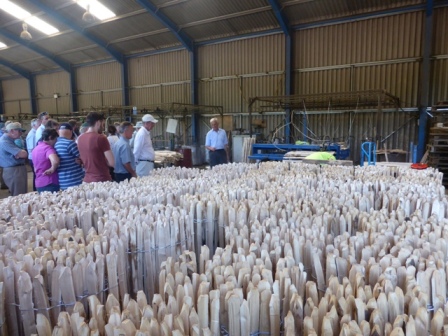 Below: left; the pale fencing process in operation and right; stapling the pale wiring in place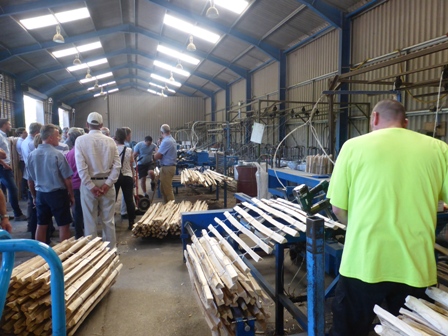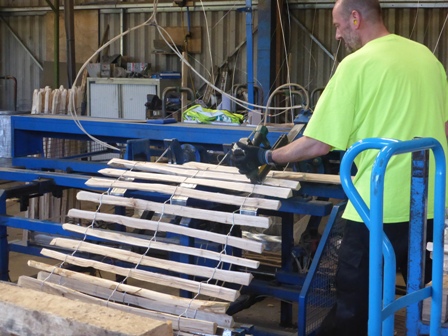 Below: the storage yard at Torry Hill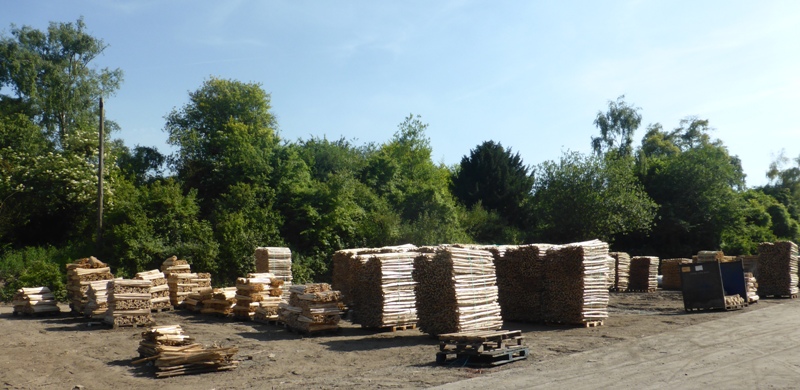 Below: a stack of chestnut gates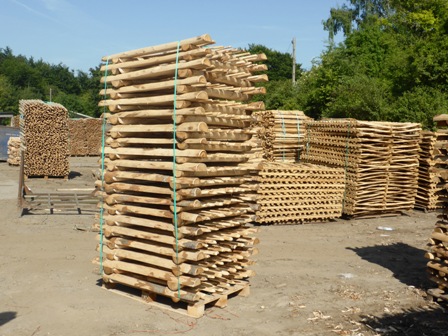 For more information on Torry Hill Estate, Click on: Torry Hill Estate
Apricots
From the Chestnut enterprise, we drove back to the Apricots; John said he likes to 'take a punt' and planting Apricots fits that description. While 2017 has been a very challenging year for top fruit and vines (in particular) the apricot crop at Torry Hill is the best by a long way since the first planting 8 years ago. The orchard we were in is 5 years old and required thinning to reduce fruit to the ideal numbers....
John told us the trees die easily and he does not expect the orchard to last more than ten years. The eating quality "is stunning and so much better than imported fruit" - the value is high and his customers are M&S and Tesco...harvesting is a challenge as the fruit does not full develop its flavour and juice until 2-3 days before it is ready to 'drop off' - this means about six sequential picks...
Asked about selling them; John said so far no problem, but he has no idea of how big the market is; with twice as many apricots this year, he hopes the demand is there for increased sales...........
Below: left; 8 year old Apricot trees and right; a close up of apricots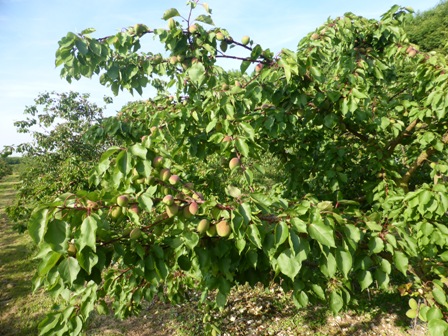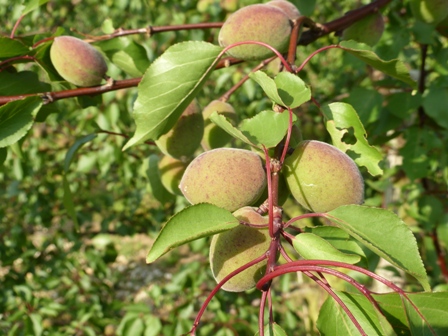 Below: this year's Apricot crop is the best 'to date' at Torry Hill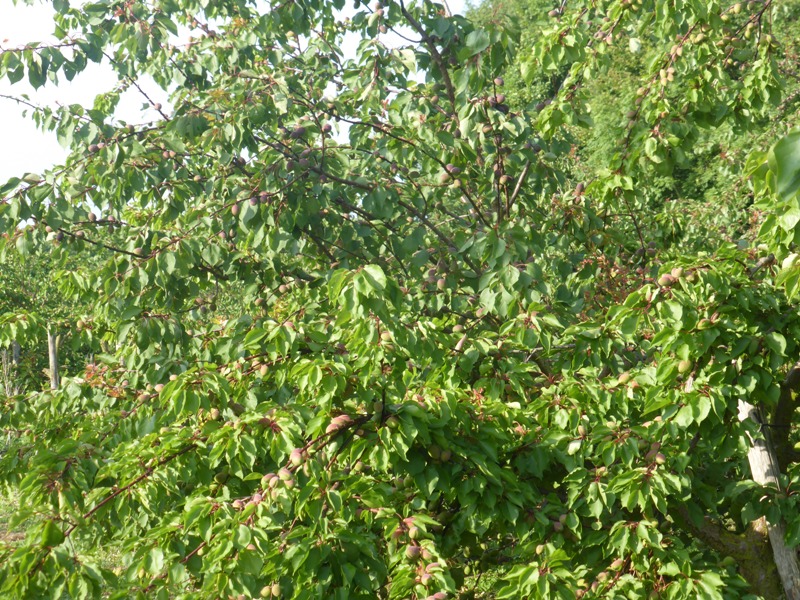 Cherries
John Leigh Pemberton told the BIFGA members Cherries have been growing in this region for hundreds of years; on the north face of the North Downs and the dge of the 'fruit belt' - soil is clay with flint over chalk 3 feet below. THere are some very good pockets of soil and this is one!
The family have always grown cherries and John remembers fondly as a boy spending hours in the cherry trees 'scoffing' cherries - so much so that he had a reaction which left him suffering with boils!
Cherries in his youth were enormous trees requiring very long ladders; John said he still keeps one old style orchard under which sheep graze - this is mainly driven by sentiment - as he said " I like it"
Venturing from the giant trees of his youth, John adopted the Colt rootstock in the 1980's (along with many others) before turning to modern dwarfing 'Gisela' rootstocks - now the standard and responsible along with modern varieties for the resurgence of the UK Cherry Industry.
His desire to grow Cherries (and Apricots) is founded on his aim (where possible) to grow 'unsubsidised' crops; "not reliant on a subsidy. John has been planting 10-20 acres every 5-6 years as he expands his cherry enterprise.
Moving to the protected cherries, John said while he has the 'now standard' covers protecting ripening cherries from splitting in wet weather conditions, he is not intending to invest in any more tunnels; preferring to invest in more 'rain tolerant varieties' and 'gambling' on new development in split resistant measures. Currently Calcium sprays are used to strengthen the cell walls of the cherry reducing splitting; other natural based products are becoming available.
Below: left; John Leigh Pemberton explains his cherry growing philosophy and right; cherries under Venlo covers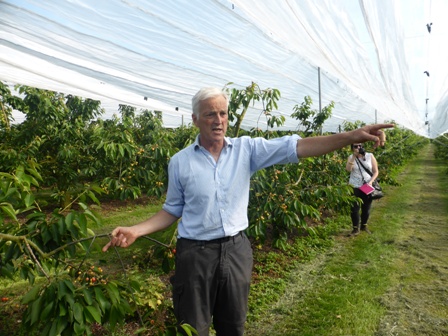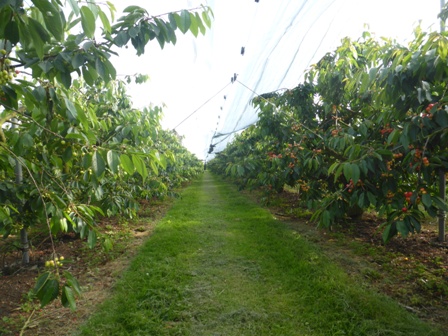 Below: left; John by one of the Haygrove tunnels and right; cherries nearly ready for picking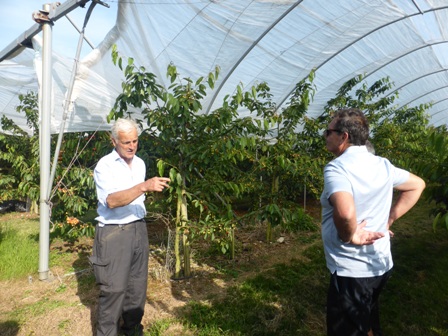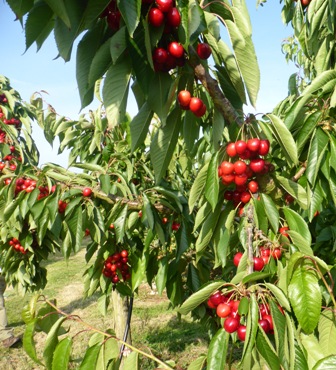 As we moved from one orchard to another, John pointed out Canker - 'the bane of all tree fruit growers'
Below: left; beautiful cherries and right; Canker is always a problem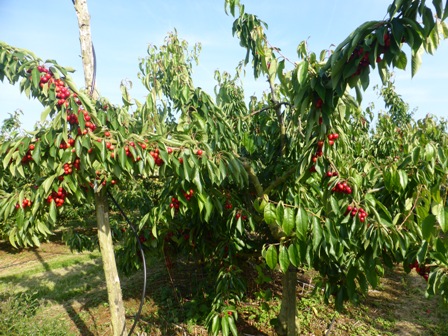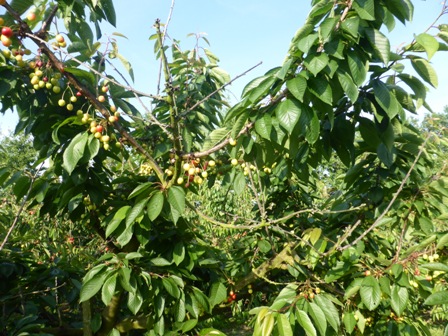 Our last orchard visit was to a young Cherry orchard now in its second year. The varieties - Regina, Kordia and Lapins planted at 1,000 tress per hectare. John told BIFGA members he wa very nervous when the trees were planted in spring 2016 as it had been wet and cold, but the weather improve and with just the right amount of rain, the trees established well. John also said he composts all trees after planting and adds new compost every three years.......
Below: a new cherry orchard at Torry Hill in its 2nd year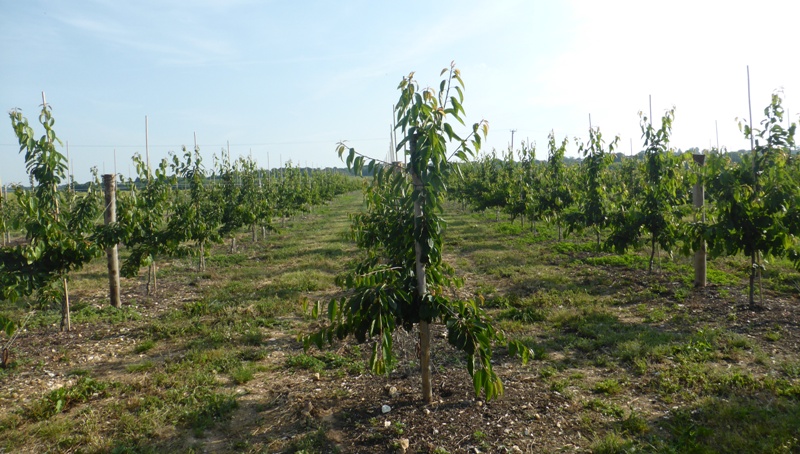 Pollination
John is trying to increase the habitats for Solitary (Mining) Bees; he commented on when the Apricots were in full bloom in early March and on a 'hot sunny day' the trees were alive with bees and other pollinating insects; John initiated a simple survey. Many of the bees were Solitary bees....the simple survey identified about 40% Honey Bees - 10-15% Bumble Bees and the rest mostly Mining Bees......he remarked; it is now commonly accepted the Solitary bee is an integral element in pollination and creating suitable habitats is essential......
Mining bees (the correct scientific name for this genus being 'Andrena') are one of the largest groups of solitary bees. It is believed to consist of over 1,300 known species of bees across the world.
One of the most common Andrena species is the tawny mining bee - Andrena fulva. Adults are an endearing little creature, the females being reddish orange in colour, with black undersides, whilst males are duller in colour, and smaller than females.
In general, they seem to prefer to build nests in sandy soil, although some species are apparently less fussy. Evidence of them may be seen if you come across little mounds of earth in lawns, borders, or even in pots, resembling worm casts. Nests will often consist of one small, main tunnel, with perhaps 5 or so branches, each containing an egg cell. The tunnel will usually be about 20cms - 40cms deep, and the entrance is about the size of a 10p coin. The nests will not cause any damage in soil or in gardens, and indeed, they should be welcomed. They rarely, if ever sting, and provide an excellent pollination service.
Below: left; 'resident honey bee hives' and right; John has planted generous pollinating flower strips around the new orchard to encourage pollinating insects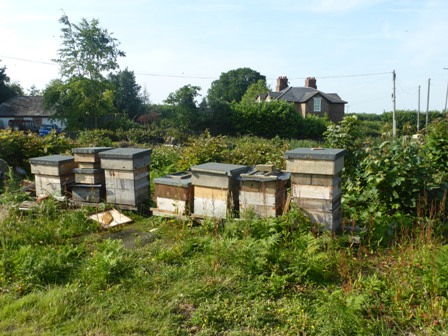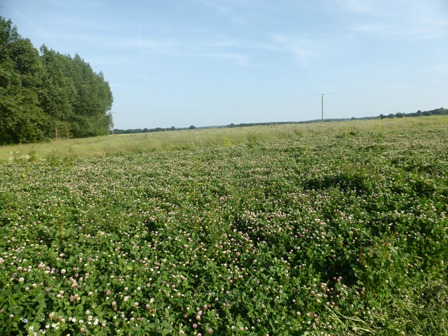 Kingsdown
Torry Hill is the home of the Leigh Pemberton family and John's father, Robin Leigh Pemberton was Governor of The Bank of England between 1983 - 1993
Below: The Kingsdown Arms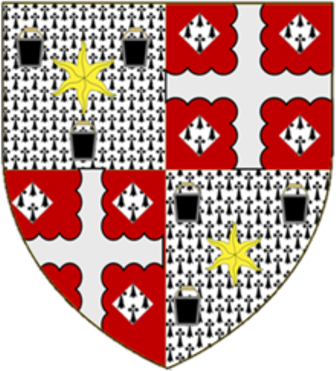 The Barony of Kingsdown was a hereditary peerage conferred on Thomas Pemberton Leigh around 1858. Lord Kingsdown never married, and his title therefore became extinct on his death in 1867. Lord Kingsdown's seat was at Torry Hill which stayed in the family, later to be known as the Leigh-Pembertons. The manor extended to the environs of the hamlet of Kingsdown and was recorded as such by Wilson in 1872.
The title was resurrected this time as a life peerage for Robin Leigh-Pemberton (from a related family line) becoming Baron Kingsdown in 1993.
The English Apple Man Comments:
BIFGA events are always well attended and this visit to Torry Hill was no exception; congratulations to Chairman John Breach, the committee and particularly BIFGA Secretary Judi Perry who has been organising BIFGA event for 25 years.........
Altogether a fascinating evening with a most charismatic host: 'John Leigh Pemberton'
That is all for this week.........next week a report on BIFGA AGM and Amy Gray's NFU update....
Take care
The English Apple Man