Journal
23rd Jun 2017 - Looking to the future..........
But what will the future hold?

When the UK population decided to leave the EU last summer, the speculation from remainers v leavers consumed acres of newsprint - fast forward 12 months and the picture is 'muddled' to say the least................
At last week's BIFGA AGM the guest speaker - NFU Horticulture Adviser Amy Gray, standing in for NFU Horticulture and Potatoes Chairman Ali Capper, gave an update on the efforts the NFU (National Farmers Union) has been taking on behalf of our farmers and growers.........more on that later.......
The 29th BIFGA AGM was, as always a smooth review of the past year's events and status of finances, reflecting the solid work by Chairman John Breach, Secretary Judi Perry and the BIFGA Committee .
In John's 'Chairman's Report' significant events during the past 12 months include BIFGA at The National Fruit Show, another excellent BIFGA Technical Day in January, an increase in BIFGA membership, the annual BIFGA Quiz which raised over £600, BIFGA Spring Farm Walk held at Mole End Farms and generously sponsored by UKCA Ltd and OFH/Weatherbys Hamilton.
BIFGA has been prominent in lobbying Government and other organisations, in particular the importance of The Groceries Code Adjudicator (GCA) - BIFGA now has a fully functioning website: www.bifga.org.uk
Vice Chairman Clive Edmed expressed the feelings of all members when he thanked John Breach for his 29 years as Chairman, reflecting on his inspiration and hard work in creating BIFGA and driving it with enthusiasm and energy while challenging any unfair practices facing UK growers.
Below: Viv Tanna presents Judi Perry with a Bouquet thanking her for 25 years as BIFGA Secretary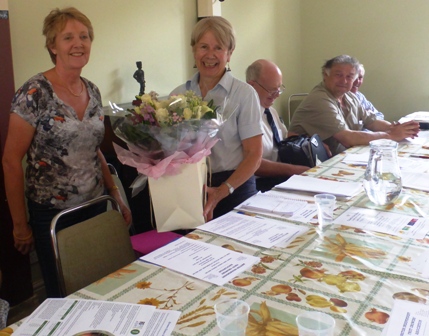 John Breach thanked his BIFGA committee and members for their support and highlighted the 25 years service by Secretary Judi Perry with a Bouquet of Flowers, presented by BIFGA grower member Viv Tanna........
Brexit and all that...............
The message that our horticultural industry would be in dire straights without migrant harvest workers is now being aired on National TV....just yesterday Hayley Campbell-Gibbens NFU Chief Horticultural Adviser highlighted the results of a NFU Survey....
"The Numbers of seasonal workers coming to work on British farms have dropped 17%, leaving some businesses critically short of people to harvest fruit and veg, a new survey by the NFU shows"
The survey of labour providers shows they are currently unable to recruit sufficient workers to meet growers' needs during the busy harvesting season, leaving more than 1,500 unfilled vacancies on British farms in May alone.
The NFU is calling on the government and newly-appointed Defra Secretary of State Michael Gove to provide reassurances to growers that there will be clarity on how farms will access a reliable and competent workforce, both today and post-Brexit.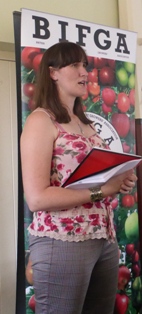 Amy Gray who had updated Marden Fruit Show members on the NFU progress lobbying Government at the MFS AGM in April when the Election was confined to a serious thought in the Prime Minister's mind.........reflected on the changes while assuring BIFGA members the NFU has been making good progress in lobbying civil servants and government ministers....back then Amy stressed the importance of NFU lobbying for a 'level playing field' for UK farmers and growers; What is Government planning? the details will only be clear when negotiations start!!!!!!!!!!!!!
Delivering the NFU message from NFU horticulture and potatoes board chairman Ali Capper "A lack of clarity regarding the UK's future relationship with the EU and a weakened sterling has contributed to the reduction in workers on farm now being reported by labour providers who source seasonal workers.
"Farmers and growers need to know how the government will deal with the need from industries that rely on seasonal workers and the NFU is calling for reassurance farmers will be able to source a reliable and competent workforce both now and in the future.
"Without that, this trend is likely to continue and at this stage in the season any further tightening in the workforce will hit hard on farms."
The survey, covering the period January to May 2017, shows the number of labour providers unable to meet the requirements of the farms they supplied rose four-fold.
The proportion of returnees, which form a sizeable and dependable source of workers, has also dropped significantly throughout the first five months of the year, falling from 65% to 33%, a drop of nearly 50%.
Mrs Capper said: "Returnees are absolutely vital. Their past experience and technical ability makes them so valuable and losing them is a big concern.
"This robust survey represents 30% of the total seasonal workforce and it is crucial government understands the importance of seasonal workers to an industry that provides the raw ingredients to feed the nation."
Click on National Farmers Union: VISION FOR THE FUTURE OF FARMING for an in depth understanding of the importance of UK Farming....
Central to the NFU Vision is a summary of what British farming delivers:
- A safe and affordable domestic supply of food, which British people trust. Without this domestic production
we would undermine our food security, relying on imports produced to different environmental and welfare
standards and under food safety systems over which we have no control
- Our cherished local countryside and the environmental benefits the public value so much. Farmers are
responsible for the upkeep of over 70% of the UK landmass
- Thriving rural communities. Providing jobs and driving rural growth both in food production and in
diversified industries such as renewable energy and tourism
- The raw materials for a domestic food industry that employs over 3.9m people. This the UK's largest
manufacturing sector which generates £108 billion in value for the UK economy
EAM Comment: Today (Friday 23rd June) news reports from Brexit negotiations 'indicate' encouraging news for EU citizens who have committed to settling in the UK: this does not (I think) guarantee the 'ongoing' availability of sufficient harvest labour, but it is encouraging.........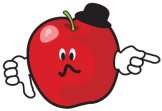 That is all for this week.......next week The English Apple Man will try to update crop prospects for the 2017 season which has been challenging for many growers after the 'spring frosts'
Take care
The English Apple Man