Journal
30th Jun 2017 - Celebrating 70 years
In 1947, soon after the end of World War 2, Arthur Conference Goatham set up in business: initially while living in Bearsted buying fruit at the farm gate or at auctions. In 1980 Arthur moved to Hoo on the Isle of Grain and bought Street Farm.
Last Saturday The English Apple Man and his Lady joined members of A.C.Goatham & Son family, staff and guests for the celebration of 70 years since A.C.Goatham & Son was founded by Arthur Conference Goatham..........

A bit of Goatham Family History
- A C Goatham & Son began trading in 1947 as agricultural contractors and fresh produce merchants. In 1980 it established a farming operation growing apples and pears. It is now run by father and son Clive and Ross Goatham along with their business operations team and this year, 2017 it celebrates its 70th anniversary.
- Among the business' 20 farms is Gore Farm, Upchurch nr Sittingbourne, which is open to the public all year round attracting around 125,000 visitors. Gore Farm is also an ambassador site for the Kent Wildlife Trust and visitors can see how farming operations are working hard to preserve the permanent living landscape.
- In 2016, AC Goatham & Son was named The Medway Business Awards overall winner 2016.
Press release: 28 June 2017 Released by: Alison Baldwin - Coast Communications
AC Goatham & Son celebrates 70th Anniversary
Below: On stage beneath a portrait of Arthur Conference Goatham, 'MC' Carol Ford addresses the staff and guests at Saturday's 70th Birthday party.............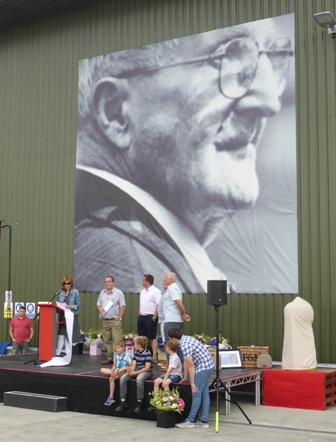 AC Goatham & Son held a party for 600 of its team, friends, family and business contacts on Saturday 24th June at its HQ at Flanders Farm, Hoo, to celebrate its 70th Anniversary and to say thank you for all their hard work and commitment to the business.
The business also celebrated several of the senior team's own personal landmarks:
- Clive Goatham, Senior Partner celebrating 50 years with the business
- Steve Everard, Director celebrating 40 years with the business
- Nigel Stewart, Technical Director celebrating 10 years with the business and 40 years in the fresh produce industry
- Debbie Roberts Packaging and Fruit Quality Standard Manager, celebrating 25 years with the business.
- Ross Goatham, Managing Director celebrating 20 years with the business.
Carol Ford, Commercial Director at AC Goatham & Son comments: "We hosted a fun filled, family friendly afternoon and evening and it was wonderful to see so many families come along to join in. The business has changed considerably since it was started in 1947 by Clive's parents Arthur and Phyllis Goatham, who began buying fruit directly from the farm gate, picking it, packing it and taking it to wholesale markets. AC Goatham & Son is now one of the largest apple and pear growers in the UK and 1 in every 4.5 British apples sold in the UK and 1 in 3 Conference Pears is grown by the business here in Kent."
During the evening, an auction was held which raised over £13,000 for the charity Help for Heroes.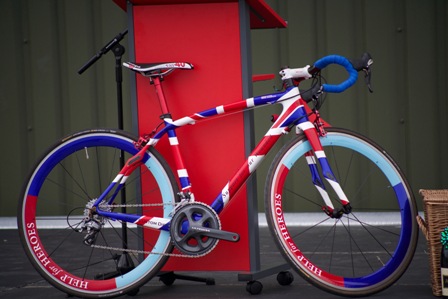 In July, the business will be raising more funds for Help for Heroes and Kent Sports Trust with the first ever Goatham's Great Kent Cycle Ride. The ride will cover nearly 200 miles across the county with Dame Kelly Holmes and former Kent and England wicket keeper Geraint Jones MBE taking part.
"The Kent Sports Trust Foundation, in support of Help for Heroes, is delighted to announce our flagship event for 2017, Goatham's Great Kent Cycle Ride".
With hundreds of riders set to take to their bikes for the nominated charities, Goatham's Great Kent Cycle Ride will give keen cyclists and complete novices the chance to ride just 1 day or all 3 days. During the 3-day sportive, cyclists will take in over 200 miles of the Garden of England in what will become an annual event and the highlight of most cyclists' calendar.
The three-day event takes place 14-16 July and will see hundreds of cyclists get on their bikes. Click on Click on Goatham's Great Kent Cycle Run
Below: left; What better backdrop for 70th Birthday banners and right; inside a the 'pop up' museum telling the history of A.C.Goatham & Son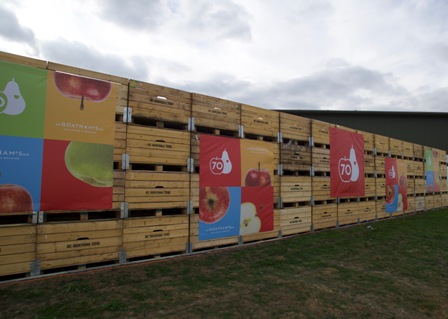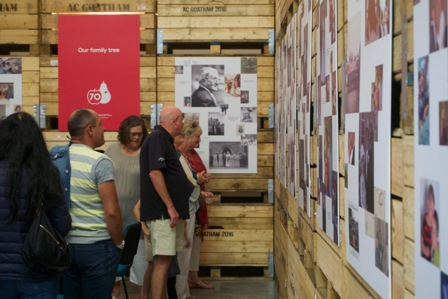 Below: Panoramic view of 'Pop Up' Museum

Below: Inside the 'Pop up Museum'........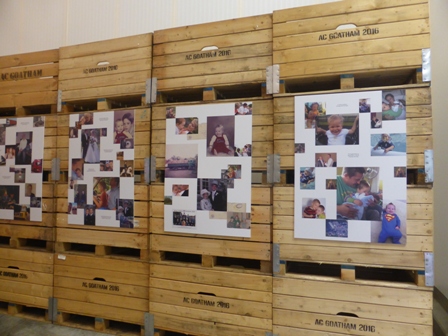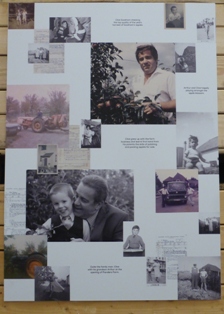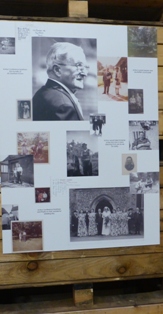 The English Apple Man Comments: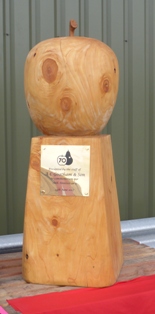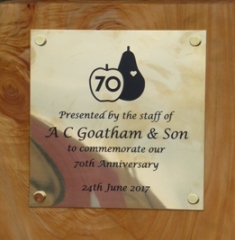 The afternoon was expertly 'MC'd by Carol Ford who introduced in turn each of the 'lieutenants' key to the success of the ACG business, all of whom received a memorable gift from Clive Goatham...speeches followed and Clive Goatham thanked all the people who were involved in making the day a huge success.....and all the staff and growers present....
Clive said he would not name individuals as so many were involved, but as he said: "they know who they are" - "I will however mention just two very important people - my Grandsons Arthur & Stephen who are destined to take the A.C.Goatham & Son business into a fourth generation"
Having distributed commemorative gifts and bouquets to key personnel, it was the turn of Clive to be the recipient of a very special gift from his staff: Presenting this gift on behalf of his colleagues, ACG Technical manager Darren Wallis thanked Clive for the opportunities and support he has given all his staff over many years..............
Below: left; Clive Goatham with the 'next generation' his Grandsons Arthur & Stephen Goatham and right; A.C.Goatham & Son 'Staff & Guests' enjoy the speeches and celebrations....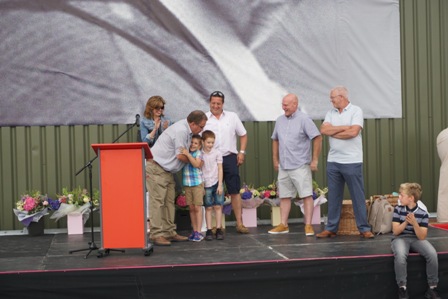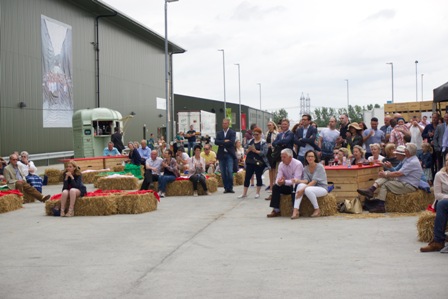 Machinery plays an integral role in all farming businesses and on display at Flanders Farm some of the lorries used to transport A.C.Goatham & Son apples and pears + three representative tractors spanning the 70 years of the family business......
Below: 'Flanders Farm Fleet: Direct deliveries into Supermarkets are part of the success by A.C.Goatham & Son..

Below: Tractors through the ages - 70 years of development..

Readers of The English Apple Man will be well aware of the concern over who will pick our fruit if Brexit results in a loss of harvest workers........The EAM Comments: "this is a serious subject and failure of Government to agree a mechanism for life after Brexit will lead to a catastrophic reduction in UK grown fruit and other horticultural produce"
NFU South East has made the case to a powerful committee about the need for action on seasonal workers.
Members of The Migration Advisory Committee , the non-departmental body responsible for advising the Home Office on migration policy, visited three Kent farms and saw first-hand the contribution seasonal workers make across the farming and food sectors. NFU members emphasised how it is already getting more difficult to recruit non UK workers who perform vital seasonal roles on farms.
NFU South East Assistant County Adviser Scott Pepe said: "The MAC is going to have a very important role in shaping migration policy as we leave the European Union. We are very grateful that Committee members took the time to hear the concerns of NFU members about access to labour. They left in no doubt that we need work to start urgently on a suite of visa and/or work permit schemes that offer employers flexible solutions for recruiting seasonal workers."
Pictured at salad grower L J Betts, near Maidstone, are: Kent NFU chairman and Laurence J Betts Ltd Director Nick Ottewell (far-right) and Alison Tanton (second from right), also of L J Betts, making the case to officers from the MAC (centre).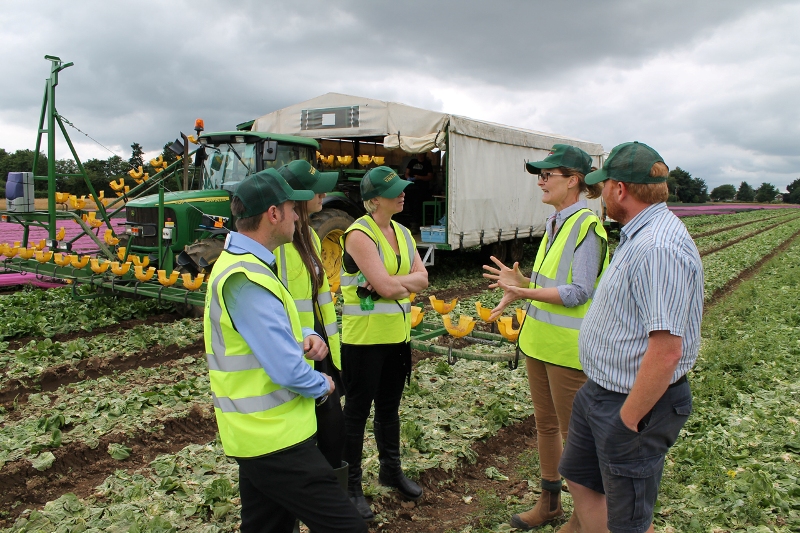 Amazing...........
Sometimes it is difficult to understand the lack of basic knowledge in our children (and many adults) in these 'media modern' days when the internet is awash with every conceivable 'minute' piece of information...........I have been amazed that many children in their teens have no 'in depth' knowledge of different apple varieties; at the annual Pip to Plate event held at Hadlow College for 14-16 year old's, very few can name an actual variety - they have noticed 'Red & Green' and this is in the Countryside where orchards are easily visible: if they can name 'more than one or two' varieties, it is usually because Mum or Dad work in the fruit industry..
So the story below is no surprise.........
Survey shows a third of British children don't know where milk comes from.....
Click to view: Where does milk come from?
That is all for this week.............
Take care
The English Apple Man