Journal
7th Jul 2017 - What are the prospects for the 2017 apple and pear crop
The frosts this spring have left a mixed picture for this year's apple and pear crop.........
Below: left to right: Bramley eye russet, Gala malformed calyx. Conference Pear severe russet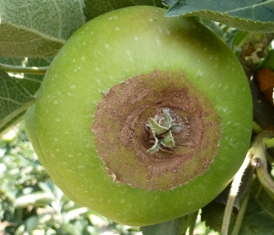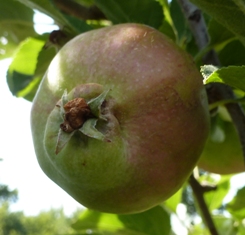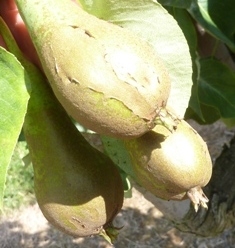 Back in April as 'Jack Frost' reared his 'ugly head' the prospects for this seasons apple and pear crop look decidedly mixed..........
Now in early July, we have a (slightly) clearer picture....
Yesterday (Thursday) The English Apple man visited Jonathan Duke at Park Farm, Frittenden in West Kent. Jonathan has fashioned Park farm into a very productive farm, demonstrating the highest standards of Management. In 2014 Park farm won the Best Overall Farm in The Goudhurst and Paddock Wood NFU Orchard Competition. Click on: Orchard Competition 2014
So what is the prospect for the 2017 apple & pear crop at Park Farm and in general for UK growers?
The general message is: some growers will be lucky with a good crop and others will be hoping for better prices and some leniency from Supermarkets over specifications...and some will not have enough crop/quality to cover their costs......
At Park Farm, Jonathan told me the top of the farm is carrying a near normal crop, with good quality. while further down the slope the frost has had a devastating effect on crop volume and quality.
Below: Standing on the upper slopes looking down to the lower levels. it is probably only 50-100 feet difference between the top and bottom of the farm: but enough to allow the frost to drain into the lower level........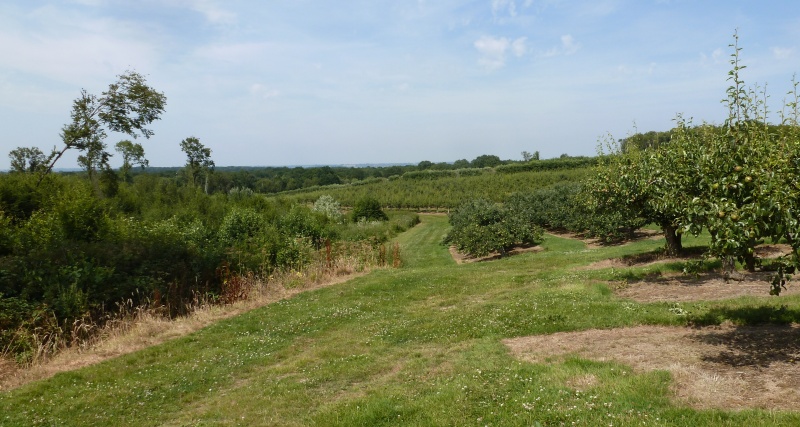 Below: Conference & Comice Pears on the top of the farm, carry a good crop of good quality pears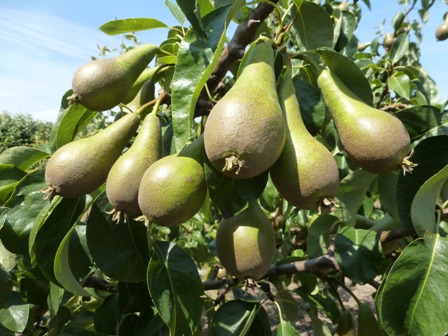 Below: left; a decent crop of Comice Pears - right; Red Pippin apples show no sign of quality issues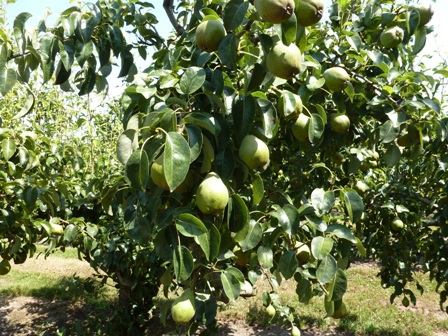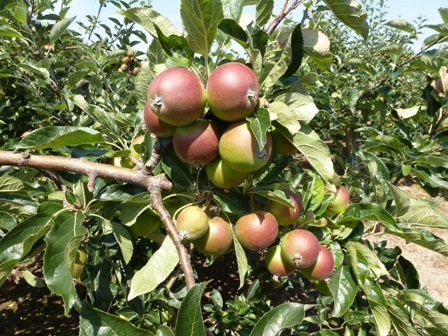 Below: Gala; again at the top of the slope carry a decent crop with no obvious quality issues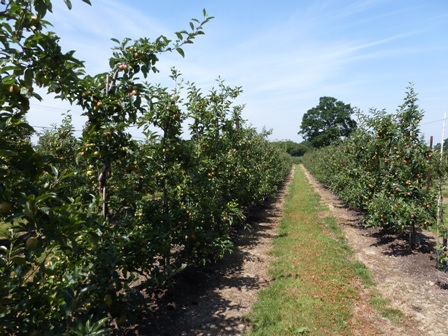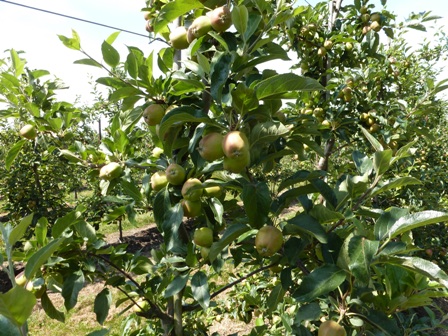 Below: Bramley 'at first glance' look okay...but inside the tree there are some serious quality issues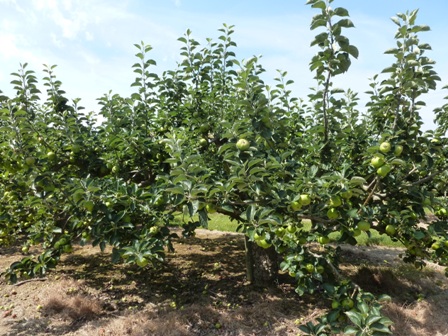 Below: left Bramley on the tree, but right this is 'frost eye' damage is a common sight on closer inspection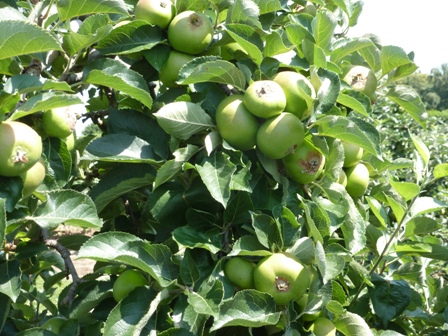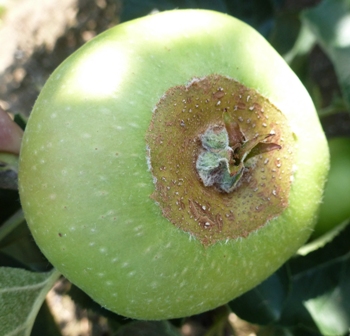 Below: Zari at Park Farm seems to have escaped the frost and carries a full crop..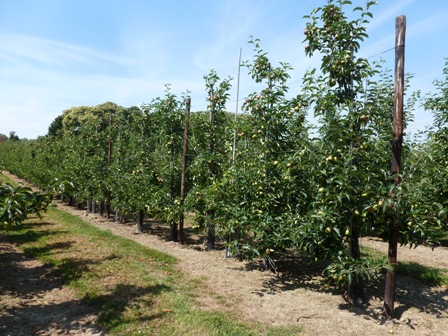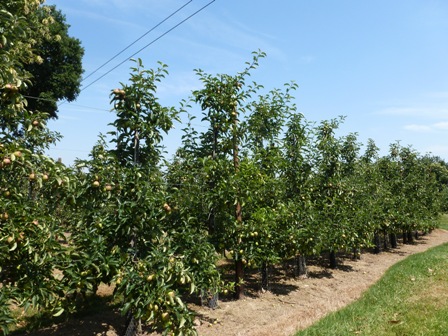 Below: the tree management at Park Farm is very high - these perfectly balanced ZARI trees carry an excellent crop
Pruning the tops of trees is best carried out in summer after the longest day (21st June) which reduces the vigour and keeps the top of the tree under control: cutting the leaders in winter stimulates unwanted vegetative growth.....the rule is: 'prune early to stimulate growth' - 'prune late to control vigour' ...........
Below: Jonathan prunes the tops of the ZARI after the 21st June to avoid re-growth and encourage fruit bud development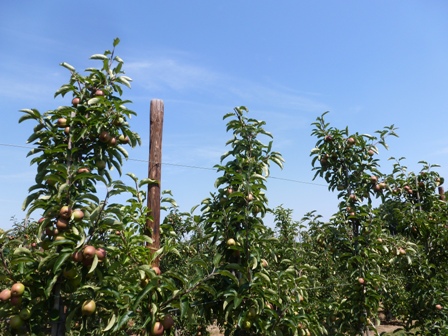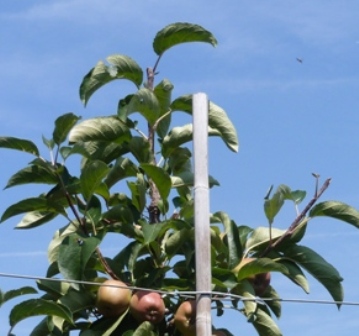 Below: left; the quality of ZARI is very good - right; a rare Zari with skin russeting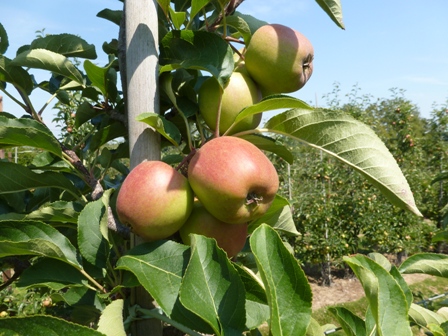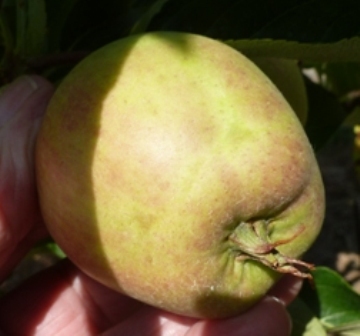 Below: a Conference pear tree in the 'frost hollow' carries some crop, but with varying degrees of russet on most pears..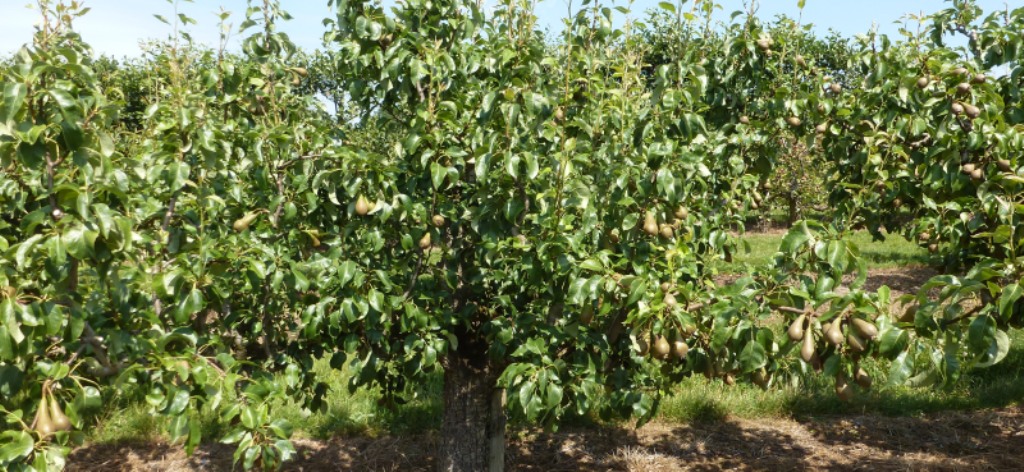 Below: left; badly russeted Conference pears and right; Jonathan Duke in a pear orchard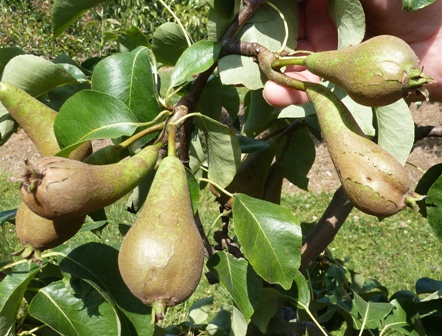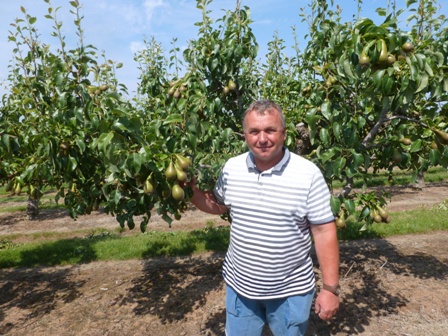 Its going to be an uncertain picture until the harvest starts and the quality and quantity of the fruit is clear. With an early season, Discovery will be ready on early farms within weeks....size of apples and pears are well ahead of last year at the same stage, but where no irrigation is available on thinner soils, varieties like Gala will struggle for size....
Finally: A nice story....when Jonathan left school he joined Pat Tompsett who was farming at Park Farm...Pat died several years ago and the farm is now owned by relations of Pat. Jonathan bought the Bungalow that was originally Pat's and now lives on the farm. As The English Apple Man left Park Farm - after a refreshing cold drink, Jonathan drew attention to three pieces of Agricultural memorabilia. A cultivator, a plough and a grindstone!
Pat told a story (he had plenty) of how the Cultivator signified a time when he battled with his bank manager over expansion plans: The Plough embodied what got him out of trouble and "keeping his nose to the Grindstone (hard work) which kept him on the road to success......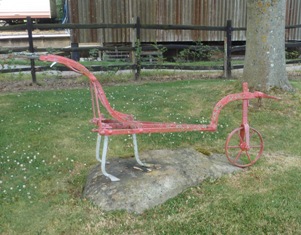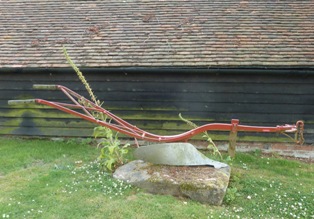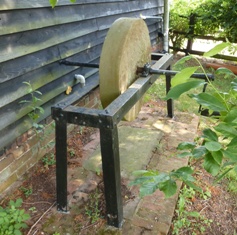 -------------------------------------------------------------------------------------------------------------------------------------------------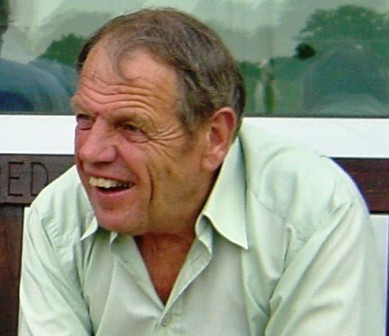 Goodbye to a much loved fruit grower....
Richard, John, Merricks
Richard John. 'Rick' passed away suddenly on 20th June 2017, aged 77. Much loved husband, father and grandfather. A farmer, a gentleman, known and admired throughout the cricketing world. Funeral Service to be held at St. George's Church, Brede, East Sussex, at 2.30 p.m. on Thursday 13th July 2017. Family flowers only, however donations if desired, made payable to 'The Lord's Taverners' may be sent c/o C. Waterhouse & Sons, Funeral Directors, High Street, Burwash, East Sussex, TN19 7ET. Tel: 01435-882219.
The English Apple Man only came to know Richard circa 25 years ago, but if ever a man enjoyed life to the full. it was Richard: his love of cricket took him to places most of us would only dream about..........if God has a cricket team, Richard will be there with his infectious love of cricket and life...........R.I.P.
Click on Sussex Seniors:Tribute to Richard Merricks
-------------------------------------------------------------------------------------------------------------------------------------------------
CIDER drinkers.........
The Great British Apple Festival comes to the core of East London on 12 & 13 August!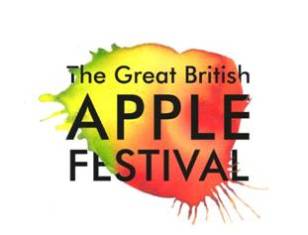 The quintessential British fruit has finally got a whole weekend to celebrate itself. Shoreditch Park, located in one of London's buzziest creative districts, will host the inaugural Great British Apple Festival on Saturday 12th and Sunday 13th August 2017.
From 12 noon to 8pm each day, fruit fans will be treated to live music from some of London's best bands and singer/songwriters, while sipping on Britain's finest cider in our cider village. The farmers' market will feature barbecues and roast hogs; cheese and wine, cider brandy, apple pies , juices and much more. And with apple-themed games, it's fun for the whole family, Granny (Smith) included!
Craig Thornton, organiser of The Great British Apple Festival, said: 'We're so excited to host a celebration of this iconic fruit. Whether you're coming to pay homage to the apple, sample some cider or listen to some great live music, it's sure to be an a-peel-ing day out.' Tickets - just £10 (free for children 12 and under) - are available now from www.gbaf.co.uk/#tickets and include a complimentary drink and apple: just what the doctor ordered. Stalls - £160 total for 2 days. Nearest tube Old Street, nearest overground Essex Road. Buses to the Park numbers 13, 14, 27, 38,76, 205, 394.
Until next week.........
Take care
The English Apple Man