Journal
18th Aug 2017 - The English Apple Man website is now 8 years old!
It does not seem that long ago, but it is now eight years since the first English Apple Man Journal was published on-line on 14th August 2009..........click on The English Apple Man Journal 14th August 2009
Over the last 8 years more than 400 English Apple Man Journals have been published, covering a multitude of subjects, mainly, but not exclusively about apples and pears.
In this week's Journal, we come 'bang up to date' with the East Kent Fruit Society (EKFS) Orchard Competition Walk: On Tuesday evening, members of EKFS gathered at A.C.Goatham & Son 'Shrubbery Farm' at Eastry near Sandwich in East Kent.
WALK OF WINNING TOP FRUIT ORCHARDS AT SHRUBBERY FARM, EASTRY
The winner of this year's Orchard Competition was A C Goatham & Son with a Zari orchard at Griffin Farm, Sutton Valence. This orchard won Class D best dessert apple. AC Goatham & Son also won Class B Dessert - Gala, Class F - Most Commercial Orchard, Class G Pears (V System), Best Orchard Over 1,000 trees and Best Orchard Under 1,000 trees along with being placed in other classes. It was decided to hold the walk at Shrubbery Farm as the majority of the winning orchards and placed orchards are at Shrubbery Farm.
This year is a much earlier season than 2016 and is illustrated perfectly by the two pictures below. The first was taken on 19th August 2016 and the second on 16th August 2017.
Below: left; Goatham's Production Manager - Piotr Bukowski with Zari on 19th August 2016 and right; Zari at Griffins Farm on 16th August 2017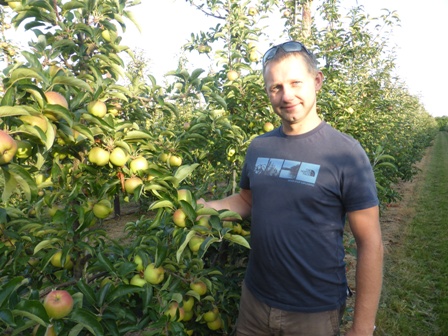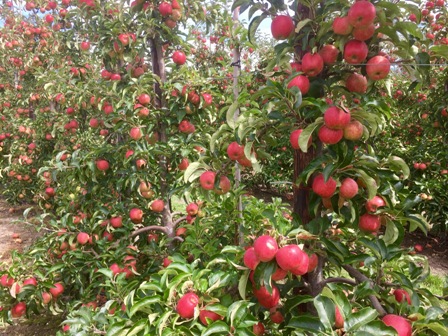 'A little bit of History'
This is a family business, run by Clive Goatham and his son Ross. It has been in business for 70 years. The company farms 'over<' 2,000 acres and Shrubbery Farm is 120 acres. There has been a major replanting programme over the past 7 years. The farm is made up of 28 acres of Gala, 34 acres of Zari, 8 acres of Braeburn, 8 acres of Bramley, 17 acres of Cox and 25 acres of pear. This is an interesting farm with a variety of systems in place.
Welcoming EKFS Members to Shrubbery Farm, Ross Goatham led the walk around the orchards at Shrubbery: first stop was the Vee System Pear orchard planted in 2010 and the precursor for the new plantings of Conference pears all planted on Vee System format on several A.C.Goatham farms...........UK Conference 'average yields' are below 20 tonnes per hectare, but the yield from this 'trial orchard is now consistently over 40 tonnes a hectare; recording: 2013 = 21.3 tonnes - 2014 = 42 tonnes - 2015 38.6 - 2016 = 42 tonnes (all per hectare) and predicted to be in excess of 40 tonnes in 2017.
Below: Conference Pear 'Trial Orchard' planted in 2010 carries another excellent crop......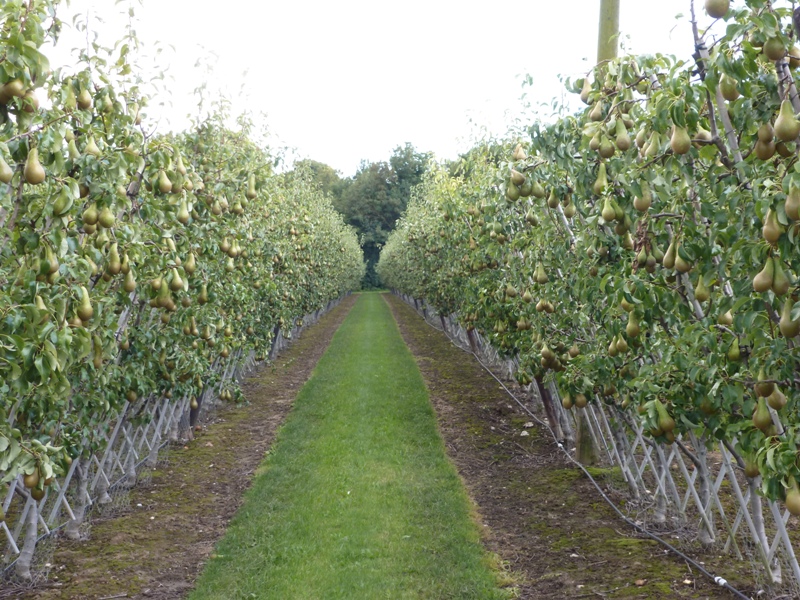 The English Apple Man Comments:
The first thing to 'catch the eye' is the spread of fruit across the trees; often the fruit set will drift towards the top as the tree matures, leaving a lack of crop on the lower levels, however here we can see the crop is very evenly distributed
Below: left; the Vee system is configured by four leaders creating the cropping units and right; nettles are the perfect companion for pear trees with their ability to 'host' predators.........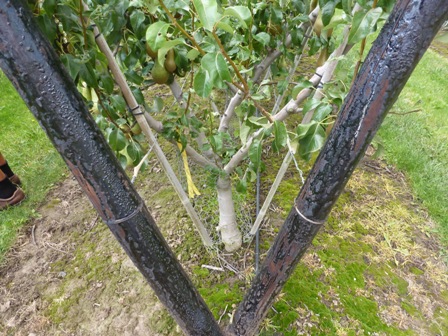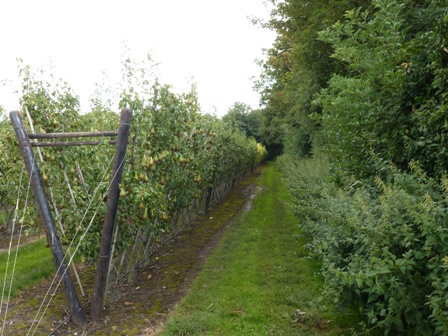 Below: award winning Zari orchard at Griffins Farm................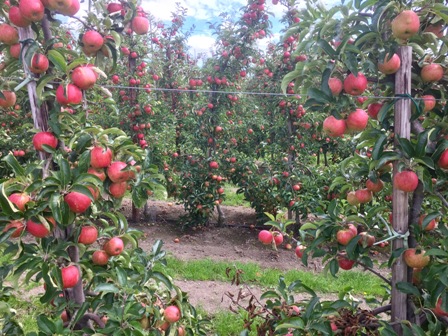 Nigel Stewart, Technical Director at AC Goatham & Son comments: "We are delighted to have won so many awards at this year's competition. We consistently strive for uniformity and perfection across all of our orchards and this year both of these farms have been a real showcase for the individual varieties of apples and conference pears. The hardwork and commitment shown by the whole growing team throughout the year helps to achieve these excellent results."
"2017 has been a very challenging year for growers with the late, hard frosts in the spring followed by the very long dry spell and then the recent heavy rain, which brings with it the threat of hail. We are beginning harvesting today (16 August) at Griffins Farm and we will all be relieved to get this year's crop into cold stores and then out directly to customers."
The season may well have been challenging, but the crop of Zari at Griffins Farm is stunning; testament to the orchard management by Goathams. Apple crops across Europe have been affected by the spring frosts.........the potential yield and quality of crops across A.C.Goathams farms is outstanding for this 'very challenging season...........
Cox is always a challenge, but looking at the crop of Cox at Shrubbery Farm demonstrates the ability of the variety to 'spring a surprise'
Below: left; A Cox tree laden with fruit and right; while most apples are clean and free of russet, some display the characteristic 'Cox russet' caused by the spring frosts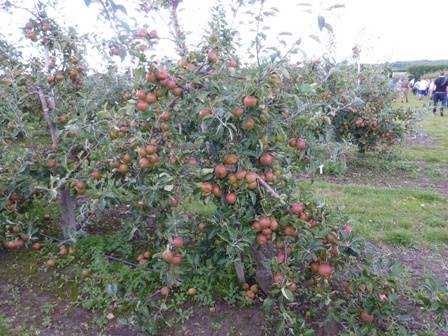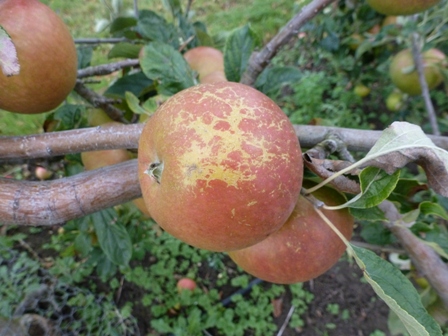 Below: Gala at Shrubbery Farm.........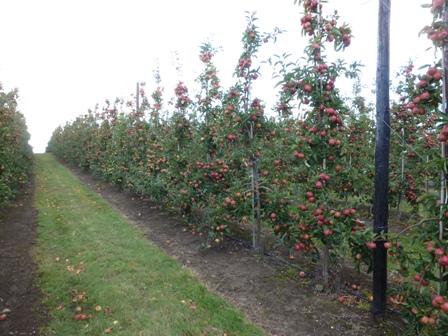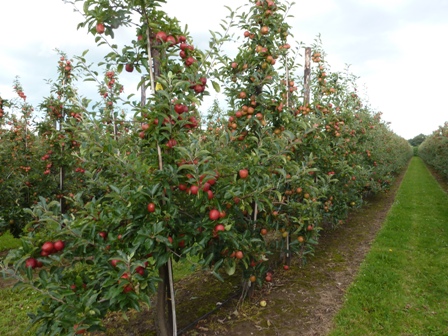 Below: left; Braeburn at Shrubbery Farm and right; the Comice trees are laden with pears........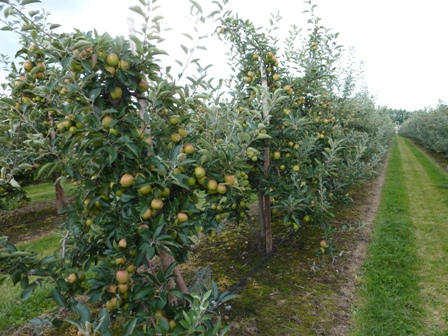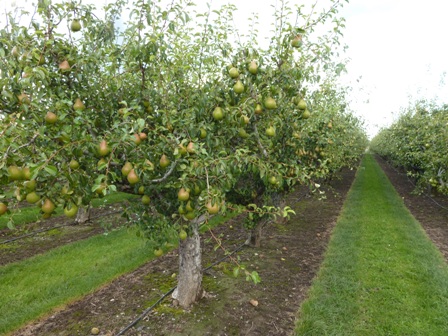 Below: left; young Vee system pears and right; branch angles create the structure for high yielding trees....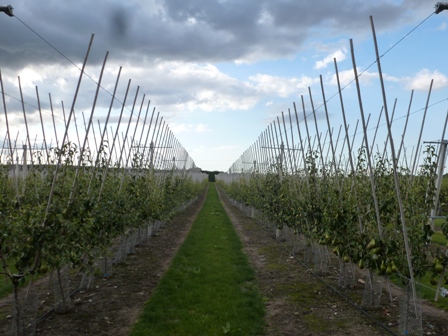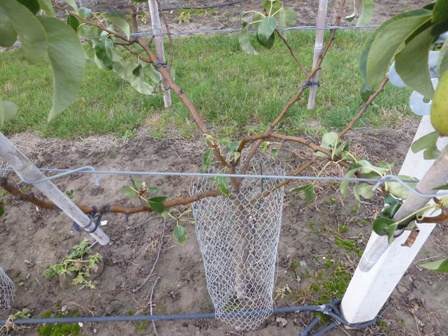 Below: the size and quality of the Conference Pears on the young Vee system is exceptional......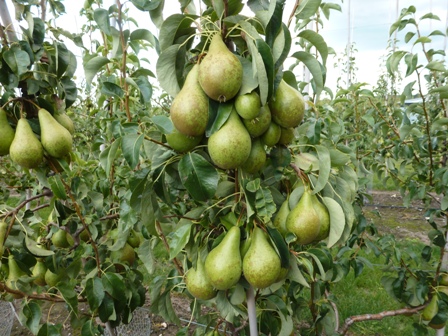 The quality and crop at Shrubbery Farm is exceptional (for any season) - certainly this part of Kent, with its excellent 'brick earth' soil makes growing easier, but the consistency of yield and quality across all the A.C.Goatham Farms is testament to the tree management. Clive Goatham praised Production Manager Piotr Bukowski and his team for the consistency of tree management and yield at Shrubbery farm and across all the A.C.Goatham Farms spread across East and North Kent..........
It is 'well worth' looking back at the EKFS walk at Shrubbery Farm on 19th August 2016: click on Journal for 19th August 2016
Last week I mentioned my 'aged mother's unfortunate accident (breaking her hip) and this week has seen regular 'twice daily' visits to the hospital: to illustrate the expression "it never rains, but it pours" on Thursday evening on our return home, my dear wife fell and broke a 'small' bone in her arm.....back in A&E for a second week in succession........as the song goes..."I'm still standing" albeit with some trepidation.....
Until next week.....
Take care
The English Apple Man