Journal
22nd Sep 2017 - The English Apple Man visits his brother in Wiltshire
Living in the world of intensive commercial apple and pear orchards, it's nice to get back to basics..........
On Monday, with my wife and our dog Poppy we set off for my brother & sister-in-law's new home in Wiltshire...........
With the recent traumas; Mother's broken hip and wife's broken arm, we were in need of a bit of 'R&R'..........
David & Annie have lived in Windsor since they married circa 30 years ago and over the last 17 years lived in a rather splendid 4 storey terraced house with views over the Long Walk........they felt the need to move to 'pastures new' and fell in love with an 'early Victorian' (1842) property sitting in about 5 acres of beautiful countryside, with stunning mature gardens and a paddock with a small orchard in one corner........
Below: waking on Tuesday morning, the view from our bedroom window 'set the scene' for our few days in Wiltshire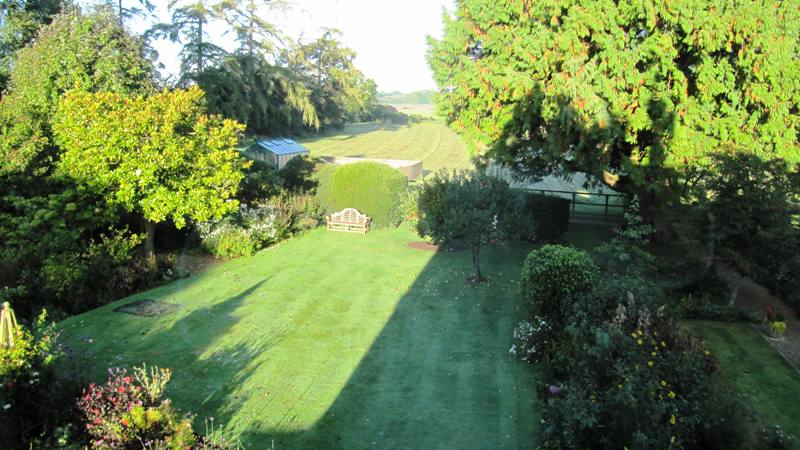 Below: the apple trees in the small orchard.......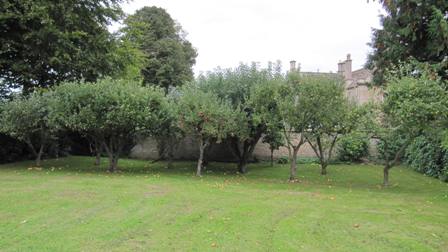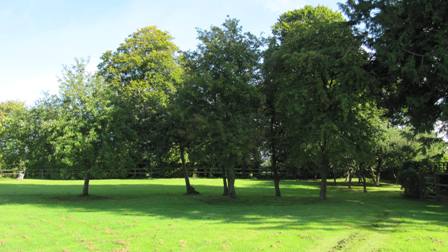 Below: the tree in the formal garden which may be Jupiter.....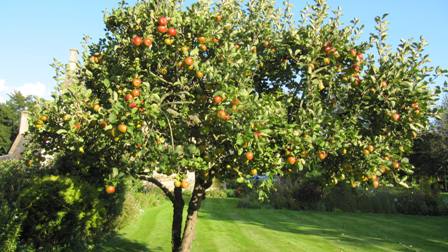 The orchard is a little crowded, but whoever set the shape of the trees (circa 25 years ago) they got it right. If a tree is correctly pruned in its formative years, the benefit will be there for years to come....in this case a mixture of bush shaped and half standard tree formats....there is clearly two areas, each of a different era....but among the more recent trees a mix of Discovery, Worcester Pearmain, Cox, Sunset, Bramley sit among some which I will need to investigate further. There is also a few pear trees...Conference and Comice.....and in the formal garden an apple tree which I think may be a Jupiter........
Click on Jupiter
Below: left; My brother with our dogs in the apple orchard and right; Bob a Jack Russell who belongs to the gardener and is a great character....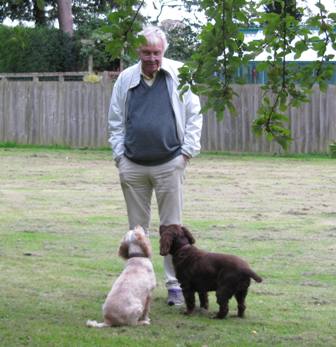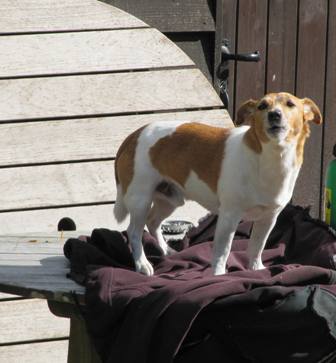 On acquiring the new house and 'buying' some of the previous owners equipment.....which proved to be inadequate, 'brother'purchased several new pieces of garden machinery........the most significant.........the Ransomes 'Bat Wing' mower which sits in the shelter next to David's Ferrari........
Below: 'Boys Toys.....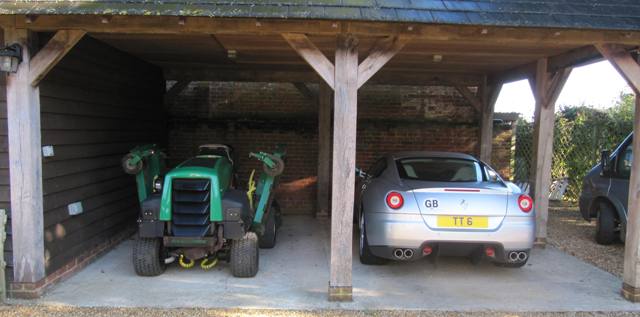 On Tuesday morning we popped into the local church to view the Harvest Festival Displays......one of which was a window sponsored by my brother and sister-in-law....
Below: left; mini apple trees dressed with small apples from 'someones garden' and right; a display of apples from a parishioners garden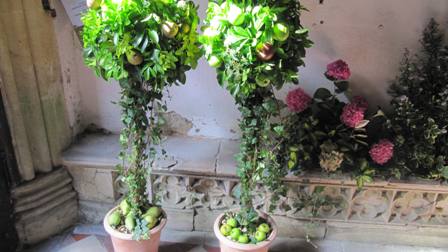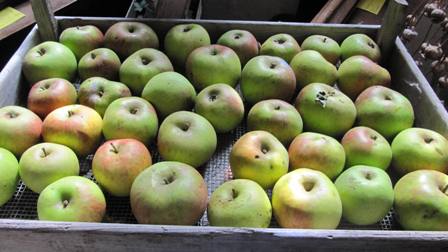 Below: inside the church and right; an original St. James Bible with the reflection from the stained glass window above..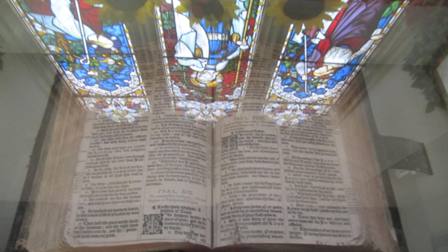 Later on Tuesday morning we set off for a farm shop recommended by friends who live in the area.....Allington Farm Shop is a 'proper' farm shop with all the meat produced on the farm and also the all the potatoes......The Farm Shop is one of the very best I have ever visited; Click on Allington Farm Shop for more information........
Below: left; Allington Farm Shop and right; an attractive entrance of fresh produce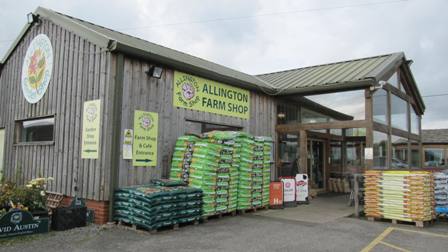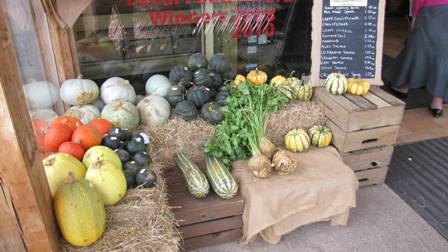 Below: shopping in the farm Shop and right; a display of 'primarily' home grown apples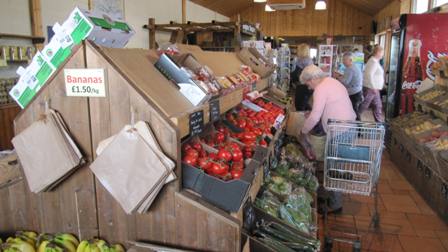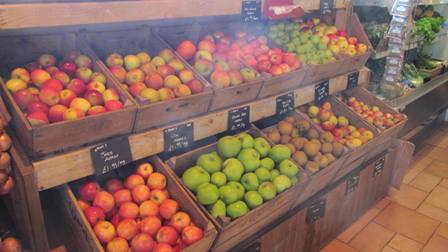 Below: left; attractive shop displays and right; 'Gins the Thing' - a collection of fruit flavoured Gins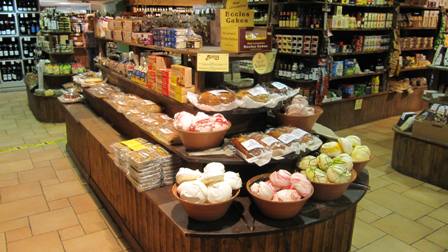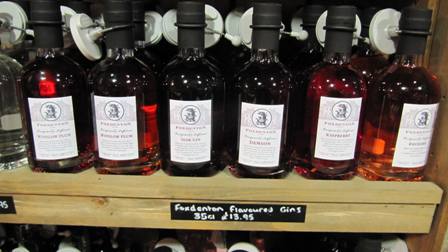 From the farm shop we made our way for lunch at Foxham: One of the delights of being retired is 'lunching out' - The Foxham Inn is owned and run by husband and wife team Neil and Sarah, both of whom have an extensive background in food and hospitality. Over their years of ownership they have steadily improved and renovated the restaurant, updating the decor and even adding an extension and a new kitchen which has proved very popular with new and regular diners alike. Two beautiful en-suite bedrooms have also resulted from the renovation programme, which are available for guests to rent either on a nightly basis or for a short break in the Wiltshire countryside.
For more information: click on The Foxham Inn
On Tuesday afternoon we called in on D&A's friends who live on a delightful 'converted water mill' - there the dogs explored the garden and Paget had her swim in the garden 'feature' pool...their beautiful 3 year old Black Cocker Spaniel is poignantly named 'apple'..............
Below: left; the poignantly named 'Apple' (black Cocker Spaniel) with Paget - David and Annie's Chocolate Cocker Spaniel and right; Paget loves to take a dip...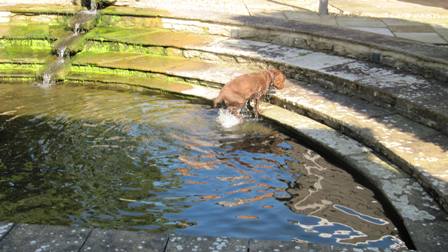 Wednesday was a quieter day, before friends arrived for dinner............
On Thursday morning we set off for a visit to the stables where my brother has two racehorses in training; this has been a hobby for the last few years; some success too...the current horses are: First Flight and Royal Melody.........
First Flight runs 15:25 Newbury 23 Sep 2017 - Dubai Duty Free Handicap (Class 2) (3YO plus)
Below: left; First Flight and right; Royal Melody with an admiring 'English Apple Man's wife....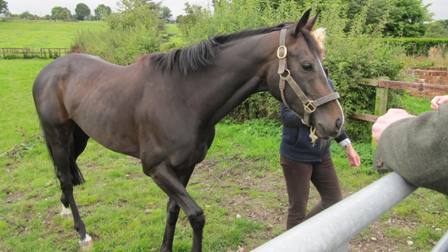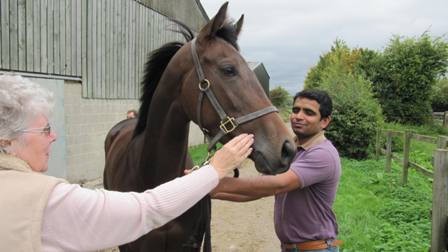 For lunch on Thursday, we visited The George & Dragon at Rowde..........The restaurant specialises in seafood delivered daily from St Mawes, in Cornwall. A full a- la- carte menu offering meat and game dishes using locally sourced produce is also available in the restaurant and bar. The George & Dragon offers award winning food and is complimented in many food guides. It has been awarded 2 AA rosettes & an Egon Ronay Star.
For more information: click on The George and Dragon
The quality of apples this season has been influenced by the impact of the spring frosts....some varieties have escaped frost damage, while others have been severely scarred by frost; often resulting in nasty 'frost eye' like this in Wiltshire...
Below: left; excellent quality apples and right; the spring frosts reached all parts of the country.....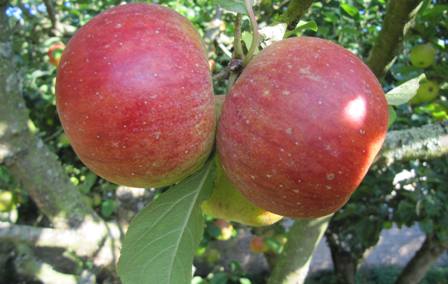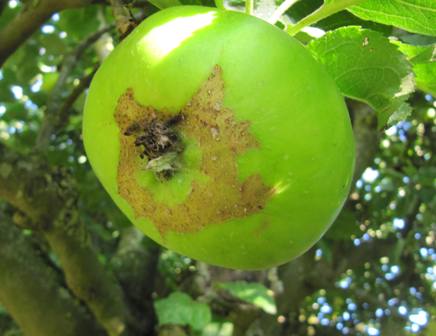 Below: every evening we marvelled at the setting sun........below one evening's sunset........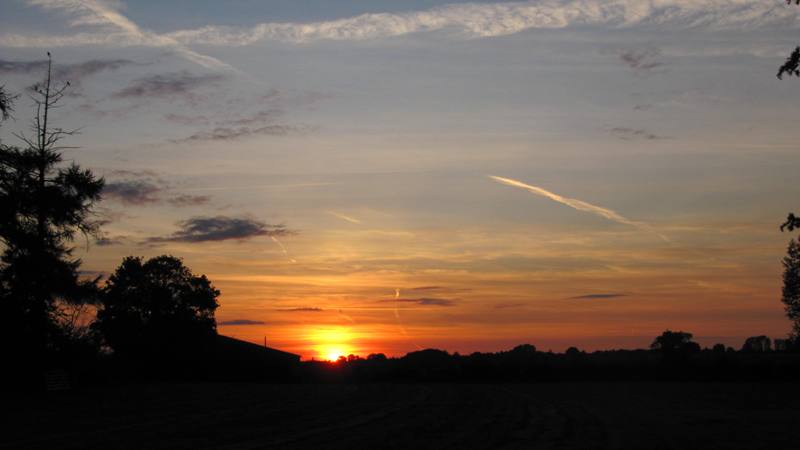 Finally: popping into Sainsburys on our return home (22nd September) looking for something for supper, I spied these Scottish Cherries......admittedly the stalks are losing their green colour, but the fruit still eats very well......is it a record?
Below: left; Cherries from Scotland bought in Sainsburys and right; still eating well....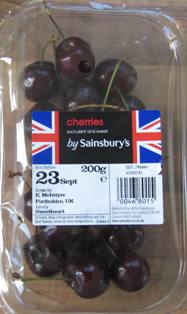 That's it for this week...........
Take care
The English Apple Man