Journal
29th Sep 2017 - Lots of variety this week
It's been a week of variety this week: Hadlow College on Wednesday, a visit to apple variety 'guru' Joan Morgan with a dozen varieties from my brothers small orchard in his garden in Wiltshire on Thursday and 'today' Friday 29th September involved in the 5th Pip to Plate event at Hadlow College and tomorrow; Saturday 30th September supporting Ightham Mote's apple event..
The Hadlow Focus Group has been part of The English Apple Man's calendar for several years now........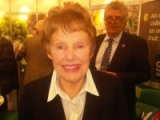 On Wednesday, The English Apple Man played a different role: 'sitting on the other side of the fence' - normally part of the Focus Group briefing a journalist, this week in a role as 'A Journalist alongside Rachel Anderson a 'friend' and free lance journalist..........
The Rural Focus Group was founded by Hadlow College Press Officer Pat Crawford back in 2011: bringing together experts in various fields of excellence; discussing in depth a subject, before briefing an invited journalist....
This week our subject: "Living Walls"
Present: Pat Crawford, Dr.Howard Lee - Senior Lecturer in Sustainable Management, Isobel Brotherton - NFU Press Officer (South East), Professor Chris Atkinson - Greenwich University Professor of Sustainable Agriculture and Climate Change, Howard Porter - Co-Ordinator Tonbridge & Malling Friends of the Earth, Paul Boxall - Head Teacher Hadlow Rural Community School, David Bartholomew - Photographer, Karen Cresswell - Kings Hill Marketing Consultancy.
College lecturer Howard Lee has been at the centre of the Hadlow College project into Living Walls, working with Scotscape, Hadlow College students designed two Living Walls at Hadlow; one outside and one inside.
The Hadlow project was centrepiece to the Living Walls Conference held at Hadlow during the summer (2017)
For more information click on English Apple Man Journal for 2nd June 2017
On Wednesday the Rural Focus Group explored potential opportunities for Living Walls; and the potential management issues!
Howard Porter suggested the potential for reducing air pollution........Howard Lee raised the importance of maintaining Living Walls; he has experienced Living Walls which promised so much, 'dead as dodo' one year later!
Balancing irrigation and nutrition within a Living Wall with different plant species; the use of LED lighting in Living Walls inside buildings......could large office blocks who may have contracts with plant suppliers for potted plants within the building, be attracted to Living Walls instead........the potential for ensuring 'food' for pollinating insects; particularly 'miner bees' could be improved by Living Walls populated with plants delivering flowers from springtime to the autumn....
Below: The Hadlow College Living Wall Project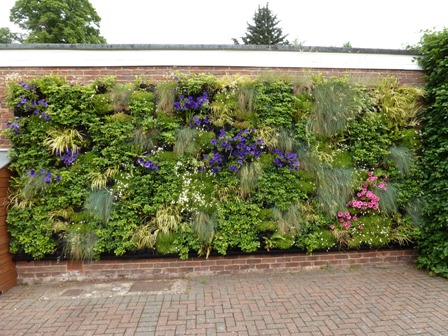 Returning to reducing air pollution; the influence of plants to absorb pollutants can be detrimental: Chris Atkinson reviewed research which demonstrated allotments near roads may absorb 'lead' which would be contaminating the edible crops with health damaging levels of pollutants......Paul Boxhall - Head Teacher at Hadlow Rural Community School brought two of his students to the RFG meeting and they reported on their School project; growing vegetables in a Living Wall......the students had clearly though through the process, to the point of ensuring the pots they would use were fully sustainable - made from re-cycled vegetative matter.
Chris Atkinson told the group, Living Walls have been used for reducing sound pollution on roads near housing.......Rachel Anderson noted the use of portable Living Walls used in Glasgow.......
Osobel Bretherton questioned how 'labour intensive' Living Walls are........Howard Porter noted that Living Walls in community areas would improve disabled access compared to present configurations.........Chris Atkinson reminded the group that the 'Systems' (technology) is already developed to support sophisticated Living Walls...edible, floral, mixed...........
Rachel Anderson asked; how many Living Walls are being incorporated in new building projects?
Howard Porter responded with: "It is still a minor industry.......BUT it is growing!
We all agreed: Living Walls make a positive contribution to our 'environment and well being' and should be encouraged!
Click on Can living walls reduce air pollution? BBC News investigates at Middlesex University
Below: Members of The Hadlow Rural Focus Group who attended this week's meeting on Living Walls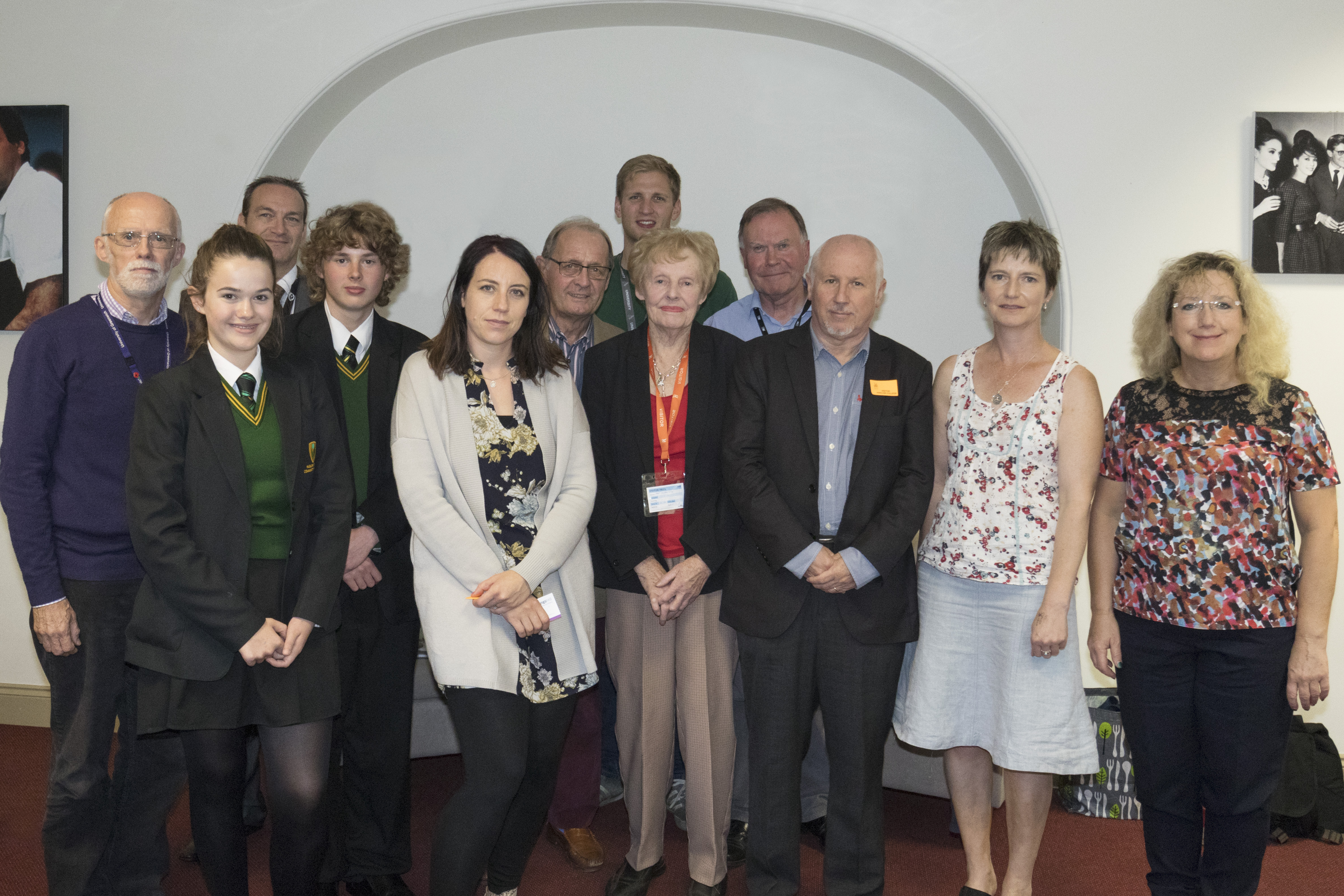 Friday at Pip to Plate - this will be featured in next week's English Apple Man Journal....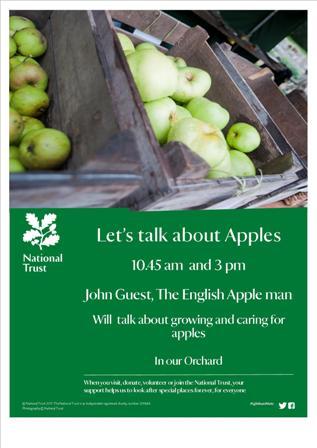 Tomorrow: Saturday 30th September, The English Apple man will be at Ightham Mote helping with their 'apple weekend' which features tasting opportunities for visitors to the weekend event.
The orchard at Ightham Mote has a number of 'old favourites' - among them Blenheim Orange, Ribston Pippin, Court Pendu Plat, Herefordshire Russet.........
The English Apple Man will be hosting two tours of the Ightham Mote Orchard
Seasonal Update
As the harvest season moves into the later varieties,
Braeburn on the earliest sites in Kent are now at or very close to the recommended level of 70%
starch, which is the optimum level for long term storage and can be harvested now. However,
the majority of sites will be at the optimum stage early next week (w/c 2nd October).
The last week has seen a noticeable slow-down in the degradation of starch, but fruit is continuing to ripen rapidly, so this is likely 'catch up' in the next couple of days. It is very important that growers monitor their orchards vigilantly as they will change extremely rapidly with the recent spell of warm weather.
Perhaps of greater importance with Braeburn, is not the date at which picking starts, but ensuring harvesting is completed by the time the starch has dropped to 50%. This is likely to be somewhere around 12th October in Kent!
Of course finishing harvesting before the starch level reaches the lower limit is true of all varieties!
By next Friday (6th October) The English Apple Man and his wife will be in Malta starting a two week holiday: after the 'ups and downs' of the past month a little R&R will hopefully reduce our stress levels.........
Until next week
Take care
The English Apple Man