Journal
10th Nov 2017 - The English Apple Man visits Supermarkets
Over the next two Journals, The English Apple Man will report on UK apples and pears on sale in our Supermarkets: this week - M&S and Tesco......next week: Waitrose, Sainsbury, Morrison. ASDA, LIDL and ALDI.
Yesterday: Thursday 9th November, visits to M&S and Tesco in Hastings East Sussex highlighted excellent displays of 'home grown' apples and pears.........
Below: The contents of The EAM's shopping bag at M&S - total cost £15.75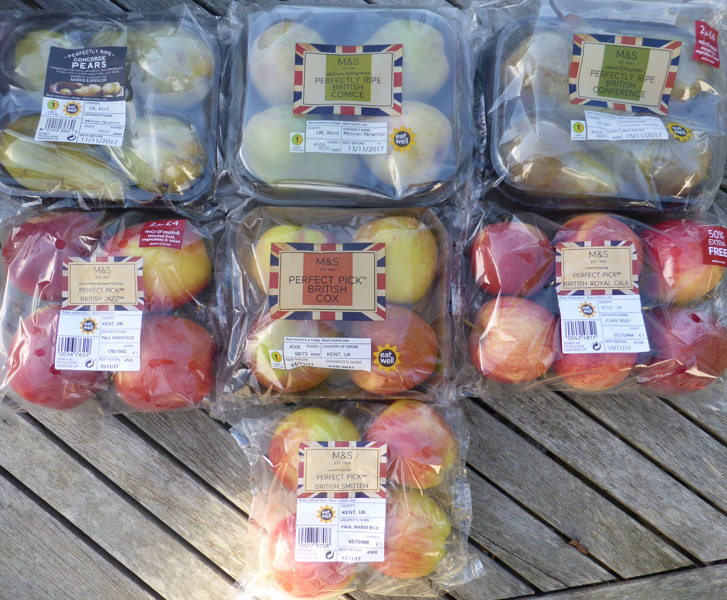 Clearly at this time of the English apple and pear season, we would expect good supplies of British grown apples and pears; with an early season, the late varieties which would normally not be ready (edible) until later in November, and even December in some years; 'particularly with Braeburn, Jazz and Cameo........however home grown Jazz and Braeburn are on display and eating very well. Regular EAM readers will be aware of Jazz winning the National Fruit Show 'Tastiest Apple' .................
The English Apple Man sampled one fruit from each pack purchased and made a judgment on flavour, texture and juiciness.
Below: M&S Perfect Pick Cox and Perfect Pick Jazz...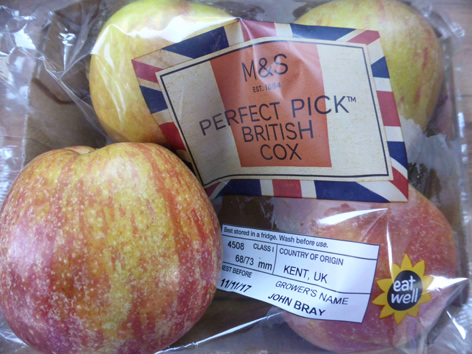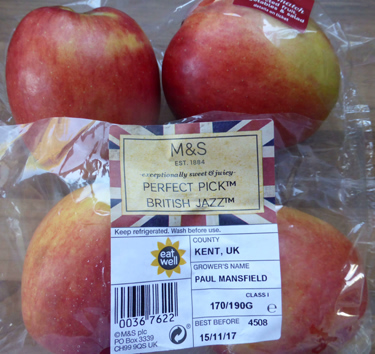 Above: M&S Perfect Pick Cox apples grown by John Bray had good flavour, acceptable texture and good juiciness; Paul Mansfield's Perfect Pick Jazz Apples lived up to the expectations of a variety which won "Tastiest Apple" at The National Fruit Show and "Taste of Kent" winning apple. Very good flavour, firm texture and juicy
Below: M&S Perfect Pick Gala and Perfectly Ripe Conference Pears..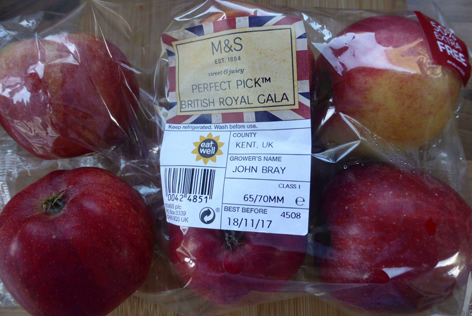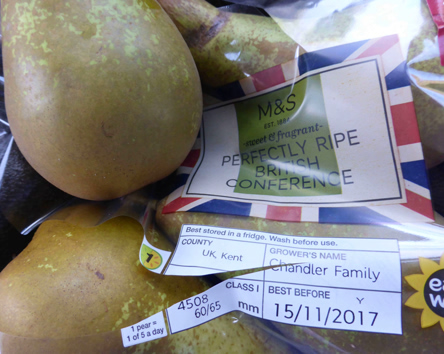 Above: M&S Perfect Pick Gala grown by John Bray had good flavour, texture and juiciness; the Perfectly Ripe Conference pears grown by the Chandler Family had very good flavour, excellent texture and was very juicy
Below: M&S Perfectly Ripe Concorde and Perfectly Ripe Comice...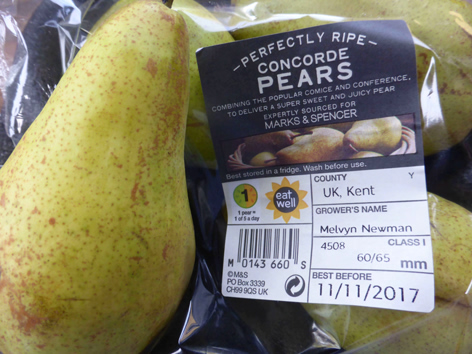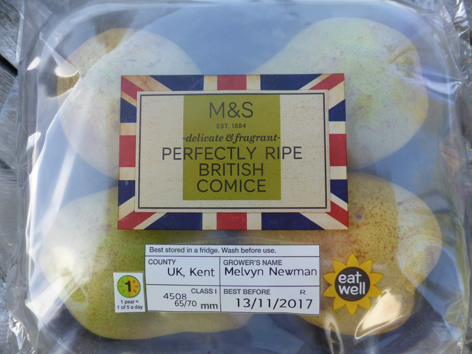 Above: The Perfectly Ripe Concorde grown by Melvyn Newman had excellent flavour, very good texture and plenty of juice; the Comice was also grown by Melvyn Newman and had excellent flavour, the texture was consistent with a very ripe pear and juice in abundance - definitely 'one to eat in the bath'
A chance encounter..........
While shopping in M&S on Thursday I had a conversation with a lady about the apples on display; she was tempted and subsequently bought one of the Twin Papple packs. That evening she sent me her appraisal of the fruit and it is well worth sharing with my readers.
"Well I've just cut a slice to taste and I can honestly say, it was absolutely delicious. Crisp, but not too hard and very juicy. It's difficult to explain the texture though. It definitely has an apple and pear taste, with a hint of pear texture, though not mushy enough to be called a pear. I would recommend you taste and enjoy as I did and I will be purchasing again"
PAPPLE
The fruit was developed in New Zealand, where it has officially been known as PremP109 - a more clinical but rather less emetic name than "papple", if you ask me. In fact, the papple has no immediate apple ancestry at all: it's a hybrid of two European and Asian pear varieties. It is an almost fluorescent pinkish-red, and its skin is weirdly, plagueishly mottled. Eating it is thus a strange experience.
Since you expect the taste and texture of apple, you bite rather harder than is necessary. The flesh is much less tart than an apple; its sweetness is almost overpowering. It's also far juicier, so you end up having to glamorously chomp and suck your way through it as though it were a particularly wet burrito. For all that, it's a tasty, refreshing fruit.
Below: The contents of the EAM's Tesco shopping bag - Total cost £11.81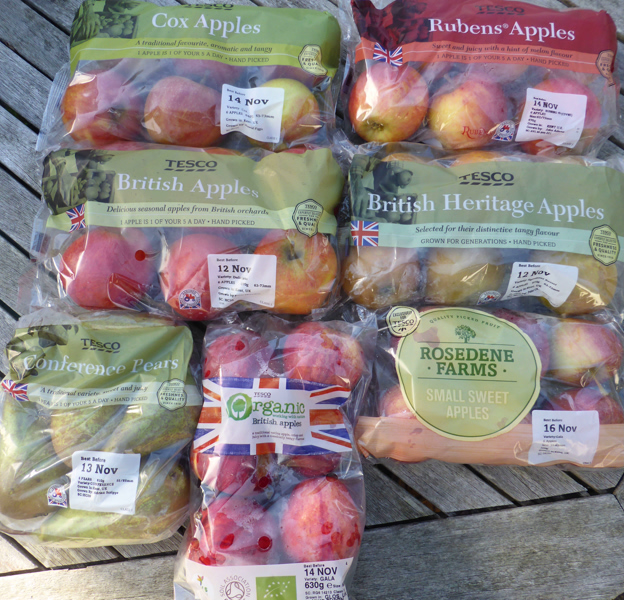 Below: Tesco Cox and Tesco Rubens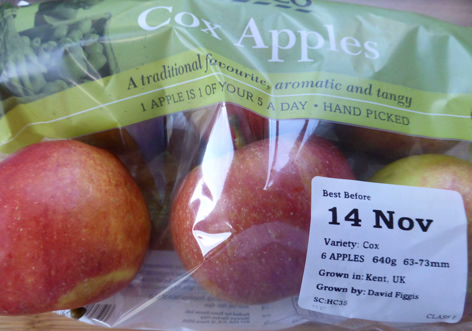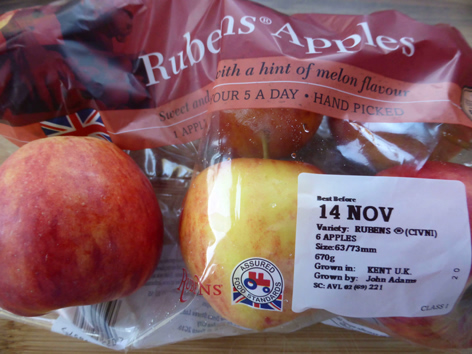 Above: The Cox grown by David Figgis had good flavour a crisp texture and adequate juice; the Rubens grown by John Adams was 'typical' of Rubens with very good flavour a crisp texture and juicy
Below: Tesco Heritage Egremont Russet and Tesco Rosedene Farm Small Sweet Apples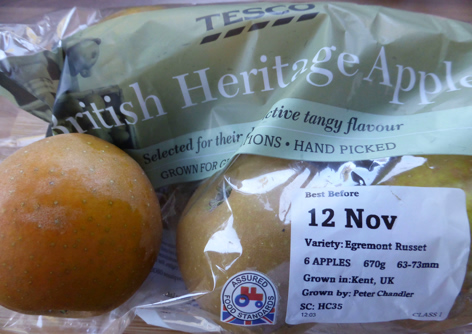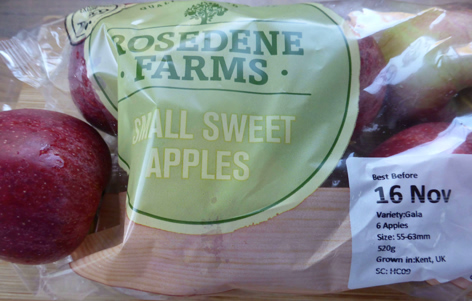 Above: Tesco Heritage 'Egremont Russet' grown by Peter Chandler had good flavour, firm texture and lacking juice; Tesco 'Small Sweet Apples' grown by Rosedene Farms had some flavour, very good texture and was juicy
Below: Tesco Daliclass and Tesco Conference Pears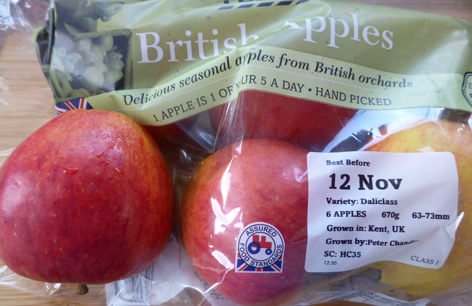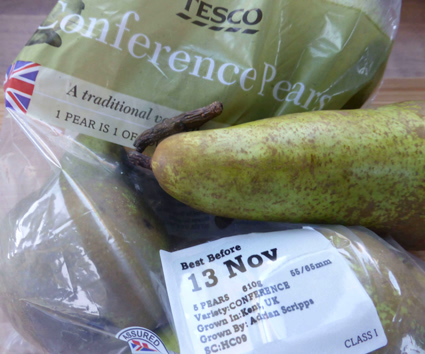 Above: Daliclass grown by Peter Chandler had good flavour and a juicy texture; the Conference pears grown by Adrian Scripps had good flavour and a juicy firm texture
Below: Tesco Organic Gala and Tesco Loose Gala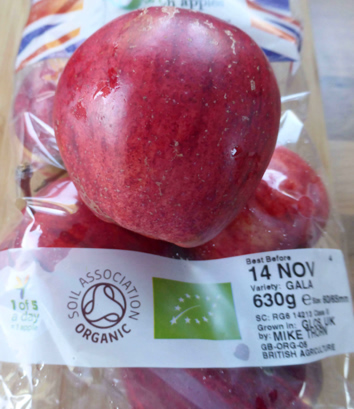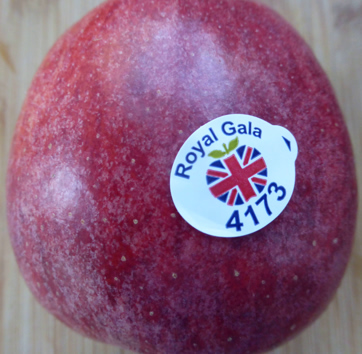 Above: Tesco organic Gala and Tesco loose Gala were comparable; both with modest flavour and crisp juicy texture
The English Apple Man Comments: "The quality of apples and pears on display was very good, presentation has improved considerably over the last 2-3 years in Tesco. M&S fruit is always well presented and quality guaranteed. While all the apples and pears sampled are good, The EAM would put Jazz apples and Concorde pears at the top of the table............
Below: Positive news on agricultural education - information by Rural Kent Rap
UCAS HAS SAID THAT COURSES IN AGRICULTURE ARE BECOMING MORE POPULAR, reports Kent Online. This video by KMTV explores the situation with Hadlow College Rural Community School. It notes that, since 2013, Hadlow has been running a course teaching pupils about the agriculture and fisheries industries. In Year 7, students learn to drive a tractor, engage in pond dipping etc, and get the opportunity to specialise further as they progress through school. They learn at GCSE level standard from Year 7. UCAS has said there has been a 117% increase in HE degrees in Agriculture, Horticulture & Animal Care. 72% of horticulture businesses struggle to employ skilled workers, demonstrating a clear and growing demand for students in the area.
Click on: Rural Kent (PLC) The Kent Rural Rap is kindly sponsored by the BTF Partnership
Neext week The English Apple Man will appraise apples and pears from Sainsbury, Morrison, Waitrose, ASDA, Aldi and Lidl.........
Take care
The English Apple Man