Journal
8th Dec 2017 - NFU Farm Forum - Friendship, Fun and Food
On Friday 7th November, The English Apple Man attended a Farm Forum organised by Ashford & Tenterden National Farmers Union (NFU) Branch at Wittersham Village Hall.
While the programme was directed primarily at, and attended mainly by farmers rather than growers, the subjects had a broad spectrum of information relevant to all farmers and growers; e.g. Agriculture and Horticultural businesses.
Below: left to right; Doug Jackson NFU - Tim May Kingsclere Estates - George Ashby NFU - Sue Nelson Breakthrough Funding - Scott Pepe NFU - Philip Cornish NFU - Andrew Martin Romney Marsh Farms - Amanda Corp NFU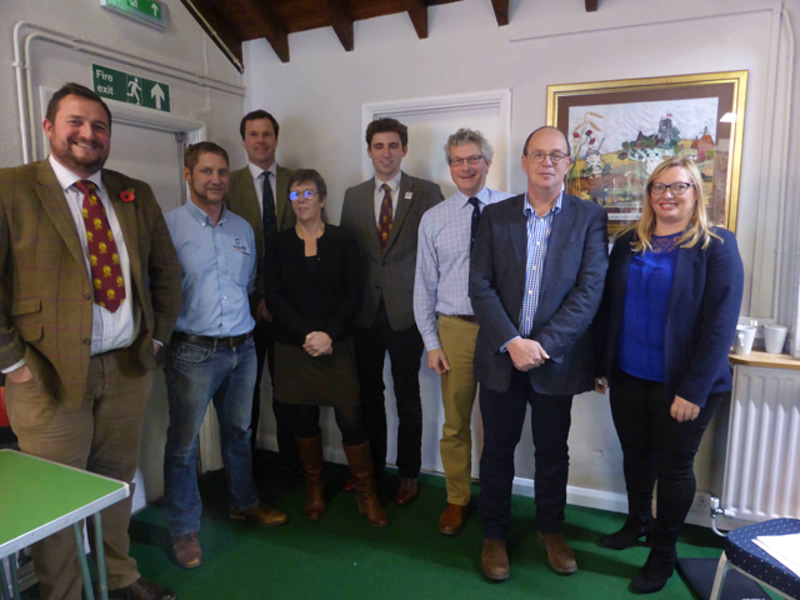 Four speakers presented some very important information to some 40 members of the regions farming community.
The first speaker was Sue Nelson - CEO and Founder, Breakthrough Funding and Author of "The Definitive Guide to R&D Tax Credits".
Cash for innovation? Really?
The government is giving away cash to innovative small companies based anywhere in the UK. No . . . they really are. On average it's just short of £50,000 per company - not bad. But I bet you're thinking what's the catch and why haven't I heard about it before?
The catch is you have to be eligible, obviously!
That means...............
1) you must have fewer than 500 employees,
2) be paying permanent staff (or subcontractors) to develop something new or different and crucially
3) you must be carrying out innovative work that HMRC would classify as R&D.
In short, you could be paying someone to write a new software programme, working on a machinery problem, developing new strains, overcoming difficult growing techniques, working to combat disease or increase yields. To find out if you're likely to be eligible, go to our website at www.breakthroughfunding.com to take the quick eligibility test.
But you must be a limited company!
Below: Sue Nelson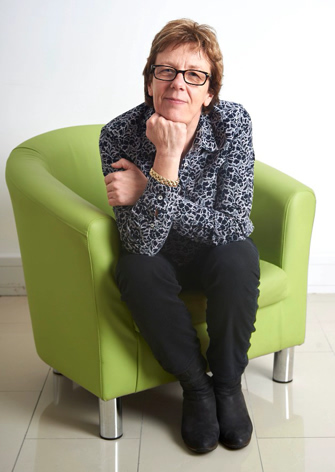 Sue Nelson comments: "Why haven't you heard of it before? Well, probably because it's called the "R&D tax credit scheme". It is an embarrassingly bad description of the scheme.
"I believe the applications for this cash payment (although you can take the tax benefit instead if you like), is so low because the name is not a good description of the scheme. At Breakthrough Funding we prefer to call it cash for innovation".
The scheme has been around for the last 17 years. According to HMRC statistics, of the 4.7 million SMEs across the UK, only 21,865 applied for it last year. The average cash or tax benefit was £61,514. Government policy in this area is really good, but farmers are losing out on millions, if not billions, in cash payments. Calling it "R&D Tax Credits" doesn't help.
This scheme is about innovation - trying to overcome obstacles in growing and production, solving yield and disease problems or building something bespoke, like refining machinery or a new production line that no one else has considered yet. If any of the above might apply to you or your clients, get cracking and join the 21,000 or so businesses that cashed in last year.
Visit www.breakthroughfunding.com to understand the scheme in more detail.
The next speaker was Andrew Martin.
Andrew told his story of how he held the position of Manager at Silsoe College Farms, but returned to the family business - 'Romney Marsh Farms' in 1996. In 2000 Andrew embarked on a 'strategic review' of the family business; reviewing agronomy, administration, banks, suppliers and accountants.
As a result; Romney Marsh Farms (RMF) became a 'single enterprise' with arable farming on land owned and rented by RMF - he also set up a contracting business utilising RMF machinery, capitalising on the farm's mechanical and labour assets.
Once established, Andrew set about exploring 'alternative income streams, based on the natural assets available; Office space in an old building capable of housing small business tenants in addition to a small area sufficient for his own business enterprises.
Recognising an area adjacent to the farmyard could accommodate 'storage containers. Andrew hired four units (much better value for money than buying) and used Facebook to attract customers. This has now expandedto 3 units of 4 containers (12 in total) with each divided into specific customer profiles; Andrew told an amusing tale of one customer, who having been ordered to remove the contents of his shed and take it to 'the tip' could not bring himself to get rid of all his 'prize possessions' surreptitiously moved it all to one of Andrew's containers.....BUT, with the clear message - 'whatever you do, please don't tell my wife'.......every so often the gentleman pops in to 'bond' with his precious memories...........
Today Romney Marsh Farms 'farm' 1653 hectares and employ 3 full time and 2 part time employees and embraces 'precision farming techniques: Nitrogen sensors to ensure evenness of crop, advice from Chichester Crop Consultancy, cameras in side drills.....
The third speaker was Tim May from Kingsclere Estates: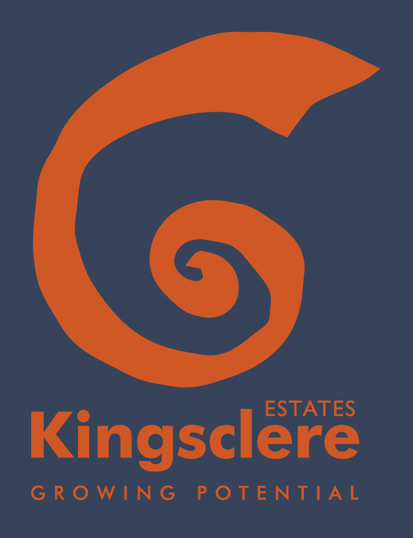 Tim, a former Nuffield Scholar has completely changed the farming philosophy at Kingsclere; recognising what he described as a '60 year experiment' started after World War 2, driven by chemical initiatives - fixing Nitrogen to increase yields, but importing Nitrogen to the soil in excess of natural levels triggers consequences!!!
But because 'we could' grow with chemical imports we saw a loss of diversity, reduced wildlife and beneficial insects and a rise in pests...........but we continued with the same module........
Tim quoted Einstein's definition of madness; "It was apparently Albert Einstein who said that a simple definition of madness was doing the same thing over and over and expecting a different result to materialise"
Tim said in the past "we were climbing the wrong ladder" - we needed a sustainable module; sustainability is key; soil erosion must be replaced with soil regeneration. Tim summed up the future by quoting the the phrase "Keep it simple stupid"
Enterprise Stacking - below - from Kingsclere Estates website
Tim's Nuffield Scholarship travels (2011) highlighted the opportunities of 'enterprise stacking' and its associated mutual economic, environmental and community benefits. Through rotational grazing, our pastures can support both sheep and cattle in the same year and indeed benefit from the differences in grazing styles at different growth stages. However we are also open to working with with other local rural enterprises with perhaps different types of livestock who may be looking to increase their grazing area so please do get in touch if this is of interest.
In practice Tim now has local shepherds keeping their flock on his Estate, rotating the flock from field to field; the same applies to small farmers with cows and chickens. As they move from field to field, they leave behind an enriched soil. Tim said the chickens 'scratching' the sward opened up the top soil allowing water and nutrients access to the soil below.
By using animals as 'tools' - sheep control top growth, cows and chickens enrich fertility; Tim said all new wealth comes from the soil - key is conversion of energy into a 'Regenerative Farming System'
Tim told the audience, "July and September are for Harvest" - "August is for holidays with his children" - by linking small suppliers within the farming system creates a system that 'works for all of us' - "it is vital young people get a chance to get involved early; he was involved with the estate by 24 and thinks it is essential to be involved by the age of 30!
Visit the Kingsclere Estate website
The last speaker was Scott Pepe - assistant county adviser to the NFU
Scott's presentation: "A day in the life of an MP
Before joining the NFU Scott managed the office for an MP -

Scott was responsible for setting up and managing the office of a new intake MP, taking overall responsibility for the day to day output of her office. Scott wrote speeches and parliamentary questions, prepared briefings, established all party groups and ensured over 20,000 pieces of correspondence a year received prompt and through replies.
Scott posed the question: What makes an MP tick? well most of them!
Contrary to media opinion, Scott said most MP's work hard, are in the House to help constituents, support colleagues, be risk averse and try to make a difference........
Scott's day started at 8am - the first hour spent trawling through up to 1,000 emails and opening post. At 9am his MP would arrive in the office and be briefed by staff on the day's parliamentary business.
At 1.30am MP's move to the Chamber - 1.30pm Media preparation - 3pm more meetings - 5.30pm, MP's sign letters ( a large pile) and at 6.30pm depart for the House where they stay until 11pm....
With his experience in Westminster, Scott will be an invaluable resource for the NFU as they lobby MP's on the importance of UK Farming 'for the consumer' and 'the farmer'
Friends, Fun and Food....
Last Saturday, The English Apple Man and his wife joined former colleagues and their wives for what has become a regular lunch date; 'The Old Codgers' meet several times a year for lunch and much reminiscing, and always at a Pub Restaurant providing good value........our choice last week was The Chequers on the Green at High Halden in Kent.
One must congratulate 'Gordon' the Chief Old Codger who identifies a suitable location and organises lunch on our behalf; to date a 100% success story...............
Below: The Old Codgers at The Chequers on the Green at High Halden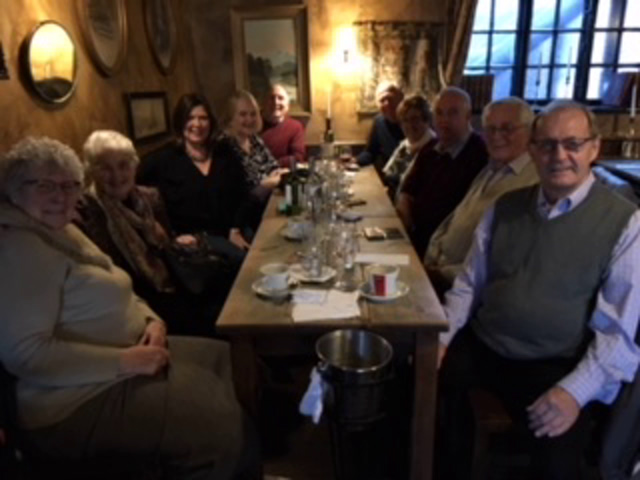 To view - click on: The Chequers on the Green
Finally, and still on a 'foodie subject' this link appeared on a tweet from Giles Cannon a leading producer of Kent Cobnuts...........'looks very tasty'
Click on: Great British Chefs recipe for Cobnut/Apple/Crumble
That is all for this week..........
Take care
The English Apple Man