Journal
12th Jan 2018 - Crikey, it's nearly mid January!
Each morning, as I get in the shower, its seems like only a few hours (not 24) since my last ablution.......
In less than a couple of weeks, The English Apple Man is involved in the East Kent Fruit Society AGM, Dinner and Orchard Competion Prize Giving and two days later the Agrovista Technical day; a week later the 30th Annual BIFGA Technical Day. So lots to look forward to.......lots to report on......
In the interim, my thoughts wander to some of the 'new and not so new' apple and pear varieties competing for a place 'on the Supermarket shelves' and 'Consumers shopping baskets'...........
In last week's Journal I highlighted Pink Lady and Jazz; the leading Club varieties......this week lets look at some of the 'contenders' .............
CAMEO ....... ENVY ...... SMITTEN ..........CABARET........STARDANCE.......
Below: CABARET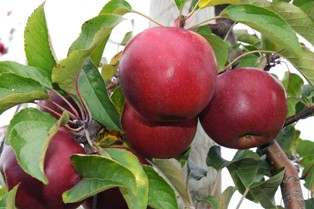 In 2011 on a visit to Pepinieres du Valois, Nigel Jenner - Technical Director for Norman Collett Ltd (now Avalon Produce Ltd) identified two new varieties with the potential to become commercially successful; Nigel was immediately impressed by NUVAR NC3 (CABARET) which had a refreshingly crisp and balanced flavour with a hint of winter spices and NUVAR NC2 (STARDANCE) a firm and juicy bi-coloured apple with an attractive red stripe. Nigel describes both as 'growers apples' - easy to crop, visually attractive, high yielding and both varieties resistant to common forms of Scab (Vf scab resistance gene)
From this initial appraisal, Avalon Produce Ltd obtained exclusivity and planted CABARET and STARDANCE on several of their growers farms for trials.
Click on: NUVAR for more varietal information.
The support by Tesco Technical Manager and Apple Master John Worth for Avalon's commitment to CABARET and STARDANCE is a key factor in the launch of these exciting new varieties.
Below: STARDANCE
The 4,500 trees of CABARET and 10,000 STARDANCE planted in Kent are exclusive to Avalon Produce and form part of the continued development with Tesco. Michael Joyles of Avalon Produce Limited added "this continues the commitment and work with Tesco to deliver great products to delight the consumer and to bring new products to market.
CABARET has been developed over many years of trial work and one that was identified by Tesco Technical Manager and Apple Master John Worth, who has once again overseen the project." John went on to say "CABARET is another fantastic innovation and forms part of our NPD pipeline in collaboration with Avalon Produce Limited and is certainly one to look out for in the future". CABARET was identified to fill a gap in the market, whilst providing the consumer with a fantastic eating fruit".
Michael Joyles added - "Avalon's experience with these two varieties to date has been positive and the current plan is to increase plantings to an initial total of around 20k trees of each by 2018. We are confident of their potential success and anticipate further plantings once they are established in the marketplace.
The first CABARET went on sale in Tesco in December 2016 and Avalon targeted January 2017 for the first sales of STARDANCE
The current marketing strategy places CABARET and STARDANCE in Tesco's 'British Dessert' pack category following SPARTAN and MAIRAC® in the seasonal mix.
Both CABARET and STARDANCE varieties share the same parents; SATURN X BRAEBURN and were raised by John Breach and his son Peter.
John & Peter Breach are delighted a leading marketer and a leading supermarket are supporting these new UK varieties.
Looking to USA and production in Washington State (Largest area in USA) - The English Apple Man thanks the Good Fruit Grower for the story below:
With 41, 000 acres and 32 million trees, Gala now makes up the most apple acreage in Washington State.
(Credit: TJ Mullinax/Good Fruit Grower)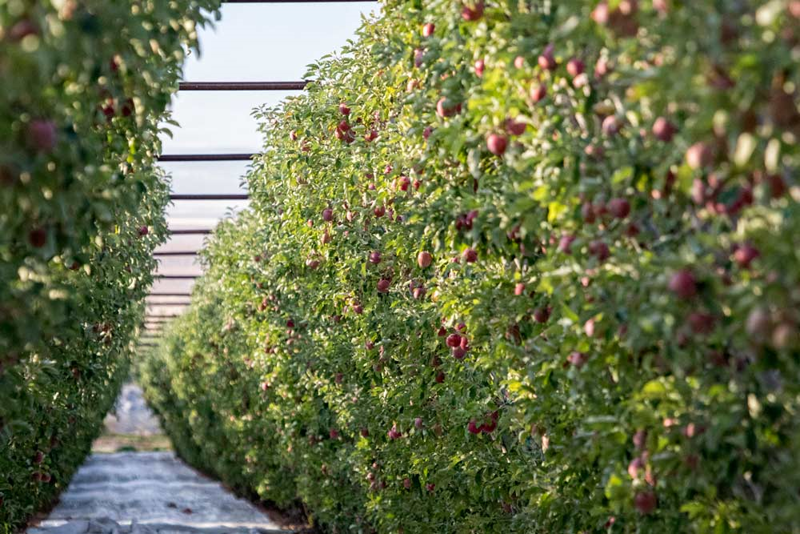 Tree fruit and grape growers in Washington have new planning tools when making decisions about what to plant and what to take out.
The U.S. Department of Agriculture has released results from grower surveys that provide a glimpse into the shifting varieties, densities and trends of the tree fruit and grape industries.
"It helps growers make some educated guesses about what they should be planting," said Jon DeVaney, president of the Washington State Tree Fruit Association.
The Yakima-based group teamed up with the Washington Wine Growers Association to commission the surveys, conducted by the USDA's National Agricultural Statistics Service. See the survey results at bit.ly/acreage-survey.
Among the tree fruit findings:
Apples increased their footprint (Area) for the first time in 18 years. Since 2001, apple acreage has inched downward as growers removed older trees and replaced them with high-density orchards that produced much more volume per acre.
Since the previous survey in 2011, however, apple acreage jumped roughly 7 percent to 179,000 acres. Not surprisingly, Honeycrisp showed the largest jump of varieties, increasing from 9,000 acres to 23,000.
Increasing density is still the story, as it has been for decades. Trees planted in 1986 or before stand at roughly 410 per acre compared with an average of roughly 1,142 for those planted in 2016.
Tree density is not equal geographically either. Apple trees stand at 825 per acre in the Columbia Basin, where most of the state's newer acreage has been planted. That's compared to 571 and 690 trees per acre, respectively, in the veteran regions of Wenatchee and the Yakima Valley.
Crop volumes undoubtedly will increase if the number of young trees is any indication. Of Washington's 126 million apple trees, almost 20% have yet to bear fruit. Of course, that won't equate to a linear 20 percent jump in production because older trees will likely be taken out to make way for some of that new production, DeVaney cautioned.
Newer varieties grown in USA are: HONEYCRISP - SWEET TANGO and COSMIC CRISP
Of course there are many more varieties worthy of discussion: Gala is by far and a way the most popular variety in UK and many other countries: Cox still has it's place, albeit as a niche apple in UK with New Zealand Cox the first Southern Hemisphere 'new season' apple arriving in early April: Fuji is the most prolific apple in China..........
To end the apple vision with a Cameo performance, why not take a Pink Lady to the Cabaret and enjoy some Jazz while performing a Sweet Tango; others will be Smitten with Envy at your Stardance!!!!!!!!!!!
What about Pears?
Below: Misty Rose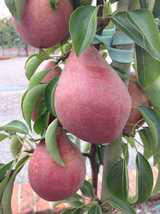 Conference dominates in UK retail stores; either home grown or from Holland or Belgium........Comice and Concorde maintain a valuable niche - valuable to the consumer - like me, for their outstanding eating qualities....new Pear varieties are making their mark and a very 'new coloured pear' called Misty Rose and like the other NUVAR varieties, bred by John Breach in Kent is one to look out for once plantings build up.........
Here's a glimpse of some of the newer pear varieties discussed at Interpera, held at Wenatchee, State of Washington, USA - Wenatchee Confluence Technology Centre - June 15 -16 2017.
Four Italian varieties were released by the University of Bologna in Italy, where Washington State University's Stefano Musacchi still supervises the breeding program.
Early Giulia (1) is early ripening, sweet and crispy; Lucy Sweet (2) has an aromatic flavor with with both melting and juicy-crispy texture; Debby Green (3) has melting flesh, a balance of sweetness and acidity and grows on a compact tree;Lucy Red (4) has a sweet flavor with red skin, Musacchi said.
Gem (5) is a U.S. Department of Agriculture variety prized as productive, nonrusseting and fire blight tolerant. It also can be eaten crispy right off the tree or ripened to a melting texture, said Todd Einhorn, Michigan State University plant physiologist.
Three Belgian varieties, described by Jef Vercammen, director of a Belgian fruit growing research station: Celina/QTee (6) is a productive pear with good fruit size that is only a little susceptible to fire blight but is susceptible to frost; Cepuna/Migo (7) has good production with large fruit size, stores well and exhibits almost no russeting. Sweet Sensation (8) is a club variety that performed well on grower taste tests and good fruit set.
PremP009 (9), a New Zealand variety that carries the brand name Piqaboo, was discussed by breeder Lester Brewer - It's a conventional hybrid cross of European, Japanese and/or Chinese pears that rated higher in taste tests with Chinese consumers than the Asian pear Hosui.
Credit: by Ross Courtney The Good Fruit Grower.
Of the new pear varieties shown above: Sweet Sensation, Celina/QTee and PremP009 Piqaboo have been planted in UK orchards in recent years.

UK Government's 25 year Environmental Plan
NFU Media Release - Thursday 11 January 2018

Environmental policy and food production must go hand in hand - NFU
Farming and the environment must go hand-in-hand and producing quality, home-grown food is critical to the future of the country, the NFU said today.
It follows publication this morning of the Government's 25 year Environmental Plan. Theresa May revealed details of the long-awaited and wide-ranging 150-page strategy during a keynote speech in south-west London.
Farmers manage 70% of the nation's iconic countryside and take their environmental responsibilities seriously. 10,000 football pitches worth of flower habitat, creating homes for wildlife, have been planted while more than 30,000km of hedgerows have been planted or restored by farmers.
The NFU says farming is in a unique position to deliver for the environment as long as there are productive and viable businesses - where food is at the heart.
Below: NFU Vice President Guy Smith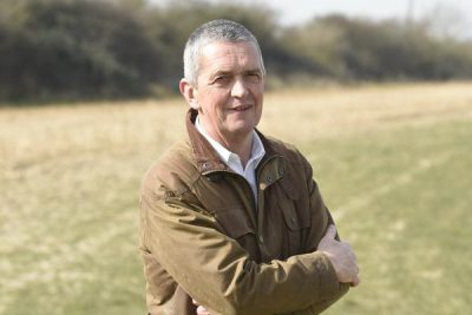 NFU Vice President Guy Smith said: "Over the past four decades, farmers have carried out a huge amount of work to encourage wildlife, as well as benefitting the landscape, soil and water and reducing their impact on the climate.
"Farming also offers innovative solutions to wider environmental challenges. For instance the Government's current concern with plastics highlighted by the BBC's brilliant Blue Planet series could be met with substituting synthetic plastics with farm produced biodegradable starch-based packaging.
"But there must be a coherent approach. British farming has a unique role in producing a safe, affordable and high quality supply of food as well as protecting, maintaining and enhancing 70% of the nation's iconic countryside.
"That only remains feasible, however, as long as farmers run sustainable and viable businesses. We provide the raw materials for a domestic food industry that employs 3.8m people and which, as the UK's largest manufacturing sector, generates £112bn in value for the UK economy. This is why we welcomed the Secretary of State's commitment last week to create a national food policy and his recognition that food is at the heart of viable farming businesses.
"It's vital therefore that a holistic approach is taken and the environment plan must go hand-in-hand with a future food policy, where measures for protecting and enhancing the environment are joined up with policies to improve productivity and manage volatility to ensure that we have profitable, productive and progressive farm businesses post-Brexit."
Key facts - farming and the environment:
- Farmers manage 70% of the land in England and Wales
- Farmers have planted 10,000 football pitches worth of flower habitat, creating homes for bees
- More than 30,000km of hedgerows have been planted or restored by farmers
- There were 112 species of birds recorded by nearly 1000 farmers in the 2017 Big Farmland Bird Count
- More than a third of all farmers have diversified into renewable energy with solar PV, biomass heating and wind power the most popular technologies
Last week The English Apple Man Journal 'looked ahead to 2018' - this week, a message from a good friend...........
"I`m back from my hols now and I have a had a chance to think about what I think 2018 will bring".
"So, the first thing is a significant increase in value, mostly because of the shortened supply due to the cost, but also the effects of Brexit and a weaker £.
A shortened supply doesn't just affect the price though, it also effects the whole dynamic of supply.
The packhouses must make sure they are being efficient and maximising the product.
The marketing guys are concentrating on filling orders that maximise returns rather than shifting product.
For once the demand is greater than the supply and its a lot more enjoyable being a supplier.
Manufacturing in Britain is a bright spot at the moment, and that is what we do basically.
The other thing that I think is making us all think, is labour supply.
The people who harvest our fruit are changing. They are becoming older and and less skilled.
The term "students" no longer applies.
There have been significant advances in robotics and when needs must, I am sure that we will all be using robots to harvest apples in the future, however, in the mean time I am sure we need to be making apple picking an easier and more pleasant experience, especially for older people.
For example: We have introduced couples rooms in our accommodation - We only pay daywork now (no piecework) and have adjusted our targets to relax our expectations - We have been talking more about Pluck o Tracks Munckhoff) which eliminate the need for heavy picking buckets.
I am sure there are many other things that we can do..........."
---------------------------------------------------------------------------------------------------------------------------------
And finally a funny story - BUT, Don't forget to read the reply of God.....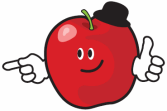 A man was sick and tired of going to work every day while his wife stayed home.
He wanted her to see what he went through so he prayed:
'Dear Lord: I go to work every day and put in 8 hours while my wife merely stays at home.
I want her to know what I go through. So, please allow her body to switch with mine for a day.
Amen!'
God, in his infinite wisdom, granted the man's wish.......
The next morning, sure enough, the man awoke as a woman - He arose, cooked breakfast for his mate - awakened the kids - set out their school clothes - fed them breakfast - packed their lunches - drove them to school - came home and picked up the dry cleaning - took it to the cleaners - and stopped at the bank to make a deposit.....
Next he went grocery shopping - then drove home to put away the groceries - paid the bills and balanced the check book - then he cleaned the cat's litter box and bathed the dog..........
By then it was already 1pm, so he hurried to make the beds - do the laundry, vacuum, dust, sweep and mop the kitchen floor...........
Ran to the school to pick up the kids and got into an argument with them on the way home - set out milk and cookies and got the kids organized to do their homework - next he set up the ironing board and watched TV while he did the ironing, at 4:30 he began peeling potatoes and washing vegetables, breaded the pork chops and snapped fresh beans for supper! After supper, he cleaned the kitchen, ran the dishwasher, folded the laundry, bathed the kids and put them to bed...............
At 9 pm, he was exhausted and, though his daily chores weren't finished, he went to bed where he was expected to make love, which he managed to get through without complaint............
The next morning, he awoke and immediately knelt by the bed and said: - 'Lord, I don't know what I was thinking.
I was so wrong to envy my wife's being able to stay home all day - Please, Oh! Oh! Please, let us trade back.
Amen!'

The Lord, in his infinite wisdom, replied:
'My son, I feel you have learned your lesson and I will be happy to change things back to the way they were.....
You'll just have to wait nine months, though - You got pregnant last night!!!!!!!'
This has been voted Women's Favourite joke of the Year! Sorry not a joke but reality!!!
No more this week; back next Friday...........
Take care
The English Apple Man