Journal
19th Jan 2018 - Water, a very precious element
Water; not just quantity, but quality is the subject............
In November, The English Apple Man joined a CFE event at Hadlow Place Farm......
Protecting Water and Providing for Wildlife Supported
Hadlow Place Farm, Golden Green, Tonbridge, TN11 0BW Courtesy of James Sheldrick and Nigel Gibb of Velcourt hosted a meeting organised by Paul Cobb, Campaign for the Farmed Environment (CFE)
VELCOURT "Velcourt is the leading provider of farm business management and advisory services in the UK and overseas, with fifty years' experience of delivering solutions for our clients".
The invitation to join this free event looking at practical ways to protect natural resources and biodiversity while farming productively, included a short tour at Hadlow Place Farm, a mixed farming estate in both Stewardship and CSF.
Today the farming and horticultural environment are well provided with advice and practical support ensuring that farming 'Best Practice' aligns with the practical task of farming within the parameters of safety while maintaining a profitable and sustainable business.
In November farmers and advisors associated with environmental 'best practice' were invited to join this free event looking at practical ways to protect natural resources and biodiversity while farming productively. The short tour of Hadlow Place hosted by James Sheldrick featured practical applications of the estate's water policy.
Below: Paul Cobb - Campaign for the Farmed Environment (CFE)
Chairing the morning session, Paul Cobb said this event is being replicated "up and down the country" - the importance of water quality cannot be over emphasised: managing pesticide and fertilizer applications to avoid leeching into 'ground water' requires an understanding of the 'variable' risk factors (soil types and particularly depth of water table) - allowing adequate field margins and populating with beneficial flower mixes is important.
Speakers and their subjects included: Ben Tragett, Environment Agency - Water Quality, the Bigger Picture - James Woodward, Natural England - Farming & Catchment Management Luke Everitt, Woodland Trust - Woodland Planting & Soil/Water Conservation Paul Cobb, Campaign for the Farmed Environment - Future Proof Your Farm
Topics covered included:
- The Water Framework Directive and Drinking Quality objectives for water: WFD
- Meeting water quality options - help available from Countryside Stewardship and Catchment Sensitive Farming
- Slug control and the new Metaldehyde stewardship guidelines for 2017
- Yard improvements - containing chemicals and protecting water in a sensitive area
- Buffer strips and wild bird mixes - establishment, long term management and meeting scheme rules
- How tree planting can help wildlife, landscape and soil/water conservation
- Retaining environmental measures on unproductive land and the changes to EFAs in 2018
The event was divided into to two parts: First - Presentations by the speakers, followed by - a short tour of Hadlow Place Farm with James Sheldrick Velcourt as our guide.
Below: The English Apple Man identities water quality data from the various websites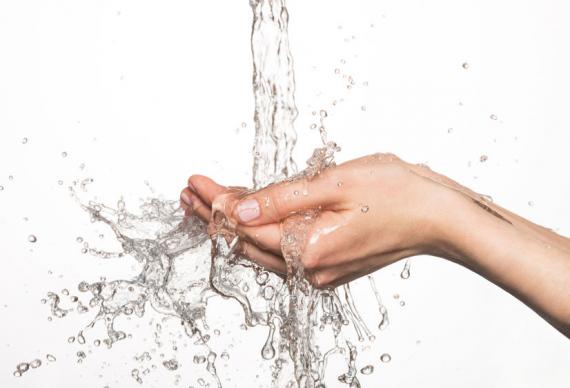 The law requires that drinking water is wholesome and clean. It sets down maximum acceptable concentrations for a number of potential contaminants. In addition, there is a general clause, which requires:
"Water is free from any micro-organisms and parasites and from any substances which, in numbers or concentrations, constitute a potential danger to human health."
Drinking water in the UK is derived from a number of different sources, including underground aquifers, rivers and upland storage reservoirs. The greatest concern for water supplies is still the danger of pathogenic microorganisms that can come from a number of different sources. Our water suppliers use a range of barriers (the multiple barrier approach) and disinfection techniques against such microorganisms within a rigorous testing and treatment regime.
Raw water sources
All water will contain natural minerals, such as calcium and magnesium, which dissolve from rocks through which the water passes before being abstracted for supply. The actual amounts and compositions of the mineral salts will vary from place to place. These minerals contribute to the taste and natural character of local drinking water.
For an understanding of how water is gathered and treated: click on Southern Water Company - Drinking Water Video
Below: James Sheldrick (Velcourt) briefs attendees during the tour of Hadlow Place Farm - and right; buffer headlands are integral to every cropping area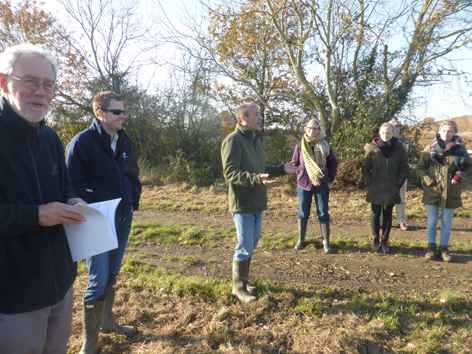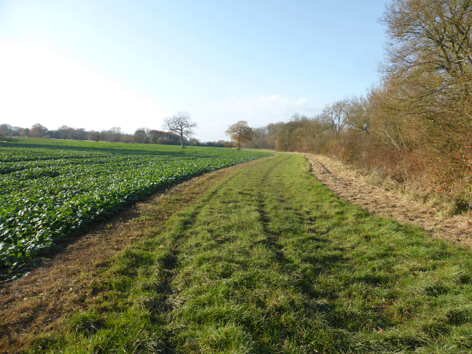 Catchment protection
Catchment considers many aspects: Soil, Topography, Land use, Water courses, Water abstraction issues, Woodland cover, Agricultural development, Urban expansion, Designated sites (SSI's etc.) Pathways of water courses, Marine conservation zones, Flood risk, Past Pollution incidents...........
Agriculture: Main Risks: Pesticides - yard run off, ditch systems; Nutrients - leaching and field run off. Groundwater is used to recharge reservoirs or for direct abstraction from bore-holes....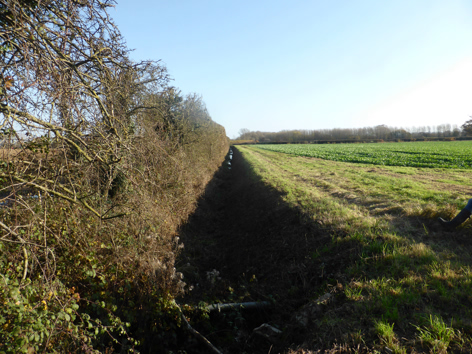 The catchment protection issue was central to the Water Quality Event at Hadlow Place: Managing Pesticide and Fertilizer use are central to controlling seepage of residues into the water table, which will find their way into rivers and bore holes via aquifers. One of the major risks is Metaldehyde; a contact and systemic molluscicide used to both attract and kill slugs and snails in agricultural settings.
Damage to crops from slugs and snails is a growing problem in the UK, which has been compounded in recent years by the mild, wet climate, and changes in agricultural practices. It is estimated that over 8 % of the area covered by arable crops is treated with metaldehyde. The principal crops at risk include wheat, potatoes and oil seed-rape.
It is particularly important that regulators and environmental protection agencies responsible for preventing pollution of water resources do more to protect and improve the quality of our raw water. This is a requirement (under Article 7, relating to dangerous substances) of the EU Water Framework Directive (WFD).
The UK water industry strongly supports such a preventative approach and is working closely with the various authorities and initiating work with farmers and other stakeholders to develop catchment approaches to protect drinking water sources from pollution.
Recent concerns have been raised that relatively high levels of metaldehyde (due to its persistence in the environment and its moderate solubility in water) are being found in surface waters. There is evidence indicating that some existing water treatment processes may be inadequate in reducing residual levels found in some waters to below the regulatory limit for drinking water
Metaldehyde is the pesticide that most often causes risks to drinking water sources, especially in the autumn.
Farmers need to operate 'best practice' to avoid pollution. If metaldehyde enters watercourses it can threaten drinking water quality. This can result in disruption of water abstraction to treatment works and reservoirs.
Good practice from farmers is required to prevent metaldehyde entering watercourses. This includes taking into consideration:
the slope of the field - steeper fields are a higher risk
the drainage status of the field - heavy soils and under-draining are a high risk
the proximity of watercourses or ditches - fields adjacent to these are high risk
the current and predicted weather - saturated soils and heavy rain can cause a high risk of runoff
the filling and wash down area of the pellet applicator - areas which run off to drains or watercourses will have a high risk of pollution.
Alternatives, such as ferric phosphate, are available and you should consider using this or other modes of control if you are in an area where metaldehyde is identified as a risk to drinking water sources. Ferric phosphate may offer growers a lifeline against slugs and greater use of the product should help to ensure that other active ingredients remain available - Metaldehyde, methiocarb and ferric phosphate are currently the only products offering farmers protection against the destructive pest, so growers are being urged to take a more integrated approach to protect what they have got.
Southern Water and South East Water are paying farmers to use Ferric phosphate @ £1 per kg of ferrice phosphate and free slug pelleter as part of the agreement + PA1 and PA4 training
Below: Water courses require a safe buffer between the crop and the water source - and risk of flood land with very high water tables can be overcome by making it a wildflower or wooded area - with grant aid support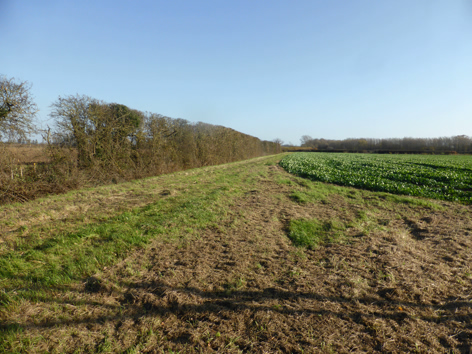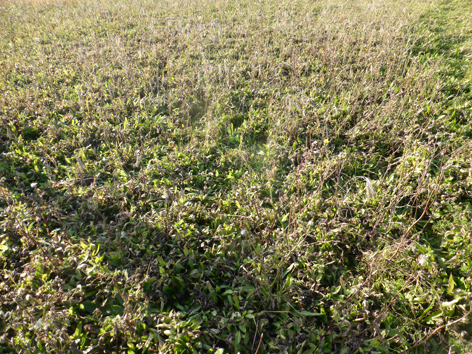 Click on NFU On-line for information on BPS (Basic Payment System) 2018 updates.
What is being done to keep pesticides out of drinking water?
Over the last two decades water companies have invested in advanced water treatment using activated carbon alone or in combination with ozone to safeguard drinking water supplies until longer term wider efforts to encourage more careful use of pesticides result in improved river and ground water quality.
Water companies are required by law to assess the risk to each of their water sources from pesticides and monitor the raw water for those that could be present due to use in the local water catchments. When a specific pesticide is detected the information is provided to the Environment Agency who will investigate where the pollution is coming from
It is important growers adhere to the current guidelines on metaldehyde use to avoid contaminating watercourses and protect drinking water supplies - Metaldehyde does not present a direct environmental risk to water and soil quality; the compound has a half-life of only several days in soil and is soluble in water. Because it rapidly decomposes to acetaldehyde, it is not persistent in groundwater either (#EXTOXNET). However, metaldehyde does pose risks to the health of wildlife.
In practical terms, any small amount of metaldehyde found in 'bore holes' will result in abstraction being delayed until metaldehyde residue is below the limit: The European Commission restricts metaldehyde levels to 0.1 ug/L in drinking water.
The drive to take care of our water resource is vital; a we experience variable periods of warmer drier weather, balanced with unpredictable periods of rain - managing the water quality is an essential practice.
Summary - December 2017 December was a wet month in Kent and South London, especially in the south, with above normal rainfall in most rainfall areas. The rain follows two dry months and a dry preceding winter, so that totals for the year were still below normal. Monthly mean river flows were generally in the normal category, with some strong daily peaks in the two main wet spells. Soil moisture deficits fell to zero across most of the area and groundwater recharge began in earnest. By the end of the month, groundwater levels mostly ranged from exceptionally low to notably low, an improvement from November.
Reservoir Storage: Bewl reservoir levels rose towards the end of the month but were still only just above the minimum recorded at 42% of capacity. Darwell's levels were also well below its LTA at 62% full. Bough Beech reservoir showed a stronger improvement to 78%, while Weir Wood and Powdermill remained full or almost so.
Below: Bewl Water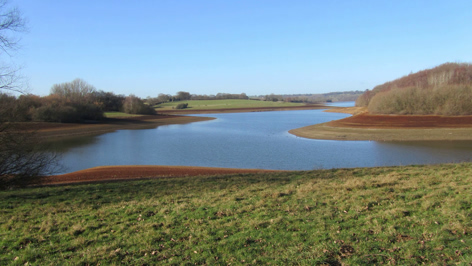 Below: An Orchard at Hadlow Place Estate
Below: The CFE event attendees at Hadlow Place Farm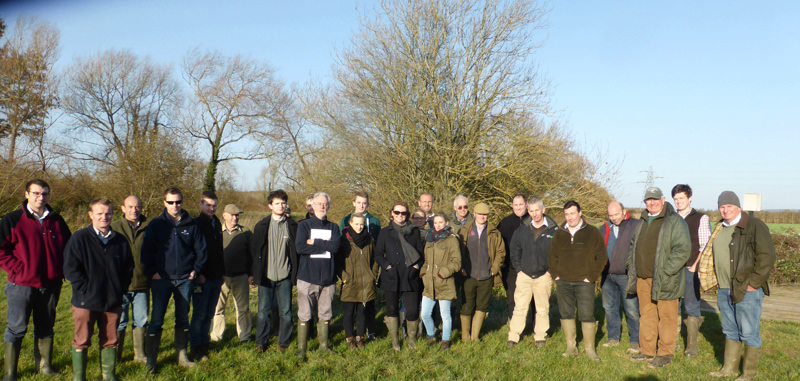 CRAFT CIDERS
Below: Phil Turner tasting......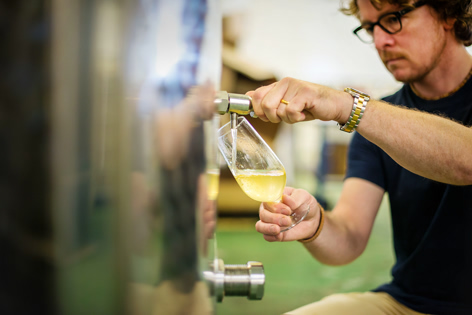 TURNERS CIDER
"On Tuesday the English Apple Man visited Phil and May Turner who are living a dream as they develop what started as 'a bit of fun' into a successful business enterprise" living and working together in the Kent Countryside.
Much more on Phil and May's TURNERS CIDER story in future English Apple Man Journals.
Photograph credited to ALMA Photography
Below: James Smith
A Kent apple and pear grower features in a new cookbook that celebrates the best of British seasonal produce.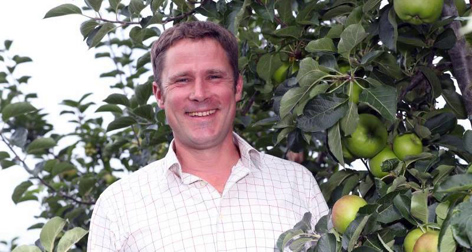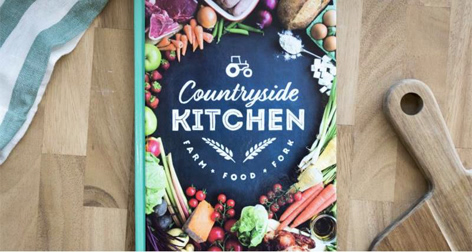 Countryside Kitchen: Farm, Food, Fork includes 77 recipes that use only British seasonal ingredients cultivated by British farmers who tell the story of the raw ingredients. James Smith, who grows top fruit near Maidstone, is among those farmers featured, informing people where their food comes from while showcasing a Bramley apple recipe.
Countryside Kitchen can be purchased via the NFU Countryside website for £15.95 plus P&P, with a discount for NFU members.
Heritage Orchards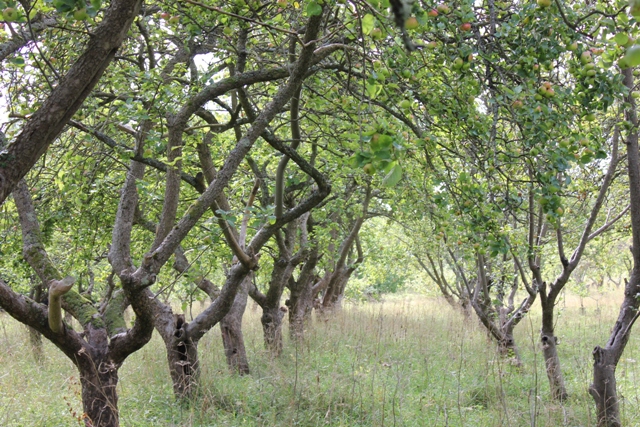 Survey of our region's orchard heritage
The region's orchards are an integral part of the landscape and an important source of biodiversity. They are also a rich, but under-researched, historical record. The Landscape Group, part of the University of East Anglia's (UEA's) School of History, has been awarded £477,700 of National Lottery funding for a three-year project, Orchard's East, to survey and record traditional orchards across the East of England.
News of a heritage orchard project: click on HORTNEWS for more information......
For a full understanding of the project: Click on ORCHARDS EAST
That's that for this week...........
Take care
The English Apple Man