Journal
2nd Feb 2018 - Agrovista Conference
The Annual Agrovista Conference held at The Mercure Hotel - Brands Hatch in Kent has become a 'must attend' event for fruit growers....
On Tuesday 25th January Agrovista's Conference attracted a 'full house' of delegates.........anyone arriving late (ME)looking for a parking space, ended up 'on the grass' ..........
Chaired by Agrovista Senior Agronomist Paul Bennett who welcomed a 'full house' of growers to the 2018 Agrovista Technical Conference.
Agenda items: With nine presentations, The English Apple Man will look at three which may be of interest to a broad spectrum of my readers.
Agrovista Precision Services for Orchards: Jack Harris - Agrovista
Effective Thinning Programs: John Portass - Wisbech Contract Farming
Nectar/Pollen Mixes: Tom Johnson - Agrovista
Agrovista Precision Services for Orchards: Jack Harris - Agrovista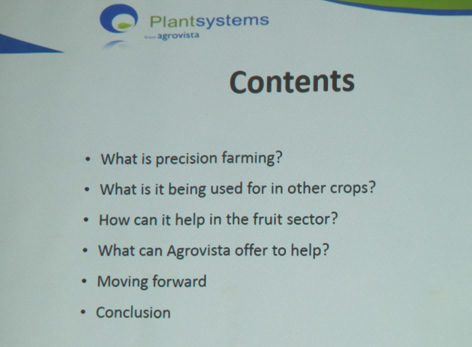 Precision farming is one of the 'buzz words' in today's farming and horticultural world...........
Jack Harris explored the technology being used to deliver soil and nutritional profiles. Traditional soil evaluation woud revolve around digging a large hole to observe the type of topsoil and subsoil....taking a number of soil samples using a hand held 'corer' - then sending each for pH and NPK analysis has been the process for many a year.
Probably the most accurate soil profiles were initiated by Basil Furneaux back in the 1950's where a full farm soil profile was created allowing more accurate growing and nutrition practices. Very good; but of course, time consuming and expnensive!
The new techniques offered by Agrovista's Plantsystems technology offer faster profiling and more accurate data.
Below: The VERIS U3 sampling in an orchard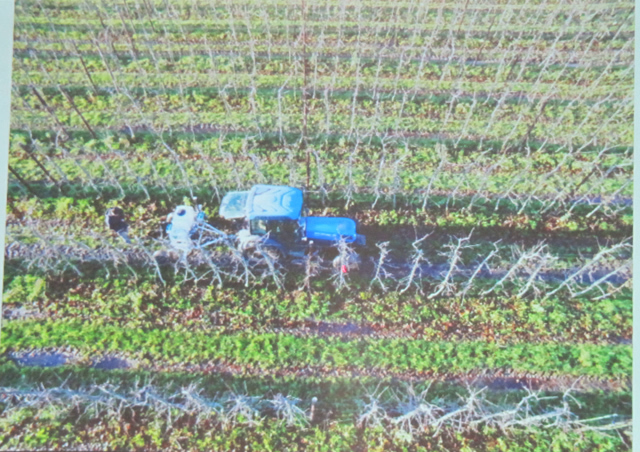 Click on video of VERIS U3 for a view of Veris U3 working in an arable field
Below: Four soil samples demonstrate the variability of soil type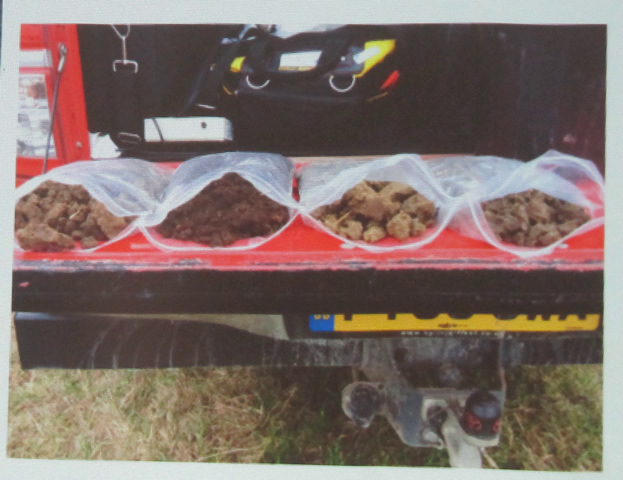 Below: Organic Matter (OM) profile mapped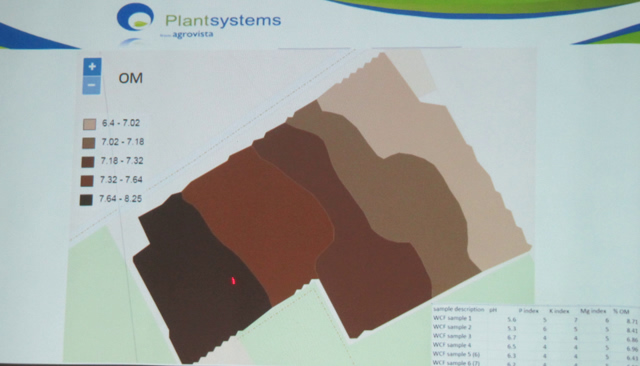 Below: Profile of pH Values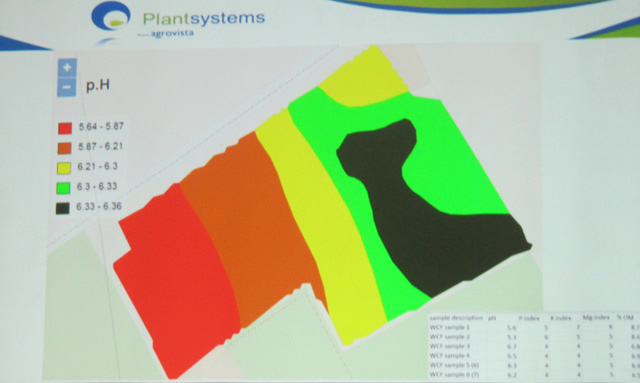 Below: Example - Different values specific to each sample for pH, P, K, Mg & OM (Organic Matter)

The ability to profile soil type, organic matter and nutrients can be further enhanced by aerial mapping using drones. Matching cropping records against soil profiles enables a better understanding of soil/crop correlation.
Below: An overview of areas profiled by a Drone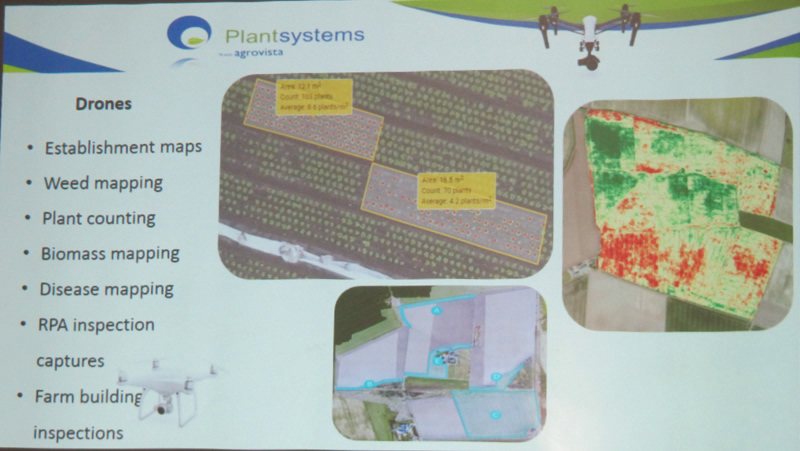 Below: A drone image detects weak spots in the orchard and highlights any dead/missing trees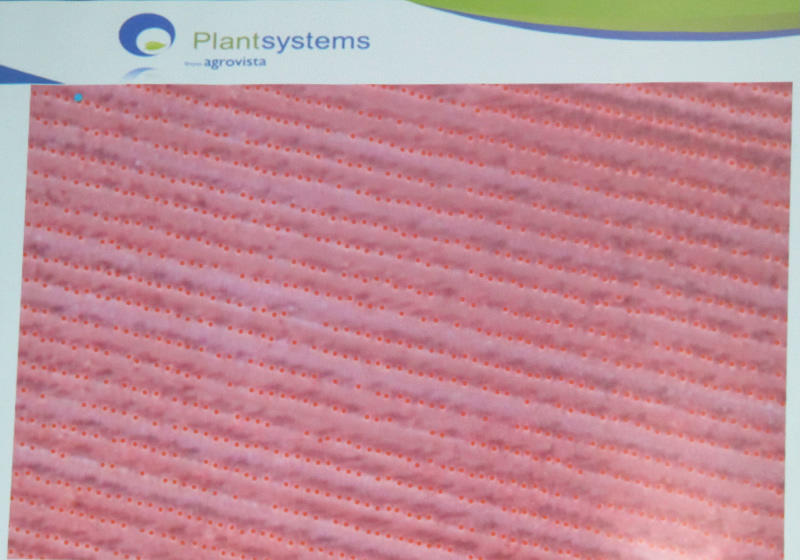 Below: Environmental aspects monitored by weather stations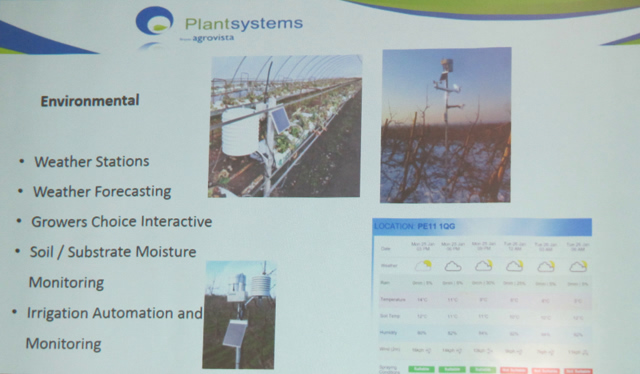 Readers of The English Apple Man who wish to learn more: Click on PLANTSYSTEMS
..................................................................................................................................................................
Effective Thinning Programs: John Portass - Wisbech Contract Farming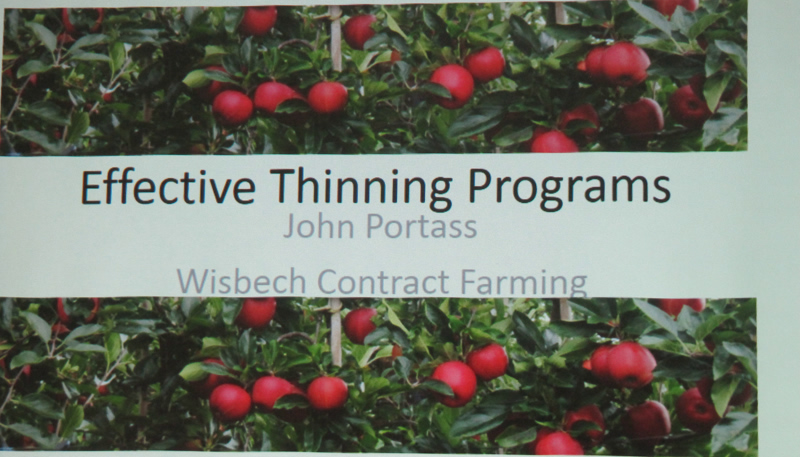 Below: In todays market, the size and quality parameters are critical if growers are to be profitable. Eating quality is paramount, but visual quality is equally important. Red colour catches the eye and 50% 'block' red colour on Gala is the target, with 70-80% of the surface coloured red. But the yield and quality drivers can not be achieved without maximising cost reduction initiatives. Thinning to achieve the right size and quality is an expensive process, whether by hand thinning (very expensive) or by mechanical or spray thinners.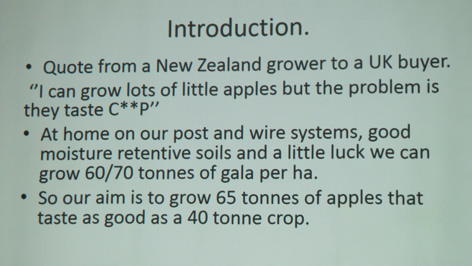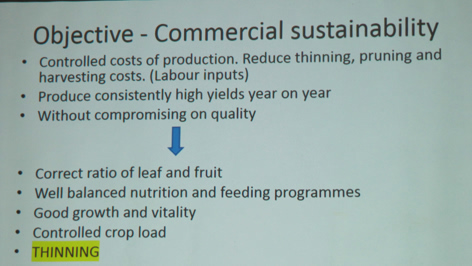 John Portass said with his high profile customers the objective is to grow as much a possible in the size and quality parameters which deliver the best financial returns. While it is impossible to get every apple into that category, 'that is the target' - thinning to achieve the right fruit numbers on each tree by mid July is a critical element in the equation..........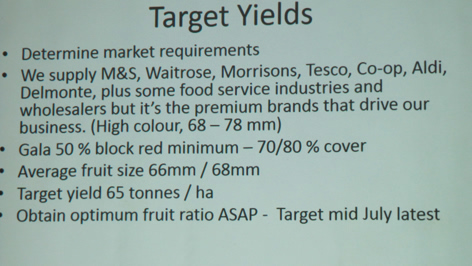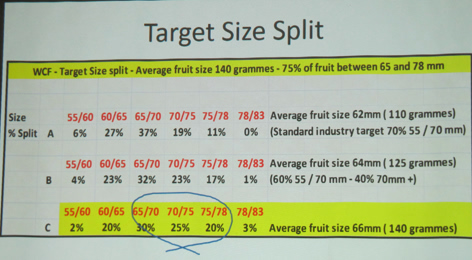 The target yields require a bit more than efficient thinning; to maximise financial returns, 'hanging the crop' on the most effective tree shape is paramount.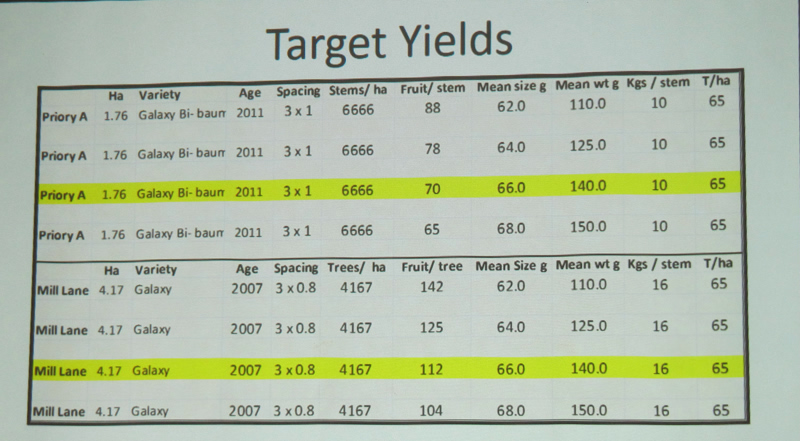 Trees must be capable of maximum light interception; a narrow tree format is the ideal tree shape and John Portass is utilising Bibaum (twin leader) trees as his ideal format.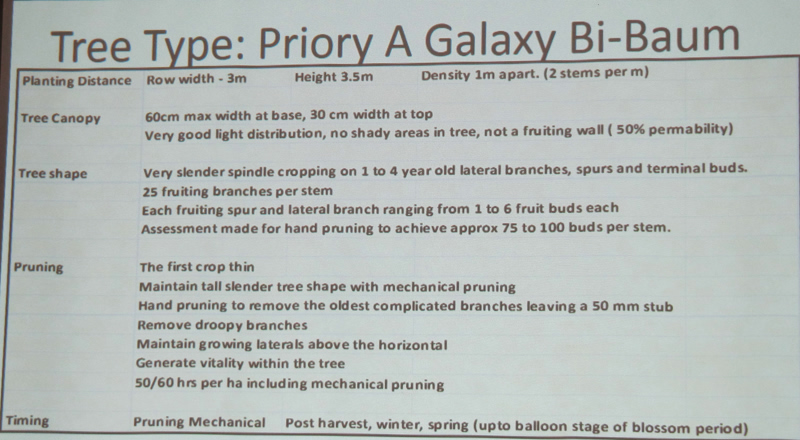 Narrow tree shape with maximum light interception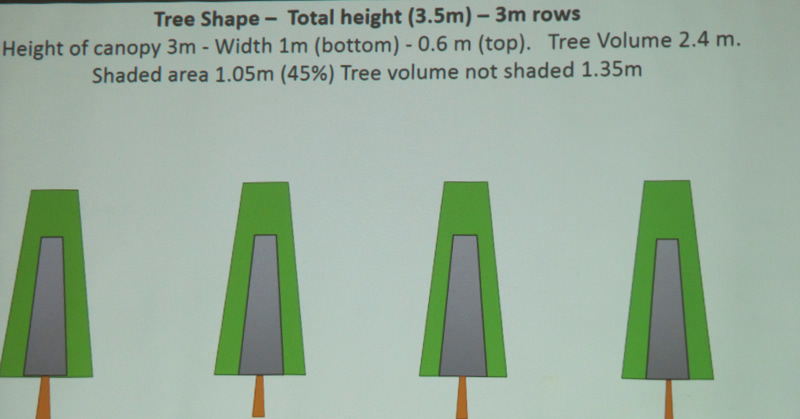 Below: Bibaum Gala trees (library pictures from The EAM's visit to Italy)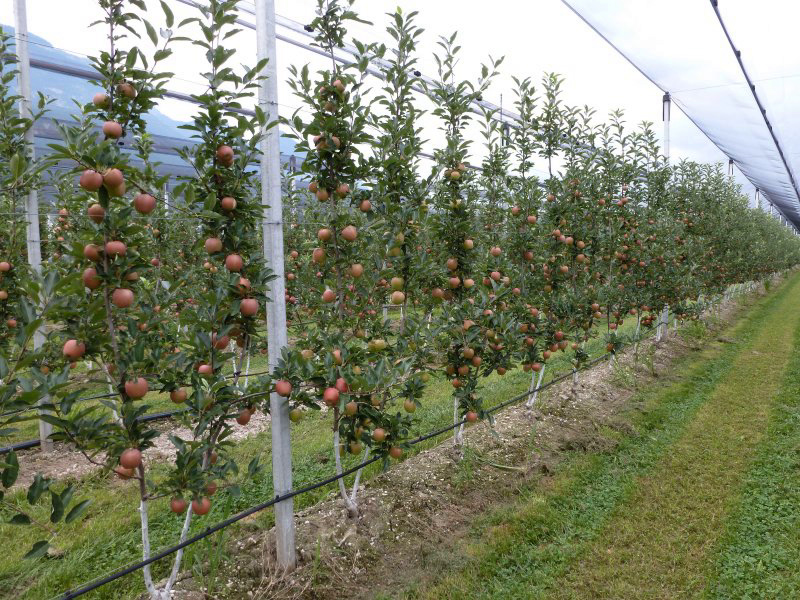 ..................................................................................................................................................................
Nectar/Pollen Mixes: Tom Johnson - Agrovista
Tom Johnson presented the results of wildflower policy in orchard/field locations. Getting the
mix right is just part the equation; soil preparation and wildflower management are critical if the investment is to be successful.
Below: Tom's introduction to the wildflower strategy for success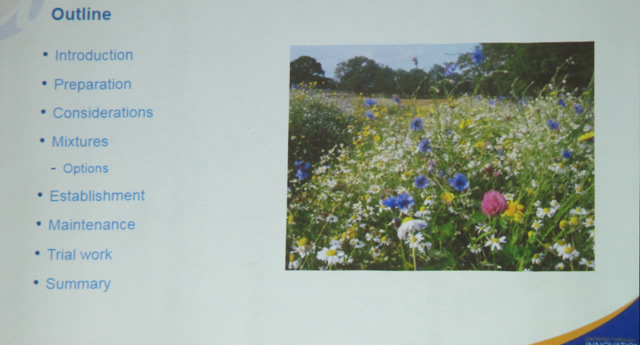 Below Preparation is important; kill off weeds and prepare an ideal seed bed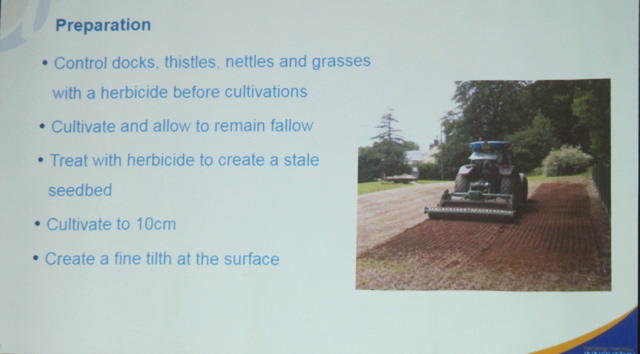 Below: Wild flower mixes help beneficial insects survival by providing food sources across the season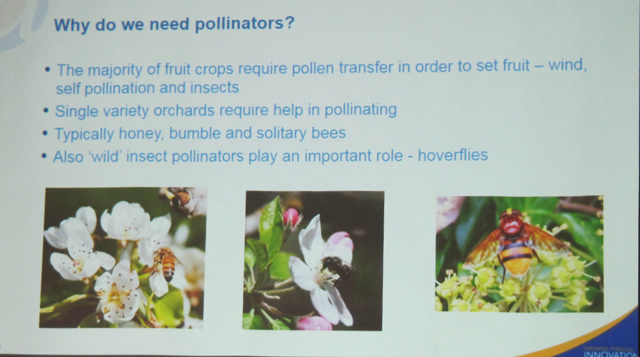 Below: Considering the right choices is important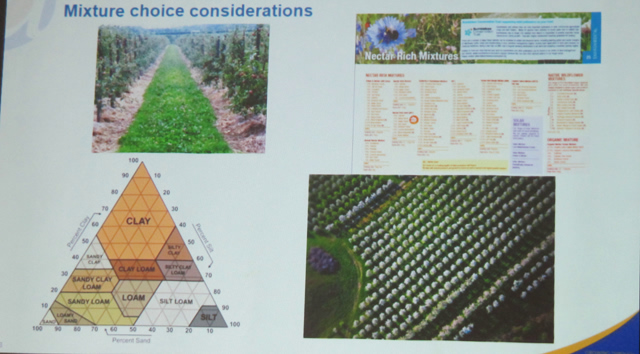 Below: Establishing mixes....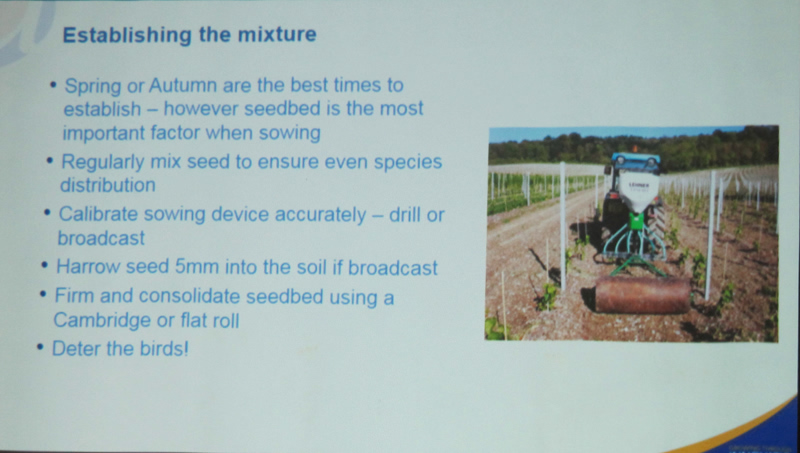 Below: Field corner mixes....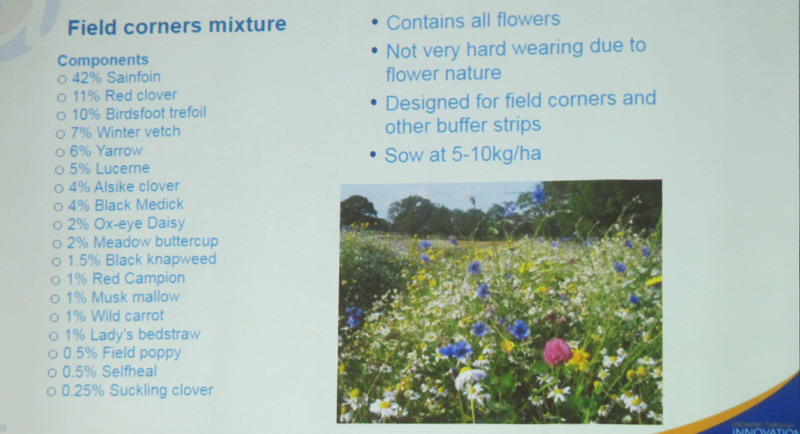 Below: Alleyway mixtures....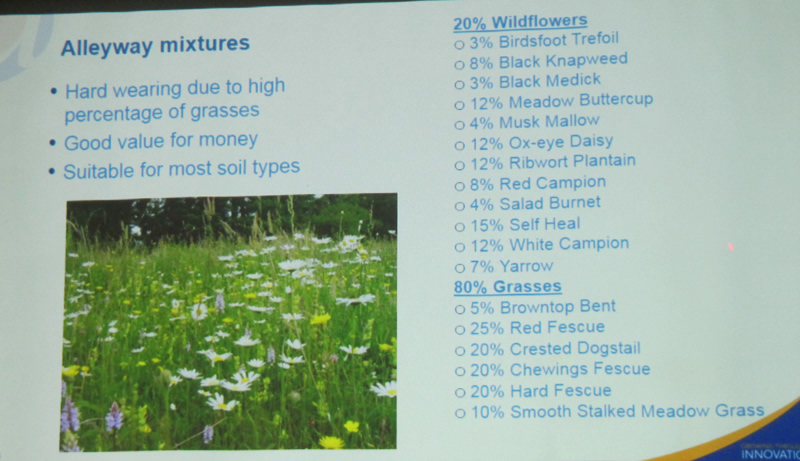 Below: Summary of trial results...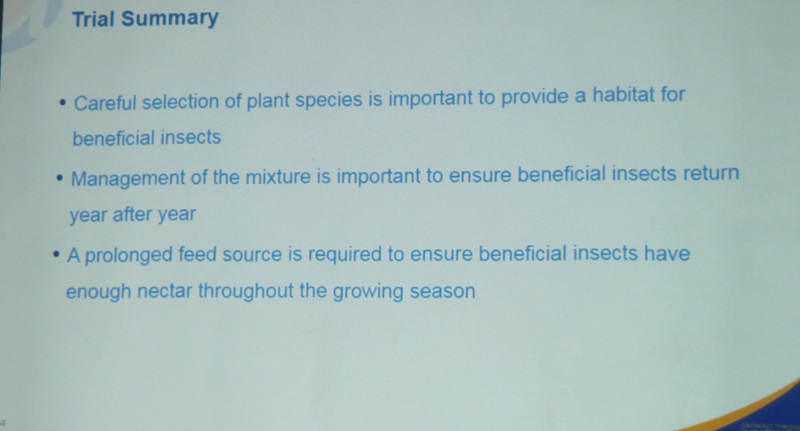 The presentations by Agrovista Technical personnel certainly stimulate the mind to how rapidly technology which we would only have dreamed about 'a generation ago' is now an integral part of our future growing and managment processes........
That is all for this week............
Take care
The English Apple Man