Journal
23rd Feb 2018 - Focusing on Rural issues
On Wednesday, The English Apple Man joined fellow members of the Rural Focus Press Group founded by Pat Crawford and held at Hadlow College.

Sponsors - Main sponsor Pat Crawford plus Hadlow College and David Bartholomew Photography.
Interview by media guest: Rex Cooper, Kent Profile Magazine.
The subject for this Rural Focus Group was LAND USAGE..........
We are a diverse group, with background's in farming, education, housing, countryside issues, farmers markets, environmental concerns, science et al: there was bound to be different views on how we evaluate the importance of how we use our LAND resource.
Our Focus Group meetings start with Chair Pat Crawford's opening remarks and 'guidance' with 'focus' on the day's subject; "pressures on land usage for food production, housing, the environment and recreation" - followed by individual opinions and general discussion before our Media guest arrives; timed to 'synchronize' with a sandwich lunch (provided by Hadlow College). This 'lunch' period allows introductions by members to the guest; this week Kent Profile Editorial Director - Rex Cooper.
The English Apple Man 'naturally' sees land as an essential resource which should be protected for food production: surely we should ensure the most productive soils should be 'ring fenced' for growing our essential food; only land with nominal value for food production should be allocated for non food producing ventures. Clearly future energy needs must be sourced from renewable systems. But the sun shines on poor quality land and that's where Solar panels should be.......agriculture and horticulture must maximise output with 'intensive, sustainable, precision farming' ...........much of modern soft fruit production is produced in alternative 'peat free' substances; coir rather than soil in pots or growbags - none of which (The EAM's opinion) should be produced on high grade land.......
Below: Left; Modern raspberry production is 'more and more' in pots and right; Strawberry production utilising pots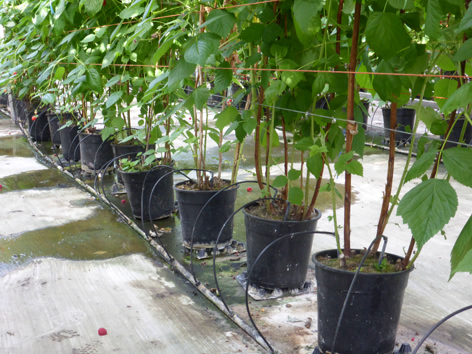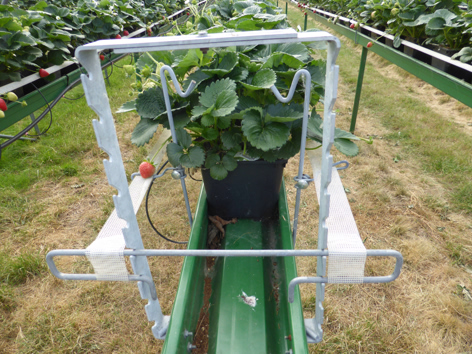 General points discussed: "We are food insecure Country" - "Agriculture needs to produce more food" - "Mixed farms are generally small farms" - "Too much tramline thinking"
From a housing point of view, David from CPRE (Council for Protection of Rural England) aired his frustration of a refusal by developers and authorities to adhere to the 'brownfield housing policy' -
The Government has set out its commitment to introduce a statutory brownfield register and ensure that 90% of suitable brownfield sites have planning permission for housing by 2020. This is part of the aim to boost the supply of housing land and to deliver plans for increased house building. Brownfield registers include up-to-date and consistent information on previously developed sites that are considered appropriate for residential development, under the criteria set out in the Brownfield Land register legislation.
As part of the production of the brownfield register, the council has the opportunity to trigger the granting of 'permission in principle' for brownfield sites that are considered suitable, available and achievable of delivering residential development. Permission in principle is where the consideration of matters for the principle of proposed development is separated from the technical details, providing an alternative route to obtaining planning permission. More information on permission in principle can be found on the gov.uk permission in principle information page.
Tessa O'Sullivan - 'Action with Communities in Rural Kent' whose role is to help young people into 'affordable housing' - Tessa indicated 'Exception Sites' - An exception site is an area of land where no other development except local needs housing is permissible. Due to these restrictions the value of the exception site land is normally lower than land where market housing development is permitted, helping to retain low cost viable housing development.
These site are small circa 1 acre with room for 8 properties, but landowners are reluctant to sell land into this scheme as the value is well below normal development land.
Getting back to land usage for food production, the speech this week by Michael Gove at the NFU AGM Conference which on the surface 'promises much' but our group discussion came to the conclusion, unless direct support for smqall farms continues, only the large farming enterprises will survive.....
b>"Of all UK industries, farming could lose or gain the most from Brexit. At worst Brexit could devastate the farming sector; on average 60% of farm incomes come in the form of EU subsidies.
The report by Informa Agribusiness Intelligence estimates that without subsidies 90% of farms would collapse and land prices would crash.
So far no one has said the subsidies will be taken away, or even that they will shrink. Indeed, the government has promised to match them up until 2020. But beyond that it has promised nothing...........
Speculating on the role of Farmers Markets, Howard Porter - Tonbridge & Malling Friends of the Earth pointed out the value of Farmers Markets, not only as a supplier of high quality food direct to the consumer, but just as important as a means of bringing the producer and consumer closer together promoting a better understanding of how the food is produced. 'Forum for the future' - China has an imbalance caused by their 'one child per family policy' now the middle aged population is predominately male! By 2015 half of UK population will be over 65; by the end of the century we are predicted to need to fill 30 million jobs but we may have only 7 million available.......... 'Robots will be critical in filling jobs, artificial intelligence and how it shapes our future is the 64,000 dollar question..........
Dr. Howard Lee - Hadlow College Leader; Sustainable Agriculture, Animal & Land Management, always delivers 'thought provoking' insights into sustainable food production. As we speculated on how the future will treat our farmers and growers, Howard said, predicting the future has proven to be an 'inexact science' - rarely do projections of the future deliver substance. Howard drew on the history of mobile phones; "how many of us dreamt with accuracy the place mobile phones play in our lives today; will our diet be revolutionised by technology? Will we need to produce food for sustenance, or will technology deliver it 'on a plate' - the arrival of 3D printers has revolutionised thinking.
3D printing refers to processes in which material is joined or solidified under computer control to create a three-dimensional object, with material being added together (such as liquid molecules or powder grains being fused together). 3D printing is used in both rapid prototyping and additive manufacturing (AM).
Objects can be of almost any shape or geometry and typically are produced using digital model data from a 3D model or another electronic data source such as an Additive Manufacturing File (AMF) file (usually in sequential layers). Stereolithography (STL) is one of the most common file types that is used for 3D printing. Thus, unlike material removed from a stock in the conventional machining process, 3D printing or AM builds a three-dimensional object from computer-aided design (CAD) model or AMF file, usually by successively adding material layer by layer.
So, Howard speculated; "will we be able to 3D print nutritious food from chemical elements" - will that render growing our food in the traditional way outdated?
The English Apple Man speculates; maybe 3D printed food will become the staple diet; maybe real food will only be produced for the rich or as a treat in Restaurants...........
I suppose this is may just be "Pie in the Sky"
Howard Lee also championed the need for more Urban Farming - eg utilising spaces in Urban areas to produce food; in particular glasshouse or vertical farming could be designed into new Cities ensuring more food Is grown close to the consumer, reducing transport costs.
Returning to the present; foreseeable production techniques will become ever more intensive supported by technology to deliver yet more yield and more importantly value per hectare.......
Below: 'state of the art' apple orchards in NewZealand The EAM thanks Irish Apple Growers visit to New Zealand for the picture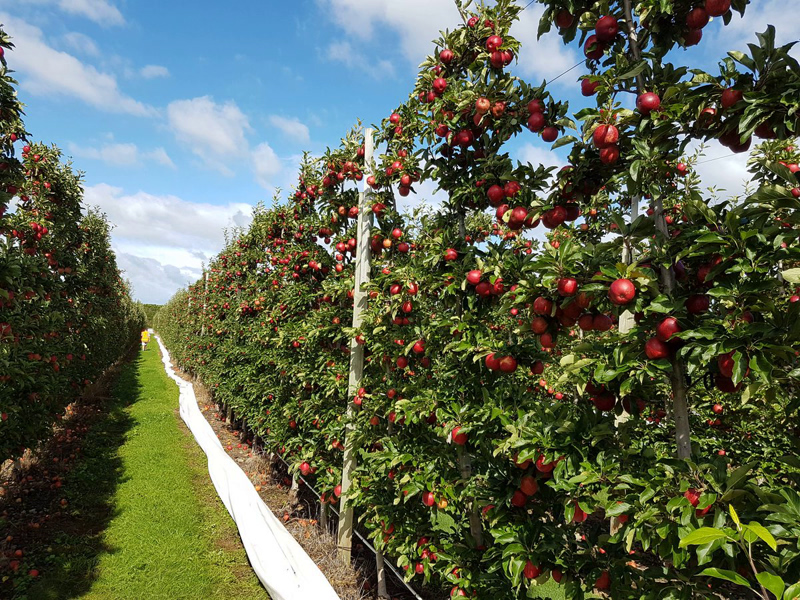 ---------------------------------------------------------------------------------------------------------------------------------
A new president for The National Farmers Union
Below: Minette Batters - National Farmers Union President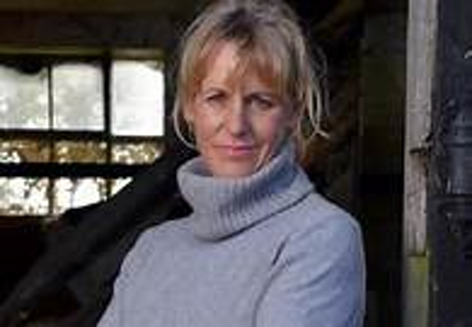 They may have been hoeing fields, herding sheep and milking cows alongside men for thousands of years but it has taken more than a century for Britain's largest farming union to elect a woman as its leader.
Wiltshire farmer Minette Batters has been elected its first female NFU president in the union's 109-year history. Ms Batters was elected at a meeting of the union's ruling council following the NFU's annual conference in Birmingham on Wednesday (21 February). She succeeds Meurig Raymond and will serve a two-year term as president. Also elected were Essex farmer Guy Smith (deputy president) and Hertfordshire farmer Stuart Roberts (vice-president).
The future of British farming is full of potential was the message on day two of NFU Conference 2018 which opened with a discussion on the implications of post-Brexit policy on international trade and agriculture.
Shanker Singham, Director of Economic Policy and Prosperity Studies at the Legatum Institute, joined Ambassador Braithwaite, Ambassador and Permanent Representative at the UK Mission to the WTO in Geneva to highlight the opportunities that Brexit can afford UK farmers.
Mr Singham told conference delegates that leaving the EU will present an opportunity for the UK, and UK farmers, to establish a level playing field with the rest of the world.
Talking about the importance of fair competition, Mr Singham explained that nowhere is this more of an issue than in agriculture due to the vastly differing levels of subsidies around the world. He said that control of the UK's regulatory system will be extremely important in ensuring that the UK has the best regulations in place to enable farmers to continue the business of farming without being shackled by red tape.
---------------------------------------------------------------------------------------------------------------------------------
Colin Hutchinson
Sad news of the passing of a highly respected member of the Agricultural & Horticultural Community; my good friend and mentor Roger Worraker alerted me to the Telegraph Obituary Column today: Colin, of Wisbech, passed away peacefully on 16th February, 2018 aged 87 years. A dearly loved husband, father, father-in-law and grandfather. A Thanksgiving Service in celebration of Colin's life will take place at 2pm on Tuesday, 10th April, 2018 at the church of St. Peter and St. Paul, Wisbech.

Roger Worraker developed a friendship with Colin Hutchinson when they were fellow students at Sutton Bonnington in the 1950's............The university campus was originally the Midland Agricultural and Dairy College, which formed in the first decades of the 20th century. In 1948 the college became part of the University of Nottingham.
HL Hutchinson of Wisbech was founded 80 years ago by Colin's father Herbert Hutchinson (HLH) - this year the Hutchinson family celebrate 80 years as a 'family' business; but it was Colin Hutchinson who expanded the business and importantly created a sound financial business allowing the next generation the opportunity to expand further HL Hutchinson, when his son David returned to the business. Just 23 years ago Hutchinson's was a £16,000,000 business - today it has a turnover in excess of £200,000,000. Colin is remembered by those who worked for him as 'a very nice gentleman' - it is clear Colin not only created a strong financial base, but also the ethos which has allowed his sons to build the only large UK Agri Business still family owned! Today David is Chairman and his brother Mike horticultural director.

That is it for this week..........
Take care
The English Apple Man