Journal
9th Mar 2018 - More from NIAB/EMR and Taste of Kent Awards

Last week the English Apple Man reported the research into DMC (Dry Matter Content) being carried out at East Malling. This week, some more research presentations discussed.................plus results from the 2018 Taste of Kent Awards....
Mehrdad Mirzae of Landseer presented the trial data 'to date' for project AHDB TF225
Application of chlorophyll fluorescence to predict fruit maturity in Gala Apples - AHDB TF225
Mehrdad posed the question: "Why maturity testing in Gala is important?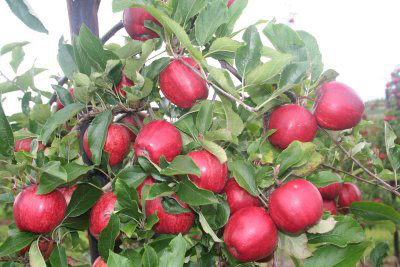 Gala production is increasing. - Between 2009 & 2016 Production has doubled. - Harvested fruit will be used for: Processing, Immediate fresh market, Short-medium future fresh market, Long term fresh market.......
To balance the marketing plan part of the fruit should be stored for long term and marketed after April.
One of the most important factors for the long term storage of fruit is choosing the right fruit with high dry matter and balanced minerals which were picked at the right time (ie: Gala 80-75% starch).
There will be competition with imported fruit after April: delivering fruit which eats as good as new season Southern Hemisphere fruit is a challenge.
Firmness and taste to compete with southern hemisphere fruit will depend on good dry matter and good storage conditions: SmartFresh has been a valuable tool to enhance fruit quality & maximise market options but as season 2017 showed should not be used for over mature apples.
What are the missing elements: Picking at the right time; when to pick? several maturity indicators give us a priority order to make harvest decisions: starch, firmness, brix (sugar) acid content, flesh colour, background colour, red 'top' colour and size.
Long term storage market window: Until now very long term storage (May+) for English dessert fruit has been a niche sector; 20 years ago we would have been nervous of taking Gala beyond February storage. However - significant growth in volumes grown dictate that it is now imperative we extend the market window, otherwise we get a forced sales scenario to clear fruit!

Apples harvested during the climacteric rise in respiration had a 2.5-fold greater rate of volatile production than pre-climacteric fruit harvested 1 week earlier (Song and Bangerth, 1996)
This can only be done through attention to detail at harvest for fruit identified for long term storage (LTS ).
- It must be comparable in terms of quality & price to imported options.
- Starch /iodine is a reliable test but - Destructive , messy and time consuming - Small sample - Notice of readiness for long term pick can be short (few days) and unexpected (2017!)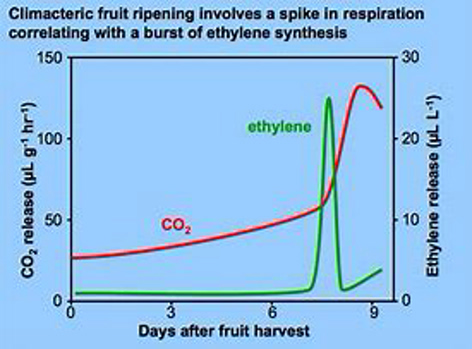 The climacteric is a stage of fruit ripening associated with increased ethylene production and a rise in cellular respiration. Apples, bananas, melons, apricots, and tomatoes are climacteric fruit.
Climacteric is the final physiological process that marks the end of fruit maturation and the beginning of fruit senescence. Its defining point is the sudden rise in respiration of the fruit and normally takes place without any external influences.
After the climacteric period, respiration rates return to or below the point before the event. The climacteric event also leads to other changes in the fruit, including pigment changes and sugar release. For those fruits raised as food, the climacteric event marks the peak of edible ripeness, with fruits having the best taste and texture for consumption. After the event, fruits are more susceptible to fungal invasion and begin to degrade with cell death.
Assessing apples for harvesting window?
While starch /iodine is a reliable test for predicting harvest dates, it is - destructive , messy and time consuming. The sample is normally a small sample and notice of readiness for long term pick can be short (just a few days) and unexpected; as with the 2017 harvest.
Below: left; A solution comprising 1% iodine and 4% potassium iodide is required - right the solution identifies levels of starch (black) in the apple
Local chemists no longer provide this solution as it is classified as hazardous under the COSHH regulations. These require precautions in the preparation of the mixture and its subsequent handling and use.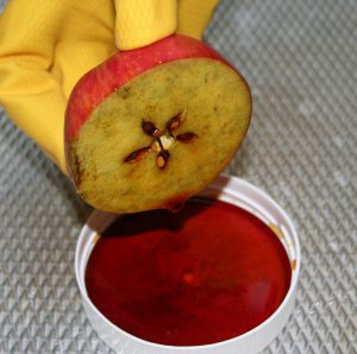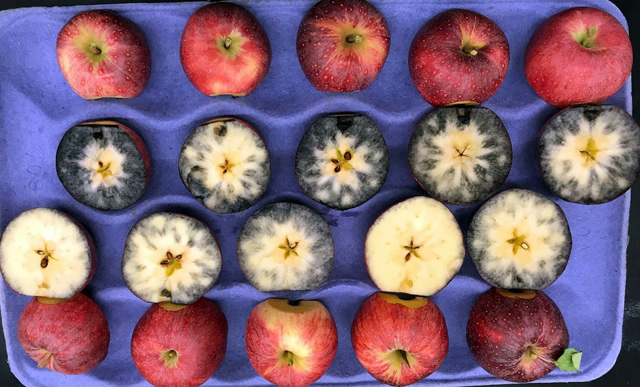 Chlorophyll Florescence Essentials
There is clearly one biochemical pathway for chlorophyll decomposition in leaf senescence and fruit ripening, during fruit ripening chlorophyll fluorescence declines............
Sun light absorbed by Chlorophyll in leaves and fruits are not fully utilised in photosynthesis, the rest of it re-emitted as heat and fluorescence - Chlorophyll fluorescence is used as a non destructive method to measure changes during fruit maturity.
Can we harness Chlorophyll Fluorescence (CF)?
Landseer has been monitoring fruit maturity before harvest and internal disorders in Gala and Bramley, since 2013.
A three year project with AHDB consortium started in 2016 on Gala maturity to answer these questions:
Can we read across from these signals to key aspects of fruit maturity ?
Starch profile, Brix relationships, Fruit acidity, Nutritional issues...........
In other countries technology is being applied - DA meter on Honeycrisp USA, Gala in Italy.
Below: Honeycrisp starch staining patterns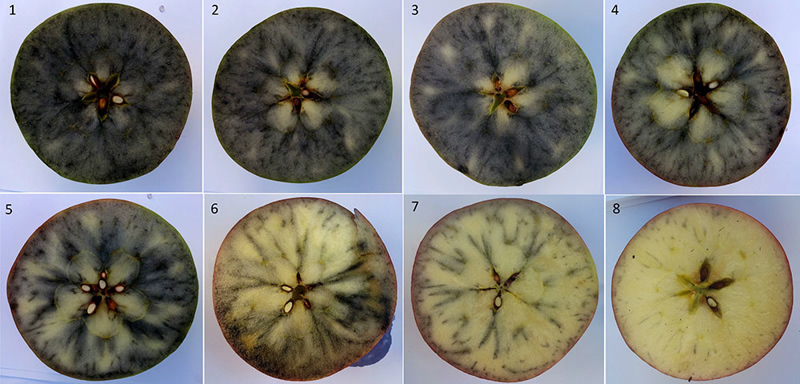 Below: Mehrdad Mirazaee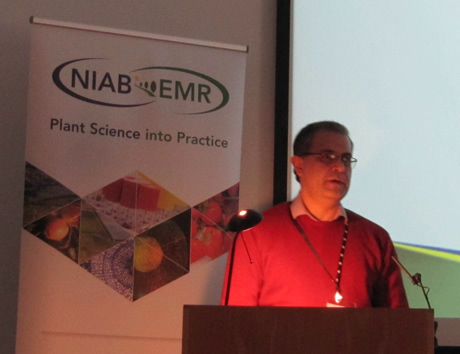 Mehrdad said it is 'evident' that values are not transferable to English conditions - we need to develop our own CF profiles for varieties grown in English conditions; using Fluorimeter Pocket PEA (Hansatech/UK) adapted for Red Fruit illumination with an intense blue light for 1 sec records the chlorophyll fluorescence parameters.
In 2017 samples were collected on July 4th from 9 orchards in different locations.
From each orchard 50 fruitlets of the average size 25-30mm and generally representative of the overall orchard were collected - samples were taken using the classic "W" format across the orchard taking samples; North, East, South and West (4 fruitlets per tree).
The samples were transferred to Landseer. 50 samples of each orchard were assessed by Pocket PEA( Hansatech/UK) with blue light - results downloaded and the average AvF of each orchard were calculated - samples sent to YARA analytic for mineral analysis and DMC; average fruitlets size around 25-30mm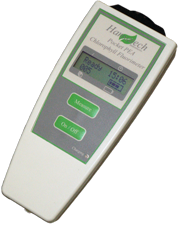 Measuring CF of fruitlets by Pocket PEA at Landseer
Flowchart for Gala maturity prediction based on the first year (2016-17) results
Start of sample collection:
First sample at fruitlet stage (about 90 days after blooming, size 25-30 mm)
1) Mineral analysis + DMC 2) CF measurement (Pocket PEA)
Second sample at fruit stage (about 30 days after first sample, size 55-60 mm)
1) Mineral analysis + DMC 2) CF measurement (Pocket PEA)
3rd sample after a further 10 days, 4th sample after another 7 days, 5th sample after further 3 days
Note: the number of sample collections depends on speed of fruit maturity by either 1) Starch test (Iodine spray) 2) CF measurement (Pocket PEA)
Conclusions
Mehrdad Mirazaee said: Although we should wait for store monitoring results by end of storage in June, preliminary results during harvest 2017 confirmed obtained results in 2016 that CF warning was 7-10 days earlier than starch warning (less than 80% starch).
Comparison of changes in Brix and acidity, also showed that during the 7-10 days between CF warning and picking date Brix and acidity were in the thresholds acceptable for picking fruit.
The current data analysis is complicated and time consuming. We hope by the end of year 3 (season 2018-19) and confirmation of the obtained results in the last two years, we can start a new project to develop a practical, applicable and affordable device for the growers.
The English Apple Man Comments.... Clearly the ability to identify accurately the optimum picking date in comparison to the current standard (starch, brix, fruit firmness, background colour) would be a valuable tool for improving the storage potential and eating quality 'out of store' would be another leap forward in the 'management tool box' ................
Below: left; the present and right' the future?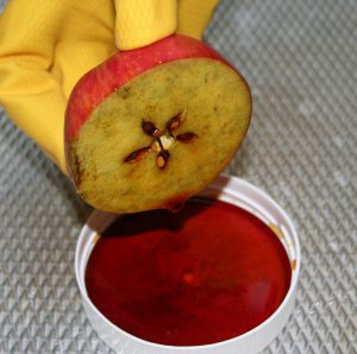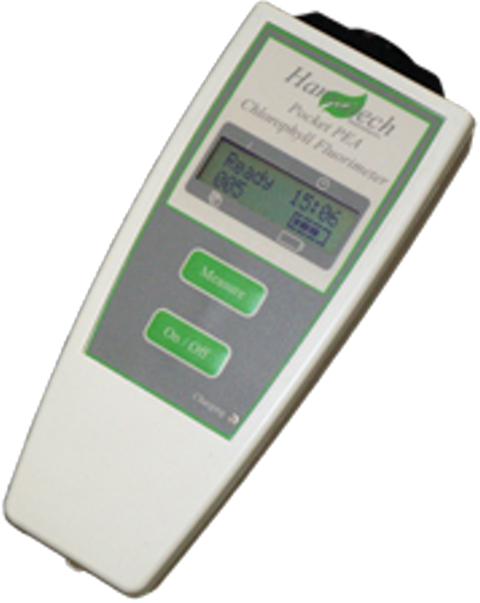 ..................................................................................................................................................................
Taste of Kent Awards
On Thursday evening, The English Apple Man and his son attended The 2018 Tast of Kent Awards Dinner, held at The Kent Event Centre at Detling, near Maidstone in Kent.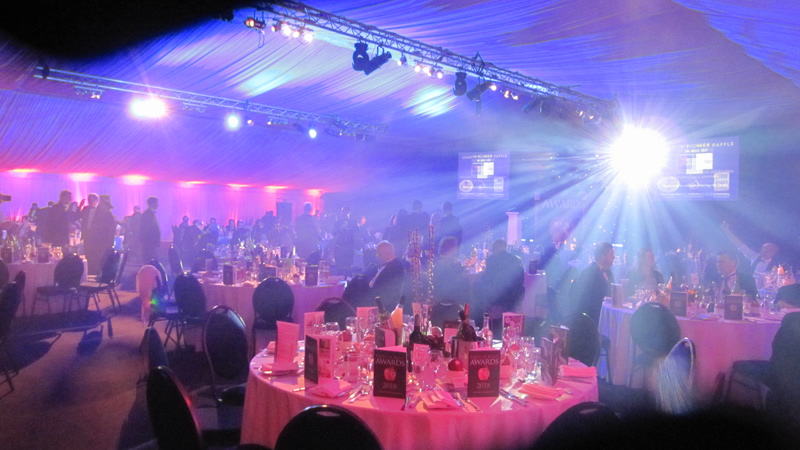 This event profiles the many producers of high quality foods, drinks and services. My son and I had the honour of being judges for The Tastiest Apple & Pear competition sponsored by BTF Partnership . Judging took place at the National Fruit Show in October 2017.
On our table; The Winner of The Tastiest Apple - John Bray; The Winner of The Cherry (Class 60) Brian Piper and John Myatt Winner of The Strawberry (Class 70) AND Winner of The Raspberry (Class 80)
John Bray won The Tastiest Apple with JAZZ. Brian Piper won the Cherry class with the variety VAN. John Myatt the Strawberry class with the variety MAGNUM and the Raspberry class with the variety TULAMEEN.
Below: left; Jazz Apples. middle left; Van Cherries - middle right; Magnum Strawberries - right; Tulameen Raspberries




Below: left; Stephanie Durling - Produced in Kent and right; John Bray (right of picture)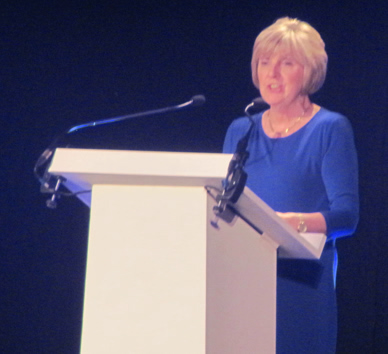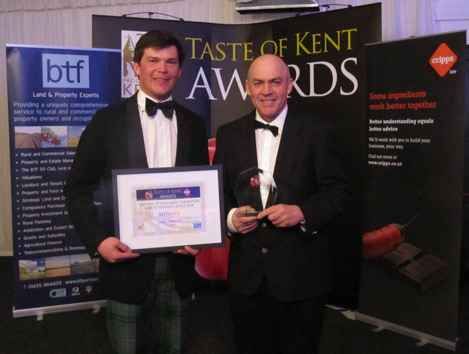 Below: left; Brian Piper with his daughter and right; John Myatt with his wife and daughter
In both pictures Award Winners are accompanied by Kevin Attwood, Chairman Kent Country Agricultural Society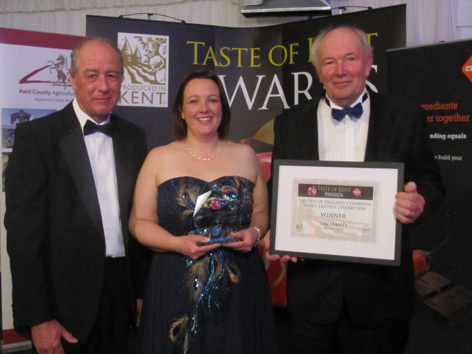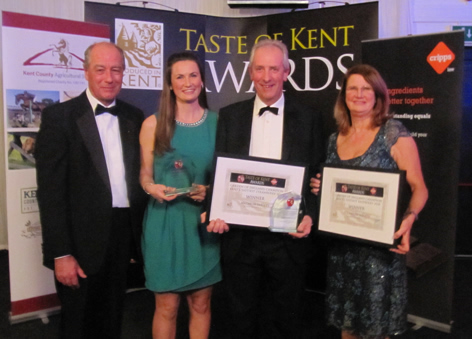 Among the 300+ attending the 'Awards Dinner' two more winners of particular interest to The English Apple Man..........
Kent Cider or Perry of the Year and 'Kent Tastiest Juice of the Year.........
Winner of The Kent Cider of the Year - Sponsored by Wilkins Kennedy FKC was Turners Cider 'Elderflower Cider' and Kent Tastiest Juice - Sponsored by AC Goatham & Son was Owlet Fruit Juice ' Spiced Apple Juice'
Below: left; May and Phil Turner (centre & right) - right; Suzie and Colin Corfield (centre & right) with Nigel Stewart AC Goatham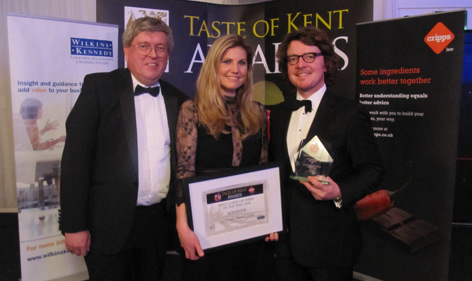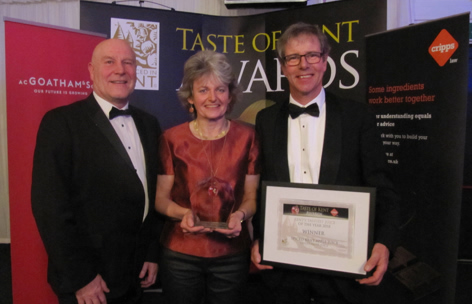 Below: All the Taste of Kent Award Winners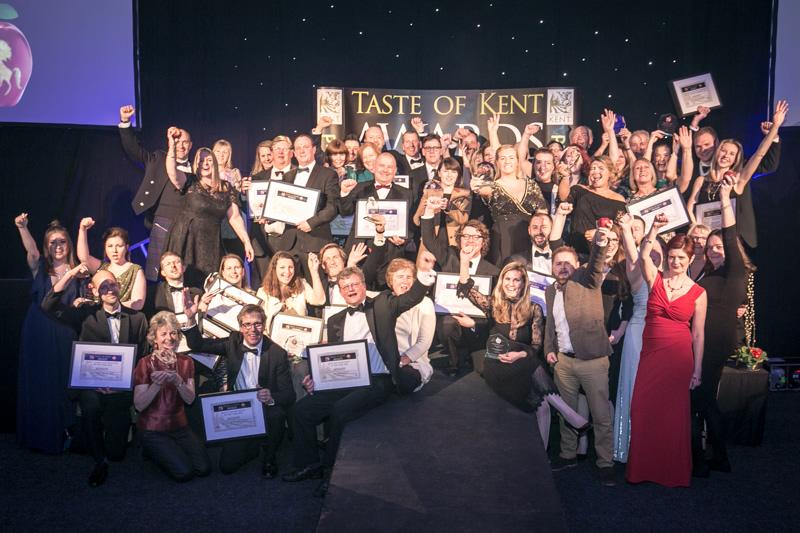 The Taste of Kent Awards Dinner spotlights the many excellent food producers in Kent and highlights the imagination and skill invested in a plethora of unique food and drink products; in addition awards for restaurants, pubs, retailers, butchers and bakers et al.
That is all from me for this week......see below Press Release from Taste of Kent
Take care
The English Apple Man

Press release: Friday 9 March 2018
The Taste of Kent Awards is now in its fourteenth year and it is recognised as the outstanding annual showcase of Kent food and drink. The awards promote a wide range of categories and are open to all food and drink businesses across Kent. The campaign begins each year with these soft fruit winners and continues with the commencement of public voting between September and early January before concluding with the gala dinner in March when winners are announced.
Winners announced for the Taste of Kent Awards 2018
The winners of Produced in Kent's Taste of Kent Awards 2018 have been revealed, Thursday 8 March at a glittering black-tie dinner at the Kent Event Centre. Kent's ultimate food and drink champions have been crowned, from the tastiest food and drink products, best producers, restaurants, pubs and shops.
Stephanie Durling at Produced in Kent comments: "Congratulations to all of the winners and finalists. They should be thrilled at making it through to the final phase, as the results are always close and the judging is difficult as the standards are so high. The winners have however shone above the competition to be named the tastiest or the best. We were delighted this year to see some new names amongst the finalists including, Barham Village Store, Southborough Butchers, Austen's, Rockin Robin, Turners Cider, The Buoy & Oyster, The Carriage Restaurant and Hop & Huffkin. There are also more finalists from the Weald of Kent too. Thousands of people and producers have taken part in the voting from all over the county and beyond. The people of Kent have chosen the flavours, products, produce and venues they have enjoyed the most over the last 12 months. For the winners, these awards are the ultimate accolade from their customers and confirmation of their food and drink excellence."
Victoria Symons, head of the Food and Drink team at Cripps, said: "As committed supporters of the Kent food and drink industry we are extremely proud to have been the main sponsor of the Taste of Kent Awards for the seventh year running. As you would expect, the standard of nominations has been exceedingly high and reflective of the rich and diverse range of food and drink businesses we are lucky enough to have on our doorstep."
The winners are:
Category - Garden of England Champion Top Fruit, sponsored by BTF Partnership
Winners:
Banfields Farm Horsmonden - Comice Pears
A J Bray & Son Faversham - Jazz apples
Category - Kent Beer of the Year, sponsored by Eurostar
Winner: Gadds No.3 - Ramsgate Brewery
Runners up:
Goodness Gracious Me IPA - Goody Ales
Reliant Robin - Rockin Robin Brewery
Category - Garden of England Champion - Cherries and Soft Fruit, sponsored by Kent County Agricultural Society
Winners: Brian Piper, Filmers Farm, Loose, Nr Maidstone - Cherry (Van variety)
J Myatt & Co, Mockbegger Farm, Rochester Strawberry (Magnum variety)
J Myatt & Co, Mockbegger Farm, Rochester Raspberry (Tulameen variety)
Category - Kent Cider or Perry of the Year, sponsored by Wilkins Kennedy LLP
Winner: Elderflower Cider - Turners Cider - Marden
Runners Up:
Kentish Discovery - Kentish Pip - Bekesbourne
Wise Owl Bittersweet Dry Still Cider - Wise Owl Cider - High Halden
Kent Countryside Award sponsored by Kent Downs Area of Outstanding Natural Beauty and the High Weald Area of Outstanding Natural Beauty
Joint winners: AC Goatham & Son, Medway Roundoak & Kings Oak Farm Sutton Valence
Highly Commended: Eckley Farms Staplehurst
A Unique Community Award: Spadework Offham
Category - Kent Wine of the Year, sponsored by NFU Mutual
Winner: Bacchus 2016 - Chapel Down - Tenterden
Runners Up:
Ortega 2016 - Biddenden Vineyards - Biddenden
Sparkling White 2013 - The Mount Vineyard - Shoreham (Sevenoaks)
Category - Kent Local Food Retailer of the Year, sponsored by Opies
Winner: Austens of Rochester - Rochester
Runners Up:
Barham Village Store - Barham
Macknade Fine Foods - Faversham
Category - Kent Restaurant of the Year, sponsored by Thomson, Snell & Passmore
Winner: The Buoy & Oyster - Margate
Runners up:
The Carriage Restaurant - Faversham
The Corner House - Canterbury
The Mulberry Tree - Boughton Monchelsea
Category - Kent Butcher Shop of the Year
Winner: S.W.Doughty - Doddington
Runners Up:
Southborough Butchers - Tunbridge Wells
Stour Valley Game - Chilham
A wide range of products have also been entered for the Kent Food Product Classes Awards, sponsored by Shepherd Neame. These classes are not open to public vote and products are submitted by the businesses to an independent expert panel who then select an overall winner.
Winner Specialist Drinks: Craft Mead with Kent Golding Hops, Marourde - Mereworth
Highly Commended: Canterbury Gin by Canterbury Brewers and Distillers
Winner Bakery and confectionery: Stoneground Wheat and Barley Flour, Pure Kent -Staplehurst
Winner Dairy Class: Pure Whole Milk, Plurenden Manor Farm - High Halden
Winner Prepared food - Habanero Chilli Biltong, North Downs Real Food - Lenham
Winner Ambient - Oak Smoked Cold Pressed Rapeseed Oil, Pure Kent - Staplehurst
Category - Kent Tastiest Juice of the Year, sponsored by AC Goatham & Son
Winner: Spiced Kent Apple Juice - Owlets Fruit Juice Lamberhurst
Runners Up:
Apple & Cherry Juice - Chegworth Valley - Harrietsham
Apple Juice - Biddenden Vineyards - Biddenden
Category - Kent Dining Pub or Bistro of the Year, sponsored by University of Kent
Winner: The Ferry House Inn, Isle of Sheppey
Runners Up:
The George Inn, Molash
The Hop & Huffkin, Sandwich
Category - Kent Food Producer of the Year, sponsored by Shopper Anonymous
Winner: Bessie's Tea Parlour - Broadstairs
Runners Up:
Sissinghurst Pigs - Sissinghurst
The Chai Stop - Minster, Thanet
Kent Food Product of the Year
Winner: Craft Mead with Kent Goldings Hops, Marourde - Mereworth
The Produced in Kent Award was made to William Opie, former Chairman of Produced in Kent and Director for his constant support as a founding member and a true ambassador for Kent food. He has been a champion for the whole independent food sector across Kent and helped Produced in Kent members grow to a combined turnover of £370m per year.
The awards dinner was catered for by Jason Freedman at Curiously Kentish from Birchington and the drinks reception was sponsored by a new sponsor this year, Synecore, Detling.