Journal
16th Mar 2018 - Award Winning Cider made in Kent
Turners Cider, a newcomer to Craft Cider makers is proving a winner..........
Turners Cider
It's always exciting to watch a new business venture develop from it's 'embryonic' stage into a fledgling enterprise.
The English Apple Man made a visit to Turners Cider in Marden Kent, where Phil and May Turner recounted the progress of their cider making business from a 'bit of fun' one weekend into a rapidly developing success story.
Below: May & Phil Turner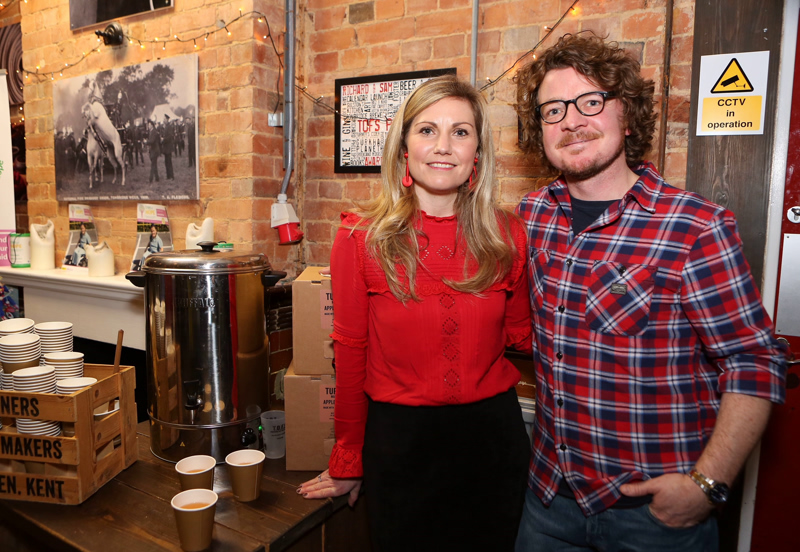 Between 2005 - 2009 Phil and May were pursuing careers in London: Phil as a copywriter and May as a letting agent. Things changed when their first child was born. The family decided to move out of town to the countryside and nearer May's parents in Kent. They moved to a rural spot in a cottage at Reed Court Farm at Chainhurst, Marden and not too far from where the business now resides.
Phil continued to commute to London and with a large garden and view of neighbouring orchards, Phil romanced about making his own cider. Spurred on by his brother and sister-in-law who hired a press for a weekend in Autumn 2013, Phil, May, friends and the family set about pressing fruit from local orchards.
In the early days of their new home in Kent, May experimented making homemade chutneys and pickles; just a small 'pocket money' venture, but one which would prove to be influential bringing the unique 'taste of the kitchen' flavourings to their craft ciders.
Phil recounts: "When we first made cider it was with the windfall from family and friends' apple trees - we hired a scratter and a basket press, and everyone gathered on a sunny Autumn morning with their bags of scrumped fruit - we used anything and everything - people brought Discovery, McIntosh Red, Golden Noble, Howgate Wonder, George Cave, Egremont Russet, Cox, Gala, Greensleaves and Grenadier. We picked apples from the wildings around the woods and fields. much of the fruit we couldn't identify - The kids drank the apple juice straight from the press until they got belly ache".
"We put the 75 litres of juice at the back of the shed and waited. By the following Spring it was sharp but delicious".
In 2014 Phil made cider from the apple juice and with 75 litres began the journey from a 'hobbyist' to an emerging cottage industry. Phil emphasises the apples used are not 'traditional cider varieties' but local dessert varieties making an easy to drink cider in keeping with East of England ciders.
"That summer's parties were fuelled with our first homemade cider".
Below: Cheerfull Gold
In 2014 Phil and May acquired their first cider press; pressing Cox, Russet, Gala, Idared, Early Windsor and Cheerfull Gold. The juice became 1500 litres of cider in 2015. Sales were to local pubs, the first pub to offer Turners Cider was The Stile Bridge Inn and to a pub in London near Phil's office; 'he smiles as he recounts the story' - carrying packs of Cider to London in a suitcase, he would drop off the supply before trotting off to his workplace with his 'empty suitcase'
In 2015, the business was very much a part time business, but Phil and May were ready to embark on a new phase when unexpected success with their Dry Cider 7% - *Very Highly Commended at the British Cider Championships, Royal Bath & West Show, 2015* and an arrangement with Colin Corfield at Owlets in Lamberhurst for pressing the juice at Owlets. Next a move to a new working environment at Peter Hall's old packhouse on his farm in Pattenden Lane, Marden in Autumn 2015, followed by the acquisition of 10 x 5000 litre tanks and establishing a bottling line in an adjacent building, created the infrastructure for a fully-fledged 'Craft Cider' business.
Phil and May Turner have settled well into country life and made many friends who have helped them integrate into the local community; in 2016 James and Paul Smith, hosted 'Turners Cider Harvest Festival' at Loddington Farm featuring local bands, widened the awareness and appeal for their 'craft' ciders.
Below: Award Winning Elderflower Cider

Turners Cider took a quantum leap forward when their Elderflower Cider 5.5% - described as:
Still, fruity and floral, naturally sweetened with elderflower syrup. Unfiltered - Won Silver Medal at the British Cider Championships, Royal Bath & West Show, 2017
After the success at the Royal Bath & West Show in 2017 Turners Cider became a serious producer of craft ciders. From the first 75 litres in 2014; 1,500 litres in 2015 and 50,000 litres of cider in 2016. A steady increase in 2017 when cider volume reached 60,000 litres. Phil anticipates 75,000 litres in 2018.
Below: Cider tanks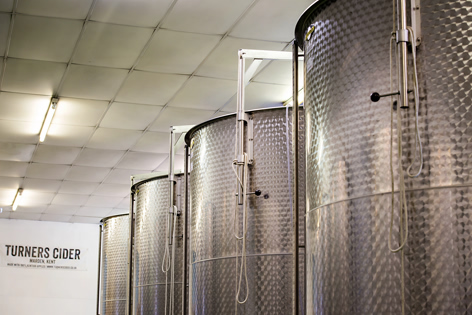 The current infrastructure is capable of an 80,000-litre capacity which Phil reckons is about as far as they want to take production; "it's important we retain the ability to manage the workload ourselves, extending the production further would require considerable investment in equipment and employees; now, Phil and May rotate their activity between 'cider making' - 'bottling' - 'sales and delivery'
"Much of our fruit is grown organically. All of it brings a different characteristic, we select each type of apple for its flavour. That's why we use so many traditional varieties like Cox, Worcester, Bramley and Russet, along with more modern ones like Early Windsor and Gala.
"The apples are picked from the tree when they're at their peak in the Autumn. We press and ferment the different apple varieties separately over the Winter months, creating a range of base cider"
Below: left; Phil Turner 'tasting' and right; Cheerfull Gold Cider Fermenting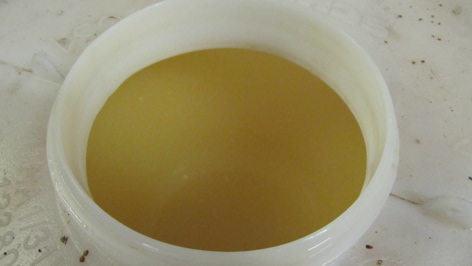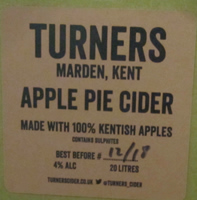 It is clear Phil enjoys the blending process and is proud of the blended ciders now available from Turners. Added to Phil's tasting and blending expertise; May has introduced flavours from her kitchen products. One of the craft ciders is named 'Apple Pie Cider' in which May's flavourings introduce a subtle essence to the base cider.
Phil and May's relationship with Colin & Suzie Corfield at Owlets has developed beyond the process of pressing Turners juice. In the Autumn of 2016, Colin offered 10,000 litres of Cheerfull Gold apple juice, a variety Colin is growing/utilising as part of his range of speciality juices.
GREAT TASTE WINNERS - Top Award - Triple Gold Star - Cheerfull Gold
Great Taste, organised by the Guild of Fine Food, is the acknowledged benchmark for fine food and drink. It has been described as the 'Oscars' of the food world and the 'epicurean equivalent of the Booker prize'. Quite simply the Great Taste logo is the sign you can trust when buying food and drink in your local, quality retailer.
2017 Great Taste Awards. Owlet Cox & Bramley and Owlet Cheerfull Gold are now both Double Gold holders whilst the Owlet Pear holds a Single Gold Star.
Below: John Breach and Cheerfull Gold trees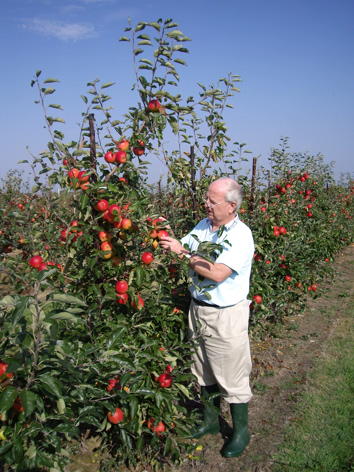 In a message to Cheerfull Gold breeder John Breach in November 2017, Colin Corfield said: "We supplied Phil turner with 5,000 litres of Cheerfull Gold juice last week and we are pressing another 5,000 litres this week.
"We are getting 200 litres/ bin, a very good extraction rate. This fruit has not been cold stored, (our stores are full), so it's been in the yard since picking and is still crisp and firm, unlike some Jonagold that was brought to us last week that had already gone soft. Given its yield potential, keeping qualities, high sugar and acid levels, I think it is a better juice apple than Jonagold.
Currently Phil Turner is assessing Cheerfull Gold and has yet to decide if a Cider made primarily from the variety has the potential to become a 'winner' however the Turners Gold is named Gold due to the blending with Cheerfull Gold.......either way Cheerfull Gold has a place to play in Turners Cider's...................
Currently the 10,000 litres of Cheerfull Gold are fermenting and a decision whether to make a Cheerfull Gold Cider will be made when Phil starts the 'tasting and blending' process. In the interim, Phil has added Cheerfull Gold juice, bringing sweetness to the blend of Turners Gold a low abv cloudy apple cider.
Below: Dry Medium Turners Cider

Craft Ciders currently available from Turners are:
Dry Cider 7% - Still, light, crisp cider with high acidity and low sweetness. Unfiltered and unpasteurised. *Very Highly Commended at the British Cider Championships, Royal Bath & West Show, 2015*
Medium-Dry Cider 7% - Lightly sparkling, crisp and fruity cider with a balance of acidity and sweetness. Available in bottles only.
Medium Cider 5% - Still, cloudy, naturally sweetened with fresh-pressed apple juice, giving a full, fruit flavour. Unfiltered.
Elderflower Cider 5.5% - Still, fruity and floral, naturally sweetened with elderflower syrup. Unfiltered. *Silver Medal at the British Cider Championships, Royal Bath & West Show, 2017*
Sweet Cider 7% - Still, well-balanced sweet cider that retains a hint of acidity. Like a fine Alsace wine. Unfiltered.
Pear Cider 5.5% - Still, wine-like and easy-drinking. Medium-sweet, unfiltered.
Russet Single Variety Cider 8% - Still, big and full flavoured with a touch of tannin and medium-dry finish. Unfiltered and unpasteurised.
Apple Pie Cider 4% (seasonal) - Our winter warmer, flavoured with spices and sweetened with fresh apple juice. Equally delicious hot or cold.
Rhubarb Cider 5% (seasonal) - Blended with fresh-pressed Kentish rhubarb, this cider is sweet, juicy and very refreshing.
Turners GOLD 4% (seasonal) - A low abv cloudy apple cider, sweetened with the fresh juice of Cheerfull Gold apples.
Sales demographic.
Turners Cider is sold in Pubs, farm shops and speciality outlets in Kent and restaurants, pubs, hotels and farm shops in Greater London. Turners Cider is also sold from East Sussex to North Yorkshire and Hamilton's Pub, Belgorod in Russia.
The connection with Russia came about when a savvy Russian cider enthusiast and publican visited the Harp Pub and tasted our cider. His interpreter tried a few times to contact us before we realised it was a serious enquiry. He asked to buy 1000 bottles of our cider. At that time, we didn't have 1000 bottles to sell to him, but we invited him to come back the following year. He did just that and the following Spring we sent 1000 bottles of our Kent cider to Russia. We have been supplying him ever since.
From 'a bit of fun' in 2013 Phil and May have been on an exponential curve over the last 5 years - from 75 litres of cider in 2014, the production of Turners Cider is now more than 70,000 litres and still rising.
The Icing on the Cake!
At The Taste of Kent Awards this year, Phil & May Turner added another award when their Elderflower Cider won the Taste of Kent Cider Award
Below: Sponsor - Wilkins Kennedy and May & Phil Turner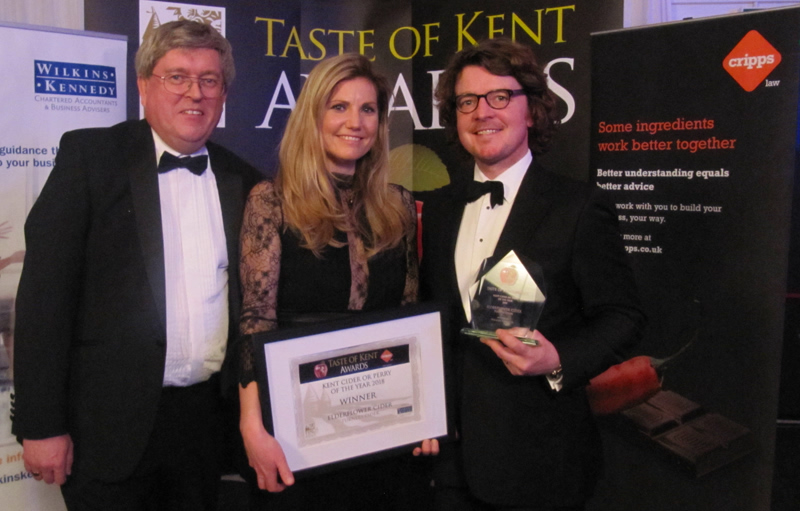 For more information; click on
TURNERS CIDER
That's that for this week............
Take care
The English Apple Man