Journal
6th Apr 2018 - Easter is over for another year
Easter is over and we are already 1/4 of the way through 2018.......and still no 'clear' indication of when apple blossom time will be, although it is gradually getting warmer..........
After a very eventful 'Easter week' which included my birthday and our '55th Wedding Anniversary' The English Apple Man is trying to get to grips with normal routine.
We have enjoyed some sunshine this week and looking at fruit bud on the trees in my garden this afternoon, the Bladon Pippin and Discovery show clear signs of movement...........still at the bud burst stage, but mouse ear will come quickly IF the temperatures get into the 'teens' on a regular basis.......
Below: The next stage after bud burst will be Mouse Ear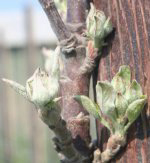 There are daffodils and wood anemone's, magnolia's are on the point of bursting forth, bluebells are later than last year.....in fact everything is later than last year.....
Looking at fruit bud on the trees in my garden this afternoon, the Bladon Pippin and Discovery show clear signs of movement...........
Below: left; Bladon Pippin buds emerging and right Discovery moving towards 'mouse ear' stage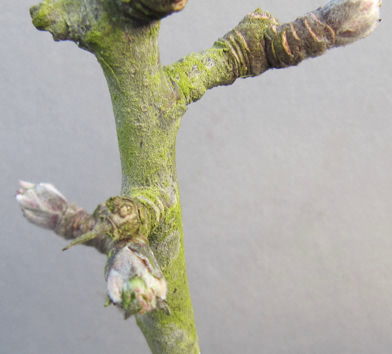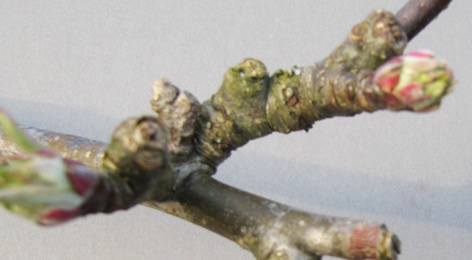 Out and about this week, I perused the fruit display in M&S Hastings Branch and noted home grown Gala, Braeburn, Jazz and Amelia Apples; Kent grown Conference Pears and New Season Scottish Strawberries grown by PJ Stirling
Peter J Stirling is part of a family farming business, which started in 1916 and is based around the coastal town of Arbroath, in Scotland.
"We farm close to the sea, by Arbroath, on the east coast of Scotland. This location has the "goldielocks" climate for the production of high quality fruit and vegetables, with lot's of extra light and sunshine from the sea, while never too hot in summer or too cold in winter"
New Season 'Strawberries'
Below: 'New Season' Scotch Strawberries grown by PJ Sterling and purchased in M&S Hastings Branch this week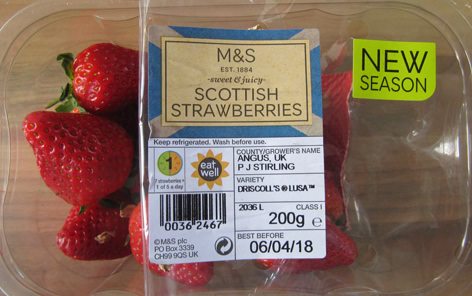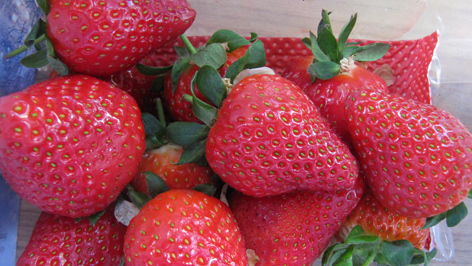 Being early they were not cheap, but the texture and taste excellent.........
Below: South African 'Cheeky Pears' purchased in Hastings Branch M&S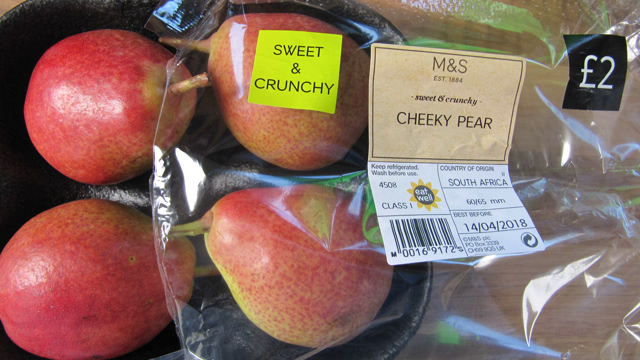 In the UK we are familiar with our three most popular pear varieties: Conference, Comice and Concorde, but blush pears are increasingly popular and South Africa is the producer of many of the blush pears seen in our UK Supermarkets. There are a number of new blush/red pear varieties vying for a place on UK Supermarket shelves....in the meantime the Cheeky 'branded' pears are a new addition to South African supply.........
The introduction of a new pear variety and the Forelle Early Market Access (FEMA) program have allowed the South African industry to bridge a problematic supply gap for bi-color cultivars.
A representative of leading agriculture research company ExperiCo said Cheeky-branded pears had slotted into a marketing window after the early red blush cultivars Rosemary and Flamingo and before conventional Forelle pears, which had to complete 12 weeks in cold storage.
ExperiCo research director Dr. Ian Crouch explained the mandatory cold storage period prior to sale was required as Forelle pears otherwise tended to exhibit mealiness.
"Historically in South Africa, we had three main bicolor pear cultivars - Rosemary and Flamingo, which were quite early cultivars, followed by Forelle," he said.
"Forelle has a tendency to become quite floury or mealy which leads to a dry type of eating experience, and we found that we could solve this if it was stored for a minimum of 12 weeks."
However, he explained this caused a problem as markets wanted a supply of bi-colored pears throughout the season, and the storage period created a substantial gap in volumes.
"So South Africa would be supplying a client and then we would have a break," he said.
"The moment there was a break in the market the client would go to somewhere like Chile or Australia and start sourcing from there.
"If they get a good product coming from there then they might stick to that place even after the South African Forelle pears are available. It's important for us to maintain a continual bi-color supply."
FEMA proves successful - Crouch explained the efforts to bridge the gap were partly focused on either extending the availability of the Rosemary and Flamingo varieties or bringing forward the Forelle.
The last few years have seen a marked decrease in the volumes of the two earlier varieties as a growing number of producers replace these orchards with Forelle, he said.
Therefore, even though new technologies like SmartFresh have been able to extend the storage of Rosemarie and Flamingo, there have been reduced volumes available for the market.
But by using the SmartFresh technology - which manages ripening by controlling naturally occurring ethylene - Crouch said the FEMA program had successfully resulted in Forelle pears being marketed earlier than normal, but as 'crisp and sweet' as opposed to the traditional juicy, ripe fruit.
With not much happening in the orchards at the moment, I have been looking at what's going on in other Apple growing countries.
As the drive towards Robotic Apple Harvesting gathers speed, an excellent article in the GOOD FRUIT GROWER magazine asks the question: As the prospect of an automatic apple harvester draws nearer, growers are increasingly seeking answers about which canopies align best with machine work and how to prune those canopies to meet the robots' demands.
Robots won't be able to reach around into tight spots in a canopy and can't come close to the capabilities of a human hand. So the critical question for an automatic harvester is this: Can it go into the row and have clean access to a piece of fruit?
Click on Good Fruit Grower - Vertical or V
NEW ZEALAND
Tourism is one of New Zealand's biggest industries, drawing 3/4 as many people as live there - some 3.5 million tourists visited the country of just 4.7 million people in 2017.
Tourism, however, isn't New Zealand's top industry. Rather, that honour belongs to agriculture, and when it comes to horticulture, fruit is king.
In 2016, kiwifruit accounted for $1.67 billion in agricultural exports, followed by wine at $1.56 billion and apples at $692 million, according to Plant and Food Research, a New Zealand horticultural science research institute.
Apple exports alone grew 23 percent that year, which makes it no surprise that New Zealand hosted the International Fruit Tree Association in February and March.
New Zealand wishes warm hello and welcome to International Fruit Tree Association's 2018 annual conference and study tour.
Below: Just one of the wonderful pictures shown on The IFTA Facebook page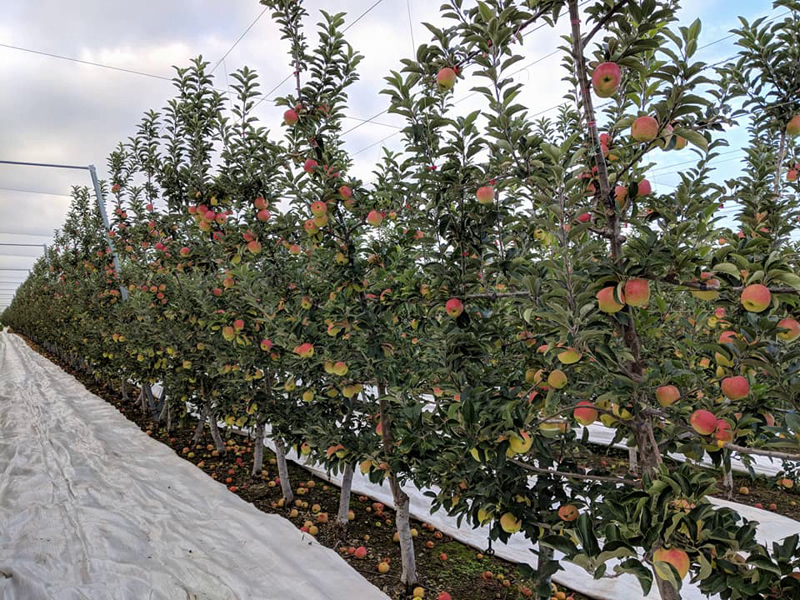 ---------------------------------------------------------------------------------------------------------------------------------
Back home in St.Leonards on Sea, The English Apple Man visited the SKY information centre in Hastings and ordered SKY Q from these delightful young ladies..........holding their iPad with The English Apple Man on-line..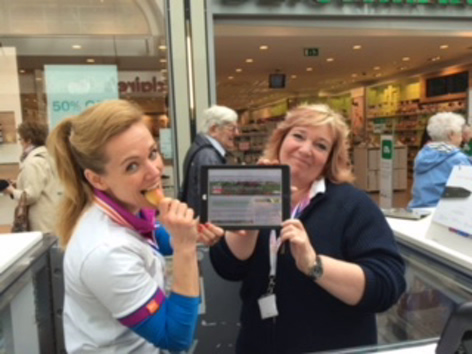 Until next week..........
Take care
The English Apple Man