Journal
13th Apr 2018 - The English Apple Man visits KMTV and Hole Park gardens
The weather is warming up and 'all plant life' is developing before 'our very eyes'
Below: left; Bladon Pippin is into early mouse ear and right; Discovery at mouse ear/early green cluster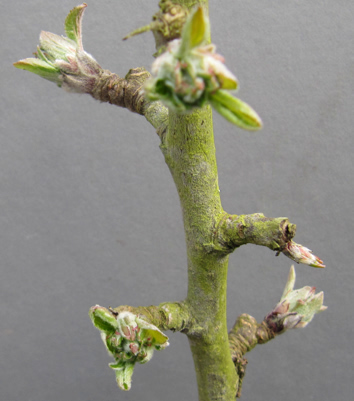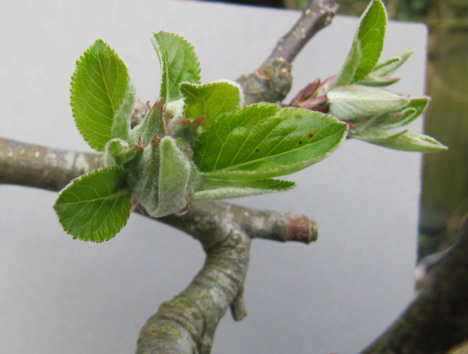 This week The English Apple Man visited KMTV Studio on Tuesday 10th April with Pat Crawford who created The Rural Focus Press Group to be interviewed by KMTV Presenter Louisa Britton......
On Wednesday a visit with my wife and the Sedlescombe Flower Group to Hole Park Gardens at Rolvenden in West Kent.
RURAL FOCUS PRESS GROUP
The inspiration of Pat Crawford who initiated the Rural Focus Press Group in 2012, it brings together press officers and personnel from different rural groups and organisations in order to discuss a variety of topics; find common ground; agree a united approach and then invite a journalist along to a 'question-and-answer' session.......
To view our interview slot on KMTV click on RURAL FOCUS PRESS GROUP on KMTV TONIGHT
The Rural Focus Press Group consists of circa 25 members; attendance varies depending on availability of group members. Pat Crawford sets the agenda, invites a member of the press and Chairs the Focus Group meetings.
With an eclectic mix of opinions; 'to be expected' with so many different areas of our countryside represented, it is not surprising we need 'a bit of give and take' to agree a common position.
At one RFPG Pat posed the question; 'How might Climate Change affect our health?'
What a question; we face a myriad of possibilities, probabilities and some near certainties. The debate over global climate change goes on; not everyone accepts the certainty, but it is clear the "perfect storm" scenario has sound statistical support with the Global extreme weather 'spikes' at record parameters. Is it the fault of humans, or a naturally occurring cycle? I think it is clear we are contributing, but are we the main cause? Only God truly knows!
The English Apple Man particularly enjoys being a member of this group; discussing a topic with fellow participants is always a valuable learning curve. Whatever the subject, the understanding is always enhanced by the input of each participant.
HOLE PARK
This is one of the best known gardens in Kent, a worthy winner of Visit Kent's Garden of the Year award in 2016. Four generations of the Barham family have created a wonderful 16 acre garden in a magical parkland setting that must be everyone's dream.
Below: Hole Park House from the rear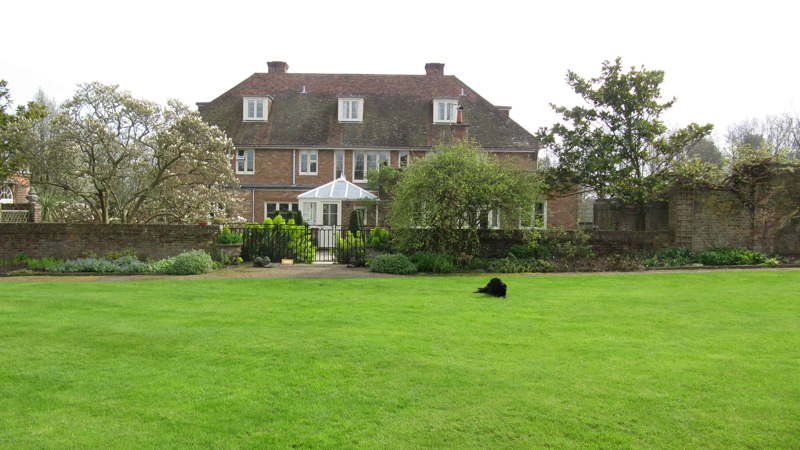 Below: Edward Barham with Sedlescombe Flower Group ladies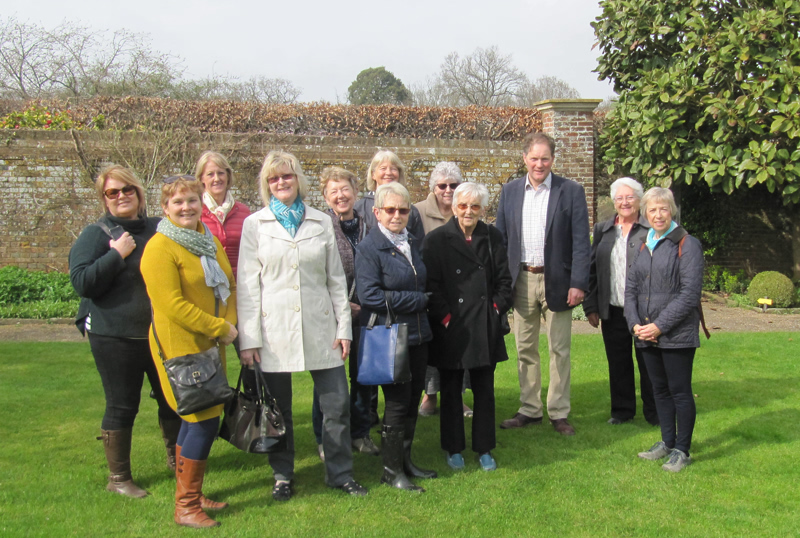 As we strolled around Hole Park Gardens with Edward Barham as our 'host and guide' he explained his ethos to opening 'what are his private family gardens' - Edward is well aware of the danger of 'over expansion' - the 'current model' requires circa 10,000 visitors each year; open everyday in spring with limited opening times in summer & autumn. This critical 10K visitors funds his five gardeners (equivalent to 3 full time workers) - any temptation to increase visitor numbers, inevitably drives an increase in gardeners, cafe staff etc........and can easily become an overwhelming business destroying the friendly 'family operation' where Edward acts as a guide; extolling eloquently stories of the Barham family's 4 generations at Hole Park while his wife Clare prepares the home made refreshments in the cafe.
Many influences come into play at Hole Park; Edward's father David was a friend of the 'legendary Christopher Lloyd' at Great Dixter who inspired the three colour theme in one of the beds (see below) blue hyacinth.....
Below: left; a mixed flower bed and right blue border flowers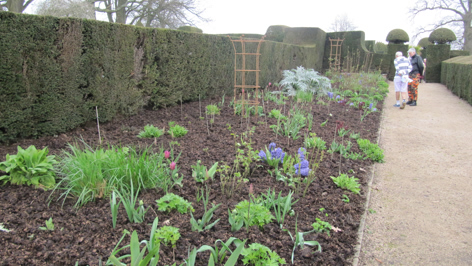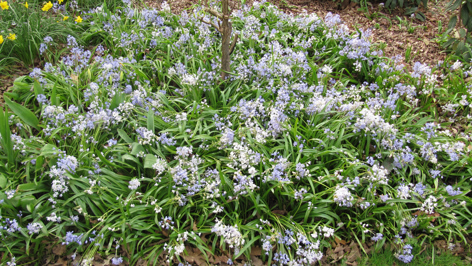 Below: just one of the impressive yew hedges at Hole Park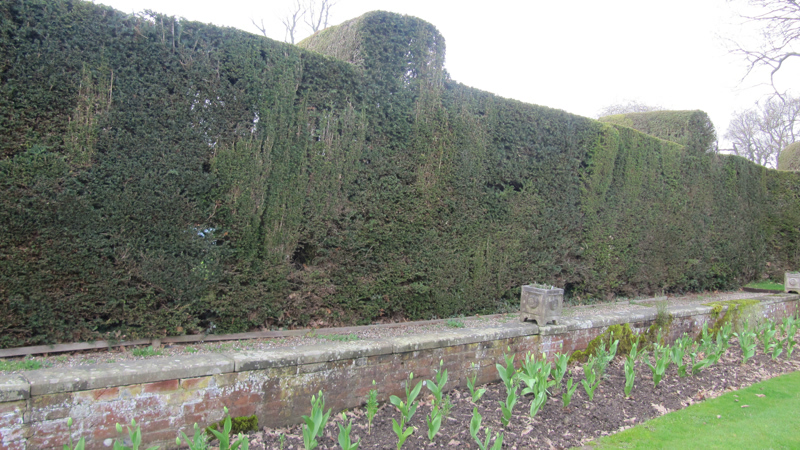 Our climate 'springs' many surprises and this 'spring' has been a long drawn out process, which has had it's benefits and disappointments; the long cold spell has meant daffodils are in full flow in April, while the bluebells are at least two weeks behind last year. Our tour of Hole Park Gardens featured camellias, magnolia, and copious daffodils and narcissi..........visitors at the end of the month will see bluebells well into May....
Below: In the vineyard, licensed for weddings, the impressive mature vines adorn the walls
The gardens are registered for civil services in The Vineyard during British Summer Time.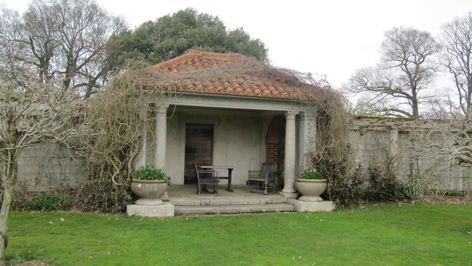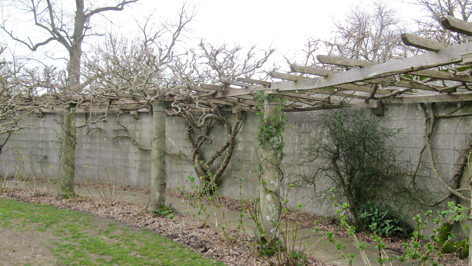 Below: This statue, inspired by Prince Albert first appeared at the Great Exhibition in 1851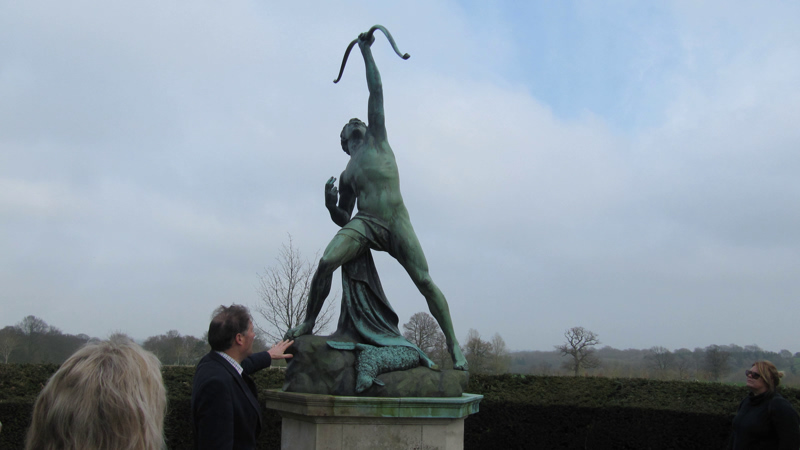 Below: left; Wisteria twisted to create an unusual shape and right; this Pond has been regenerated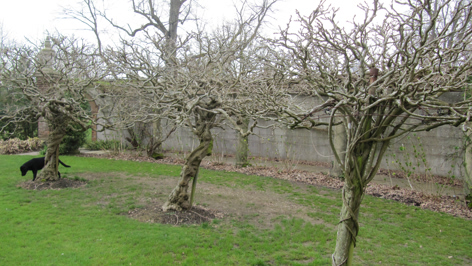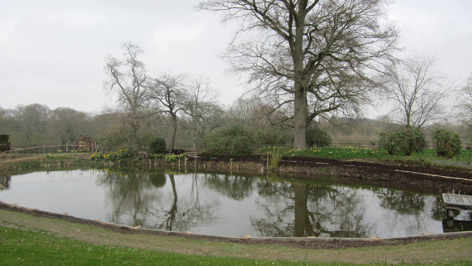 Below: left; Impressive heathers and right; this turkey oak is one of many oak species at Hole Park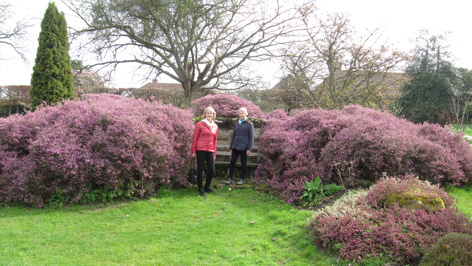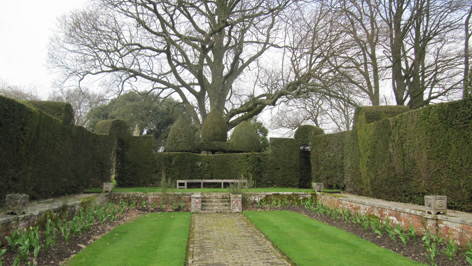 Below: the side gate commemorates Edward's great uncle who died at Ypres in 1918 and right; artistic creations on this old tree stump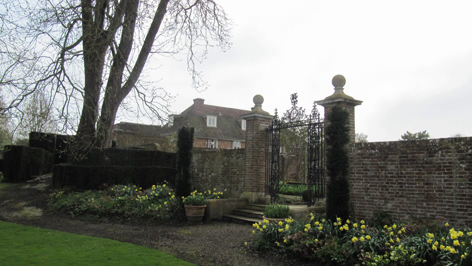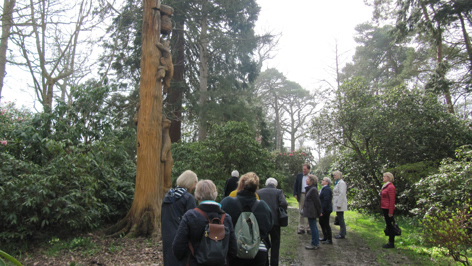 After our guided tour, we enjoyed freshly a baked scone, home made jam and clotted cream, washed down with tea served in beautiful china - on sale in the shop Ashmead's Kernel Apple Juice from trees grown on the Hole Park Estate........
Quote from Hole Park website: In summer the long borders are filled with colourful herbaceous plants with the exotic GROUP border coming to life in late summer. The woodland area and gardens are also a delight in autumn with trees planted specifically with autumn colour in mind.
Below: Edward Barham with his Ashmead's Kernel apple juice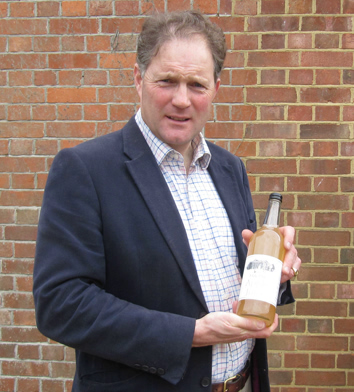 Hole Park has been owned by the Barham family for the past four generations and is set in over 200 acres of superb classic parkland. The colourful gardens enjoy far reaching views over the hills, woods and fields of the picturesque Kentish Weald. They are a skilful mix of formal design and more naturalised planting, giving colour throughout the seasons. The house, which is a private family home and therefore not open, was largely reconstructed in 1959 and is now little more than a quarter of its previous size. It resembles the house as it used to be before additions in the Elizabethan style were built in 1830.
The nearby village of Rolvenden and the town of Cranbrook are equally worth visiting for picturesque white weatherboarded buildings, mills and attractive high streets in typical Kentish scenery.
For more information click on HOLE PARK very impressive website...........
As the UK soft fruit harvesting starts with early Strawberries, a look at this very informative British Frozen Fruits website............
Click to view BRITISH FROZEN FRUITS 'scrolling down' a year in summer fruit growing is well worth looking at; a 3 miniute overview of a year's work on a busy soft fruit farm.................
That is all for this week.........
Take care
The English Apple Man