Journal
20th Apr 2018 - With the warmest April day for 70 years, nature is playing catch up
In the space of seven days, apple fruit bud has moved from the 'early green cluster stage' to 'early blossom' ............IF we continue with average temperatures (this week has been above average) The English Apple Man anticipates most apple varieties will be in Full Bloom during the first week of May.....
As this week unfolded, the advance in fruit bud development and all plant life has progressed at an exponential rate.....
In my garden, the flowering cherry has gone from 'bud to blossom' since Monday........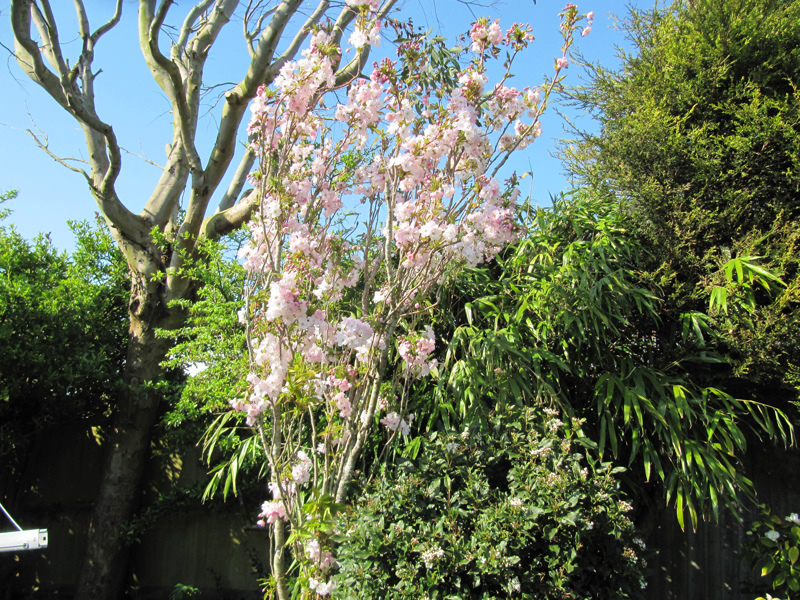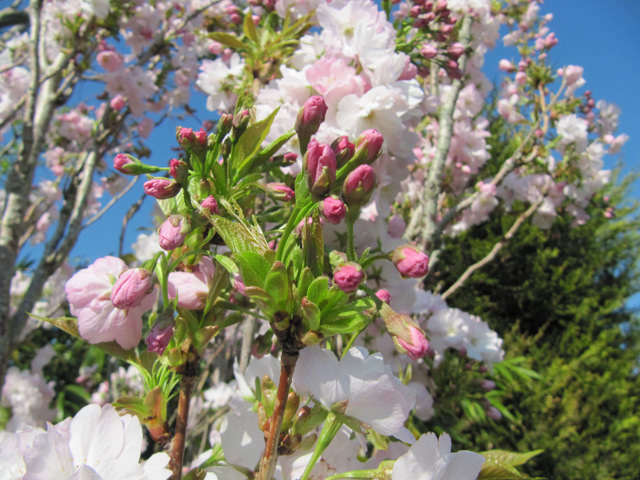 Below: Also in my garden, the Bladon Pippin is at the Green Custer/Early Pink Bud Stage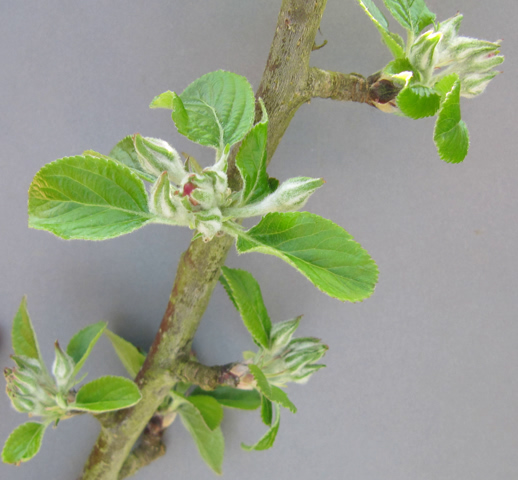 Below: Discover at the Pink Bud stage in The English Apple Man's garden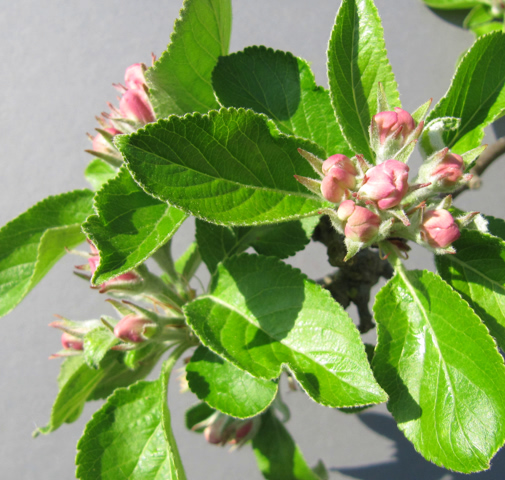 My industry friends tell me, Pears are at the balloon stage, while most apple varieties are at the green cluster/early pink bud stage.
Below: Young Smitten trees (both pictures) with blossom showing this week at Simon Bray's Monks farm in East Kent.....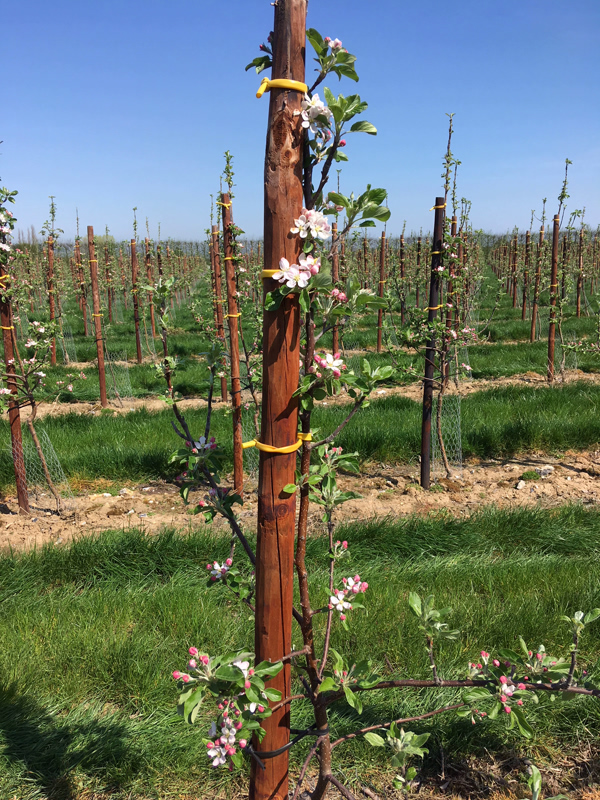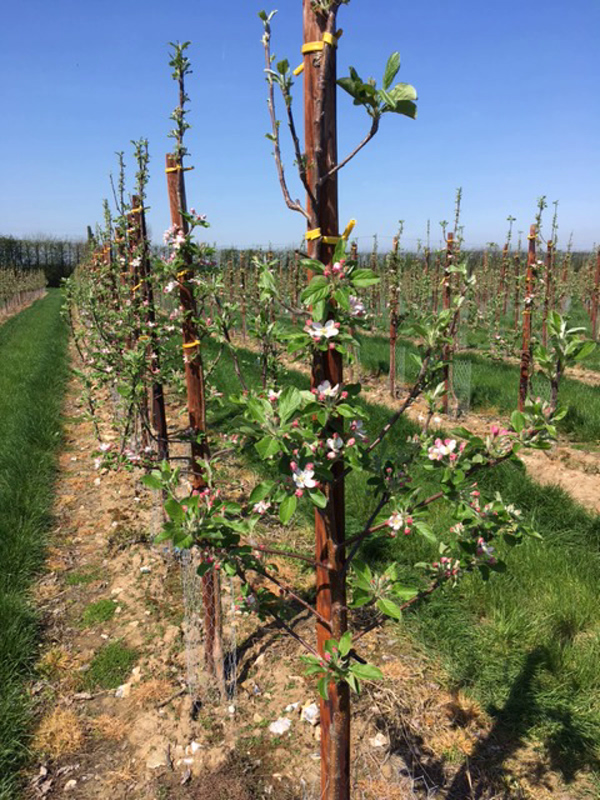 The dramatic advance in fruit bud development is well illustrated by the speed with which Cherries have moved from 'bud to bloom' overnight............
Below: Early Cherries in a tunnel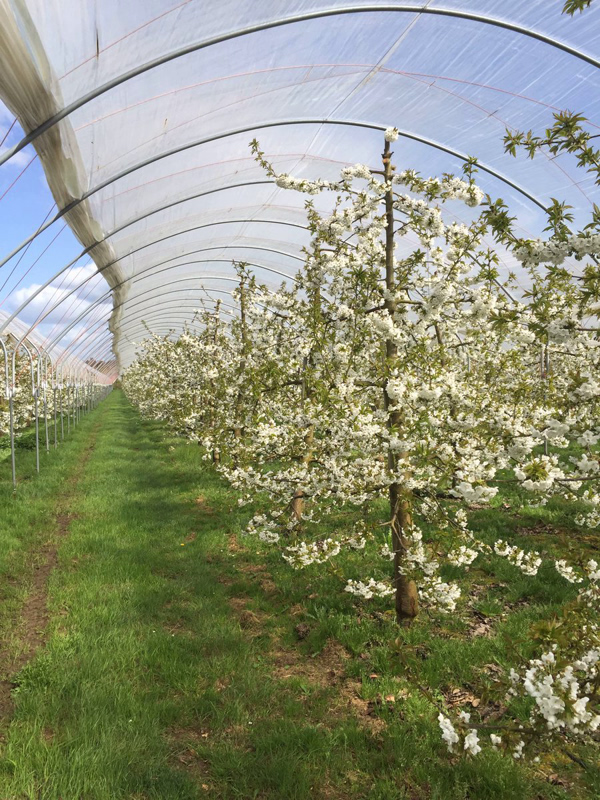 Below: left; Early Cherries in blossom this week and right; same cherries with a Bumble Bee at work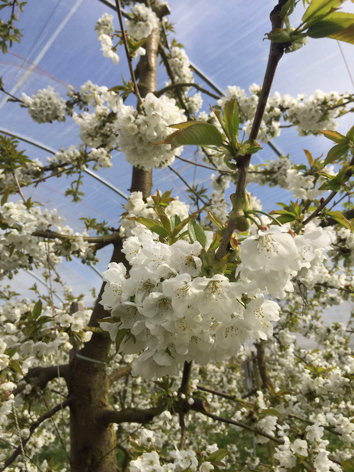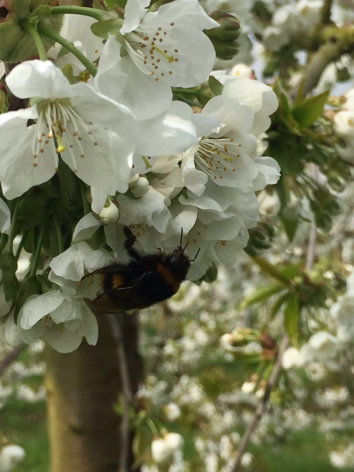 To understand a modern cherry farm click on LITTLE SHARSTED FARM home of the Neaves Family who have been growing fruit there since 1941.
As we approach a new season, 'down under' our New Zealand grower friends are coming to the end of their season - The IFTA visit to New Zealand in early 2018 produced a plethora of information, reported superbly by The Good Fruit Grower
Below: From a platform, a crew of four workers pick Royal Gala apples at Hoddy Fruit Co.'s orchard in the Nelson, New Zealand, area in February 2018. This narrow 2D system, coupled with open "windows" allowing light through, was one of the International Fruit Tree Association study tour stops.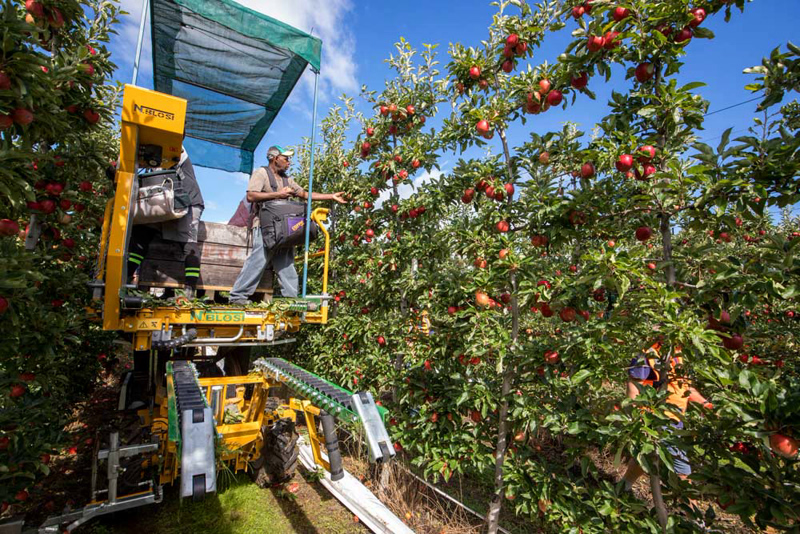 The aging, four-dimensional trees in Hoddy Fruit Co.'s New Zealand orchards were still producing 50 tons or more per acre, but the fruit at the bottoms of the trees too often was shaded from sunlight, and overall fruit quality wasn't what it could be.
Given that New Zealand sits some 12,000 miles from key export markets, every piece of fruit has to be top quality, because that is the island nation's only point of difference in the global marketplace.
"So one of our biggest drivers, when we made the decision on the different growing system, is what is going to maximize the number of fruit that is actually going to be a good eating piece of fruit," said Andrew Kininmonth, who shares management of the orchard with his father-in-law, Michael Hoddy. "It has to be quality, has to be consistent, and it has to be people wanting to come back and grab our apples every week."
That's why Hoddy Fruit Co. is among a growing number of orchards transitioning to two- and three-dimensional orchard systems, similar to other key growing regions of the world, with a goal of increasing production and improving fruit quality.
In time Hoddy Fruit and others expect to be more efficient through automation and robotics down the road.
Hoddy Fruit is moving more to 2D systems, which Kininmonth said relates to one thing: the need to harvest light.
Creating windows in the canopy enables dappled light to fall across and through the entire canopy, including shaded apples near the bottom. That improves pack-outs.
"If we do our jobs, create windows, keep the windows open in the canopy, we do well," he said. "We're not apple growers. We're actually farmers of light."
"Everything we plant now, we have to find a reason why wouldn't we plant it on 2D," he said.
The concept of farming light was a familiar refrain during the International Fruit Tree Association annual conference and study tour in February.
Researchers and growers alike shared their experiences with highly uniform, trellised systems, both 2D and 3D, intended to improve the quality of the fruit throughout the canopy, not just in the treetops, and to improve overall yields.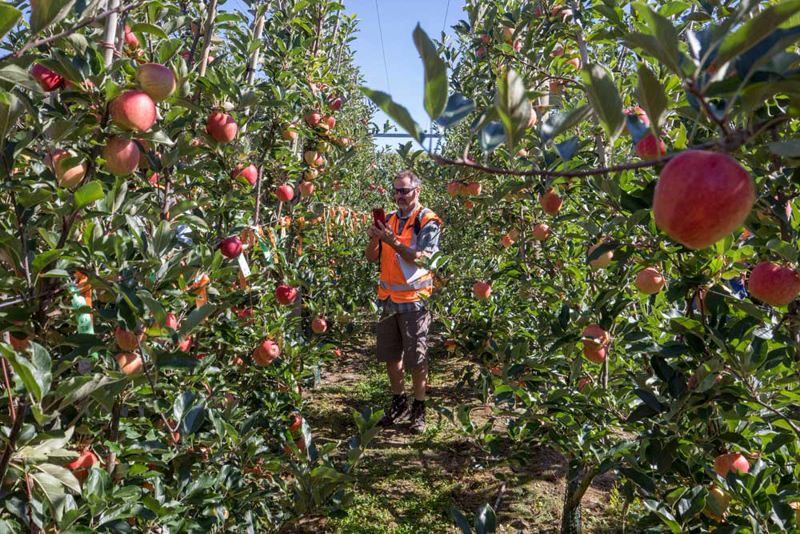 Researchers at the New Zealand Plant and Food Research Center have been investigating the potential of planar cordon intensive planting systems for several years.
Those are systems designed to intercept sunlight and then use that sunlight to push yield potentials and quality to "close to the upper limits biologically," said principal scientist and plant physiology group leader Stuart Tustin.
Researchers are testing the limits for spacing, planting rows close together and leaving a very tall, narrow, slim, porous canopy where leaves are oriented and arranged to allow good light distribution from the bottom to the top of the tree.
So far, they're testing 2 meters and 1.5 meters between row spacing. (1 meter is a little over 3 feet.)
"Theoretically, the rows more close together are going to give us higher sunlight utilization, but we may get into problems of shading if the rows get too close," he said. "It is too early to say which is better at the moment."
Click on Stuart Tustin 'Orchard of the Future

That is all for this week; next week The English Apple Man will be very busy and gathering information from Produced in Kent Food and Drink Conference on Tuesday: BIFGA Spring farm Walk on Wednesday and Marden Fruit Show AGM on Thursday...........'wheeewww'
Take care
The English Apple Man