Journal
11th May 2018 - Record temperatures over the Bank Holiday while many orchards are in full bloom
Bank Holiday Monday was a record with temperatures reaching 27 Centigrade....
What are the prospects for the 2018 crop?
On Tuesday The English Apple Man visited two sites with widely different objectives; I say sites, because one was the orchard at Ightham Mote and the other; Chandler & Dunn's Perry Farm at Wingham between Canterbury and Sandwich.
Ightham Mote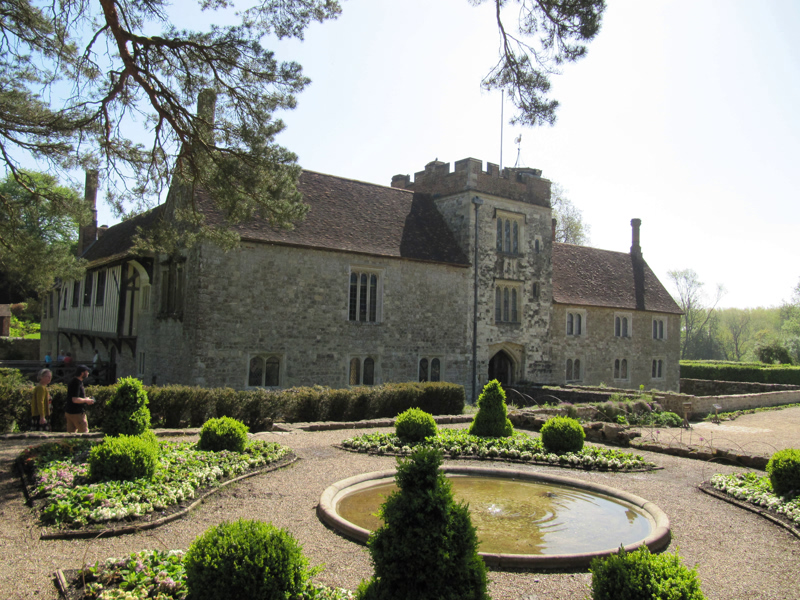 The orchard at Ightham Mote was designed to accommodate a number of old varieties with historical resonance and one: Court Pendu Plat is known as the 'wise apple' while Sunset (only about 100 years old) was raised by G.C.Addy at Ightham..........
Below: The apple orchard at Ightham Mote was planted in 1988 with old varieties like Court Pendu Plat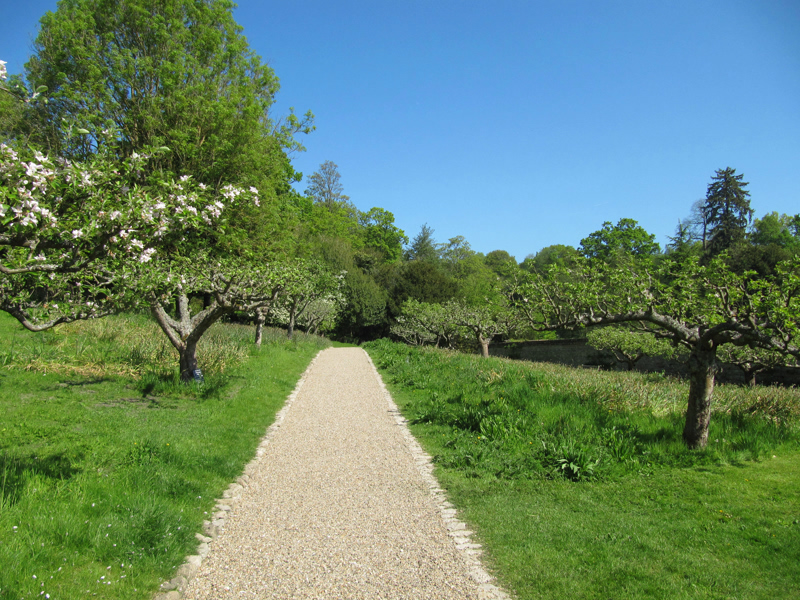 Below: left; a Blenheim Orange Tree, Blenheim is a revered dual purpose (eating & cooking) apple introduced in 1740 'of unknown parentage' and right; 'Nonpareil' an old (16th century) variety with an intense sweet sharp flavour; described as 'pear drop flavour'.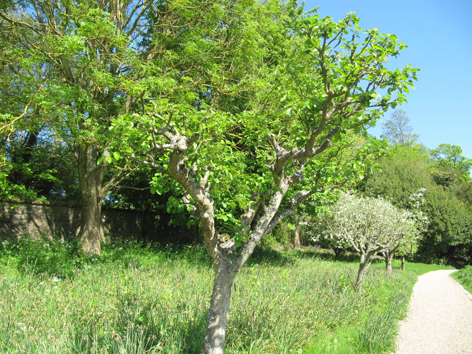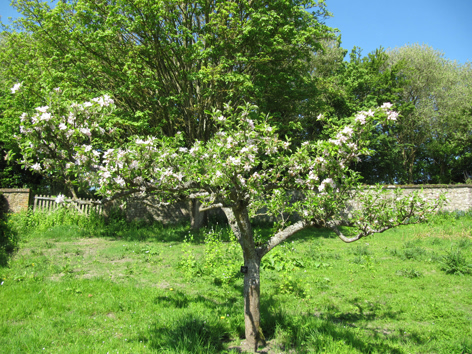 Below: left; Coeur de Boeuf originating from France circa 1200 it is suitable for cooking; right; Fosters Seedling introduced circa 1893 by G. Bunyard in Maidstone, Kent, it Matures in mid-October, with tender flesh and acidic flavour.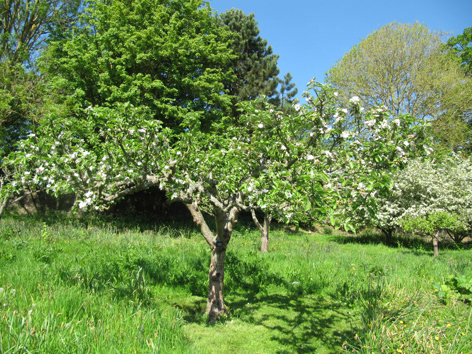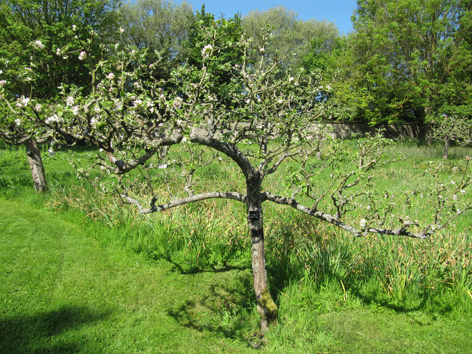 Below: Court Pendu Plat tree; the variety originated in Europe; described in 1613 but believed to be much earlier and has many 'synonyms' - it has been called the 'Wise Apple' because of its late flowering date and escapes spring frosts; on Tuesday it looked 'dead' when seen from a short distance away, but on close inspection the fruit buds were only at the early 'pink bud stage' - the variety has very firm, fine-textured, juicy flesh which is sweet with a pleasant, slightly aromatic flavour.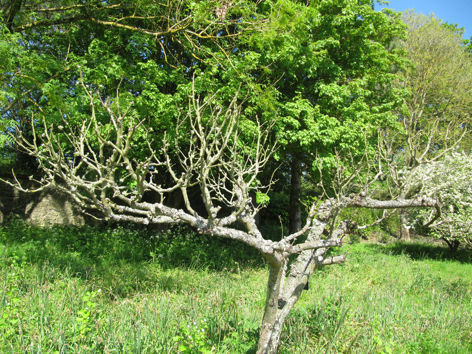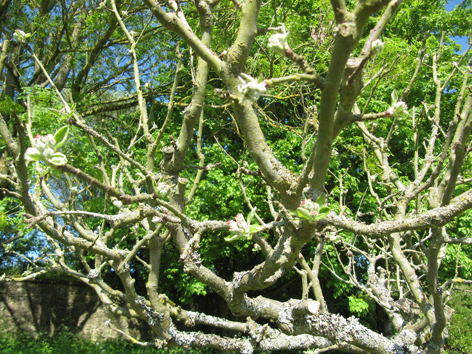 Below: left; Gascoynes Scarlet was raised by Mr Gascoyne at Bapchild Court, Sittingbourne, Kent. Introduced in 1871 by nurseryman G. Bunyard & Co., Maidstone, Kent. The fruits have firm, fine-textured, slightly juicy, sweet flesh with very little flavour and right; Sunset raised in about 1918 by G.C.Addy at Ightham, Kent. Named in 1933 the fruits have a firm crisp, fine-textured flesh with a good aromatic Cox-like flavour, not surprising as Sunset has Cox Orange Pippin and an 'unknown' as parents.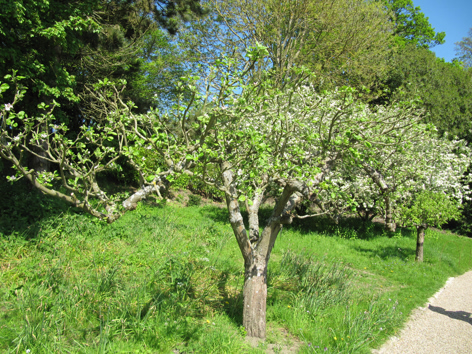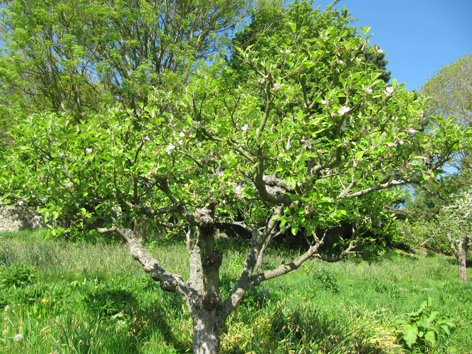 Before leaving Ightham Mote this stunning Malus - Baccata Mandschurica caught my attention; the intense blossom on any Malus is a spectacular vision to be enjoyed...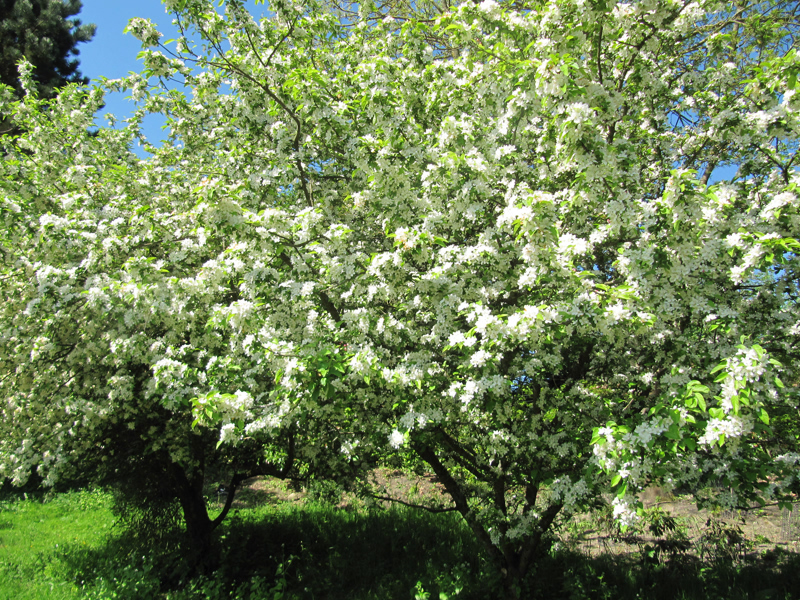 ---------------------------------------------------------------------------------------------------------------------------------
East Kent Fruit Society - Blossom Walk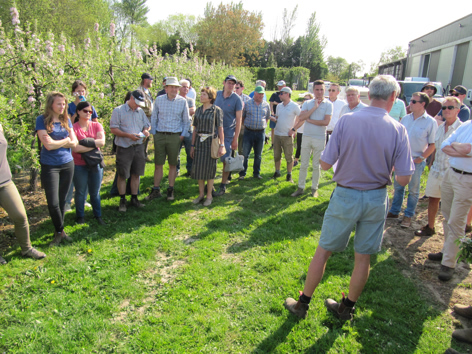 Following my visit to Ightham Mote, a journey across Kent to Perry Farm at Wingham where 50 plus members of East Kent Fruit Society gathered at Chandler & Dunn's Perry Farm for the annual EKFS Blossom Walk.
Hosted by Clive Chandler and benefitting from the spell of recent good weather, which fortuitously held on for our walk..........EKFS members saw Braeburn, Jazz, and Conference Pears in various stages of Blossom/Petal Fall.
Perry Farm grows 5.59 hectares of Braeburn - 3.05 hectares of Bramley - 24.47 hectares of Cox - 4.8 hectares of Red Windsor - 2.47 hectares of Egremont Russet - 14.77 hectares of Gala - 5.07 hectares of Jazz - 5.60 hectares of Smitten - Pollinators account for 4.57 hectares - Concorde Pears 2.0 hectares and 4.88 hectares of Conference Pears.
Clive said the orchards at Chandler and Dunn were seriously affected by springtime frosts in 2017 and Braeburn was severely affected; surprisingly, Jazz (a cross of Braeburn and Gala) produced a full crop; very valuable in a year when orchards across Europe were badly hit by frost and prices were influenced by this reduced European apple crop. This allowed a 70% crop to achieve 100% returns.
Worldwide Fruit Ltd. hold the license to develop and market Jazz in the UK.
Following our tour of the production orchards, Clive Chandler took us to a trial block of Jazz apples where new 2 dimensional tree systems, being trialled in New Zealand, are the subject of a Worldwide Fruit Ltd UK trial.
Below: left; Braeburn trees with some blossom showing and right; Braeburn at petal fall stage...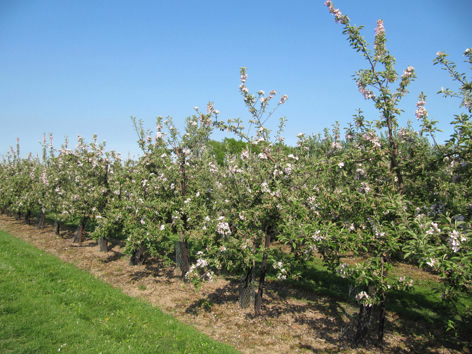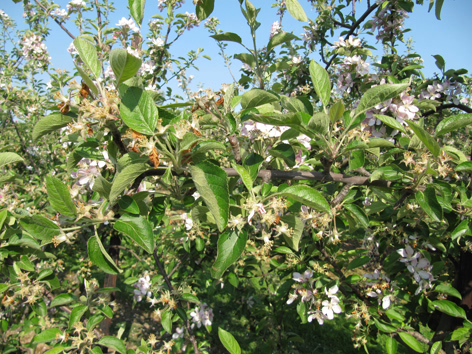 Below: left; this petal fall picture of Braeburn demonstrates the very high level of fruit potential on the variety for this year, however balancing the crop to deliver the right size fruit at harvest, while keeping a good yield without triggering a biennial effect in 2019 by over-cropping will test the thinning management......Clive Chandler emphasised the importance of 'marketable fruit size' and a good yield, rather than too heavy a crop with unmarketable 'oversized' apples - it's all about balance!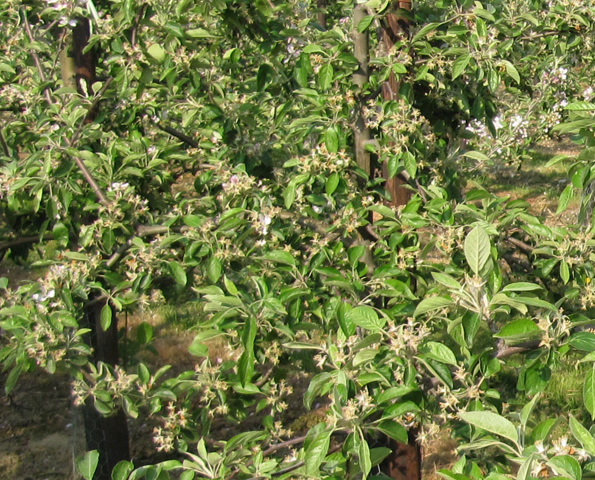 Below: left; Braeburn fruitlets forming and right; Conference pear fruitlets...........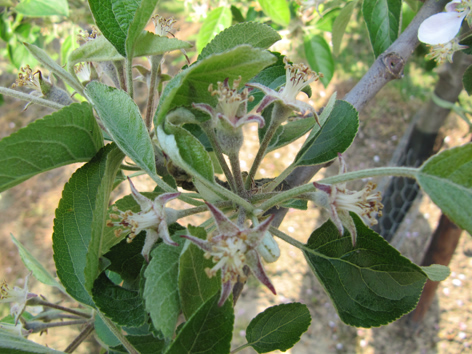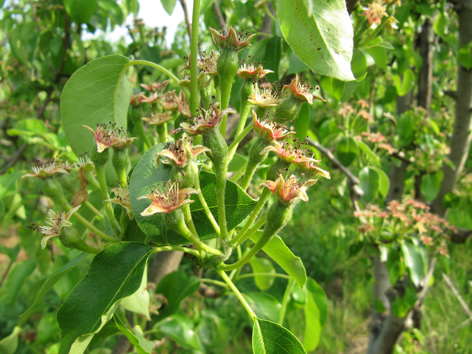 Below: left; and NIAB/EMR scientist Michelle Fountain - Deputy Head of Pest and Pathogen Ecology, and her colleagues are regular attendees at EKFS events and bring regular updates on Research Projects to the assembled EKFS membership; right; Maddie Cannon - Senior Scientific Assistant at NIAB/EMR delivers an update on a new pest to the UK - Pear Blossom Weevil which is becoming more prevalent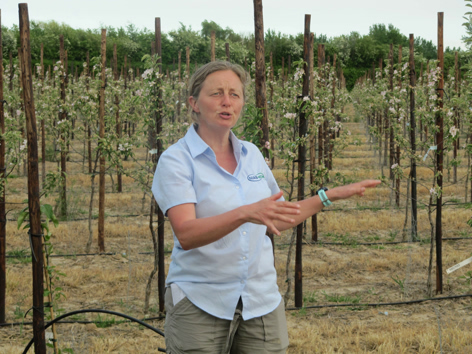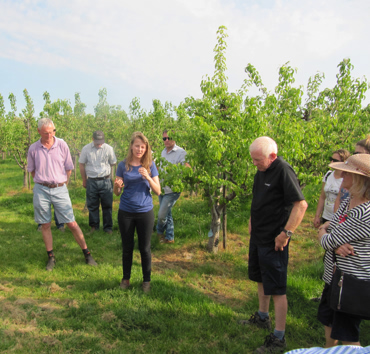 Below: Clive Chandler addressing EKFS members in the Worldwide Fruit trial orchard
: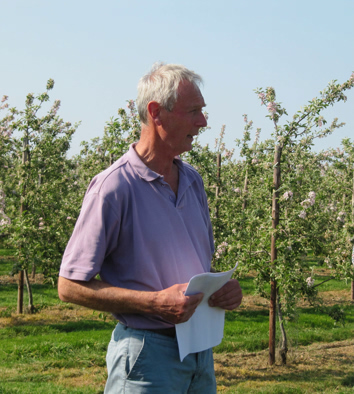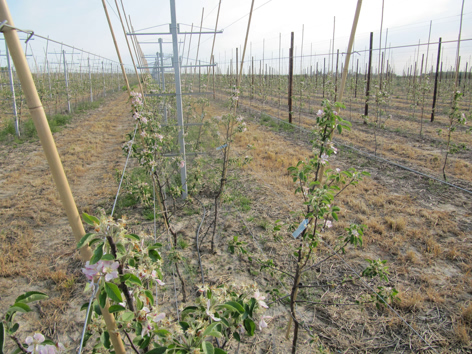 Below: the trial features two tree formats; one with single rows of trees with wires closely positioned to allow branch training along the wires, creating a 'palmette' 2 dimensional tree format. This is designed to maximise the light interception, allowing trees to grow higher than in a three dimensional tree. The second format has trees alternating on either side of a V structure, again training the trees on wire in a palmette 2 dimensional format.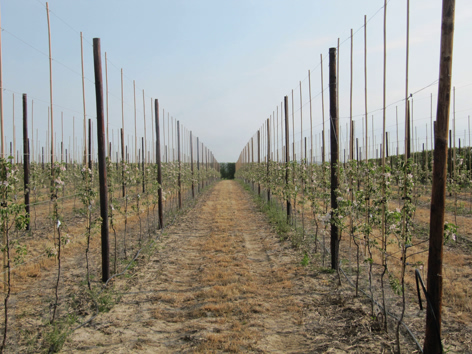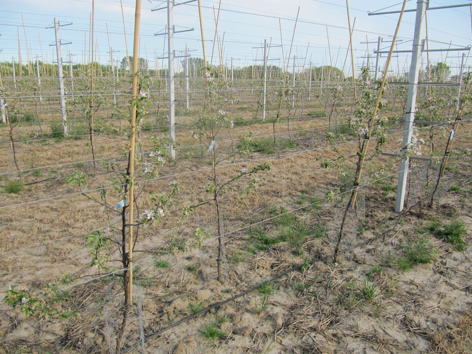 Below: Worldwide Fruit trial orchard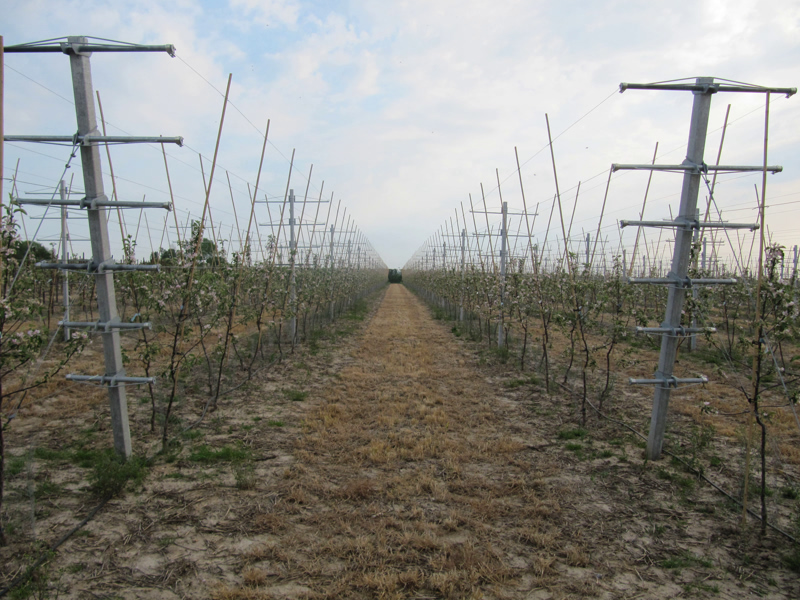 Below: an orchard in New Zealand growing on the same format.........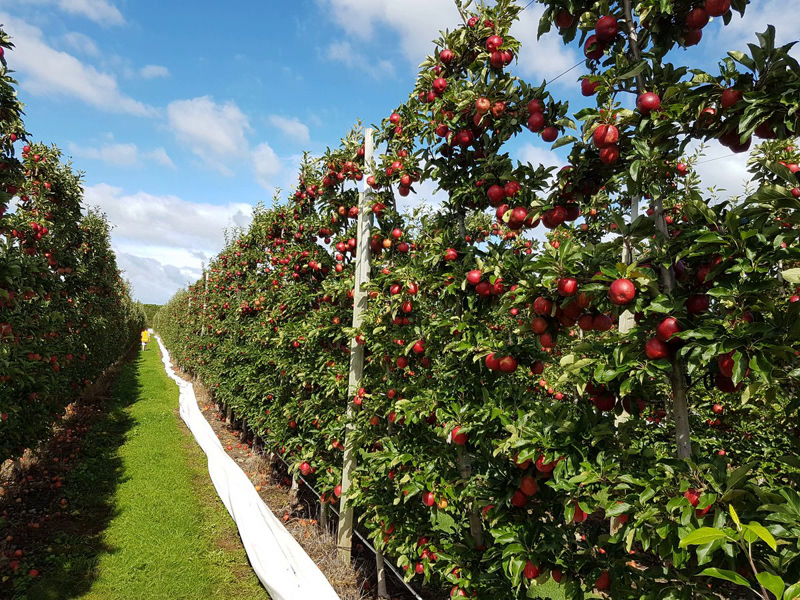 Below: Dr. Robert Saville - NIAB/EMR - Research Leader, Plant Pathologist; discussing research into canker (a global challenge to apple growing). Robert has been researching the use of Endophytes and is using a small trial area in the Worldwide Fruit orchard.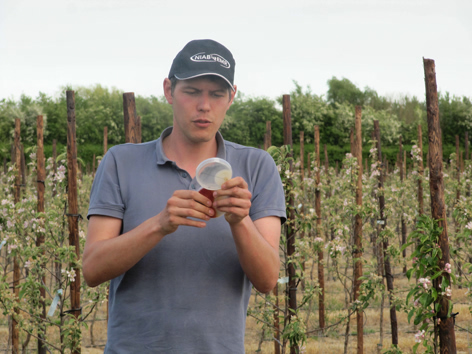 Endophytes are microorganisms which live within the plant without causing apparent disease. Endophytes are well known in other plant host species as agents which can enhance resistance to biotic attack, enhance stress tolerance and increase growth. Although the host-endophyte interaction tends to be mutualistic (both partners benefit), other 'shades' of endophytism include commensals (offer no benefit to host), latent pathogens and latent saprophytes.
Neonectria ditissima, the causative agent of European apple canker has been increasing in significance on a global scale. As part of a larger body of work focusing on canker we aim to examine if N.ditissima resides as an endophyte in the host before switching to a pathogenic phase when the host experiences abiotic stress, i.e. during the establishment phase of newly planted orchards.
Finally
The potential for a good crop is enhanced by the 'more than adequate' winter chill, abundant blossom, enough high temperatures for most varieties during blossom, sufficient warm weather for fertilization (apart from Monday 30th April when it was very cold and very, very wet!) so with the probability is a heavy set and much thinning in the next 6 weeks....it is a fact that a fruit set of 15% of available blossom is enough for a full crop. but in a year of abundant blossom probably 5% is more than enough!
That is all for this week, tomorrow Saturday we travel to Derbyshire to celebrate with our daughter her 50th Birthday on Sunday........time goes too fast......it seems like only a while ago she was a three year old with her hair in bunches and 'the apple of her fathers eye'.......
Take care
The English Apple Man