Journal
8th Jun 2018 - Chapel Down Wines
There is little point in simply trying to be the best. Our passion comes from being the only people who can do what we do. It makes us stronger. We use it to judge absolutely everything. These are the words of Frazer Thompson CEO Chapel Down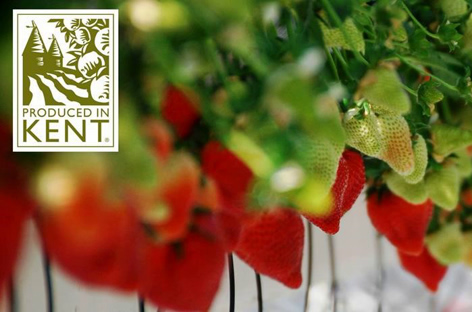 Back in April, Produced in Kent organised the Kent Food & Drink Conference. Held at the University of Kent at Canterbury the conference delegates were treated to a number of excellent presentations.
Produced in Kent is a trade organisation dedicated to supporting & promoting food, drink, products and services in Kent. Our role is to promote local and seasonal produce and provide support and services to our Members.
We provide vital support to a diverse range of businesses which in turn provide valuable employment opportunities in Kent and are at the economic heart of our rural communities.
Produced in Kent is a strong, widely recognised brand, benefitting and promoting its membership businesses. It provides business support, advice and sales opportunities.
Produced in Kent is proud to present its Kent Food & Drink Conference for 2018 and is delighted to be working with Barclays, our Premier Sponsor for this, our inaugural event together with NFU Mutual, Cripps LLP and Solleys Ice Cream.
This week The English Apple Man will feature the presentation by Frazer Thompson CEO of Chapel Down - titled - 'Building a Brand'
Below: Frazer Thompson CEO Chapel Down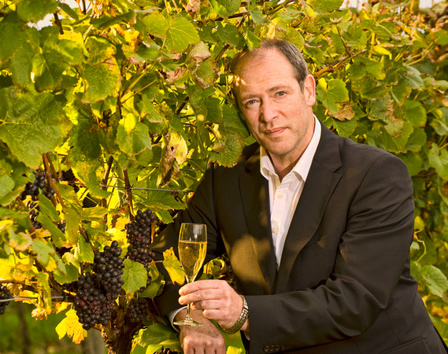 Frazer Thompson is chief executive at English wine producer Chapel Down, which has 300 acres of vineyards in Kent and produces 1million bottles every year. He lives in Kent with his wife and has three sons.
It's a fascinating story; how Frazer left a very well paid role with Heineken travelling the Globe promoting sales for the Heineken Group before a small advert caught the attention of his wife and ended up with him leaving his comfortable role to embark on a new (and much lower remunerated) role with Chapel Down.
"Shock Horror" - when in his first days a company called to remove the photocopier due to an unpaid bill, Frazer realised the need for drastic action!
Reflecting on his early years; Frazer said - "After a few post graduate roles, and two years running pubs in the North for Whitbread, I became Marketing Manager-Ales for Whitbread in 1987. At 29, in 1989, having acquired and integrated the Boddingtons brand and a successful strategy as response to the Beer Orders, I was made a director of Whitbread plc. It's still one of my proudest moments!
In 2001 Frazer took a mega leap in faith, having been global brand director for Heineken he ventured into the wine business; but Chapel Down was basically bankrupt. He remembers: "People thought I was a lunatic but the shareholders believed English wine had a future".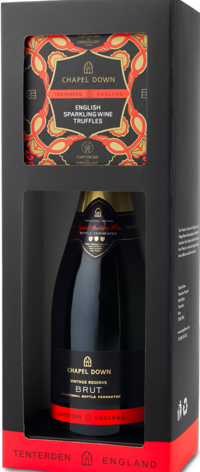 "The wines were outstanding and I was arrogant enough to believe I could get everyone else to realise they were delicious too. I soon realised it was going to be a bit more difficult than getting people to take my word for it.
Often asked the question: Were you always passionate about alcohol?
"My previous job at Heineken was to market and sell beer around the world. I lived in Holland with my wife, Sue, and our three sons, who are now 28 and twins of 26. I enjoyed it but one day I realised I was going to bed as stupid as when I woke up.
Life gets boring when you're not learning and you have to change something. Have you ever felt like throwing in the towel?
"When I left Heineken in Sept 2001 to further the education of my three sons I moved into English Wines to prove something to myself.
All the time, at first. You think: why am I doing this? I've given up a fantastic job with safety and security and I'm not sure if this was a smart thing to do for my family. And in 2004 there was a big fire and we lost a huge amount of stock.
Since then the success of the Chapel Down brand has created demand vastly exceeding supply, transforming it into a profitable company, well financed through four rounds of external fund-raising. The wines have won many International awards as an obsession with quality service and brand has paid dividends.
We have also created a range of beers. Curious Brew is a fusion of wine and beer know-how and is the best beer in the World - Gold at the International Beer Challenge 2012 and Best in category.
The question has been asked many times: Can you really grow grapes in England?
Below: Grape harvest at Chapel Down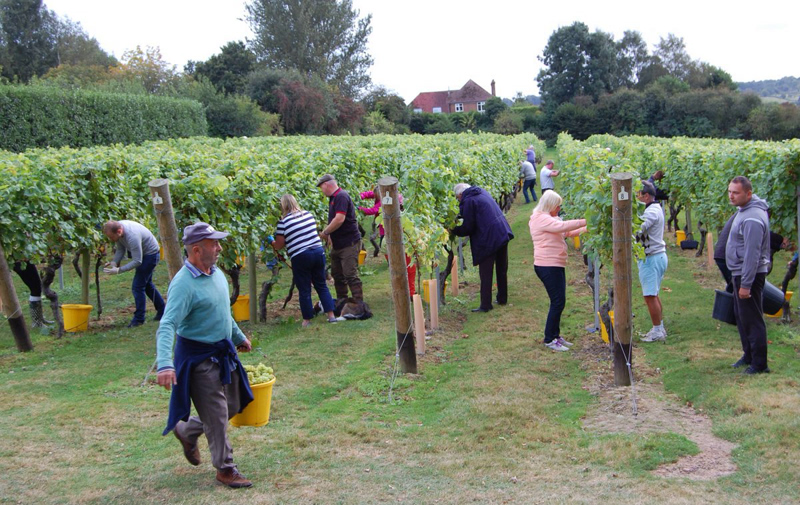 Northern France is only 150 miles away - it's the same climate as here and that's where they make champagne.
No one questions the climate in Canada or New Zealand. You don't need Greek sun to grow grapes, you can make great wines in a cooler climate.
Chapel Down produces a world-class range of sparkling and still wines, together with the award-winning range of Curious beers & cider. Our sparkling wines are created using the Traditional Method, the same as Champagne, from fruit sourced from the South-East of England.
Frazer recounts; "At least once a fortnight I'll see someone ordering a bottle of champagne in a bar or restaurant and I butt in - I buy them a bottle of our wine and make them try both, without knowing which is which, and ask which they like best. It nearly always works!
How did Frazer put Chapel Down in a firm financial position and manage to expand Chapel Down 'exponentially'
Below: Nigel Wray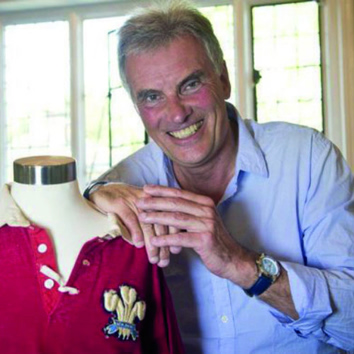 Taking the Crowd Funding route; investors committed £3.95 million in 23 days. 1600 new pilgrims / investors signed up to the Chapel Down dream.
There are now 6,000 investors. One of the first to buy into the dream was Nigel Wray owner of Saracens Rugby Club. Surrounded by sporting pictures in his office in Marylebone, he comes across as direct and amiable. He is slim, tanned and bouffant haired. The suit is immaculate, the shirt monogrammed. He has been dubbed "the small investors' pin-up" and likened to Warren Beatty. (Source WWW)
Frazer continues: "I have assembled a board almost unparalleled for a company of this size including John Dunsmore (former CEO of S&N and C&C Magners), Henderson Global Asset Managers and Nigel Wray (Britain's Warren Buffet), as non-executive board members. I was Chairman of IoD Kent 2006 - 2009 and I'm also proud to be a Kent Ambassador. I live in Sissinghurst Castle Farmhouse in Kent with Susan and have three sons, Patrick (26), Will and George ( both 24 )
Below: Frazer Thompson CEO and Mark Harvey MD Wines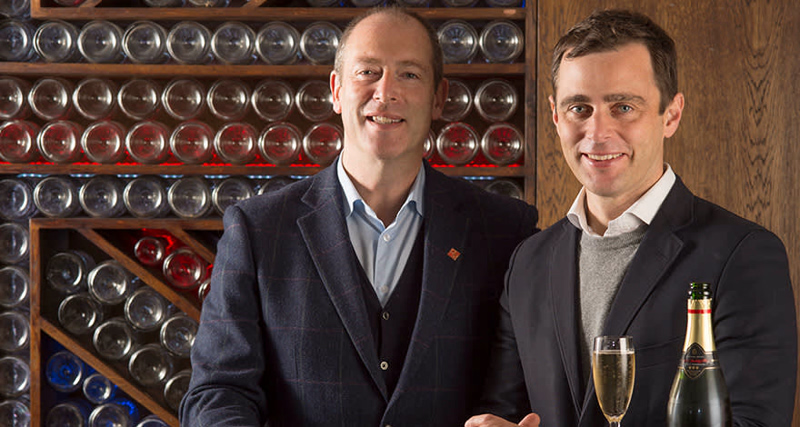 We make great drinks for great customers.
"I passionately believe that there is no point in simply being the best. I think we have to be the only people who can do what we do. I want Chapel Down to be better but I also want us to be different. Like everyone else here I want to go to bed a little less stupid than I was in the morning. As a team the excitement we get is from winning friends and converts".
Every important moment in our lives usually involved a drink. It's social glue. It's important. It's delicious. It's a reason to get together. We're passionate about growing our congregation. We believe and we get others to believe by providing insight, uniqueness and joy for enlightenment. We are on a pilgrimage. To get drinkers to fall in love. With us and our brands. So we are invited to be there at all their most important moments.
Frazer Thompson summaries.
Below: Royal Recognition - rumour has it that Chapel Down is a favourite in Royal Circles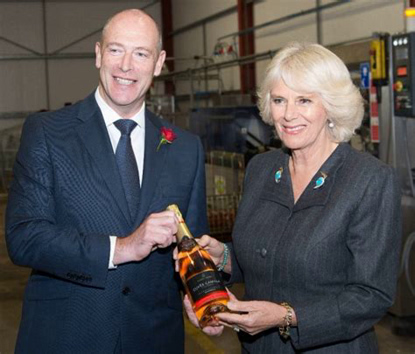 We are Curious We like to go to bed a bit less stupid than we were when we woke.
We are Fearless; Big brands need big budgets and masses of market research to bore people - with what they expect. We have belief, excellence and experience to make what people love - what they don't expect!
We disrupt. All the time. We are Relentless We never settle. Anything can be improved. We pray we will never settle for dull, for ordinary, for ok. We are Humble We know we won first prize in the lottery of life - winemakers who live in a beautiful part of England.
We know others aren't so lucky. We will work to try and help them when we can. That has nothing to do with CSR. We are a Team. We only work with great people who we can trust. Together we are so much stronger. Together we can make a difference.
So let's raise a glass. To you. To us. To curious optimists. The believers.
Press release by Chapel Down 22nd May 2018
Chapel Down's Kit's Coty Collection wins Gold!
Kit's Coty, a premium range of wines produced from a single vineyard located in the North Downs of Kent.

Below: Kit's Coty Coeur de Cuvee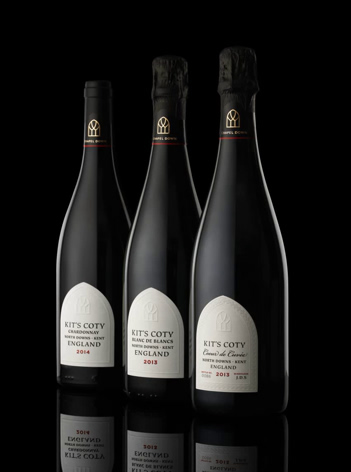 Chapel Down is thrilled to announce its single vineyard estate Kit's Coty has triumphed again winning Gold Outstanding for Kit's Coty Coeur de Cuvee 2013 and Gold for Kit's Coty Blanc de Blanc 2013, in the 2018 International Wine & Spirits Competition (IWSC) announced on 21st May 2018.
Continuing the exceptional Kit's Coty achievements, Kit's Coty Bacchus 2016 also won a silver and Kit's Coty Chardonnay 2015 achieved a silver in the Chardonnay group.
The IWSC is one of the most prestigious awards, promoting quality and excellence in the drinks industry. The significant win for Kit's Coty Coeur de Cuvee 2013 is coupled with a plethora of medals over the last two years including: Kit's Coty Blanc de Blancs 2013 achieving a gold and two silver wins for the recently launched Kit's Coty Bacchus 2016 and Kit's Coty Chardonnay 2015.
This announcement was swiftly followed by the results of the Decanter World Wine Awards on the 22nd May where we were delighted to receive 3 more Gold Medals for Kit's Coty Coeur de Cuvee 2013, Kit's Coty Chardonnay 2015 and Kit's Coty Bacchus 2016 taking the total to 5 International Gold Medals for the Kit's Coty Collection in 2018, with more awards announcements coming later in the year.
Anyone interested in visiting Chapel Down or other Vineyards in the South East can access The English Vineyard Company which has direct links to more than 20 Vineyards.
ABOUT THE ENGLISH VINEYARD CO - MARKETING, CONTENT & PR SOLUTIONS FOR THE ENGLISH WINE INDUSTRY
The English Vineyard Company aims to champion the English Wine Industry and tell the story of the wine makers within it.
Our mission is to tell the story of the brands and the individuals behind them in a beautiful, visual way.
We create unique photography and video content and combine it with engaging social media campaigns to reach a new, relevant audience.
We hope to have every English vineyard on this website in the near future and, in turn, be the online destination for learning more about the English Wine Industry.
In 2015 The Under 40's visited Chapel Down and the event was reported in English Apple Man Journal for 4th December 2015

That is all for this week: next week The English Apple Man will report on the East Kent Fruit Society soft fruit walk held on Tuesday at MOCKBEGGAR FARM ON TUESDAY 12 JUNE 2018 AT 5PM
Footnote: Mexico on Tuesday imposed a 20 percent tariff on apples and a long list of other U.S. imports in response to President Donald Trump's steel and aluminium tariffs.
Mexico is the largest export market for U.S. apples. Washington alone shipped more than $215 million worth in 2017. Washington produces about 65 percent of the apples in the United States and 90 percent of the nation's export apples.
Take care
The English Apple Man