Journal
15th Jun 2018 - What a busy week it's been for The English Apple Man
On Tuesday evening East Kent Fruit Society (EKFS) members enjoyed a soft fruit visit to John Myatt at Mockbeggar Farm on the Isle of Grain.
On Thursday we drove from East Sussex to Wiltshire; staying overnight before a two hour drive into Herefordshire to meet up with my young Under 40's friends on Friday morning.
APOLOGIES to my Early morning readers, but after a very busy day, I left the Journal unfinished last night (it's now Saturday morning)
Second APOLOGIES: I hurriedly placed Journal on line (I thought) on Saturday afternoon before driving to Canterbury for a Golden Wedding celebration, only to realise on our return this Sunday afternoon, that I had NOT ticked the 'Live box' - it is now 3.45pm on Sunday 17th June!
Mockbeggar has a long history of soft fruit growing under the Brice brothers; Simon and Peter. Now their nephew John Myatt is forging his own reputation as a soft fruit grower of distinction. Last season John Myatt won the best Strawberry and Raspberry categories in The Produced in Kent 'Taste of Kent' Awards.
John Myatt won the Strawberry class with the variety MAGNUM and the Raspberry class with the variety TULAMEEN.
Below: John Myatt with his wife Kim and daughter Alex with their Taste of Kent awards. On the left Kevin Attwood KCAS Chairman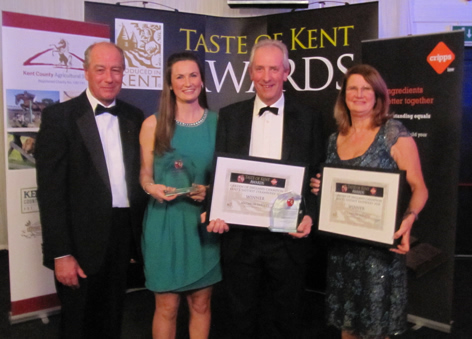 Clearly; the driving force for the business is to produce great tasting fruit and when possible capitalise on early season (higher prices) for 'top shelf' customers (M&S) rather than volume production. Having a large acreage of plums and cherries, means the strawberry production is almost over as they begin.
John and his wife Kim started in 1994 growing Rhubarb at Decoy Farm with mainly Strawberries, then Raspberries.
In 2004 they took over some of Simon & Peter Brice (Uncles) Rhubarb and Plum land.
All their product is packed at Mockbeggar Packhouse: this 3rd Party operation grew out of the Brice family former pack-house. John Myatt took it over and kept it as a separate business called Mockbeggar Packing.
Alex Myatt joined full time as 'Dad's right hand' in 2017 having been working summers since 2011 as a picker and gradually taking on more responsibility.
As we toured Mockbeggar our first stop was the Blackberries: Varieties - Incentive and Karaka Black.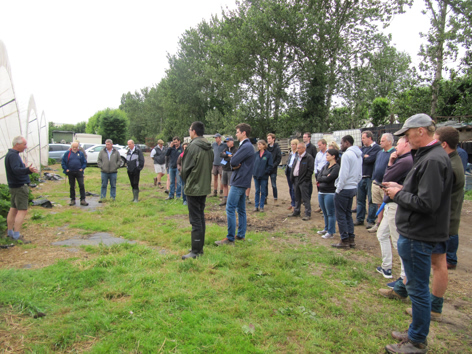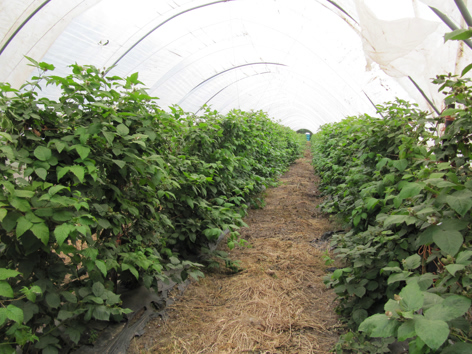 10 acres of Blackberries: Incentive and Karaka Black. Currently picking Karaka, and started Incentive on 13/06/18, all early tunnelled production, tunnels are covered in January.
Below: left; Clips used to hold the new cane in place and right; excess cane is removed manually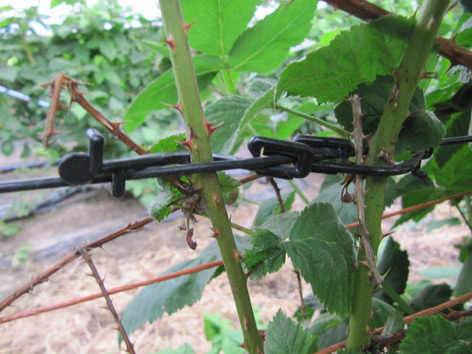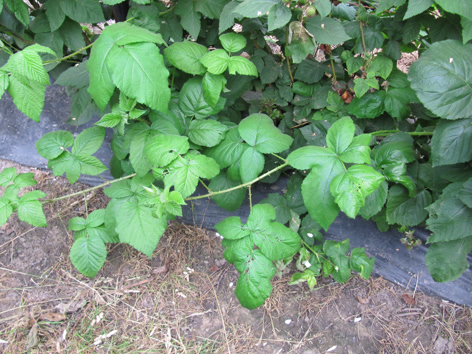 Next we saw the Magnum Strawberries grown in coir bags and placed on ridges on the tunnel floor. To the inevitable question; why not on table tops? John replied - growing them on the floor brings them on earlier and his target market is early harvest, higher prices (before the volumes pick up elsewhere) and better tasting strawberries destined for the 'top shelf' in higher profile Supermarkets.
Magnum Strawberries planted in July 2017 (early cropping) 1st pick this week. Sequentially plant Magnum tray plants from April to July which then crop about two months later. These are then over wintered for an early or maincrop the following year!
Below: John discussing the virtues of Magnum strawberries with EKFS Members; harvest started this week and a second pick is destined for Saturday (16th June)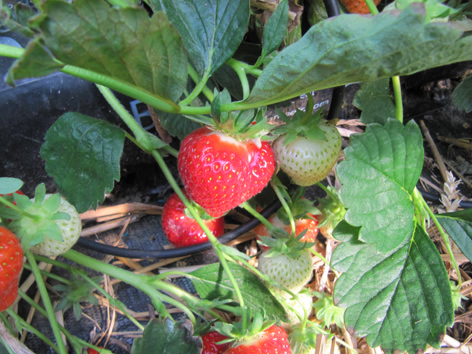 John Myatt & Co. now grow 45 acres of strawberries grown in coir bags on ridges in poly tunnels: there are 45 acres of strawberries of which about 30 acres is Magnum with 10 plants per bag.
The raspberry acreage was 40 acres; but has been reduced to 30 acres. New varieties; Ovation and Paragon were planted in 2016/2017.
Below: Radiance raspberries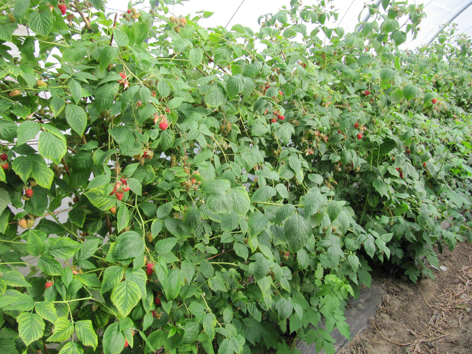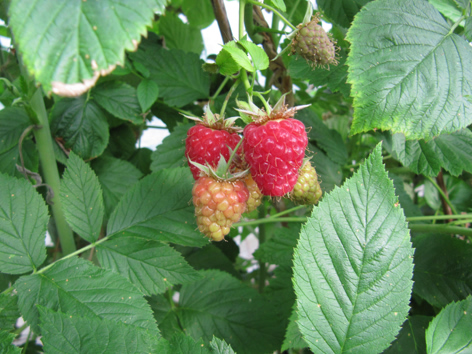 Tulameen Raspberries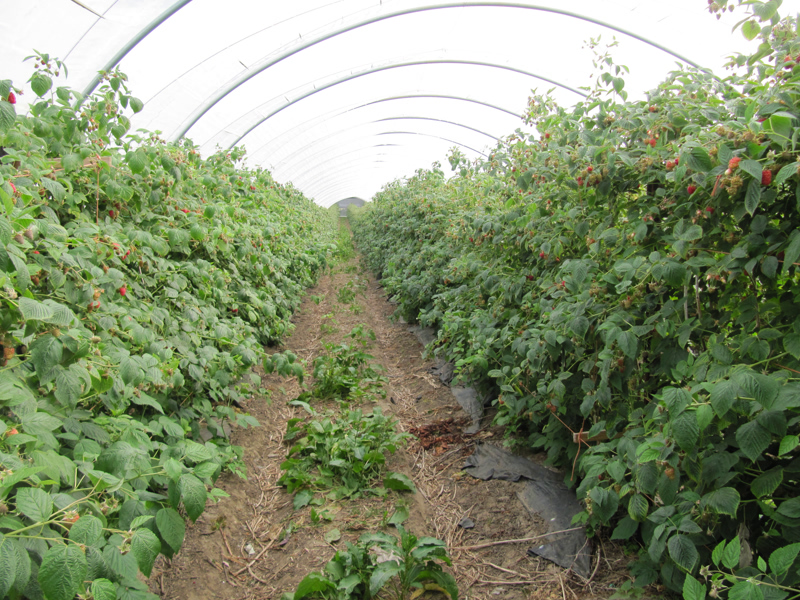 John Myatt & Co also produce 45 acres of Rhubarb!
Back to Strawberries: Recent planting: Everbearers which were planted at the end of April; varieties Harmony and Capri. John has not grown Everbearers for many years.
For my readers who are not familiar with the term Everbearers; Strawberries are either June bearers eg. those that naturally produce a crop in June in one 'flush' over 2-3 weeks or Everbearers which produce flowers over a long period. Growers often produce the June bearers for the peak demand around Wimbledon fortnight and then follow on with smaller picks of Everbearers circa twice a week up until the Autumn.
The normal planting and harvest strategy starts with young strawberry plants planted in early summer which crop late summer, before cropping again in the following summer on mature plants.
Below: left; Everbearers planted in April and right; Bee Boxes are placed in each tunnel to supplement pollination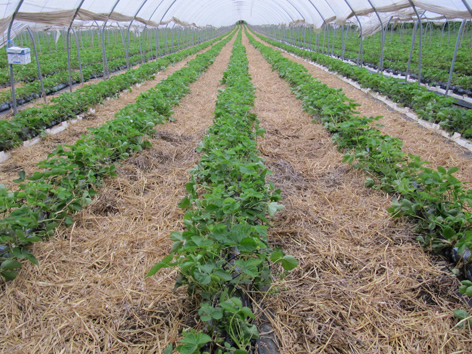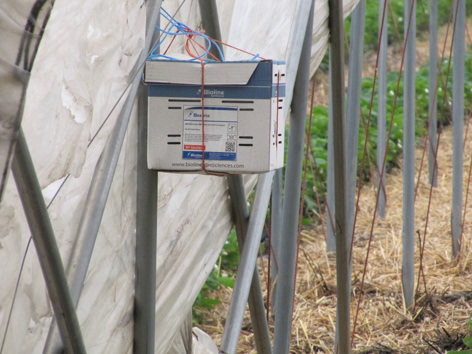 100 acres of Plums are grown: The varieties -Victoria, Reeves, Opal, Avalon, Jubilieum, Juno, Katinka, Haganta, Margories and various Gages.
Some Apricots: 5 acres, planted 2016/17 winter. 6 varieties to spread out the season.
John has a system for Raspberry production: Take a crop on Floricane; cut off and take late season crop of Primocane. Raspberries are harvested from 1st June to November.
By explanation for my readers: the common strategy used today by many commercial raspberry growers entails planting a raspberry cane in a pot and as the cane grows during summer it flowers and crops on the young cane ) (called Primocane) - in the second year the cane is headed off and produces young fruiting laterals - this is Floricane. In the second summer new Primocane will grow and produce another crop in late summer. Cropping on Floricane and Primocane.
Raspberry varieties grown at Mockbeggar; Radiance, Paris & Versailles and Tulameen, Gleam, Grandeur, Ovation and Paragon. Paris and Versailles are only a trial (two rows).
All the fruit is packed at Mockbeggar Packhouse and marketed via Total Produce to M&S main customer, plus several other supermarkets.
Mockbeggar can hardly be called 'a small farm operation' but John's ethos is to produce the best flavoured product when price is at it's best and not try to compete with the large scale producers who survive on high volume, low cost production.
On Friday The English Apple Man finished his week by traveling to Herefordshire, joining the Under 40's at their 'interim visit' prior to next year's U40 Conference in Chile'
I will update on the U40 interim visit in next week's Journal. In the meantime the picture below of the circa 70 U40's attending the visits to Freshfileds and Lower Hope farms on Friday (yesterday)
More on the U40's visit to Herefordshire in next week's Journal!
Once again, My apologies for late submission; it's now 3.30pm on Saturday 16th June!
Correction: 3.45pm on Sunday 17th June!
Until next week
Take care
The English Apple Man