Journal
22nd Jun 2018 - The English Apple Man joins the Under 40's in Herefordshire
On Thursday my wife and I drove to my brother's home in Wiltshire. On Friday I was up early and on the road to Herefordshire joining my Under 40's friends as they held an 'interim' meeting before next year's U40 Conference.
The first visit was to Freshfields an intensive business growing strawberries, asparagus and garlic.
Below: Jim White welcoming U40 members to Freshfields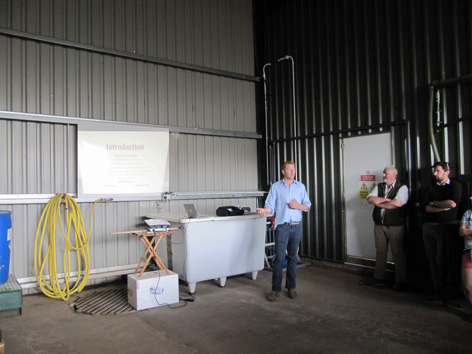 Freshfields manager Jim White welcomed the young U40 members and gave an overview of the business.
Freshfields speciality is growing fresh produce for supply to supermarkets.
Freshfields was started in 2009 and since then has seen considerable expansion and diversification into other crops.
Part of a diverse group of businesses based at Thingehill Court which include both agricultural and technical sales/support.
Freshfields is part of a Producer Organisation - Speciality Produce Ltd
Strawberries is the primary business and started in 2009 - all produce is packed, marketed and distributed through S&A Produce - Customers - Tesco, Morrisons, Asda, Aldi and Lidl.
Asparagus
Freshfields diversified into Asparagus in 2015 - Packed, marketed and distributed through S&A Produce - customers Tesco and Morrisons.
In 2015 we rented an old crop in Herefordshire which was coming to the end of its commercial viability; in 2016 we started a 3 year phased planting programme (finished in April 2018) at a site at Worcester.
Crop life expectancy is 8-10 years - current intentions are to expand this enterprise more in 2021 once Worcester is in peak production
Garlic
Garlic - large scale experiment! Started in 2016 - Developing a customer base - intended route is to the retailers
First crop was in 2016 - a resounding failure!!
Undeterred and following investment we went on to produce an average crop in 2017.
Plant in October, harvest in late June/early July
2018 - harvest starting in 7-10 days - Looks good
Strawberry enterprise
Below: Strawberries are now grown exclusively on Table Tops under Tunnels at Freshfields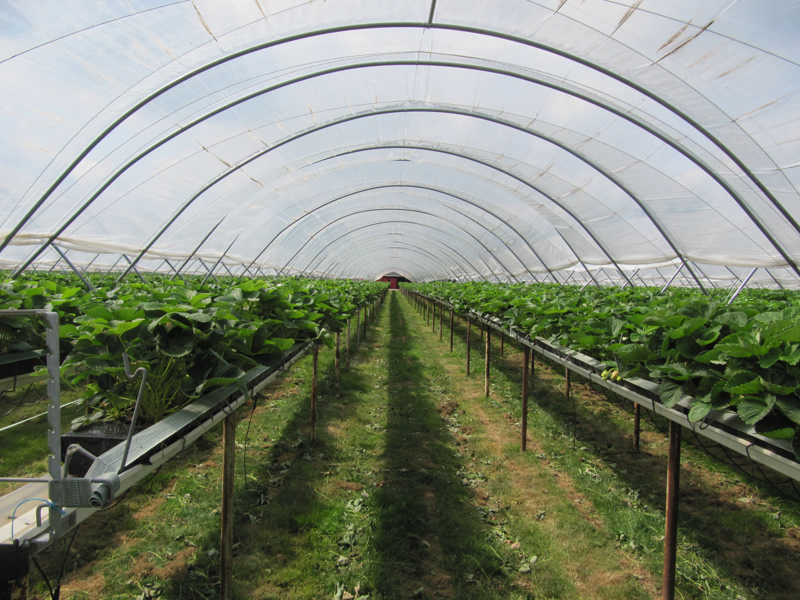 Operating since 2009 - Nunnington was built in 2010/11 with the view that sustainable strawberry production would be driven through investment in substrate growing systems.
Sustainable site - rainwater harvesting, capture of drain water, stone roadways and enhancing biodiversity are guiding principles.
In 2016 & 2017 a further site was built 0.5 miles along the road.
Now all production is in substrate production under protective structures. 2017 was the last year growing in the soil.
Our cropping principles
Generally a complex cropping system!!
Jim said; "we rely on a mix of Everbearers, June bearers, varietal selection, delayed planting windows and nursery production areas to spread production & optimise yields, all designed to structure output.
The goal to achieve the highest yield per hectare, while controlling our costs per hectare!
Growing structures and system...
All grown in Meteor gutters, with drain water collected and removed from tunnels
Below: left; run off collects in the trap at the end of the gutter and right; drained into the water collection system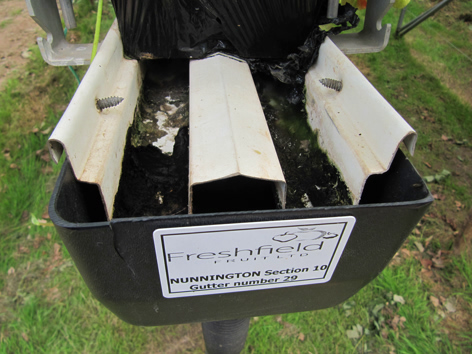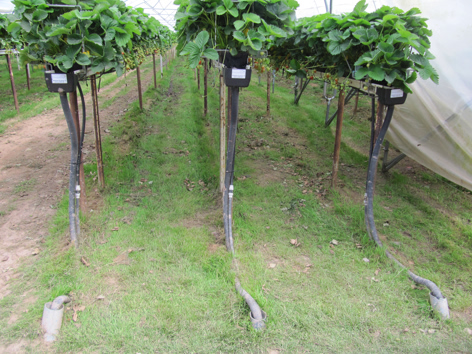 Substrate boxes are used to enable moving crops - each site is fertigated from one of 2 central pumphouses - delivered to the root zone using drippers and dripper stakes.
Below: left; strawberry plants growing substrate fed by root zone drippers and right; a view from beneath the gutters of the crop potential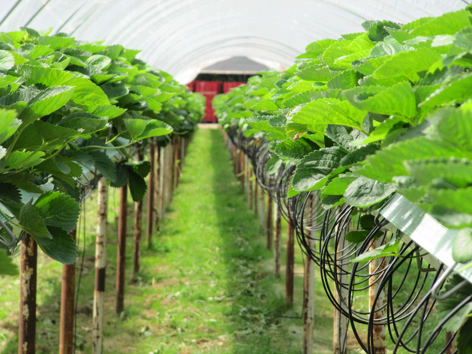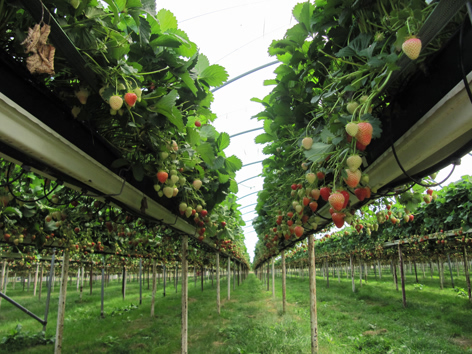 The season so far...
Both Asparagus & Strawberries were 10-14 days late - started Strawberries on the 20th May 2018
Crops came in to peak production quickly - low yields from first flush of ever bearers - building up to be a big July/August/September cropping profile
Current challenges within the Freshfields business...
A sustainable labour source and Exchange rates; BREXIT?
Availability of new varieties & plant material; Freshfields do not have access to varieties licensed to large marketing groups.
Changing expectations of customers - Disease pressure has been high and fruit quality has been inconsistent this year.
Increased costs, some influenced by the supply of materials from abroad; 'plants, coir substrate etc. all costing more due to devaluation of the £.
Legislation; particularly reduction of available crop protection materials.
Expansion or consolidation???
Like many growers, the concern for future availability of harvest labour is a real worry!
Our future - what we are working towards..
Varietal selection -Crop averages & consistency - Cropping densities - Investment in poly tunnel structures
Increasing yields - Crop waste reduction - Water sterilisation & RO
Ultimately we are trying to get better at what we do!!
---------------------------------------------------------------------------------------------------------------------------------
Under 40's at Lower Hope Farm
As we enjoyed lunch at Lower Hope, Emily brought 'Bertie' her puppy out for us all to 'wax lyrical' over; a very, very, beautiful Cocker Spaniel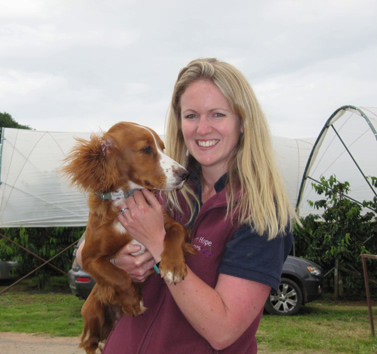 Our second visit was to Lower Hope, where following a buffet lunch, U40's 'recently married' Chair Emily Cliff (formerly Livesey) and fruit manager at Lower Hope updated the assembled U40 members on the planning process for the 2019 Under 40's Conference in Chile.
Lower Hope Fruit is part of the 2,000 acre Lower Hope Estate owned by Clive Richards who bought the estate in 1985. Lower Hope Fruit Farm had been a fairly traditional fruit farm, growing apples and still grows Bramleys and Opal apples. Lower Hope is strategically well placed for cherry production as it is the latest cropping site in the country (England) avoiding the UK cherry production peaks.
Cherry varieties grown at Lower Hope: Early - Stella, Summer Sun, Lapins, Sylvia and Colney, followed by Kordia, Karina, Regina, Sweetheart, Skeena, Centennial and Penny.. Some Sweetheart are grown on Gisela 6 but most varieties are on Gisela 5.
Lower Hope employ mainly Romanian and Bulgarian harvest workers, with circa 200 at the peak harvest time.
Below: left; Emily explains Lower Hope cherry tree management and right; Colney beginning to show a change in colour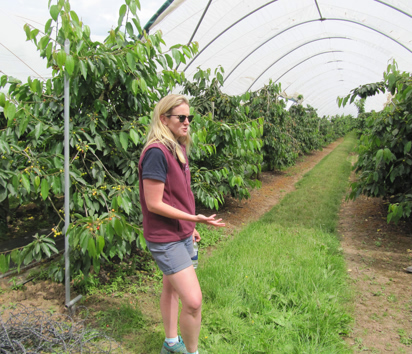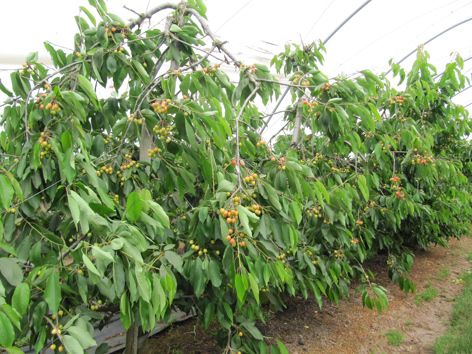 Below: left; Summer Sun growing on the standard format and right; Summer Sun developing colour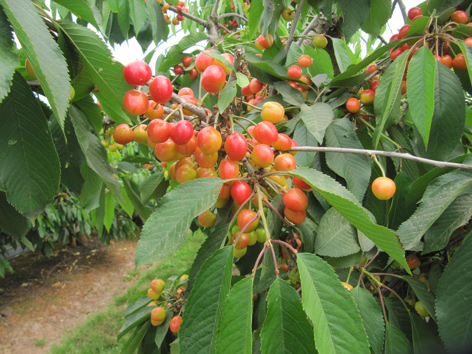 Lower Hope also grow raspberries: Maravilla on Primocane and Floricane covering an area of 5 hectares. harvest from June/July - on the U40's visit the odd red berry could be found.
Below: left; Emily and the Marivilla raspberries and right; a Maravilla row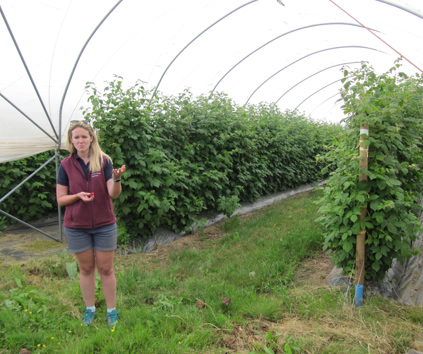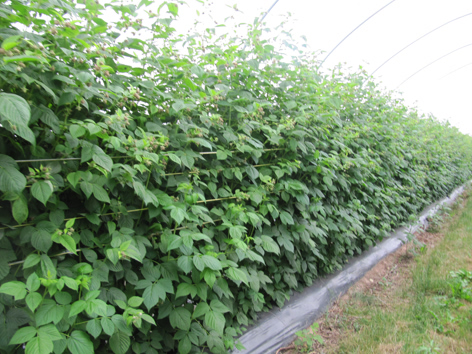 Below: left; Maravilla canes and right; Maravilla fruit at the green fruit stage
As the U40's toured the cherry orchards, Ed Turner one of Emily's team at Lower Hope explained the irrigation system operated from the pump house on higher ground.
Below: left; Lower Hope pump house and right; Ed Turner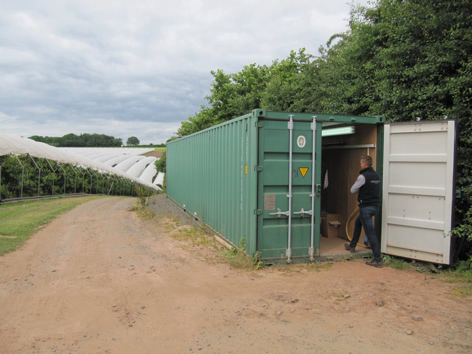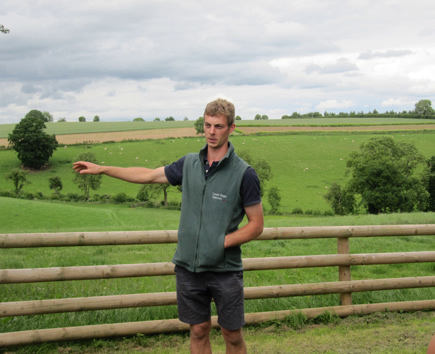 As we toured the Lower Hope Cherry production area, Emily pointed out the standard production using 2 rows per tunnel, with fruit growing on downward facing (trained) lateral branches. The tunnels are covered with woven plastic covers with a vent in the centre ensuring a cool growing environment............
We also looked at the one hectare trial block, where a number of varieties (from early to late) are growing on intensively planted 'super spindles' - the 'trial' planting distances are: 0.5 metre (in the row) x 3 metre (between the rows) & 0.75 metre x 3 metre - a third trial has been planted with 'twin leader' trees.
Below: left; the Cherry trial plot and right; a view of one of the individual trials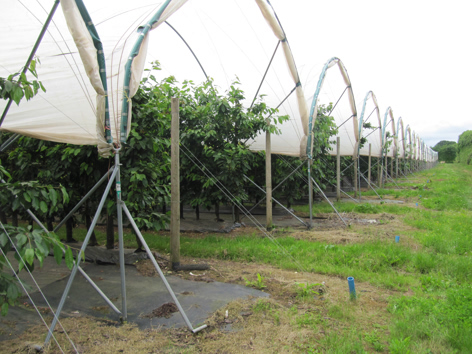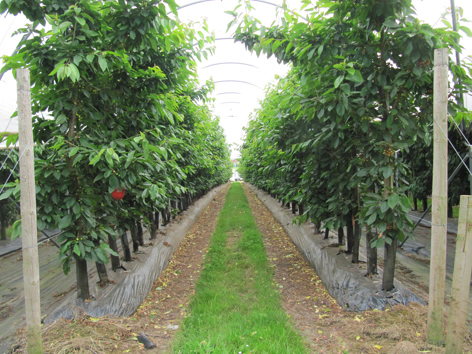 An important aspect of tree management is dealing with the tops, which can get very 'growy' - this is best managed after harvest; the tunnel covers are removed as soon as harvest (for a variety) has finished. This means from late July the process of removing strong growth in the the tops is followed by removal of covers soon after. The process is complete by the end of September.
Detailed pruning of the rest of the tree is carried out in the springtime........
Tree management in the super spindles, requires short fruiting branches (unlike the longer laterals in the standard cherry production tunnels)
Emily explained the importance of not allowing the branches to grow to long; the ideal is renewal of the short, downward facing fruiting units ensuring the fruit is growing near to the main stem.
Reflecting back to the springtime: the tunnel covers go on from early March until mid May (depending on the variety) it is not possible to start before then due to windy conditions - blossom time starts in early April.
The trial trees are planted on ridges with irrigation tubes laid beneath the plastic mulch. The ridges aid drainage and create a healthier root zone. To accommodate the taller (super spindle trees) the tunnels have a Y leg with straight extensions pushing the curved tunnel framework higher.
With much taller trees, a motorised platform is used for picking and pruning the higher elements of the trees
Below: this picture was taken by The English Apple Man last year on a visit to Lower Hope and illustrates the intensive planting and cropping close to the main stem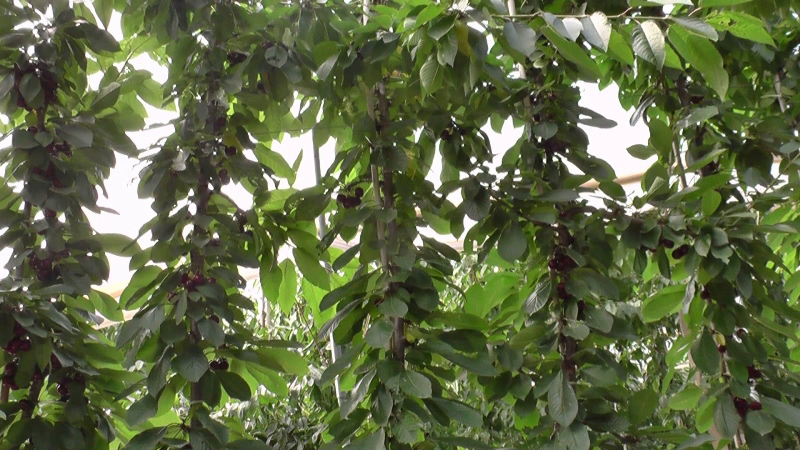 It is well worthwhile following Emily's Concept Cherry Orchard video for a better understanding of the objectives.
From the cherry production tunnels, the fruit makes a short journey to a 'state of the art' grading line. At a cost running into seven figures, this cherry grader can size and select cherries into the required customer specification and recognise and reject inferior fruits.
The Packhouse visit was conducted by Hayley Gilchrist.
Below: Hayley explains the operating procedures in the packhouse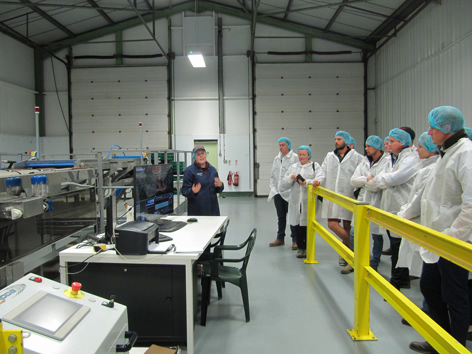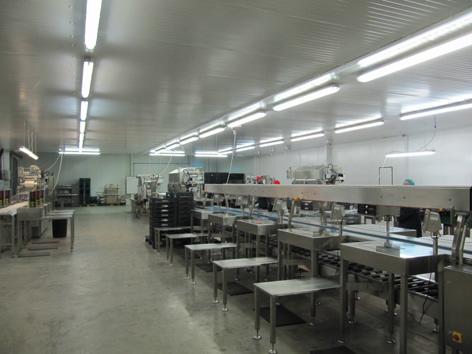 The pictures below were taken last year by The English Apple Man on a visit to Lower Hope when packing was taking place
Below: left; Cherries enter the grading line and right; cherries on the sorting table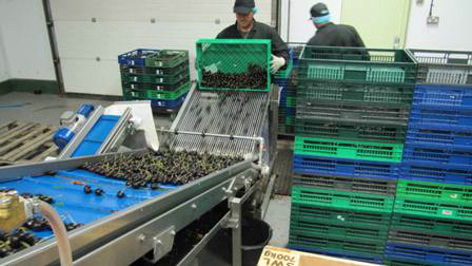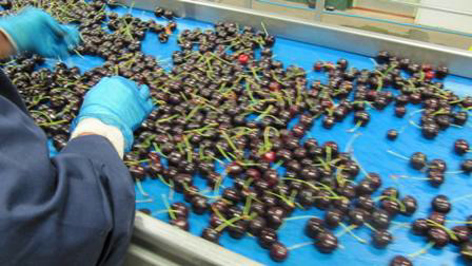 Below: left; The MAFF.RODA grader and right; graded cherries in punnets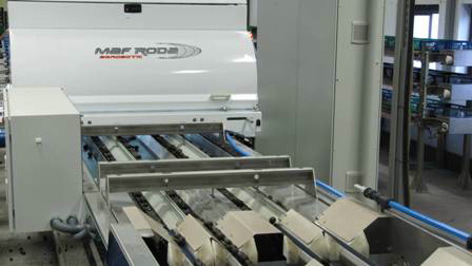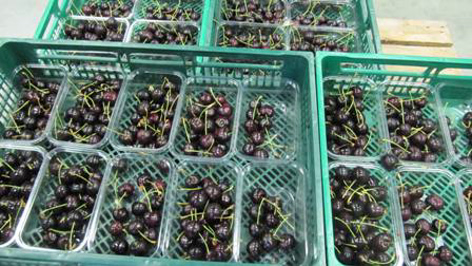 Below: left; cherry punnets on the lidding line and right; punnets lidded and ready for labelling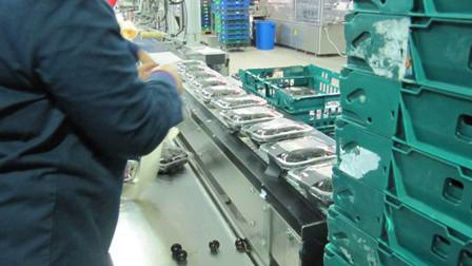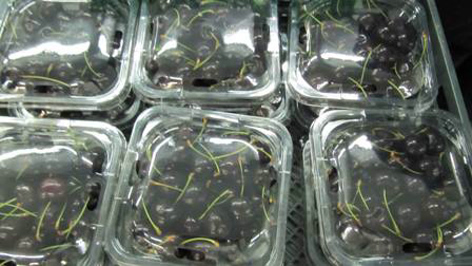 For more information click on: LOWER HOPE FARMS
From Lower Hope the Under 40's members moved onto their last visit to CHASE Distillery -
At this point the English Apple Man left his young friends and headed back to Wiltshire. The prospect of visiting a distillery for an opportunity to indulge in 'tasting' and then driving for two hours, inspired a dose of common sense.
So; I thank my U40's friends for providing some pictures of the visit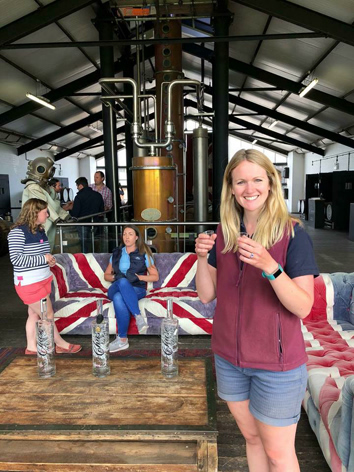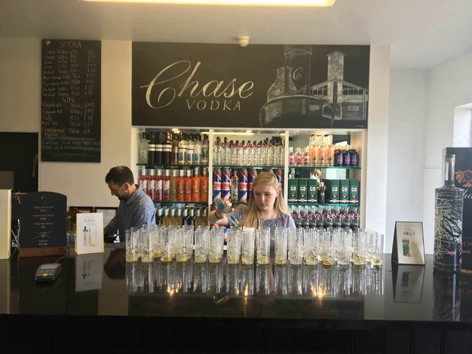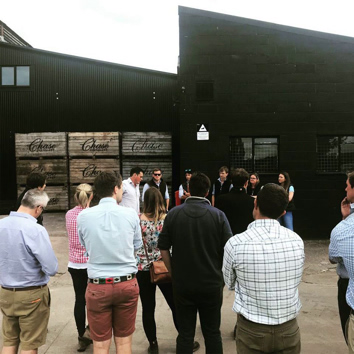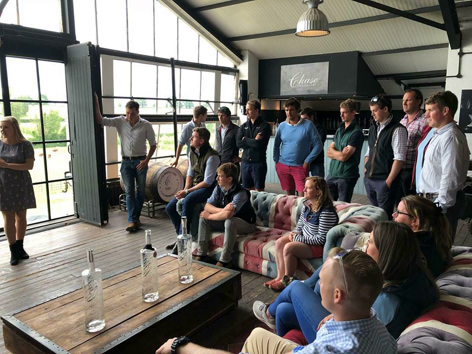 For the full story: click on CHASE DISTILLERY a truly inspiring story of creating an added value product from such a basic raw material.
Below: Under 40's group picture in Herefordshire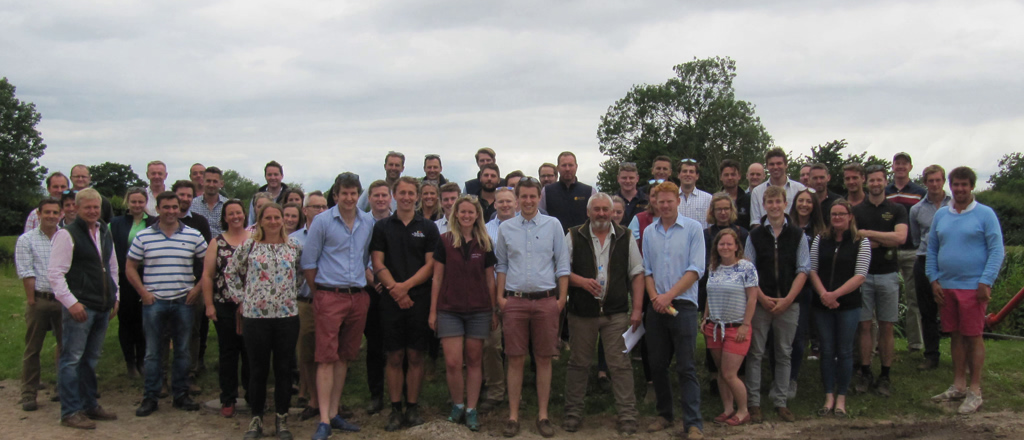 Time to bring this week's Journal to a conclusion....it's 11.30pm on Friday evening and time for bed!
Take care
The English Apple Man