Journal
10th Aug 2018 - Fruit Focus 2018
This week The English Apple Man has been in East Anglia visiting three fruit growers with quite different approaches to growing and marketing. Having arrived back home today at 4.15pm, this week's Journal will reflect on some of the areas of interest The EAM identified at the rcent Fruit Focus 2018.
Fruit Focus enjoyed a warm sunny day and while coffee was provided by strategically placed 'baristas' many trade stands had ice cream making facilities which proved very popular with FF visitors.
Among the trade stands visited by The English Apple Man; the first soon after arriving was Storage Control Systems (SCS) where owner Jim Schaefer joined his UK SCS team at Fruit Focus.
Good friends of The EAM, Doug and Estera Amez with two of their AG Recruitment team; Marcin and Linda entertained visitors to Fruit Focus.
Below: left; Jim Schaefer (2nd from left) and SCS colleagues and right; Estera, Doug, Marcin and Linda - AG Recruitment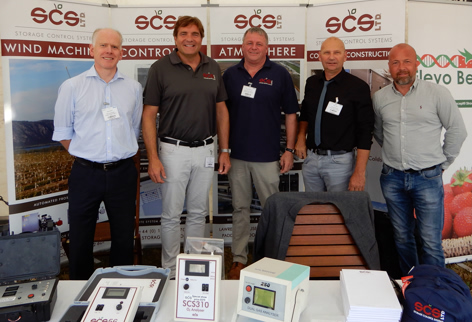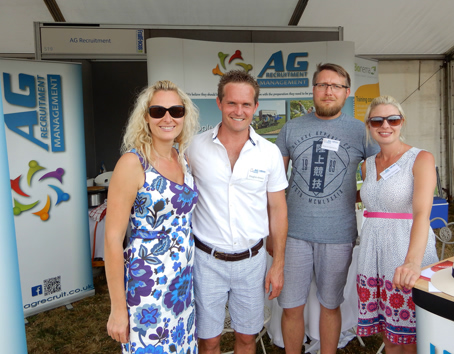 On the NP SEYMOUR stand Steve Bowles demonstrated a FENDT Tractor with tracked capabilty
Below: left; NP Seymour's Steve Bowles demonstrating this FENDT Tractor with tracked capability and right; NIAB/EMR scientist Adrian Harris makes a 'bee line' for home with his precious cargo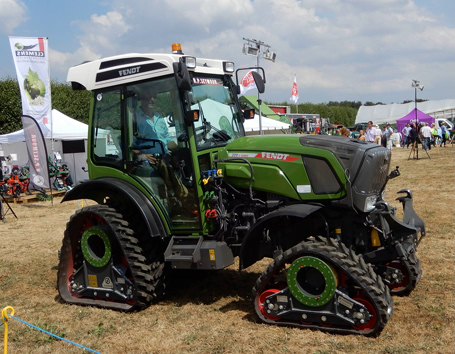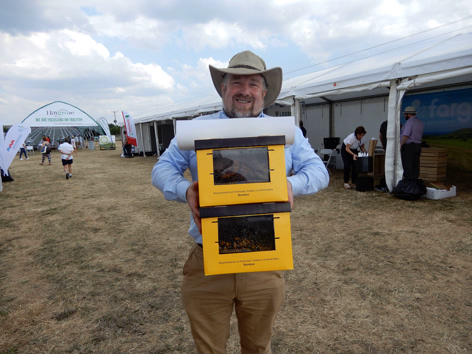 Below: The Under 40's promote the 2019 U40 Conference in Chile on the Haygrove Stand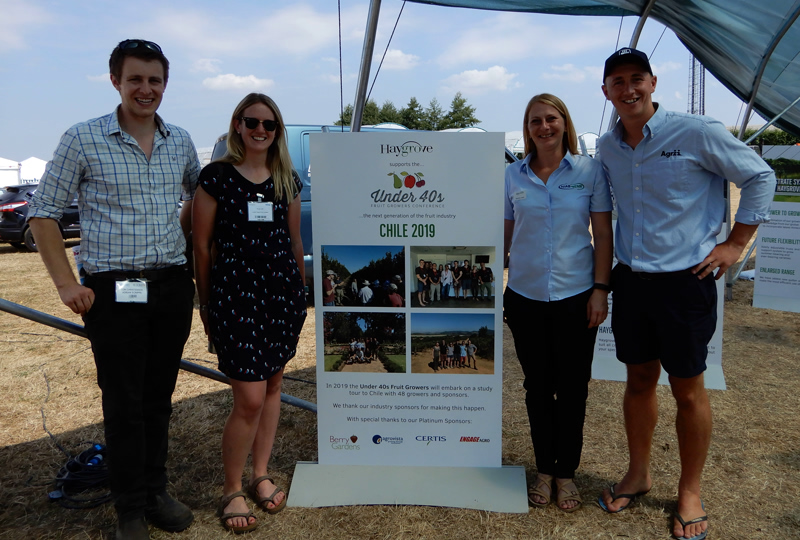 Below: The Under 40's would not be possible without the support of their sponsors - below the U40 PLATINUM Sponsors for CHILE 2019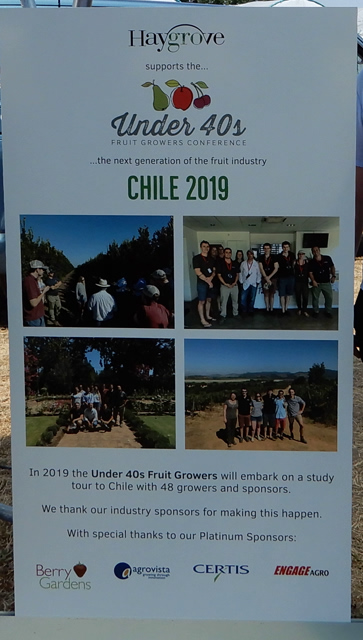 The Under 40s Fruit Growers' Conference is a biennial event aimed at the bright young things of the fruit industry. It usually visits a European country and includes opportunities for delegates to see the latest technical developments that are in the pipeline to move the industry forward.
This can be anything from new variety trials at nurseries, pest and disease research, cold storage innovations, and more. The trips also involve visits to fruit growers, networking time, technical presentations and discussions to make for a fruitful conference.
The industry has a responsibility to support its young people in a positive way, to show them there is a real career opportunity in fruit growing and that the rewards for ambitious, quality growers are very real. Whether you are running your own business or working for someone else, the under 40s fruit growers conference aims to provide you with great experiences relevant to your career.
Click on: Under 40's Sponsors
Below: Dynamic Control Atmosphere (DCA) specialists; Ken Hatch MD of UKCA Ltd Joe Cruttenden UKCA and Tito Spaldi from Isolcell suppliers of DCA Technology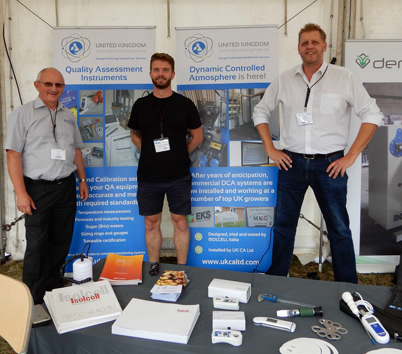 Fruit Focus offers an opportunity to inspect the multitude of specialist services and equipment available to the fruit industry and in recent years the growing needs of our rapidly expanding viticulture industry. Always an attraction, there was lots of 'shiny new equipment' on show.
Below: left; Kirkland are a major player as a machinery supplier and right; Lamberhurst Engineering another well established supplier of specialist horticultural machinery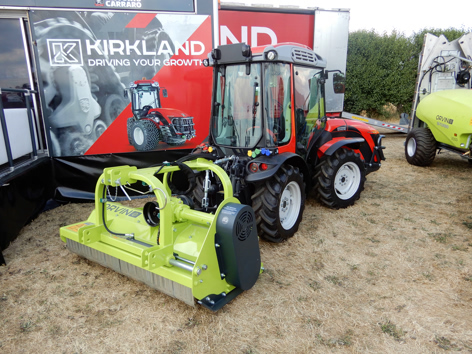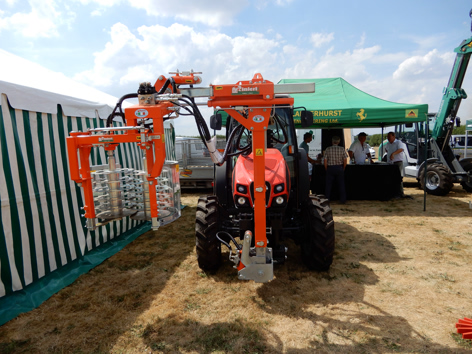 Below: left; NP Seymour supply a wide range of equipment to the fruit and viticulture industries and right; 'young' Sam Barnes provides specialist contract services to the fruit and viticulture enterprises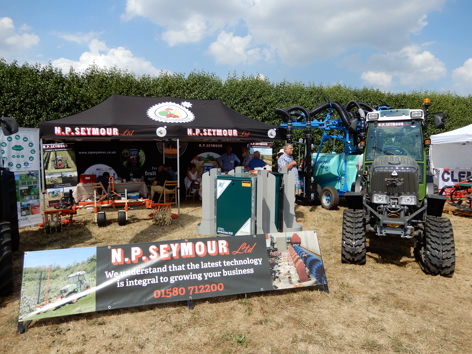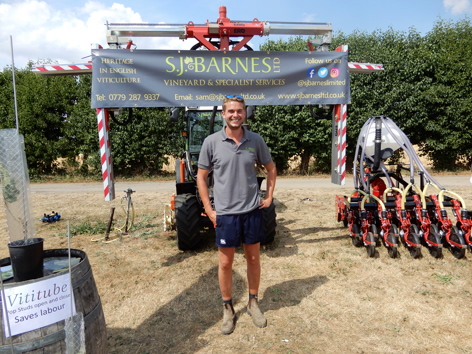 Finally (for this week) - this morning, Tim Elbourn took me around his family farm which grows a collective 100 + varieties of apples, pears, cherries, plums and gages of which more will be reported in future EAM Journals.
Below: left; Discovery at Tim Elbourn's Cam Valley Orchards and right; Discovery in Cam Valley Orchards Farm Shop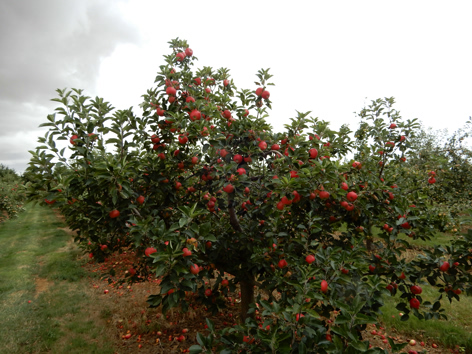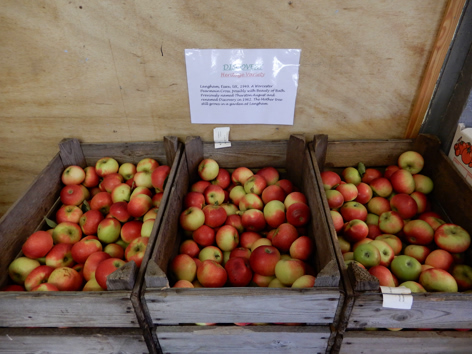 WOW, how the weather has changed: On Wednesday as I drove my Grandson home to my daughter's in Derbyshire after a 10 day holiday with Grandad & Grandma the temperature was still in the mid twenties - today as I returned from East Anglia the rain fell in torrents as I negotiated the M11 and M25
OH! Just one more thing: This week The English Apple Man website celebrates it's ninth year anniversary!
That is all for now.........another busy week beckons, until next Friday
Take care
The English Apple Man