Journal
17th Aug 2018 - What's next on the menu for UK grown top and stone fruit
The 2018 apple season is underway; albeit with limited supplies of early apples like Discovery. UK Plums are in the early stages of the season with Opal the first to be available on Supermarket shelves.
From a relatively quiet period The English Apple Man has been 'getting up to speed' with ventures into UK Top Fruit (apples & pears) and Stone Fruit (plums).
Last week The EAM was in East Anglia visiting growers and this week judging an orchard competition in Kent on Tuesday, before joining members of East Kent Fruit Society (EKFS) at the traditional EKFS walk of the winning orchard in the EKFS orchard competition.
Below: Tim Elbourn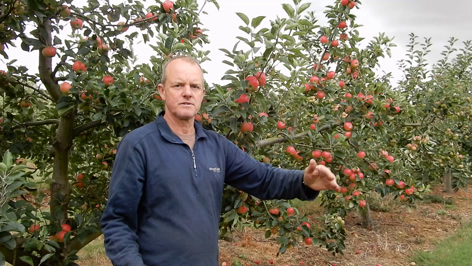 Reflecting back to last week, The EAM visited Tim Elbourn at Cam Valley Growers Farm Shop located in the Hertfordshire village of Meldreth. Cam Valley grow in 4 orchards in Meldreth and nearby Melbourn. At one time the two villages were home to around 30 fruit growers, many growing the locally 'revered' Cambridge Gages.
Cam Valley Growers dates back to 1864 and five generations. The farm shop was started by Tim's father Robert Elbourn in 1967.
Tim continues a family business which grows on four sites in the area, with a focus on sales through their Cam Valley Growers Farm Shop and supplying other East Anglian farm shops.
A quote from the Cam Valley Growers website: "Although many of our Heritage Orchard Apple varieties are grown on a small scale and are only available through our Farm Shop, other varieties such as Cox and Bramley apples are grown on a larger scale and we are able to supply other outlets.
We are East Anglia's largest plum producer and wholesale both locally and further afield we have supplied all the Major Supermarkets over the last 15 years but this is an ever-decreasing proportion of our business.
Any apples and pears without a ready sale are made into juice.
We supply many local village shops, Farm Shops and Pubs with Apple juice, Cider and Fruit and we welcome wholesale enquiries from a local or National level".
The varieties grown by Cam Valley Growers is a joy to behold; currently more than 100 orchard varieties are grown. The mix of traditional varieties of apples, pears, plums, gages and cherries is enough to satisfy the most enthusiastic devotee of 'flavour'.
Tim emphasises the importance of allowing fruit to ripen on the tree and only pick when the flavour is at it's best.
During my vist we walked through Cam Valley's newest orchard; The Heritage Orchard - re-planted in 2005 which has over 30 apple varieties. This 9 acre Heritage Orchard was first planted circa 1900. It was grubbed in the mid 80's and used for arable crops. Re-planting started in January 2005 with a range of varieties, many dating back to the Victorian times or earlier.
Among the varieties; Court Pendu Plat an ancient dessert variety from France dating back to the early 1600's - and Reverend W Wilkes an early cooking apple originating from Berkshire England in the early 1900's and parentage thought to be (probably) Ribston Pippin x Peasgood Nonsuch - Tydeman's Late Orange a cross between Laxton's Superb x Cox's Orange Pippin - Kidd's Orange Red a cross between Delicious x Cox's Orange Pippin origin New Zealand 1924 - Jupiter a Cox x Starking Delicious bred at East Malling Research in England and released in 1965.
Kidd's Orange Red and Golden Delicious are the parents of GALA
The Heritage orchard engenders memories of the orchards of my youth; this would have been a 'state of the art' orchard back in the 1950's planted as a 16ft square plant, it mirrors orchards of 'yesteryear' - Tim has chosen a mix of old varieties and a few more modern varieties.
Below: left; Discovery trees in The Heritage Orchard and right; Discovery on display in the farm shop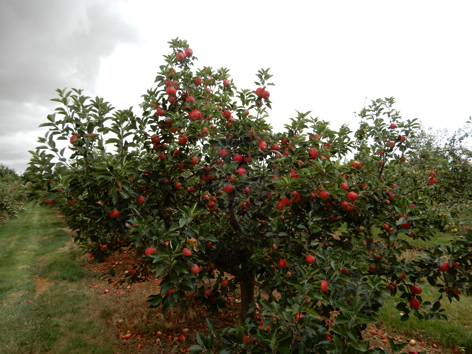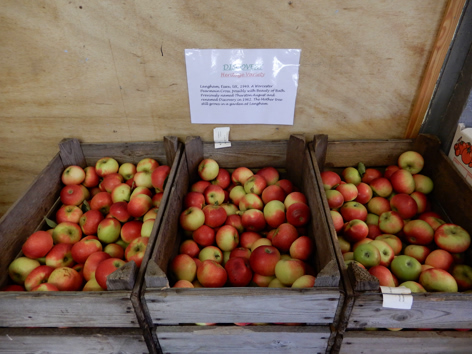 Below: left; Court Pendu Plat tree and right; Court Pendu Plat apples on the tree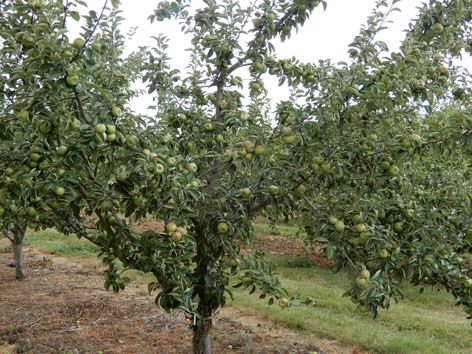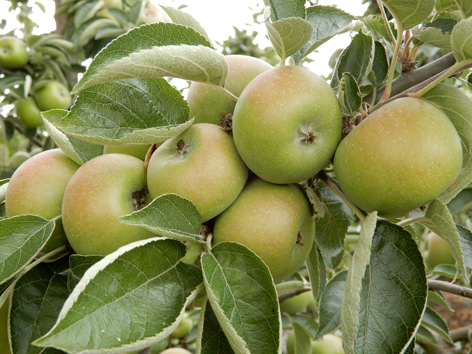 Below: left; Reverend W Wilks and right; Tydemans Late Orange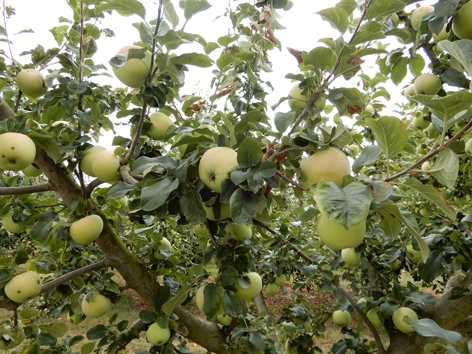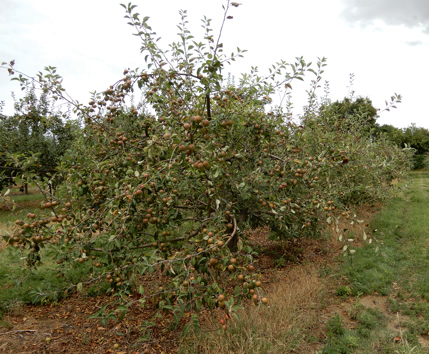 Below: left; Kidds Orange Red and right; Jupiter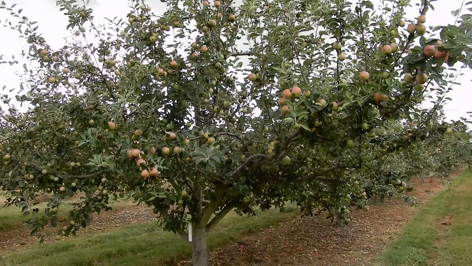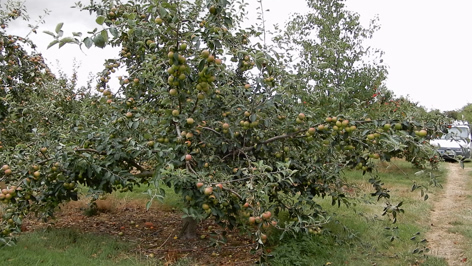 Below: left; Blue Tit plums ready for picking and right; Blue Tit plums on the tree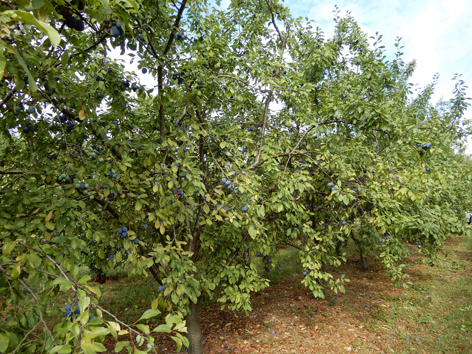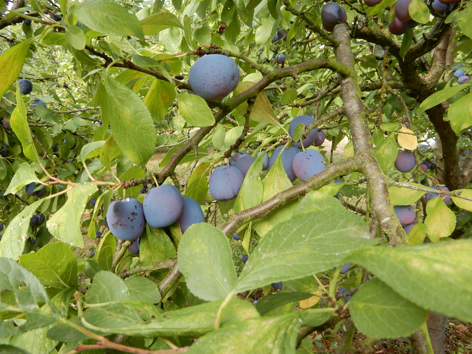 Below: Picking plums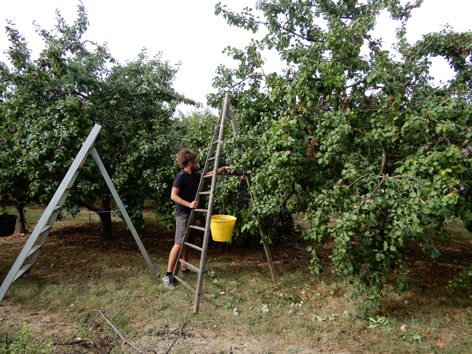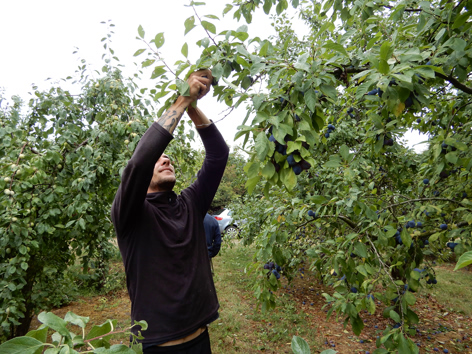 Below: left; Plum picking and right; Blue Tit plums in harvest bucket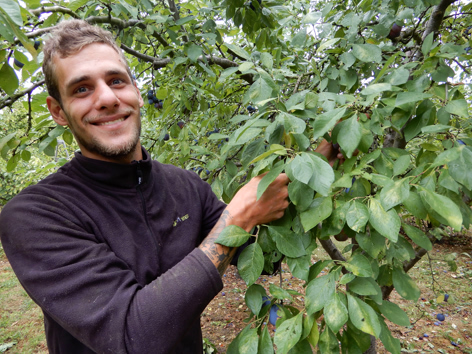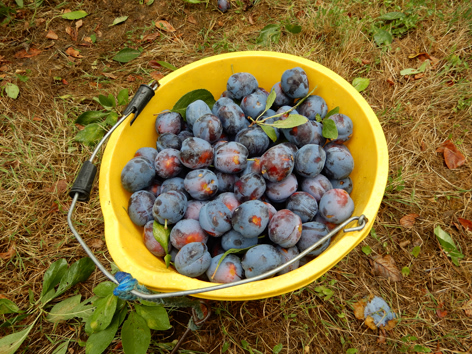 Below: left; Reeves on the tree and right; Reeves in the farm shop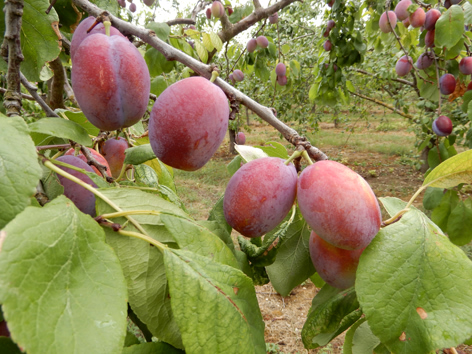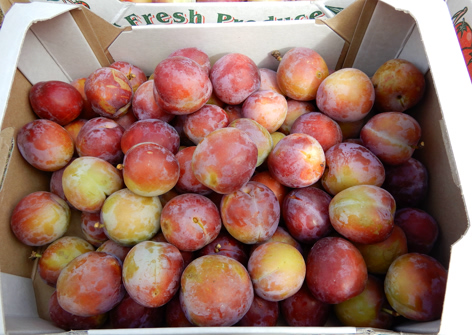 Below: left; Display of apple juice in the farm shop and right; Cam Valley Apple Juice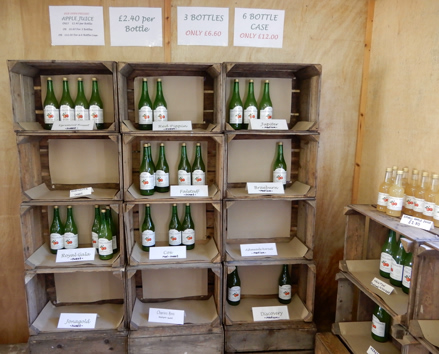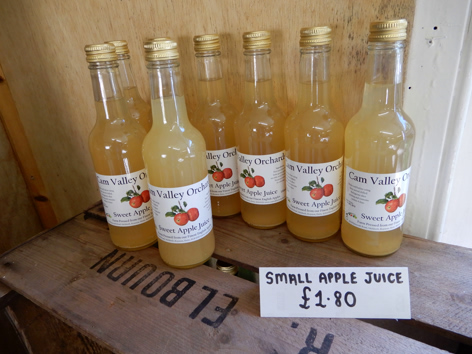 The plethora of different varieties of apples, pears, plums and cherries at Cam Valley Orchards is unique and offers customers an opportunity to sample an eclectic mix of 'fruity flavours'
Until next week...
Take care
The English Apple Man