Journal
24th Aug 2018 - The English Apple Man visits Suffolk
It's a while since The EAM visited Jeremy Lindsell's Braisworth Orchards in Suffolk but my 3 hour drive from the Sussex coast was well worth it!
On Tuesday, Jeremy and his manager George Atkin hosted the visit of Essex & Suffolk Fruit Growers Society
The walk included a live demonstration of the Intelligent Fruit Vision (IFV) system.
Below: ENVY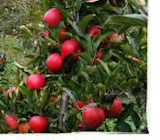 Apple varieties grown on the farm include: Jazz, Envy, Daliclass, Suffolk Pink, Winter Wonder, Cox & Monalisa, as well as a very exciting planting of some red fleshed apples (IFORED Selection)
The farm is very progressive and has seen continuous investment and development since the last visit by E&SFGS members in the spring of 2013. Several areas have been replanted and some of the newer planting systems such as 2D have been utilised.
Jeremy Lindsell has been growing apples at Braisworth since 2001 when he took ownership of the farm. At that time the farm was dominated by Cox and Bramley. Over the intervening years Jeremy has phased out the Bramley and Cox with the last block of Cox due for grubbing this winter.
Jeremy is also employed by Worldwide Fruit Ltd (for 3 days a week) supporting WFL's innovations development and advising Fruition APO growers (the grower group supplying WFL in the UK) in addition Jeremy is the Technical and Performance Development Officer for IFV.
Below: Daliclass and Jazz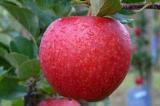 In the early 2000's some Cox and Red Pippin were grafted over to Winter Wonder and Egremont Russet. Suffolk Pink was another variety introduced to the farm by grafting. The current 'favourites' at Braiseworth Orchards are Jazz (33% rising to 40% in 2019) Daliclass (15%) Suffolk Pink (8%) Winter Wonder (8%) Envy (5%).
The story of ENVY is an interesting one: the variety naturally grows large fruit and this enhances the tonnage per hectare. Jeremy told the group ENVY has become so popular because it is exported to Asian markets which is the largest growth area for apple consumption. Apparently the profitability of the export market for ENVY is driving ENVY planting in New Zealand with less Jazz (a highly successful variety financially) being planted there.
Below: Monalisa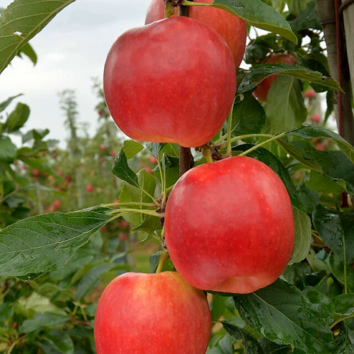 First on our tour of the orchards, a very new orchard of a very new variety: Monalisa is a red/pink variety which originates in Brazil and is 'potentially' an apple which could precede the UK Jazz season. Bred by IFO ('International Fruit Obtention')
TREE TYPE: Open tree - VIGOR: Low to medium - PRODUCTIVITY: Medium to good - BLOOMING TIME: - HARVEST DATE: Gala time - BIENNIAL BEARING: No -TOLERANCE TO PESTS & DISEASES: Resistant to Glomerella leaf spot and Scab (Rvi6). Tolerance to red mites
Presentation: "Shiny bicolored red and yellow fruit" - SIZE: Between 70 and 75 mm - OVER COLOUR: Bright red - BACKGROUND COLOUR: Yellow - SHAPE: Truncate conical - RUSSET: might be sensible
Eating Quality: "The flesh is firm, crisp and juicy. The taste is sweet with a hint of acidity"
Storage Potential: "Can be stored between 2 and 3 months in normal cold storage"
International fruit breeding programme: IFO
Thanks to its global network, IFO can interface between breeders who are keen to develop their varieties, and marketers who want to identify the performing varieties that will meet the needs of their markets.
Below: Monalisa planted in late May after the trees arrived 'unexpectedly' and were held in cold store to arrest the leaf development.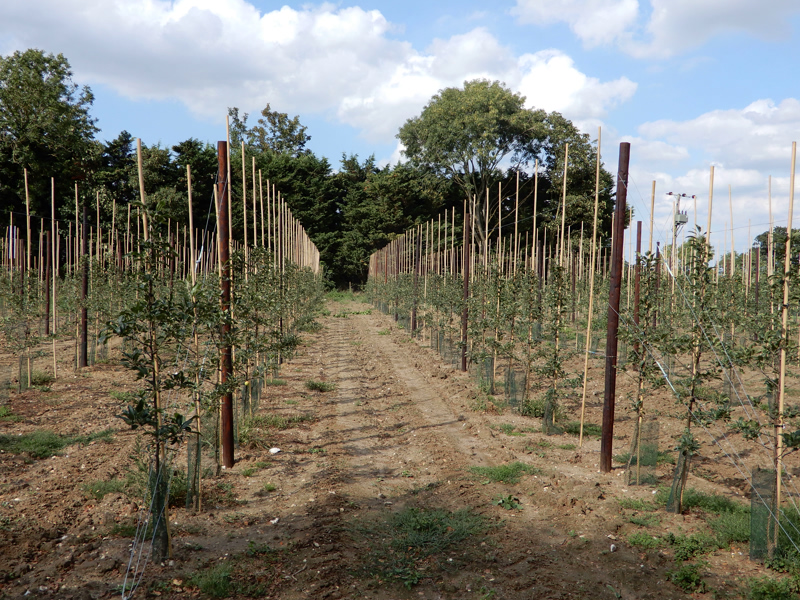 IFORED, the project established to develop a range of red-flesh apples with superior taste and a unique appearance, capable of attracting consumers all over the world
Below: new IFORED selections Y101 & Y102 growing on a 2D (2 dimensional) system. Planted last winter and in '1st leaf'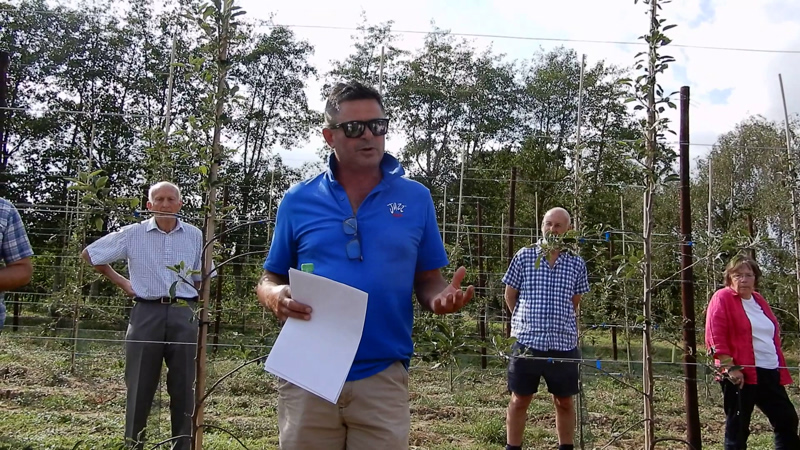 Jeremy Linsell's growing mantra is; "to grow controlled commodity apples" - steering away from the large volume varieties which need high volume as well as high visual quality to be financially rewarding. By concentrating on Club varieties - branded apples like: Jazz and Envy plus Suffolk Pink and Winter Wonder two varieties grown exclusively by Jeremy and marketed by Waitrose he avoids the highly competitive volume apple market.
Below: left; Jeremy informing E&SFGS members about his Daliclass and Jazz plantings and right; Daliclass & Jazz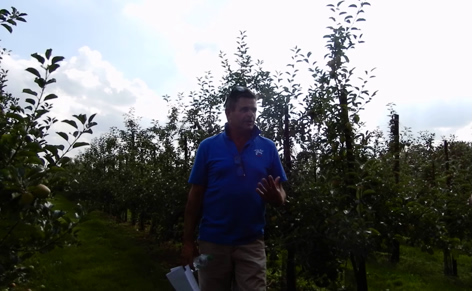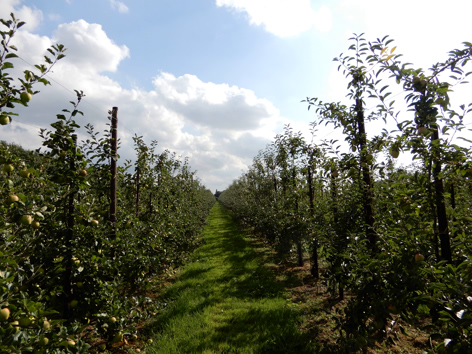 Below: left; Jazz and right; Suffolk Pink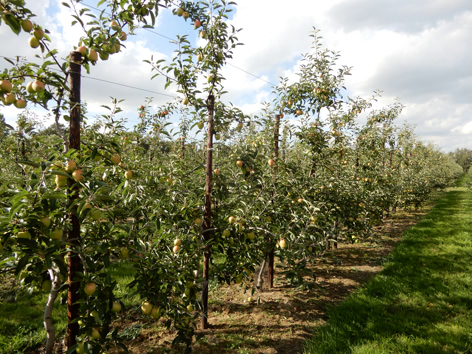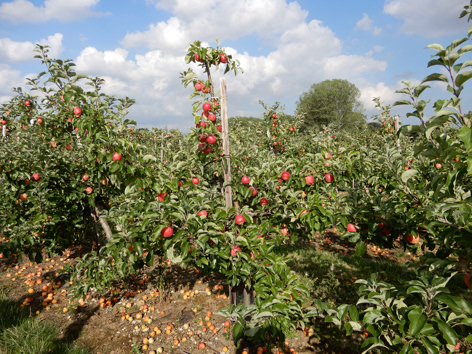 Below: left; Early Windsor and right; Cox Lavera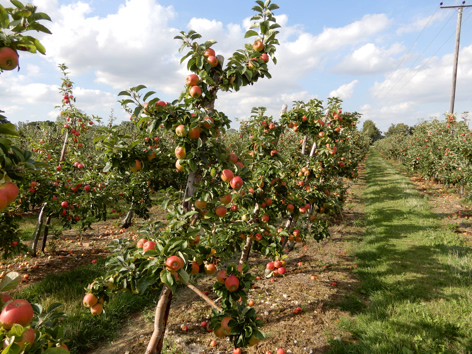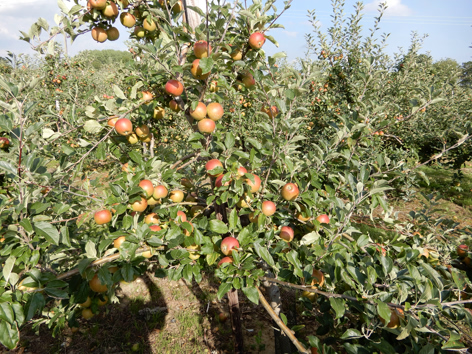 Below: left; Suffolk Pink apples and right; Egremont Russet apples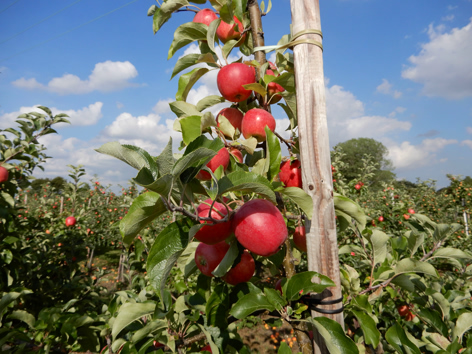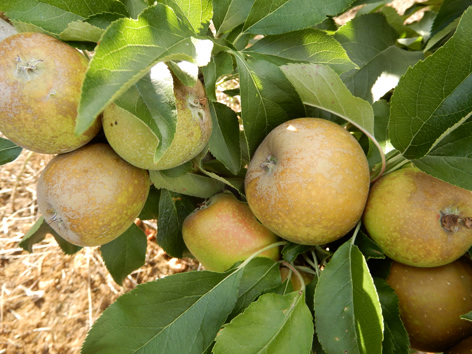 Below: left; Winter Wonder apples and right; a Winter Wonder row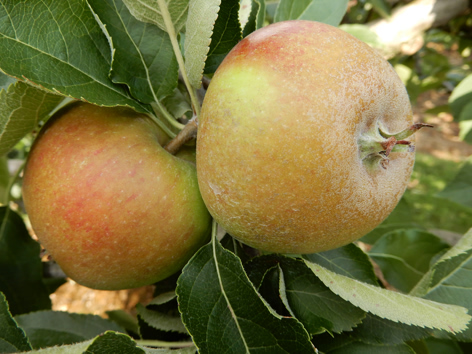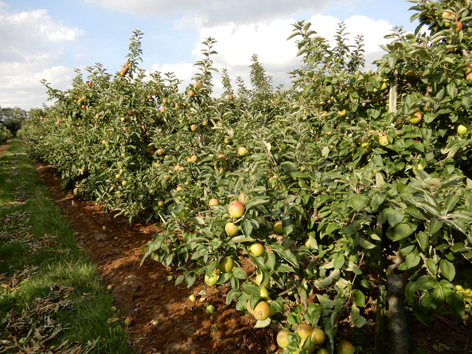 One of the key elements of successfully marketing apples is the accurate estimation of yield and size profile. With apples marketed increasingly by count rather than weight, the 'knowledge' of what is hanging on the trees is vital to the marketing planning process.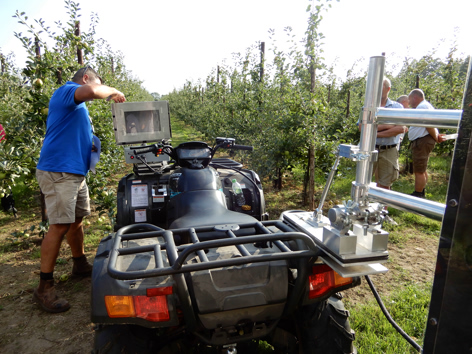 Jeremy Linsell told the E&SFGS group that circa 8 years ago Worldwide Fruit Ltd approached a technology research company and asked the question: "what is the chance of developing a capability for counting and sizing apples on the tree to improve the accuracy of crop estimation?
As a result Intelligent Fruit Vision (IFV) was formed: The company is a joint venture, formed between two experienced companies in the arena; the Technology Research Centre Ltd (TRC), and Worldwide Fruit Ltd.
TRC is a technology development and commercialization business, which develops vision based technologies and commercialises them through joint ventures and spin out businesses.
Worldwide Fruit Ltd are the largest wholesaler of fruit to the UK and EU markets. They have growers in the UK, EU, South Africa & South America. They are part of the Turners & Growers group that has similar wholesalers serving other EU markets. Worldwide Fruit already provide expert support to growers to increase yields and Class I fruit, using their Grower Scorecard to extract detailed yield and grade-out information to identify the root causes of problems. FruitVision technology is an extension of that support and a powerful tool in crop analysis and forecasting.
The camera and computer modules are easily removed and can be mounted on a tractor as well as the ATV. The units can be moved to another farm with ease.
The IFV is now 'edition 3' - the computing power required to process the images is considerable and refinements ongoing, however IFV machines are working successfully in the EU, USA and New Zealand.
Below: IFV located on an ATV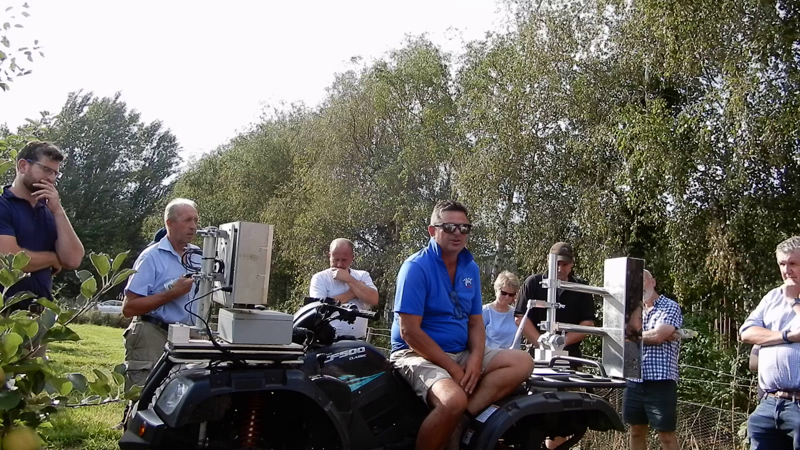 To fully understand the IFV process; click on INTELLIGENT FRUIT VISION

That is all for this week
Take care
The English Apple Man