Journal
7th Sep 2018 - Gala, Gala, Gala UK's number one apple!
Uk apple growers grow many delicious apples, but Gala is the number one in volume sales!
Why, when we have home grown Cox, Braeburn, Jazz, and many other excellent home grown varieties is Gala such a success: Globally and here in the UK?
Gala is a growers apple: it crops heavily, delivers a good yield even in the most difficult season: it is easy to prune and stores well and now with an extensive understanding of the variety, it can be stored into early summer 'displacing' imported fruit in favour of 'home grown' apples.
Gala is an attractive apple with bright red colour 'easy on the eye' - the texture is 'forgiving' - crisp and juicy without the dense texture of some varieties e.g. Braeburn which makes it the ideal apple for young children.
Below: Gala One - a natural sport of Gala Royal Beaut. which matures earlier than other Gala sports.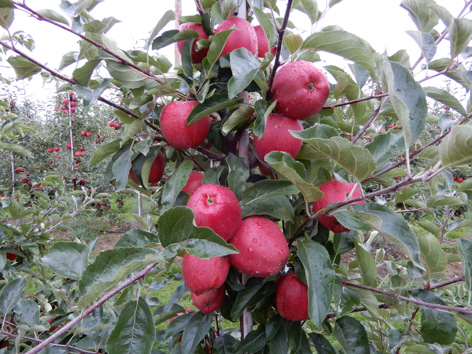 While other varieties may have superior taste does Gala constitute 27% of all UK sales in Supermarkets. This applies to home grown and imported. So across 12 months, the Gala sales stay around 27%, but the great story is the increasing share of Gala sold in the UK is 'home grown' - more details later in this week's Journal.
On Wednesday evening many of our UK Gala growers attended the 2018 pre-harvest Gala Club meeting at AC Goatham & Son Flanders Farm - packing and storage complex on The Isle of Grain in North Kent.
On arrival we were welcomed by Gala Club Chairman - Peter Checkley and Clive & Ross Goatham + principal members of the AC Goatham management team.
First on the Agenda: we were taken by coaches to nearby Turkey Hall Farm a 175 acre site all planted within the last two years with Gala & Cox apples and Conference pears.
Nigel Stewart - AC Goatham Technical Director hosted the tour of Turkey Hall and told the attendees the farm had been acquired in 2016/2017 on a 25 year lease and since taking charge, AC Goatham have planted 13 hectares of Gala One = 37,500 trees. 22 hectares of Lavera Cox = 50,000 trees and 26 hectares of Conference pears = 72,000 trees.
Yields on trees in their 2nd leaf (2nd year growing) are stunning: Gala One @ 35 tonnes ha on the best trees, 19 tonnes ha on Cox Lavera and 15-20 tonnes ha on Conference pears. Asked what yields are being achieved on the older orchards in East Kent, Piotr said 50 tonne ha on Conference in 3rd leaf and he expects 60 tonne when Conference settle into full cropping. Piotr visited Conference growers in Holland and Belgium this summer and was pleased to see identical growing systems achieving 65 tonnes ha 'year on year' -
We start with the Gala: a 'Gala One' orchard planted during winter 2016/2017, so having spent last season (1st leaf) growing a tree, this summer (2nd leaf) carries an estimated crop of 35 tonnes per hectare.
Below: This young orchard of Gala One has only been in the ground for less than 2 years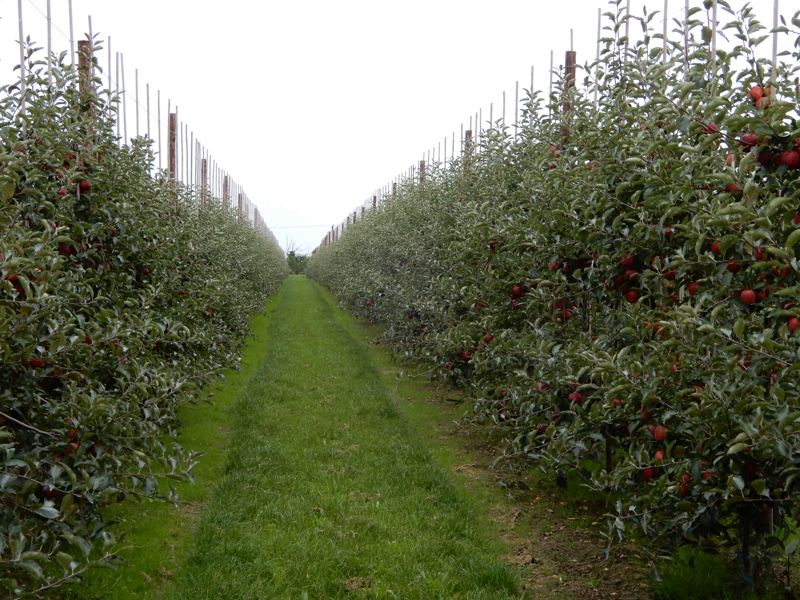 Below: Conference pears in 2nd leaf at Turkey Hall grown on a Vee system.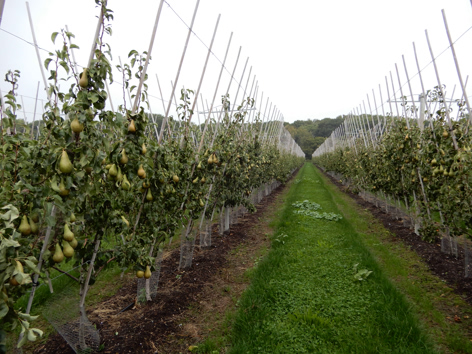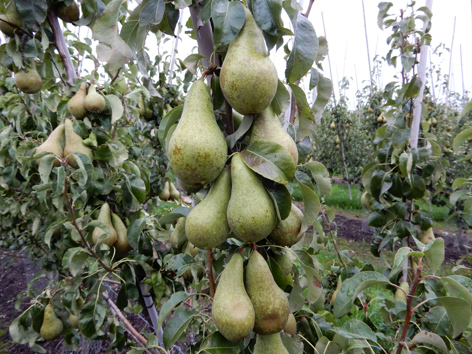 Below: View of a row of Conference at Turkey Hall Farm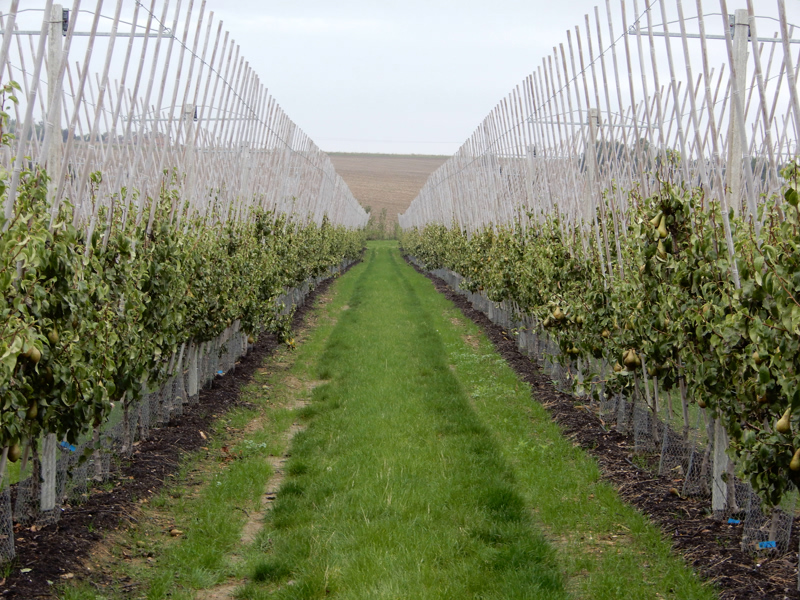 Below: Cox Lavera in 2nd leaf at Turkey Hall Farm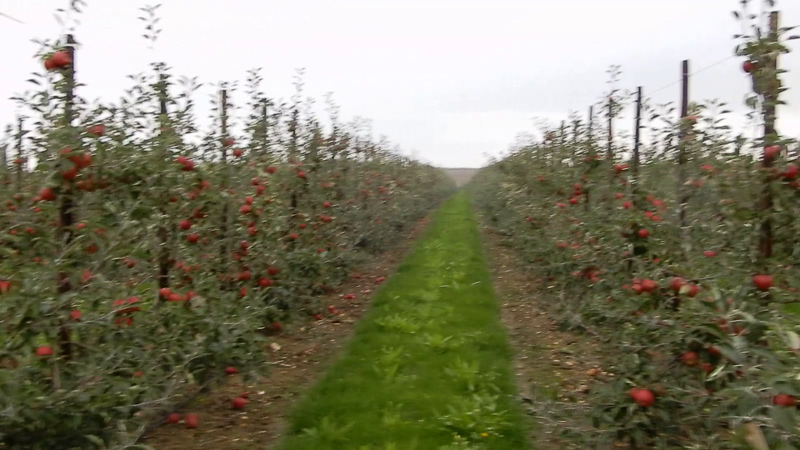 Below: Cox Lavera at Turkey Hall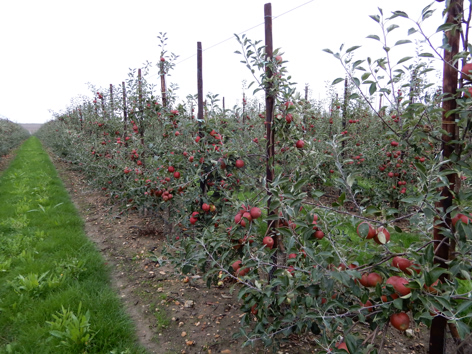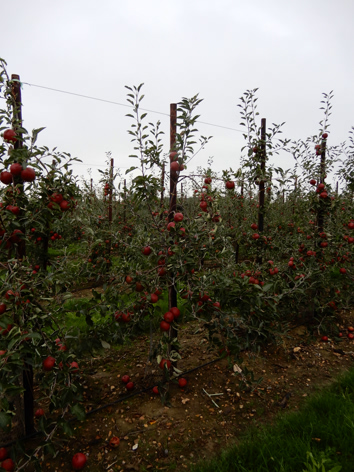 Following the tour of Gala, Cox and Conference at Turkey Hall, we returned to Flanders Farm for presentations by Gala Club Chairman Peter Checkley, retired Gala Club Chairman Harry Wooldridge, Dr. Martin Luton Fruition Technical Manager and Colin Carter of Landseer.
Below: Example of Gala One v Gala starch pattern demonstrating Gala One's earlier profile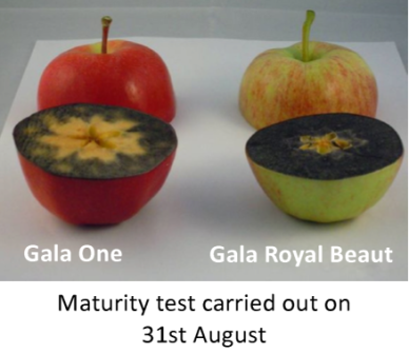 The success of Gala was underlined by Peter Checkley's 0-60 comment - e.g. 0 - 60,000 tonnes of UK Gala per season since the variety was adopted by UK growers in the 1990's.
Listed below English Apple Man reports on Gala Club events from 2010 - 2016 (the EAM did not attend the 2017 event)
That is all for this week
Take care
The English Apple Man