Journal
5th Oct 2018 - Great British Apples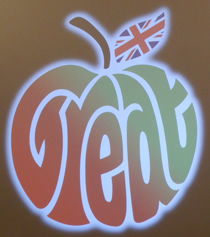 This week English Apples & Pears launched the 2018 season with a promotional event in London.
Great British Apples!!!!!!!!
The venue for this year's launch was The Electric Cinema in Portobello London.
The Electric Cinema first opened in London's Portobello Road on 24 February 1910 and was one of the first buildings in Britain to be designed specifically for motion picture exhibition. It was built shortly after its namesake the Electric Cinema in Birmingham, which predates it by around two months. The cinema was soon eclipsed by the huge picture palaces that became fashionable during the 1930s but, despite being shuttered for brief periods, it has remained in almost continual use until the present day.
Below: The Electric Cinema Portobello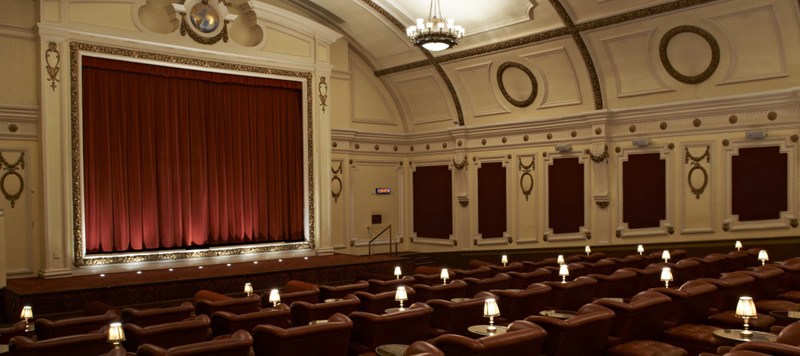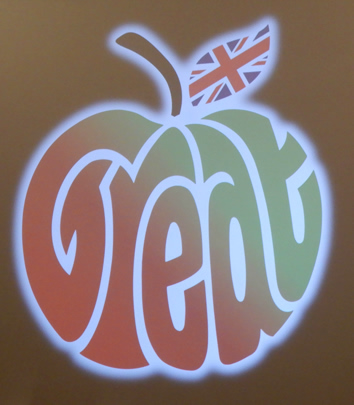 The launch is an opportunity for the top fruit industry's promotional body English Apples and Pears to inform the press and EAP contributors about the directional planning for English Apples & Pears.
English Apples & Pears is a limited registered company formed in 1990 to organise and develop the promotion of the British apple and pear industry.
Over the last year the EAP Board changing the management process from 'CEO led' to the appointment of Ali Capper as Executive Chair supported by Operations Director Sarah Calcutt with greater involvement by the EAP Board Members is (in my opinion) a significant step forward.
Ali is a grower of fruit and hops in Worcestershire and Chair of The National Farmers Union Horticultural & Potatoes Committee while Sarah is the daughter of a top fruit grower in Kent and has for a number of years been (and still is) the Chair of The National Fruit Show.
These two ladies bring their 'consummate knowledge' of the British top fruit industry and a drive and enthusiasm for expanding sales of 'Great British Apples' in the future.
Ali and Sarah are supported by executive board members representing grower, marketing and technical expertise.
Below: left; Ali Capper and right; Sarah Calcutt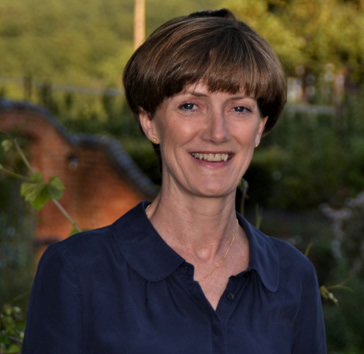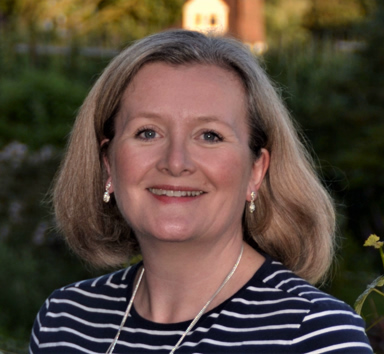 A significant change was already in place with the decision to adopt the brand name: 'Great British Apples'
Opening the launch procedures, EAP Operations Director Sarah Calcutt welcomed members of the press, growers, marketing and retailer representatives and gave us all an overview of the evening ahead, before introducing Executive Chair Ali Capper onto the stage.
Below: Ali Capper with expert panel - Robert Rendall, John Giles and Michael Barker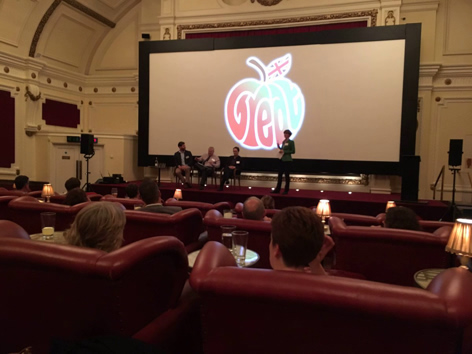 Ali said this is a great opportunity to celebrate the 2018 season with the best tasting apples this century, in spite of the challenges of extreme cold followed by extreme heat and lack of rain. "I am proud as a grower and representative of our industry to be part of a 'Great Story' as we move forward and build on the success of home grown apples over the last decade. Sarah and I are already formulating plans to continue the forward movement of the Great British Apple Campaign for next year.
However: Ali cautioned; "there is always a however"- the lack of support by government in our need for sufficient harvest workers, is the most challenging problem we face. Government's obsession with 'skilled worker' immigration puts our dynamic industry at risk. All the hard work and investment which has increased the market share from 26% to 42% of the UK apple market will be lost if we cannot pick our crops through lack of harvest workers.
Introducing the promotional video: Click on Great British Apples 2030 Ali emphasised the story it tells of how we plan to take our industry from the current 42% of the market share to 60% by 2030!
The video explains very well the ambitions and challenges we will face in the period to 2030.
After viewing the Great British Apples 2030 video, Ali invited a panel of experts onto the stage to answer questions from the audience. Grower Robert Rendall, Promar International Director John Giles and Fruit Produce Journal Editor Michael Barker answered the questions with great insight and more than a degree of good humour.
Ali in her role as NFU Committee Chair and as a grower and Executive Chair of EAP has been energetically 'lobbying' government to recognise the desperate need for a migration policy which supports the need for harvest workers. Her frustration at the lack of meaningful support has made her angry and she is launching a Twitter campaign: #foodneedspeople
The English Apple Man shares Ali's frustration and as a reminder reprints her response to the MAC report published in last week's English Apple Man Journal.
As we get closer to the 'cliff edge' of Brexit, UK fruit growers are sitting on a 'knife edge' with shortage of harvest workers impacting on this season's fruit picking. The Migration Advisory Committee recently issued a missive that 2,500 harvest workers could be licensed to come from outside the EU.
The Migration Advisory Committee (MAC) is an independent, non-statutory, non-time limited, non-departmental public body that advises the government on migration issues. MAC is an advisory non-departmental public body, sponsored by the Home Office.
English Apples & Pears response to MAC report
Ali Capper, Executive Chair of English Apples & Pears (EAP) says: "Upon first reflection of the Migration Advisory Committee (MAC) report we are delighted to see that the need for a competent and reliable workforce has been recognised.
"However, we are surprised that the MAC mistakenly considers the British Apple and Pear industry to be a low-productivity and low-wage industry. Wage inflation has been 12% year-on-year in horticulture and the sector has already demonstrated the clear ability to pay competitive salaries for labour throughout the production process, with our growers paying average wages of £10 to £12 an hour. This is significantly above the national living wage.
"Significant investment into modern orchard systems and equipment has meant that, in the last decade alone, we have successfully increased the market-share of British apples from 26% to 42%. We cannot ignore these numbers, nor should we overlook the industry's potential to grow further.
"We already know that labour is in short supply. 41% of our growers have seen fewer applications for seasonal picking work this year, and 61% believe 2019 will be even worse. We need more than 11,500 seasonal workers by 2021 to keep pace with a crop that is set to grow, and these individuals must have a mix of skills and experience to ensure that we can continue to produce more great British apples and pears.
"The recent Government announcement of a pilot Seasonal Agricultural Workers Scheme is a promising response and a step in the right direction, but we need the Government to consider a larger scale solution. Without the right number of seasonal workers, our 'best in class' British apples and pears could be left to rot on the trees."
On Monday I visited several grower friends and took these pictures of Red Delicious and two Eastern European harvest workers happily picking the Red Delicious on my friend Simon's farm in East Kent.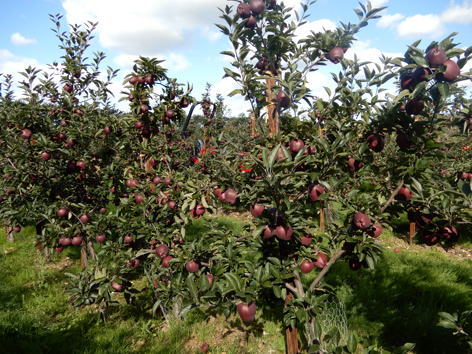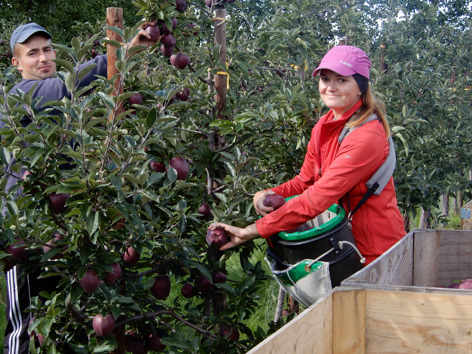 Among the many great pieces of information on the new English Apples and Pears website, this nostalgic look at the history of apples in Great Britain from 885AD to today is a must: Click on timeline for History of Apples in Great Britain
Last Saturday The English Apple Man spent the day at Ightham Moat supporting their Apple Fayre at the invitation of Pippa Greenwood who is the gardener with responsibility for the apple orchard. My prime role; escorting anyone interested in the old orchard at Ightham Mote and answering any questions from visitors about growing apples. Only a small element of what was on offer to visitors, but a very enjoyable interaction (for me) with some very nice people.
My friend Stefan Jordan, a lecturer at Hadlow College enjoyed a steady stream of children accompanied by Mums & Dads as he demonstrated making juice from the apples he had on display. Stefan also demonstrated the art of budding.
Another friend; Gilly Jones who has a lifetimes experience with Cobnuts and is custodian of the Ightham Mote Cobnut Platt. Gilly has a number of products she has developed, including a Cobnut and Bramley apple Granola muesli.
Click on Gilly Jones - Cobnut Queen
Click on 2017 Ightham Mote apple fayre
left; Ightham Mote and right; one of the stands at last Saturday's Apple Fayre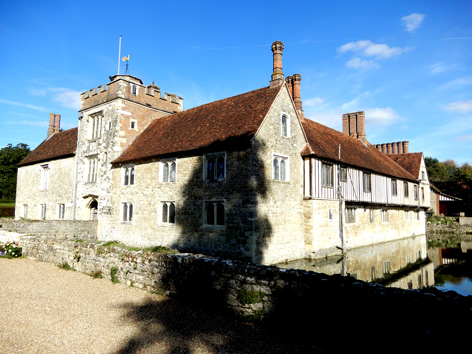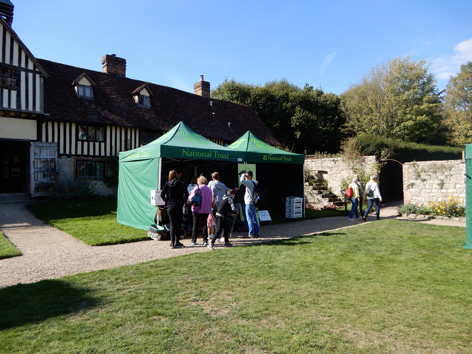 Below: left; Stefan Jordan juicing and right; a little girl waits excitedly for her cup of 'very fresh apple juice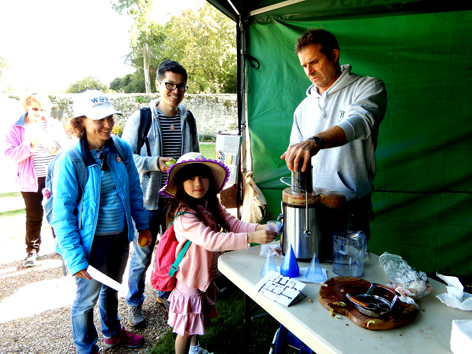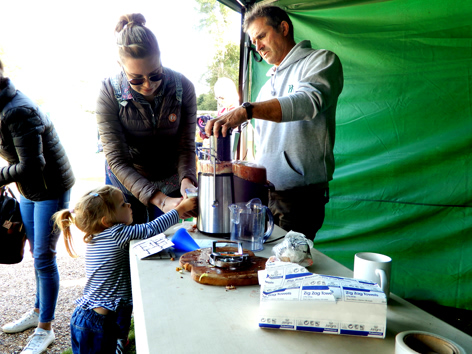 Below: left; it was the most beautiful day and chilling in the Sun was very relaxing right; Gilly Jones 'Cobnut Queen' with her diploma from Taste of Kent Awards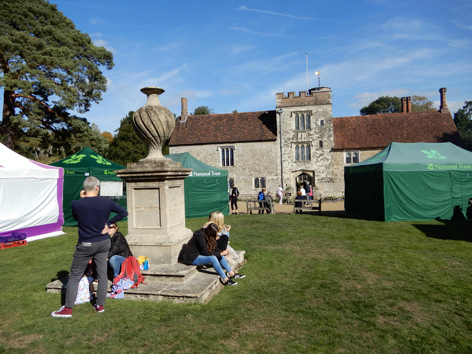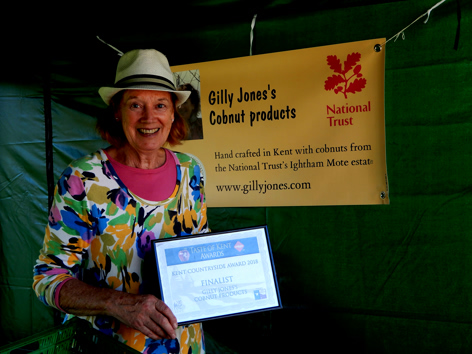 Below: Diamond Jubilee (Queen Victoria's) just one of the historic apple varieties on display and right; Stefan Jordan demonstrating the art of 'budding'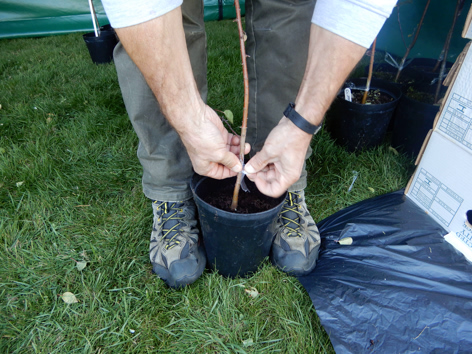 OH! I received this from a fellow apple grower: Hi Mr EAM I really enjoy your article every Saturday with regards to apples and the growing of them. As a commercial Apple grower from N Ireland growing mainly Bramley it is interesting to see the many varieties of eating apples available and excellent quality from your photos. The harvest here is probably about 50% gone now with good fruit and better weather and ground conditions than last year if only the price and demand for fruit was as last year. Regards Maurice
That is all for this week, so until next Friday..
Take care
The English Apple Man