Journal
9th Nov 2018 - The Engish Apple Man spends a last few days in Malta
As our holiday in Malta nears it's end, The EAM reflects on more elements of The National Fruit Show.
The 85th Anniversary National Fruit Show highlighted the outstanding quality of entries with the top mark 98.5% for R&D Apple Growers Rubens entry, winning 'best exhibit' in the show. My readers may have noticed 'a blip' in the Journal for 26th October, when I indicated another entry as best in show: I put this down to trying to do too much before leaving home very early on Saturday 27th for Gatwick and our flight to Malta!
The EAM was privileged to be invited to two 'tastings' - one The National Fruit Show 'Tastiest Apple' a competition that has been (almost) exclusively won by either Rubens or Jazz in recent years.
Below: the Judges deliberating over the National Frut Show 'Tastiest Apple' competition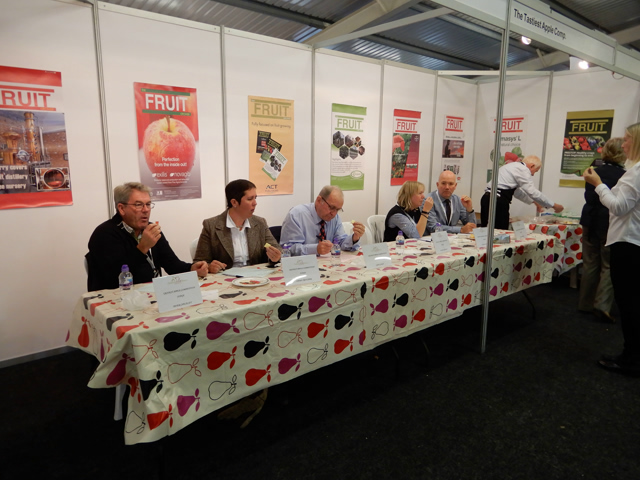 This year, Jazz grown by Chris Levett at Baretilt Farm in Cranbrook, Kent came out on top with 2nd place going to another Jazz apple grown by Simon Bray at Monks Farm in Norton near Sittingbourne, Kent. 3rd place went to a Rubens grown by R&D AppleGrowers.
Taste of Kent Awards - Garden of England Champions
For the second year running, Produced in Kent invited my son Stuart and I to team up with Claire Houchin and Laura Nesfield from sponsors BTF.
Below: from the left; Laura Nesfield, Claire Houchin, Stuart Guest & The English Apple Man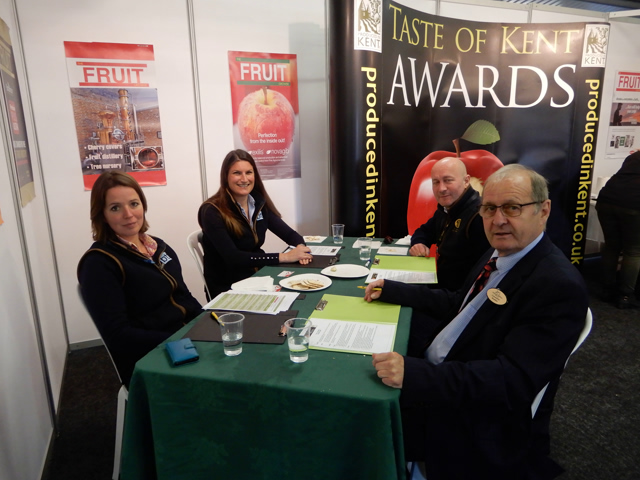 The other tasting decided the 'Taste of Kent Awards' for tastiest apple and tastiest pear. This is organised by Produced in Kent and sponsored by BTF Partnership
The winners of Produced in Kent's Taste of Kent Awards 2019, Garden of England Champions Top Fruit Categories, sponsored by BTF Partnership, were announced at the National Fruit Show Thursday 25 October.
Produced in Kent's panel of judges tasted over 100 varieties of apples and 13 varieties of pears from Kent growers, which were on display at the National Fruit Show, celebrating its 85th this year.
The judges were required to rank the fruits' flavour, texture and juiciness, with the top 10 apples and top five pears going through to a second-round taste-off, before an overall winner was selected.
The panel came to the same conclusion of the National Fruit Show judges on the winning apple variety this year and it was once again a Jazz apple which scooped the top prize:
After much tasting and deliberation, the winning apple was a Jazz and the Pear a Concorde.
Garden of England Champions Top Apple: Jazz - Grown by Chris Levett, Baretilt Farm, Cranbrook.
Garden of England Champions Top Pear: Concorde Pear - Grown by J L Baxter, Coxheath
Below: left; Chris Levett receives his award for tastiest apple from Produced in Kent's Manager Stephanie Durling and right; Stephanie presents the award for tastiest pear to a member of J L Baxter's team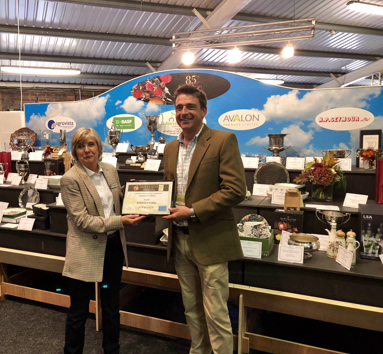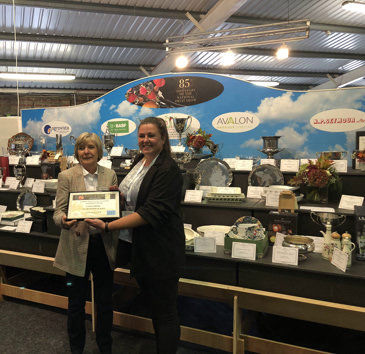 Below: Taste of Kent judges pose with Clive Baxter winner of the 'Garden of England' Tastiest Pear and Stephanie Durling of Produced in Kent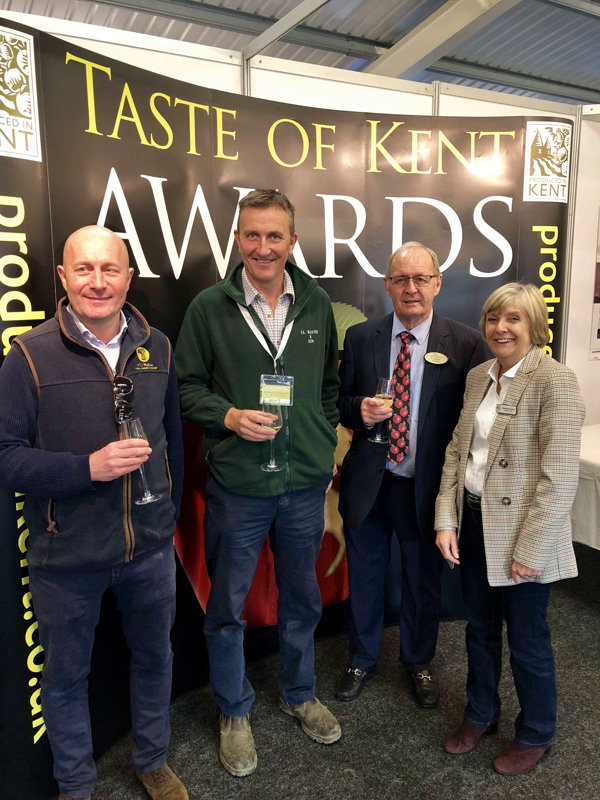 Below: This unusual apple; a Jazz with one side red as it should be and the other side like a russet, was brought in to me by Clive Baxter -
'nature never ceases' to spring surprises!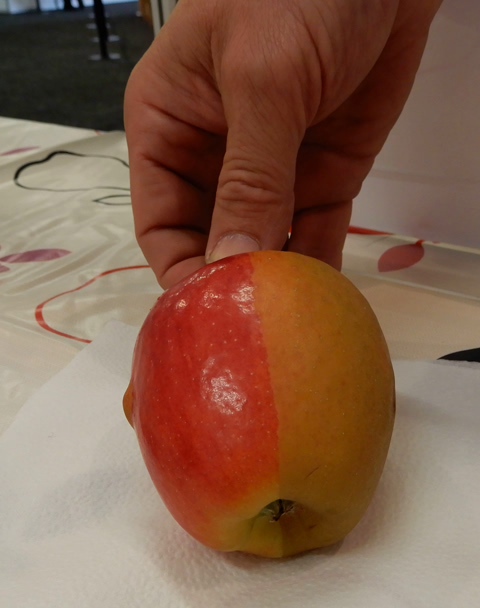 Sponsors are essential to a successful show and The National Fruit Show is generously supported by four 'major sponsors' - Avalon Produce Ltd (APL) AGROVISTA, NP Seymour and BASF.
The Avalon Produce Ltd team has been a very supportive sponsor for many years, formerly as Norman Collett Ltd and as APL established in 2015 as a direct marketing group focused on creating value for their suppliers and customers on a sustainable basis by offering the essential expertise to drive growth, lead change and push boundaries. Click on Avalon Produce Ltd for more information on APL.
Below: from left; Ashley Bernard - APL Chief Executive Officer and right; Michael Joyles - APL Chief Commercial Officer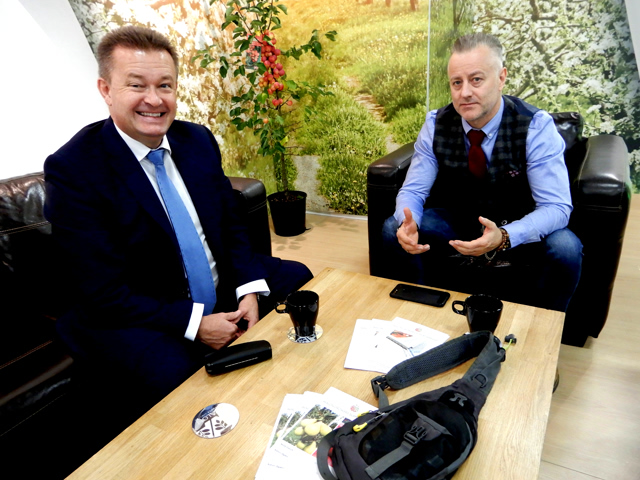 Below: BASF has been a main sponsor for many years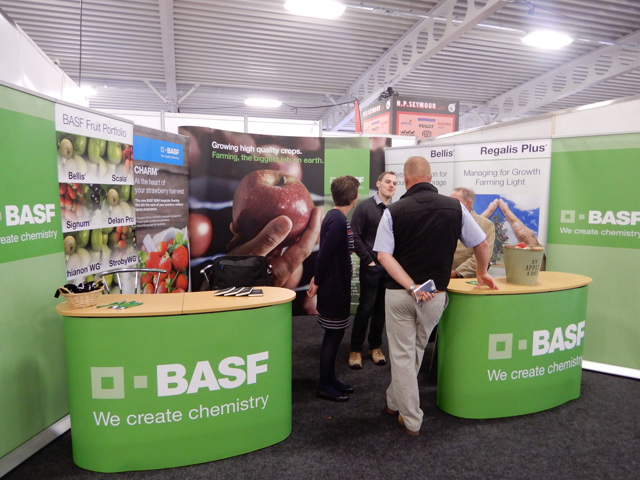 Click on BASF UK for more information.
Below: The Agrovista stand is always busy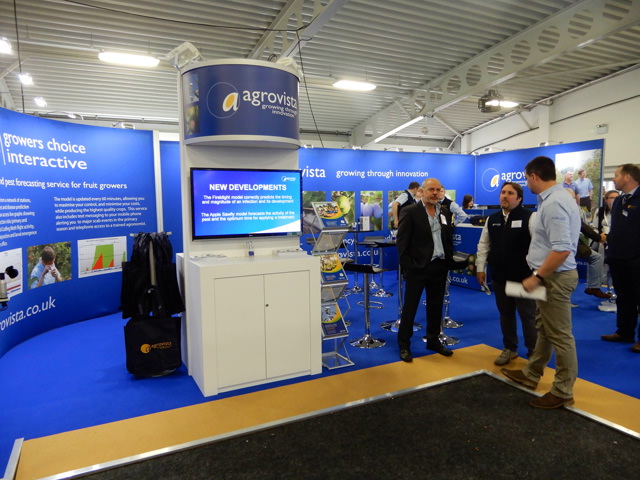 Click on AGROVISTA UK for more information.
Below: NP Seymour joined the group of main NFS sponsors this year.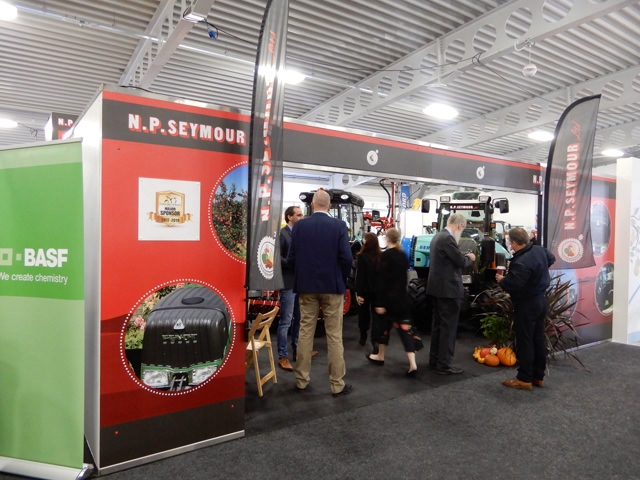 Click on NP Seymour for more information.
Below: Nick Seymour enjoys a quiet moment with his daughter Claire and her son Eli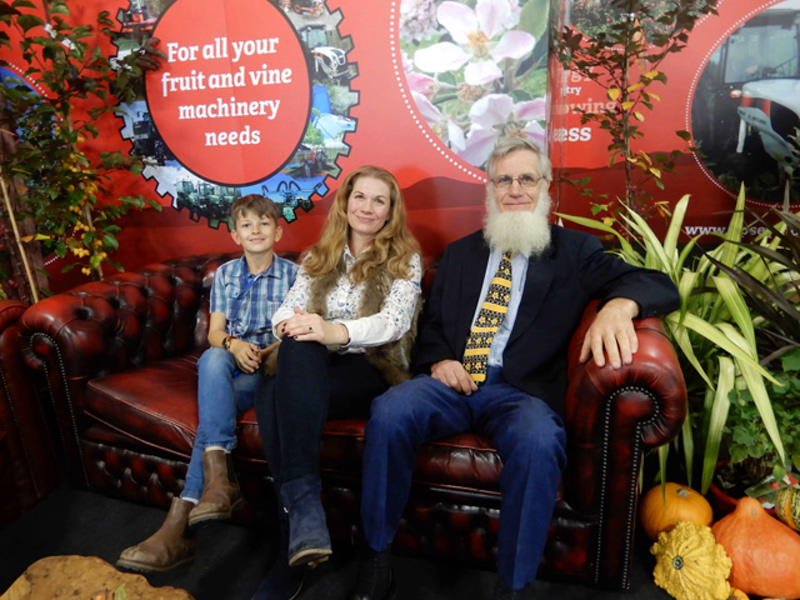 Below: left; NP Seymour have been UK agents for Fendt Tractors for more than a quarter of a century and right; also offer Carraro tractors among their extensive range of products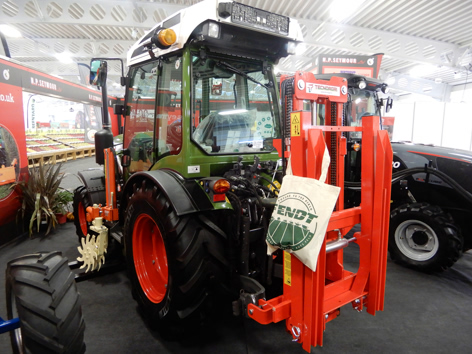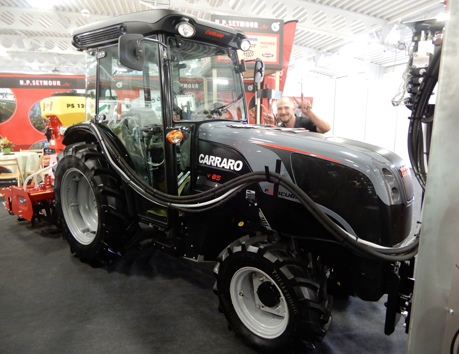 Below: Kirkland has become a major player in the supply of specialist equipment for Fruit and Wine growers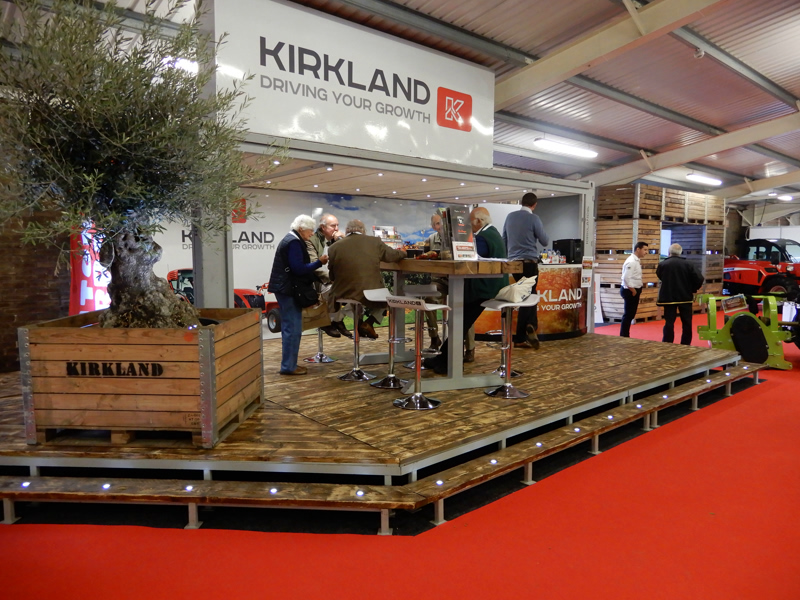 Below: left; a Tractor and Sprayer option and right; a 'novel' ORVIN Elastic mower with adjustable operating width ideal for use in tree fruit and vineyard situations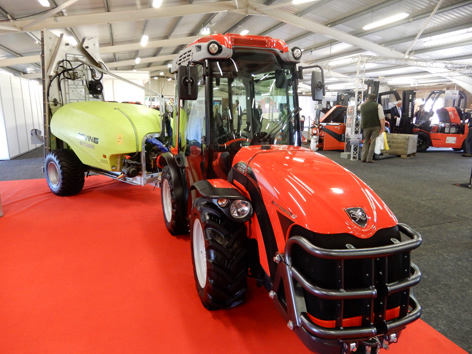 Click on Kirkland UK for more information.
Below: left; Chris Baker has established Bourne Engineering as a provider of servicing expertise and specialist equipment; right - Agrii is a key provider of agronomic expertise to the fruit and viticulture industries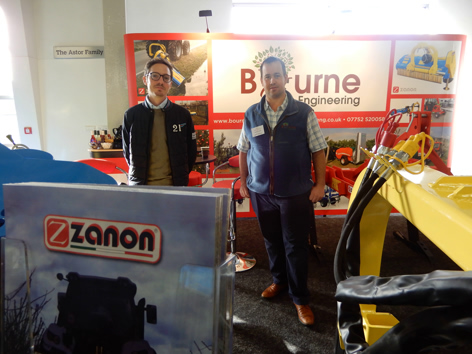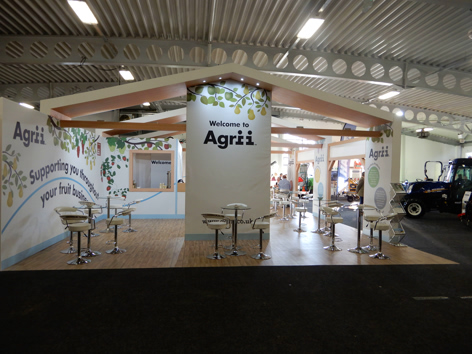 Click on BOURNE engineering for more information.
Click on Agrii UK for more information.
Below: David Bishop (on the right) may be recently retired, but the draw of the Fruit Show saw him supporting his former colleagues on the Storage Control Systems stand and right; SCS Safepod DCA system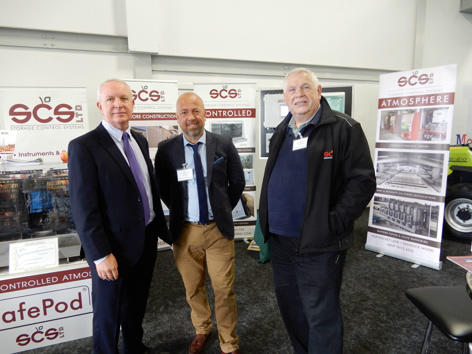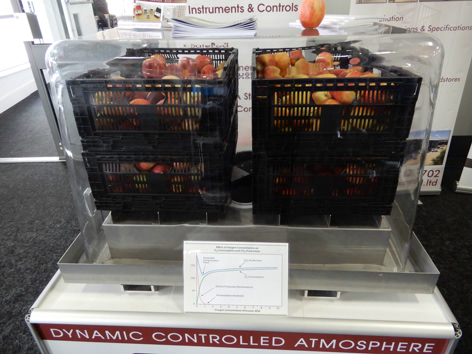 Click on SCS Ltd for more information.
Below: The EAM is always drawn to tractors and small specialist one's have an important role in the world of soft fruit and viticulture in today's intensive systems.
Below: Doug & Estera Amesz company, AG Recruitment is at the forefront of providing harvest workers for our soft and top fruit industries and right; Nick Dunn heads up the family business Frank P Matthews providing growers and garden centres with a plethora of fruiting and ornamental trees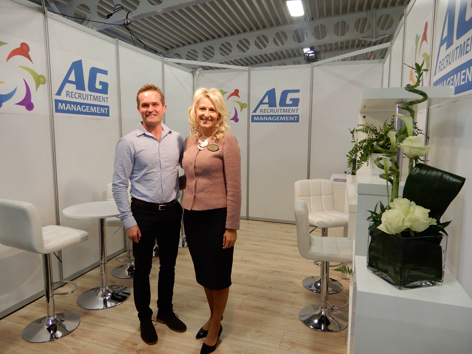 Click on AG Recruitment for more information.
Below: left; Stephanie James Dunn with visitors to the Frank P Matthews stand and right; some of the many fruit juices developed by FP Matthews from their extensive range of fruit varieties.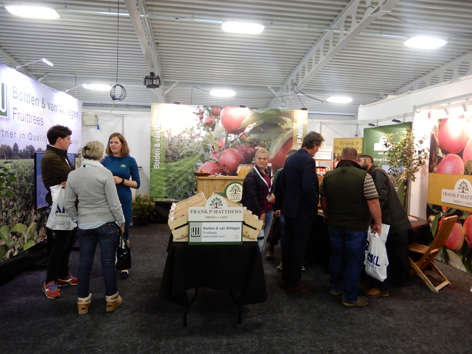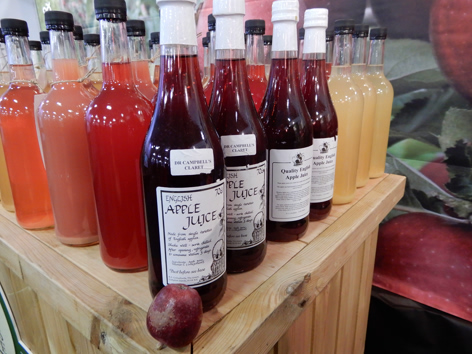 Click on Frank P Matthews for more information.
Below: Jonny Hatch of UKCA Ltd and Tito Spaldi of Isolcell on their stand at the NFS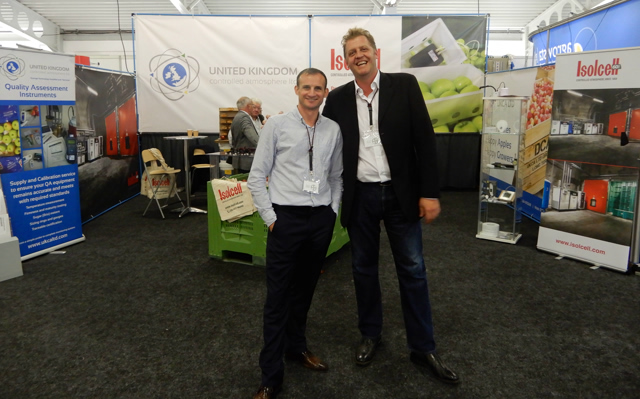 Click on UKCA Ltd for more information.
Below: left; The English Apple Man with Sara Highwood 'scion' of a fruit farming family and a former colleague at Home Grown Fruits (HGF) back in the 1990's and right; Mark Tulley of LANDSEER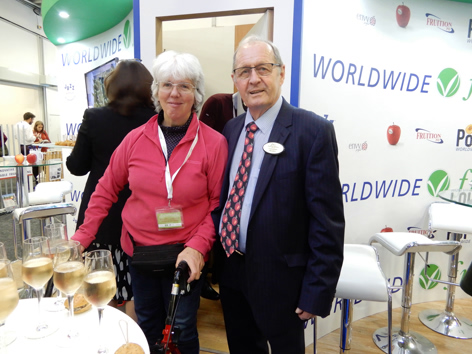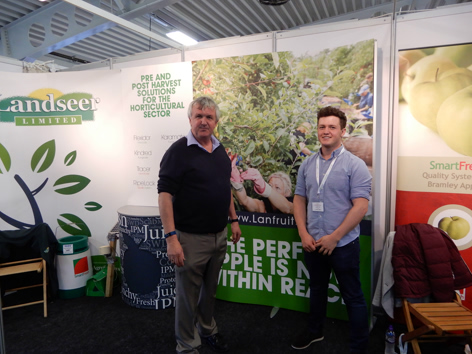 Click on LANDSEER Ltd for more information.
Below: The Worldwide Fruit Stand - it's now 11 years since I retired from Worldwide Fruit, but still miss my former colleagues.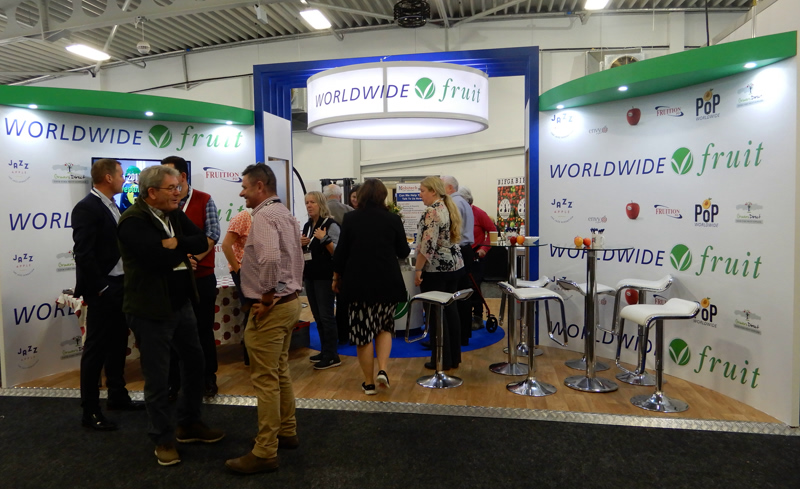 Just two more days and we will be on our way home. Before I sign off, with our vantage point overlooking Grand Habour we see many giant cruise liners enter the harbour beneath our balcony, but here at the moment and paying tribute to the end of the 'Great War' 100 years ago this Sunday, sailors from HMS Diamond one ot the British Navy's type 45 Destroyers will be paying their respects to those who bravely gave their lives in battle.
Next week The English Apple Man will be joining friends on a visit to the Interpoma Trade Show in Bolzano in the South Tyrol. The Journal may be late on line as we travel back late on Friday 16th November
Take care
The English Apple Man