Journal
16th Nov 2018 - The English Apple Man has been in Bolzano
After arriving back in 'Blighty' after two weeks in Malta on Monday, The English Apple Man set off on Wednesday for The Interpoma Trade Show in Bolzano in the South Tyrol with a group of grower friends organised by FAST.
The Interpoma Trade show is held biennially in Bolzano.
"Interpoma is the Trade Show for apple cultivation, storage and marketing. It is the only event in the industry worldwide. It aims to present the entire process chain from cultivation and storage, right up to marketing for an international audience. However, it will feature apple varieties and mutants, new phytosanitary measures, machinery and devices as well as production equipment.
Interpoma is far more than a showcase for the apple: it's about sharing opinions, industry buzz, research and innovation insights, and in particular networks and networking for the apple sector".
Our '20 strong' group led by FAST advisors James Shillitoe, John Clark and Ivan Velasco flew into Verona Airport late afternoon on Wednesday where a coach met us and drove North to the Suditrol (South Tyrol) where we stayed in the delightful Hotel Angerburg Blumem with mountain views on all sides. The snow capped Dolomites spectacularly beautiful in the distance.
Click on Angerburg Hotel for more information.
The hotel was set in a beautiful area and the Interpoma Trade Show in Bolzano as impressive as always!!!
Below: the view from our hotel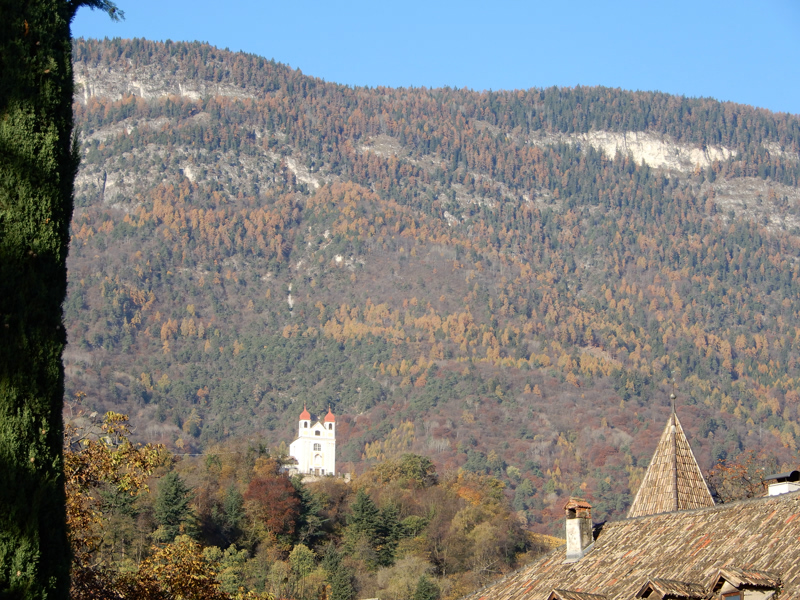 BUT the big story of the week was our visit to Griba nurseries near Verona on Friday morning. After close inspection of the very high quality trees in the nursery, The English Apple Man organised a picture of our group with Andreas the nurseryman - however, while moving backwards slightly to ensure everyone was 'in frame' my footing suddenly loosened and next thing I was flying backwards into a fast moving canal; with camera in hand, iphone on pocket and 'man bag; containing passport etc around my neck I hit the water, vanished beneath the water before emerging and ushered to the bank by Christian (Chris) Levett who had jumped in to my rescue as soon as I hit the water!!!!
Thanks to Chris I was not in the water long enough to feel fear, but from the moment I emerged was overcome with embarrassment!!!!!!!!!!!
GRIBA is the largest Tree Nursery in South Tyrol and annually produces over two million trees of excellent quality! GRIBA also operate a Consulting & Service as well as the production of apple, cherry and pear trees of excellent quality, GRIBA works as a consultant in the planning, implementation and management of orchards.
Today (Saturday), I am OK with only a few aches and an emerging cold exacerbated by a chill, but this week's Journal will be shorter than normal.
Bolzano is at the heart of the South Tyrol and produces in excess of 1 million tonnes of apples; by comparison the UK apple industry is circa 200,000 tonnes!
Below: inside the main show hall (there are two) at Interpoma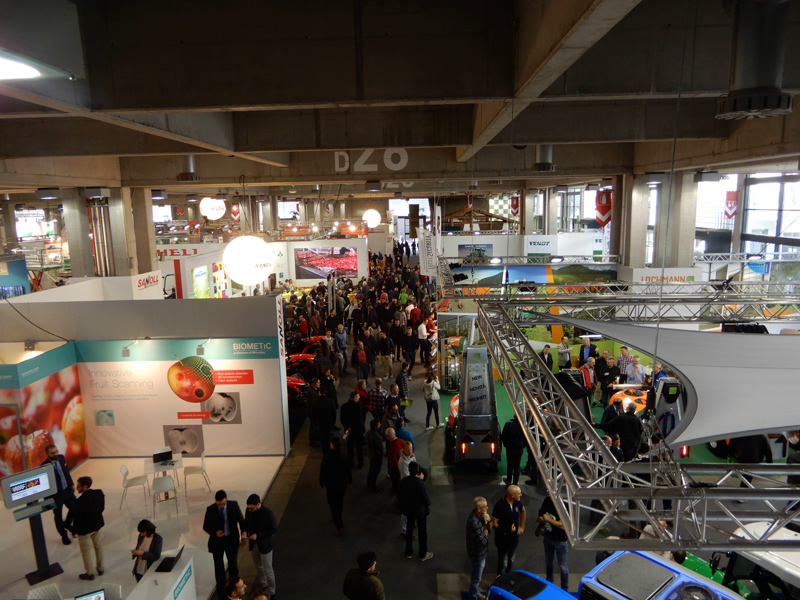 left and right images of the trade exhibitors in the main show hall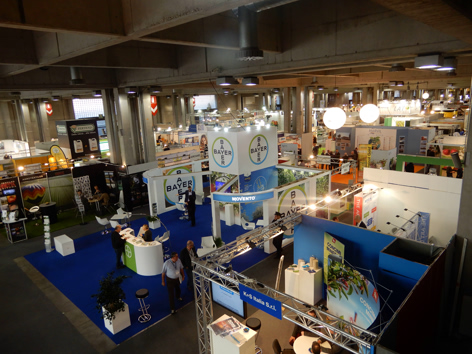 Click on Interpoma 2018
That is all for this week; after yesterday's adventure I am struggling to concentrate, so next week The English Apple Man will expand upon the Interpoma Trade Show
Take care
The English Apple Man