Journal
23rd Nov 2018 - What's on show at Interpoma
Touring the Interpoma Trade Show last week, The English Apple Man was keen to identify new 'innovations' for our apple industry.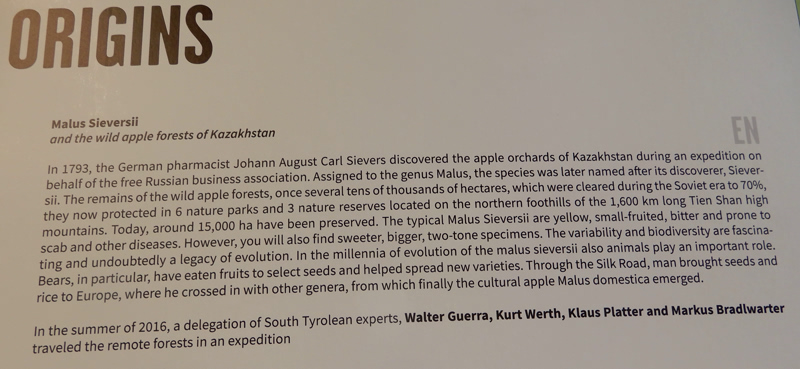 With a plethora of machinery stands, tree nurseries and industry supporting service companies, there was plenty to look at. So much that only a systematic approach allowed all stands to be observed, let alone visited!
The major challenge facing our UK top fruit industry is finding enough harvest workers, as Brexit, devaluation of the £ and improving prospects for potential workers in their own countries as their home economies improve.
Our Supermarkets, where 80% of home grown apples are sold face their own challenge; 'from each other' and particularly the 'discounters' ALDI and LIDL so paying growers more for their product is not an easy option.
The apple industry has worked hard to reduce costs by utilising greater efficiency. Storage and packing facilities have leapt forward with investment on new stores keeping fruit in top condition post harvest and apple graders and packing systems using the latest technology reducing the human element. But harvesting is still dependent on 'humans' to remove the apples from the tree in a gentle operation. Tree formats maximising yield and ease of picking, investment in new high yielding varieties are all part of the equation.
Over the last 20 years innovative investment in picking trains to make picking by hand easier and less tiring and platforms for picking the fruit out of reach from the ground are becoming more prevalent. The use of 'picking rigs' allowing the fruit (still picked by human hands) to be transferred to belts transferring the apples to harvest bins have been adopted on some farms.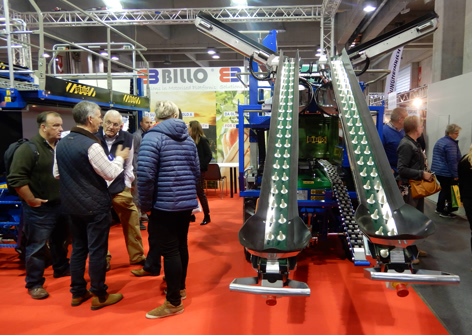 At Interpoma The English Apple Man noted the interest of growers in what mechanical assistance would prove to be helpful, reducing human input and specifically more cost efficient than current methods.
Some UK growers have invested in platforms which are used for pruning the tops of trees, tying tops and thinning operations. These platforms were initially 'just platforms' but newer versions have picking transfer systems added.
The dilemma: what to buy?
Harvest rigs like the Munckhoff Pluk-O-Trak are in use in England but many growers have held back as they could not identify a cost advantage over their current systems. HOWEVER the reduction in harvest worker availability from countries like Romania and Bulgaria and 'pertinently' the changing age profile of the pickers available is adding another dimension. For many years our fruit growers have benefitted from young (generally) migrant workers with college backgrounds who easily adapted to harvesting and with a naturally hard working demeanour delivered the perfect situation of happy pickers earning good money and happy employers.
The situation has changed considerably; many of the younger harvest workers from a University background are now seeking better employment prospects; either in their home country or in other EU countries. The current harvest workers are much more likely to be older (middle aged) and of lower physical capability.
SO!
What does a grower contemplate when facing the challenge of a future with less harvest workers with less productive capability.
Clearly the physical demands of picking must be reduced to a minimum. Is a platform with transfer belts added the best option, or custom built 'picking rigs' which can be modified to be used as a platform the right decision?
Cost is paramount when making the decision!
Below: left; Billo produce high quality platforms at competitive prices which can be used as harvest rigs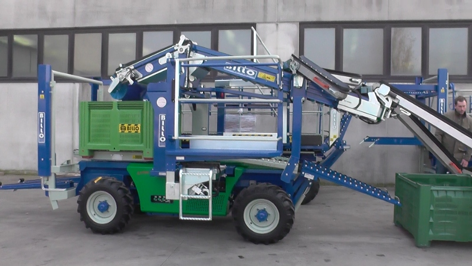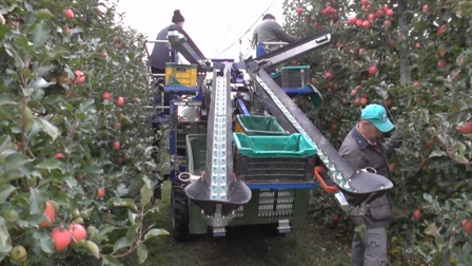 Click on BILLO
Below: left; Hermes picking rig and right; ORSI platform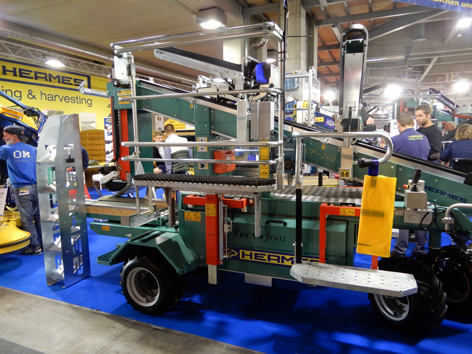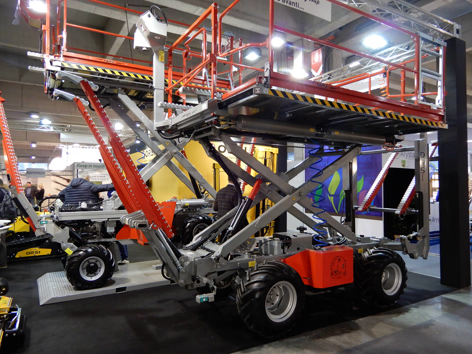 Click on HERMES for more information. Click on ORSI for more information.
Attracting considerable interest the ZUCAL harvesting system, an 'all singing all dancing' harvest rig/platform
Comment from Zucal: With Z11, pickers also not particularly experienced, are able to collect individually up to 350 kg/hour, with no particular effort and without having to lift heavy baskets full of fruits. Six people, simultaneously employable on a single machine for the collection, can pick up to 50 standard bins in 8 hours (15.500 kg), all while preserving the integrity of the fruits and minimizing possible dents.
All this is possible thanks to the development of special electromechanical conveyor belts which convey apples gently into the automatic bin filler.
Below: Harvesting apple with the Z11 harvesting rig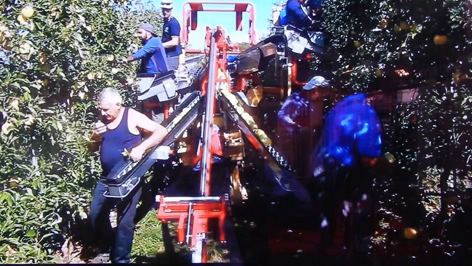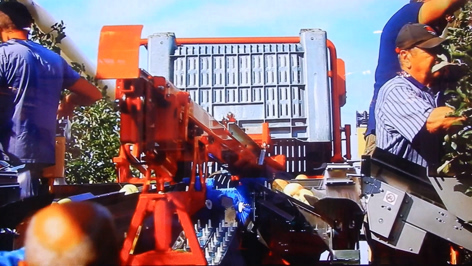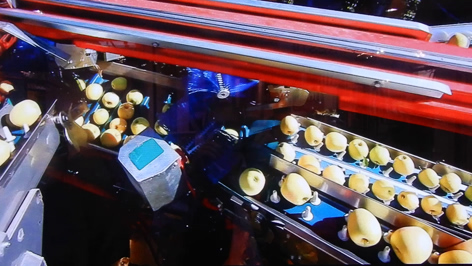 Click on ZUCAL harvesting system
Below: The Munckhof Pluk-O-Trak is well established as a harvesting rig with a number already working in England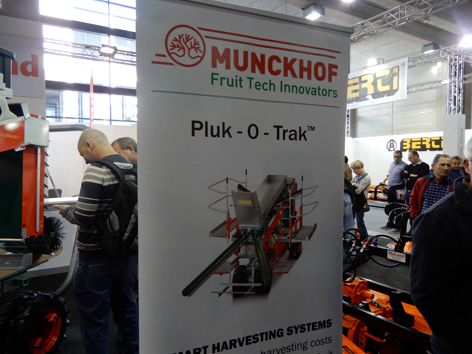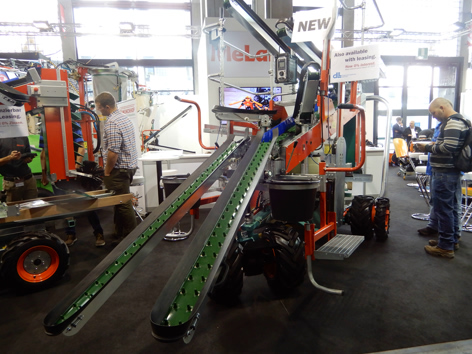 Click on Munckhof Pluk-O-Trak
Estimating 'crop load' accurately is an essential element of successful marketing: Intelligent Fruit Vision is attracting interest globally
Intelligent Fruit Vision Ltd (IFV) has been founded with the goal to commercialise our novel FruitVision technology for the fruit growing sector, and to wider horticulture in future. The company is a joint venture, formed between two experienced companies in the arena; the Technology Research Centre Ltd (TRC), and Worldwide Fruit Ltd.
Below: The Intelligent Fruit Vision stand at Interpoma was busy with enquires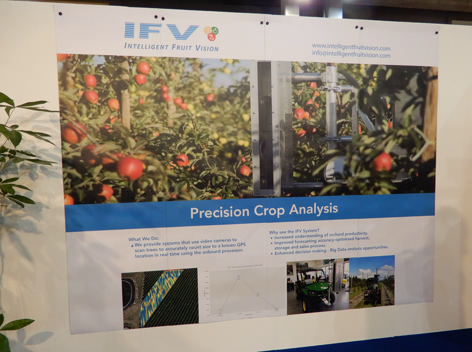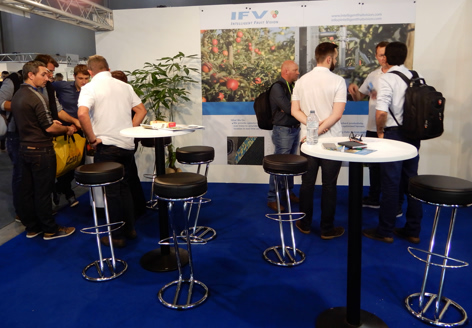 Click on INTELLIGENT FRUIT VISION for more information.
Below: stands displaying - left; mowers and right; tractors were in abundance at Interpoma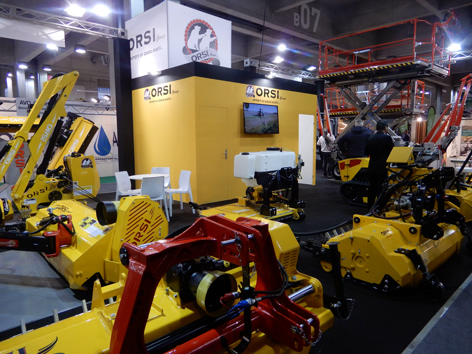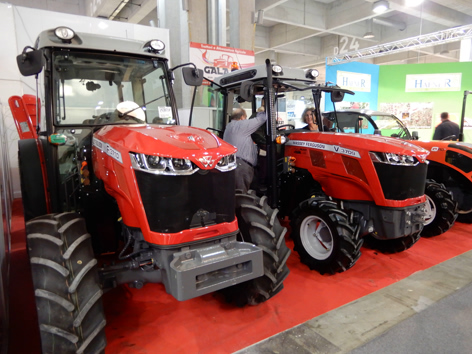 Sprayers: "Since 1946, KWH Holland has designed and manufactured unique mist spraying systems for the fruit-cultivation and wine-growing sectors. KWH Holland's products are known for their quality and long service life. In addition, the environment is a key theme in the development and production of KWH Holland's systems".
WANNER "The development of spraying devices with a phytosanitary product-saving technology is particularly important to us. This reduces operating costs, is efficient and protects the environment. Over 60 years of experience in plant protection equipment combined with a high quality standard and state - of - the - art ( latest) technology - spraying equipment from Hans Wanner GmbH".
Below: left; KWH Sprayer and right; Wanner Sprayers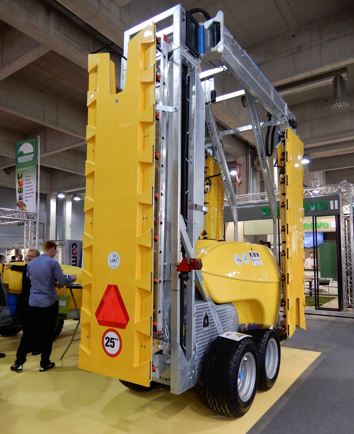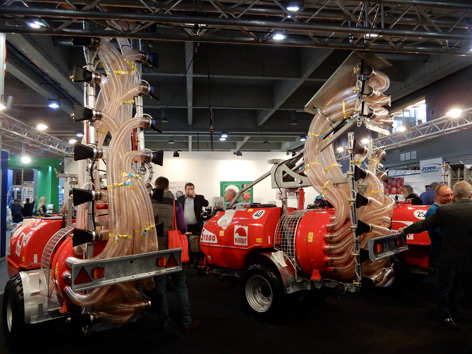 Click on KWH Holland
Click on WANNER for more information
One of the innovative exhibits at Interpoma that caught my eye was the mechanical blossom thinner for apricot trees/peach trees on the La Canne Vale stand. A large spinning tool with long flexible fingers, which has been used in England for harvesting cider apples
The Eclairvale was marketed after 5 years of research and development, and its mode of action by free rotation is patented.
"Sleek designed and non-powered, the Eclairvale is a reliable machine. Flexible rods are the only wear parts, and they are replaced easily in less than one minute per rod.
With flowers or with fruits, the thinning done by the Eclairvale compares with hand-made work. According to study reports , the Eclairvale does not hurt trees nor fruits. It is to be used in the same fields and in the same season of your usual thinning... except that it's much more quicker".
La Canne Vale claim: "The Eclairvale is the only machine in the world able to thin buds, flowers or small fruits. With a 1.40m penetrating in the trees, it is efficient on various tree shapes including cone- and goblet-pruned. Used on a plum fruit-wall at small-fruit stage, it has fully eliminated hand thinning in a customer's orchard in 2015, thus sparing 200 hours of labour per hectare. On buds and flowers, the Eclairvale thins an hectare in less than half an hour"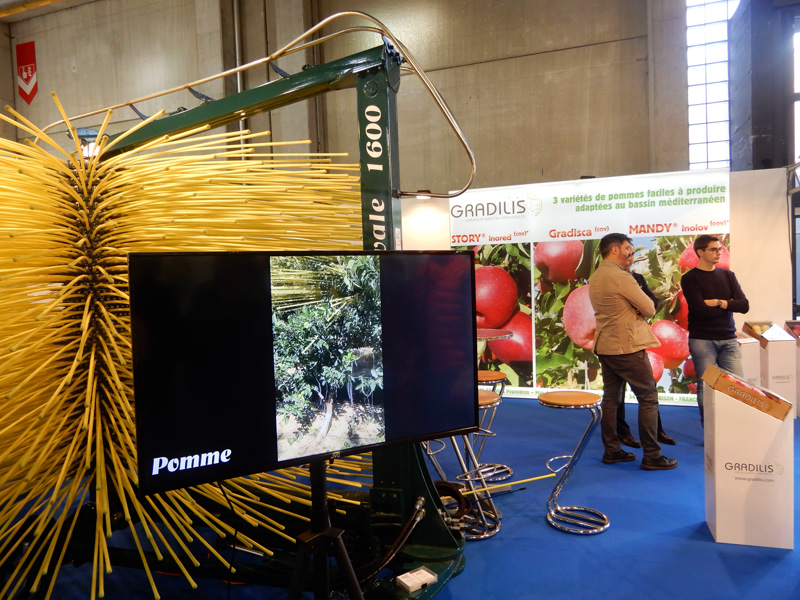 Below: left the spiralling thinner at work and right; fruit on the ground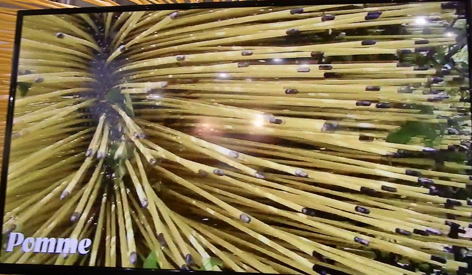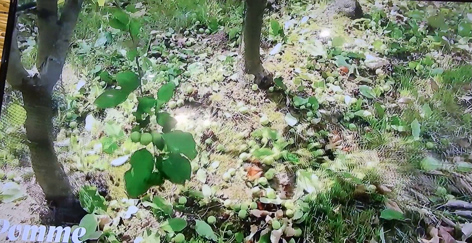 Click on LA CANNE VALE for more information. Click on VIDEO for thinner in action.
That is all for this week as The English Apple Man is still suffering from a heavy cold (no doubt triggered by my unplanned swim in an Italian canal last Friday - next week more from my visit to the Italian Tyrol....
Take care
The English Apple Man